What Is Rank Tracking Software?
If you're new to SEO, you might be confused about rank tracking software.
What does it do?
Is it necessary if you're just getting started?
Is it worth the cost?
Those are all critical questions, so we'll spend some time answering them. In this article, we'll discuss rank tracking software and why it's so essential for your business!
We'll cover:
What Is Keyword Tracking For?
Before we can even talk about rank tracking software, we need to discuss the benefits of keyword tracking.
Keyword tracking is when businesses keep track of their pages' ranks on the SERP based on which keywords they're targeting.
For example, you might have a coffee shop in Atlanta, Georgia. You would probably want to keep track of how your pages perform for keywords like "coffee shop Atlanta" and "Atlanta coffeehouse."
Keeping track of these keywords gives you some fantastic benefits.
Improving Content
First, tracking keywords helps you improve your site's content.
How exactly does tracking rankings help you with your content if all it tells you is where your page currently ranks?
To answer that, let's keep going with the coffee shop example. If you aren't ranking very high for your primary keywords, you know your content probably isn't matching search intent.
If you're leaning heavily into a content marketing strategy, that's terrible news for your business!
Tracking keywords gives you the information you need to improve your content to match search intent and get clicks from the SERP.
If you want to learn how to adapt your SEO strategy based on your rankings, check out our guide.
Getting More Traffic
Speaking of more clicks, tracking your ranks is one of the best ways to get more traffic consistently.
This happens in a few ways.
First, as described above, it will help get your page closer to the top of the SERP, which results in a higher CTR (about 43% CTR if you have the top position).
Second, if you're a local business, it'll help you improve your local rankings on Google Maps, the Google Snack Pack, and Local Finder. Being more discoverable on local searches is a surefire way to get more people into your storefront.
Beating Your Competitors
Finally, tracking ranks helps you beat your competitors faster than you could without it.
For example, let's say there's another coffee shop down the street that ranks higher than you on 3 critical keywords.
Through tracking, you'll be able to discover the main keywords you want to compete with them, then write better content that will put your pages above theirs on the SERP.
Before they know it, you could be getting a higher share of the traffic they used to take all for themselves!
Additionally, it's challenging to beat your competitors if you don't have a reliable tracking method in place.
Why You Need a Rank Tracking Software
It's evident that tracking rankings is extremely valuable and essential, but do you need rank tracking software to do it well?
Here's the short answer:
YES!
Trying to track ranks without software is like bringing a bicycle to a motorcycle race: you'll never be able to compete with your competitors.
In other words, rank tracking software provides the "engine" you need to powerfully analyze your ranks and make evidence-based decisions to improve your site's performance.
This need is compounded further if you provide SEO services for clients as a white-label provider.
Let's look at 3 reasons why you NEED rank tracking software.
Save Time
First, using rank tracking software can save you dozens of hours a month if used correctly.
The best SEO rank tracker software tools include many different features that will help you make informed decisions about your ranks, keywords, and content in a fraction of the time it would take without software.
For example, most new businesses come up with keywords they think will be relevant. They write content for those keywords and hope for the best.
When that (inevitably) doesn't work out, they have to go back to the drawing board and come up with NEW keywords and NEW content.
On the other hand, using a tool allows you to find keywords that are ALREADY working for other businesses in your niche and find a winning strategy from the get-go.
Perform Better Analysis
Second, using good rank tracking software allows you to analyze your ranks at a deeper level.
For example, using a tool like ProRankTracker's Full-SERPs view allows you to easily track each SERP result's movement over a selected period of time. You can then use that analysis to help you understand what is causing search results to move.
Better analysis leads to better decisions, which leads to better ranks and more customers. 
And who doesn't want more customers?
Create Reports
Finally, rank tracking software allows you to create detailed reports about your rank progress (or your clients' rank progress).
This is beneficial in a couple of different ways.
First, automatically generated reports allow you to focus on analysis instead of data gathering. You can have the data delivered to your inbox daily, allowing you to spend time using the data to make decisions instead of just collecting data.
Second, reports allow you to manage more keywords with ease. If your company grows to the point where you're tracking 500, 1000, or 5000 keywords, it's literally impossible to comb through all that data without the help of reports.
In other words, reports allow you to juggle clients, manage your data, and make better decisions in less time.
What to Look for in a Rank Tracking Software
So hopefully, you're ready to take the idea of investing in rank tracking software seriously.
Your first step will probably be to Google "rank tracking software" or something along those lines. If so, you'll be met with HUNDREDS of rank tracking tools, all claiming to be the best.
So which one should you choose?
In this section, we'll look at the significant factors that should go into your decision to purchase a rank tracking tool. If a tool doesn't measure up on one or more of these factors, it's time to look somewhere else.
Accuracy
Accuracy is probably the most crucial element of any SEO rank monitoring software. After all, tracking ranks is useless if they aren't even the right ranks!
But just how accurate should your tool be? Is 90% good enough? What about 95%?
Here's how I look at it: would you be happy to find out that you invested hours of your time and the money it takes to use software just to find out that it was wrong?
Absolutely not! That's why we think anything less than 100% accurate is worthless!
Accuracy depends on the rank-fetching algorithm as well as the frequency of the ranking updates. That just means you should find a tool with both a 100% accurate algorithm AND daily updates for the freshest ranks.
Pricing
Pricing is subjective. Your company might have a $10k/month rank tracking budget (I hope you do!), but another company might only have $20/month they can spare.
You should find a tool that fits your budget both now and in the future.
What do I mean by "the future?" 
I mean that you should look at the plans the tool offers that are larger than what you currently need. Are the prices still reasonable? If your client load goes up to where you need to upgrade, will the additional income allow you to afford the larger plan?
Different tools have vastly different pricing–so just find one that works for your company and doesn't break the bank.
Advanced Tools
In your search for the best rank trackers, you'll probably discover many tools that offer what I would call "basic" rank tracking capabilities. They'll let you see where your pages fall on the SERP and not much else.
That information is valuable, but it's not nearly as helpful as the in-depth information provided by advanced tools that allow:
Local tracking

Tracking across multiple search engines

Keyword discovery

Tracking on multiple device types

Detailed and unlimited reporting

Full SERPs for competitor analysis
Client reporting from a mobile app with unlimited users (MyRanks)
We recommend avoiding using an all-in-one SEO tool as your primary rank tracker. Instead, use an all-in-one tool for general SEO and a specialized rank tracker for the advanced features listed above.
This will allow you to use tools with designated features that also save you money (all-in-ones can get pricey).
Usability
Finally, you should ensure you can figure out how to use the tool you choose well.
If the usability of a tool is low, you won't get nearly as much out of it as you otherwise would.
The best way to discover if you like a tool's usability is to… well… use it.
But since you probably don't want to go around paying for tools just to find out if you like them, try looking for tools that offer free trials.
Free trials allow you to use the software at no cost, giving you a chance to try out all of its features and see how easy it is to use.
Why ProRankTracker Is the Best SEO Rank Tracker
Now it's time for our official recommendation for which SEO rank tracker we think you should use.
ProRankTracker is a highly specialized rank tracking tool that gives you access to some of the most detailed and accurate ranking data on the web.
It comes with daily-updated, 100% accurate ranks on every plan and offers highly advanced features even with the cheapest plans.
Let's look at 5 advanced features that ProRankTracker offers.
We highly recommend signing up for a 30-day free trial so you can follow along and see how much ProRankTracker has to offer your business.
Rankings Views
ProRankTracker is centered around 5 different Rankings Views, each giving you a different angle to fully understand your ranks.
The Dashboard view briefly summarizes all your ranks in one place. It tells you which ranks have gone up, gone down, or stayed the same over the past day, week, and month.
The URL view and Term view show you all your ranks based on either which URL they belong to or which keyword they're targeting.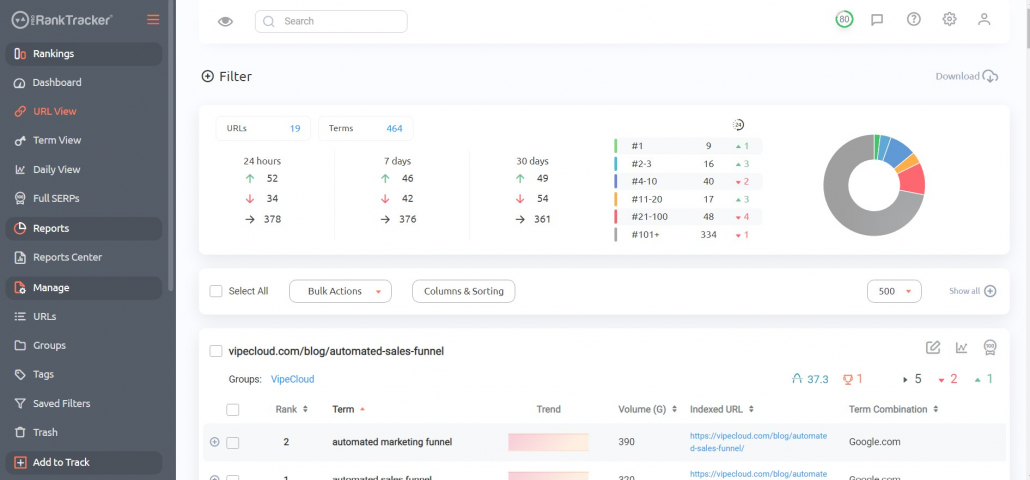 The Daily view shows a chart of how your ranks for a particular keyword have changed over a selected period, as well as a daily breakdown of any changes.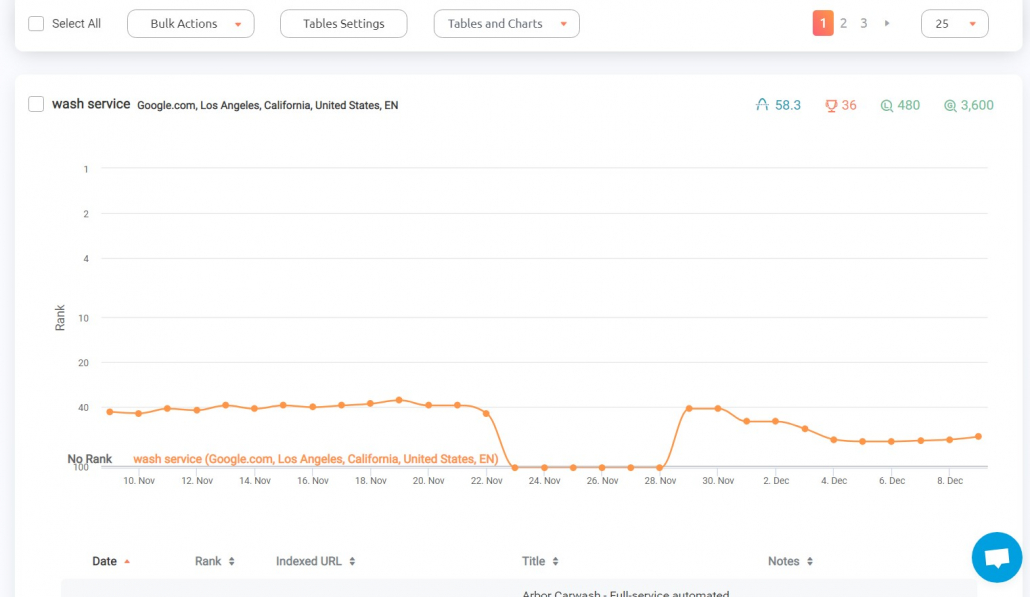 Finally, the Full SERPs page gives you a detailed look at how any of the SERPs you're targeting have changed over the selected timeframe.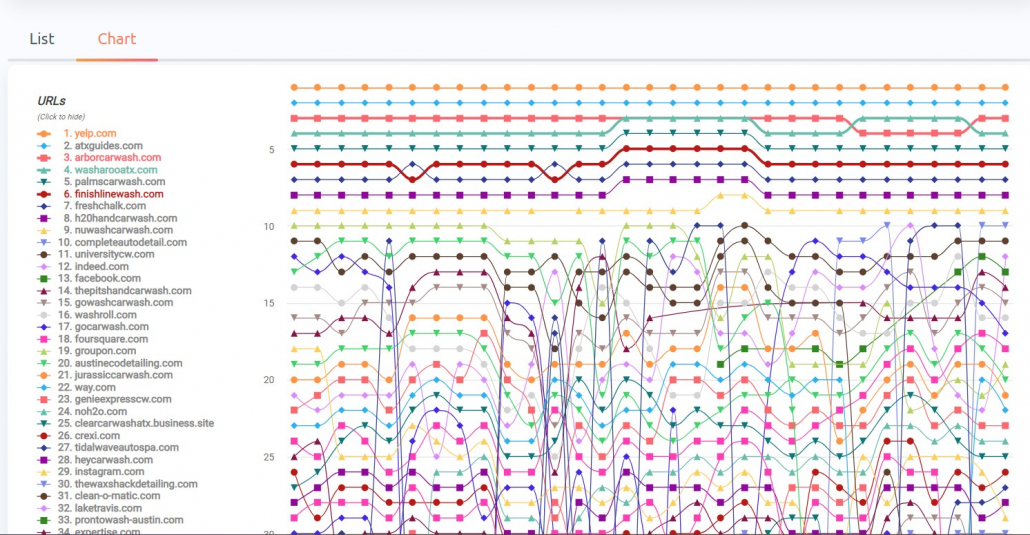 Using these 5 rankings views together lets you get a complete picture of your ranking strategy's health and take steps to improve it.
Advanced Tracking Features
Beyond the capabilities of the 5 Rankings Views (which are already incredibly powerful), ProRankTracker also offers industry-leading advanced tracking features. 
For example, the Add Wizard tool allows you to add:
Location data

Search engine

Device type

Language

Local GMB maps tracking: Snack Pack and Local Finder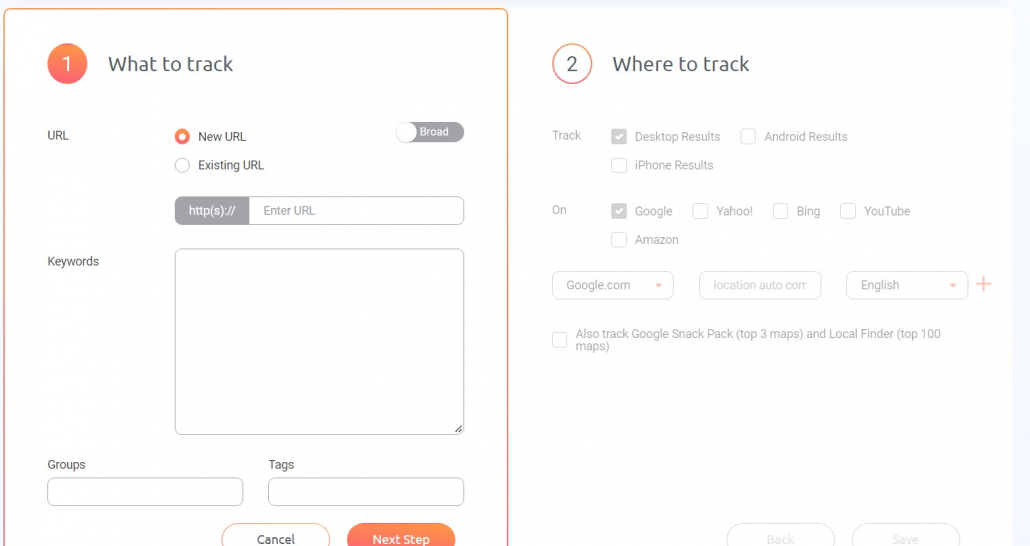 You can get even more in-depth with the Advanced Add tool.
If you feel like your keyword strategy is weak, use the Rankings Discovery and Keyword Suggestions Tools to find new, long-tail keywords that are already working for other companies in your niche.
Using these features lets you get laser-focused on the ranks you're most concerned about and quickly improve them.
Unlimited Reports
We've already talked about the importance of reports in helping you analyze data and grow your white-label agency. Let's talk about how ProRankTracker's reports help you accomplish it.
First, ProRankTracker offers over 20 types of reports to give you complete control over the kind of data you're receiving (or sending to your clients). They're also fully customizable and white-label-ready.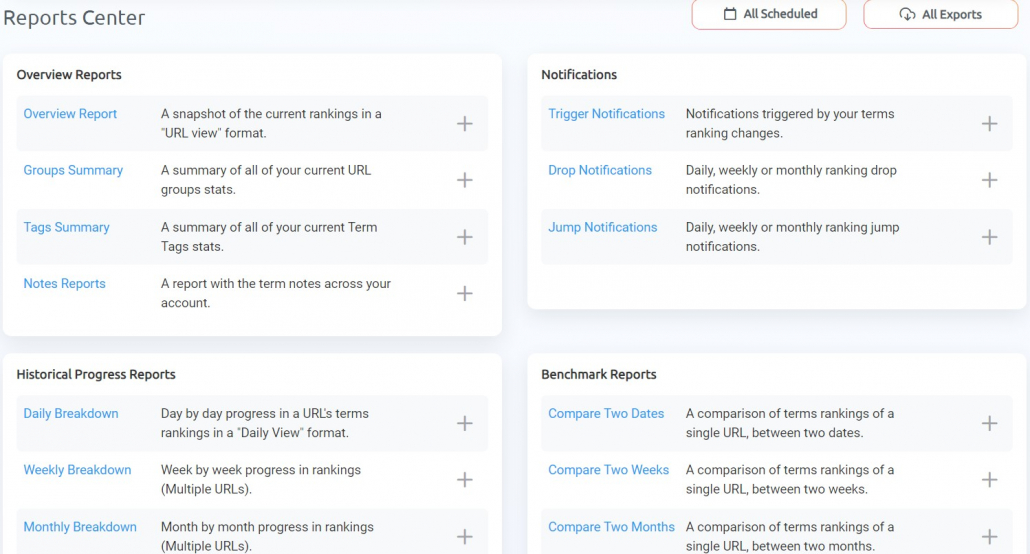 Second, you can generate as many of them as you want. Some other companies limit your reports to as few as 10 per month (and others to 100 or so), but we just don't think that's enough reports–especially for agencies.
That's why EVERY ProRankTracker plan gets unlimited reports at no extra cost!
White-Label
Speaking of white-label reports, ProRankTracker offers industry-best white-label features. 
For example, Pro- and Agency-level users get access to a fully customizable app they can send to their clients. Their clients can create their own log-ins and view the app as if it was created by their white-label provider (You!).
In addition, all 20+ reports are white-label customizable, meaning you can change:
Color scheme

Sent-from email address

Logo

Cover page
Every Plan Gets the Same Data
Unlike other rank tracking software options, ProRankTracker gives even the smallest plan (at just $11/month!) the EXACT same ranking data offered to their agency-level users.
In other words, even the user paying $11/month gets daily updates of 100% accurate data.
That means you'll NEVER have to worry about your ranking data with ProRankTracker–even if you don't have a huge SEO budget (yet).
Small businesses deserve the same data that the big guys have, and ProRankTracker's plans give it to them.
Conclusion
Do you need rank tracking software? 
Yep.
The tools they provide can easily make the difference between a successful marketing campaign that earns your company thousands of dollars and a page with 0 clicks because it's on the 10th page of Google.
ProRankTracker offers the best of highly-specialized rank tracking tools without the exorbitant price tag to match. As a result, it's a great place to kick off your rank tracking journey and get ahead of your competition.
Good luck and happy tracking!
https://proranktracker.com/blog/wp-content/uploads/2022/12/What-Is-Rank-Tracking-Software.png
963
2535
Jacob Statler
https://proranktracker.com/blog/wp-content/uploads/2020/11/prt-blog-1-1.png
Jacob Statler
2022-12-09 22:29:50
2022-12-14 22:18:43
What Is Rank Tracking Software?