What Your Keyword Ranking Position Means for Your Web Page
There are so many factors when it comes to SEO:
Technical SEO

On-page SEO

Keywords

Backlinks

Content
And that's just a tiny fraction of everything SEO strategists have to think about when doing their jobs. 
Even though there are many different factors, SEO boils down to one simple number:
Ranking position.
Your position on the SERP is the most critical indicator of your SEO strategy's success. It shows you what works and (maybe more importantly) what doesn't. It can also help you make better decisions about your strategy in the future.
This article will discuss what your keyword ranking position tells you about your web page and how to improve it.
Let's get started!
We'll cover:
What Is a Ranking Position?
If you're new to SEO, the term "ranking position" might still be unfamiliar. Let's spend a minute talking about what a ranking position is, then we'll talk about why it matters.
Put simply, a ranking position is how close your URL is to the top of the search engine results page (SERP).
For example, this image shows the top 3 results for the search term "green coffee." If you own the website titled "perfectdailygrind.com," your ranking position for this term is 3.
Google shows 10 results per page. If your ranking position is 11 or worse, you'll have to scroll to the second (or third or fourth) page to find your URL.
Why Your Ranking Position Matters
Most people know that search engine optimization is about getting more traffic, but it ultimately comes down to your ranking position.
In other words, your position on the SERP matters a TON. It will significantly affect your website's success and could be the reason that your business fails or succeeds.
Because your ranking position is so important, we'll spend a moment discussing a few ways it affects your business.
Remember that these aren't the ONLY reasons your ranking position matters. These are just a few primary reasons you should emphasize maintaining a high rank on the SERP.
Higher Click-Through-Rate (CTR), More Traffic, and More Sales
Probably the most crucial reason your position on the SERP matters is that it directly affects your income.
For example, let's say your URL ranks 11 for a specific search term on Google. However, because you're on the second page, only about 6% of all searchers will even see your result.
When few people see your page, even fewer will click. Of those few, only a handful will buy something from you. 
In other words, being on the 2nd page takes a HUGE percentage away from your earnings.
The closer you get to the first position on Google (or Yahoo or Bing), the more clicks you'll get. More clicks = more traffic = more sales.
You Can Use it to Adjust Your SEO Content Strategy
If you have a high rank on a search engine, it means your strategy is working well. If your strategy is working, you don't need to change anything.
But what if your strategy isn't working well?
If you're ranked 8-10, your page is in danger of falling to page 2. If that's the case, your page likely needs some changes:
Updated content

Better content

More backlinks

Different keyword strategies (more targeted keywords)
Your ranking position tells you all of these essential facts about your SEO strategy. If you pay attention to your SERP ranking, you can update and adjust your strategy.
What Every Ranking Position Means About Your Page
It's evident that your ranking position matters for your business and website. However, it can also tell what your searchers think about your site.
For example, if you have 2 pages on your site and one of them ranks on page 1 and the second on page 2, you know that searchers like the one more.
So what does each ranking position mean about how your page is doing? How much can you tell about your searchers based only on your URLs ranking positions?
In this section, we'll go into more detail on what specific ranks mean for your page. Use this information as a guideline to help you understand where you need to work on your site's SEO and keyword strategies.
Ranks 1-3
If you're ranking in the top 3 slots, your page and content satisfy search intent. In other words, you're matching what your searchers are looking for when they search for the keywords you're targeting.
The top 3 positions get over 50% of all Google clicks, so you're in good shape if you're in one of these spots.
Ranks 4-6
If you're in ranks 4-6, your content gets close to what your searchers want. You aren't in the top 3, but you still get clicks because you provide value (even if it isn't as much as the top 3).
If you want to move past these ranks, narrow your keyword strategy and improve and update your content. Read all your competitors' pages and make sure that you're providing higher quality content than they are.
Ranks 7-10
Ranks 7-10 are still on the first page of Google, but you will start to see a significant drop in CTR in these positions. These 4 positions see less than 15% of all clicks.
If ranking in these spots, you need to modify your content to better match search intent. Make sure that your content is all value and no fluff.
Higher value always means higher rank, so rework your content with a fine-tooth comb to make sure everything is incredibly high value. You will start to see improvements quickly.
2nd Page and Below
The second page and below get hardly any clicks. That means your page will not contribute much to your income if it falls to the second page or worse.
Being on the second page means that Google is starting to test your content in the SERPs. However, it hasn't earned enough positive signals to rank on the 1st page.
In other words, your website is good enough for Google to include it on the SERPs but not good enough to think people will find much value there.
Why You Have a Low Ranking Position + How to Adjust Your Strategy
Now that you know what each ranking position category means, let's talk about WHY you aren't ranking as high as you want to.
In this section, we'll look at 6 reasons you have a low rank. For each of those reasons, we'll ask (and answer) 3 questions:
What is the problem?

How does the problem affect your SEO?

How can you fix it?
Your Keyword Strategy Is Weak
One of the most common problems in SEO (especially with beginners) is that their keyword strategy isn't specific enough.
We see many people targeting high-volume, high-competition, broad keywords instead of specific ones.
For example, people target keywords like "monthly planner" instead of "monthly planner for law students."
Targeting high-competition keywords can cause you to lose traffic because you can't compete with the giant companies on those keywords.
To fix this issue, target longer-tail keywords with less volume. It'll be easier to rank, and there's usually more purchase intent with long-tail keywords.
You Aren't Beating Your Competitors
The most common issue for most businesses on the SERP is that they can't keep up with their competitors.
What causes someone to lose to their competitors?
They have better content. It's:
More informational

More visual

Easier to read

Better written
So how do you fix this issue?
The simple answer is to create better content, but there's more than one way to do that.
Update outdated content

Rework content to match search intent

Include better visuals like infographics, images, and graphs

Learn about how to structure content with headings, paragraphs, and sections

Write posts in direct competition to your opponents' posts
You Can't Adapt Quickly Enough to Rank Changes
Have you ever started losing traffic and sales and couldn't identify the root cause?
This happens to people all the time. One of the leading causes is that they're dropping on the SERP and don't know.
When you don't know what your ranks are doing, it's impossible to adjust your strategy appropriately. Everything you do will just be a guess.
The fix here is obvious: just keep track of what your ranks are doing on the SERP. Track ranks more closely with a rank tracker, so you're never left wondering what is happening to your SEO.
You Aren't Targeting Local Searches
If you're a local business, you might not be ranking for all the types of local searches you should rank for.
For example, you might not be appearing on:
Google Maps searches

Google Snack Pack

Local Finder

"Near Me" searches
If you're missing out on those searches, you could be missing HUGE quantities of traffic.
To fix this issue, adjust your Keyword strategy to include local searches using a rank tracker. Additionally, set up your Google Business profile. Make sure it's fully complete and up-to-date with:
Name 

Address

Phone number

The locations you serve
Your User Experience is Lacking
Have you ever been to a website that's just miserable to use? There are tons of issues that may contribute to that:
It loads slow

Messy design

Hard to navigate

Buttons that don't lead to anything
If you have those problems, Google will not rank your site as high as others with better design. Google wants to rank sites with the most value, and nobody enjoys websites with a poor user experience.
If that problem describes your website, speed it up by trying the following strategies:
Compress images

Find better hosting

Have your site professionally redesigned for SEO

Use

Google Page Speed Insights

to diagnose the problem
Add anchor links in a table of contents on your blog posts

Have a clean linking structure/navigation

Use good, concise copy that's easy to read
You don't have enough high-quality backlinks
Backlinks are one of the most misunderstood parts of SEO. Getting backlinks can almost seem like a mystical process.
Backlinks are hard to get. However, it's harder to rank for more significant keywords if you don't have them.
Having a lot of high-quality backlinks indicates to Google that your site is worth visiting because sites around the internet are linking to you.
The best way to get backlinks is to create better content. Make sure your content is worth earning a backlink.
If you want to speed up the process, reach out to websites in your industry and set up a backlink agreement with them.
How to Use ProRankTracker to Boost Your Ranking Position
ProRankTracker is a highly specialized rank tracking tool that can help you improve your ranking position using industry-leading tools.
The best thing about using a rank tracking tool like ProRankTracker is that you can get insights that are impossible to get without them.
For example, you can generate unlimited Full SERPs that show you exactly how each of your URL's (and your competitors' URLs) ranks have changed recently.
Let's look at 3 ways to use ProRankTracker to push your ranks to the next level.
Use Rankings Views to Track Ranks
ProRankTracker offers 5 Rankings Views that help you know precisely how your URLs perform on the SERP.
The Dashboard gives you an overview of ALL your ranks in one place.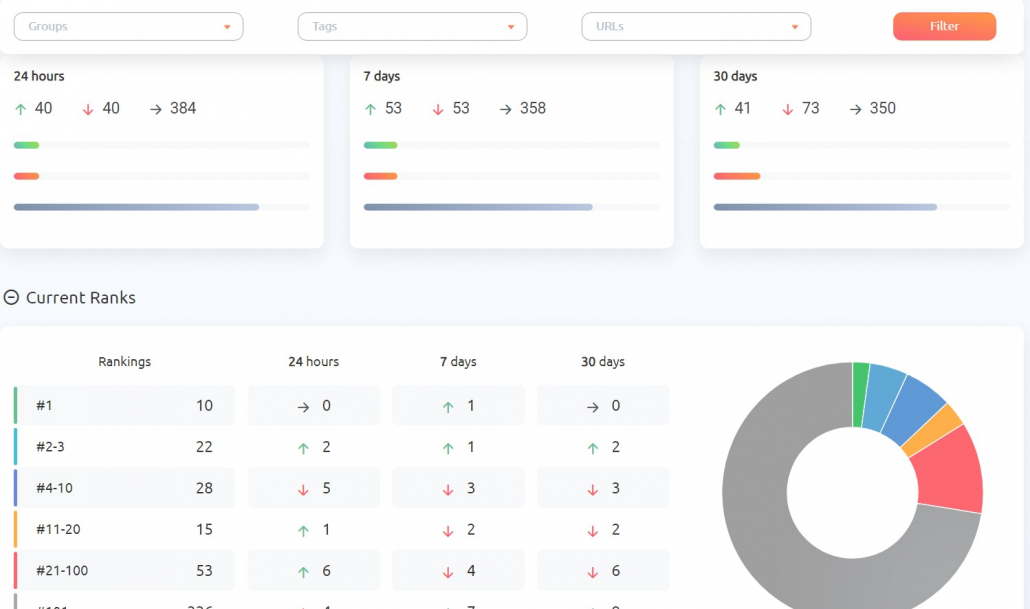 URL View shows you how the tracked terms for each URL are doing. In other words, it organizes all your tracked keywords by the URL for which you're tracking them. You can see pertinent information about how each URL's keywords perform in one place.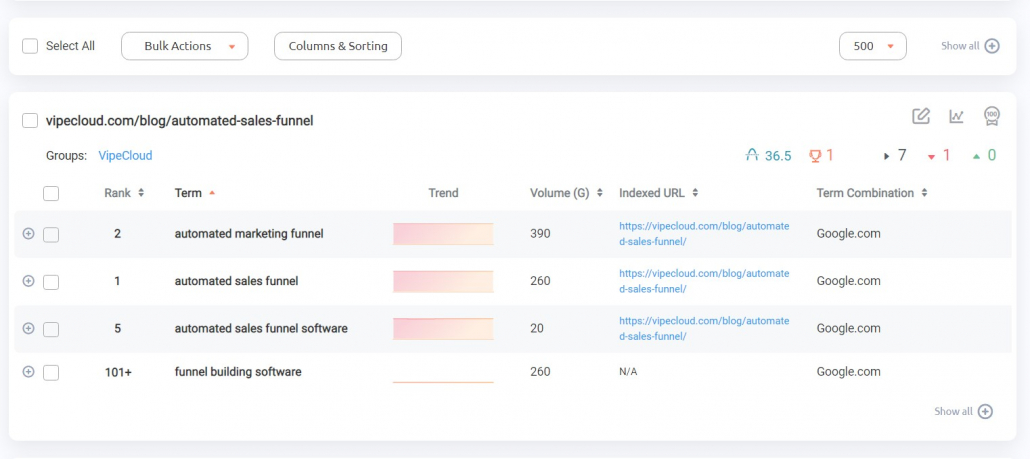 Term View is just like the URL View, but it organizes your URLs by which terms you track. For example, it shows you all the URLs that are targeting the same keyword.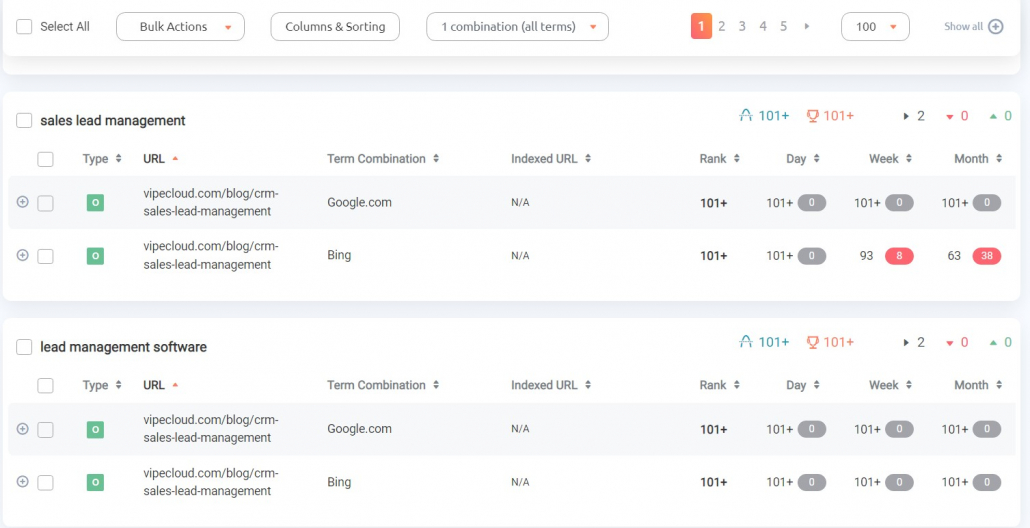 Daily View shows how your ranks have changed over a selected period. The graphic view makes it easier to understand and visualize.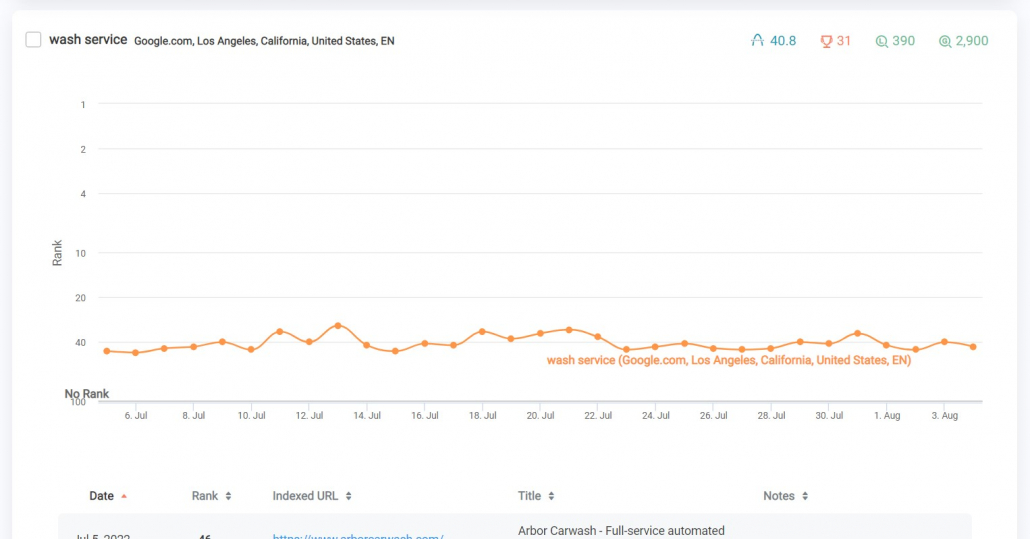 The Full SERPs view shows you the entire SERP for a given search term. You can also display the SERP in a graphical view to track movement over a selected period.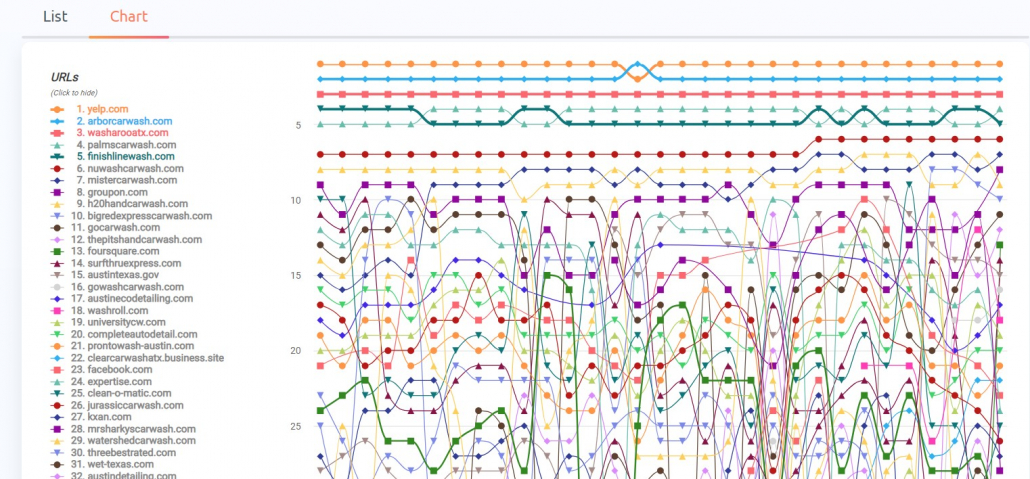 All of these Rankings Views help you keep track of your ranks with eagle-eyed precision. Knowing where your ranks stand is the key to improving your strategy using the tips above.
Rankings Discovery and Keyword Suggestions
After reading this article, you may have discovered that your keyword strategy is weak.
ProRankTracker can help you with that.
Rankings Discovery shows you all the keywords your URLs already rank so you can start tracking them. This is also useful for discovering new keywords from your competitors' strategies.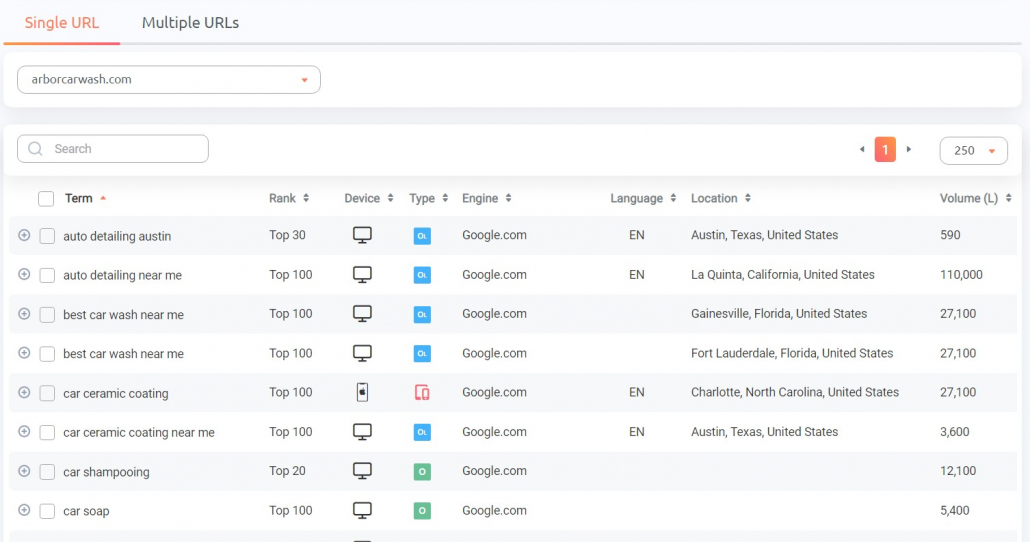 After using Ranking Discovery to grow your strategy, head over to Keyword Suggestions to discover highly-specific, long-tail keywords to add to your plan.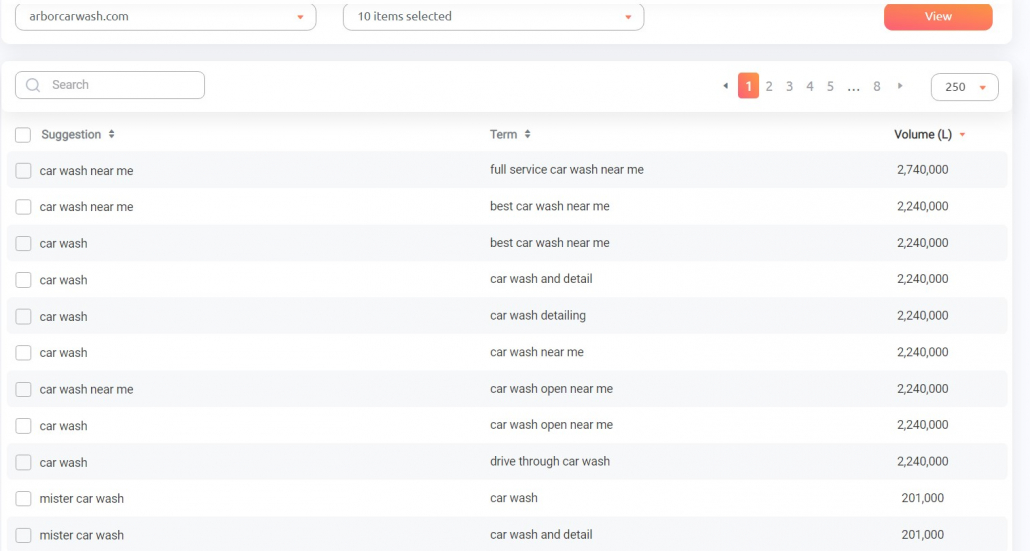 Prioritize finding long-tail keywords that closely match buyer intent so you can get higher on the SERP and get more clicks.
Setup Reports and Notifications
We mentioned earlier that you can't improve your ranks if you don't know what they are. Reports and notifications are how you fix that problem.
ProRankTracker offers more than 20 types of reports and notifications to keep you (or your white-label clients) updated.
There are 2 main categories of reports on ProRankTracker:
Schedule reports

Triggered notifications
Scheduled reports send on a regular schedule. For example, you might schedule a daily overview report and a weekly rank change report. They will send regardless of what happens in the interim.
On the other hand, triggered notifications are only sent when specific parameters are met. For example, you might set a notification to send when one of your ranks drops by more than 2 places.
Setting up both types ensures that you're always up-to-date, giving you the best chance of honing your strategy.
Conclusion
Your ranking position has more power to harm your website than any other factor in SEO, so staying updated is essential.
If you follow the tips in this article, you should quickly be able to keep track of your ranks to improve your strategy.
We highly recommend signing up for ProRankTracker's 30-day free trial so you can follow the steps above and see how much it can help you improve your ranks.
Good luck!
https://proranktracker.com/blog/wp-content/uploads/2022/08/What-Your-Keyword-Ranking-Position-Means-for-Your-Web-Page.png
321
845
Jacob Statler
https://proranktracker.com/blog/wp-content/uploads/2020/11/prt-blog-1-1.png
Jacob Statler
2022-08-04 18:57:49
2022-08-04 22:50:03
What Your Keyword Ranking Position Means for Your Web Page