SEO Agency Rank Tracker: How to Track Clients' Ranks
Looking for an agency rank tracker? Try ProRankTracker for FREE today.
As you get more experience in SEO, you might start to think about starting your own SEO agency.
Maybe you've even had some fellow business owners approach you to ask if you can track their ranks and do their SEO for them.
When most people reach this point, their minds fill up with questions.
What does agency rank tracking look like? How is it different from personal rank tracking? What SEO rank tracking software should you use as an agency?
At first, these new issues can seem daunting, and many people don't make the jump to agency rank tracking. However, with the right tools, you can run a successful SEO agency.
This article is going to walk you through each of these questions and show you how you can succeed in the SEO business.
We'll cover:
Agency Rank Tracking vs. Personal Rank Tracking
Before you can decide on what rank tracking tools you want to use for your SEO agency, you must understand the differences between personal and agency rank tracking.
Agency rank tracking is very similar to the SEO you know and love, but everything is on a larger scale. Understanding this difference will help you pick out a tool that will help you attract and retain clients.
Let's look at 3 of the biggest differences between agency rank tracking and personal rank tracking:
You'll be tracking multiple websites (and keeping track of multiple strategies).

You'll have to track many more keywords than you're used to.

You'll have to make sure your clients are happy and informed (if you want to make any money).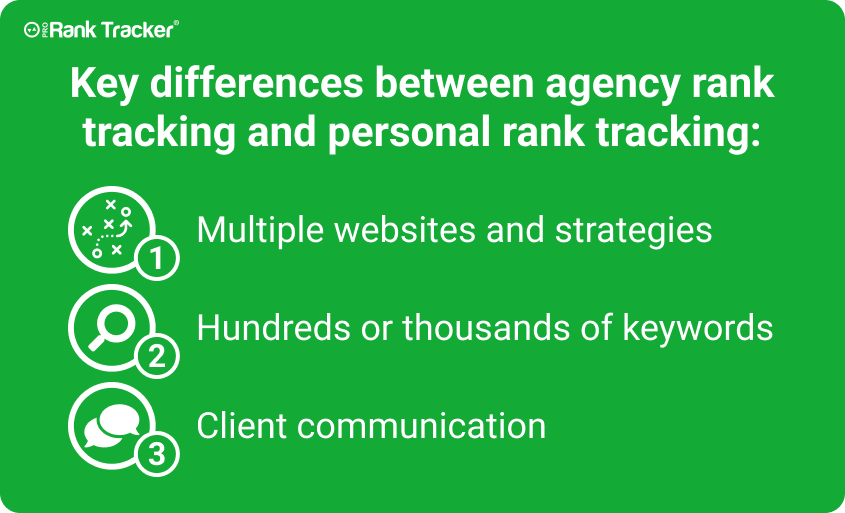 Multiple Websites and Strategies
The most apparent difference between personal SEO and agency SEO is that you're no longer responsible for just your website.
You'll now have to consider the websites of each of your clients.
Keeping track of multiple websites can quickly get very complicated. You will have to get to know the industries of each of your clients and execute individual strategies for each website.
The more websites you add, the more you'll see 2 things happening:
You make more money.

You have to track more and more details.
We'll talk more about how this affects your decision of what tool to use in just a moment. But, for now, it's essential to realize that the complexity of rank tracking grows each time you take on a new client.
Many More Keywords
In addition to tracking more websites, you'll also be responsible for monitoring many more keywords.
The number of tracked keywords can quickly grow into hundreds or thousands if you have multiple clients (depending on the size of the clients' businesses).
If you aren't careful and highly organized, the vast quantities of keywords can make rank tracking almost impossible.
For example, you might be tracking 500 keywords for your 5 clients. Unless you have a robust system in place, you could spend dozens of hours a month just sorting through keywords and figuring out what client they belong to.
Also, consider the amount of time it takes simply to input all of those keywords to be tracked. 
In other words, more keywords = more time and more complexity.
Reporting and Client Interaction
You might think that keeping track of everything is the hardest part about agency rank tracking. After all, it's easy to see how much time and effort it could take to work with 5 or 10 websites and hundreds or thousands of keywords.
However, the hardest part is keeping your clients happy and well-informed.
Data is data, no matter how much of it there is. However, your clients will all be different. They will all require different levels of attention.
Giving a client too much attention can cause them to feel like you don't know how to do your job without their input.
Conversely, not giving them enough attention can make them feel like you're working without their input and guidance.
You will have to find the sweet spot between those 2 extremes for every new client you take on.
Specific rank tracking tools can make that process more manageable, but it's worth keeping in mind the challenges of dealing with clients BEFORE making the jump to agency rank tracking.
What to Look for in an Agency Rank Tracking Tool
Considering these differences between regular SEO and doing SEO as an agency, let's look at some of the main features you should be looking for in SEO rank tracking software for your agency.
Keep in mind that these are features you want to look for and the tracking features necessary for personal SEO tracking.
In other words, we're not going to be talking about a comprehensive list of features you should be looking for in a rank tracking tool. Instead, we'll discuss 4 significant elements that make the difference between a tool that's good for personal SEO and one that's good for agency SEO.
Advanced organization features

White-label capabilities

Automation

Accuracy
Advanced Organization
Good organization will make the difference between a successful agency and one that fails.
Why?
Because it's impossible to provide high-quality SEO services to multiple clients without a solid organizational system in place.
That's why one of the first things you should look for in an agency SEO tool is powerful organizational features.
Organizational features fall into 2 categories:
Keywords and URLs

Efficiency
Keyword and URL organization should help you categorize and sort your tracked keywords and URLs without becoming a pain in the butt.
If all your keywords are lumped together in reports, it isn't doing much good. Organization ensures that you can only look at the keywords you want to look at.
Efficiency-related organizational features speed up your process. Instead of having to scroll through your URLs, you should be able to quickly use a filter that shows you precisely what you want to see.
When you have multiple clients, organization keeps them separate so you can work on each client's strategy individually.
White-Label Features
White-label features help you keep your clients informed without making you look unprofessional.
For example, let's say you're testing out 2 possible SEO providers. One of them sends you a report with another company's logo on the top, and the second sends you a report with their logo on the top.
Which one will you choose?
The fact is that white-label reports that allow you to customize them with your logos and colors can often make the difference between landing a client and missing out.
White label features:
Make you look professional

Impress your clients

Increase the chances that your clients will refer their friends to you
Any SEO service you use for your agency should offer you a wide variety of customizable reports that make it easy to keep your clients updated. They should provide you with the ability to customize both the appearance and contents of any report that you generate.
Automation
Checking your ranks every day is no big deal, but what about making detailed observations for 5, 10, or 15 clients?
With every client you take on, it becomes more and more essential to find ways to automate your rank tracking tools.
The clearest example of this is in reporting. Each of your clients will want regular reports detailing their ranks' progress. Many will even want a daily report delivered to their inbox.
Without automation, reporting rank progress to your clients is a HUGE hassle and a MASSIVE time-waster.
If you can automate the reporting process, your clients will have the reports in their inboxes before your head even leaves the pillow in the morning.
Ensure that your agency uses rank tracking tools that allow for extensive automation, especially reporting.
Accuracy
Finally, one of the most important features you should look for in an agency rank tracking tool is accuracy.
How accurate do you want your ranks to be?
Is 90% accurate high enough? What about 95%? Is 99% high enough?
If you're anything like me, you want to know that your ranks are 100% all the time. Anything less means that your business is missing out on information that could be crucial to its success.
If you're not happy with sort-of-accurate data, your clients won't (and shouldn't) be either.
In other words, looking for a tool with data that's 100% accurate is crucial for your agency's success. If you're supplying clients with insufficient data, I can guarantee you won't have clients for long!
How to Use ProRankTracker as an Agency Rank Tracker
Now that we've gone through the basics of agency tracking, let's take a look at how you can use ProRankTracker to take your agency to the next level.
In this section, we're going to be focusing on features of ProRankTracker that help agencies manage their clients better. We won't look at all of ProRankTracker's features.
Each of these features is specifically designed to make agency rank tracking easier, faster, and more accurate.
Tags and Groups
Let's go back to our example of tracking 5 clients' ranks. As we mentioned, things can quickly become difficult to track when you have multiple clients. So how do you keep things in order?
Tags allow you to group tracked terms together for searching, reporting, or editing. On the other hand, groups will enable you to group tracked URLs in the same way.

Using tags and groups allows you to collect all of the terms and URLs for a single client or a single website together. Then, you can easily access just those terms or URLs later.
Tags and groups form the backbone of ProRankTracker's organization system for SEO agencies. We'll use them for:
Filtering 

Reports

Notifications

MyRanks app

Sub-accounts
For the remainder of this section, we'll look at each of these features and how they'll help you provide better service to your clients.
Filtering
One way to use your tags and filters to drastically increase the speed of your SEO process is with ProRankTracker's filtering options. There are 2 easy ways to filter your data in ProRankTracker:
Quick View

The filtering section of a Ranking View
When using any of ProRankTracker's Ranking Views, you can click the eye-shaped icon on the top of the screen to choose various quick view options. Here, you can filter results by:
URL

Group

Tag

Saved Filters

Terms

Reports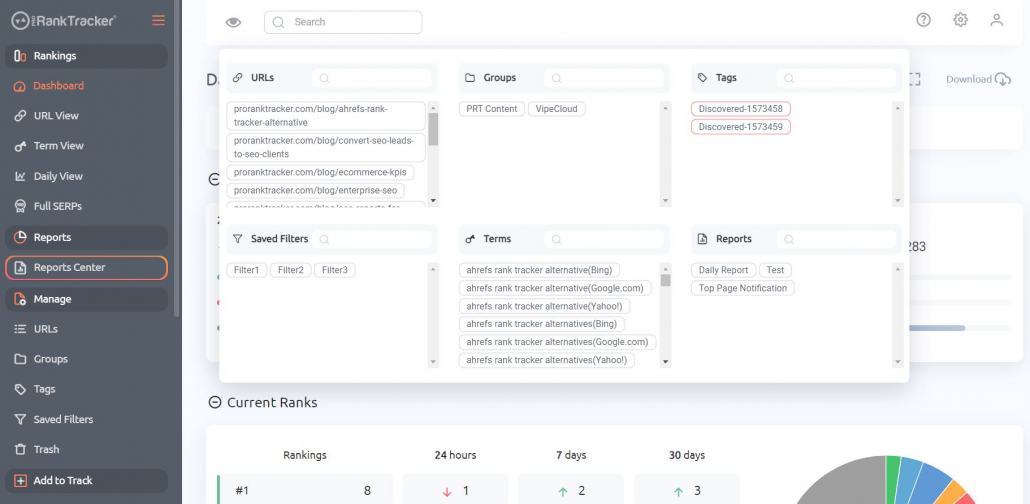 After choosing your quick view options, you will only see data that applies to those parameters. 
Second, you can use the filtering options at the top of the Rankings View pages. Just click the button that says "Filter" at the top-left corner of the Rankings View.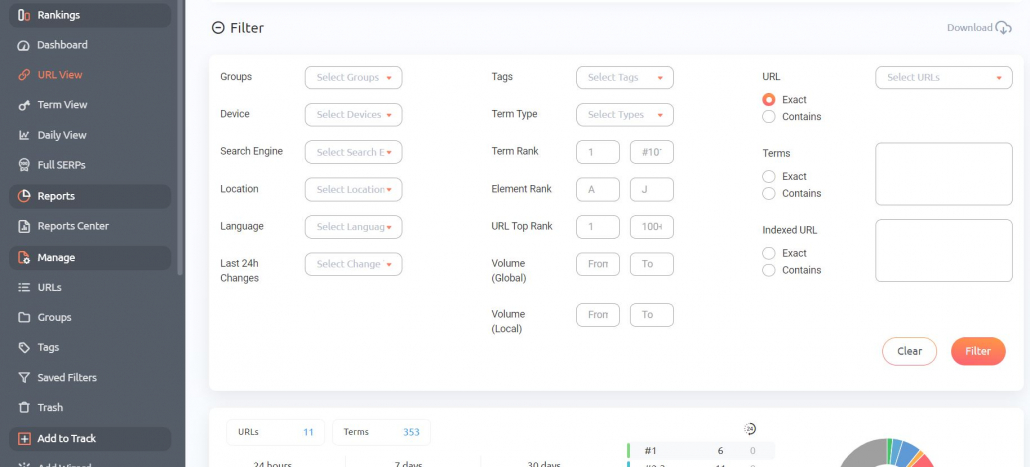 Here, you can set very detailed filters by various parameters:
Groups

Device

Search engine

Location

Language

Tags/groups

Rank range

Volume

URL/term
When your filter is set how you want it, click "Filter." The results on the page will automatically change to show just the data that applies to your filter.
Using filtering options like these allows you to quickly look at data for one specific client or project.
If you have a filter that you repeatedly use–for example, all of a particular client's terms–you can save that filter for quick access in the future by going to "Saved Filters" and adding your most frequently used filters. In the future, they will appear when you click on the eye-shaped filter icon.
Reports
Almost nothing will impact your SEO agency more than your ability to quickly and accurately communicate with your clients. ProRankTracker's reports allow you to do just that.
You can choose from 20+ reports and put them on a completely automated schedule. That means your clients will receive updates from you without you needing to lift a finger.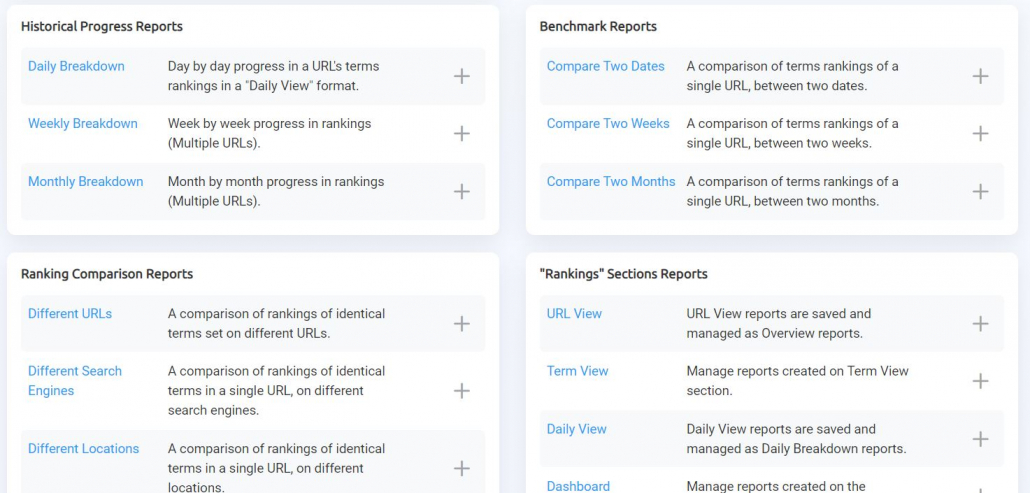 In addition, all the reports are completely customizable. You can edit:
The data the report contains

The look of the report (including adding your colors and logo)

The email that sends the report (so your clients get reports from you instead of from ProRankTracker)
Another great reporting option for agencies is the Shared Reports feature. 
Shared Reports generate a live webpage that you can share with your client. They can also be masked with your domain, so it will appear as the report is on your own domain.
You can protect the webpage with a password, and the data it contains is fully customizable, so each client will only see their data.
As with other reports, Shared Reports are completely white-label, meaning you can add your own color scheme and logo. The client can check the report whenever they want, and the webpage will automatically update to reflect the most updated data.
Many of your clients will want multiple reports weekly. Even the smallest ProRankTracker plans offer unlimited reports, so you'll never have to worry about bumping up against your limit.
Notifications
Notifications are like reports, but they are triggered by events instead of sent regularly.
For example, you might choose to set up a notification that sends when any of your client's terms drops by 3 ranks or more.
Notifications are crucial to making your clients feel more in touch with the SEO process. Your clients can choose to get notifications as frequently (or as infrequently) as they'd like.
You don't just have to use notifications to avoid disasters. You can also use them to communicate big wins.
For example, if your client gets a notification every time one of her ranks goes up, she will start to feel like your agency is capably handling her SEO.
You can set notifications to send when different parameters are met:
When a term reaches the #1 spot

Reaching a certain threshold rank

Reaching any specific rank

Increasing or decreasing by a particular number of ranks

Increasing or decreasing by a percentage

MyRanks App
If you want to distinguish yourself from your agency competitors, you can give your clients access to the MyRanks app.
Through the app, your clients will access only the groups and tags that you allow them to see.
Like ProRankTracker reports, the MyRanks app is customizable. When your clients log on with the username and password you give them, they will see your company logo and your contact information.
The MyRanks app is a great way to set your business apart. It makes you look highly professional and well-resourced. After all, how many agencies can afford to have their app?!
Sub-Accounts
Finally, Sub-accounts allow you to work with your team without giving everyone full access to your account data.
In other words, creating a sub-account for your employees allows them to log in to ProRankTracker with their username and password. They will see the same ranking data you see with a few important exceptions:
They will only be able to see data that you choose to show them (so you can assign a team member to a particular client and only grant them access to that client's data)

Their access to administrator privileges (such as adding or deleting terms) can be granted or revoked
In other words, you can control everything about their access to data through their sub-account.
Sub-accounts are a fantastic solution for teams with multiple members. As the owner, you retain complete control over your clients' data, but you can easily work with other team members with sub-accounts.
Best Rank Tracking Practices for Your Agency
Up until now, we've been covering the theory behind agency rank tracking. Now, let's take a closer look at some practical tips to help you provide better SEO for your clients.
Now that you know about agency rank tracking and some of the critical ProRankTracker features for agencies, we're going to give you some tips for helping your agency thrive.
As before, we're not going to cover basic SEO strategy that doesn't relate directly to your agency. The goal here is to help you maximize your profits by providing an excellent service to your clients.
We'll also show you exactly how ProRankTracker's features can help you accomplish this goal.
Keep Your Clients Informed
I cannot emphasize enough how important it is to keep your clients informed! 
A good rule of thumb is to provide the client with the same amount of information that you would like to have about your ranks. Then, if they want more or less, you can adjust the flow of information later.
The best ways to accomplish this in ProRankTracker is by using the reports feature.
Choose the report or notification you want to automate for your client, then click "Add New Report."
You will then be able to customize the report to your specifications completely. Make sure to fill out:
Frequency of the report

Sender email

Client email

What data to include in the report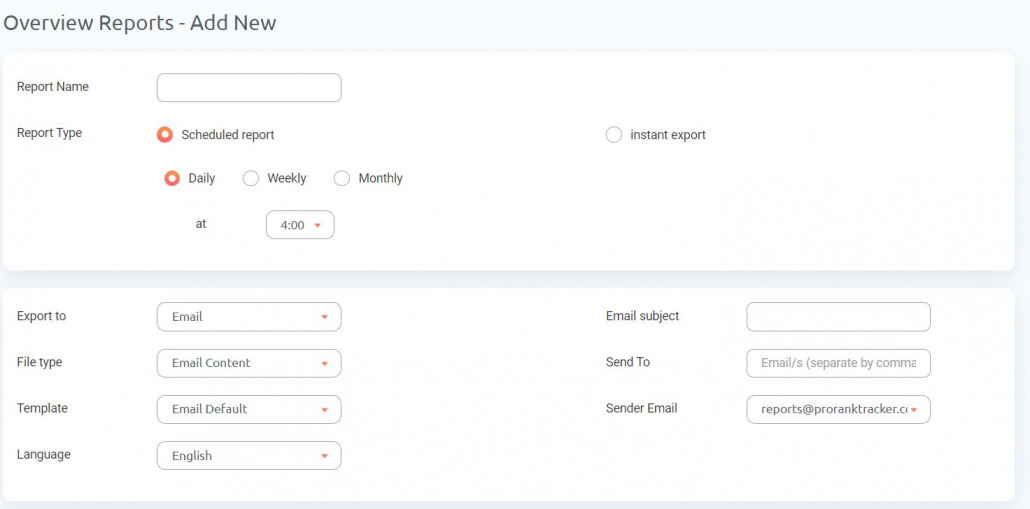 When you're done, click "Save." The report will automatically send when scheduled!
By automating several reports for each client, you can increase the information they're receiving while decreasing the amount of time you spend on it. It's a win-win!
Set Up Notifications
You want to guarantee that both you and your clients are aware of any sudden rank changes (whether good or bad).
The notifications feature is the best way to accomplish this. To set up your notifications:
Go to the Reports Center

Select the type of notification you want to create

Click "Add New Report"

Fill out the information as desired
Again, fill out the email details to make sure that your client sees your email address when they receive any notifications.
We recommend setting up multiple Jump and Drop Notifications for each client. Doing so will guarantee that you and your clients are always aware of any significant changes when they occur.
Use Keyword Tools to Improve Ranking Accuracy
What about accuracy? We haven't yet touched on how ProRankTracker can help you provide accurate data to your clients.
Since this is such an essential part of agency SEO, let's spend a little time talking about it now.
First, ProRankTracker offers 100% accurate data. Without accurate data, nothing else matters.
Second, there are other tools that will help you improve the accuracy of your clients' rank tracking.
The most crucial tool ProRankTracker offers to help make your SEO more accurate.
The Rankings Discovery tool is they people don't realize that they're already ranking for keywords and don't even realize it! This inaccuracy can cost people dearly by not capitalizing on a golden opportunity.
The Rankings Discovery tool fixes this problem by revealing the keywords you're already ranking for (but don't know about).
All you have to do is input your URLs and keywords into ProRankTracker, then open the Rankings Discovery tool. It will show you a list of keywords you're ranking for but not tracking.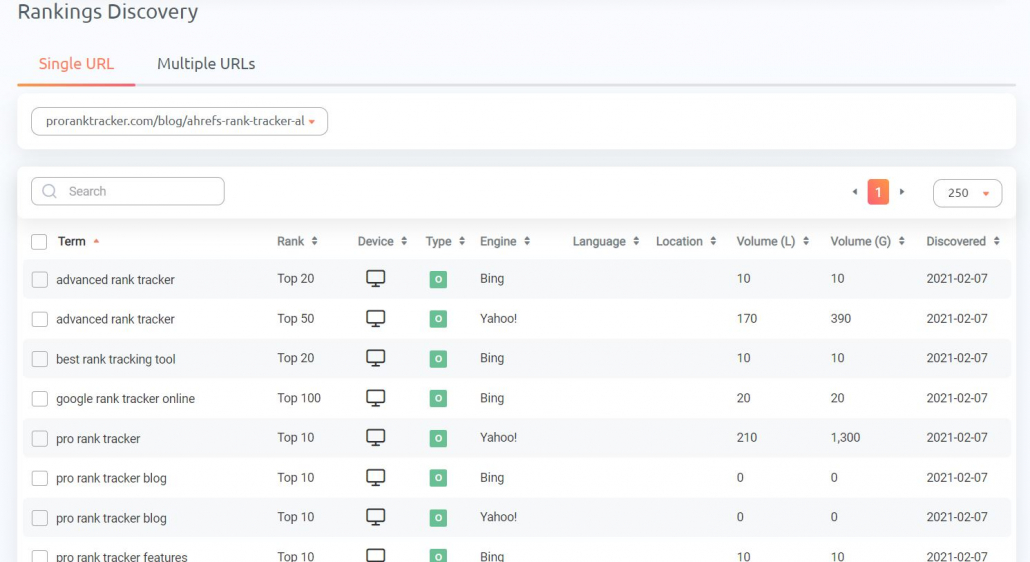 Impress your clients by uncovering these secret keywords for them and improving the accuracy of their SEO efforts!
Customize Your Reports
Finally, you must customize your reports. If your reports are going out without any branding, you're making yourself look bad.
All of ProRankTracker's reports are 100% white-label, meaning you can customize them to your liking.
To customize your reports, just go to your ProRankTracker settings by clicking on the gear-shaped icon in the top-right corner.
Then, create a template to apply to your reports. You can customize your reports in several ways:
Changing colors (or choosing from predefined styles)

Adding a header and footer

Adding a logo

Attaching a cover letter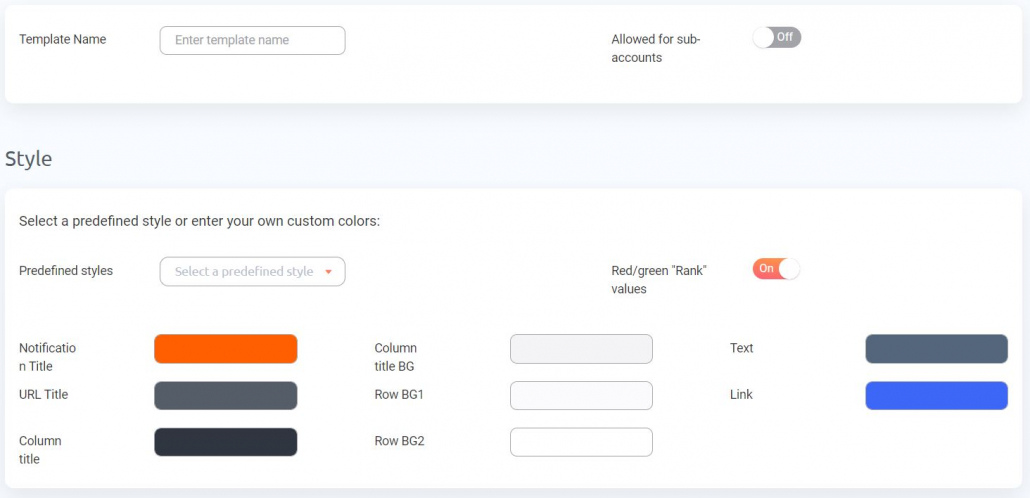 Your template will then be available to automatically apply to any reports that you create from then on. In addition, ProRankTracker will send out each automated report with the same template presets, so you don't have to re-customize everything each time.
Make sure you customize your reports before you start sending them out to your clients! It will help your business grow by making you seem professional and capable, so don't overlook it!
Conclusion
Agency rank tracking is much more complicated and involved than personal rank tracking, but you can manage it by using the best rank tracking tools on the market.
Following this guide should help you start using ProRankTracker to manage multiple clients' websites with accuracy and efficiency.
If you aren't sure if ProRankTracker can help your agency provide better SEO services to more clients, try it out for free for 30 days!
Good luck!
https://proranktracker.com/blog/wp-content/uploads/2022/01/agency-rank-tracking-4.png
321
845
Jacob Statler
https://proranktracker.com/blog/wp-content/uploads/2020/11/prt-blog-1-1.png
Jacob Statler
2022-01-25 18:37:48
2023-02-20 17:31:58
SEO Agency Rank Tracker: How to Track Clients' Ranks