How to Square Away Your Marketing Agency Reporting
What's the best way to keep your marketing agency clients happy?
As a marketing or SEO agency, delivering reports to clients is a critical part of the process.
In fact, they may just be the key to getting your marketing agency to the next level.
However, creating reports can be a challenging task. This article will discuss tips and tricks for improving the reports you send to your clients.
Whether you are a seasoned professional or just starting, these tips will help you deliver reports that impress clients and help improve their marketing performance.
We'll cover:
Why Reporting Is Essential for Marketing Agencies
As a marketing agency, your #1 priority should be ensuring your clients' satisfaction. To do that, you need to provide measurable and tangible results to your clients. 
However, providing regular reports is often an overlooked aspect of the job. Reporting not only keeps your clients happy, but it can also help you understand changes in your clients' rankings and attract new clients. 
In other words, reporting can make the difference between a successful marketing agency and one that never gets more than a couple of clients.
Before we get ahead of ourselves, let's look at some of the main reasons why you NEED reporting if you're going to attract and keep your agency clients.
Keep Your Clients Happy
Regular reporting is essential to keep your clients happy. Your clients are investing their time and money in your agency, and they want to see the results of their investment. 
Regular and detailed reports that explain what progress you've made and what tasks you've accomplished will help them understand where their money is going and build trust. 
Clients need to know that they're getting value for their investment, and nothing proves that better than regular reports – especially if those reports consistently show that your services are helping them generate and capture demand.
Understand Changes in Your Clients' Rankings
To run a successful marketing agency, you must know the ins and outs of your clients' SEO strategies.
The best way to keep up-to-date is with regular reports. Not only does it help you understand every detail of their ranks, but it saves you time by keeping you from needing to check ranks daily.
One of the most obvious ways this works is when Google undergoes an algorithm update. Frequent search engine algorithm changes can affect search engine result pages, and analyzing report data over time can help you assess how algorithm updates affect your clients' website's ranking (which enables you to adjust your strategy moving forward.
Professionalism Attracts New Clients
You could probably put all your clients' reporting data in a simple unbranded Excel spreadsheet, but is that the image you want to display of your company?
Creating professional-looking reports will not only keep clients happy but can also help attract new ones. A well-crafted report will show you're professional, data-oriented, and transparent. 
The best advertisement is a positive recommendation from a happy customer. Professional white-label reports branded with your logo and colors lend your business a feeling of credibility and increase the chances that your clients will recommend you to their colleagues.
This is particularly important for SEO agencies competing with many other agencies in the market. By providing detailed reports, you'll stand out from your competitors.
How to Use Reports to Keep Clients Happy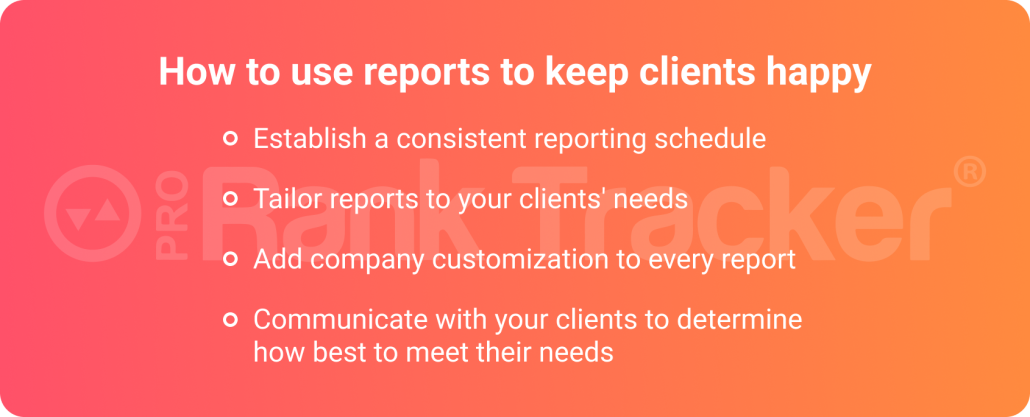 As a marketing agency, you aim to keep your clients happy with your services. 
But that's easier said than done.
One of the most crucial ways to keep your clients satisfied is by providing them with reports showcasing their search ranks' progress. However, you can't get by with just sending your clients a report now and then.
Instead, you must have a consistent schedule of high-quality, professional, and accurate reports to keep them informed.
In this section, we'll share some essential tips for creating reports to keep your clients happy.
Tip #1: Establish a Reporting Schedule
Establishing a consistent reporting schedule is the first step to keeping your clients happy.
Think of it like this: How often would you want updates if you were hiring someone else to do your SEO for you?
If you're anything like me, you'd want them daily — plus additional reports for specific info.
Set a fixed reporting schedule according to your client's needs. Most tools will allow you to set up automatic reports that you can set once, then forget.
Just taking a few minutes to set up an automatic reporting schedule can save you HOURS a week and improve your relationship with your clients. It's a win-win!
Tip #2: Tailor Reports to Their Needs
Ensure open communication channels between you and the client to create a comprehensive understanding of their needs. 
By thoroughly understanding their expectations, you can customize their progress reports to suit them.
For example, let's say you're sending a daily report to your client, but it's missing a data point they want. You should be able to quickly add that data point to keep your client happy!
The best way to tailor reports to your clients' needs is to find a flexible tool that allows you to customize everything about your reports — including data, structure, and organization.
Tip #3: Add Company Customization to White-Label Reports
Your white-label reports should reflect your company's image while providing reliable and helpful data.
You can achieve this by adding a bit of customization, such as:
Your company's logo

Company colors

The company slogan, cover letter, header, or footer
The main benefit of customizing your reports with your company's information is that it looks more professional (instead of making you look like you ripped some generic template from the internet). 
Professionalism leads to more clients, so it's worth taking the time to set this up! We'll discuss how to do this on ProRankTracker later in this article.
Tip #4: Communicate to Determine Which Reports They Need
Each client is different and has unique requirements when it comes to reporting.
One client may be invested in social media analytics, while another will be more intrigued by the ROI of their Google Ads, while others want to compare their organic search ranks in Portland to their ranks in Seattle. 
Take note of what your client wants and tailor your reporting method to suit them. In other words, your client that's working hard on a new ad campaign probably doesn't want you to send a lot of social media reports (or vice-versa).
Communicate with your clients to determine what they need, then deliver it.
How to Use ProRankTracker to Improve Your Marketing Agency Reporting
How much time do you spend creating reports for your marketing agency clients?
What if I told you you could get that time down to ZERO?
OK, it's not technically zero, but after setting up your schedule, which should only take a few minutes once, you should be able to forget about your reporting entirely.
ProRankTracker is one of the best SEO tools for agencies. It offers a suite of reporting features to help you do just that. With its reporting tools, you can streamline your reporting process and deliver more significant insights to your clients.
In this section, we'll show you how to use ProRankTracker to improve your marketing agency reporting and enhance your clients' SEO experience.
Establish Your White-Label Customization Options
We've already discussed the importance of putting your company information on your reports, so we won't repeat that. However, let's talk about HOW to do that in ProRankTracker.
With ProRankTracker's white-label customization options, you can add your:
Logo

Company name

Colors

Header/footer

Cover letter 

Additional sender email
To do this, click on the gear icon in the top right corner, then click "PRT Settings."
Scroll down to "White-Label" and fill in the information you want to add to your white-label reports.
To further customize reports, go to the "Templates" section in the Reports Center and customize any template you want to use with your reports.
When you create a report for a client, you'll get the chance to select what template you want to apply.
Select the Reports You Want to Generate
Now that your reports are customized for your business, it's time to start creating some reports.
ProRankTracker offers more than 20 types of reports, some of which we'll discuss below. After talking with your clients about their reporting needs, select the reports you want to generate in the Reports Center.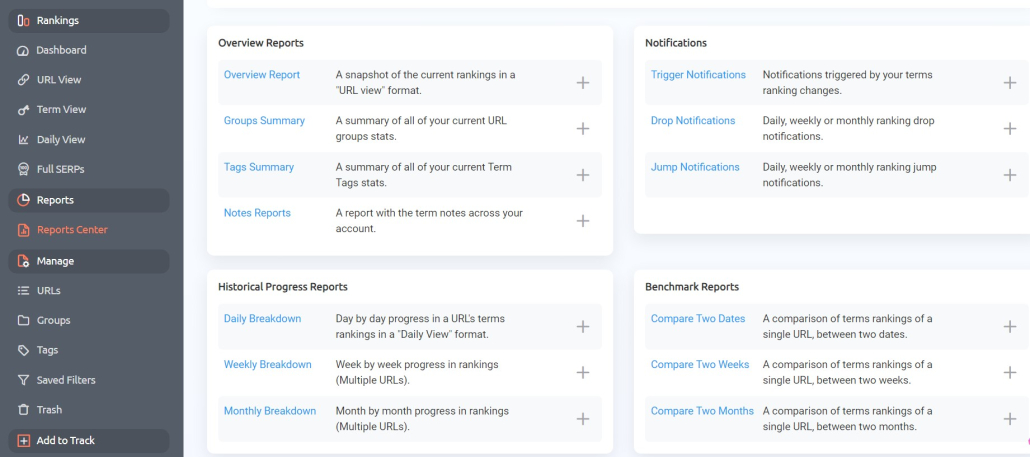 When you select a report, you'll be prompted to fill in the relevant details about what you want to include in that report. Each report's details are slightly different, so we'll use the Overview Report as an example.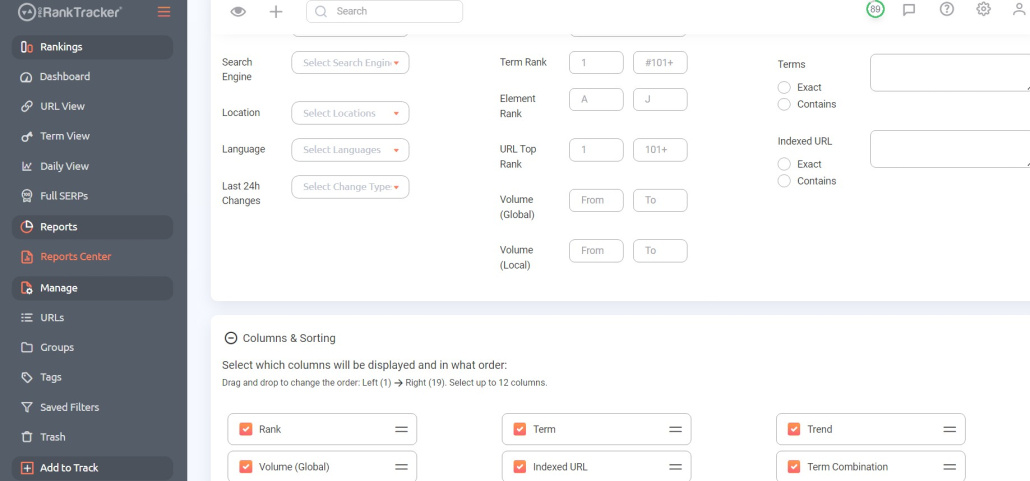 Here, you select what data to include, what order it will display, and other details like report name and format.
I want to emphasize here how critical it is to COMMUNICATE with your clients so you can include the data they want in these reports. There is no reason that their reports shouldn't look EXACTLY like they want them with this many customization options at your disposal.
Customize Your Reporting Schedule
ProRankTracker makes it easy to set up a reporting schedule.
You can select daily, weekly, or monthly reporting intervals and choose when the report will be sent to your clients. Then, you can sleep easy knowing they're getting each report you've set up for them precisely on time.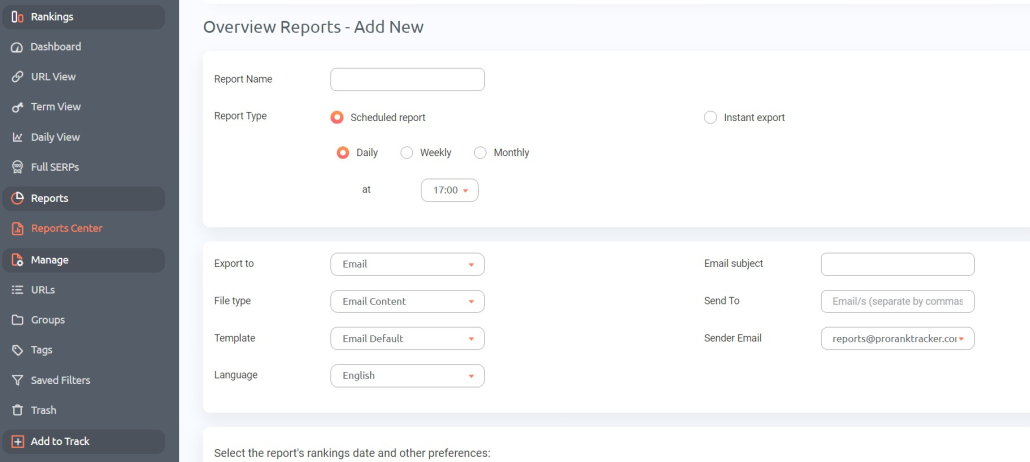 This feature eliminates the need to remember to generate and send reports manually while ensuring that your clients can access their reports consistently and efficiently. 
By setting up a reporting schedule, you can establish a regular cadence with your clients and provide them real-time updates on their SEO progress.
What Reports Should You Send Your Clients?
OK, now we know how to use reports to keep clients happy and how to use ProRankTracker to establish an excellent reporting schedule.
But what reports should you send your clients?
As we've mentioned throughout the article, the key is to COMMUNICATE with your clients about what reports they want/need.
However, there are some basic reports that almost every client will want at one point or another.
Let's look at the essential reports that you should be sending your clients to keep them in the loop and demonstrate the value of your services. Look through these to get an idea of what you should offer your clients to keep them satisfied with your agency's work.
Note: Most of these reports can be done fully with ProRankTracker. For reports for ads and social media, you'll need to use other reporting tools. We recommend using ProRankTracker's API to combine your rank tracking reports with your other important marketing KPIs.
Overview Reports
Your overview report does exactly what it says–it gives your clients an overview of their current ranks, including drops, jumps, and other critical info.
How often should you send these?
You guessed it: it depends on what your client wants. However, I recommend starting with a daily overview report. Then, if your client wants, you can reduce it to weekly or biweekly at their request.
An overview report should include high-level info about which ranks have changed position on the SERP, making it easy for you and your clients to see significant changes at a glance.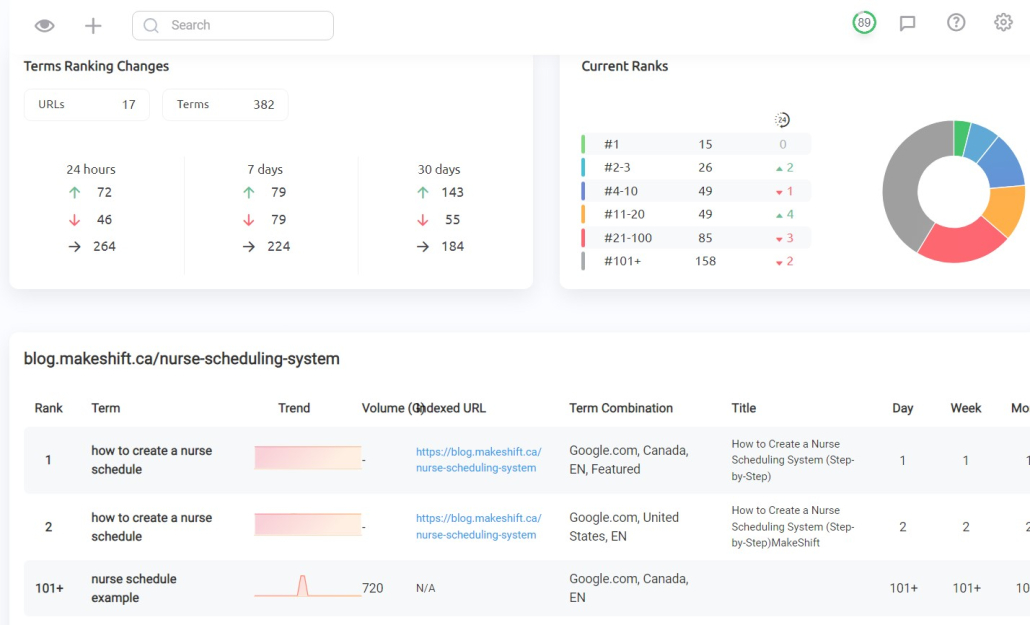 ProRankTracker offers 4 types of overview reports that each gives a slightly different look at an overview of your clients' data:
Overview report (shown above)

Groups summary

Tags summary

Notes reports
Historical Progress Reports
Historical progress reports give a breakdown of how ranks have changed over a selected period.
Depending on what your clients want, you can send these reports weekly, monthly, or quarterly and give a broader view of how the client's website has performed over time.
For example, here is a daily breakdown of how a URL has performed for the selected keyword over a month.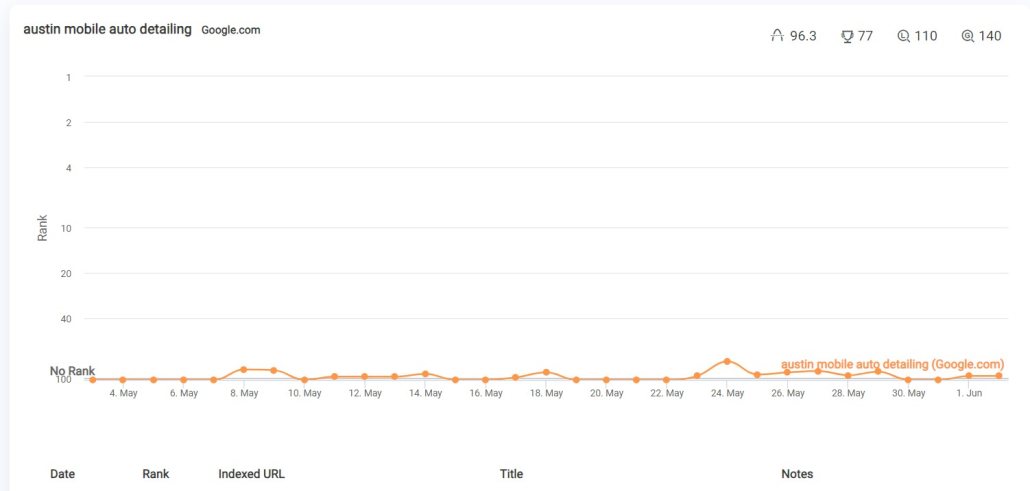 On ProRankTracker, you can also generate these reports as weekly or monthly breakdowns where you select the period of time for the report. For example, you could do a weekly breakdown of a 3-month period.
Historical progress reports can be valuable in identifying long-term trends and weaknesses in your SEO strategy. They also help your clients feel more involved in their SEO.
Ranking Comparison Reports
Ranking comparison reports allow you to compare how the same URL/keyword combo performs with one variable changed.
For example, you could compare the same URL/keyword combo but with 2 different:
Locations

Search engines

Search devices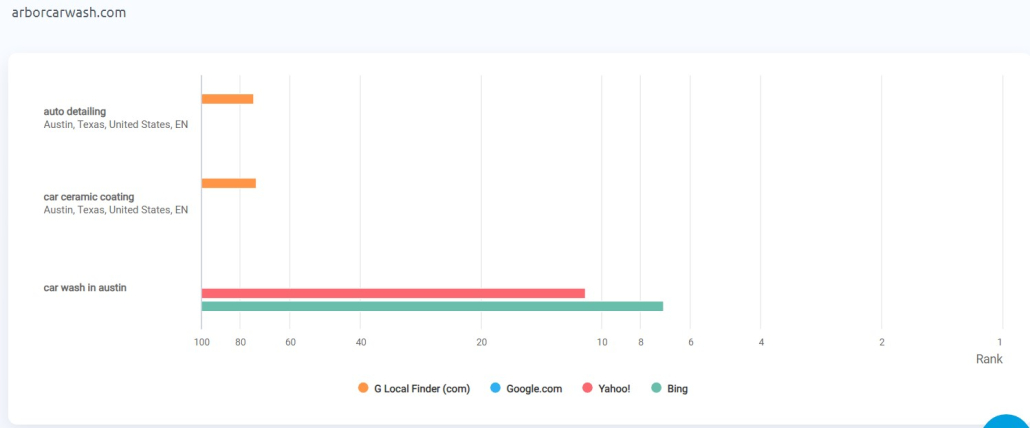 Another form of ranking comparison compares the same keyword but for 2 different URLs.
These reports make it easy to identify the strongest and weakest points in your strategy. For example, you might be stronger in one city than another or stronger on Bing than Google.
Notifications
Notifications are a special type of report that send based on a trigger instead of on a fixed schedule.
For example, you might choose to set up notifications for:
When a URL/keyword combo drops by X number of positions

When you reach the top 3 on the SERP

When your rank increases/decreases by a certain percentage
There are plenty of other scenarios where notifications are extremely practical. They help you stay completely up-to-date, which allows you to fix problems before they become serious issues.
Google Looker Studio Reports
Google Data Studio is a powerful tool that allows you to create custom dashboards and reports using data from various sources like Google Analytics, Google AdWords, and Google Search Console.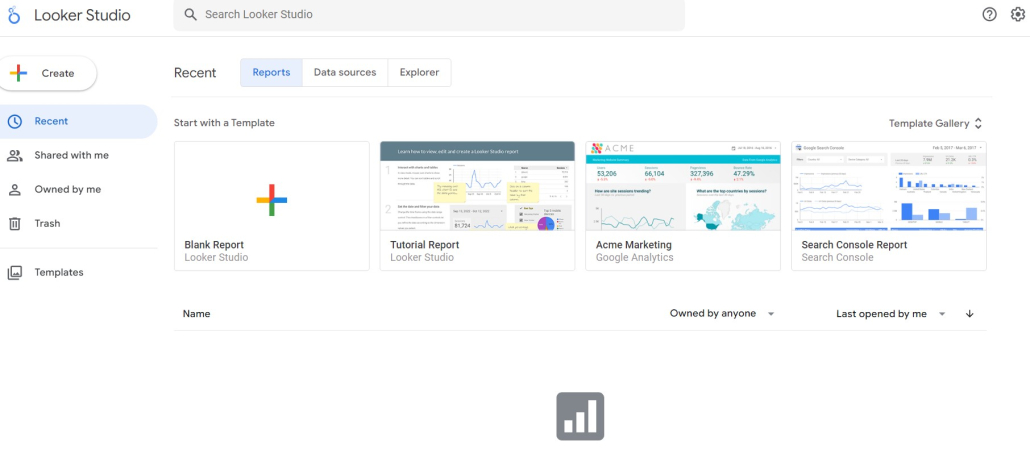 You can even connect ProRankTracker data to your Looker Studio dashboards using the ProRankTracker API. Doing so increases your flexibility and the utility you get from your data.
Your client can have access to these custom reports and even view them in real-time.
Social Media Reports
Your clients might be trying to rank on more than just Google. The chances are good that they're also running simultaneous campaigns on Facebook, Instagram, and Twitter.
You can combine the data you get from those social channels with a tool like ProRankTracker or Google Looker Studio to create valuable reports for your clients.
Using these reports, they should be able to see:
The number of new followers

Engagement rate

Impressions

Demographics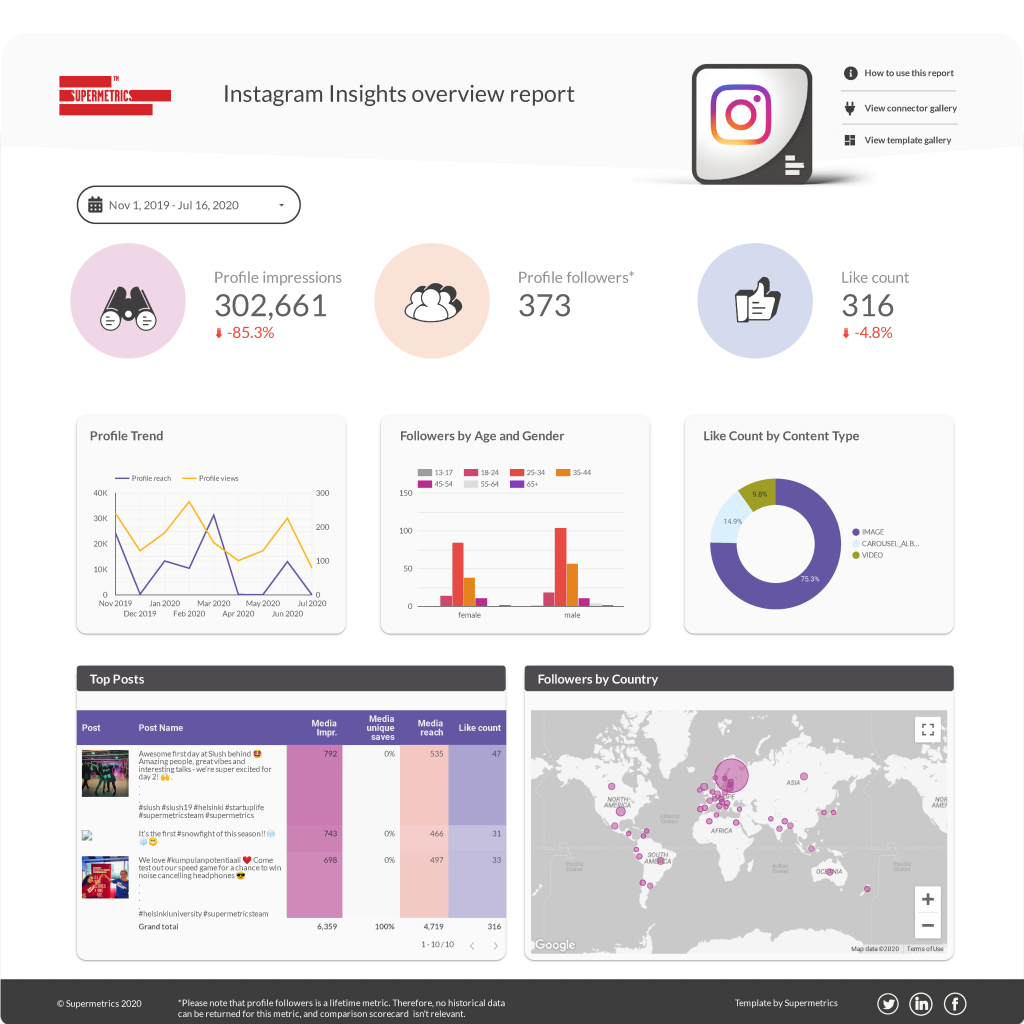 These reports should also be tailored to the client's social media goals and overall digital marketing strategy.
Ad reports
PPC advertisements are notorious for being expensive. Your clients probably aren't spending on them just to be left in the dark about whether they're working or not.
Therefore, as an agency, you need to demonstrate the impact on their business by sending regular ad reports.
What should you include in these reports?
Impressions

Clicks

CPC

Total ad spend

Any other data your clients want
Again, one of the best ways to execute this reporting strategy is to connect your Ad dashboard with a powerful reporting tool like Google Looker Studio or the ProRankTracker API.
Conclusion
Keeping your clients informed and happy is crucial for a marketing agency. By providing them with regular and insightful reports, you can prove the value of your services.
Using the reports outlined in this blog post, you can demonstrate the progress and performance of your client's website.
Remember that SEO is a long-term marketing strategy, so showing your clients that you have a long-term plan is essential. Reports keep them updated and let them know that your long-term strategy is working (and that it's worth their money!).
Happy reporting!
https://proranktracker.com/blog/wp-content/uploads/2023/06/marketing-agency-reporting.jpeg
963
2535
Jacob Statler
https://proranktracker.com/blog/wp-content/uploads/2020/11/prt-blog-1-1.png
Jacob Statler
2023-06-08 19:05:06
2023-06-14 12:45:38
How to Square Away Your Marketing Agency Reporting