3 Best White-Label Rank Trackers for Agencies
Starting an SEO agency is hard work.
You have to:
Find a rank-tracking system that works for you

Find clients

Keep your clients happy

Grow your business (and adjust your tool needs as your business grows)
In each of those 4 steps, you need an excellent rank-tracking tool with fantastic white-label capabilities. If you don't have the right tool for the job, your agency won't be able to generate clients and keep them long-term.
This article will discuss white-label rank trackers, why you need them, and how to pick the best tool for your business.
We'll cover:
What Is a White-Label Rank Tracker?
If you're new to the SEO reseller scene, you might wonder what white label even means.
White label refers to using someone else's data while putting your company's logo on it. In other words, you get a big SEO company's resources while presenting their data as your own.
It's a win-win because your clients get the best data possible, and you save money by using preexisting tools instead of creating your own. In addition, it allows smaller agencies to compete by giving them access to better resources.
However, that's not all white label means. It can also refer to specific features that a tool offers. Let's talk about 2 particular examples before we move on.
Customizable Reports
The first thing that comes to everyone's mind when they think of white-label SEO is customizable reports.
The basic functionality of a white-label SEO tool is the ability to rebrand reports, so if a tool doesn't offer that feature, it isn't a proper white-label tool.
Customizable reports should allow you to put your company's logo and color scheme on every report you generate for your clients. You should also be able to customize the data on the report.
In other words, you should have total control over the look and contents of a report.
Advanced Client Features
A white-label rank tracker should also offer a variety of features to help you manage your clients and show them the data they want.
These advanced client features should make it easy to provide even the most demanding clients with the data they want to see.
For example, some white-label SEO tools offer apps that allow clients to check their ranks from a smartphone. Some also provide sub-accounts to enable multiple people to work on the same projects or live reports you can share with your clients.
We'll go into more detail on some of these features later, but for now, just know that the best white-label rank trackers offer A LOT more than just customizable reports.
Why Reporting Agencies Need White-Label Rank-Tracking Tools
You might be tempted to try reselling SEO services without using a proper white-label rank tracker.
Don't.
You should avoid that for many reasons, but the main reason is that you'll be shooting yourself in the foot. In addition, it will hurt your profits in the long run.
Let's look at 3 reasons why you NEED a white-label rank tracker to make the most money as an SEO reseller.
Attract New Clients
You can't make money without clients, but clients need a particular service to be performed well if they'll keep being your clients.
In addition, your HAPPY customers are your best sales tool. They can generate referrals for your business if they're happy with the services you're providing.
Here's the kicker, though: you CAN'T provide excellent SEO services without a tremendous SEO tool. It's just not possible.
White-label trackers give you the data, the flexibility, and the tools to satisfy clients and turn them into your best marketing campaign.
Save Time
Second, doing SEO for other businesses without a high-quality, specialized SEO tool is impossible.
Keeping track of ONE business's ranks without a great tool is hard enough. Now, try multiplying that problem by 3, 4, 5, or 10 other companies, and you'll start to understand what it's like to run an agency without using an excellent white-label tool.
In addition, your white-label tool needs to make it quick and easy to send reports to your clients. You should be able to automate a report and then forget about it. 
Over a few months or a year, these small features will save you hundreds of hours that you can use to grow your business in other ways.
Easily Manage Data
Finally, white-label tools allow you to easily manage client data by giving you organizational features.
For example, most white-label rank trackers give you tools to keep one client's data separate from another's. This makes working on one campaign easier without worrying about getting multiple clients' ranks mixed up.
Additionally, reporting agencies will find other data management tools extremely helpful:
Filtering

Data search

Saved searches and filters

Exporting/importing data

Integrations
Ensure that the SEO tools you consider offer various data management options to help you save time and increase your tracking efficiency!
Top 3 White-Label Rank-Tracking Tools
You're convinced you need a white-label rank tracker, and you probably feel ready to rush to Google and sign up for a shiny new tool.
Unfortunately, it's not quite that simple. There are dozens of tools on the market, each claiming to be better than the last.
That's why we've compiled our top 3 white-label rank-tracking tools and given you a breakdown of why they're the best.
ProRankTracker
Our top choice is ProRankTracker. Not only does it offer some of the most advanced white-label features, but it does so at some of the lowest prices available anywhere.
For example, ProRankTracker offers a tool called the shared report (or live report), a live link you can share with your clients and even white-label with your own branded domain.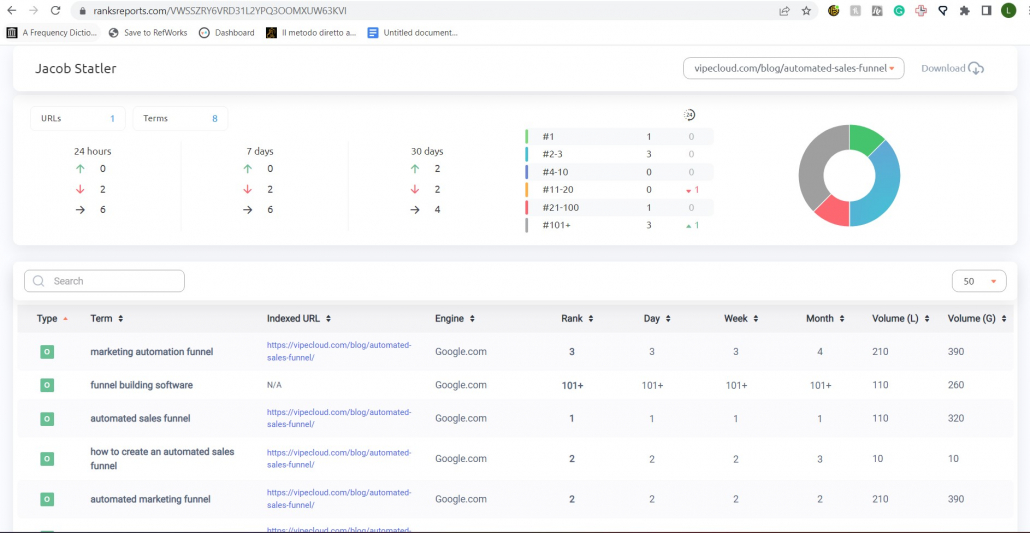 They can click the link at any time and see a current view of their ranking situation. This is a perfect solution for clients who want constant updates. There are many other advanced features as well:
Over 20 fully customizable reports and notifications

White-label client app

Sub-accounts

Imports, exports, and integrations for added flexibility
That's not to mention the 100% accurate daily ranking data with every plan. 
In other words, ProRankTracker is an excellent plan for any SEO application, but especially for those who are interested in selling white-label SEO services.
SEMrush
SEMrush is a prevalent all-in-one SEO tool that covers everything from marketing to backlinks. It also offers a variety of white-label features that can help you begin a successful SEO agency.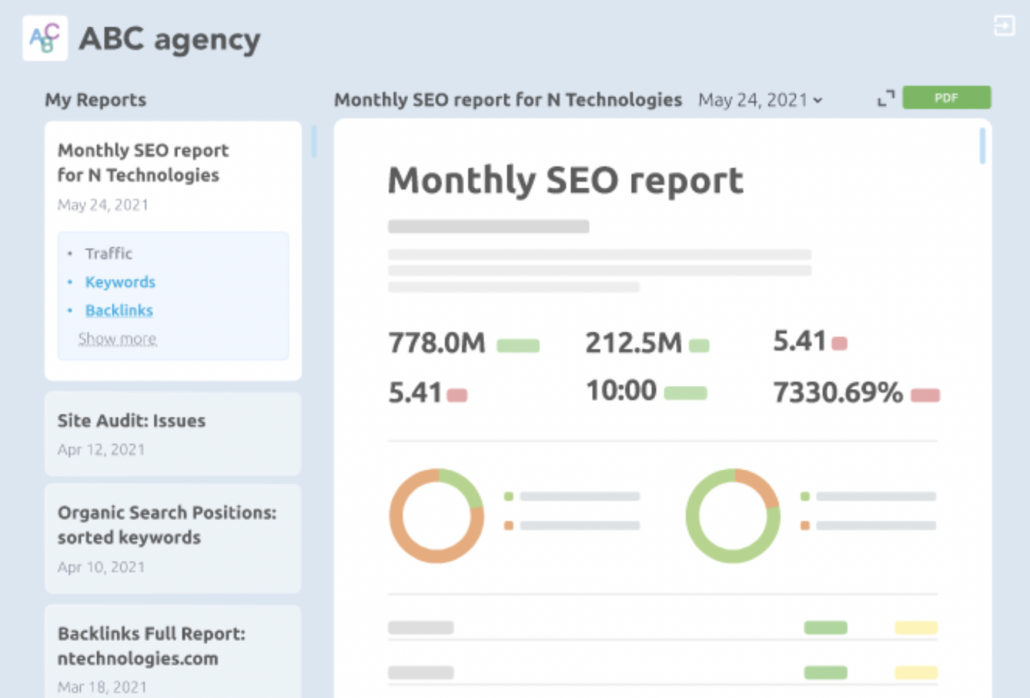 SEMrush allows you to automate the reporting process similar to ProRankTracker, meaning you don't have to worry about sending each report manually.
One of the most significant drawbacks of SEMrush is the cost. Since it is an all-in-one tool, it starts at a much higher cost of $119.95/mo. This cost may prohibit some people from being able to use it. The good news is that many of the tools are unnecessary for most users, meaning you can go for a more specialized (and cheaper) tool.
SE Ranking
SE Ranking is another popular all-in-one tool that offers white-label rank tracking. 
One of my favorite features that SE Ranking offers agencies is the ability to use their domain or subdomain, meaning everything you send your clients looks like it's coming from your website.
However, the biggest drawback of SE Ranking is that the cheaper plans don't get access to any of the white-label features they offer. Instead, you have to jump to the "pro" level to access those features–even if you're a brand-new agency.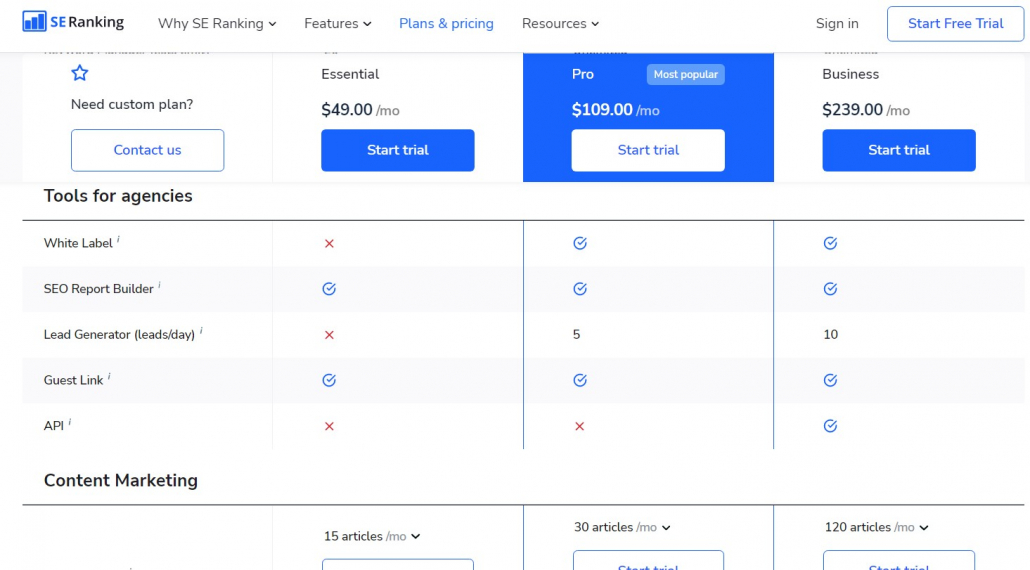 Why ProRankTracker Is the Best White-Label Rank Tracker
ProRankTracker offers the best mix of value and high-quality features of any white-label rank tracker.
Not only can you use it to start a small agency on a budget, but you can continue to use it as your white-label agency grows into a much larger business.
If you have never used ProRankTracker, we highly recommend signing up for the 30-day free trial before reading the next section so you can follow along as we discuss its features.
Highly Specialized White-Label Features
The backbone of agency SEO reporting is the white-label features that your tool offers. In the case of ProRankTracker, plenty of specialized white-label features make it easy to keep your clients updated while still looking extremely professional.
Customizable reports allow you to tailor your reports to your clients' needs and your business's look. You can select the logo, colors, cover letter, and more to ensure these reports are perfect for your clients.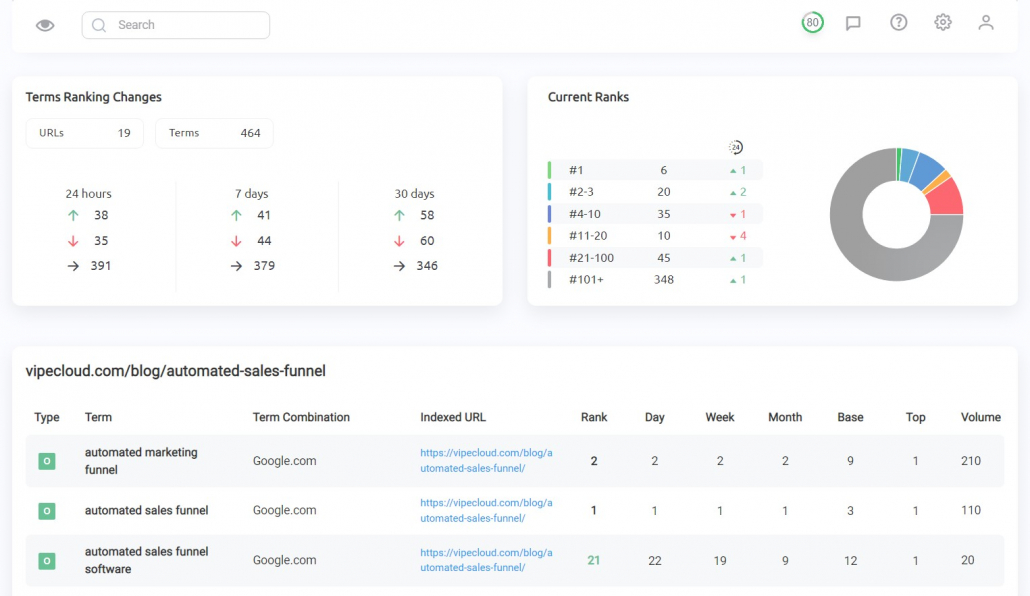 MyRanks app is also fully customizable, allowing your clients access to a mobile app where they can view all their ranking information. Once again, you can customize the look and data of the app.
The shared report is a live link you can share with your clients. It is updated daily, meaning your clients can access their updated ranks at any time. You can also protect the link with a password and use a custom domain, so your client sees your domain instead of ProRankTracker in the search bar.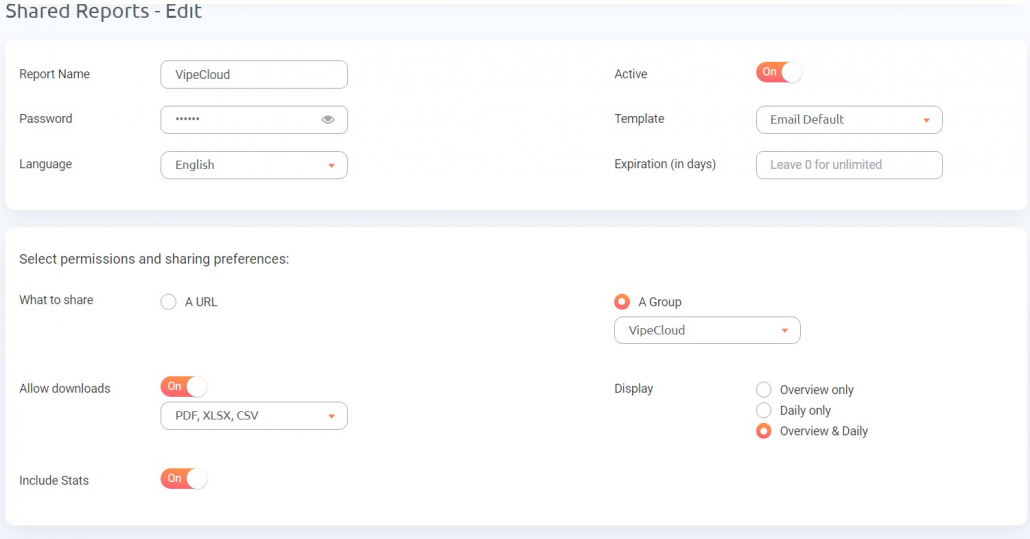 Industry-Best Reporting Options
All the white-label features in the world won't do any good if you don't also have great reporting options.
Fortunately, ProRankTracker has more than 20 fully customizable reports and notifications. You can also set any report branded with your company's logo and colors.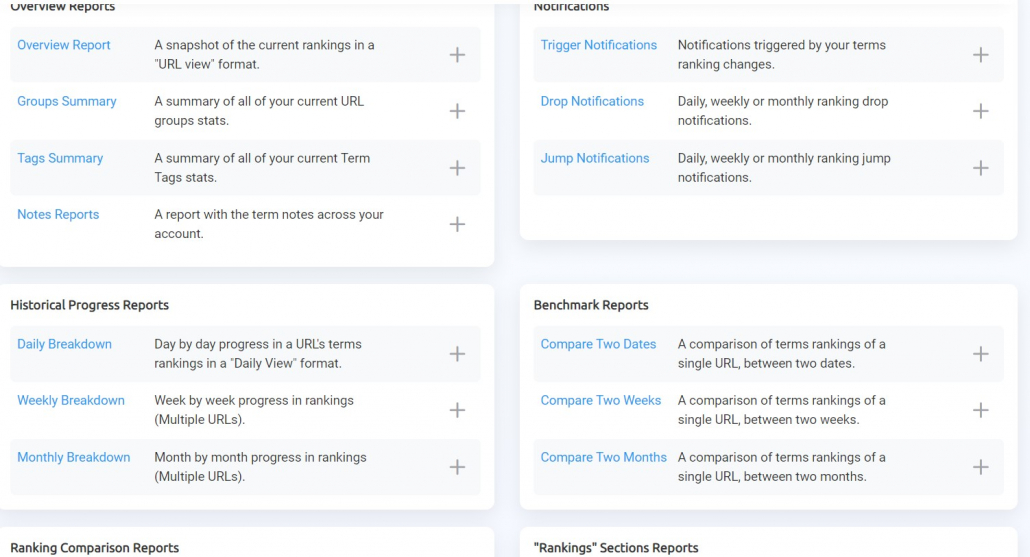 The best part is that you can generate UNLIMITED reports no matter which plan you subscribe to. Even the smallest plan at $11/mo comes with unlimited customizable, white-label ready reports!
Conclusion
Selling SEO as an agency can be difficult, but finding the right tool can make it much easier. ProRankTracker offers an ideal blend of cost-saving value and industry-leading tools, making it the best choice for small and large white-label agencies.
Take full advantage of the white-label tools available to you through ProRankTracker, and you should quickly start growing your business (and your income!).
Happy tracking!
https://proranktracker.com/blog/wp-content/uploads/2023/02/How-to-Use-a-White-Label-Rank-Tracker-Best-White-Label-Rank-Tracker.jpeg
642
1690
Jacob Statler
https://proranktracker.com/blog/wp-content/uploads/2020/11/prt-blog-1-1.png
Jacob Statler
2023-02-01 19:42:11
2023-02-16 01:36:25
3 Best White-Label Rank Trackers for Agencies