5 Best Rank Trackers: Which One is Best For You?
If you've been working on your website's SEO for a long time, you know that tracking your ranks is one of the crucial steps. Without rank tracking tools, SEO becomes mostly guesswork.
One small problem:
A quick Google search yields dozens of rank tracking tools that all promise significant results. 
How are you supposed to know which ones work?
Because the truth is not all rank trackers are created equal. Some of them provide you with inaccurate data. Others give you old data. Others don't have enough features to help you accomplish what you need.
This article will pit 5 of the best rank trackers against each other to help you understand the critical differences. With this crucial info, you'll be prepared to make a better decision for your business.
Let's get started!
We'll cover:
Why Rank Tracking Tools Are Important
Some people begin to look into the complexities of rank tracking, and they decide they're better off without it.
After all, will it help your business that much? Is it going to be too hard to learn? Are the tools going to be too expensive?
These are essential questions to ask before looking at rank tracking tools.
By answering these, you can also start to understand the things you're looking for in a website ranking tracker.
There are many benefits to tracking your ranks. Many of these benefits are simply inaccessible without a great rank tracker. 
This section will focus on 4 excellent benefits of rank tracking tools that you can't get anywhere else.
Benefit #1: Save Time
Think about everything that goes into your SEO strategy:
Keyword analysis

Writing content to target keywords

Monitoring data about your keywords

Adjusting your keyword strategy based on your new data
This process is incredibly time-consuming!
Every part of this process is essential, and every aspect takes time. However, monitoring ranking data is by far the most time-consuming. It's also the most critical step in the process if you want to improve your strategy over time.
Using a rank tracking tool drastically reduces the time it takes to gather data about your keyword strategy.
Collecting data with keyword rank checker software is as simple as logging in. It'll already have your data organized and ready for you to analyze.
Benefit #2: Use Better Data
The alternative to rank tracking software is to gather your ranking data yourself.
Unfortunately, this can lead to several issues:
Old data if you aren't checking frequently enough

Lack of complete data if you all the keywords that your website ranks

Failure to gather data about ALL your competitors

Inaccurate data introduced by human error
In other words, your data probably won't be perfect if you're gathering it without the help of a tool.
On the other hand, a ranking tool will automatically monitor and update your ranks regularly. It guarantees that you have accurate and complete data every time.
Benefit #3: Track Competitors
You probably have multiple competitors. 
Beating them is one of the most important tasks you have to accomplish. If you don't beat them on the SERP, they will steal your traffic and customers.
That sounds bad, right?
Fortunately, you can avoid that problem by tracking their keyword strategies as accurately as you track yours.
However, it's almost impossible to accomplish that without using the top rank trackers. Without their data, you'll have a hard time fully understanding your competitors' ranks and strategies.
With a rank tracker, you can discover your competitors' secret strategies, then beat them at their own game.
Benefit #2: White-Label Abilities
As you get better at SEO, you might have friends or colleagues approaching you to see if you'd do their SEO work.
Why not take advantage of that opportunity to make some money and help a fellow business out?
Without a ranking tool, you can type data out for your clients. You could even put it in a spreadsheet.
However, it's tough to present a polished brand image without using the white label tools provided by good rank tracking tools.
With a ranking tool, you can customize and design your client reports to make you look super professional. Some rank tracking tools even provide advanced white-label features like a user app.
How to Choose Rank Tracking Tools
Rank tracking tools are incredibly important for the success of your SEO campaign. If you want to beat your competitors on the SERP, you must carefully choose from the best rank tracking tools.
That brings up another question: How can you choose the right rank tracking tools?
There are SO many out there! Many are very good. Others are pretty bad.
How can you separate the good from the bad and settle on a tool that works perfectly for your business?
3 factors should influence your decision more than anything else, so that's where we'll start our discussion:
Accuracy

Reporting

Plan options
Accuracy
Would you buy a sports car with the engine of a lawnmower? 
Of course not!
The engine makes or breaks the utility of the vehicle. In other words, it's pointless to buy a car that looks nice if what's under the hood is horrible!
Rank tracking tools are the same. Their "engine" is the accuracy of the ranking data they provide.
No matter how good it looks on the outside, you should never work with a tool that can't guarantee 100% accuracy.
It's not worth the risk of wasting your time!
Before you sign up for ANY rank tracker, check "under the hood" and see how accurate their ranks are!
Reporting
2 of the significant reasons to use a rank tracking tool were to save time and open up the possibility of white-label reports.
The reporting options available to you will majorly impact your ability to do both of those things.
Reports are automated snapshots of your (or your client's) ranking data. They save you a ton of time because the keep you from having to scour through all your data every day. 
You can simply set the reports you're interested in to send automatically on a set schedule. Periodically review those reports to stay totally up-to-date on your SERP success.
You should look for extensive reporting options that'll allow you to fully customize the types of reports you can schedule. Also, make sure that the ranking tool you choose allows you to customize your reports for white-label use.
Plan Options
If you're a small business, you probably don't need to track 3000 terms. 
If you're a large business, you may want to track more than 3000 terms.
The rank tracking tool you use should provide a plan that works for the size of your business (and the size of your budget).
However, consider that you may want to increase the size of your plan as your business grows. You should ensure that the tool you choose has multiple plan options that will help you along the way as you grow.
Best Rank Trackers Showdown
Now that you know what to look for in a rank tracking tool, let's compare some of the most popular tools.
Instead of doing a comprehensive review of each of these tools, we'll compare them on the 3 criteria that we mentioned above:
Accuracy

Reporting

Plan options
Understanding these 3 aspects of any rank tracker will be enough information for you to make a decision about which one is best for you.
Finally, we highly recommend that you try signing up for a free trial of any tool before paying to use it. A free trial should allow you to access the complete tool and better understand how much it might help your business.
Accuracy
As we said earlier, accuracy is the "engine" of every rank tracker.
If your rank tracker can't get you 100% accurate ranks, you might as well be guessing!
Since accuracy is so crucial to your business's SEO success, we'll talk about it first.
There are 2 parts to accuracy, and we'll talk about both:
Rank accuracy (Can the tool reliably fetch data from the SERP?)

Update frequency (How often does the tool fetch data from the SERP?)
If a tool doesn't succeed on BOTH of these measures, its accuracy will suffer. Many tools will save costs by updating ranks every 2 or 3 days (or even every week) instead of daily.
ProRankTracker uses the most accurate rank tracking algorithm currently available. In other words, it can reliably get data from the SERP into its users' dashboards.
Fortunately, you never have to wonder if ProRankTracker's ranking algorithm missed something. They boast 100% accuracy ratings, meaning you can be confident in the ranks you see.
What about update frequency?
Even ProRankTracker's smallest plans (starting at only $11/mo) receive daily updates. If even daily updates aren't enough for you, their pro-level plans offer updates on-demand and daily updates.
One of the benefits of ProRankTracker is that there's no difference in the data between the plans. Even the lowest tier plans get access to the same data as the huge agency plans.
This data accuracy means that ProRankTracker comes out to be a great deal for its users.
2. Rank Ranger
Rank Ranger uses an accurate algorithm to collect Google ranking data. You should not have to worry about whether your Google ranks are accurate in Rank Ranger.
However, there have been some reports of inaccurate Bing rankings on Rank Ranger. Many people don't track their Bing ranks at all, so that might not be an issue for you. If you decide to track your Bing ranks (which we think you should), it could present a problem.
Additionally, Rank Ranger admits that their lower-priced plans get updated less frequently. In some cases, you might only get monthly ranking updates in their system.
3. Accuranker
Accuranker provides accurate data to its customers. It uses a highly precise rank tracking algorithm that reports reliable data to its users.
Accuranker plans also give the same data to its lower-tier plans as its larger plans. Even if your business doesn't need to track 5000 keywords, you won't have to wonder if your ranks are accurate.
Finally, Accuranker plans include daily updates, and you can use on-demand updates if you want.
4. Ranktracker
Rank tracker is another popular SEO tool with SERP tracking features.
User reviews generally report accurate data, but Ranktracker's website provides little data on accuracy or update frequency.
They do claim to offer "accurate and up-to-date" rankings, but we could not find specifics on the following:
Are ranks 100% accurate across all search engines?

Are ranks updated every day on all plans?

Can users manually update more than once per day if desired?
These are essential questions to ask. Unfortunately, Ranktracker hasn't made its answers to these questions clear.
5. SE Ranking
SE Ranking uses an algorithm that simulates a searcher with no search history. In other words, it's able to see what the average searcher would see when searching for your keywords.
SE Ranking's SERP tracking tool boasts 100% accuracy, so you shouldn't have to worry about the accuracy of the data you get from them.
When you use SE Ranking, you can pay more to get daily updates, or you can save money by choosing to get updates only every 3 days or every week.
That means you get a maximum of 1 update per day, but choosing a cheaper plan will limit you to slower updates (which means less accurate data).
Reporting
Reporting will form the backbone of your data analysis, so it's crucial to find a tool with fantastic reporting options.
As you're looking, ensure to keep an eye out for the following reporting features:
Customizable white-label reports

A range of ranking reports that include different types of data

Automated reports

Stand-out white-label features to help set your agency apart
Let's see what the top 5 rank tracking tools have to offer.
ProRankTracker offers more than 20 reports that cover any type of data you could want.
Reports fall into 2 larger categories:
Scheduled reports

Triggered notifications
Scheduled reports send on a pre-set schedule. Just determine when you want the report to land in your inbox, and ProRankTracker will send them automatically. You can also generate these reports for instant download.
Triggered notifications send based on a pre-set trigger. For example, you might set a notification to trigger when a rank drops out of the top 3 positions on the SERP.
These reports are white-label ready, meaning you can customize them with your color scheme, logo, and cover letter.
You can also create Shared Reports, which are live link-based reports where you can share the URL with your client for them to access when they want. These URL Shared Reports can be password protected, branded with your logo and colors, and masked with your domain so the report will look to your client as if it's hosted on your domain.
If you want to impress your white-label clients, you can give them access to the MyRanks app. They can access their ranking data through your very own branded app at any time!
ProRankTracker offers industry-leading reporting and white-label features that will help you save time and improve your strategy. Every plan comes with unlimited reports, so you don't have to worry about running out.
2. Rank Ranger
Rank Ranger offers customizable PDF reports that can include the data you select. You can add your company logo and customize your cover letter.
You can also generate a custom dashboard that your clients can access through a URL that you share with them. The client dashboard is also white-label friendly.
Every plan includes unlimited PDF reports, but the number of clients dashboards included depends on the size of the plan.
3. Accuranker
Accuranker also gives you customizable PDF reports. You can customize them with your company colors, logos, and more.
Included with the Accuranker reporting options is a list of report templates. These templates allow you to quickly construct a detailed report without much effort.
You can customize the report schedule to send reports daily, weekly, monthly, or on any other timeframe of your choice.
Every Accuranker plan comes with unlimited reports, so you won't have to worry about how many you generate in a given month.
4. Ranktracker
Ranktracker offers 2 primary types of reports:
Email notifications

White-label reports
Email notifications summarize any changes over the last 24 hours, giving you a quick look at your progress.
White-label reports are available from the dashboard, and you can customize them with your company's logo. Adjust the schedule between daily, weekly, and monthly options.
Finally, you can adjust which sections appear on each report. Include any sections that you or your clients want, or create multiple reports to address different aspects of your strategy.
5. SE Ranking
SE Ranking's most unique reporting feature is the ability to share a custom domain URL with your clients. You can customize the domain with your company brand.
SE Ranking also offers standard white-label reporting options. The data these reports include is fully customizable. You can choose to include as much or as little data as you want.
As with the other ranking tools we've seen, every SE Ranking plan includes unlimited reports.
Plan Options
If you found the best rank tracker in the world but their only plan was out of your price range, it wouldn't do you any good.
In other words, your decision about what rank tracker to use must be a balance of features and price. You have to find the best tool that also fits in your price range.
Unfortunately, many cheaper tools offer severely limited features. Many nicer tools offer "budget" options that are so limited as to be unhelpful and unusable for most businesses.
Before we wrap this article up, let's look at the plans available from each of our 5 competitors.
1. ProRankTracker
ProRankTracker is known as the best option — even for people on a budget, but it isn't just for small businesses.
Their cheapest plan starts at just $11/month, and it includes impressive features:
Daily updates

Full local and mobile tracking features

Unlimited tracked URLs

100 tracked terms

Unlimited reports

Unlimited full SERPs
If that isn't enough, ProRankTracker also offers the best price-to-tracked-term ratio of any tool on the market. That doesn't include the outstanding additional features included with larger plans:
MyRanks client app

Dedicated CSM

Unlimited sub-accounts

API access

On-demand updates
Agency plans start at $144/month with 3000 tracked terms and ALL the features mentioned above. For a large white-label agency needing to track thousands of keywords and generate hundreds of reports a month, there is no cheaper option.
If you're not sure yet, try out ProRankTracker's 30-day free trial with all their features enabled. You will be able to get a taste of everything that it has to offer your business.
Rank Ranger
Rank Ranger's smallest plan starts at $79/month, and its largest plans $2700/month or more.
If you choose to go with the smallest plan, you'll get:
500 tracked terms

2 search engines per campaign

15 client dashboards

Unlimited scheduled reports
Rank Ranger's lack of truly cost-effective plans may put it outside the budget of many smaller companies.
Accuranker
Accuranker plans start at 1000 keywords per month. Most young businesses (and many older ones) won't need that many keywords. Unfortunately, there's no smaller plan.
For $99/month, you get access to all of Accuranker's features, including:
Unlimited white-label reporting

Desktop/mobile/local rank tracking

Unlimited domain tracking

Unlimited users

API access
Accuranker is a great tool, but the cost-to-feature ratio is lower than some of the other tools on our list.
Ranktracker
Ranktracker offers some smaller plans that can be good options for young businesses with a lower budget.
At the time of writing, Ranktracker was offering a 60% off discount on all plans, so the smallest plan started at just $7.20/month. However, the same plan normally costs $18/month.
The smallest plan starts with 100 tracked terms and includes:
2 competitors

100 keyword lookups

100 keyword suggestions

100 monthly SERP checks

10 reports
The largest plan goes up to 2000 words for $209/month (when not on sale), and includes a larger number of features.
While Ranktracker has excellent options to offer, many small businesses will be limited to the smallest plan, which only offers 10 reports per month!
SE Ranking
SE Ranking plans start at $23.52/month, which includes:
250 keywords

Weekly ranking updates

10 projects
The smallest plan options don't include white-label reports. You will need to upgrade to a larger plan for that option.
You also have to upgrade if you want to get daily ranking updates.
Summary
To help you make a good decision between these top 5 rank trackers, we've compiled the most relevant data points into a chart below.
This chart compares the SMALLEST available plan of each rank tracker.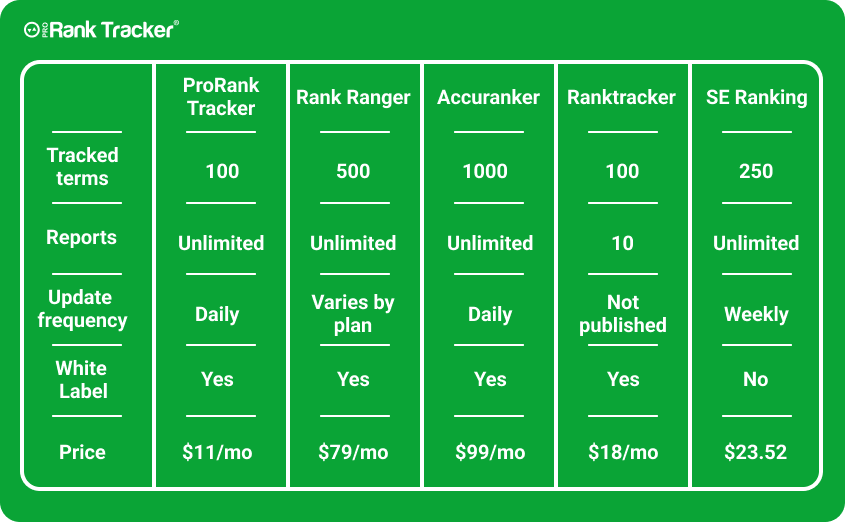 Hopefully this data and analysis has helped you make a decision that will benefit your business in the long-term!
Make sure you check out ProRankTracker's 30-day free trial to see how much it could help your performance on the SERP!
Good luck!
https://proranktracker.com/blog/wp-content/uploads/2022/04/best-rank-trackers.png
321
845
Jacob Statler
https://proranktracker.com/blog/wp-content/uploads/2020/11/prt-blog-1-1.png
Jacob Statler
2022-04-07 10:01:31
2022-04-15 09:53:28
5 Best Rank Trackers: Which One is Best For You?