AccuRanker vs. ProRankTracker: The Best AccuRanker Alternative
In this comparison guide, we're going to be comparing ProRankTracker (an AccuRanker alternative) to AccuRanker so you don't have to.
There are a lot of rank trackers on the market these days…
And the problem you'll run into when you're searching for the right rank tracker for you is — they all claim to be the best.
See the problem here?
They can't all be the best. There is only one best.
Here at ProRankTracker, we pride ourselves on offering a high-value rank tracking tool for SEOs big and small.
But if you're doing some research into the best rank tracker before you, you'll probably come across AccuRanker. They offer a tool very similar to ours.
Which is why we're going to put the ProRankTracker tool head-to-head with AccuRanker.
(Sign up for a free 7-day free trial of ProRankTracker today to start tracking your SEO results.)
Things to Consider Before Choosing a Rank Tracker
Before you go ahead and invest in your rank tracker, there are some factors that you should consider first.
ProRankTracker and AccuRanker are similar tools, but the following factors will carry the most weight with your decision.
#1: Your Purpose for a Rank Tracker
Youtubers, affiliate marketers, SEO agencies, freelancers, e-commerce stores, Amazon sellers, website owners, and other marketers can all find valuable use in rank tracking.
But let's be honest:
All of those people may have similar KPI tracking needs, but their specific needs will vary based on the type and amount of tracking.
And the specific use will matter too.
For example:
If you're an SEO agency, you'll want a white-label reporting feature so you can show your clients the exact results you've gotten them in the search engine results pages (SERPs).
.
Or, if you're an e-commerce company that sells to customers around the world, you'll want to be able to track your most valuable keyword rankings around the globe. Google Analytics can only do so much, so you need a more powerful tool that can cope up with your SEO strategy.
#2: Accuracy
The entire point of a rank tracker is to be able to accurately track your search engine rankings daily — without manually checking (the most inefficient way).
Your time is valuable, and you probably don't have time to double-check your website's rankings every day. (This can take up a ton of time when you're ranking for thousands of keywords.)
You'll probably want your rank tracker to update every 24 hours on its own. And maybe have access to on-demand updates when you need real-time tracking.
#3: How Much You're Getting for Your Money
When it comes to rank trackers, value and price are major difference multipliers.
Sure, two rank trackers may be able to track over 5,000 keywords, but one may charge almost double for the same amount of keywords. (As you'll soon find out.)
And another thing to keep in mind?
Your rank tracker of choice might not only have rank tracking as its only feature. It's not uncommon for there to be various other SEO, reporting, and other special features that come with your chosen tool.
Usually, there will be a set price per month or year for a set amount of keywords.
So the number of keywords you want to track will ultimately impact the bill you'll get every month (or year). And this will take us to our next important deciding factor…
#4: How Many URLs & Keywords You Want to Track
The number of keywords and URLs you want to track will directly impact the subscription prices for ProRankTracker and AccuRanker users.
Why does this matter?
If you're a small blog owner, the chances are that you won't need to track 50,000 words every day and pay the higher price that comes with it.
But if you're a large SEO agency owner and have 50 clients, those 50,000 keywords and its price tag will be more worth it.
So when choosing between ProRankTracker and AccuRanker, be sure to choose the option that will best match your ideal keyword-value ratio.
#5: Additional Features
Remember those additional special features I just mentioned?
Rank tracking is great and is exactly why you're reading this article. But what if you could get more from your rank tracking subscription?
So during our comparison of AccuRanker and ProTrackRanker, keep in mind any additional features that come with the rank tracking packages.
#6: Customer Support
If everything goes perfectly, you watch all of the tutorials and learn everything you need; you may never come in contact with a support representative.
But if you need additional help setting up your rank tracking analytics, you'll want to be sure that you can get support when you need it quickly. 
You'll also want access to helpful support representatives that have a solid reputation, which brings us to our next point:
#7: Company Reputation
So how do you know which company you can trust?
That's easy.
Testimonials, review sites, and other independent reviewers — all of which we'll be going over in this AccuRanker vs. ProRankTracker comparison.
If a rank tracker's users are happy, you can count on it more to get the job done right — with excellent service.
ProRankTracker: A Dominant AccuRanker Alternative
ProRankTracker is a dominant AccuRanker alternative for SEOs looking for the best return for their money.
But, what exactly are ProRankTracker users getting back for their money?
Higher accuracy with lower prices, and a variety of other helpful search engine optimization and marketing tools and options.
Not only do you get to track your keywords for a price lower than AccuRanker's (as we'll discuss below), but you also get Full SERPs analysis, deep competitor analysis, reports that you can white-label, and a keyword discovery tool.
But that's not all…
Regardless of where you or your clients are in the world, you can track rankings across various devices in locations around the world. On top of that, your clients can access the reports through sub-accounts or the MyRanks mobile app in various languages such as Spanish, French, Italian, Turkish, Japanese, and lots more.
If you want to send a report to a client fast and easy, you can use a shareable report that can be accessed through a generated link.
Fun fact:
ProRankTracker has even been featured in Brain Dean's Backlinko blog!

ProRankTracker continues to be the best Accuranker alternative. We have been in business for the past 7+ years and are committed to 100% accuracy. 
It's a must-need SEO tool for agencies and search-focused online marketing professionals that want to track their most valuable keywords accurately.
Compare Features: AccuRanker vs. ProRankTracker
Now that you know the factors you must consider before choosing and you know more about ProRankTracker, it's time to learn why it's an excellent AccuRanker Alternative.
We'll talk about each one's features and then talk about the differences.
Let's start with AccuRanker.
AccuRanker's Features
AccuRanker is another rank tracker that allows its users to track keyword rankings on the Google, Youtube, Bing, Yandex, and Baidu search engines.
The amount of keywords that users can track depends on the plan they choose. The tiers start at 1,000 keywords and go up in increments until they max out at 50,000.

Users can opt to track their rankings across desktop and mobile platforms in local searches and around the world. They can see domains, keywords, average rank, share of voice, and ranking position distribution from their dashboard.
Domains can be put into specific groups, and keywords can be tagged. Both can be filtered when needed.
They can also monitor up to 10 competitors per URL.
Reports can be created and customized based on average rank, ranking distribution, keyword summaries, share of voice, competitors, and SERP distribution & history.
ProRankTracker's Features
ProRankTracker is a quality, in-depth rank tracker for all of the major search engines — Google, Youtube, Bing, Yahoo, and Amazon.
ProRankTracker tracks your Google rankings on desktop, mobile, local searches, Snack Pack listings, videos, and GMB Map listings. Users can even track the top-100 results for desired keywords with historical data for agency plans.
ProRankTrack is perfect for SEOs that need to track a smaller number of keywords and the SEOs with thousands of keywords that they need to track. They have plan tiers that start at 200 tracked terms for the Basic plan, going up to 100,000 tracked terms for the top Business plan.
On the ProRankTracker dashboard, users are given various charts that show current statuses and changes in rankings in the past days, week, and month. Also, users have quick access to summary charts that show where they're currently ranking in the SERPs.
URLs can be grouped, and keywords can be tagged to be easily filtered to narrow down your results for individual projects.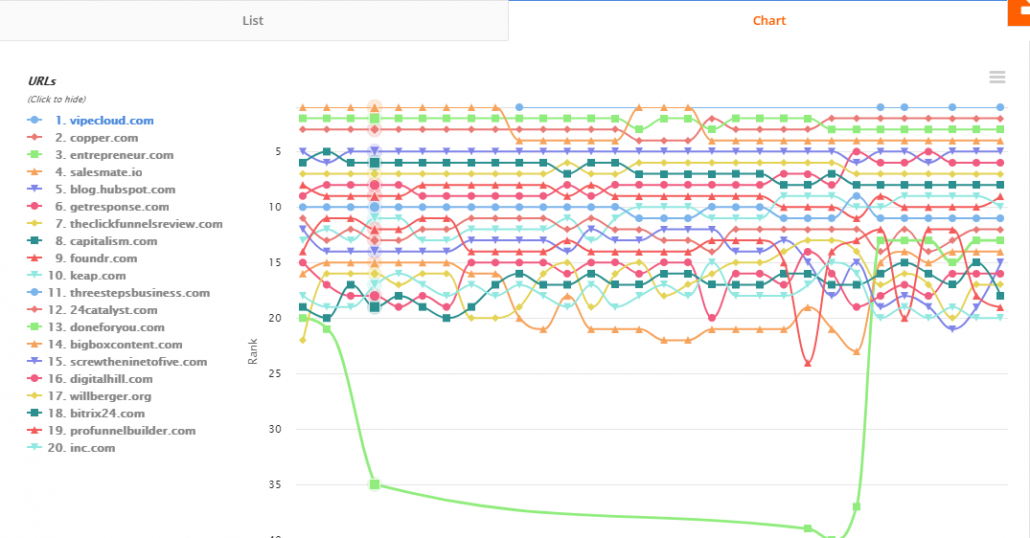 A historical deep competitor analysis can be done to monitor algorithm changes and rank changes over time for any given keyword.
As a powerful Accuranker alternative, ProRankTracker gives users various types of customizable reports such as overview, progress, comparison, benchmark, and white-labeled client reports.
On top of customizable reports, users can use and share access to their accounts with clients with sub-accounts, shared reports (which are generated, shareable links), or the MyRank app.
One of the most unique features of ProRankTracker is its Keyword Discovery tool that finds keywords that you're ranking for that you're not aware of.
Features Winner: ProRankTracker
ProRankTracker's bucket-full of analysis and tracking features makes it an easy win over AccuRanker. (Not to mention its additional SEO tools like the Keyword Discovery tool that go the extra mile.)
PRT also has a wider range of account options for users to choose from so they can choose one that best fits their needs. This is especially good for users with smaller or really large tracking needs.
Compare Pricing: AccuRanker vs. ProRankTracker
A couple of minutes looking at each company's pricing sheet shows where they stand value-wise.
Let's start with AccuRanker again.
AccuRanker Pricing
AccuRanker only has one type of account that has a varying price depending on the number of keywords you want to track.
The lowest tier starts out at 1,000 words for $109 per month, while the largest tier with 50,000 words costs $2,149 monthly.
AccuRanker offers a 10% discount for members that choose the annual subscription model.
ProRankTracker Pricing
ProRankTracker has an abundance of options for users looking to track just up to 200 keywords for the Basic account at $25 monthly, or for users tracking up to 100,000 keywords at $3,300 monthly.
PRT has five different types of accounts:
Basic – 200 keywords – $25 per month

Starter – 500 keywords – $49 per month

Standard – 1,000 keywords – $89

Advanced – 2,000 keywords – $129

Business – 3,000-100,000 keywords – $180-$3,300
There is a 10% discount for users that choose annual subscriptions.
Best Value Winner: ProRankTracker
Pricing is where ProRankTracker hits it out of the park on AccuRanker.
The pricing structure is perfect for everyone, from the little accounts to the huge ones.
Here's an example to give you an idea of how much of a better deal PRT is:
For 5,000 keywords, AccuRanker charges $429 monthly — but for ProRankTracker, they only charge $240 for 5,000 keywords.
Compare Reputation: AccuRanker vs. ProRankTracker
Both companies are known for their solid reputations with their customers.
A quick Google search will show you the reviews for each.
But when it comes to ProRankTracker, they have pages on pages of excellent customer testimonials. 
Peaked your curiosity? See them for yourself.
ProRankTracker vs. AccuRanker Winner: ProRankTracker
When you put ProRankTracker head-to-head against another rank tracking tool like AccuRanker, there are a lot of similarities.
But at the end of the day, if you're looking for the best value for your money, ProRankTracker comes out on top every time.
Then, when you factor in all of PRT's dynamic tracking, analysis, and keyword research features, you have an SEO software that's a must-have for SEOs professionals.
How Can I Try ProRankTracker for Myself?
Ready to start tracking your most valuable keywords in real-time (at an unbeatable price)?
You can try ProRankTracker — an AccuRanker alternative — for free for an entire week.
https://proranktracker.com/blog/wp-content/uploads/2020/12/1.622.jpg
1260
2240
Jacob Statler
https://proranktracker.com/blog/wp-content/uploads/2020/11/prt-blog-1-1.png
Jacob Statler
2020-12-03 08:57:10
2022-11-04 02:38:32
AccuRanker vs. ProRankTracker: The Best AccuRanker Alternative