Amazon Rank Tracker: How to Track Product Listings
Looking for an Amazon Rank Tracker? Try ProRankTracker today for FREE.
How much money do you think is made on e-commerce each year? 1 trillion? 2 trillion?
The global e-commerce market is expected to reach 7.385 trillion dollars by 2025!
Everyone knows that Amazon is the current global leader in e-commerce (and it's not showing any signs of slowing down). No matter what you're looking for, you can find it on Amazon.
Amazon is the 3rd-most visited website in the US, gets over 2.5 BILLION visits a day, and it's also the largest e-commerce search engine in the US (with almost 50% of the e-commerce market share in the country!).
As a search engine, it has its own unique search index and ranking algorithm that can be influenced by SEO and strategy.
With those details in mind, it's no wonder Amazon has become fertile ground for tens of thousands of SEO experts and marketers, all battling to have the products they promote featured on the first few pages.
Tons of new e-commerce sellers flock to Amazon to start their businesses and grow sales each year. However, the competitive SEO makes it seem almost impossible to start making sales.
The first step to doing great SEO is knowing where you stand. You can accomplish this by tracking your Amazon ranks and making strategic decisions with that data.
This article will show you how to keep track of all your Amazon products and your competitor's products.
In this post, we'll cover:
What is Keyword Ranking in Amazon?
When people think of SEO, they usually think of search engines like Google, Yahoo!, and Bing. However, those aren't the only search engines that exist.
Other websites like Amazon, Youtube, and even Facebook function as search engines with limited results.
Since Amazon is a search engine, it's possible to use keywords to improve your ranking on the Amazon results page.
In other words, keyword ranking in Amazon works almost just as it does in Google. You have to identify keywords, target them in your post, and track your rankings to make sure you get seen on the first page.
Should You be Tracking Your Amazon Listings?
SEO is a lot of work, and SEO tracking adds another thing to that workload. Think about it:
You work on your keywords for Google (and possibly Yahoo! and Bing).

You track keywords for your website on different search engines.

You put effort into

local SEO

rankings.

You find and target keywords for your Amazon products.
So on top of all that effort, is it worth adding Amazon keyword tracking into the mix?
In our opinion, that's an easy answer:
YES!
Let's go into some of the details why.
Understand Changes in Traffic and Sales
Most people don't know why their sales go up one month and down the next.
The issue with that is that if you don't know WHY your sales are going up or down, it's impossible to make decisions, so they consistently go up.
Tracking your ranks allows you to understand how your SEO decisions on Amazon affect the money you're making.
In other words, using an Amazon rank tool isn't so that you have more knowledge, and you can brag about your ranks. Instead, it's a practical tool that allows you to concentrate on better strategies.
Make Better Keyword Decisions
Another great benefit of using an Amazon ranking tracker is finding and targeting better keywords.
If you don't track your ranks, it's challenging to know how keyword changes directly affect your sales.
With tracking, however, you can make better decisions about which keywords to target, which will help your products rank higher over time.
Track Your Competitors
Competitor research is one of the most vital parts of effective SEO, but it's also one of the most underutilized strategies.
Using an Amazon rank tracking tool allows you to understand your own products' ranks and your competitors' ranks. 
With this valuable competitor knowledge, you can make keyword decisions to help your products beat your competitors' products on the Amazon SERP.
On the other hand, failure to track will make it difficult to understand why your competitors are beating you!
Never Miss Important Changes
Finally, tracking ensures that nothing will change with your ranks without your noticing.
For example, let's say that your best product drops 5 ranks overnight. If you aren't tracking your ranks, it could take days to discover why your sales are declining.
If you're tracking your Amazon ranks, you'll quickly discover it whenever your ranks drop (or increase!). It's crucial to catch these changes rapidly, and ProRankTracker makes it easy to do. 
How to Use ProRankTracker to Track Your Amazon Products and Make More Sales
Now that we've covered the basics of Amazon keyword tracking as well as why you should be tracking your Amazon products' keywords, let's talk about how to use ProRankTracker to get a solid understanding of your Amazon ranks.
In this section, we'll cover some of ProRankTracker's top features that will help you track your Amazon keywords, get traffic, and make sales!
Let's go!
Add Products and Keywords
The first thing you need to do is make sure that you've added your Amazon ASINs and the keywords that go along with them. Go to the Advanced Add tab, then click "Amazon" at the top.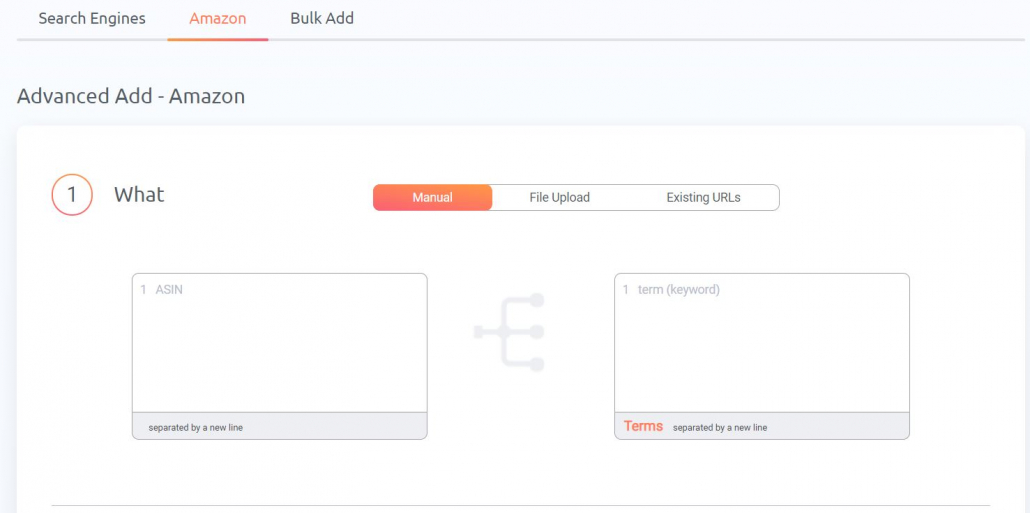 Simply enter your product's ASIN and the related keywords, then:
Choose any other Amazon TLDs that you want to track

Organize your ASINs and keywords into groups and tags (if you wish)

Click save
If you want to add many ASINs at once, click "File Upload" and upload the XLSX sheet with the information you want to track.
That's all there is to it! Once you've added your ASINs and keywords here, you will have access to the wealth of data supplied throughout ProRankTracker's website.
Monitor Rankings Views
Once you've added the products, they will appear in the various rankings views on ProRankTracker. There are 5 types of Rankings View:
Dashboard

URL View

Term View

Daily View

Full SERPs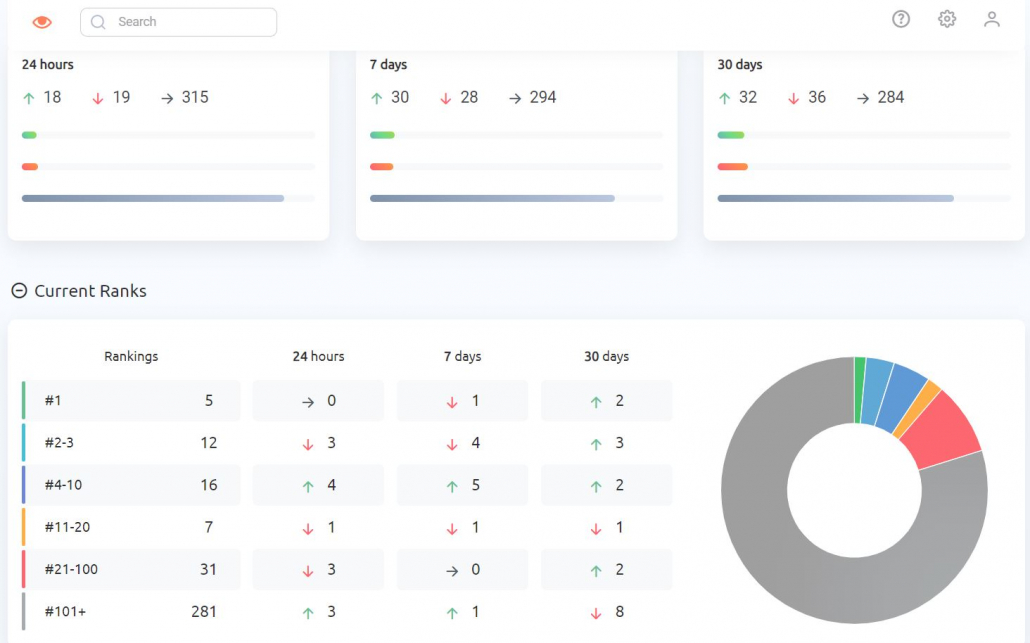 Each Rankings View helps you visualize your ranking data in unique ways.
The dashboard shows general data to help you get an overview of your rank health.

The URL view sorts your ranks by URLs (or ASINs in our case), showing you how each URL ranks for all its tracked keywords.

The term view sorts your ranks by keyword, helping you see how one URL's rank for a specific keyword stacks up against another URL's rank for the same term.

Daily view shows a graph of your performance for a specific keyword over the last month.
Full SERPs shows you the search engine results page for your selected URL. It can help you get a picture of your competitors on the SERP.
Add Google Rank Tracking to the Mix
Since Amazon products can rank high on Google, we recommend that you keep track of every Amazon keyword on Google as well.
In other words, you need to track both the ASIN on Amazon and the URL on Google SERP.
To add Google Rank Tracking, simply go to Add Wizard and add the URLs of your Amazon products that you want to track.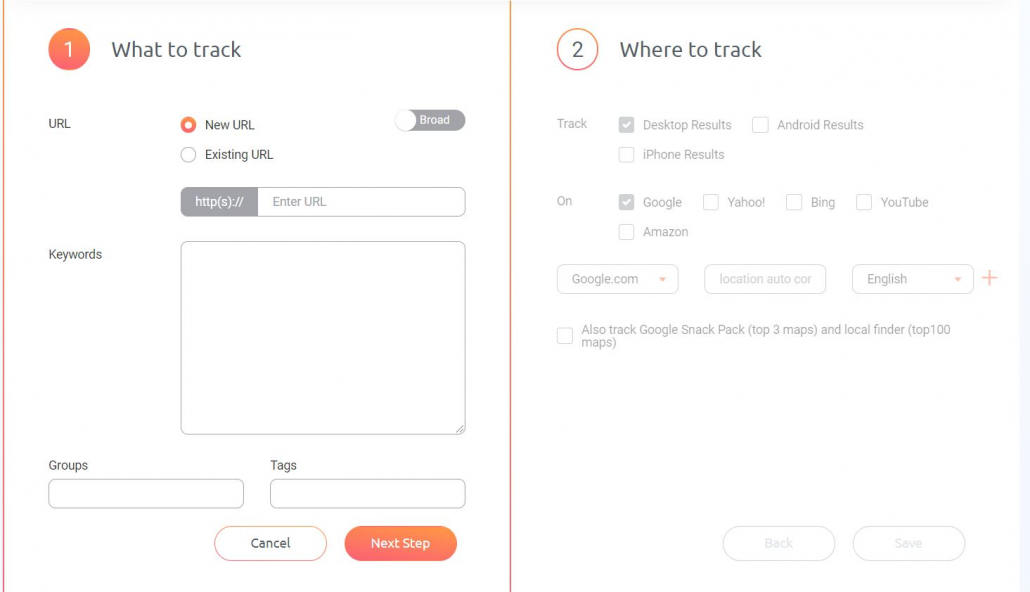 When you add your URLs, make sure to include the keywords that you're currently tracking for the ASIN of the same product.
You should also define a location and device type when you track your Google ranks since Google shows unique search results to users based on these factors!
When all the info is filled out correctly, click "Save." You'll now be tracking both the ASIN and the URL for your Amazon product! Both will appear in your Rankings Views.
Graphs and Historical Progress
PRT offers detailed analytical graphs of your Amazon ranks (and every other search engine that we track). Charts are one of the best ways to keep track of your rank changes over time. In addition, the visual presentation of data makes it easy to understand and use.

You can find an overview chart of all your ranks at the top of your Rankings View pages. This pie chart helps you understand all of your rank changes in the last 30 days.
Another helpful way to look at graphs and charts is to generate a multiple terms graph. To do so:
Check the boxes to the left of the terms you want to compare

Click "Bulk Actions" at the top of the Rankings View page

Click "Multiple Terms Graph"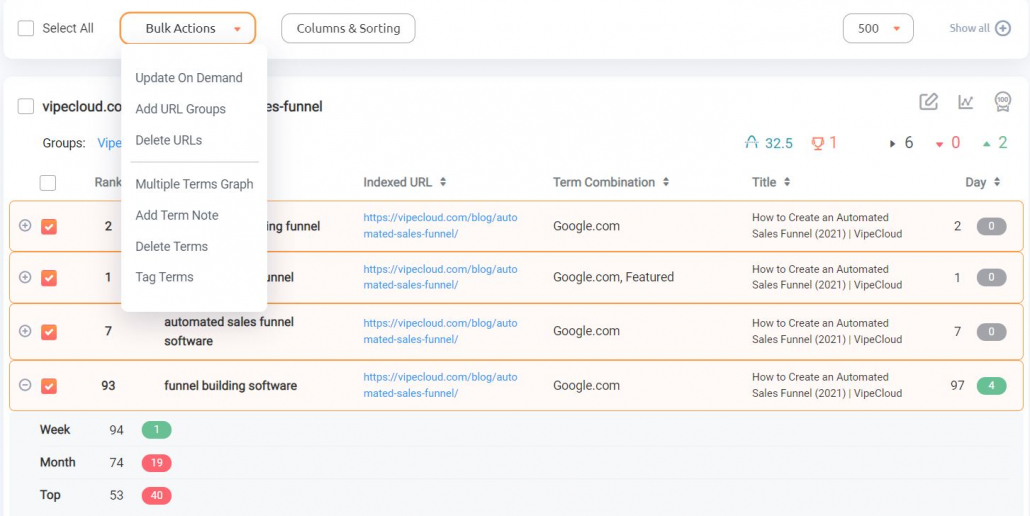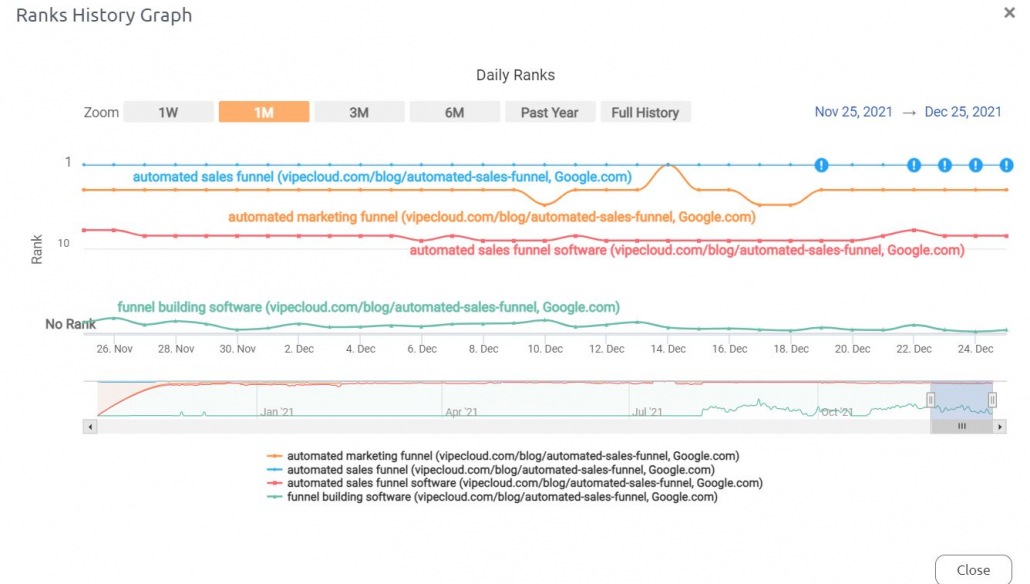 The Multiple Term Graph can compare up to 15 of any terms you track (in any search engine).
Using these graphs, you can get several valuable insights:
How different keywords compare for the same products

How different products compare for the same keyword

How an Amazon rank compares to its Google rank

Evaluate yourself vs. your competitors

Just about any other comparison you can imagine
Notifications and Reports
Ranks are constantly changing. Sometimes, they can even change suddenly and without warning.
To deal with the dynamic nature of ranks, you need an Amazon rank tracker that can notify you of any significant changes, such as a product suddenly rising or falling in rank. 
This is where ProRankTracker's reports and notifications come into play. ProRankTracker offers more than 20 variations of reports and notifications that ensure you're always up to date.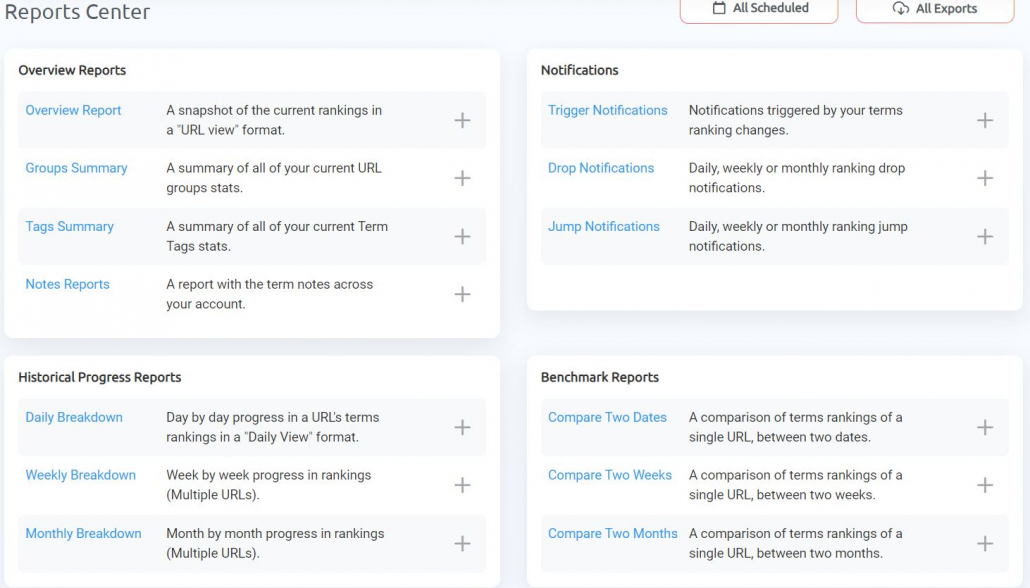 There are 2 types of automated reports (with over 20 subtypes of reports):
Standard reports

Triggered reports
Standard reports are generated every set amount of time, including only the information you select.
For example, you might choose to generate a "Notes Report" every 1st Monday of the month.
Triggered reports are only generated when a specific set of parameters is met. For example, you might set a triggered report for when one of your Amazon products reaches a spot in the top 3 on the Amazon SERP.
Being informed when a product drops in rank will allow you to react on time and take the necessary corrective measures or to celebrate immediately when you reach the number 1 spot.
Keep Your Account Neat and Organized 
You might need to track hundreds of different terms for several products, even for a small Amazon seller. That is a lot of data!
As you get more comfortable with ProRankTracker's system and start to add more products and keywords, we highly recommend taking advantage of the organizational features it offers.
Organization makes it easier for you to find and use the information without taking tons of time. Some of the major features offered by ProRankTracker include:
Tags allow you to sort your keywords into easily-searchable chunks. For example, you might choose to sort all of your keywords that include the word "SEO" into a tag titled "SEO" (or something more creative if you'd like).
Groups function identically to tags, but they are used for URLs and ASINs instead of keywords. Sort similar URLs or product ASINs together for easy searching later.
You can filter results on your Rankings Views by tags or groups. Just click the Navigator Eye near the top of the page and select the tag or group you want to see.
Using PRT's groups, tags, and filters properties, keeping track of even thousands of different keywords for many campaigns can be easy and save you a lot of time!
Get Keyword Suggestions
Choosing the right keywords is a core principle of successful SEO. Amazon SEO is no different!
Many people try to think of as many keywords as possible off the top of their heads, but this isn't a good strategy for 2 reasons:
First, you will inevitably miss keywords that you should be tracking.

You will track keywords (spending valuable time on them) that are ultimately worthless to your Amazon business.
ProRankTracker offers 2 useful tools to make sure you're tracking the right keywords.
First, the Rankings Discovery tool allows you to discover keywords for which you're already ranking.
The Rankings Discovery tool will ensure that you don't ignore some of the most essential terms for your business.
Second, the Keyword Suggestions tool will make keyword suggestions based on the keywords you're already tracking. It makes suggestions for long-tail keywords that are likely to bring you increased traffic (and increased sales!).
ProRankTracker Features That Will Help Keep Your Ranks High
Update Frequency
Like all search engines, Amazon updates its search index frequently to give its users the most relevant search results. In other words, rankings can change suddenly, meaning you could lose or gain ranks overnight.
Products such as fidget spinners are a great example of a sudden craze that can bump a product in rankings very quickly. 
To always stay on top of your marketing strategy, you need an Amazon rank checker that will update your data frequently. 
ProRankTracker automatically updates your rank data every single day. Many of its plans also allow you to update your data on-demand more than once per day. 
Accuracy
An Amazon rank tracking tool wouldn't be very much good if it weren't accurate.
ProRankTracker rigorously monitors Amazon for any changes to its ranking algorithms. As a result, it ensures that you're not only getting up-to-date info but also that it's accurate data.
It also deploys fast response mechanisms to adapt, making us 100% accurate in all the ranks that we show you.
In other words, you don't have to wonder if the data you get from ProRankTracker is accurate or not.
API – Tap Into Data Straight From the Source
Do you have a tool of your own you want to feed fresh and accurate Amazon ranking data?
ProRankTracker also offers full API access to all agency plan subscribers. That means that you can adjust ProRankTracker to your needs and integrate it with your other tools.
If you have the ability and knowledge to use an API and integrate it into your current setup, you will find that your ability to use ProRankTracker data will increase even more.
White Label Reports
ProRankTracker offers white-label tools to take your reports to the next level if you provide white-label SEO services for clients' Amazon products.
Sending reports to your clients is one of the best ways to keep them informed of how well their products are doing under your care. It also makes you look more professional and trustworthy (a win-win in our book!).
The Amazon ranking data that you track can be compiled into reports that you can send to yourself, your clients, or your colleagues.
The reports are fully customizable. You choose what data to show, what the header and footer will be, and they are all 100% white label! You can even add your company name, logo, and color scheme.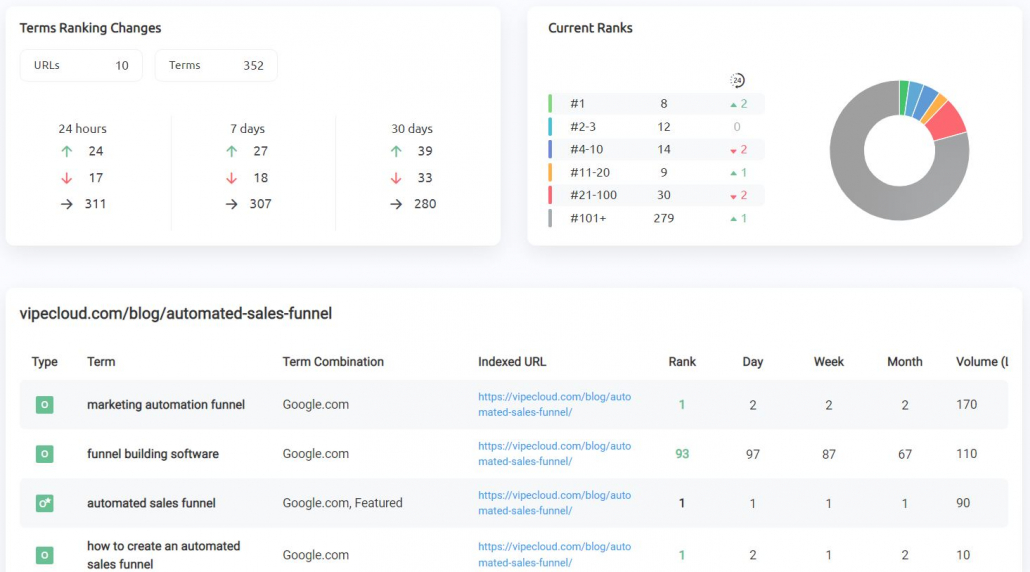 You can set up the reports to be automatically emailed out from a specific email address daily. Best of all, you get an unlimited report quota with any of the monthly plans, so you don't have to limit yourself and ration the reports that you generate.
Customizable white-label reports make you look excellent, and they make your clients feel comfortable utilizing your services.
Conclusion
The internet contains tons of SEO strategy guides on ranking high, increasing sales, and generally boosting your Amazon sales.
Regardless of which strategy you use, monitoring your progress accurately and reliably is always at the heart of the operation. Without tracking, your entire SEO strategy boils down to your best guess.
This is why you must use an optimal rank tracker for the job.
If you can consistently track your Amazon products as they move through the Amazon SERP, you will be able to make better SEO decisions, improve your ranks, and make more sales.
Now the only thing left is for you to try it out! Subscribe to PRT's free trial and test out how accurate tracking can change your business!
Good luck!
https://proranktracker.com/blog/wp-content/uploads/2018/04/amazon-rank-tracker.png
321
845
Jacob Statler
https://proranktracker.com/blog/wp-content/uploads/2020/11/prt-blog-1-1.png
Jacob Statler
2021-12-28 21:15:47
2023-02-20 17:34:33
Amazon Rank Tracker: How to Track Product Listings