The ultimate SERP tracking guide: How to track ranks according to the type of website and business in 2018/2019
Rank tracking doesn't have to be complicated, and after this guide, you'll be able to rank track correctly for virtually every type of business.
Besides SEO experts who rank track as an essential part of their regular line of work, there are many other business types that do their own SEO and also require proper rank tracking. Certain business types will require SERP trackers with additional rank tracking abilities other than just tracking Google, and even tracking Google requires certain standards that not every tool offers.
So, to help you get the best results from your SEO rank-tracking tools, we decided to compile our definitive rank tracking guide for the most common types of businesses that require SEO.
Each business type will require certain abilities from their SERP tracker, such as tracking specific ranking types for Google, additional tools and features, and search engines other than Google that need to be tracked.
So, this article is basically for anyone who does any kind of SEO, from business owners that try to promote on their own, to SEO experts that might encounter any of those types of business and will benefit knowing how to rank track the right way for those businesses. You might be a backlinks wizard and be amazing at producing fresh content and getting search engines to favor your website, but if you can't monitor your progress correctly, it will just end up hindering you.
We will focus on PRT's features and abilities on this one, naturally. Preferably, you'll have a SERP tracker like PRT that offers all of these abilities in one place, but they can also be found scattered among several tools, so you can explore the market for those features to compare tools properly.
So let's begin. We'll break down some common business types and the rank tracking they will require, and we'll also show how to do it correctly and accurately using PRT. Every aspect we'll mention will also have a helpful link with more information that you can dive into and explore further.
**Since this is a long and extensive guide, not all business types will be applicable for you. The ideal way to use this guide is to read the first part, which is relevant for every business, and then simply locate the business type that's related to your field (marked orange) and read about what's needed.
Quick navigation:
What EVERY business type needs to be able to track
Before we even get to the business types, we need to go over the basic requirements for EVERYONE, regardless of their niche or field. These are the most basic abilities every SERP tracker should have – and if they don't have these abilities, don't even bother because you WILL be seeing an irrelevant rank. Always remember:
If you don't know the right type of rank you need to track, you will not get the correct rank, no matter which tool you're using!
What everyone will need to look for:
Tracking desktop AND mobile Google ranks
The rank tracker you're using MUST be able to distinguish between mobile and desktop Google ranks. It's well known by now that Google ranks pages differently for users searching on mobile and users searching through desktop devices. Google has a unique SERP for mobile users, and desktop and mobile ranks are different 99% of the time today. Here's an example of how a mobile rank can differ from a desktop one:
More info about Google's mobile-first approach:
Tracking Google ranks by geo-targeted location
Like the distinction between mobile and desktop ranks, a SERP tracker MUST be able to distinguish between geo-targeted locations. People searching Google will see different ranks according to where they are physically at the time of search. The more exact a location the tool can offer, the better. For example, PRT can track Google ranks down to specific neighborhoods, and even airports:
Once you've identified what areas your target audience is mostly located in, those are the locations you'll need to know your ranks from.
More on Google's geo-targeted personalization:
Webpage title tracking
The moment you show up on Google's SERP, your webpage's title will be displayed. You may have thought carefully about how to phrase your title to maximize its CTR potential, but on some occasions, Google will either truncate or change the title according to its logic, and the SERP tracker you're using needs to be able to tell you how your title is displayed on Google for any given keyword that you track. Like so:
More about webpage titles:
Google monthly search volume revealed
Anyone who tracks their keywords on Google needs to know the search volume of each keyword to gauge its popularity and potential. Google only reveals the monthly search volume to high-paying AdWords users, and it might be irrelevant for organic SEO that doesn't rely on paid ads. You need to have your search volume, along with your ranks, all in a single place. Just like this:
About Google's move to limit search volume, and PRT's solution:
Keyword research tools
Keyword research is inescapable for anyone doing SEO because choosing the right keywords to promote and then track is the core element from which SEO stems. The tool you use needs to be able to provide you with some kind of keyword research solutions, otherwise you'll be searching for external tools, and potentially even paying additional fees. PRT's Keyword Suggestion and Ranking Discovery tools are the ultimate tools for keyword research on the market. If you follow our method, you'll be able to discover virtually all of the keywords with real search volume of any niche:
Ranking graphs with notes and comparison options
Everyone needs some sort of visual representation of the progress their ranks have made over time. Just as anyone invested in stocks needs to see the progress the stocks have made on a graph. Having the ability to place notes on the graph at certain dates can help reveal the picture of why a rank has fallen or risen and just generally allow you to keep a more solid track of everything. For example, just placing the note "Google update rumors" on a certain date will provide valuable insight looking back at the progress graph.
PRT can generate progress charts for any of the ranks that you track, compare any of the ranks and attach lengthy notes to any rank at any date:
How to use PRT's graphs and notes features:
You can have those features and start tracking all those ranks right now, starting at only $17 a month with PRT. Check it out!
What video marketers and YouTube creators need to be able to track
Video marketing is a very popular field in advertising that has a great ROI if done correctly. It can easily beat more traditional marketing approaches, such as just text or images. Video marketing is already one of the main advertising mediums, and current predictions state that video marketing will make up 82% of all IP traffic by 2021.
There are two main things that video marketers need to be able to track for their videos, in addition to their regular Google ranks:
Google's video carousel SERP element
One of Google's eye candy SERP elements:
It usually shows up at the top of the SERP and grabs attention from regular organic listings. Having a video listed in this element can have tremendous value to marketers. This element can have any type of video featured from any source, from YouTube to Facebook, so it is a very coveted target. You need to be able to track the carousel's position in the SERP as well as the video's position within the element:
How to track Google's carousel:
YouTube ranks
YouTube has a unique ranking algorithm that is separate from Google's, even though it's part of the same Alphabet group. If you have any YouTube videos, you need to be able to track their ranks on Google and their unique rank within YouTube:
How to track YouTube ranks:
What businesses with a physical location need to be able to track
Some websites have a geographical location that needs real-life, physical traffic to be driven to their place, such as restaurants, clinics, car repair places, etc. There are two Google SERP elements responsible for driving real, physical traffic to places, and they should be tracked!
Snack Pack
Snack Pack is the target of almost every local SEO endeavor. It shows up at the top of the SERP and can easily leave regular organic listings in the dust as far as physical traffic is concerned. The users can see where businesses are located on Google's map and choose the closest place to where they currently search from:
Snack Pack has significant benefits over the regular organic lists, such as showing user reviews, user pics, opening hours, contact details, the ability to navigate to the place with GPC and much more.
Top 100 Google map results
Clicking or tapping "more places" on Snack Pack (or alternatively, the "maps" tab) will get you to the extended top 100 Google map results: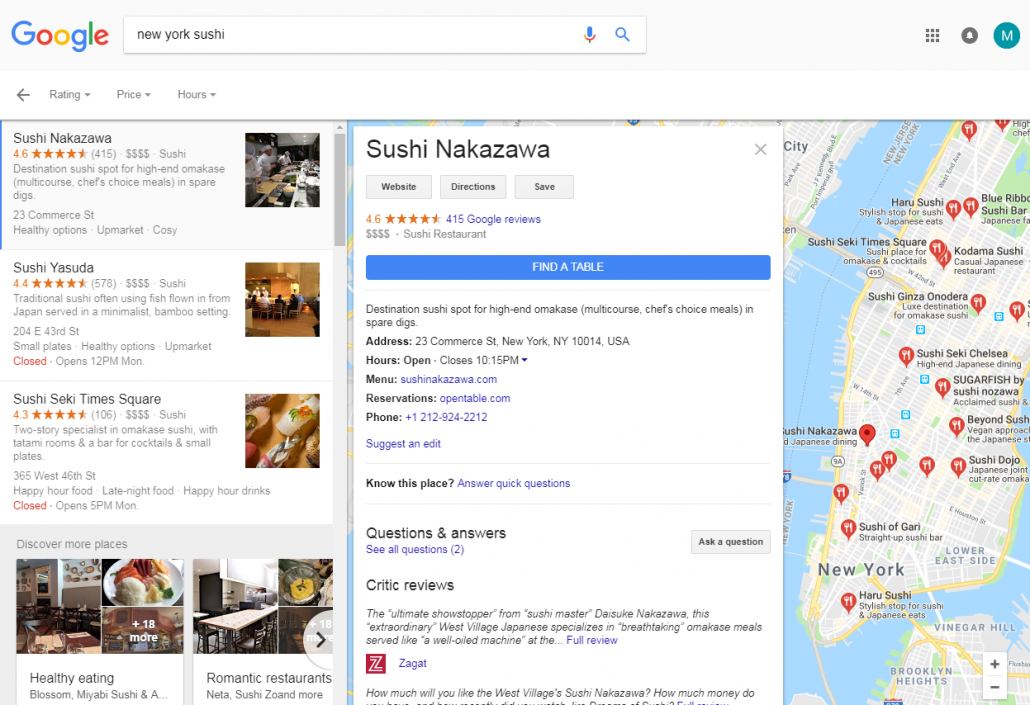 Most users will opt to view the full list of places nearby. These are separate ranks from Snack Pack. You might not be visible on Snack Pack, but you might be located 5th, which is why it's essential to track the extended map results as well (PRT's Local Finder feature tracks those ranks).
A good SERP tracker should be able to track both of these elements! More on how track those elements with PRT:
Some businesses don't even have a website, but they do have a Google maps presence, and they won't even need to track regular Google ranks – but they will benefit from knowing where they rank on Snack Pack and in the top 100 map results.
What e-commerce, Shopify, drop-shipping websites, etc. need to be able to track
The most lucrative field on the internet. E-commerce rules the web, and you don't need to invest a ton of money in developing your own online store anymore. There are many outlets and solutions to easily establish an internet shop these days, such as Shopify and other similar drop-shipping solutions. The moment you enter this field, you'll very likely sell your products on Amazon as well, which is why you need a SERP tracker that can handle:
Amazon ranks
Amazon is the biggest e-commerce search engine on the planet, beating Google in the e-commerce field. They have their own unique ranking logic, and your product positions should be tracked alongside your Google ones on Amazon as well:
More on Amazon rank tracking:
What websites with international versions and translated webpages need to be able to track
Google's approach to the way it ranks translated webpages and international versions of websites is not always appreciated by website owners. They utilize a method called webpage folding, which might rank translated/international webpage versions incorrectly in certain cases. This has led to a lot of frustration over the years and is why you need a rank tracker that can handle two things:
Exact webpage tracking
You need to track the specific webpage instead of the general URL to see if the correct webpage is being ranked in the right territory and language:
Google ranking differences by UI language
Furthermore, you need to be tracking the UI language of the translated version. Google uses the user's default UI language as an additional personalization layer. For example, a user from Quebec, Canada with English as their default Google UI language will see a SERP with different ranks than a user that uses French.
So, if you have a webpage that's translated into French, you need to track that exact translated webpage's URL for users that use French as their default Google UI and from the relevant location.
More about webpage folding and how to correctly track Google ranks for translated webpages:
What blogs, authority websites and news sites need
Blogs, authority websites and news sites rely on catching viral keywords and current trends. Google will crawl popular sites that publish fresh content (on a daily basis or more) as often as every few seconds! For that, you need fresh ranks and a SERP tracker that not only guarantees fresh ranking data fetched at least once a day, but can also provide you with:
Daily ranking data updates on demand
This is the ability to fetch fresh ranking data at the click of a button, whenever you need it. This is crucial for frequently crawled websites, and PRT offers up to 3 daily updates on demand for every rank being tracked on our system. With this ability, you'll be able to see immediate shifts in your ranks and the spikes and dips that follow events and viral breaks.
This is also generally great for any type of website following a major Google update. Getting fresh ranking data on demand will show you if your ranks were influenced by the update right away – instead of waiting a whole day.
Notifications
Any sort of feature that will notify you once a certain rank is attained or if a rank drops all of a sudden is very useful for such websites. PRT has an extensive notification system with a very wide array of triggers that can be set for each of your terms:
Having notifications is also a great way to notice sudden ranking changes following a major Google update, which shakes the ranks of any type of website.
More about setting notifications and ranking update frequency:
What app developers and ASO specialists need to be able to track
Google uses a personalization layer that is rarely discussed in the SEO community and that currently only PRT is able to track. Recently, we discovered that certain websites will rank differently for Android users and Apple users:
Not only that, but screen size also seems to matter:
Basically, you need to be able to track two specific Google ranking layers:
Mobile OS types – Apple vs. Android
Mobile screen type – phone vs. tablet
PRT can track all of it!
This is very important for anyone doing ASO for iTunes or Google Play exclusively, or for any website that targets Apple or Android users specifically. Also, it's a good ability to have if you want to make sure your website is visible for Android or Apple devices, since more and more cases were recorded where a website dropped in visibility for a certain OS altogether:
More information about the matter:
What websites and businesses with Russian audiences need to be able to track
If you target Russian-speaking audiences, it's good practice to throw some Yandex SEO into the mix and gain some valuable organic traffic. Yandex is very popular among Russian-speaking users and enjoys some unique demographic benefits that, if researched and utilized, can yield some nice additional value.
Yandex ranks
Not many rank trackers can track Yandex, since it uses a completely unique ranking algorithm. But those that can usually stick to Yandex and basic Google ranks with no personalization differentiation, and they offer very few additional features and abilities. But PRT can easily track it along with everything else you've read about so far!
What anyone who wants to future-proof their SEO for 2019 needs
Google constantly finds new ways to personalize our search results. These days, Apple mobile users might see different ranks than Android users. Specific mobile OS ranks on Google might be the next phase of SEO. We saw an increase in ranking differences for those layers in the last year:
PRT is currently the only rank tracker on the market that can track those advanced Google ranks, and even if your websites are not yet influenced by it, it's certainly a good idea to start keeping track and making sure you remain visible for all mobile users!
More on those new layers and what it might mean for the future of SEO and your websites:
What anyone who targets Yahoo! and Bing needs
Targeting those two underdog search engines is healthy SEO practice for almost any website and business. Bing is quite strong in the US and UK and offers some very nice demographic benefits in the form of mature and more financially stable users than Google. Bing users might be fewer than Google users, but they sure pack a stronger financial punch!
Yahoo! and Bing ranks
The two have almost identical ranking algorithms because Yahoo! is powered by Bing. Your rank tracker needs to be able to track those search engines alongside your Google ranks, like this:
The important part here is that the SERP tracker needs to be able to also track the international versions of those search engines, since they also use geo-targeting and personalization layers (far less than Google, but still apparent ones):
More on why Bing is more important than you might give it credit for:
What SEM professionals need
While pros that focus on SEM might not require the classic rank tracking per se, they can still use a SERP tracker's ability to show search volume without being the high-paying AdWords users that Google requires them to be, plus get access to unique keyword research tools. PRT shows users their FULL monthly search volume on Google:
PRT's $17 entry-level monthly plan can give SEM experts those tools for a fraction of the price Google and other tools ask for!
Also with, PRT's unique keyword research tools, you can discover almost all of the keywords of any niche, with just a SINGLE keyword. And we mean real keywords, with ACTUAL monthly Google search volume behind them. More on that:
Additional features SEO experts and agencies need
Professionals that specialize in SEO will require all the features we mentioned above because they might encounter any of those types of businesses that can hire their services, plus some specific features that will uniquely benefit them. Make sure your rank tracker can offer you these features:
Ranking reports
Sending ranking reports to clients is a must. It lets them stay informed on how their ranks are doing and that their money is being well spent. PRT has more than 12 different ranking reports that are fully customizable, from easy-to-read ranking reports to highly advanced ones that feature graphs and charts. And best of all, you get an unlimited quota of ranking reports for all of our paid plans, even our entry-level $17 one!
White label solutions
Placing your logo on top of ranking reports will help you appear more established and preserve your brand. PRT is 100% white label, meaning every single one of our features can be embellished with your logo, including our entire rank tracker. We offer the widest white-label support on the market, and your clients will effectively not even know there's an external tool and will see just your logo and company details on our tech!
Sub-accounts
PRT's sub-accounts can be branded with your logo, set to any level of permissions and have unique user names and passwords:
Sub-accounts are a great tool for distributing work among your colleagues, and if you really want to impress a client and appear established, you can give them access to a sub-account of their own with your logo, making it seem like you have your very own SERP tracker!
High quotas for a good price
A rare commodity, since most high quotas on the market are ridiculously expensive, PRT offers HUGE quotas of up to 200k terms for as low as $0.017 per tracked term! (Available by request only.)
API
Some SEO experts and agencies have developed their own SEO tools and just need fresh and accurate ranking data fed directly to their tools. If you've already invested in a rank tracker of your own, you need a tool that – at the very least – offers high-quality API support. Contact us for more details. We will rival any price on the market, and our API specialist will help you set it up in no time!
Migrating solutions
Being a SERP tracker user is not a commitment for life. The tool you use needs to have some sort of data export option so you can have the freedom to migrate to another tool whenever you decide. A high-quality tool will be confident in their tech and will offer such solutions. PRT can import and export mass amounts of data easily using Excel files.
More on our reports, white label features and the amazing things you can accomplish with them:
That's the end of our guide. Feel free to bookmark it and return to it whenever any of the business types mentioned here become relevant for you. If there are business types we didn't mention here, feel free to tell us about them in the comments below and we will add them to the list with full details of what rank tracking they might require, helpful links, and if we support it or not!
---
PRT can handle all of the features and abilities mentioned above and more, all in one affordable and 100%-accurate industry-standard SERP tracker. We are the ONLY rank tracker on the market that can handle such a wide coverage of rank tracking solutions. No need to search for external tools and pay extra when you're a PRT user. Believe it or not,  these features are all available starting with our most basic entry-level monthly plan at just $17!
Before you pay, though, you can take us out for a truly amazing free 7-day trial spin and see our system in action with all features unlocked. We say truly free because we will NOT ask you for your credit card and won't set any shady auto-renewal traps for you to trip on. We have full faith in our rank tracker and are fully confident that once you try it, you'll stay. In case you wondered, after the 7-day trial is over, you'll simply be moved to our regular free monthly plan that has no time limit (but also doesn't have all the features we mentioned in this guide).
Help spread the PRT way!
Be sure to check out our amazing Affiliate Program. We want to share our success and reward anyone who helps us grow with a nice 20% recurring commission for the entire lifetime of the referred account. This can add a very nice monthly bonus to your salary!|
https://proranktracker.com/blog/wp-content/uploads/2018/10/ING_19061_183034.jpg
300
800
ProRankTracker.com
https://proranktracker.com/blog/wp-content/uploads/2020/11/prt-blog-1-1.png
ProRankTracker.com
2018-10-18 21:53:52
2022-04-19 09:13:31
The ultimate SERP tracking guide: How to track ranks according to the type of website and business in 2018/2019