5 Best SEMrush Position Tracking Alternatives
There are some big names in the world of SEO.
SEMrush is one of the biggest. It's one of the most popular tools (if not the most popular) on the market.
But there are several reasons why people might be looking for alternatives to SEMrush:
It's expensive.

It lacks specific features in highly specialized areas like rank tracking.

It offers too much when users might only need a fraction of the tools (for less money).
This article will look at 5 of the best SEMrush alternatives for SERP position tracking. Each of these 5 will offer certain advantages that SEMrush doesn't have.
Let's get to it!
We'll cover:
Why SEMrush Isn't the Best Investment for Rank Tracking
There's a lot to like about SEMrush. It's a great all-in-one tool that offers features ranging from keyword research to rank tracking to content marketing.
However, that doesn't mean that SEMrush is the perfect tool for every business or every situation. There are certain areas where it doesn't compare to tailor-made tools.
One of those situations is rank tracking. Rank Tracking is a highly technical field where users need specialized tools and features if they want to get ahead of their competitors.
For example, white-label agencies need highly customizable reports, advanced organizational features, and unlimited reports and notifications.
When it comes to specific uses like agency reporting, SEMrush may not meet your company's needs. In those cases, it's time to look for an alternative.
This section will detail 4 reasons why SEMrush isn't the best tool for position tracking.
Not Primarily a Position Tracking Tool
Perhaps the biggest reason to use a SEMrush alternative for rank tracking is that rank tracking isn't its primary purpose.
Don't get me wrong: SEMrush has some good rank tracking tools. However, its primary purpose is to be a comprehensive SEO tool instead of doing any single job exceptionally well.
Most businesses subscribe to SEMrush because it covers all their bases from the beginning. However, they start branching into specialized tools as their needs increase.
For example, most businesses that eventually start providing agency-level position tracking services will need more tools than SEMrush. At that point, they'll have to use a more specialized tool than SEMrush.
When it comes to something as crucial as rank tracking, you want to ensure that you're getting the best possible information. That's why many choose to use a more specialized tool.
No Unlimited Reports
When you start to take on clients for your white-label position tracking business, they'll want to stay in the loop.
Keeping your clients updated means sending the reports.
LOTS of reports.
Unfortunately, SEMrush doesn't offer the ability to send many reports.
For example, SEMrush only offers 5 rank tracking reports with its cheapest package. At the highest level (for $449.95/mo, but we'll get to that next), it only offers 50 monthly reports.
Compare that to ProRankTracker, which offers even its cheapest plans (which cost $11/month) unlimited rank tracking reports.
Reports may be the most critical factor in keeping your clients happy, so we don't recommend limiting yourself when it comes to how many you can send per month!
Expensive
One of the major downsides of using SEMrush as a SERP position tracker is the cost.
For example, the cost of SEMrush's basic plan is $119.95/month, which includes 500 tracked keywords, 5 reports, and keyword analytics.
In comparison, ProRankTracker offers a 500 keyword plan with daily updates, unlimited reports, Full SERP reports, and keyword tools for only $49/month.
SEMrush offers a variety of tools, which allows it to be a one-size-fits-all tool. However, it also means that the cost is astronomically higher than its alternatives.
For most businesses, it's worth it to save money on rank tracking by using a more specialized tool.
Cheapest Plan Lacks Essential Tracking Features
Smaller businesses need rank tracking tools just as much as larger businesses, but they often miss out on essential features when buying smaller plans.
For example, SEMrush's smallest plan doesn't include historical data. That means that users won't be able to make key comparisons between their performance today and last year.
Missing out on key data like this puts smaller users at a massive disadvantage–especially if they're going against competitors with more money in the rank tracking budget.
Another clear example is the lack of unlimited reports, which we mentioned earlier. The smallest SEMrush plan only offers 5 reports a month, which isn't enough for even the smallest businesses.
However, using a specialized tool can help smaller businesses get access to the features they'd be missing with SEMrush.
Top 5 Best SEMrush Alternatives for Position Tracking
If SEMrush isn't the best tool for rank tracking, what is?
A quick Google search for "rank tracking tools" will reveal countless options. Which should you choose?
There are many great SERP tracker software options available on the web, but there aren't many that are worth your time.
What makes a position tracking tool worth your time and money?
Accuracy and update frequency

Tool options

Price

Reports
This section will break down our top 5 SEMrush alternatives for Google SERP position tracking. We've included options for every budget, but we recommend trying out any free trials that are available to help you make your choice.
ProRankTracker
Our top choice is ProRankTracker. It's the cheapest SEMrush alternative that offers industry-leading features at every price point.
One of the best things about ProRankTracker is that you can even try it out for free. You can sign up for a 30-day free trial, or you can use a free account with limited features.
ProRankTracker is at the top of our list because it offers some of the most in-depth and highest-quality features available:
Daily updates on every package

Unlimited reports on every package

Industry-leading white-label features like a mobile app

Customizable and filterable rankings views

Interactive Full SERPs
Let's look at 5 areas where ProRankTracker shines as our top SEMrush alternative for position tracking.
Highly Specialized Rank Tracking Tools
Rank tracking is a unique field of SEO and it requires specific tools. ProRankTracker offers any tools you need to successfully:
Track your ranks

Manage your clients' ranks

Understand (and beat) your competitors
For example, ProRankTracker makes it easy to add location data to your ranks so you can track keywords specific to your location. You can also change the device type and search engine of your keywords and URLs.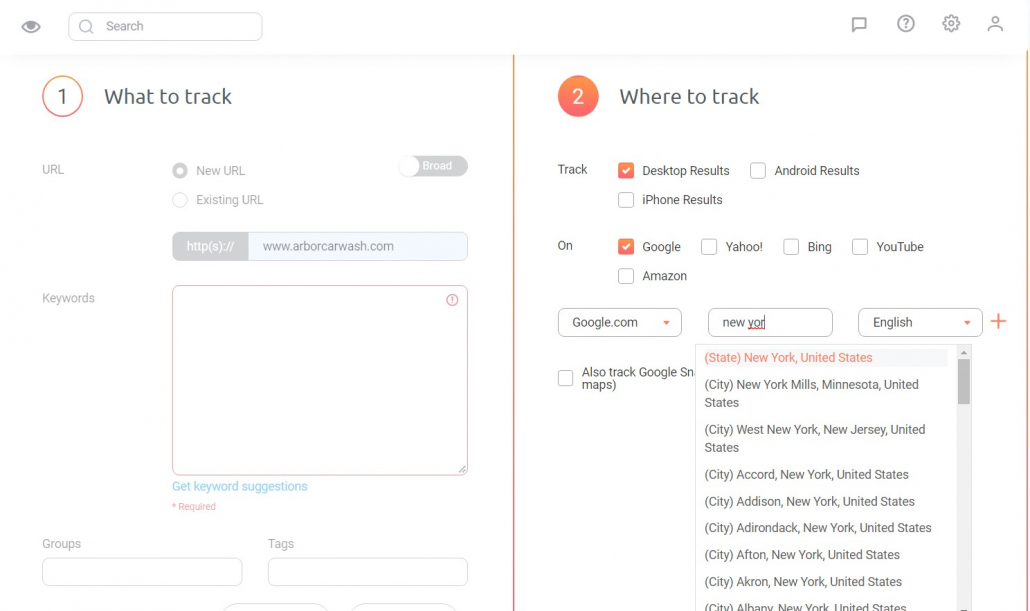 Google isn't the only important place to track your keywords. You may also need to track items on Amazon, YouTube, Bing, and Yahoo!. ProRankTracker makes it easy to track on multiple search engines.
Finally, ProRankTracker offers highly specialized features like Full SERPs that track exactly how each result has moved over a given time period.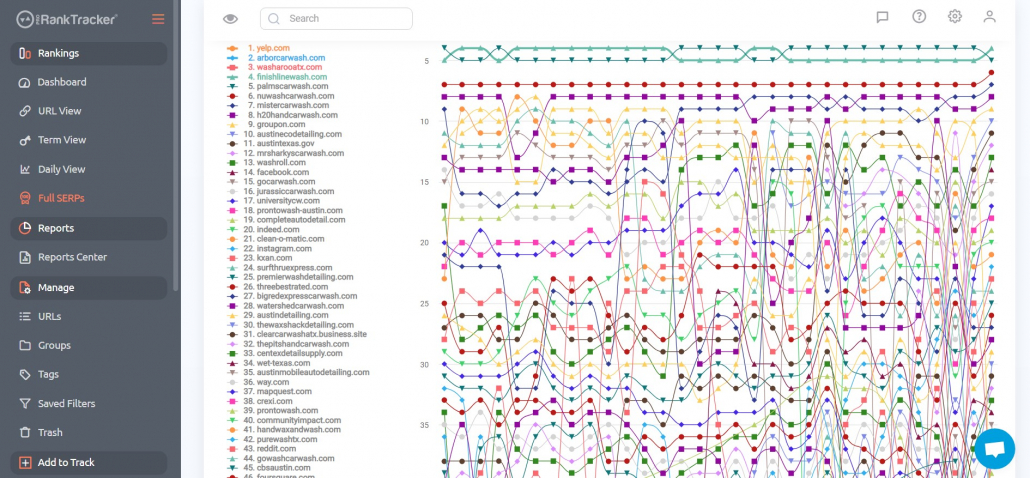 These aren't all the specialized features ProRankTracker offers, but they highlight just how in-depth you can go on the platform.
Pricing
Perhaps one of the most popular things about ProRankTracker is the pricing. Even the smallest businesses can find something that fits their budget and helps them soar on the SERP.
ProRankTracker's smallest plan is only $11/month and includes:
Daily updates

Unlimited reports

100 tracked terms

All keyword tracking features
But small businesses aren't the only ones who can gain by switching to ProRankTracker. Agency clients can track 5,000 terms for only $275/month compared to SEMrush's $449.95 plan of the same size!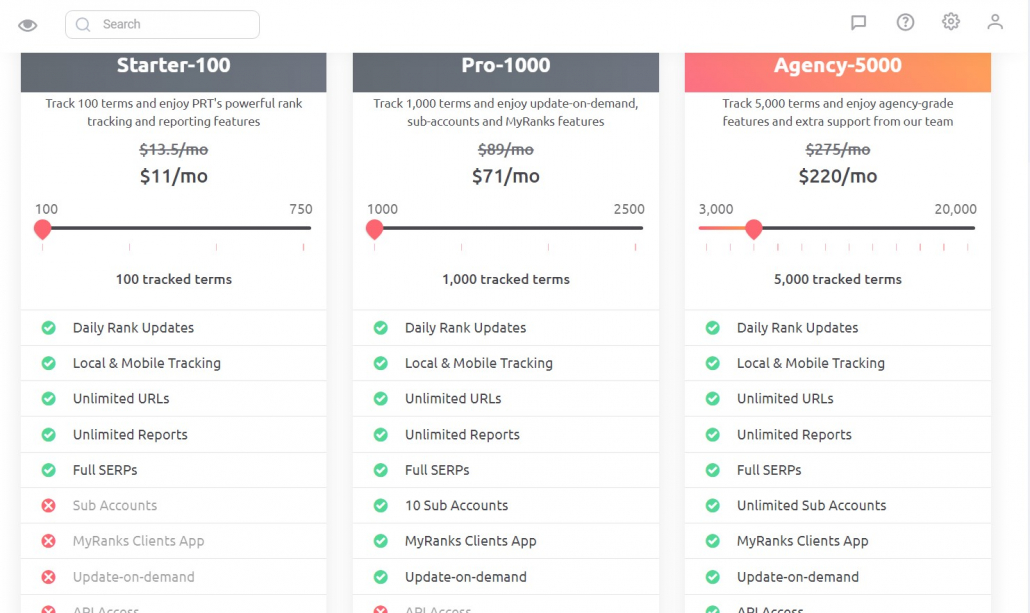 Unlimited Reports
Not only does ProRankTracker offer more than 20 types of reports and notifications, but ANY user can generate UNLIMITED reports each month.
Yes, that means even the user paying $11/month.
Reports help you manage clients effectively, but they also make it easier to track your own ranks. It saves you time by giving you the information you want when you want it. With reports, you don't have to constantly log into your rank tracker to check your ranks–you can just schedule a report.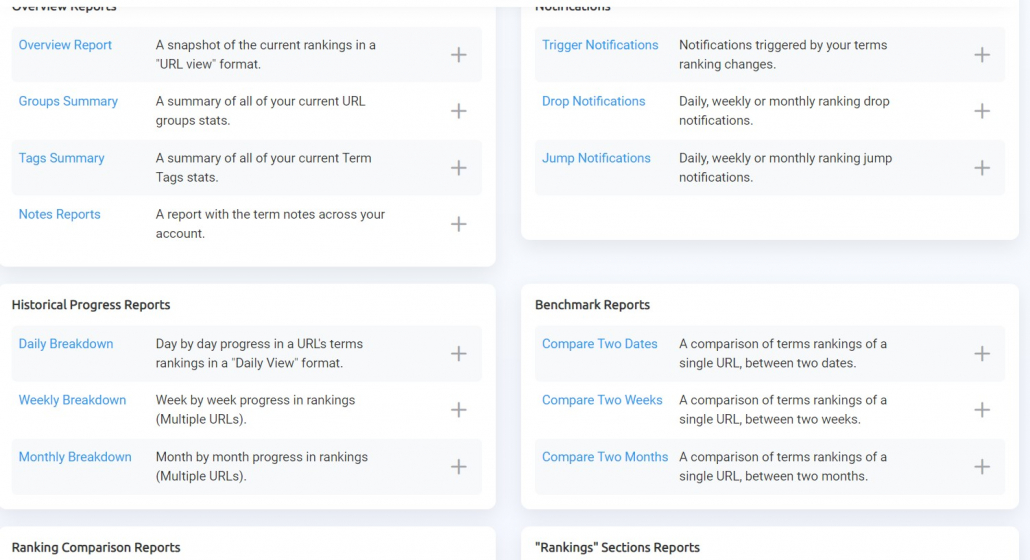 Trigger Notifications are like reports, but ProRankTracker only sends them when certain criteria are met. For example, you could set a notification to send when a rank drops by 3 positions.
Unlimited reports and notifications are incredibly valuable to your business and one of the key factors of growing into an agency.
White-Label Features
When you're an agency, keeping your clients happy is your top priority. There are 2 main ways to do that:
Using accurate data (ProRankTracker has this step covered for you)

Keeping your clients up-to-date
To keep your clients up-to-date, you have to send them reports. However, you also have to worry about how your reports look.
For example, imagine you're paying someone to mow your yard and they show up with a $100 push mower from Walmart. It doesn't look too good.
When you're paying someone to track your ranks, you want them to use high-quality tools!
ProRankTracker offers a full suite of white-label tools that help you show your clients how professional your agency is. You can customize ANY report with your company logo, colors, and cover letter.
In addition, agency users can also give their clients access to a mobile app and a live webpage that updates their ranks every day.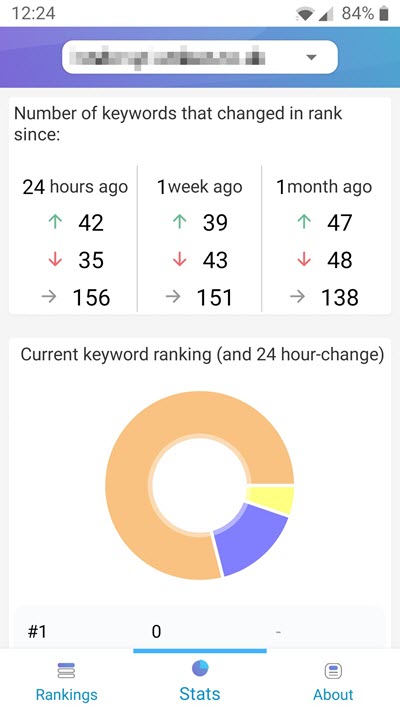 White-label features can make or break your relationship with your clients, and ProRankTracker has the tools to make sure you're ready to impress.
Accuracy
You should NEVER use a tool that can't guarantee the accuracy of the data it provides.
Fortunately, ProRankTracker offers 100% accurate data to users at EVERY level–even the cheapest plans they offer.
But accuracy isn't just about fetching the right ranks. It's also about updating your ranks frequently. Ranks that are only updated once a week are often outdated in just a couple of days.
ProRankTracker offers daily updates to every user, meaning you never have to wonder if the ranks you're getting are fresh.
Pro- and agency-level clients also have access to on-demand updates in addition to their daily updates.
Mangools SERP Watcher
Mangools is very well known in the SEO world–especially for newcomers looking for a cheap tool.
It offers a suite of tools, one of which is the rank tracking tool known as SERP Watcher.
One of the biggest advantages of using Mangools is the fresh, up-to-date user experience. It is easy to set up and navigate, making it especially easy for new SEOs.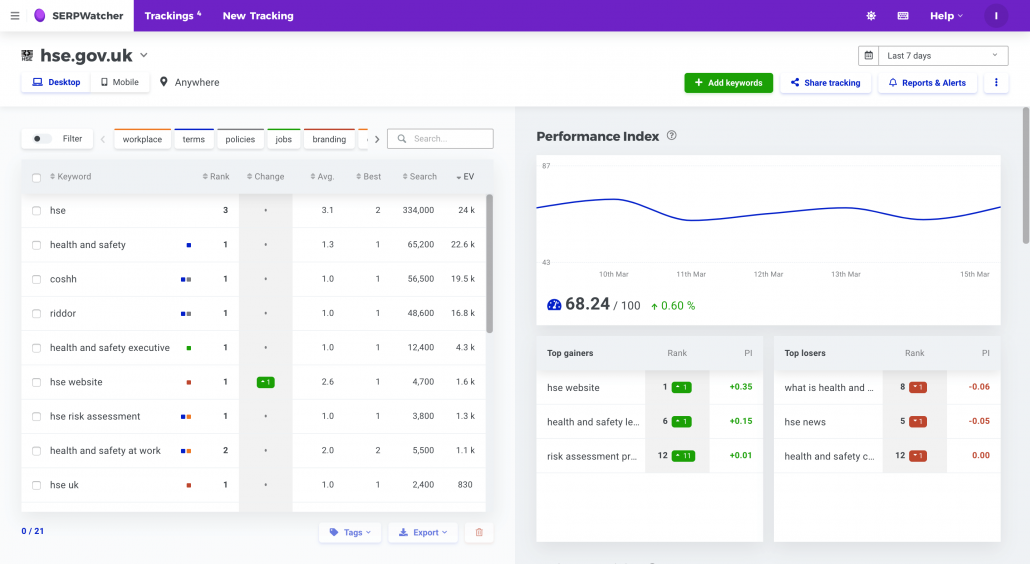 Mangools also offers great features like keyword suggestions, competitor research, full SERPs, and white-labeling
One downside of Mangools is that the cheaper plans are limited in some areas, like how many keyword suggestions they're able to view.
SE Ranking
SE Ranking is another all-in-one SEO tool that includes rank tracking tools similar to SEMrush.
One of the positives of SE Ranking is that it guarantees 100% accurate ranking data. It also provides a modern interface that should be easy for most users to learn.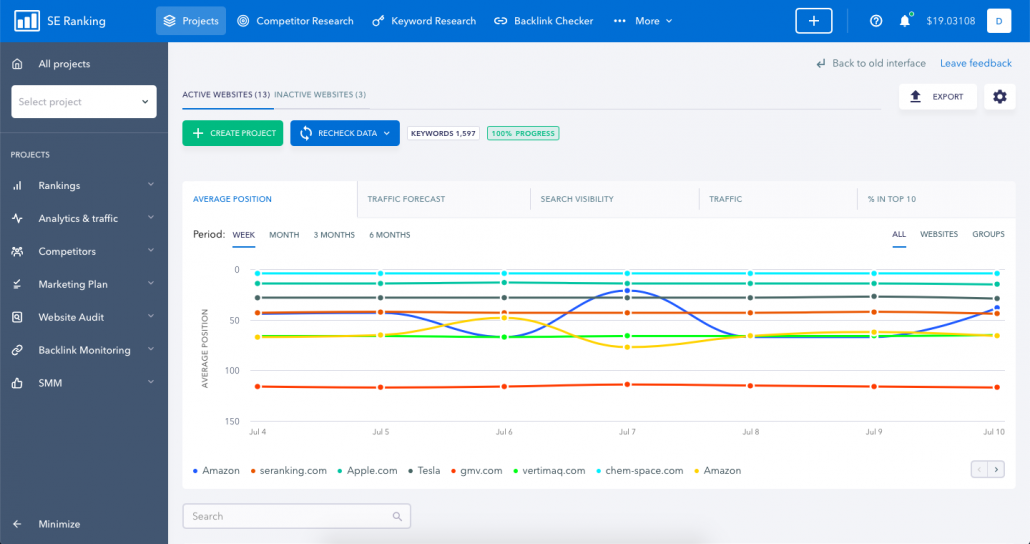 Unfortunately, SE Ranking caps the number of reports that it allows users to generate on a daily basis.
The good news is that the cap is set at 100 reports per day at the smallest plan and 10,000 per day at the largest plan. While most businesses won't exceed those limits, it is more beneficial to have access to unlimited reports if needed.
SE Ranking also does not offer historical keyword data to users at lower levels, unlike other tools, which can cause users not to have access to the data they need.
However, SE Ranking is a great all-in-one tool that should meet many users' needs as a SEMrush alternative.
Accuranker
Accuranker is another specialized rank tracking tool. It has a variety of precise tools that allow you to keep track of your ranks with a high level of accuracy.
For example, Accuranker gives you multiple search engine options:
Google

Bing

YouTube

Yandex

Baidu
You can also use the competitor tracking tool to add up to 10 competitors per domain.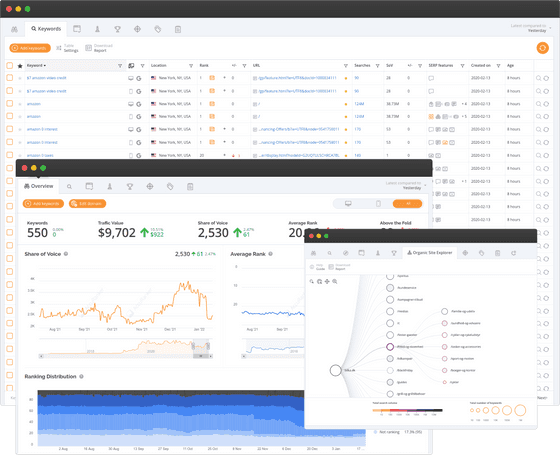 Accuranker offers daily updates on every plan, which means you can trust that the data is fresh every time.
Unfortunately, the smallest plan Accuranker offers is 1000 tracked terms, which may be prohibitive for smaller businesses that can't afford the $116 price tag.
Google Search Console
A list of the best SEMrush alternatives wouldn't be complete without a shoutout to Google Search Console. It's the classic free position tracking software.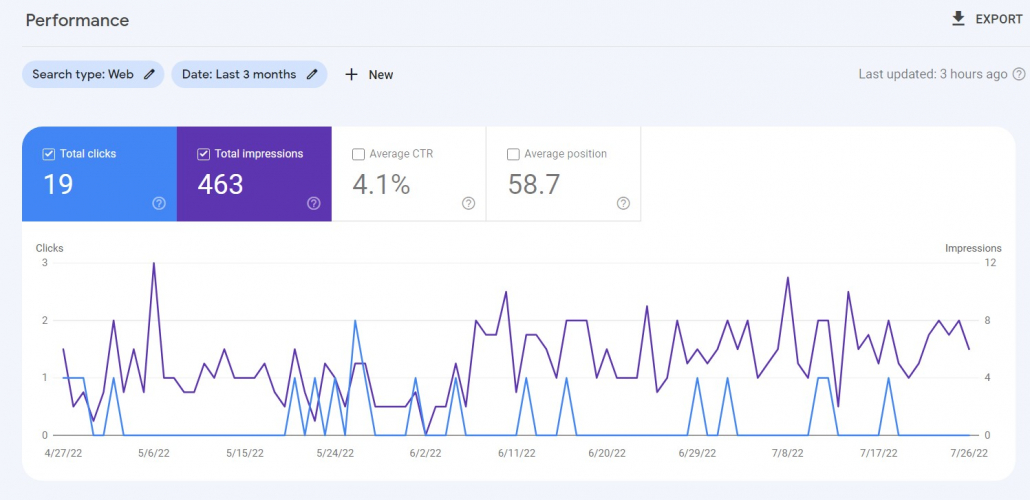 Google Search Console gives you a rundown of your ranked search terms. You can also see a breakdown of which URLs appear on the SERPs.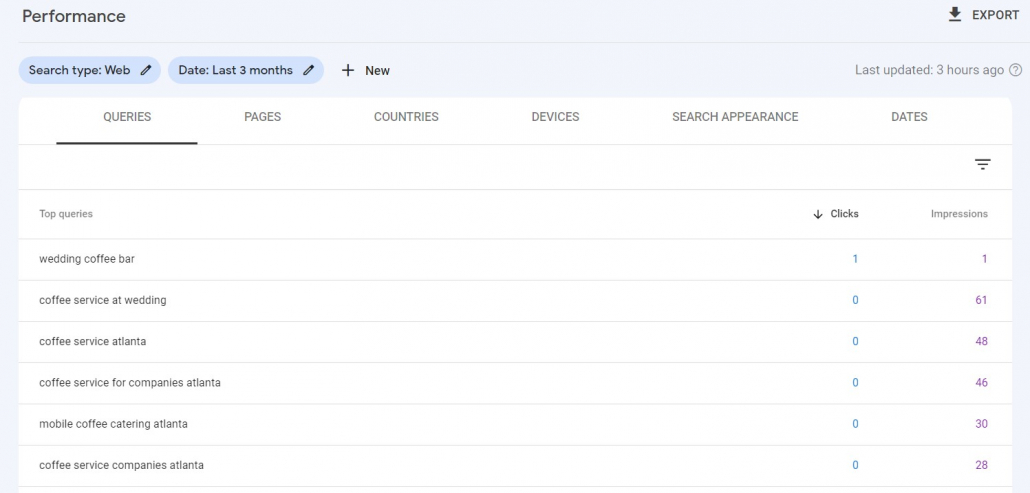 Google Search Console is free, and it's extremely helpful for people with no other tools. However, you'll lack access to some of the more advanced features of tools like ProRankTracker.
In our opinion, it's well worth the $11 to upgrade to ProRankTracker's plan, but Google Search Console is a great free option for newcomers.
Conclusion
SEMrush is an extremely popular tool because of the variety of tools and features it offers. However, many people may find that it doesn't work for them for various reasons.
For example, pricing and package options may exclude many smaller businesses from choosing SEMrush. Additionally, it doesn't provide the best bang for your buck when it comes to SERP position tracking.
Trying out these 5 alternatives to SEMrush will give your business a rank tracking boost. We highly recommend signing up for a ProRankTracker free trial so you can start seeing how much it can help your business.
Good luck!
https://proranktracker.com/blog/wp-content/uploads/2022/07/SEMrush-Position-Tracking-Alternatives.png
321
845
Jacob Statler
https://proranktracker.com/blog/wp-content/uploads/2020/11/prt-blog-1-1.png
Jacob Statler
2022-07-28 18:51:05
2023-07-16 14:21:28
5 Best SEMrush Position Tracking Alternatives