What's The Best Cheap Rank Tracker? PRT!
You're a website owner with some decent SEO skills, and you don't want to hire an expert to promote your website. You think you can do it yourself and save money in the process.
You already know you'll need a SERP tracker to track your progress and see how you rank on the various search engines. In addition, you already know that checking your ranks manually is inaccurate (and ultimately a waste of time).
When you look up "Rank tracker tools" on Google, you quickly find a ton of different rank trackers.
Just one problem: Every single one is outside your price range.
What do you do? Does a cheap rank tracking tool even exist? Should you just give up and close your business's doors?
Don't give up yet! This article will show you how a cheap SERP tracking tool can save you time and money while growing your business faster than ever!
We'll cover:
Should You Spend Money on a Rank Tracker?
Starting a business comes with a few problems:
You're on a tight budget

You need a rank tracker

It seems like there are no options that fit your budget
In other words, you need rank tracking tools that serve your needs in the best way possible and are also AFFORDABLE.
Is the way to avoid this problem simply to avoid rank trackers altogether? Should you try to "get by" without a rank tracker until your business grows more and you can afford one of the expensive tools?
NO!
As high as 92% of online clicks come from the first page of Google results. So you CAN'T afford not to be on the first page, and it's almost impossible to get there without high-quality data from a rank tracking tool.
Benefits of Rank Tracking Tools
Some of you may not believe me about the importance of rank tracking tools, so let's spend a little while talking about it.
You may think you can put in a little "elbow grease" and accomplish the same thing as a rank tracker. 
However, that's impossible. The best rank trackers will provide you with benefits that you simply can't replicate without them. Let's focus on 3 of the most important benefits of a rank tracker.
Save Time
How valuable is your time?
If you had 3 extra hours to work on your business every week, how much additional growth could that provide you in a year? What about 5 years?
Without keyword rank tracking software, you can spend HOURS a day trying to collect data about your current ranks. That doesn't even include:
Data analysis

Writing blog articles

Making social media posts

Updating online listings
As your business grows, it only gets more complicated.
Compare that to collecting data with a rank tracker:
Log on to your rank tracker dashboard.

Look at the data.
Data collection with a rank tracker takes 30 seconds. Maybe a minute if you take your time.
Then you have all those extra hours to analyze your data and make the BEST decisions for the future of your business.
Increase Revenue
When you start to rank higher, clicks will follow.
When you start to get clicks, you start to get customers.
When you get customers, you make money.
Nothing you can do online will affect your revenue like your SERP ranks. If you want to increase your income quickly, you have to rank higher on the SERP.
A rank tracker gives you the data to make strategic decisions and rank higher. 
Even though spending money on a rank tracker can seem expensive, your increased revenue will likely more than cover the extra expense.
Beat Competitors
Your competitors are getting better every day. If they aren't already beating you on the SERP, they will soon unless you do something about it.
Rank tracking tools allow you to track your ranks AND your competitors' ranks. You can compare their strategies with your own and discover what's working best.
Once you understand your competitors' strategies, you can steal their keywords and beat them at their own game.
To truly grow your business, you need to beat out your competitors on the SERP. One of the best ways to do that is with the data you receive from a rank tracking tool.
How Much Does a Rank Tracker Cost?
If you've looked around at rank tracker tools, you're probably starting to see a trend:
They're EXPENSIVE!
Many of the most well-known tools cost $100+ for their SMALLEST tools.
SEMrush's smallest plan costs $119.95/month

Moz's smallest plan costs $99/month

Ahrefs' smallest plant costs $99/month
Seeing a trend here?
There are cheaper plans for other tools, but many offer minimal access to data. Without enough data, your tool isn't good for much.
We'll be focusing on the BEST cheap rank tracker that offers excellent plans at a low price.
What Is the Best Rank Tracker?
Hopefully, you're now convinced that you need to have a rank tracker for your business.
A quick Google search for the keyword "rank tracker" yields 153 million results. There are quite literally HUNDREDS of rank tracking tools competing for your business.
How can you know which one is the best?
The short answer is that there is no "best rank tracker." Instead, you have to evaluate the needs of YOUR business and decide which will work best for you.
For example, Nike's SEO and keyword tracking strategy will probably be vastly different from yours. You and Nike won't be using the same tool (nor should you be).
There are 3 essential things to consider before buying a subscription to a rank tracker. Let's carefully look at each of these factors to help you make the best decision possible.
Business Size
When it comes to business size, there are a few things you need to take into consideration:
How many people are going to be working with the ranking data?

How many domains, products, videos, or GMB profiles are you tracking?

How many keywords do you need to track?

How many direct competitors do you have?
Each of these questions affects your decision. If your business is just you and you only have 1 domain to track, you can get away with a cheaper plan. 
On the other hand, a 10 person business with 3 domains and an active Amazon presence may need a heftier plan.
SEO Budget
This step is quite simple.
How much money can you afford to spend on rank tracking tools?
Many young businesses may have SEO budgets far less than $100/month, and that's OK. But, there are still plans out there for you!
We'll talk about MULTIPLE plans below the $100 price point that still offer detailed data to smaller businesses.
A small SEO budget isn't a deal-breaker!
White-Label Needs
If you're working as an SEO provider, you also need to consider the white-label capabilities of the tool you choose. 
Your clients won't be very impressed if you're selling them data with someone else's logo. White-label features are essential if you currently sell (or plan to sell) SEO services.
Consider the following white-label needs:
Customizable reports

Automated reporting and notifications

"Above and beyond" features like a client app or webpage
What About Free Rank Tracking Tools?
If you're working on a minimal budget, it's natural to wonder if you could get the same benefit from a free rank tracking tool.
In our experience, free tools just don't provide the breadth of data that you need to improve your online presence effectively.
For example, many tools offer a free version of their tool. However, it's constrained to hardly any data. As awesome as it is to get to track your ranks for free, it won't help your business if you can only track 5 of them.
Ultimately, a free tool just doesn't provide you with what you need. There are options for less than $20/month (which we'll look at next) that give so much more value. Businesses with smaller budgets should consider those plans instead of free tools.
ProRankTracker: The Best Cheap Rank Tracker for Any Size Business
ProRankTracker offers rank tracking plans for small and large businesses at some of the lowest prices in the industry.
Unlike some of the other cheap rank trackers on the market, ProRankTracker's plans are full of accurate data that won't limit the users. You shouldn't have to settle for a second-rate plan just because your business is young.
This section will take a deep look at ProRankTracker's plans. We'll focus specifically on which features are available at each price point.
Starter-Level Plans
Starter-level plans are the cheapest plans that ProRankTracker offers. 
Don't be deceived by the word "cheap," though. There's nothing low-quality about these plans. They give you access to the same data that ProRankTracker's agency-level clients have.
When picking a starter-level plan, it's all about finding the correct number of terms for your business. All starter-level plans have access to the same features, so you don't have to compromise even if you're on the smallest possible plan.
Starter-level plans range from 100 to 750 tracked terms, and the cost ranges from $11/mo to $55/mo (billed annually).
Starter plans are perfect for small businesses of all types, such as SEO experts, website owners, small e-commerce websites, and others. This is, pound-for-pound, the most affordable rank-tracking plan on the market by a long shot.
Tracked Terms
A term is one keyword + URL + search engine + ranking factor combo.
For example:
Keyword: dancing shoes

URL: shopifywebsite.com

Search engine: google.com

Platform: mobile

Mobile rank type: iPhone

Location: New York

UI language: English
However, you can always upgrade your plan if you need more tracked terms.
Accuracy
The fact that the price is attractive doesn't mean you'll be compromising on accuracy.
PRT is one of the only tools that monitors all of Google's smallest changes. Our algorithms adapt to any micro-change Google makes, which allows us to give you 100% accurate ranking data at virtually all times, even when a substantial update hits.
Inaccurate ranking data is worthless, so you shouldn't settle for a rank tracker with anything less than a 100% accuracy guarantee.
Search Engine Coverage
Entry-level users get the SAME search engine coverage that our agency-level users get:
Google – the king of search engines. This is probably where you'll do the majority of your ranking work.

Yahoo! and Bing – these two search engines are great for beginners – they are often easier to rank on, and

Bing

is very popular in the US. It offers some great value in the form of a mature user base with a more solid income than Google.

YouTube – small video marketers will be able to track their YouTube video ranks and see them side by side with their Google ranks.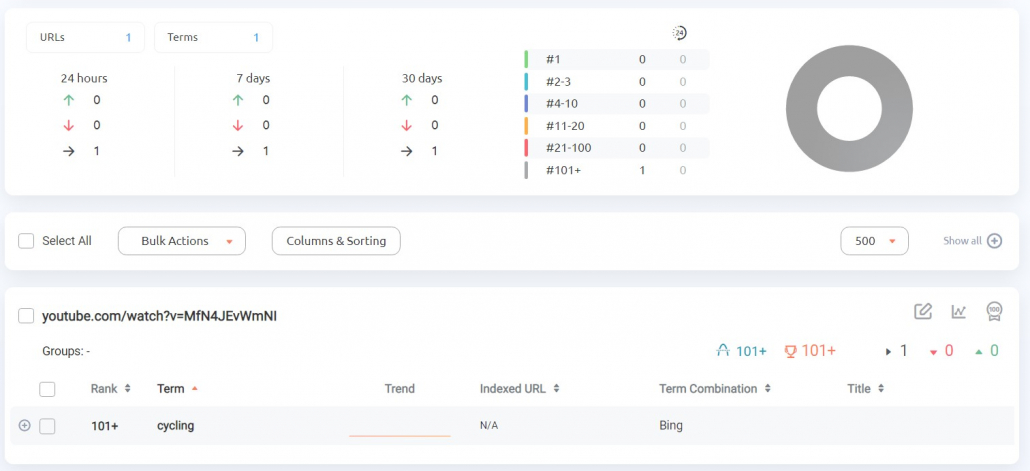 Local and Mobile Tracking Features
Rank tracking isn't as simple as choosing some keywords to track. Most businesses also have to consider local and mobile ranking.
Even ProRankTracker's cheapest plans give you access to their entire suite of local and mobile tracking features. That includes:
Desktop vs. Mobile ranks

Ranks by UI language

Mobile tracking including both OS and screen type (tablet, phone, etc)

Exact location rank tracking–ranks filtered by tens of thousands of unique geo-targeted locations

Snack Pack and Local Finder tracking. Businesses with a Google Business Profile can also track the top 3 (Snack Pack) and top 100 (Local Finder) results on Google Maps.

These advanced mobile and local features give you a serious leg up on your competitors, so ProRankTracker includes them even in their cheapest plans.
Ranking Reports
If you're a freelance SEO expert who's still growing, you'll need to send out ranking reports to your clients to provide real value. It also increases your client retention and referral rate.
PRT has more than 20 types of ranking reports that are fully customizable. They range from very simple-to-read SEO ranking reports any client can understand to highly advanced and detailed reports.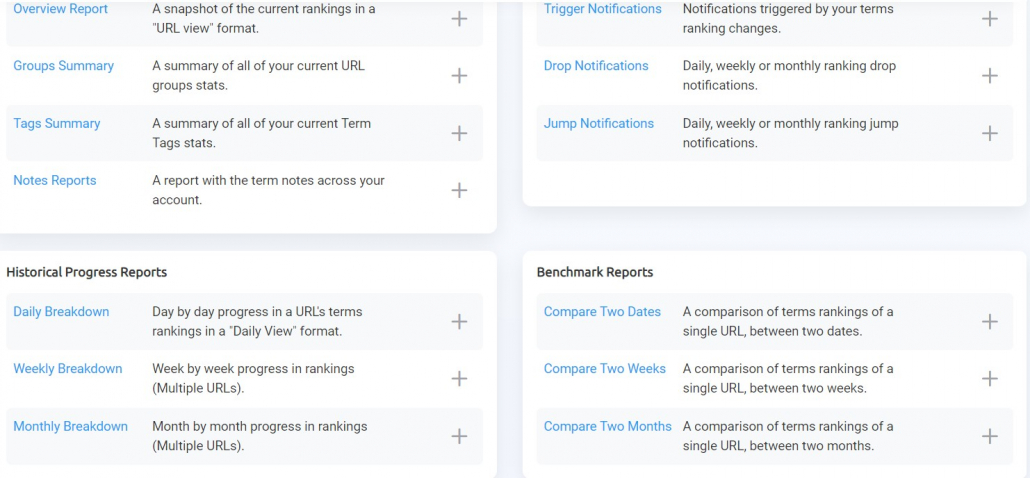 The best part is you can send as many as you want! That's right–even ProRankTracker's smallest plans come with UNLIMITED reports.
So go ahead and experiment all you want until you find the type of report that works best for you and your client!
White-Label Features
If you're an SEO expert reselling SEO data to clients, this one is for you. If you're a website owner that's just working on your SEO, these features won't apply to you.
Each of the reports that ProRankTracker generates can showcase your logo and company details instead of ProRankTracker's info.
The reports can then be set up to be sent from YOUR email address. Every report can also include an opening and closing paragraph that you can style in any way.
You can also save the forms you create as templates for future use. You can create as many templates as you need!

White-label solutions are essential for SEO experts to make their first moves on the challenging and highly competitive SEO field.
Showcasing your brand will make you appear more established and level the playing field quite a bit, potentially allowing you to beat more significant and more established competitors.
Archived Terms (Trash Quota)
Sometimes you might "retire" a search term for a while if you want to start working on other targets. However, you probably aren't ready to delete that search term entirely. 
This is where ProRankTracker's trash comes in.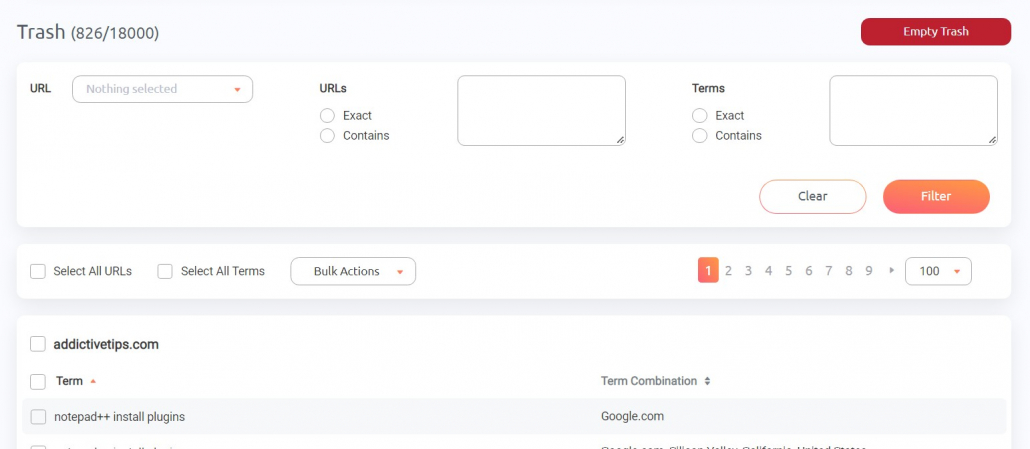 While the name isn't very appealing, the trash can be used as an archive and a tool to cycle your ranking data until you upgrade to a higher plan and can extract some of the terms from the trash and start tracking them.
For example, you're tracking 100 terms, but you have 150 that you're watching. You can just put 50 of those terms in the trash bin as an archive. Then, later, you can pull them out and start tracking them at any time.
The trash term limit is high enough on all plans to where most people will never come close to hitting it.
Summary of Starter Plans
As a comparison point, the smallest plans of other tracking tools can cost around $99/month. $99 vs. $11 a month can make a HUGE difference for a small business!
That's $1,188 vs. $204 a year for rank tracking! With the $984 that you save, you can invest in more marketing or buy some extra office equipment.
In addition, their $99 plan still won't get you anywhere close to the rank-tracking coverage and features that we offer at $11.
If you're a young business on a limited budget, but you still want the best rank-tracking features on the market, ProRankTracker's start plans are a great place to start!
Pro-Level Plans
If you're working in a larger team of SEO experts or needing access to higher-end reseller features, ProRankTracker's pro-level plans are for you.
Pro plans start with 1000 tracked terms and go up to 2500 terms. That means you can manage 10 or more client websites with pro-level plans! Of course, they also include ALL the features from the starter plans.
Here's the best part: pro plans start at only $89/month.
In other words, ProRankTracker's middle-tier plan with HIGHLY advanced tracking features is STILL cheaper than many other tools' basic plans.
Let's look at 3 additional features that you'll access when you upgrade to a pro-level plan.
Sub-Account Access
You get access to 10 sub-accounts at the pro level, which are brandable ProRankTracker accounts. As the account manager, you can also choose what data and features each sub-account can access.
Sub-accounts are controlled from your main PRT account. You can create a unique user name and password and set any permissions for every sub-account that you need.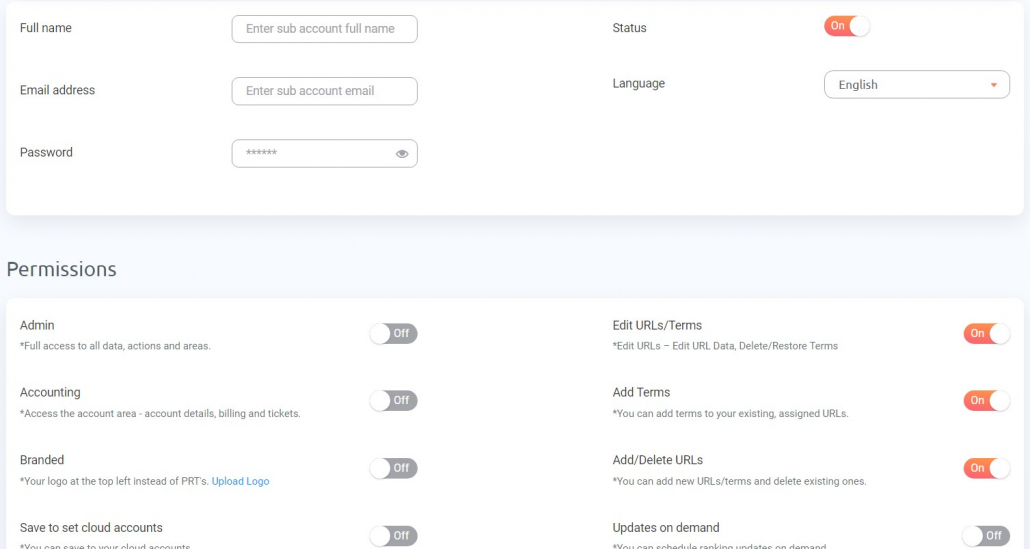 For example, you might have 3 other people on your team working on the same project. You can assign specific aspects of the data to each person using sub-accounts.
If you have a considerable client that you want to impress, you can give them their own branded sub-accounts as well.
MyRanks Clients App
Pro-level plans also give you access to our most popular white-label feature–the MyRanks mobile app.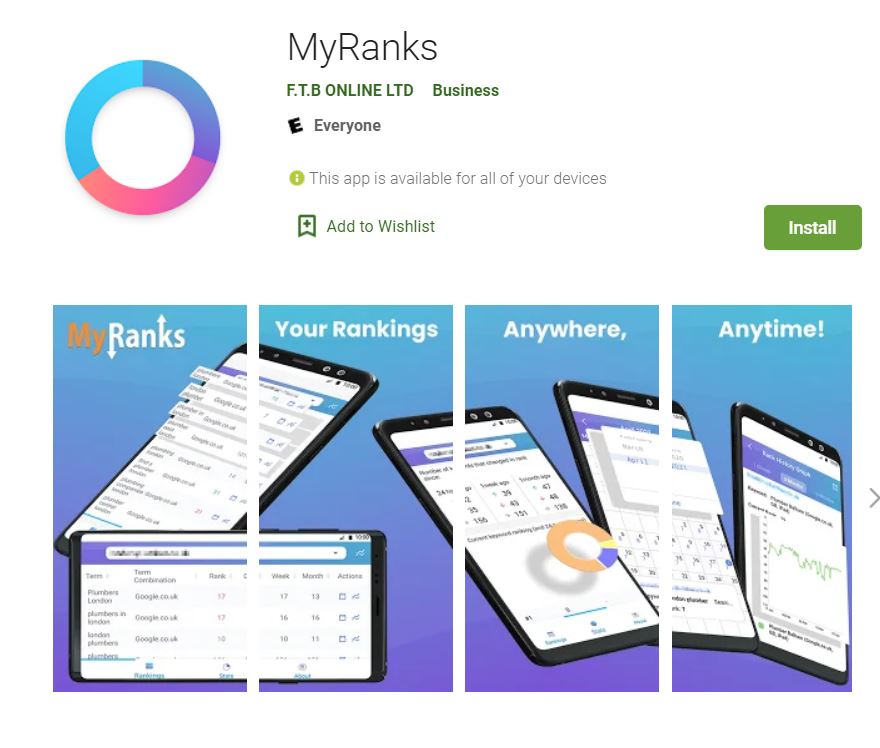 MyRanks is a unique mobile app your clients can download to follow their live ranking data. The app can be set with a unique user name and password.
The best part is that it'll have YOUR logo and an 'About' tab with your company details. These features make it look like YOUR technology (ProRankTracker stays behind the scenes).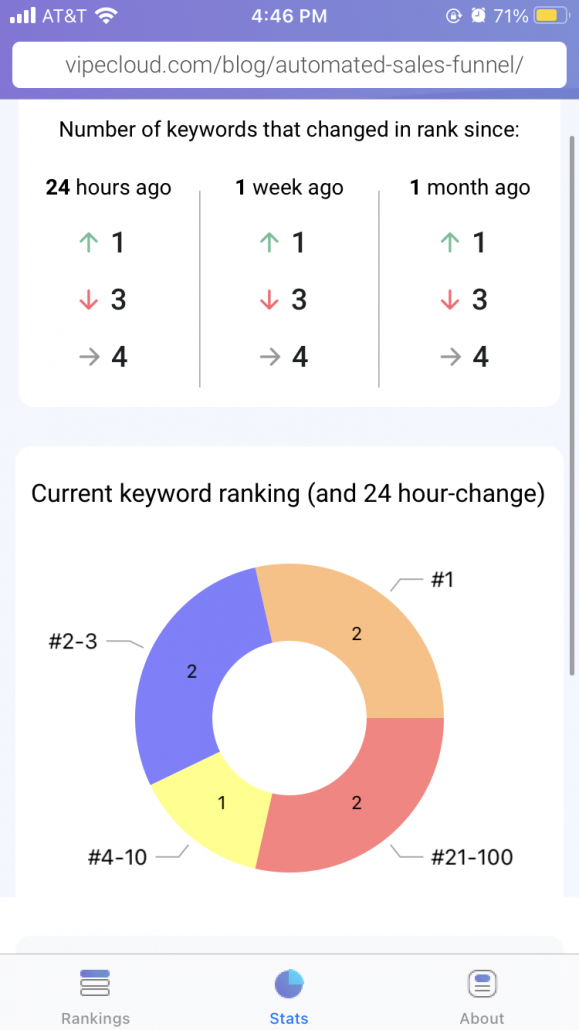 Your clients will be incredibly impressed that your SEO agency has its own app that gives them 24/7 access to their data.
This is a show-stopper as far as impressing clients goes.
This plan level is STILL more affordable than the other cheapest entry-level plan on the market, even though it offers considerably more.
On-Demand Updates
Google generally crawls websites with no fresh content only once every few weeks.
However, things change if you're doing active SEO and updating your website with fresh, high-quality content. Google will notice and start crawling your website very frequently (as often as every few seconds, in some cases!).
On any ProRankTracker plan, all of your ranking data is fetched at least once a day. Once you upgrade to a pro-level plan, you can manually tell ProRankTracker to update your ranking data at an ADDITIONAL time during the day.
If your site starts doing well and Google starts crawling your website frequently, you might want to get updated more than once a day.
That's precisely why we allow even our users to update on demand. The more frequently you can see up-to-date data, the better you'll be able to strategize.
Summary of Pro Plans
Pro plans are perfect for users who are starting to sell SEO services to multiple clients. It gives you access to the most advanced white-label features available anywhere on the market.
Even if you're not selling data, you might choose to upgrade to a pro plan because of the number of people working with ranking data in your business. Sub-accounts can be a game-changer when it comes to SEO teams.
Agency-Level Plans
Even if you're working in a large SEO agency, ProRankTracker has you covered.
Agency-level plans include ALL the features from starter-level and pro-level plans, but they have API access and a dedicated CSM and unlimited sub-accounts.
You could easily track data for 2 or 3 dozen clients with an agency plan. The smallest agency plan includes 3,000 tracked terms, and the largest consists of 20,000 terms!
Starting at only $180/month, ProRankTracker's agency plans are the cheapest in the business, but they don't skimp when it comes to features. Customizability and flexibility are where agency plans shine, so let's take a look.
API Access
The chances are very high that your agency uses various tools–not just ProRankTracker. Using multiple tools can help you collect numerous data types and get a more well-rounded look at your site.
As an agency-level ProRankTracker client, you get full access to the ProRankTracker API, allowing you to combine ProRankTracker with your other tools in new ways.
Using the API (and a little technical know-how), you can use FULL access to your ProRankTracker data and combine it with the data you get from other tools. 
For example, you might use Google Search Console to monitor your web traffic. The API will allow you to combine that data with your ProRankTracker data to get an aggregated look at your web traffic and ranking data.
ProRankTracker also provides a comprehensive API help doc to help you get the most out of your data.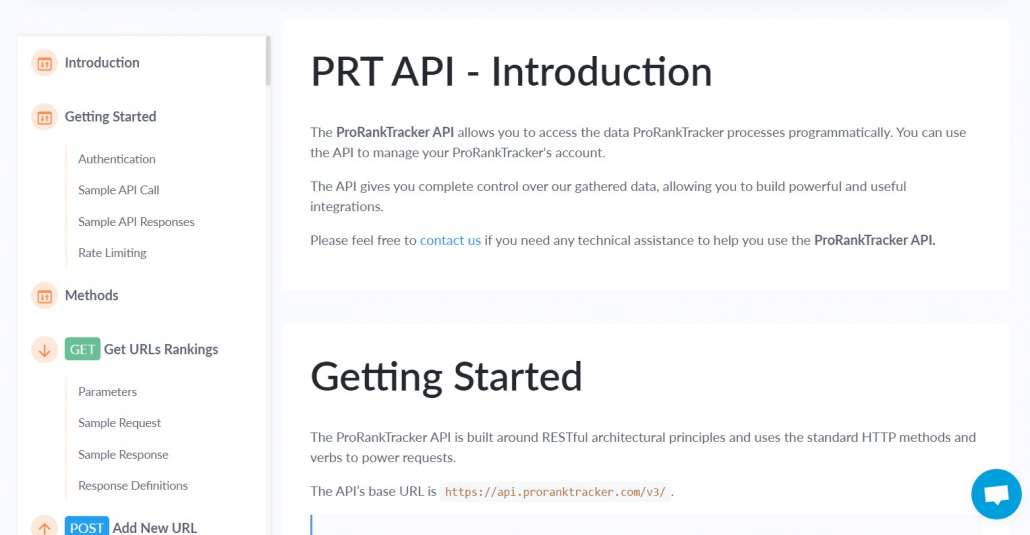 When you subscribe to an agency-level plan, you get a personal access token to use the API, which you can find in the API doc.
Dedicated CSM
Customer service is excellent, but our agency-level clients get something even better. 
Every agency-level client gets assigned their very own Customer Success Manager to help them out in a more personal way.
Customer success managers can help with any questions you have about the tool and offer you guidance on how to use the tool to serve your company's needs best.
With the size of your agency and the number of clients that you handle, a CSM can be a life-saver when it comes to managing your data well!
Conclusion
To succeed in today's competitive online space, everyone needs a rank tracker, but it shouldn't cost you your left kidney!
Additionally, using a cheap rank tracker shouldn't mean that you have to sacrifice quality.
ProRankTracker offers the best of both worlds! You get industry-leading tools and software at industry-lowest prices!
No matter the size of your business, ProRankTracker can ensure that you get the best data at the best price.
Even if you're not ready to commit today, we recommend signing up for ProRankTracker's free trial to see how much it can benefit your business!
Good luck and happy tracking!
https://proranktracker.com/blog/wp-content/uploads/2018/09/cheapest-rank-tracker.png
321
845
Jacob Statler
https://proranktracker.com/blog/wp-content/uploads/2020/11/prt-blog-1-1.png
Jacob Statler
2022-03-28 23:42:37
2022-03-29 18:15:54
What's The Best Cheap Rank Tracker? PRT!