Best Rank Trackers Pricing Comparison
What's the most important feature a rank tracker can offer?
Is it:
– Accuracy?
– Location-specific rank tracking?
– Graphics, tables, and charts for ease of use?
– Reports and notifications?
Those are all essential features, but they won't help your business if you can't afford the tool in the first place.
That's why the first thing you should consider when looking for the best rank tracking software for your business is PRICE!
This article will help you learn how price should factor into your decision about which rank tracker to use. 
Let's get started!
We'll cover:
Features You Should Look For in a Rank Tracker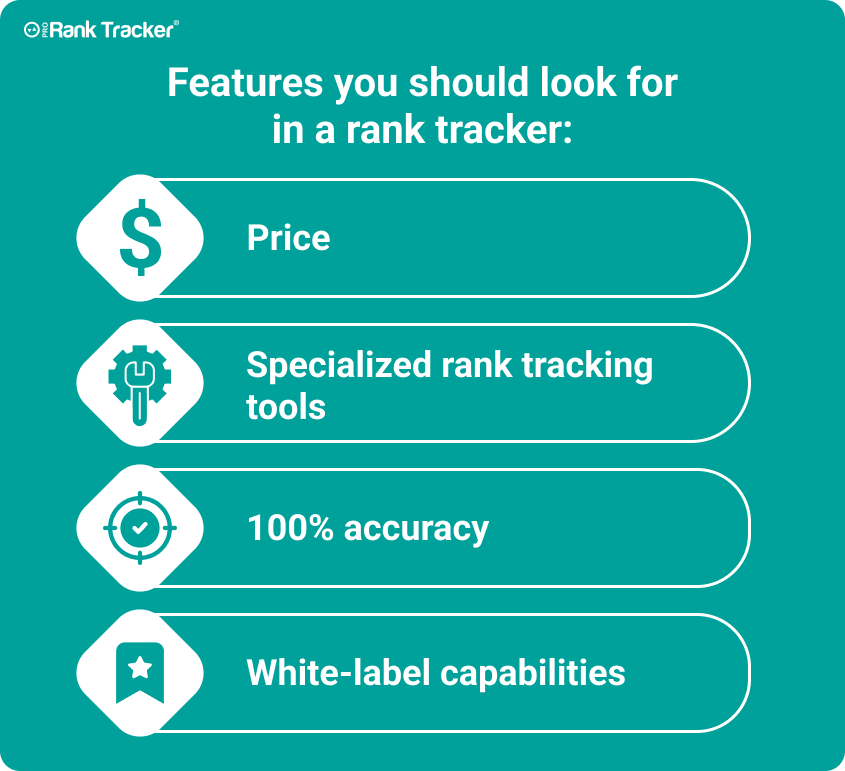 When looking for a rank tracker, you should consider the features that are most important to you.
For example, ease of use is essential for any rank tracker, but you might be willing to sacrifice some UI features if a tool has excellent location tracking features.
Price shouldn't be your only consideration when choosing a rank tracker, but it's crucial to find one that fits within your budget. In the end, everything comes back to value. If the features of your rank tracker aren't adding value to your SEO system, they probably aren't worth it.
Price
Price is an important factor to consider when looking for a rank tracker. Some rank trackers are more expensive, but they may offer more features or be more accurate. However, you should never have to settle regarding rank trackers.
In other words, you should be able to find a tool that offers both value AND excellent quality tools.
To find the best rank tracker for your business, you need to consider your budget and what features are most important to you.
Ultimately, the best rank tracker for you is the one that offers the most value for your money.
Specialized Rank Tracking Tools
There are many rank trackers on the market, but not all are created equal. Some rank trackers are more specialized than others and offer features that the average rank tracker doesn't have.
For example, some rank trackers offer excellent location-specific rank tracking features. A rank tracker with location-tracking capabilities is a must-have if you're looking to target a specific region or country with your SEO campaign.
Other rank trackers offer excellent reporting features, which can be extremely valuable for businesses that want to track their progress over time. With accurate reports, you can see how your SEO campaigns impact your rank and make changes as needed.
If you find a rank tracking tool for $3/month, but it doesn't offer any of these features, is it offering the value you need?
Nope.
Accuracy
When looking for a rank tracker, accuracy is one of the most important factors. If you're considering a tool that doesn't offer 100% accurate ranks, look somewhere else.
Think about it for a second. What good is a rank tracker doing for your business if its ranks aren't accurate?
Would you want to stake the success of your business on 90% accurate ranks?
Of course not!
Remember: Finding the right rank tracker is all about VALUE. Inaccurate ranks mean that every dollar you put into that tool might as well have been thrown in the trash!
White-Label
When looking for a rank tracker, you should also consider whether or not the tool offers white-label features.
What are white-label rank trackers?
White-label rank trackers are rank trackers that allow you to brand the tool with your company name and logo. This is an excellent feature for businesses that want to establish their rank tracking tool or like to offer rank tracking as a service to their clients.
If you're looking for a rank tracker that allows you to put your spin on things, then you should consider a white-label rank tracker.
Regarding value and price, white-label features allow you to MAKE money with your tool instead of spending more. 
You should consider using white-label tools to turn your SEO skills into a money-making agency!
Why Price Matters
When it comes to rank trackers, price is an important consideration.
After all, you want to ensure you're getting the best value for your money.
There are rank trackers that charge an arm and a leg, but they don't necessarily offer the best features.
On the other hand, there are rank trackers that are very affordable, but they don't offer all the features you need.
Let's discuss why price is so crucial for your business and why you should look for a tool with an outstanding balance between affordability and quality (otherwise known as value!).
Access Big Tools as a Small Business
To compete with bigger businesses, you need to have access to the same tools they do.
However, many of the best rank tracking software (with all those fancy tools) are expensive.
This can be a problem for small businesses that don't have much money to spend on SEO tools.
Fortunately, there are rank trackers out there that are very affordable and still offer all the features you need to track your rank and compete with the big boys.
Focus on finding those rank trackers that offer access to high-end features even at the lowest end of their price range. Look for features like:
Unlimited reports and notifications

Historical data

White-label features

Organization features

Keyword tools
Flexibility as You Grow
As your business grows, your rank-tracking needs will change.
You'll need to track more keywords and more competitors. You might even need to track different features (like GMB rankings or paid rankings).
Fortunately, the best rank trackers are flexible and can grow with you as your business expands.
Choose a rank tracker that offers features like:
Unlimited reports

Multiple specialized rank tracking features that grow with you

Scalable plans for businesses of any size and budget

Flexible billing cycles (monthly or yearly)
The bottom line is that price is a deal breaker regarding rank trackers. Find the tool that gives you the best value now and in the future!
Which Tools Are Essential For Tracking Changes to Your Website's Ranking?
We've spent a lot of time talking about value because it is the single most crucial factor in choosing the best rank tracking software.
But what specific tools will add the most value to your website's SEO? 
Many people have so many questions when it comes to tracking all the changes that are happening to their SEO every day:
Does my rank tracker need to have location tracking?

How much time should I spend tracking my ranks every day?

How can I make sure my ranks are better than my competitors'?
Those are all critical questions, so let's spend some time looking at the most essential tools you should look for in an SEO rank tracker tool.
Full SERPs
When looking for a rank tracker, one of the most important features is whether or not the tool offers full SERP tracking.
Full SERP tracking allows you to see all the results that a search engine shows when you search for a particular keyword. This is valuable because it lets you see how your website compares to your competitors' websites.
Any rank tracking tool should allow you to generate full SERPs for any rank and URL you track.
Ideally, you should be able to see how that SERP has changed recently, which can help you track your success against your competitors to make better strategic changes.
Local Data
Another crucial feature is local data tracking.
Local data tracking lets you see how your website rank changes in different locations. 
In other words, it lets you see how well your website performs in different areas.
For example, you might target a specific geographic location if you have a brick-and-mortar storefront. In that case, you'll want to ensure your rank tracker offers local data tracking.
Even if you don't have a physical store, most companies benefit significantly from local tracking (since your store in the US probably isn't very interested in searchers from France if you can't ship outside the country).
This way, you can track your website's local rank against your competitors' websites and make sure you're consistently winning!
Tracking Google Features
Google is constantly changing, so SEOs need to change with it.
One significant way that Google has changed over the years is the creation of Google features.
What do we mean by Google features?
Anything that isn't a typical Google SERP result is a Google feature:
Rich snippets

Google Maps results

GMB rankings (Snack Pack and Local Finder)

Google Ads

Video results
The best rank trackers are the ones that can track all of Google's features. You should be able to track each type of result separately to measure your success most accurately.
If you're looking for a rank tracker that can keep up with your competitors, then you should look for one that can track all these types of Google features!
Reporting
Reporting is an essential part of rank tracking.
You need to track your progress and see how you're doing to make changes and improve your website's rank. If you're an agency, you'll also want to keep your clients up to date with regular reports.
The best rank trackers offer unlimited detailed reporting so that you can see where you rank for every keyword and how your rank has changed over time.
This information is invaluable in helping you improve your SEO strategy.
Make sure the rank tracker you choose offers detailed reporting so that you can track your success and make changes where necessary.
Top 5 Best Rank Tracker Price Comparison
Now that you know what you're looking for in a rank tracker let's compare some of the best tools available on the market.
There are so many different tools that focus on different areas of SEO. They come with different features and different price tags.
In this section, we'll focus on the rank tracking capabilities of each of these 5 tools as well as the price they offer. Specifically, we'll answer this question:
Is the price you'll pay for this tool worth it?
ProRankTracker
ProRankTracker is one of the best rank trackers on the market. It offers a wide range of features, including:
Location-specific tracking

Detailed reports with historical data

White-label reporting

Full SERPs tracking
PRT app (for account owners)
MyRanks app (for your clients)
Let's take a closer look at 4 of ProRankTracker's features that make it perfect for both small and large businesses.
Accuracy
With ProRankTracker, you never have to worry about the accuracy of your ranking data. In fact, they guarantee that their rank tracking data is 100% accurate.
That's because they use a completely accurate algorithm that updates your ranks EVERY day. Even the cheapest plans get the incredible added value of daily rank updates.
This means that you'll always get the most accurate data possible.
They also offer rank tracking for various search engines, including Google, Yahoo, and Bing. So no matter where your customers are searching, you'll be able to track your rank.
Rank Tracking Features
ProRankTracker offers a wide range of rank tracking features, including:
Keyword rank tracking

Multiple search engines and devices

Local rank tracking

Google feature tracking

Multiple Rankings Views to give you the deepest understanding of your ranks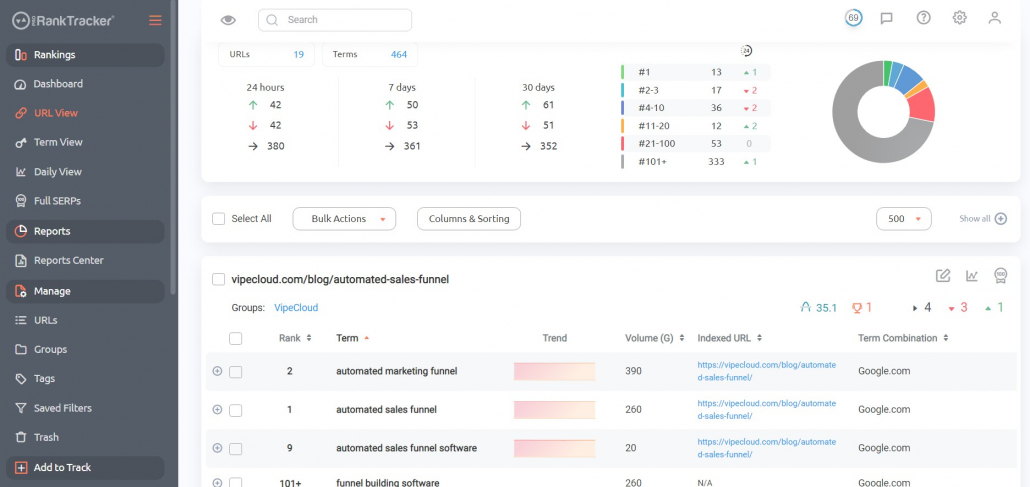 One of the best things about ProRankTracker is that it doesn't limit its best features to its highest-paying customers. 
These features are available on all plans, even the cheapest ones. So no matter what your rank tracking budget is, ProRankTracker has you covered.
White-Label Reporting
If you're working with clients, you know that they want reports that look professional and branded.
Fortunately, ProRankTracker offers white-label rank tracking reports. This means that you can brand your reports with your logo and color scheme.
You can also customize the data that's included in your reports. So whether you want to focus on rank changes or search engine visibility, you can customize your reports to show the most important data to your clients.
ProRankTracker offers more than 20 types of reports and notifications that you can set up and customize to fit your company's look. Here's the best part: ALL plans get unlimited reports at no extra cost.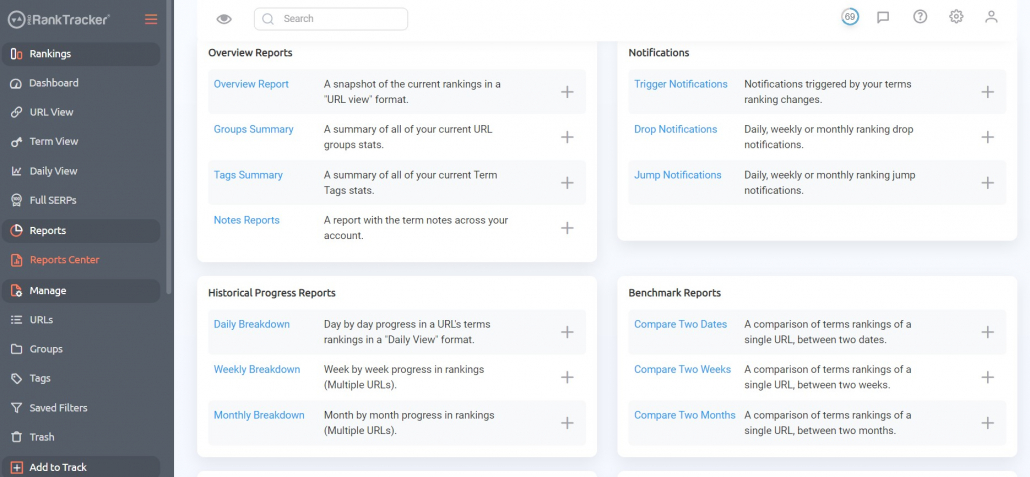 Price and Plan Options
If you're looking for a rank tracker that's both affordable and packed with features, ProRankTracker is the tool for you. 
Their cheapest plan starts at just $11/month, and their price-to-tracked-term ratio is unbeatable. 
Even at the smallest plan, you get:
Daily updates

Local and mobile tracking features for multiple search engines

Unlimited reports

Unlimited full SERPs

Historical data
As your business grows, you can upgrade to more extensive plans with even better features like:
Dedicated CSM

Thousands of tracked terms

Sub-accounts

A dedicated app to share with your clients

API access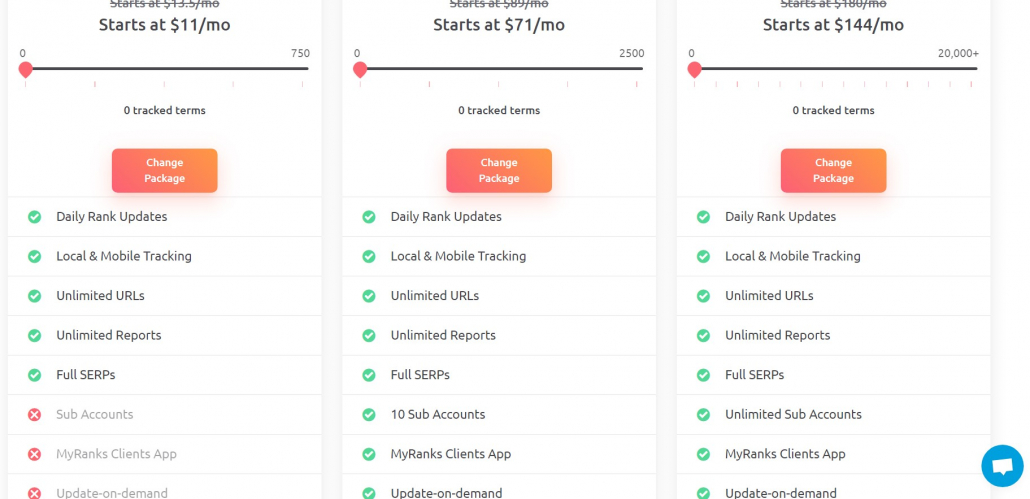 Unlike the tools offered by other companies, you can get agency-level features with ProRankTracker for just $144/mo!
If you're not sure yet, try ProRankTracker's 30-day free trial. You won't be disappointed.
Rank Tracker
Rank Tracker is a high-value rank tracking tool that focuses on giving users a broad base of functionality. However, that broad base can mean that some users will have to sacrifice depth.
Rank Tracker offers several specialized rank tracking tools:
Specific tracking with location, device, and search engine

GMB (Google Business Profile) tracking

Email notifications

White-label features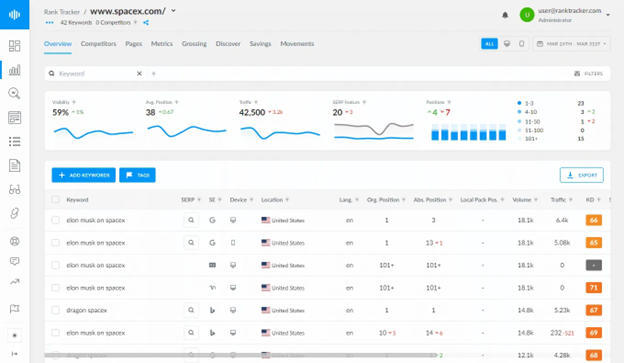 Regarding price, Rank Tracker is one of the cheapest tools available. At the time of writing, the base plan was on sale for $9/month (usually $18/month) when you pay annually.
One major drawback of Rank Tracker is that it limits the reports you can generate on its smallest plan, which reduces its value for smaller businesses.
While Rank Tracker is a great tool, we would like to see unlimited reporting since it's so valuable for small businesses.
SE Ranking
SE Ranking is a valuable SEO tool with several specialized rank tracking features.
For example, SE Ranking offers 100% accurate ranks. In other words, like with ProRankTracker, you don't have to worry about the quality of the data you're receiving.
However, similar to Rank Tracker, SE Ranking offers limited reports. However, unlike Rank Tracker, ALL SE Ranking plans come with limited reports. 
SE Ranking's smaller plans also limit your access to historical data. That means you won't be able to access Full SERPs that show detailed historical changes of the SERPs you're targeting.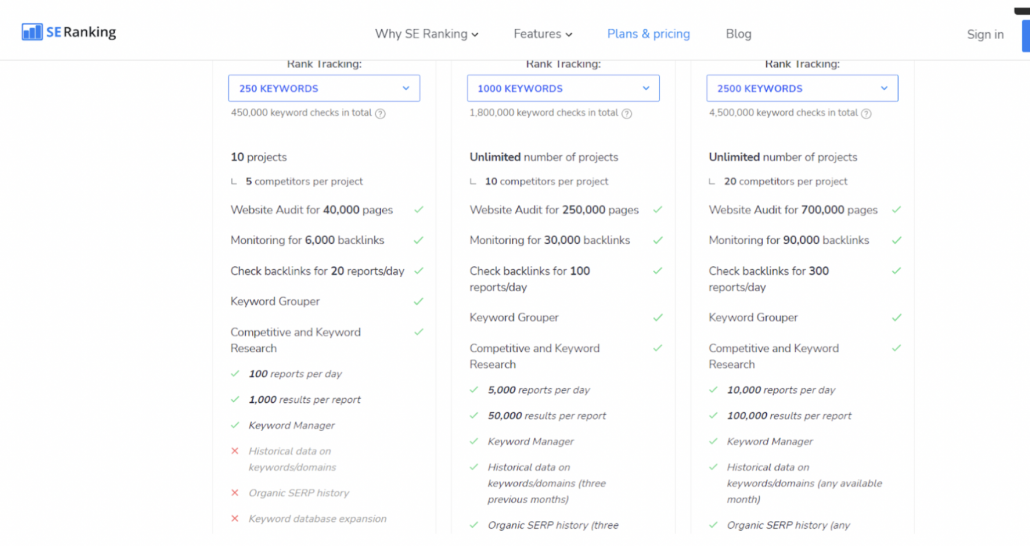 SE Ranking's prices are also higher. If you want daily updates on 100 keywords, that plan starts at $39.20/month. Some smaller businesses may find SE Ranking to be cost-prohibitive.
Ahrefs
If you've been working on SEO or tracking ranks for long at all, you've heard of Ahrefs. It's one of the golden standards of all-in-one SEO tools, but does it live up to the hype?
The answer is that it depends on how you want to use it. If you want a comprehensive SEO tool that will cover you in almost any situation, it's a great tool. It has:
Site audit tools for technical and on-site SEO

Keyword discovery tools

Content development tools

Rank tracking tools
But what if you need a great, highly specialized rank tracker? In my opinion, Ahrefs doesn't deliver the best bang for your buck. It starts at a whopping $83/month, which only includes weekly updates.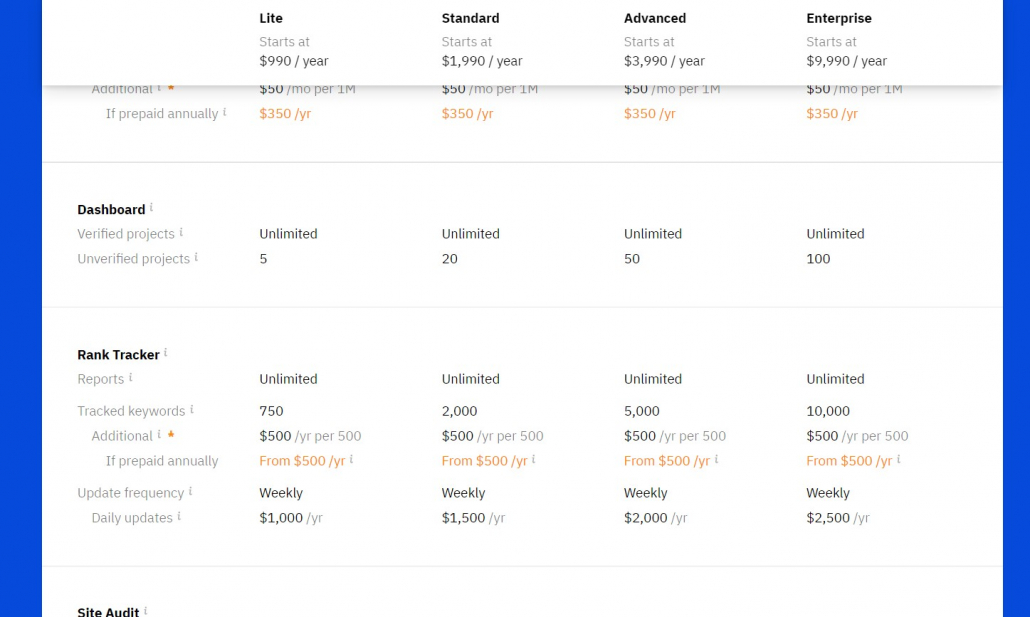 Price-wise, you may get more value from a specialized tool like ProRankTracker.
Mangools
Mangools is a commonly-used SEO tool that offers a suite of rank-tracking features called SERPwatcher.
Using SERPwatcher, you can get daily rank updates with location, device, and search engine data.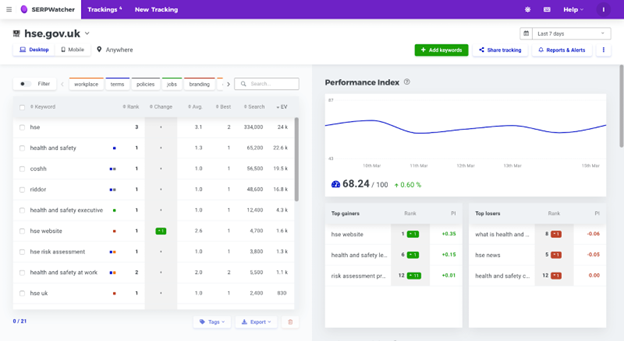 SERPwatcher is primarily designed to fit the needs of newer businesses that don't need the most advanced analysis yet. In that regard, it offers an outstanding balance of specialization and cost-effectiveness.
SERPwatcher by Mangools starts at $29.90/mo for 100 tracked keywords. While this isn't as cheap as Rank Tracker and ProRankTracker, it is still an excellent price for a great tool.
Conclusion
There are a lot of rank trackers on the market, and the one you choose should be based on your needs and budget. Every business has different needs, so you should try several tools to see what works best for you.
These 5 rank trackers offer some of the best price-to-features ratios on the market, so we think they're a great place to start your search!
If you're looking for an affordable rank tracker packed with features, ProRankTracker is the tool for you. Remember to try it out with a 30-day free trial, so you can see how much it can help your company.
Happy tracking!
https://proranktracker.com/blog/wp-content/uploads/2022/09/Best-Rank-Trackers-Pricing-Comparison.png
321
845
Jacob Statler
https://proranktracker.com/blog/wp-content/uploads/2020/11/prt-blog-1-1.png
Jacob Statler
2022-09-21 15:08:29
2022-09-29 18:01:20
Best Rank Trackers Pricing Comparison