3 Best Enterprise Rank Trackers for Advanced SEO (Compared)
As a growing marketing agency, scaling your staff, clients, operations, and software can feel like an uphill battle.
When your business was just starting, you might have only needed the best rank tracker for small businesses.
However, now that your business has grown quite a bit, you're reevaluating what you need regarding rank tracking software.
You're in good company. Many businesses realize that the tools they loved when they were smaller just don't cut it at the enterprise level.
This is especially true for people working as white-label SEO providers. Your needs in a tool change so much as you accrue clients, so it might be time to look for something new.
But what should you look for in an enterprise rank tracker? What features should it offer? How much should it cost?
Let's take a deeper look at all these questions and help you find the best rank tracker for your growing business!
We'll cover:
Specific Needs for an Enterprise Rank Tracker
Enterprise rank tracking is essentially the same as rank tracking at smaller levels, with one main difference:
Everything gets BIGGER.
In other words, think about starting a business. In the beginning, you can handle it mostly on your own. However, as you grow, you need to hire people to take on the additional work.
Rank tracking works in the same way. The workload increases, so you must expand your tool's capabilities to handle that new workload.
In this section, we'll look at 4 key components that you should look for in any enterprise rank tracking software.
More Keywords
The thing about enterprise rank tracking is that it requires tracking a lot of keywords. 
And I mean A LOT of keywords.
For most smaller businesses, 100 to 500 keywords will likely be plenty. Once your business grows, you'll need many more than that.
For example, let's say you're a larger white-label SEO agency with 20 clients, and each of those clients is tracking 200 keywords.
That means you'll need 4,000 keywords of tracking capability with your tool!
Even if you don't sell SEO services, enterprise-level companies have thousands of keywords and pages to track.
So your enterprise rank tracker must provide high-quality tracking for a LOT of keywords.
More Support
When your business reaches a certain size, it can feel like you're constantly just trying to put out fires instead of growing your business.
If you ALSO have to put out fires with your SEO tool, that detracts from your business even more.
That's why enterprise-level rank trackers should include excellent support for ANY issues that may arise while you're working on your keywords.
For example, let's say you want to work with the API of your rank tracking tool to integrate it into the systems your business is already using. You should be able to get in touch with support personnel and find the answers to your questions quickly.
Better White-Label Features
If you're selling SEO services to other businesses, you should be able to provide high-quality reports and support if you want to retain your clients.
An enterprise rank tracker should go far beyond simply allowing you to rebrand the reports you send to your clients. It should let you give your clients access to truly outstanding SEO data.
For example, ProRankTracker offers a fully-customizable client app called MyRanks that you can provide to clients who want to check on their data anytime.
With features like that, it's easier to continue growing your client base without needing a whole tech team.
More Administrative Features
Finally, you should look for the "boring" stuff that helps you run your business more smoothly.
For example, what kind of organizational features does the tool offer? Does it allow you to keep your clients' keywords separate from one another, or do they all mix?
Are there features enabling you to execute the functions you need to do regularly and quickly? Or do you have to go through a long process to do simple, repetitive tasks?
Asking administrative questions like these as you look at enterprise rank tracking tools will help you pick one that won't slow down the growth of your business with pointless extra work.
Why You Need a Specialized Enterprise Rank Tracking Tool 
What if you already subscribe to a great all-in-one tool like Ahrefs or SEMrush? Should you use that tool to track your ranks even as your business grows?
Some people choose that route, but we don't recommend it.
Rank tracking isn't something you want to skimp on. It helps your business grow by drawing traffic and helping you beat your competitors. 
That's why we recommend getting a highly specialized rank tracker instead of settling for the more general features of an all-in-one tool like Ahrefs or SEMrush.
We aren't saying those tools don't have a place in your business – just that they work better with a specialized rank tracker.
Let's look at 3 reasons you should use a specialized rank tracker for your large business or agency that serves enterprise-level clients.
Accuracy
Accuracy is the most significant factor in the success of your keyword campaigns. No other feature comes close to affecting your keyword success as accuracy does.
Think about it:
Without accuracy, your ranking data is meaningless. It is worthless and HARMS your business by giving you wrong information, which can lead to bad decisions or disappointed clients.
On the other hand, 100% accurate data leads you to make good decisions that'll positively impact your business's progress.
Advanced Rank Tracking Features
Before you think about ANYTHING else, you should make sure any tool you're considering offers 100% accurate ranking data.
However, after that, you should start looking at the types of features it offers. If it only offers simple daily updates on where your ranks are on the SERP, you won't always be able to use that information accurately because Google's constantly changing the SERPs.
On the other hand, a tool that gives you detailed information daily can be a huge help. Look for information like:
Location data, including Google Maps, Snack Pack, and Local Finder

Keyword discovery features

Full SERPs competitor analysis features

Charts and graphs to help you visualize data
Specialized rank trackers offer more in-depth features like these to help you get better insights than you could get from an all-in-one tool.
Better Reporting
Specialized rank trackers also typically offer better reporting features than all-in-one tools.
For example, Ahrefs offers a maximum of 500,000 rows of data to be exported each month on their smallest plan.
That may seem like a lot, but you don't want to be in a bind where you need MORE reports and can't get them from the tool you're already paying for.
Those rows can run out fast if you're an agency with many clients that have websites containing thousands of pages.
On the other hand, rank tracking specific tools like ProRankTracker offer UNLIMITED reports on all plans. No matter how big your business is, you can rest assured that you'll never run out of reports.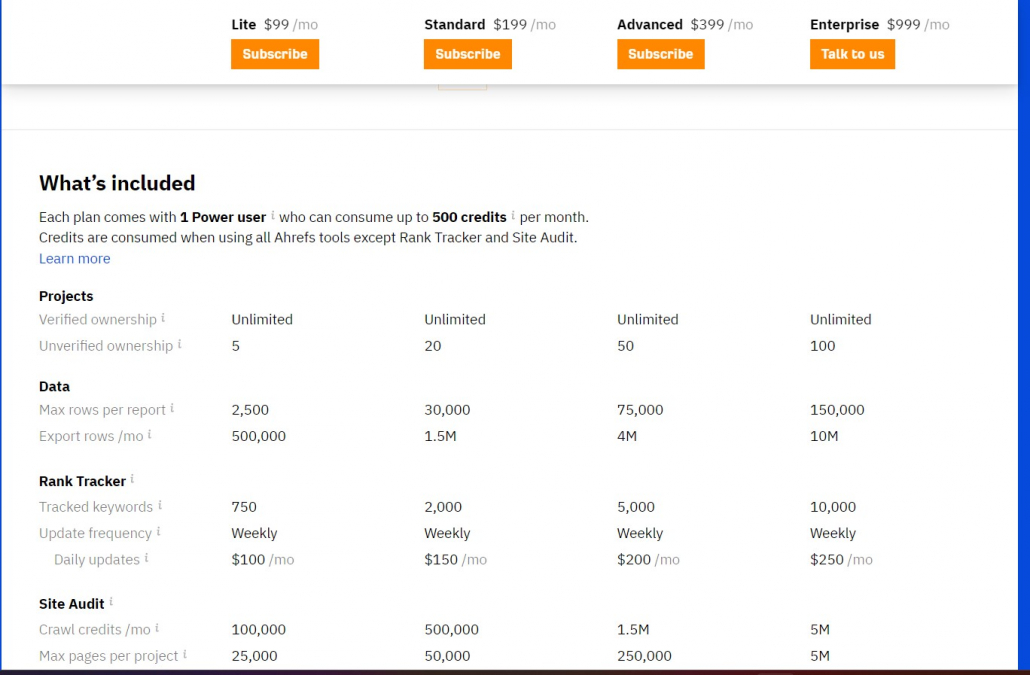 The Best 3 Enterprise Rank Trackers for Advanced SEO
Now, let's get into the fundamental question:
Which enterprise rank trackers should you consider?
If you've done your research, you know that there are almost more rank trackers than you can count. So the question of which ones are the best is not an easy one to answer.
However, in this section, we'll give you our top 3 choices for the best rank tracker for enterprises. These tools offer an outstanding balance of value, accuracy, and powerful tools.
The best way to get to know a tool is to use it, so we highly recommend signing up for free trials as you work through this section.
1) ProRankTracker
ProRankTracker is a highly specialized rank tracking tool that tracks as many keywords as you need with 100% accuracy.
Unlike many other tools, ProRankTracker offers unlimited reports and daily updates with every plan it offers. In other words, even smaller businesses still get access to the best ranking data available!
For larger enterprises, ProRankTracker offers complete access to its API and a dedicated customer success manager to help you make the most of the tools it provides.
ProRankTracker also has some of the best prices in the industry, with plans for 3,000 keywords starting at just $144/mo. Those plans include:
Daily updates with additional on-demand updates at no extra cost

Unlimited, customizable reports

White-label features like a client app and live reports

Unlimited sub-accounts

API access and a dedicated CSM

Full SERPs tool to track up to 100 competitors for a SERP and their movements

Keyword discovery features

A mobile app for you to track rankings internally
A mobile app for clients if you're an agency (unlimited users)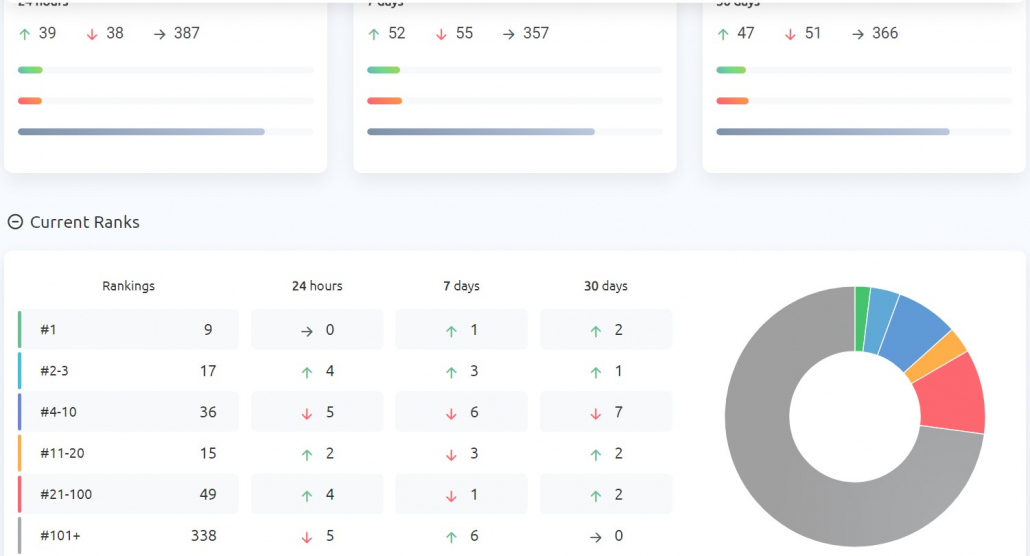 2) SE Ranking
SE Ranking is more focused on all-in-one SEO tracking, but it's still a capable rank tracker as well.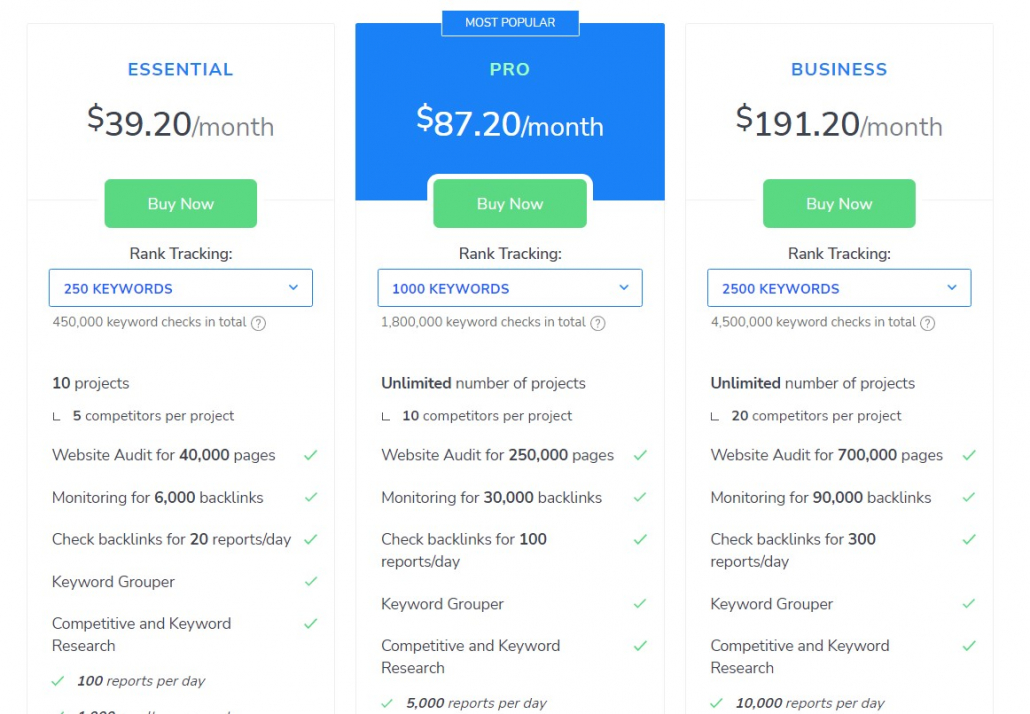 The best part of SE Ranking for enterprise clients is that it has keyword tracking AND keyword discovery features. That means you can track your current plan and grow your strategy at the same time.
SE Ranking also offers 100% accurate data and daily updates. Unfortunately, you must choose a more expensive plan to get daily updates.
It's also worth noting that you can only track up to 20 competitors per project with the business plan. This could be limiting for tracking competitive SERPs.
SE Ranking's business-level plans start at $191.20/month, which is more costly than ProRankTracker's agency plan but still manageable for many businesses.
3) RankTracker
RankTracker is another all-in-one SEO tool similar to SE Ranking.
One thing I liked about RankTracker is that it offers unlimited scheduled reports, unlimited users, and unlimited trackable URLs in all but its cheapest plans (you can never have too many reports!).
However, I didn't like that even their most expensive plans put a limit on how many keyword lookups you can perform each month and how many keyword suggestions it will make.
It also limits the amount of competitor analysis you can do to 20 competitors per domain.
However, this tool is still a competent rank tracker at $156.75/month for 2000 tracked terms.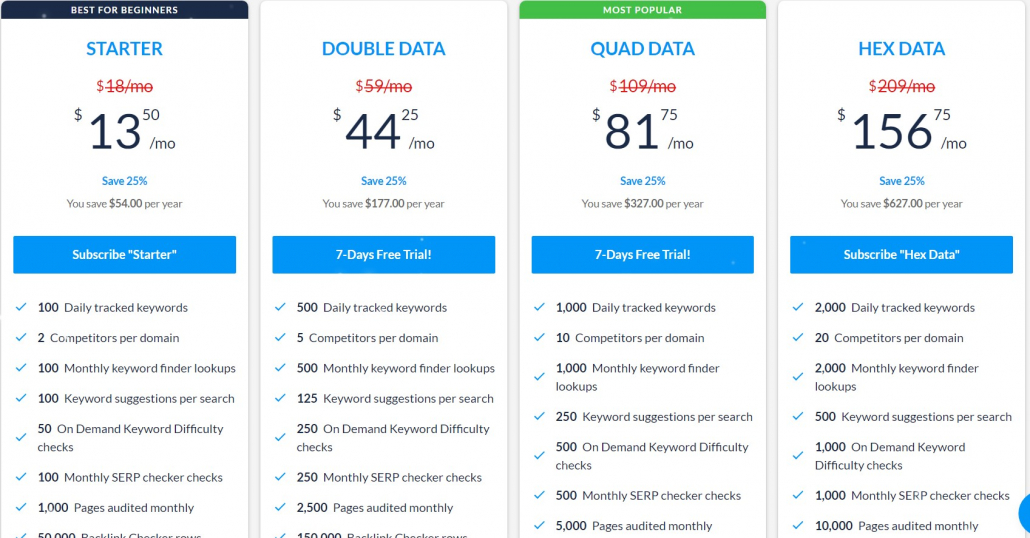 Why ProRankTracker Is the Ultimate Enterprise Rank Tracker
So, which rank tracker should you choose for your business?
We think ProRankTracker is the clear choice for several different reasons. For most companies, the main factors will be:
When it comes to rank tracking, ProRankTracker offers the best balance of those 3 features. Let's take a closer look at why ProRankTracker makes the perfect enterprise rank tracker for your business.
Industry-Leading White-Label Features
If you're working with clients and selling SEO to them, you know how vital good white-label features are.
This is one of the areas where ProRankTracker shine. With their agency-level plans, you get access to industry-leading white-label features.
First, ProRankTracker offers more than 20 types of fully-customizable reports. You can edit these reports to include your logo, colors, and cover letter.
You can also edit the sent-from email address, so your clients see the report coming from your company instead of ProRankTracker.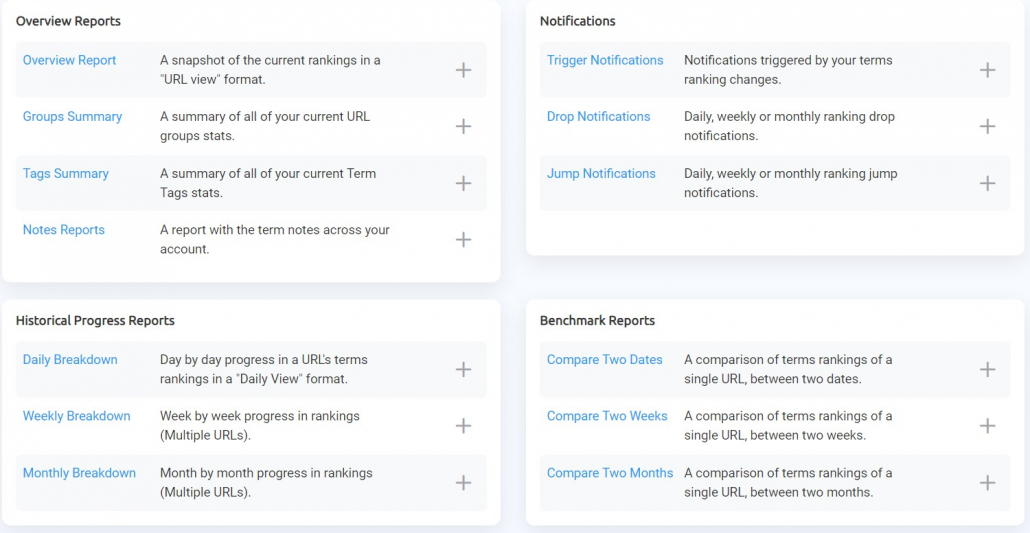 Second, agency-level users get access to the customizable MyRanks app, which allows you to give your clients access to their ranks through a mobile app on their smartphones.
And thirdly, you can use Shared Reports which are white-label reports that you can share using a URL that you can mask with your domain.
These white-label features make your business look more capable and professional, increasing the chances you'll retain your clients in the long run.
Cost-Effective
ProRankTracker also offers the best prices of any rank tracker. Small businesses can start tracking their ranks for just $11/month, and enterprises can track 3000 words for just $144/mo.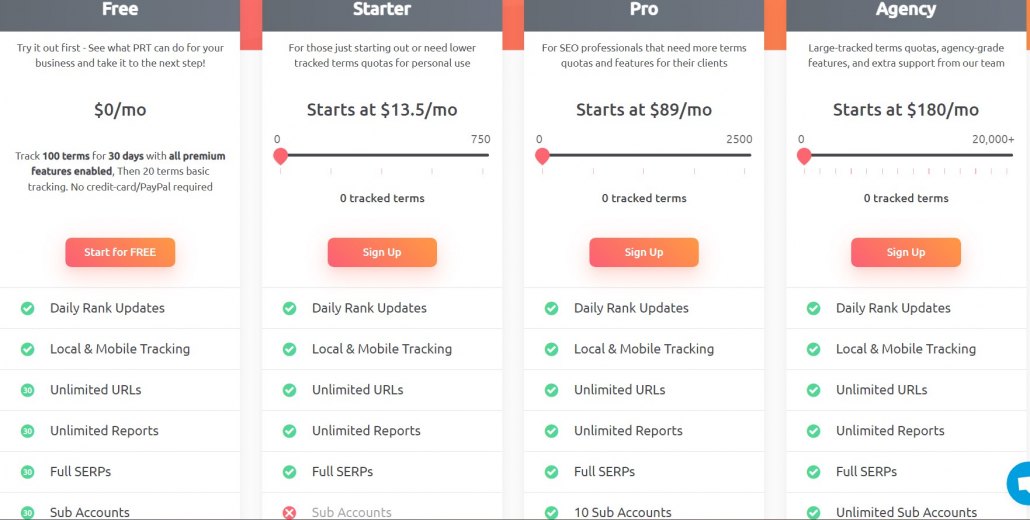 You've probably heard the phrase, "You get what you pay for." In this case, you get way more than you pay for. ProRankTracker is able to offer great prices because they're laser-focused on rank tracking instead of on all different types of SEO.
Specialized Rank Tracking Features
One of the best things about ProRankTracker is the amount of specialized rank tracking features you get. 
For example:
Location tracking down to specific cities, zip codes, or even neighborhoods in big cities
Full SERPs tool to track  and analyze your top-100 competitors' movements

Amazon ASINs and YouTube videos

Multiple search engines

Historical data

Charts and graphs

Triggered notifications to let you know when something important happens

Keyword discovery features that help you

steal your competitors' keyword strategy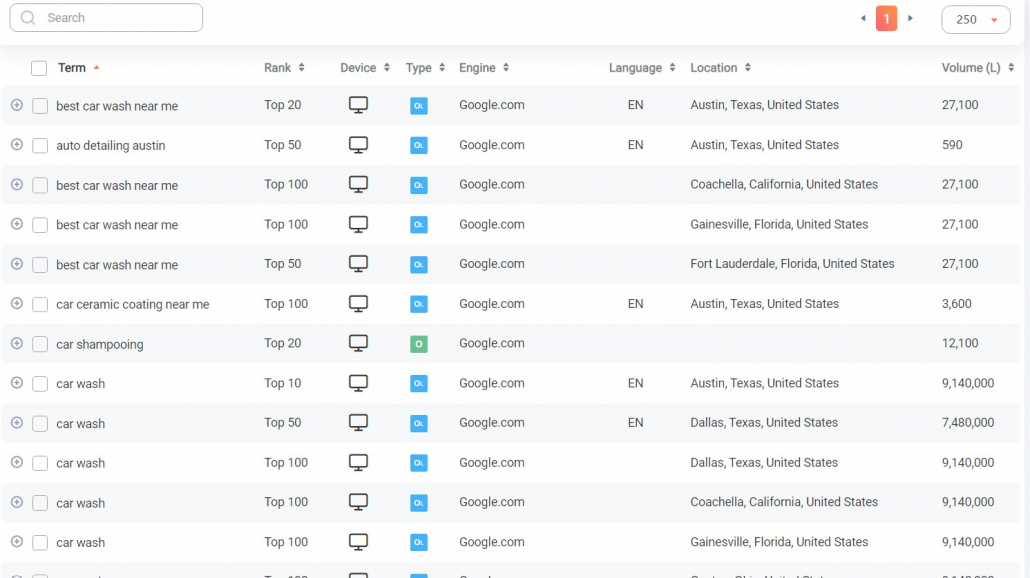 Using all these features helps you better understand your ranking progress and make better decisions moving forward.
Unlimited Reports
As I've already mentioned, there's really no reason you should settle for anything less than unlimited reports.
Imagine you've had a really busy month and you've reached your maximum number of reports. Fortunately, it's the last day of the month, so you feel pretty good about it.
Until your newest client contacts you and asks you if you can send him a report showing him a comparison of his keywords between this weekend and last weekend.
Uh oh.
To avoid a problem like this, you should just use a tool like ProRankTracker that offers completely unlimited reports. You never have to pay for more or worry about reaching your cap.
If your client asks, all you have to do is generate the report–no worrying involved.
Flexible Plans
Finally, ProRankTracker offers a variety of plans that will meet your business's needs for a long time as you continue to grow.
When most people are looking for a rank tracker, they're only concerned about what they need RIGHT NOW.
However, that's not the best way of looking at it. You also need to find a rank tracker that's going to grow with you.
Fortunately, ProRankTracker offers a huge variety of plans starting at just 100 tracked terms and going beyond 20,000 terms!
No matter how big your enterprise grows, you'll still be able to find a reasonably-priced ProRankTracker plan that works for you.
Conclusion
Finding the right rank tracker for enterprise use can be difficult, but if you follow this guide, you will be up and running in no time.
Using ProRankTracker will help you quickly improve your ranking strategies and beat your competitors. It will also give you a deeper understanding of WHY your ranking strategies are or aren't working.
The best way to get to know ProRankTracker is by using the 30-day free trial. You'll quickly see how much the in-depth tools can help you get more traffic from the SERP.
Good luck!
https://proranktracker.com/blog/wp-content/uploads/2022/12/The-Best-Enterprise-Rank-Tracker-for-Advanced-SEO.png
963
2535
Jacob Statler
https://proranktracker.com/blog/wp-content/uploads/2020/11/prt-blog-1-1.png
Jacob Statler
2022-12-14 20:32:43
2022-12-19 22:53:25
3 Best Enterprise Rank Trackers for Advanced SEO (Compared)