Researching and coming up with ideas for keywords is a foundational element of SEO and SEM. It might not be the toughest part of the trade, but it can get time consuming, and many find it hard to get the ball rolling. But what if I told you that you wouldn't need to spend time thinking of keywords if you used PRT? In fact, all you'd need is ONE keyword that wouldn't just get the ball rolling—it would start a giant snowball effect, unveiling a huge bank of real keywords with real search volume for you to choose from. Most importantly, it will save you valuable time on keyword research.
Let's dive right in. For this method, we'll use two tools that are integral to PRT: the Ranking Discovery Tool and the Keyword Suggestion Tool. For this demonstration, we've randomly chosen a narrow (yet lucrative) niche: dental implant clinics in Toronto, Canada. You'll be able to apply this to virtually any niche, of any size and scope, so no worries. A common and obvious keyword for this niche is "dental implants in Toronto", so we'll use it in our example.
Step 1
Discover hundreds more keywords from a single keyword for any niche: Step by step visual guide
Search "dental implants in Toronto" on Google.
Now choose 3-10 of the top websites (excluding review and coupon sites). We chose the top 3 for our example.
Step 2
Now we add the chosen websites and the keyword to PRT:
Next we choose a location to track. In this case, the most relevant one is Toronto, and the language is English:
The next step is vital for overall data management and order. Add a group name, tags and notes. By adding a group name for the websites, you'll have immediate and easy access to that data in one click. We'll call this group "dental kr" (short for keyword research):
After that, the "dental kr" data would be easily accessed through the Navigator Eye icon, which is always visible at the top of the page:
Finally, you can review the data to be added, and how many term credits it will cost, by clicking "click to view":
Step 3
After confirming the action, you will be taken to where the magic happens! Our Ranking Discovery Tool will show you what other terms these websites rank top 100 for, and not just on Google:
As you can see, the RD tool discovered a total of 304 terms that these websites rank top 100 for. You can browse the discovered terms and add some or all of them. We added all of the terms. The terms will then show up in our main data table for you to analyze:
Our data tables are designed to show you all you need to know about your rankings per SEO industry requirements for 2018. You can learn more in our full article:
You might have discovered all you need up to this step, and if so, that's great, but why stop there? You can go deeper than that and discover even more!
Step 4
Go to PRT's Keyword Suggestion Tool and select one of the websites:
The Keyword Suggestion Tool will then analyze each of the keywords being tracked for that URL and suggest possible related keywords for each. For this website, the most fruitful term was "implant dentist Toronto", generating 710 related suggestions! We can then put the other 2 websites into the tool and generate related keywords for each website.
After we add the terms we want, the process can be repeated for the new keywords, and even more new keywords will be suggested based on the ones we added!
The beauty of our keyword suggestion algorithm is that it suggests real keywords with actual search volume behind them instead of irrelevant, arbitrarily generated keywords. You can read more about it here:
Results: Total Keywords Discovered
As we saw, a single keyword from just 3 websites in a relatively narrow niche discovered thousands of different keywords to choose from by completing just one cycle of this method. Doing this for more than 3 websites will naturally yield even more results. You can repeat this for more than just one keyword, and that will expand your keyword pool even more.
This method will work for just about any niche you can think of since it relies on real search engine ranking data, which is what makes it so effective.
To see the full data that we discovered for these 3 websites, visit our Shared Report in this link. The password is "dental".
Shared Reports is a special white label feature PRT users have access to. You can generate a unique live link that will host a full detailed ranking report updated up to 3 times a day with fresh data. Best of all, you can generate a link that will have your domain name in it, have your logo displayed on the report page, have an expiration date, and even be encrypted with a password.
More Than Just Keywords!
There's a lot of insight that can be gained here other than keyword ideas. You can learn a lot about and from the niche leaders. For example, we can see what keywords they're actively promoting and rank highest/lowest for, what search engines other than Google they target (and for what keywords), what locations they rank the most strongly in, and much more. Interestingly enough, these websites are all going in different directions in regards to title CTR strategy. One is showcasing their brand first, another is going straight for the price jugulars, and the third is aiming for pure commercial value click baiting. The common thread is that they all have the most important keywords shown in the title: dental implants and Toronto. In this case, all three websites also use 'dental implants' (the main keyword) in the URL itself. This is a solid, basic SEO strategy.
Long-Tails
A lot of the keywords discovered for the niche leaders are long-tail keywords (three words or more), and for a good reason: long-tail keywords account for 70% of all web searches, and more than half of all searches are of 4 words or more. Long-tail keywords can bring high-quality, targeted, organic traffic, since they're often specific and goal oriented. Ranking high for just "dental implant", for example, will most likely bring very little traffic of value as opposed to "dental implant clinic in Toronto". The first might be from general browsing to learn more about dental implants, while the other represents active searches for a clinic in Toronto and might signal a potential client. You can try searching for "dental implants" right now and see that the top results are general information websites instead of actual clinics offering the service.
Monthly Google Search Volume
One of the key indicators to gauge how much interest a keyword has is monthly Google search volume. It's vital information for SEM as well as SEO. We can see that some of the keywords promoted in this niche have very little monthly search volume, but they might still bring real customers. For example, "cost of dental implants Toronto" has a monthly search volume of just 390, but it's a very strong keyword indicating that a person may be ready to invest in the service being offered.
See Search Volume! You don't have to be a high-paying AdWords user to see the monthly Google search volume of a keyword. We made it available to all of our paid users. Having a Bronze plan is enough!
 Local and Mobile Ranks
In the example above, we would be promoting a dental implant clinic servicing the Toronto area. The only ranks for our website that we would need to care about are the ones people from Toronto would see. It's irrelevant in this case what search result a person in New York would and how your website will rank in their search results. A keyword's mobile rank might be different than its desktop rank, depending on how well optimized for mobile the site is. That's why when you add that dental clinic website for rank tracking, you need to consider all of that. Every keyword that you add for tracking should ideally have these ranking types:
The ranking types and factors we see above:
Local Google rank for Toronto on Google.ca
Mobile rank for Toronto divided into Android and iPhone
Snack Pack rank
Local Finder rank (top 100 map results)
UI language – English.
Using Google.ca in this rank tracking is the most accurate approach, even if your target audience searches Google.com. Why? Because they are located in Canada, they will get results from Google.ca. It's all because Google recently tailored all search results to the user's location, regardless of which Google ccTLD you are using.
The Google UI language the person uses influences the SERP they see, meaning a person that has French as his Google UI language might see different search results than someone who uses English, even though they might be searching from the SAME location. Don't forget to add the relevant language when you add terms for tracking!
Google's algorithm has tens of thousands of different ranking factors at play, not just user location or device type. A SERP tracker that can't handle 2018 industry standards of rank tracking types and resolutions isn't worth it, regardless of the price tag. Many rank trackers don't have sufficient coverage and can't track specific locations, and they'll just show you the general rank most people from the US see, which would make it ineffective for rank tracking for the majority of local SEO campaigns! Here's the full list of ranking types you need to know about:
And if you want to know the secrets of how Google is able to track you so well:
Snack Pack
In the example above, in addition to local and mobile tracking, we also added Snack Pack and Local Finder. The reason for that is simple. Notice Snack Pack is featured on top of the SERP: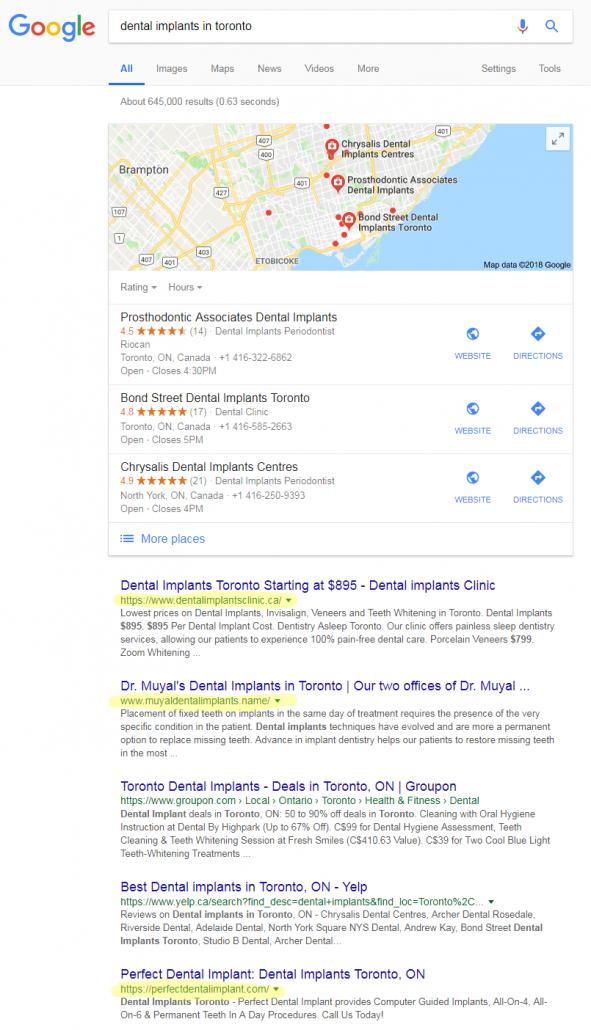 The three businesses that show up on Snack Pack above the regular organic results actually rank below our niche leaders organically. This gives them a remarkable edge and can drive real physical traffic straight to their clinic. The person searching for dental implants immediately sees where the clinics are located in relation to his location, and he can examine reviews and see immediate practical information, such as contact details and working hours.
A note on review and coupon sites: Also ranking high organically, you can see Yelp (a review website) and a coupon website (Groupon). These websites tend to rank high for many search terms, so any business that's included in those directories can benefit even if they are not ranking high organically. If you're listed there, adding those websites for rank tracking is a good idea.
Hidden Keywords
This is where it gets really fun. Let's say the dental clinic whose website you're optimizing already has some ranking presence in that niche. Did you know there might be keywords you're not actively promoting that might already be ranking top 100 on one of the major search engines? This is the 'hidden keywords' phenomenon, and our Ranking Discovery Tool excels at finding those hidden ranks for you. Simply input your website into the tool, like we did with the niche leaders at the beginning of the article, and see what comes up. You might be pleasantly surprised! If you want to learn more about how hidden keywords are born and their amazing potential for SEO, give this one a read:
Now that you have a great method for niche and keyword research and some solid rank tracking tips for your website, we'll leave you with this fun fact: New keywords are born every day. In fact, 16% of all daily search queries are completely original keywords never before seen by Google! That amounts to about 896 million unique keywords per day. Most of these remain obscure, while others bloom to become real sought-after search terms. Every viral trend originated as a completely unique search term.
Let us know your thoughts on keyword research in the comments below. If you liked this article, please share and subscribe to our blog and get notified on more rank tracking tips and news!
---
ProRankTracker is a SERP tracker with over 50k users that's been updated to 2018 SEO industry standards. It was designed for SEO professionals of all levels, from beginner freelancers to huge SEO agencies, which is why we offer huge rank-tracking quotas at prices as low as USD $0.018 per tracked term. That way, you can have all the room you need for keyword and market research. We are also the only ones who offer a real free plan with no time limit  and with almost all features open. And the best part — no credit cards required and no auto-renewal traps that are unfortunately all too common.
Share the lore. Think your friends want to save some time coming up with keyword ideas with our unique method? Why not refer them to us via our sweet and lucrative affiliate program. That way we can all benefit together!
https://proranktracker.com/blog/wp-content/uploads/2018/04/02D00620.jpg
300
800
ProRankTracker.com
https://proranktracker.com/blog/wp-content/uploads/2020/11/prt-blog-1-1.png
ProRankTracker.com
2018-09-20 17:00:06
2018-09-20 17:01:18
How to discover thousands of keywords from just a single keyword for virtually any niche: Step by step visual guide