15 SEO Keyword Ranking Reports to Retain Clients
What does it take to run a successful SEO agency?
Most people will probably say that the most crucial step is finding clients. After all, you can't make any money if you don't have any clients.
However, another (equally important) step is often overlooked: retaining your clients.
If you have 15 clients but only keep them for 6 months, your business is probably WORSE off because of those clients than if you were starting from 0. You must overcome the bad reviews and negativity of losing many clients.
This article will talk about KEEPING your most essential clients using a secret weapon: keyword ranking reports.
Let's get started!
We'll cover:
What Is a Keyword Report?
A keyword report is a collection of data about how your keywords perform on the SERP.
In other words, it tells you how well your SEO strategy performs by telling you if you're ranking high or low on Google, Bing, Yahoo, or another search engine.
For example, this keyword report shows how this user's ranks are performing on that day.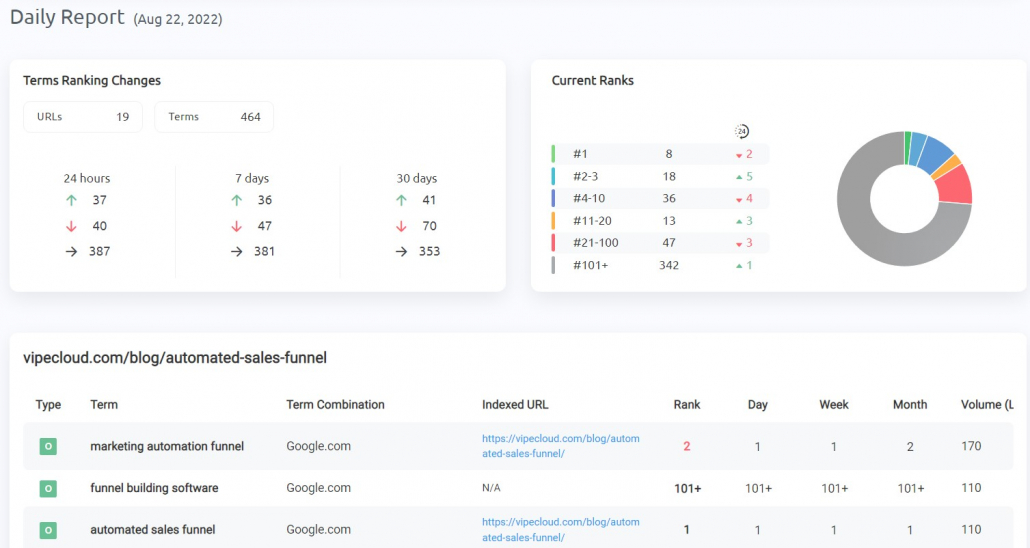 It shows which ranks have gone up, which ones have gone down, and which have stayed the same.
There are many different types of keyword ranking reports, but we'll get more into that in a minute!
Why You Need Keyword Ranking Reports to Keep Clients
How vital can keyword reports be for your business? Do clients care if you can provide pages of data about their SEO progress?
YES!
Ranking reports are one of the ESSENTIAL pieces of white-label success. They often make the difference between losing clients and keeping them.
But how do you know if you need more reports in your lineup?
Below, we'll detail 3 symptoms of a business that needs more ranking reports. If you've been experiencing any of these symptoms, you need to look closely at your reporting habits.
You're Struggling to Keep Clients in the Loop 
Believe it or not, clients like to know what's going on with their SEO. They want to see if you're helping it or hurting it.
But they can't know those things if they aren't regularly receiving updates in the form of reports.
However, many new white-labelers have to spend hours compiling data when their clients ask for an update on their ranks.
It's impossible to run a successful white-label business if you have to spend hours every time your clients want an update. So if you're struggling to keep your clients updated about their data, it's time to start using more keyword ranking reports.
Your Strategy Isn't Informed By Previous Results
For some people, "strategy" doesn't mean much more than "taking a blind shot in the dark."
But that's not what strategy is supposed to be. It's supposed to be informed by previous results.
For example, if you published an article last year on seasonal trends and they did great, you should find time to publish similar articles this year.
Most people don't have the data to support these strategic decisions. However, using reports can help you understand what's worked in the past (and, more importantly, what hasn't worked) so you can make better strategic decisions in the future.
Your Way of Client Reporting Makes You Look Amateur
When your clients want a report, what do you send them?
A Word doc with some quick notes jotted down?

An Excel sheet with a table of ranking data?

A picture of your notes on the back of a napkin?
My point is that a lot of people are sending their clients unprofessional reports, and it's hurting their businesses.
If you expect to keep your clients longer than a few months, you need to up your reporting game to make it look sleek and professional. We'll talk more about how to do this later in this article.
15 Keywords Ranking Reports to Retain Clients
Now that you know WHY you need ranking reports to keep your best clients, let's talk about which ranking reports can help you the most.
If you're using ProRankTracker, you have access to more than 20 different types of reports and notifications to help you retain your white-label clients.
If you're NOT using ProRankTracker, you should be! Make sure to sign up for a 30-day free trial before moving on to the next section so you can follow along.
Overview Report
The most basic type of report that ProRankTracker offers is the overview report. It is a snapshot of your client's entire keyword strategy. It shows:
A chart of ranks that have improved, dropped, or stayed the same

A breakdown of ranks changed in the last day, 7 days, and 30-days.

A list of all tracked URLs and how their keywords are performing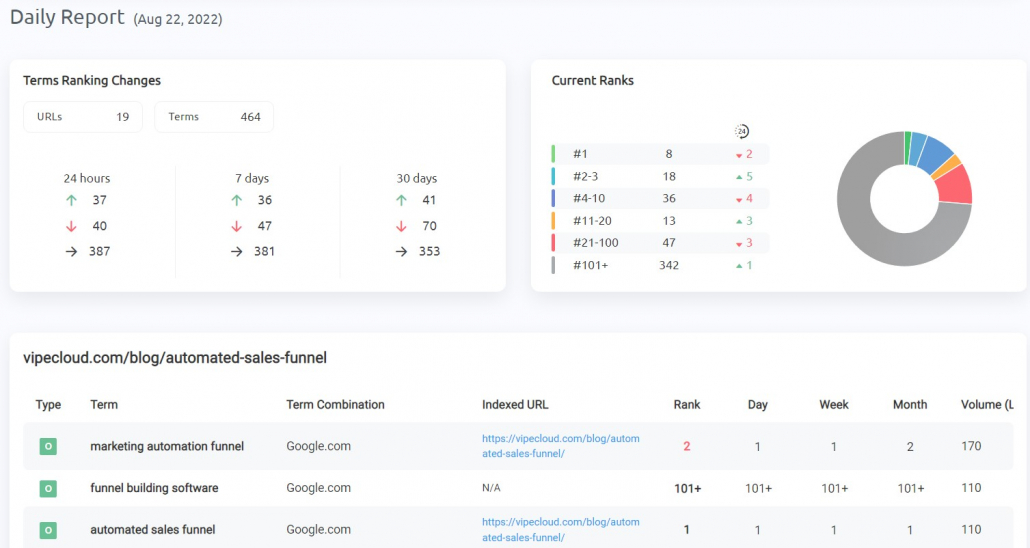 One of the most powerful features of this report is the "Base" column (you have to edit your report to show this).
Your Base rank is the original rank you had from when you first started rank tracking.
This will allow you to maintain a big-picture view of your long-term results.
Most of your clients are going to want to see overview reports frequently. They help them see the big picture and understand how their ranks change!
Groups Summary Report
Your clients may have different campaigns going on at the same time. For example, maybe they have a seasonal summer campaign running concurrently with a long-term content marketing campaign.
This is where group reports come in handy. For example, after you divide your URLs into strategic groups, you can use the Groups Summary report to show how each group's URLs perform.
The Groups Summary report is similar to the stats at the top of an Overview Report, but it breaks the data into smaller chunks to give your clients more direction.
Tags Summary Report
ProRankTracker uses groups to organize URLs and tags to organize keywords. The Tags Summary Report is precisely like the Groups Summary Report, but it contains the data by tag instead of by groups.
For example, this Tags Summary Report shows data for 2 tags, including which keywords improved, dropped, or stayed the same.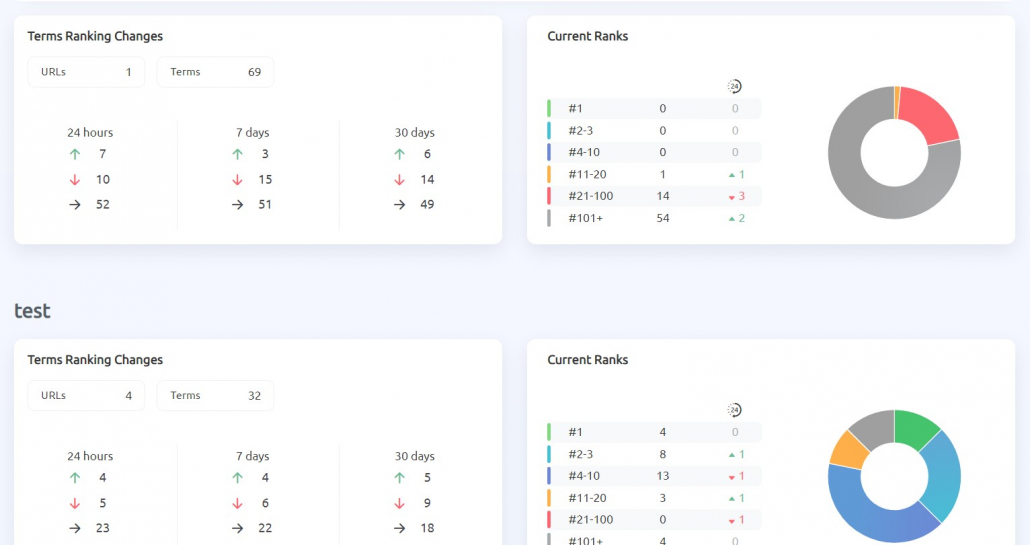 This type of report is essential for when clients need to divide their strategy into smaller sub-strategies depending on the type of keyword they're targeting.
Notes Report
Sometimes, you will need to make notes about specific URLs and keywords.
For example, one of your keywords might drop 3 places when a new Google update launches. You will want to note why that update affected your ranks.
ProRankTracker can also automatically add notes when something changes. For example, if one of your URLs changes from an organic result to a Google feature.
The problem is that it can be challenging to ensure that all that information is eventually passed on to your clients. This lack of communication can ultimately make them feel like they're being left out of the loop.
To fix this, just create a notes report that sends all the notes you're making to your clients in a single report. You can automate it so they get a weekly or monthly update on your notes.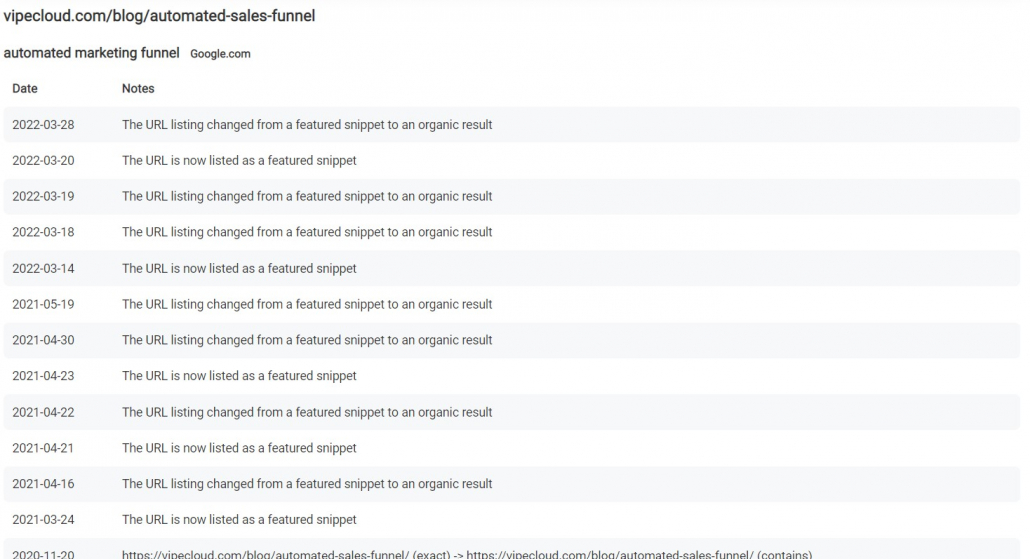 Daily/Weekly/Monthly Breakdown
Daily, weekly, and monthly breakdowns show you a graphical view of how your ranks have changed over a selected period.
Selecting between the daily, weekly, or monthly breakdown just determines how granular the report is.
For example, a daily breakdown shows how your ranks have changed daily, whereas the weekly breakdown shows how your ranks changed from one week to the next.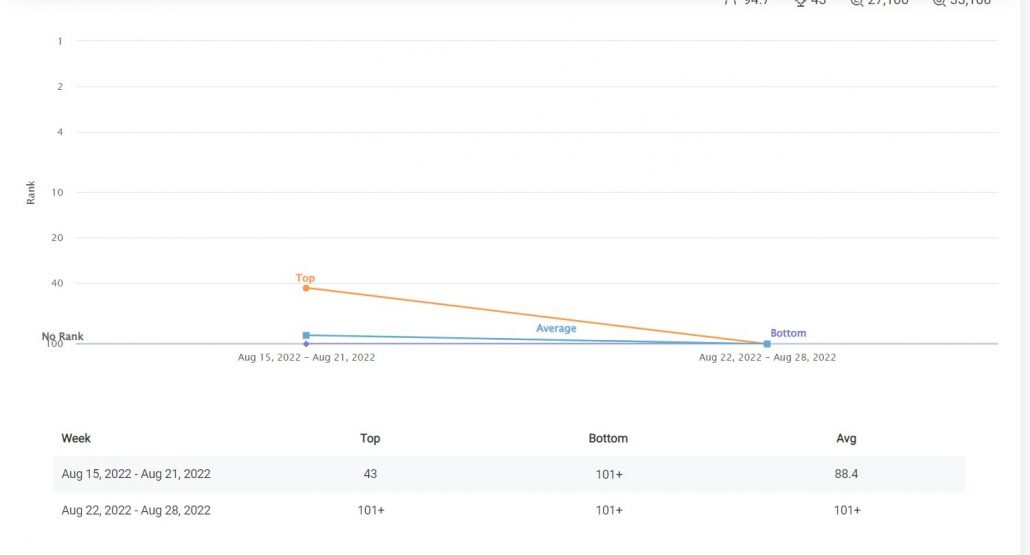 Sending these graphical reports can help your clients feel like they have a better understanding of the progress that you're making with their ranks.
Term View Report
The Term View report is similar to the URL View report but organizes data by keyword instead of URL.
For example, this report will show you a keyword. Then it will list all the URLs for which that keyword is being tracked below it.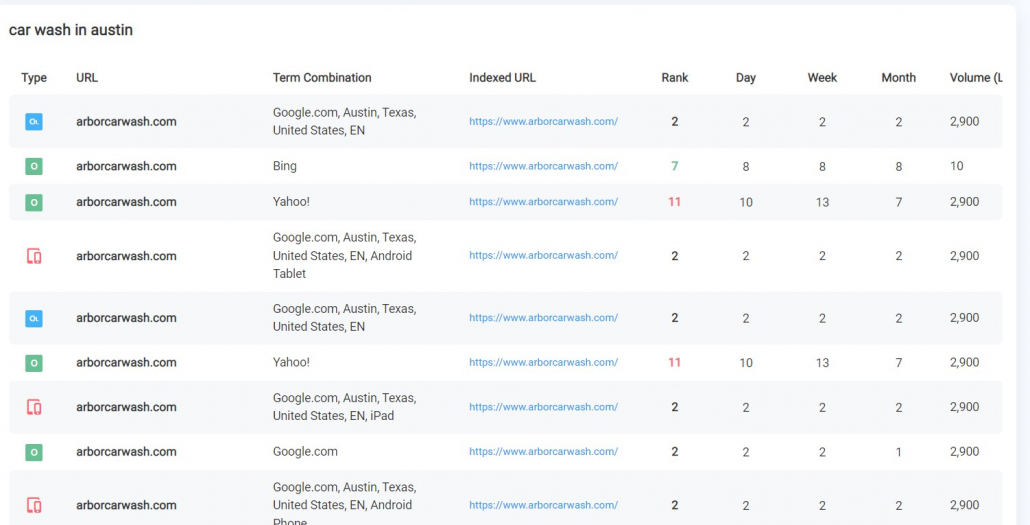 This report is valuable for understanding how different URLs perform for the same keyword. It can also compare how the same URL performs on different device types, locations, or search engines.
This report is also an excellent tool for comparing your client's ranks to a competitor's for the same keyword.
Daily View Report
The Daily View report is similar to the Daily Breakdown report. It shows a day-by-day graph of your ranking performance.
This is one of the most valuable reports for your clients because it allows them to visualize how their ranks have changed recently. It can also be a powerful tool for retaining clients if their ranks increase!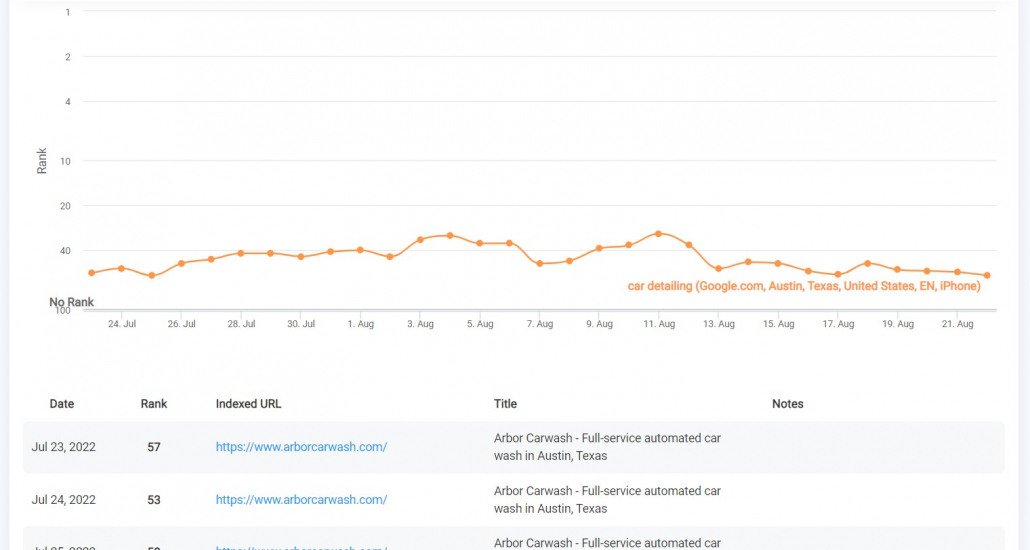 You can send this report monthly so your clients can see how your work positively affects their ranks!
Dashboard Report
The Dashboard report is one of the most basic and essential reports in your repertoire. It summarizes your client's entire SEO keyword strategy in a compact package.
Many clients will want to see this report daily or weekly (depending on how involved they are in their strategy), so it's a good idea to set this report up to send on a schedule automatically.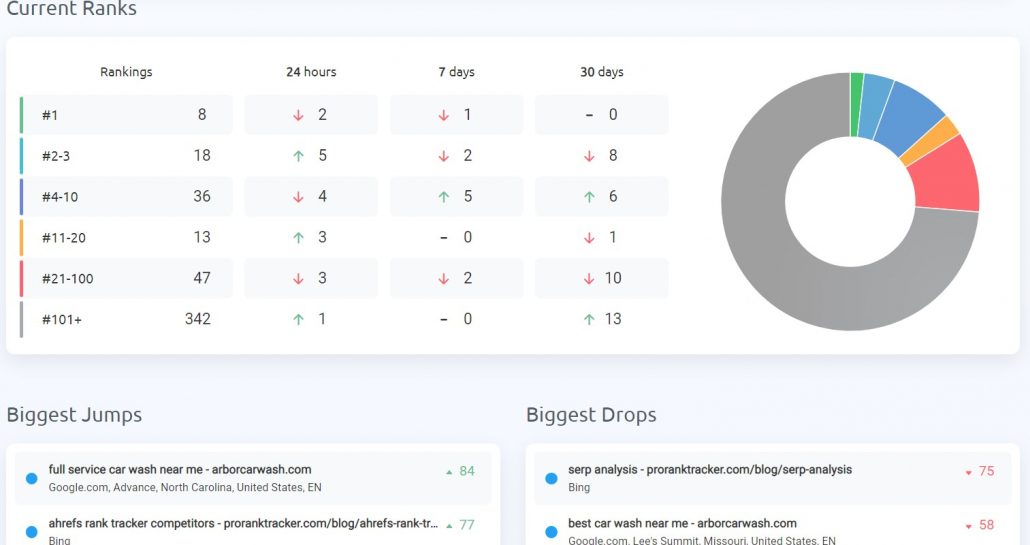 Make sure to communicate with your clients about how often they'd like to receive basic reports like the Dashboard report. Communication is one of the critical factors in retaining your best clients!
Full SERPs Report
To fully understand your ranks, you must see them in the context of the SERP. Seeing an entire SERP helps you and your clients understand your ranks, your competition, and your goals.
That's where the Full SERPs report comes in handy. It gives you the tools to break down the SERP of any of your client's ranks and understand them on a deeper level.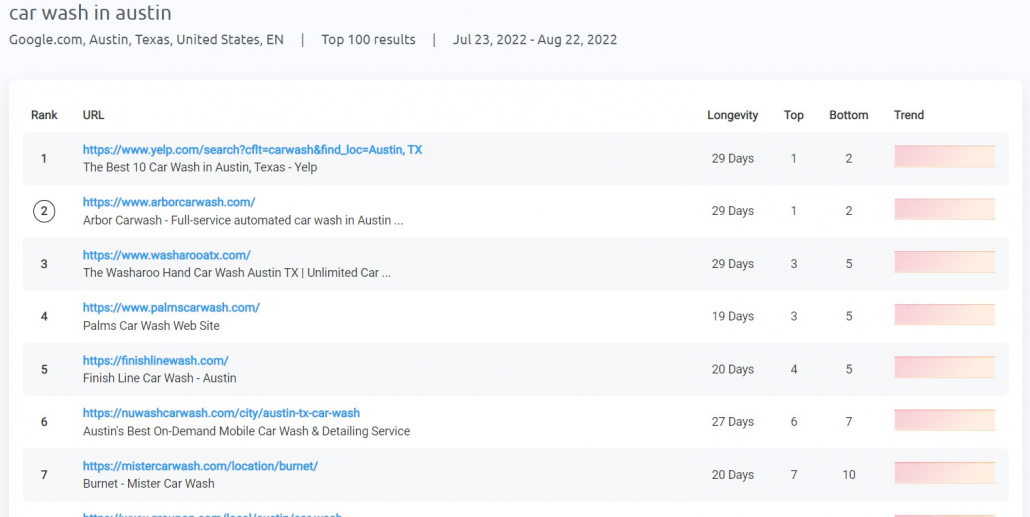 You can also access a graphical view of the SERP's history, making it even easier to see movement over a selected period.
Benchmark Reports
Benchmark reports are beneficial comparisons between 2 time periods. You can select to compare:
This is useful when comparing how your current performance stacks up to your past performance.
It can also help show your client how far their ranks have come since you started working with them. Showing them progress reports like these can drastically increase your chances of retaining your clients.
Ranking Comparison Reports
Ranking Comparison reports allow you to compare:
Different URLs

Different search engines

Different locations

Different devices
For example, you can use a Comparison report to see how a URL ranks for the same keyword on 2 or more different search engines.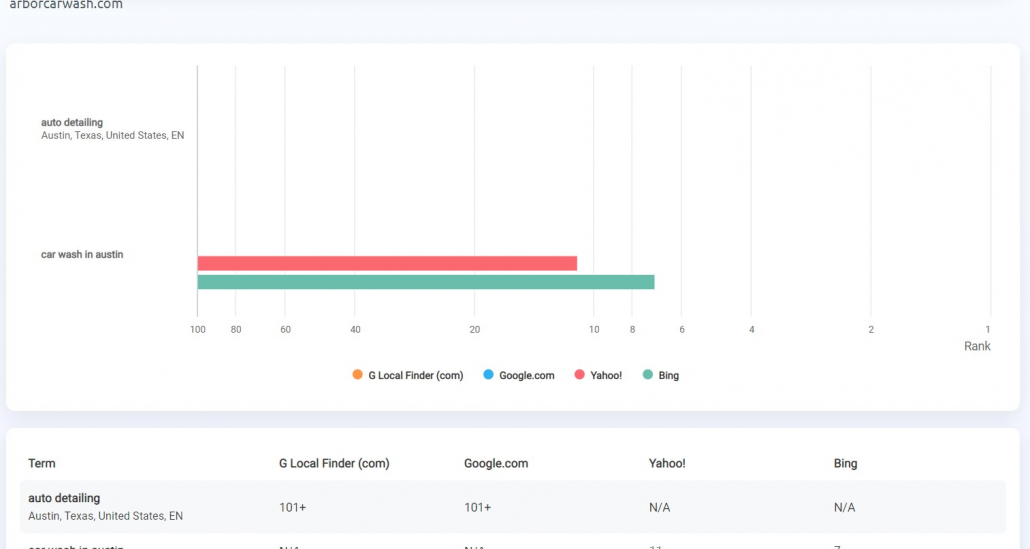 Each comparison report helps you see the same data from different angles, giving you and your clients a deeper understanding of your performance.
If you're launching campaigns on different search engines or locations, these comparison reports will be your best friends.
Notifications
Notifications will help you and your clients make split-second strategic decisions using the most up-to-date data.
You can set notifications to send based on a variety of triggers, such as:
Ranks dropping or increasing by a certain number or percentage

Keyword reaching a particular rank on the SERP (1st, 10th, etc.)

These notifications will send automatically when those parameters are met, meaning you'll be able to change your strategy at a moment's notice.
Shared Reports
Shared reports are white-label reports that can be shared with a URL link.
Shared reports show an Overview (URL View) & Daily View, with URL stats, an overview report, and a daily breakdown report.
To white-label the reports further, you can also generate reports with your domain name to send to clients.
These reports make sharing reports with clients, stakeholders, and team members easy.
In addition, Shared reports can be sent anywhere with any method, using the generated URL link.
MyRanks App
The MyRanks app is one of the most advanced reporting features available today. It gives your clients access to a personalized mobile app where they can access the data that you provide them with access to.
In other words, even a tiny white-label company can give their clients access to a premium mobile app, making them appear more professional and well-resourced.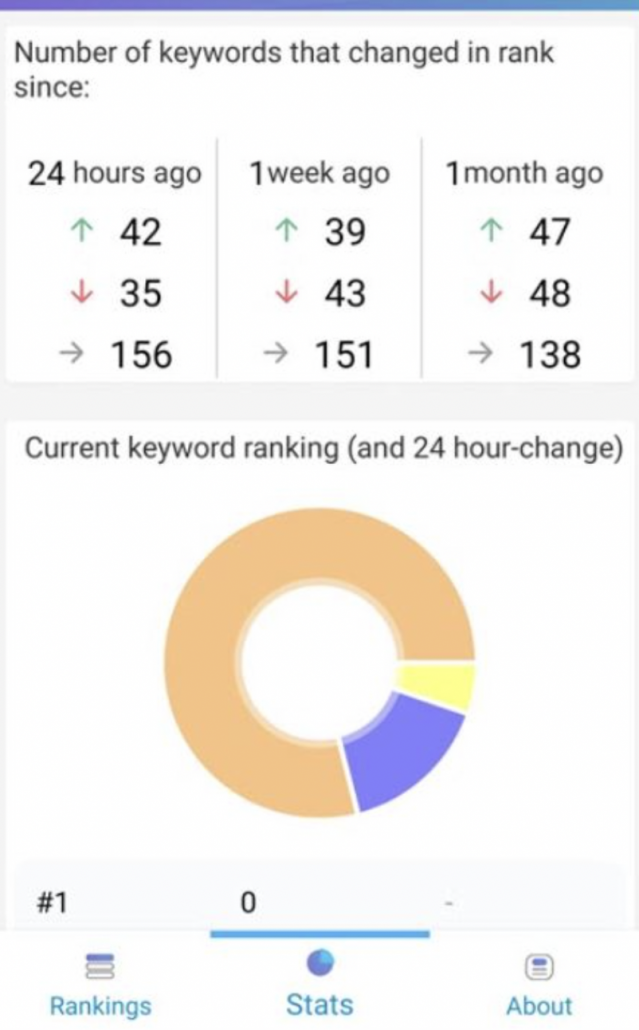 You can fully customize the app's look to fit your company's aesthetic. You can also adjust the data that your clients will be able to access through the app!
White Label Reporting
White-label reporting is the ability to customize reports to fit your agency's look fully.
With ProRankTracker, every report is fully white-label friendly, meaning you can add your company's:
Logo

Colors

Cover letter

"Sent from" email address
When you settle on a look you like, you can save it as a template to quickly apply to future reports. As a result, your reports will look professional from the very beginning–even if you're a brand new agency.
Providing your clients with a premium experience like this is the key to long-term retention.
Conclusion
Providing your clients with excellent data with keyword ranking reports is critical to growing your business and keeping the clients you have.
Using ProRankTracker, all you have to do is set your reports on a schedule, then forget about them! Your clients will automatically receive their reports on time.
Using the reports outlined in this article, you should be able to satisfy any client's needs regarding reporting and info. 
Good luck!
https://proranktracker.com/blog/wp-content/uploads/2022/08/Keyword-Ranking-Reports.png
321
845
Jacob Statler
https://proranktracker.com/blog/wp-content/uploads/2020/11/prt-blog-1-1.png
Jacob Statler
2022-08-24 16:26:13
2022-08-29 20:44:32
15 SEO Keyword Ranking Reports to Retain Clients