How to Get More SEO Leads to Convert to SEO Clients 101
In this guide, you'll learn how to get more SEO leads to convert into SEO clients so you can drastically increase your MRR.
As an SEO professional, you're an expert at getting other companies' leads.
What you might not be an expert in, however, is getting yourself leads.
Many people who sell SEO services make the same mistake…
They spend too much time working inside of their business — when they should be working on the outside to get more clients.
As an SEO, you're probably already aware of the benefits of having a flow of leads.
So why not bring in leads to convert into clients for your SEO business?
The SEO sales process requires the ability to articulate the exact value you can offer a client — which can be difficult if you haven't put in the time talking to leads and prospects.
What is a Qualified Lead for SEO?
Before you even think of generating leads for your SEO business, you need to think:
Who is my ideal client, and who do I want to help?
You need to figure out what type of businesses you want to do SEO for.
Niching down and helping a specific type of business might seem like limiting your options, but it's actually creating abundance by you dominating a specific space.
Think:
Would a dentist rather work with an agency that works with anyone under the sun — or an agency that specifically works with dentists?
What a qualified lead means will be different for everyone, so make sure to spend time thinking about the industries you want to help and the size of the clients you want.
Why Pre-Qualifying Leads is Crucial & How to Pre-Find Desire for SEO
A qualified lead is likely to spend more money on your business. 
Why?
Because they fit square with who you help, and they probably already have desire for SEO.
When it comes to leads for your SEO business, how can you tell if someone is a qualified lead that's likely to engage with you long-term? 
Start with the fundamentals:
What does the lead's digital footprint look like? 
Do they have an existing website, and does that site have any current SEO in place?
Do they have a social media presence or any digital ads running? 
If they've put any effort into their digital footprint thus far, it demonstrates that they're aware of how important it is that their business appears well online. 
If you engage the lead in a conversation, be sure to ask them questions and give them ample opportunity to interview you, as well. 
Inbound vs. Outbound SEO Lead Generation Strategies
There are two basic strategies for any business to gain new leads: 
Inbound methods, where leads pre-qualify themselves and come to you for help.
and…
Outbound methods, where you reach out to the lead to begin the qualification process. 
But here's how each strategy works specifically for SEO businesses.
We'll begin with inbound.
Inbound SEO Lead Generation
Inbound lead generation should be the bread and butter of the SEO world. 
After all, SEO is a critical part of any inbound digital marketing strategy. 
As SEO professionals, inbound is what we sell to our clients, and we should always practice what we preach!
Content marketing is one of the best ways to generate qualified SEO leads. 
And content marketing can be done on a variety of platforms — from your business's website to your social media pages.
By creating high-value content that educates prospects, answers questions, and provides value, you'll be able to improve your search engine rankings and leverage that content in email marketing, social media, and PPC campaigns. 
The main issue with inbound for SEO lead generation is that it takes time to start getting results, and it's quite competitive.
But that's not to discourage you — you need to be doing inbound for a long-term marketing strategy!
Inbound marketing is excellent for bringing in a natural, ever-flowing list of leads that already want to work with you.
Even with the best inbound strategy out there, you might be ignoring qualified leads who simply don't know where to turn. 
That's where outbound lead generation tactics come in. 
Outbound SEO Lead Generation
Outbound tactics are still extremely beneficial for SEO businesses. 
There are so many small to medium businesses out there who are trying their hands at digital marketing. They might just not know the benefits SEO can bring them — or they haven't found the right fit for a partnership. 
Traditional outbound tactics like cold-calling still work today (as long as you do it properly, that is…). 
In today's world, people are wary of sales calls, and unsolicited email blasts often go directly to spam. 
That's why it's essential that even when you're working outbound leads, you do some homework to pre-qualify potential leads and identify an individual who might be willing to engage with you. 
Research before reaching out will also help you avoid being spammy.
To find companies that might be a good fit, doing a little research beforehand is crucial. Google some keywords that fit the type of business you'd like to work with and click over to the second or third page of search results. 
Companies landing on these pages are probably already aware that SEO is important — they just need a little push to get to that first page (this is where you come in). 
When you do reach out, do so as personally as possible, in a way that demonstrates you've done some homework and you're familiar with the company and what they do. 
If possible, try to reach a decision-maker and address them by name. Sending a form letter to an "info@" email address is about as useful as throwing a paper airplane in the general direction of their office. 
Leverage tools like LinkedIn and other social media platforms to find the person at the company who is most likely to make decisions about marketing strategy. 
And since you're selling SEO, you should most likely be reaching out to CEOs and marketing directors — depending on the size of the companies. 
SEO Inbound Lead Generation Tactics to Get the Clients to Come to You
Regardless of how robust your strategy may be, relying solely on outbound tactics for a digitally-focused business will only bring in so many leads.
So let's dig in to learn how you can start making more leads come to you.
Doing SEO for Yourself — Practice What You Preach
Picture this: 
You walk into a neighborhood mom-and-pop coffee shop looking for a decent latte. There are no other patrons, and the barista is standing behind the counter drinking from a Starbucks cup. 
Do you feel confident about the cup of coffee this place offers? 
Probably not.
The same principle applies to SEO businesses. 
As an SEO professional, you have an opportunity to be your own best case study. 
If your business's website's SEO is terrible, how likely is it that a customer will trust you with theirs? 
So turn your strategic eye on your own business. 
If you were your own client, what advice would you give yourself? 
Your website needs to offer a genuinely superior user experience and function seamlessly. Regularly audit your website, conduct on-page optimization, and publish relevant content that helps boost your own rankings.  
Social Media Brand Building (LinkedIn, Twitter, Facebook)
As you know, any brand's digital footprint doesn't end on a website. 
Customers will find you on multiple platforms and channels — including social media. 
It's essential to have a solid presence on these channels so that when your audience finds you, they can get a sense of who you are and what you offer. 
It's not always enough to just publish content from your brand's profiles. 
You need to demonstrate that you're a thought leader on social media. 
Here are a couple of ways to do just that:
Publish social media content that educates 

Post case studies

Take an active role in responding to questions in comments

Keep up with industry trends
LinkedIn and Twitter, especially, are hubs for ongoing discussion about SEO. 
Try to engage both your brand and your personal profile on social media to build up your personal reputation and your company's.
YouTube SEO & Content Marketing 
Gone are the days where SEO and content marketing specifically apply to the written word. 
Video has steadily worked its way up from a niche reserved for entertainment and random tutorials to become an essential content marketing and SEO platform. 
Youtube is the second-largest search engine in the world — right after Google — which makes it a gold mine for opportunities.
As professionals look to try out new tactics to market their business, they're just as likely to turn to a video tutorial on the topic as they are to turn to a blog. 
In fact, some people prefer to watch videos because of their learning style or the fact that they can have a video running side-by-side while multitasking.
If you're making authoritative video content that ranks well and answers users' questions about SEO, you're going to find yourself with an effective inbound marketing channel.
Having well-made content doesn't just help you rank on YouTube, either. Videos appear in about 62% of Google SERPs. Of those videos, 80% are hosted on YouTube. 
Pro tip: Be sure to use a rank tracking tool that monitors YouTube to keep an eye on the content that's performing well. 
Encourage Referrals from Current Clients 
Word of mouth and referral-based marketing are some of the oldest marketing tactics out there. 
It comes back to the principle of "ask, and ye shall receive." Because if you ask your clients for referrals, chances are, they're likely to offer them. 
Clients are more likely to do so if you've already won their hearts, trust, and have gotten them results.
You'll only be able to leverage referrals if your clients are thrilled with their results. 
You can also ask your clients to review your business on Google, Facebook, Yelp, and any other ranking sites you can think of. 
As you're probably aware, positive reviews can help your search ranking in addition to your brand's online reputation. 
Paid Search (Google Adwords)
As an SEO pro, you're uniquely aware of how paid search dominates the top of SERPs. While touting the importance of organic SEO, it can be frustrating to see your efforts consistently knocked down the page by a competitor with an ad budget. 
That said, there's no reason you shouldn't leverage paid search for your SEO business to get more leads and clients. 
There's some speculation that performing well in paid search can also boost organic search in a roundabout way. 
Google won't automatically bump paying advertisers to the top of organic results. However, businesses who perform well in PPC campaigns will typically see a boost in traffic to specifically qualified searchers you've selected through careful targeting. 
These users are less likely to bounce and more likely to spend a longer time on your site's multiple pages. This behavior, in turn, signals to Google's organic algorithms that your site is authoritative in your area of expertise and can potentially boost your organic rankings. 
Outbound Methods to Get a Controlled-Flow of SEO Leads
Outbound strategies to get more SEO clients will usually be done in the form of outreach.
That method of outreach is up to you, but there are a handful of channels that work.
Here's are some of my personal favorites that I know work:
Cold email

LinkedIn outreach

Cold calling
But the list could go on… 
You want to find the channel that your ideal client is using the most — and reach out that way.
How to Convert a Lead to a Paying SEO Client — Creating Your SEO Sales Playbook
Regardless of the strategies you use to get your SEO leads, you'll need to have at least a rough idea of your "sales playbook" that you can use to convert leads to clients.
Whether you've acquired and qualified your leads through inbound tactics, outbound tactics, or a mix thereof, the next steps are similar. 
You now need to work on nurturing that lead from a cold or lukewarm status — to a point where they're ready to sign on as a client. 
Here are a few steps you should take to structure your SEO sales funnel and boost your conversions. 
Book a Discovery Meeting with the Lead
First things first: 
You need to get the lead to commit to a conversation. 
This is probably the most challenging part of any sales process, and SEO leads are no exception. 
With outbound leads, you need to establish that you have a valid reason for reaching out. Show you've done some homework, and you understand who the prospect is and what they do. 
Think of all the messages you receive from random sales reps on LinkedIn and in your inbox. How many of them do you respond to? 
If you're like me, very few.
With inbound leads, you received their contact information because they gave it to you. While this theoretically makes your outreach easier, you should still take the time to do some basic research about the individual and their company to anticipate their needs and potential objections.
Regardless of where your lead came from, your goal is to book a discovery meeting.
Getting that first meeting will be crucial to booking your calendar full. 
To get a meeting on the calendar, you'll want to be upfront and honest but not pushy. 
Introduce yourself and your company, tell them what you do, then prove it with a short case study.
Then most importantly, ask them if they'd be interested in discussing how you can help them further.
Once they agree, it'll be time to run the discovery:
Run the Discovery Call 
Your discovery call should be just that:
Primarily focused on discovery. 
You and your lead should theoretically have both had some time to prepare, but neither one of you should expect a firm commitment or a ton of work done in advance. 
The goal is to have some dedicated time for an honest conversation about the prospect's needs and objectives — and your ability to help them reach those goals. 
The discovery phase isn't about selling the prospect. It's about seeing if they're a good fit and learning about their goals and problems. 
But although the goal 90% of the time isn't to sell on the first call, you should have an elevator pitch and case study ready to help the prospect know how you can help.
Then you can prepare a customized proposal that aligns with the prospect for the next meeting.
Before the call, you may want to conduct an initial information-gathering audit of the prospect's website. Sharing the results of this audit demonstrates some immediate value and shows the prospect you're genuinely interested in their specific needs. 
Before you dive into this nitty-gritty, however, take some time to ask questions and build rapport. 
Get to know how your potential client speaks, gauge their level of understanding for SEO topics, and tailor the rest of the conversation accordingly. 
Ask questions to learn: 
Their goals and motivations when it comes to SEO, marketing, and business as a whole

The pain points they've encountered so far reaching their goals

Their expectations in terms of timelines for results

Any other stakeholders and decision-makers who should be involved in a more in-depth conversation
You might want to consider giving an anecdotal case study based on an answer they shared — something to the effect of "I understand where you're coming from when you say that, we have another client who…" 
This can go a long way in the eyes of a prospect. 
At the end of the discovery call, you want to book a more detailed proposal meeting (where you'll present a strategic plan with value-based pricing). 
Be sure to include any of the other decision-makers during this next conversation. And come prepared to address any potential objections to an SEO partnership. 
Proposal Meeting — How to Do it
This is the meeting you want to close on.
When you have a proposal meeting on the calendar, you want to get to work preparing for the meeting so you can maximize your chances of success.
First and foremost, you need your pitch.
You want to demonstrate everything you've learned about the company so far, including an initial audit of their digital presence and any SEO metrics you're able to provide about where they stand. 
But most importantly, you want to angle your proposal so that it relates to the prospects' goals and pain points.
Next, you want to talk about the process and illustrate what's involved. You'll want to make specific strategic suggestions for the client's business and walk them through what to expect in terms of timeline, deliverables, reporting periods, and results. 
Then, you'll want to back up your claims by providing relevant case studies. 
Show how you've served your past clients and the types of results you were able to provide, and where that client stands today. 
If possible, choose a case study that matches the prospect's needs, industry, or overall business position — anything that helps the prospect visualize getting the kinds of results they see in the case study. 
Similarly, testimonials can go a long way in swaying a potential customer's decision.
Your proposal meeting is just as much about you selling the client as it is about building trust and desire. In this context, testimonials work just like referrals do in a job interview. 
Finally, at the end of the meeting, you'll want to discuss pricing. Give the prospect a sense of what they should expect to pay for your partnership and what type of return they can expect.
Be sure to make your pricing structure as value-based as possible — meaning:
For X investment per month, you can expect about Y ROI.
At this point in the conversation, the prospect might want some time to think about your proposal before making a decision. Or they'll close themselves.
If they haven't been closed during the proposal meeting, ask them:
What else do you need to see or know before our partnership?
Then, you can listen and schedule another meeting to cover any missing talking points. (But if you do need to do this, it's a sign that your discovery didn't cover everything you needed to.)
Common SEO Objections to Overcome
There's also a decent chance at this point that you'll encounter some resistance to investing in SEO. 
You must be aware of the potential objections that a prospect might raise and be prepared to address them. 
As an SEO professional, here are the five most common objections I hear and how to address them during a pitch conversation.
"SEO takes too long"
It's true, SEO doesn't have an overnight impact. 
It isn't a "growth hack," and it's not meant to deliver quick wins. SEO is intended to provide sustainable, long-term growth that takes your business's digital presence to the next level and keeps it there. 
While timelines are always a concern with any investment, SEO can take slightly more time upfront to deliver an increased ROI over a more extended period. 
Setting expectations will be key here.
"SEO ROI can't be measured"
This is just patently untrue. While there's not a single "magic number" that indicates SEO success, there are numerous ways that SEO contributes to business success.
SEO helps your business by contributing to your full inbound digital marketing strategy.
With an optimized site and regularly published new content that accounts for SEO best practices, you'll see an increase in qualified traffic to your site. 
As those users spend more time on your site, they're more likely to engage with your content.
As an SEO, you should be sending your clients detailed reports that illustrate your website's ranking keywords, your top-performing pages, and how your website is overall serving your business goals. 
Investing in a rank tracker software is a must if you're a freelancer or agency managing various websites.
Just take a look at this PRT client report:
It's very simple to take these numbers and map them back to new leads, conversions, and revenue. 
"We've seen more success with X channel, so we're going to invest there"
Just because one channel is working well now doesn't mean it's the only channel you should use. 
Putting all of your eggs in a single basket isn't going to serve your strategy long-term, especially in the fast-paced world of digital marketing. 
Think of it this way: 
If you're looking to eat better, you can't stop eating a variety of food groups. 
If you go on an all-broccoli diet, you might lose weight in the short term, but you'll struggle to maintain that weight and reach other health goals. You need all of your nutrients in the right balance to meet your goals and maintain your success.
Your business works the same way. 
You need a balance of tactics to ensure that you'll have a fully inclusive digital strategy driven by the insights only SEO can offer to help improve your full digital footprint. 
Closing the Client
When you've completed the proposal and followed up, it's time to close the deal. Follow up with the client on the timeline you specified during the pitch meeting and offer to answer any additional questions. 
At this point, you can also work with the prospect to make a deal. You might choose to offer them a free trial or present multiple options that might help the client agree to an initial price commitment and upgrade later for additional services. 
The Secret to SEO Client Retention — Reporting Key KPIs
Once you've signed a new contract, you have an equally challenging task ahead: 
Retaining the client. 
The best way to do this is by demonstrating the value that you're providing your new client through regular reporting of key performance indicators. 
Just like this PRT report: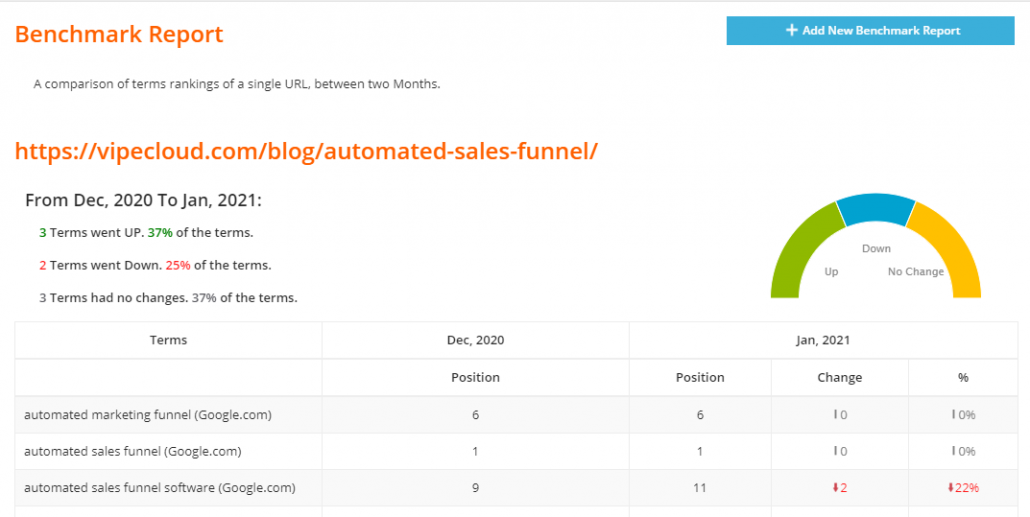 Your reports should include a range of SEO KPIs that demonstrate how your efforts have provided value to the client.
With SEO, data tells a story. 
With the right reporting tool, you can leverage industry-leading algorithms to deliver reports to clients as frequently as necessary. 
As an SEO professional, you should also look for a tool that allows you to white-label reports easily so that clients know it's your business that's providing them value.
Try ProRankTracker to Please Your SEO Clients Today
ProRankTracker offers robust SEO features that help you improve your offerings and extend more significant value to customers. 
Because ProRankTracker allows you to simplify and automate reporting, you're also able to spend more energy refining strategic decisions, improving your overall business, and marketing your business to new clients. 
ProRankTracker monitors all leading search engines and offers a right-priced solution that makes it easier for you to position your business effectively and convert more clients. 
If you want to put these capabilities to the test, sign up for a free trial that lets you test the many capabilities of this powerful tool for your SEO business.
https://proranktracker.com/blog/wp-content/uploads/2021/03/seo-clients-seo-leads.png
321
845
Jacob Statler
https://proranktracker.com/blog/wp-content/uploads/2020/11/prt-blog-1-1.png
Jacob Statler
2021-03-15 21:46:48
2021-06-19 09:24:11
How to Get More SEO Leads to Convert to SEO Clients 101