13 Crucial SEO KPIs to Start Monitoring SEO Performance
In this article, I'll be going over 13 crucial SEO KPIs that you need to be tracking if you want to climb the SERPs and dominate your competitors.
Search-focused marketing is a marathon with numerous factors that are going to take you through highs and lows.
And search engine optimization is a long-term strategy that needs to be fine-tuned as time goes by.
So how do you know how well your SEO campaign is doing and when changes need to be made?
That's exactly what we'll be going over today.
What is a Search KPI?
"KPI" stands for "key performance indicator."
A search KPI (also SEO benchmark or SEO KPI) is a metric used to measure a website's performance in search.
And SEO KPIs may be a bit more complex than key performance indicators for other marketing efforts because there is a virtually endless list of ranking factors used by search engines.
SEO efforts are hinged largely on creating organic results by making qualitative changes to get a quantitative result. 
In other words, you're optimizing your website's performance from multiple angles:
Publishing content, making sure your design is UX-focused, optimizing for various devices and types of search, and working on off-page tactics — all for the goal of performing well in organic searches. 
There's also no single measure of SEO performance and no single set of goals that every business is trying to achieve. Maybe you're aiming for national rankings, or maybe local searches are more important; it all depends on your business's goals.
When measuring your SEO KPIs, there are a lot of different numbers you'll look at and some careful analysis you'll have to do to determine if your efforts are paying off. 
Monitoring SEO Performance — Getting Started
When you set out to start monitoring and improving your SEO performance, you'll want to make sure you've set yourself up for success.
And it all begins with your goals, strategy, and using the right tools to track your desired search engine metrics.
Set Goals
Like any other marketing effort, you'll want to set carefully targeted goals —  goals that are specific, measurable, attainable, relevant, and time-based. 
When setting your goals, keep in mind that SEO is a long-haul effort. Your goals need to be realistic because SEO results don't come overnight. Sometimes you can expect search KPIs to not budge for a full quarter. 
With that in mind, map out the areas you'd like to see improvement, and set specific goals that can be tracked with the right SEO metrics.
Make a Plan
Without the right map in hand, you'll never reach your destination.
So, in addition to your goals, you'll need a path to reach them.
And that all starts with making sure your strategy is aligned with goals over the next month, quarter, and year. 
While SEO is a long-term marketing effort, you should still set some key shorter-term objectives. 
Here's an example: 
You might have monthly goals of publishing two blogs a month, redesigning one webpage, or reaching out to 100 potential backlink opportunities. 
As you gradually accomplish these short-term goals, you'll also be moving the needle on your long-term SEO goals. 
Tools You Need
If you're going to measure performance, you're going to need the proper SEO tools to do so. 
To start, you'll want to make sure that you have Google Analytics and Google Search Console installed on your website. These two tools are free and generally considered best-in-class ways to track the basic traffic and search metrics on your website. 
You'll also want to install Bing Webmaster tools to know how Bing is comparing to Google.
Tools directly from the search engines themselves are great because who better to get data about your site from than the ones in charge of the algorithms?
You may also want to do a little bit of research into some additional tools to help you with keyword research, backlinks, and deeper page analytics. 
There are all kinds of tools that can help in your SEO tracking efforts.
One of the tools you'll need to track your SEO KPIs is a keyword tracking tool like ProRankTracker.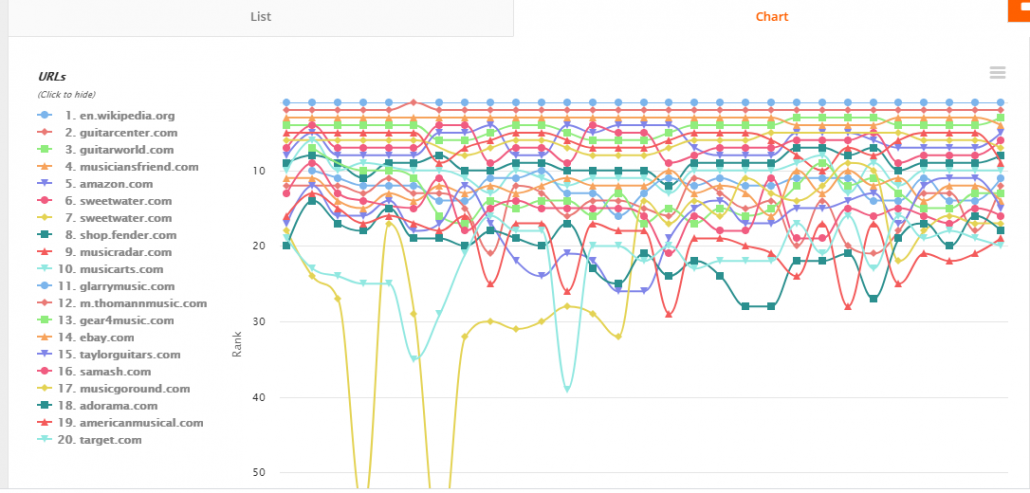 With PRT, you can directly track your keyword rankings on a daily basis and do audits on websites — all with extreme detail.
SEO KPIs That Matter
So, why do you need to benchmark your SEO?
All of your SEO performance metrics are proof of one thing: 
How well your website is pleasing the search engine algorithms — but more importantly — the search engine users.
So without further ado, it's time to talk about the KPIs you need to be tracking. 
#1: Domain Authority
Domain authority is a number between 1 and 100 that gives a general "ranking" to how authoritative search engines determine your site to be. 
A higher search engine ranking score indicates that your site is more "authoritative," meaning your site is generally more likely to be higher up in the SERPs.
Set a target number for yourself, but there are a few things to keep in mind about domain authority. 
First and foremost, keep your expectations realistic. Only the biggest sites, like Google itself, receive a perfect 100. Most well-made, well-ranked sites get numbers between 30 and 60. 
But here's the most important thing to keep in mind:
Take "domain authority" numbers with a grain of salt.
Domain authority isn't an official measurement recognized by search engines, which makes it the lesser-important of the search KPIs.
Every tool uses similar factors to determine a domain authority number — and it mostly relies on backlinks.
It's also perfectly common for different tools to give different domain authority scores.
#2: Backlinks
This number of backlink referrals to your website from other sites is a strong indicator of your site's authority.
Every backlink from other domains linking to your site is counted as a vote in favor of your site in the eyes of Google.
But here's the thing:
The goal is to get these backlinks naturally because if someone naturally links to your website as a reference, it's a good sign your site is an authority in your industry. (Although much of the time it happens manually.)
Therefore, a higher number of backlinks, especially from reputable sites, lets search engines know that your site is doing things right.
So the idea is (or at least what Google thinks), if your website is attracting a lot of backlinks, then it's an indicator of an authoritative site that deserves high rankings.
This is the metric you usually have the least direct control over but is ironically one of the ones that matter the most for your rankings' performance. 
3. Ranking Keywords
The number of keywords your content is ranking for is a pretty straightforward measure of how well your SEO efforts are paying off. 
If your content is ranking well for a lot of keywords, it probably means that you're getting a lot of organic search traffic, too.
However, it's important to not just rank for just any keywords. The keywords you target should be:
Relevant to your business and services

Matching the type of search intent that you're looking for

Keywords that people are actually searching for
That last factor is really important. Because if you're ranking well for a bunch of keywords that nobody is searching, your rankings aren't getting you any traffic.
Think about it like this:
Even ranking sixth or seventh for a high-volume set of keywords is ultimately going to drive more traffic than ranking first for keywords with zero volume behind them. 
So how do you keep track of all of your keyword rankings?
That's where a keyword rank tracking tool like ProRankTracker will come in.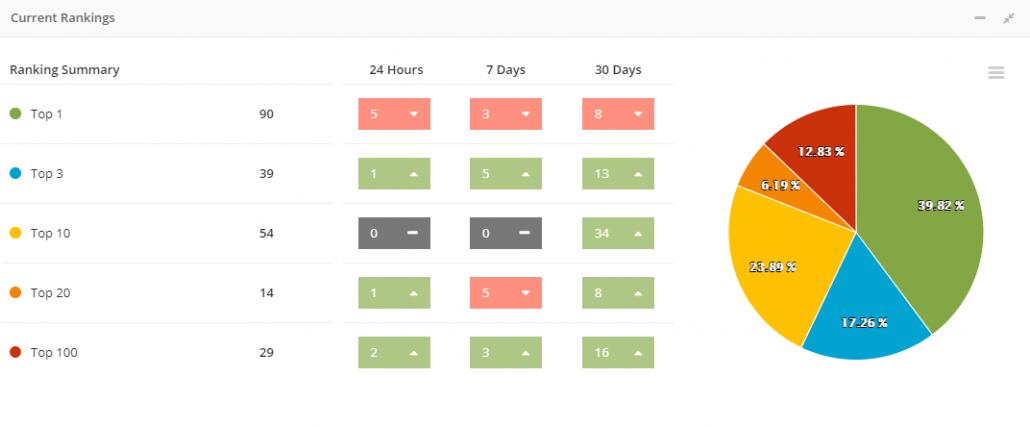 Simply plug in your domain name and the keywords you want to track — then watch your most crucial keywords move around in the SERPs on a daily basis.
#4: Branded Searches
Branded searches may be the strongest, genuine indicator of SEO success.
It's not enough to just rank well for industry keywords that all of your competitors are after. 
One of your primary goals should be to rank well on any searches that contain your brand name. 
Because building up your site's SEO reputation is great. But building a brand will live on through any Google update.
Keeping tabs on your branded searches ensures that you're at the forefront for your users and lets you know how well your awareness campaigns are paying off. 
If your branded keywords are increasing in monthly search volume, that means more people know your name and are looking for you! This should be one of a business's ultimate search goals.
Showing Google that people are directly searching for your brand is an excellent way to prove that you're a real authority in your industry.
#5: New Organic Traffic 
New traffic coming to your site from organic search is another strong indicator that your SEO efforts are paying off. 
It's also likely where you'll start to see more conversions, natural backlinks, and, most importantly — revenue.
When measuring new organic traffic, be sure to compare month-over-month and year-over-year to keep pace with how your site is doing overtime.
This can be done easily through Google Search Console.
#6: Click-Through Rate

If users are visiting your site by clicking on your site from search results, it's an excellent sign that:
Your meta titles and descriptions describe what searchers are looking for

You're doing a good job attracting qualified leads

And most importantly, your website is offering value to the user
Having high click-through rates is especially important because if nobody ever clicks on your website, then you'll never get organic traffic. And no organic traffic means no organic leads or sales.
#7: Bounce Rate
Google loves this one. You can check it easily using Google Analytics.
A bounce rate is a measurement of how many people are actually staying on your site after they organically click on it.
This measurement determines how many of the sessions on your site visited only a single page before exiting. 
Usually, Google will choose to lower the rankings of pages with higher bounce rates.
A high bounce rate could indicate:
A poor user experience on your site, from unfriendly design, pop-ups, or unclear site flow

People aren't finding the information they're looking for and don't feel they'll find it on your site

Or, possibly, people are quickly getting the information they're after and have no incentive to stay on your site or continue engaging with your brand
Ideally, you want your bounce rate to be low, and your pages per session and average session duration to be high. So let's talk a little more about these metrics next. 
#8: Pages Per Session
Pages per session metrics show you how many pages each visitor views during one session on your website. 
More pages per session indicate your website visitors are interested in the content of your website. 
Naturally, we can infer that greater interest leads to a greater chance of conversions, purchases, and brand loyalty.
Ideally, if a user were to visit multiple pages on your website, they'd be more likely to take action. So when you're optimizing your pages, make sure you've got a clear flow in mind that leads users to your desired conversion action — possibly, a sign-up, consultation request, or purchase. 
#9: Average Session Duration
Your session duration carries a similar weight to your pages per session in the eyes of Google. 
If you're taking the time to publish content, you want to know that your site visitors are actually taking the time to read your content. 
That's why it's important to look at your session duration alongside pages per session. 
If users are blindly clicking around on five or six pages but only spending a few seconds on your site, that's a red flag about your user experience. 
If you've got interesting, high-value content combined with a good experience that directs users down a clear path, you should see increases in your session duration alongside your pages per session. 
#10: Top Entrance & Exit Pages
It's not enough to just know that users are visiting your site and spending time there. 
It's also good to know how they're getting there and when they're leaving.
If users are arriving on key pages or blog content and exiting on pages like completed checkouts or thank you pages, that's a good indication that your user experience is flowing as intended. 
If you see a large number of entries on a random page or exits on a page you thought would be a highly valuable one, take a look at your overall site design and internal link structure to reoptimize accordingly. 
#11: Crawl Errors, Redirects, and 404s
When it comes to SEO benchmarks, you can learn a lot about the work that needs to be done from the errors you encounter. 
A large number of permanent 301 redirects and 404 errors shows that your site isn't being used well, and your users are likely to get lost. 
If you leave these issues unaddressed, Google will, understandably, penalize you for those errors. After all, Google is looking for useful content. 
So if users are lost in a tangled web of redirects and broken links, your user experience signals to Google will be awful. 
On the other hand, a crawl error shows that Google and other search engines will have difficulty crawling your site. And when Google's crawlers can't crawl your web pages, then your pages won't get indexed properly in the SERPs.
Fixing these errors quickly and permanently is essential.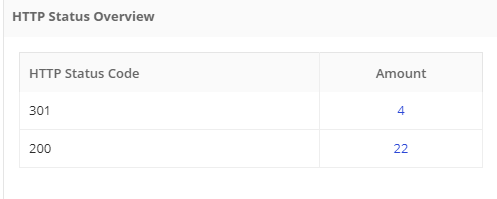 Using a site audit tool, like ProRankTracker, is an easy way to identify these errors.
#12: Social Interactions
While social media and SEO aren't necessarily directly related, you can definitely leverage social media to benefit your SEO strategy.
An easy win to reach new audiences? 
Getting social media users to do the work for you. 
When you publish new content, make it as easy as possible for users to share that content with their social channels. This helps establish that expertise and authority that your potential customers — and search engines — want to see. 
You should also use your own channels to syndicate your SEO content. 
When you publish a blog, share it to social media. Pay attention to comments, likes, and shares. These user-signals will give you a good sense of whether or not your content is appealing and useful. 
When users find your content useful on social media, then there's a good chance that users from search will like it, too.
#13: Leads & Conversions
Ultimately, all marketing efforts come back to these factors. 
This one is easy:
The goal for most businesses doing SEO is to increase their bottom line. 
Luckily, SEO tracking tools make this pretty straightforward. 
Within Google Analytics, you can set up funnels and conversion goals and easily track how many users are completing those conversions. 
If you've got a large number of users entering your site organically and taking a conversion action, that's a surefire indication that your SEO efforts are working to gain leads for your business. 
Local SEO KPIs
If your business serves a specific geographic area or focuses on driving traffic to brick and mortar locations, you'll also want to track some specific local metrics: 
Local search rankings

Listing site citations and rankings 

Rankings on "near me" keywords

Reviews

Website traffic by geographic location. 
Whenever possible, add a geographic layer to your reporting to ensure your searchers and site visitors are relevant to your specific geographic area of interest. 
How to Improve Your SEO Performance Metrics
Now that you know what search KPIs to track, you need to start the specific tactics it'll take to move the needle and see improvement on those numbers. 
Consider your Copy
Optimizing your website copy is probably the simplest step to seeing some initial improvement in your SEO performance. 
Take a look at: 
Use of title and heading tags on your page

Accurate and descriptive metadata 

Unique, non-duplicative content on each page

Keyword usage
Make sure that when you're looking at that last point, you're using keywords naturally within sentences, rather than creating a clunky wall of random keywords. 
Stuffing your pages with every keyword from your keyword list will actually hurt more than help.
Remember:
The goal is to create content that people actually want to read. 
Prioritize User Experience
As search engines and web development capabilities advance, best practices for user experience, SEO, and compliance with regulatory bodies like the ADA and GDPR are all beginning to align. 
Overall, if your site is easy to navigate, loads quickly, and uses appropriate tags, your prospective customers — will thank you for it. 
Best practices are considered to be best practices for a reason. They're what users want and expect. 
Google and other search engines tend to favor well-designed, well-built sites.
So when you're working on optimizing your site, aim for a clean design with minimal clutter.
Publish Valuable Content
At the end of the day, SEO comes down to one thing:
Helping and providing value to the user.
So if your main goal is to benefit the user, you'll do just fine as long as you continue to monitor and reoptimize around all of the SEO benchmarks we discussed in this article.
Make your Metrics Count. Start Tracking Your Rankings Today.
Monitoring SEO performance isn't as simple as checking your site and looking for green lights. 
You'll want to regularly check your search KPIs and monitor their progress over time.
Looking for an easier way to track your SEO KPIs? Start your free trial with ProRankTracker today.
https://proranktracker.com/blog/wp-content/uploads/2020/11/KPIs-1.jpg
1260
2240
Jacob Statler
https://proranktracker.com/blog/wp-content/uploads/2020/11/prt-blog-1-1.png
Jacob Statler
2020-11-11 10:52:06
2022-11-04 02:42:44
13 Crucial SEO KPIs to Start Monitoring SEO Performance