Website Audit Checklist: How to Do an SEO Audit Like a Pro
In this definitive guide, I'll show you exactly how to do a website audit with my proven website audit checklist.
Before any SEO technique is implemented onto a website, it's crucial to have your site's foundation squared away.
You wouldn't start building a house on a weak foundation, and it's the same thing when it comes to doing search engine optimization on your website.
So, where should your search-focused strategy begin?
It's simple. Running an SEO audit to diagnose issues with your site's foundation is a great way to get a quick boost to your rankings. 
Then when everything is fixed, it'll give you a clear path of everything you need to fix before moving forward with an SEO strategy.
Things to Consider Before Beginning Your Audit
Why do an SEO audit?
Before you jump in to do an audit, whether it's for your website, or a client's, you'll need to consider some things before moving forward.
Note: As you go through this audit for a website, you'll want to make sure you're listing out all of the issues you find on a spreadsheet.
Who is the audit for?
Who your audit is helping will directly impact your goals and future strategy.
An SEO strategy for a SaaS company's website will differ from an e-commerce company's website.
So to begin the process, you'll want to lay out the goals and understand the sales process for who you'll be doing the website audit for. (This will be useful later when you create more detailed goals.)
But first:
If you're doing an SEO audit for a client, you'll want to make sure you're granted access to their Google Search Console, Analytics, and content management system (CMS).
What type of website is being audited?
The steps you take may differ depending on the type of website you're auditing.
And the main difference that I mean here is local businesses will have slightly more steps to cover since they'll also need their Google My Business (GMB) squared away.
However, for most businesses that operate fully online, the SEO assessment process will be relatively the same.
Helpful Tools to Use For an SEO Audit
The next thing you'll need to keep in mind before starting your audit is the tools you'll use to make this process a ton easier.
But no worries, the most necessary tools for this audit will be entirely free thanks to Google.
Google Search Console & Google Analytics
There are a lot of fantastic, useful SEO tools out there. But thankfully, the best and most necessary webmaster tools are given to you for free by Google. That's right. A free SEO check tool from Google itself. What more can you ask for?
Search Console and Analytics, which you'll want to make sure are set up, will be key for optimizing your site and making sure Google's crawlers reliably index your web pages.
I'll be going over how to set these up in the next section.
Site Audit Tools
A simple hack for speeding up your SEO audits?
Site audit tools.
Site audit tools like ProRankTracker's allow you to quickly see technical and on-page issues with your site — all in one place.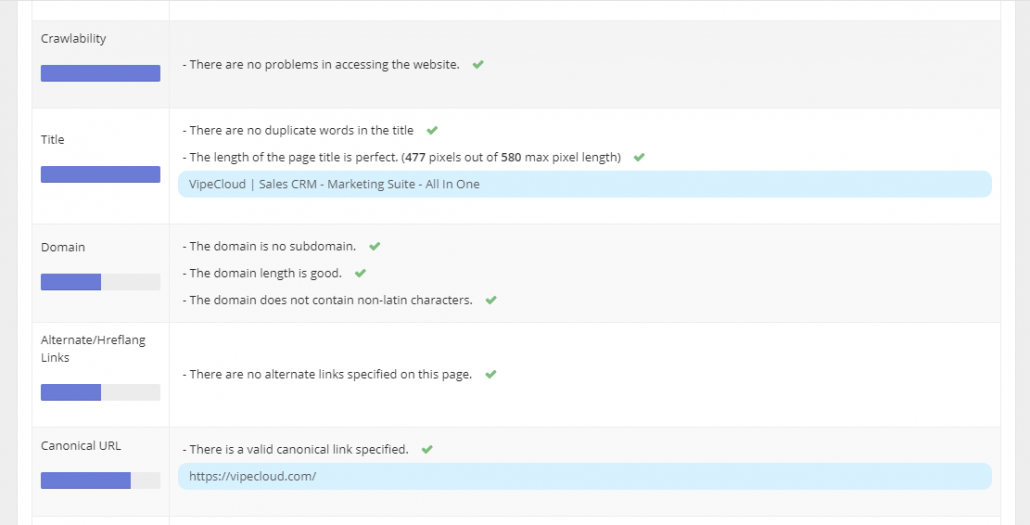 And if you want to try it out for free for the first 500 URLs, you can.
With the ProRankTracker Site Audit tool, you can inspect a site's tech and meta data, site structure, content, and pages. All of these things will save you a load of time — as opposed to doing them manually.
Below is a quick tutorial video to show the basics of using the tool.
Keyword Research Tools
Keyword tools will come in handy when we get to the content stage of the audit.
There are a variety of tools used for doing keyword research, such as Ahrefs. And while they're not necessary to run the audit that we'll be going over, they do certainly help.
PRT's Keyword Suggestions and Rankings Discovery tools also offer various insights into keywords to implement into your SEO strategy.
Below is another quick tutorial to show you how to step up your keyword research game with the PRT keyword tools.
Page Speed Tools
As I'll discuss in this guide, page speed is a crucial part of having a search-optimized website.
To test a website's page speed, you can use Google's very own Page Speed Insights tool, or if you're using the PRT Site Audit tool, you'll have quick access to all of the page speed scores across your site.
Step #1: Check Your Analytics
The first step to your SEO audit should be creating or making sure Google Search Console & Google Analytics are set up for your site.
Setting Up Search Console
When you're adding a website property to Google Search Console, there will be a couple of things you'll want to make sure are squared away.
Make sure the correct URL is submitted.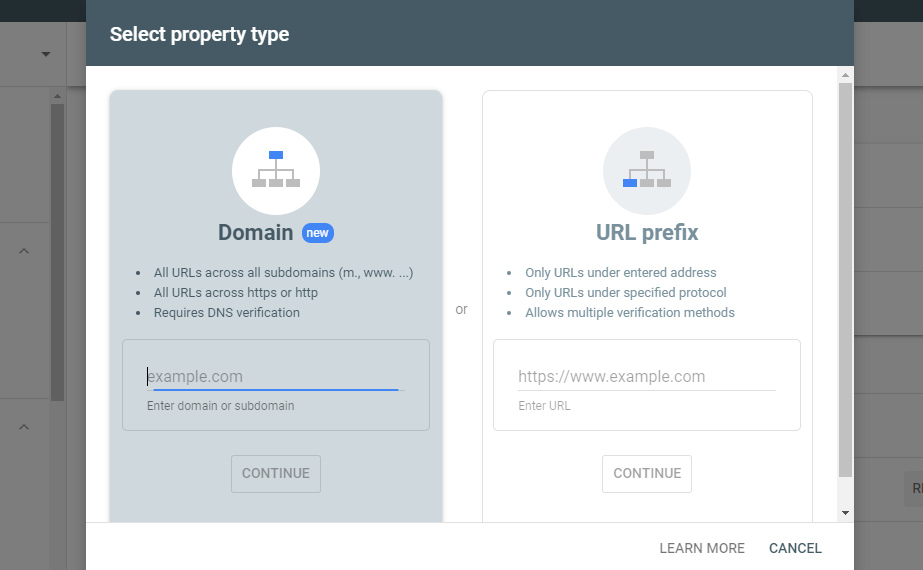 When you're adding your property, go over to the box under "URL prefix" and enter in the version of your site that it redirects to (whether that's with the "www" and/or is the "https" or "http" version).
Make sure the sitemap is submitted without errors.
An easy way to make sure a website is visible to Google is by submitting an XML sitemap to Search Console. 
So make sure that your sitemap is submitted and without any listed errors.
Don't have your XML sitemap created yet?
No problem.
Creating a sitemap on WordPress is easy. All you need is to have the right plugin downloaded onto your site.
Most people use the Yoast SEO plugin, but you can use others if you wish. Once you have the plugin activated, all you have to do is to enable your XML sitemap by clicking on "SEO," then "General," and then "Features." And that's where you can turn the feature on and off.
If you don't have WordPress, many other content management systems generate their sitemaps automatically. But if yours doesn't, you'll have to generate one manually.
Google Analytics 
And then, with Analytics, you'll want to make sure the correct URL and conversion goals are set up.
Setting up the correct URL.
To make sure the right URL is connected to Google Analytics, go over to "Admin" in the bottom left corner. Then click on "View Settings" to the right of your screen.

Here, ensure your site's correct version is selected (the one that your website redirects to).
The goals you want to track will depend on the website's business-related goals. But to make sure goals are set up, or to add goals, go to "Admin" at the bottom left corner of the dashboard. Then click on "Goals."
Here, you can add new goals or view the ones already set.
Step #2: Fix Your Primary On-Page SEO Issues
The technical and on-page SEO of your website is the bread and butter of your site's foundation.
They'll also become the primary core issues of your website — if mismanaged.
The list of on-page and technical SEO issues can get pretty long, but here's a simple website evaluation checklist to follow:
Make sure an SSL certificate is installed.

Make sure a

robots.txt

file exists to tell crawlers which pages to not index. Usually, you can find this file by searching "[domain name]/robot.txt"

Make sure the XML sitemap is included within the robots.txt file.

Make sure an HTML sitemap is created and included at the footer of the website to increase its crawlability.

Make sure all header and footer links are working.

Make sure internal links are linking the main pages together.

Make sure an about, contact, terms of service, and privacy policy page are created.

Make sure a Favicon exists (the little image at the top of the browser representing a website).

Make sure your website redirects to the preferred version when clicked on or searched.
Step #3: Fix Indexation Issues
Once you have your XML and HTML sitemaps squared away, your site will be easy to crawl and be indexed by search engines.
But you're not going to want all pages on your site to be indexed in the search engine results pages  (SERPs). So you'll need to make sure Google isn't indexing the pages it shouldn't.
And the pages that shouldn't be getting indexed are the ones that hold no value to searchers.
Here are the most common types of pages that you'll want to make sure aren't showing up in the SERPs:
Thank You pages

PDFs

Dates

Post Tags

Product Tags

WP directories

Category pages

Account pages

Other no-value pages for searchers
Thank You Pages & PDFs
Any Thank You pages on your website that a user lands on after any sign-ups or purchases shouldn't be getting indexed on Google. This is especially important if you have Analytics Goals connected to these pages, so you don't have searchers accidentally triggering your goal tracking analytics.
And with PDFs, most of the time, you won't want your PDFs getting indexed, but if they're already getting traffic, you might as well keep them alive on Google.
An easy way to check to see if Thank You pages and PDFs aren't indexed is by doing this:
Head over to your search bar. And enter in:
site:[your website's domain] [the type of page you're looking for]
For this example, I'll search our site and look for Thank You pages.

To deindex any page that you find, simply add the URL to your robot.txt file.
Once any URL is added to your robot.txt file, it'll probably take some time for Google to finally drop the page. So if it's a web page that you're in a hurry to deindex, you can use the Removals tool on Search Console.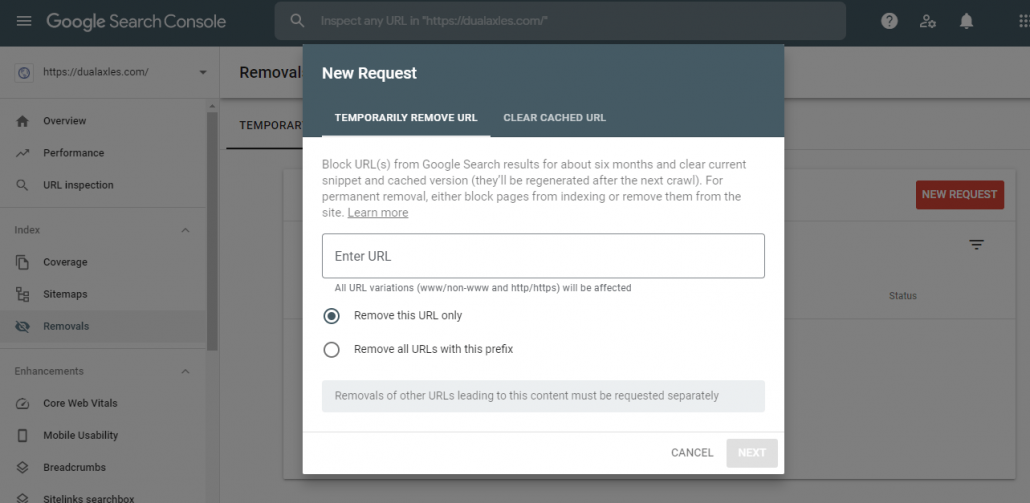 Deindexing Other Pages with Yoast SEO for WordPress
An easy fix for the other common pages that shouldn't be indexed can be quickly fixed if you have the WordPress plugin Yoast SEO.
To deindex certain types of pages using Yoast, go to the plugin on the dashboard and click "Search Appearance."

From here, you can turn on and off the pages you want to index.
Step #4: Organize Site Architecture
The next step for you to take for squaring a site away with an audit is fixing and organizing your site architecture. And what I mean by "site architecture" is URL structure.
A rule of thumb with URL structures that you'll want to keep in mind is keeping them as concise as possible. A best practice of mine that I always make sure of when I'm publishing a new blog post is to keep the URL as the keyword you're trying to target.
For example:
If you want to make a blog post about B2B marketing, it'd be best to keep it as just "/b2b-marketing."
Keeping the URL structure short prevents search engines from getting confused about the page's purpose and topic.
Categorize URL Structure
Having a categorized URL structure is an excellent way to help your site's UX (user experience) and keep pages organized.
Some common categorized URLs you might use are:
/blog/

/news/

/products/

/shop/
Important note: 
Sometimes it's best to keep your URL structure the same for older pages, even if it's not categorized (if it's getting traffic, you should probably keep it the way it is). Changing URLs of pages with traffic makes you run the risk of losing your rankings.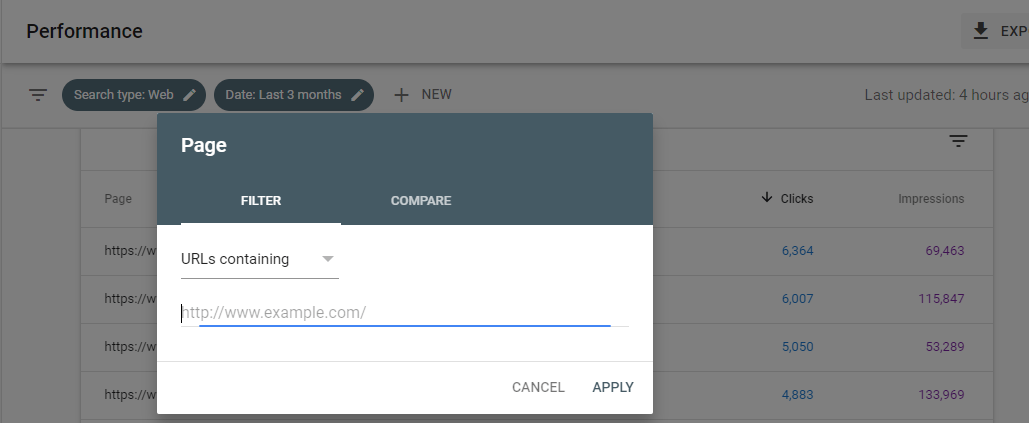 You can plug any URLs into your Search Console to see if it's getting valid traffic. If it's not, it might be best to do some restructuring.
Fix Uncategorized Pages & Posts
To find any uncategorized pages or posts on a site, you can do this quite easily with the Google Search bar.

Go to your search bar and search:
Site:[domain of site] uncategorized
From here, Google should show you all of the pages on your site that are tagged as "uncategorized."
301 Redirect 404 Pages that Have Traffic & 410 the Ones that Don't
To do this, after ProRankTracker crawls your site, click on the "Full" audit report. Then click on "Tech & Meta." From here, scroll down to where it says "HTTP Status Overview."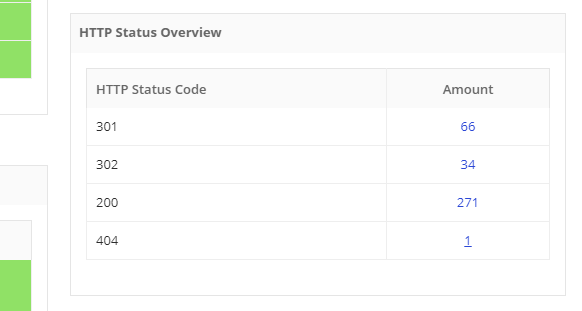 Once you click on the amount next to "404," you'll have access to any 404 pages.
The next step?
Find out if these pages have traffic, which you can do by looking at Search Console.
If it does have traffic going to a dead 404 page, you'll want to 301 redirect it to another relevant page on your website.
But if it doesn't have traffic going to it, you'll be best off killing the page with a 410, so you let Google know not to index the page anymore.
And all of this can be done by downloading some free plugins (if you're using WordPress).
Step #5: Optimize Page Speed (Aim for Under 2 Seconds)
According to studies, websites that load within 2 seconds have an average bounce rate of 9%, but a website that takes 5 seconds to load has an average bounce rate of 38%. 
And that's exactly why your website needs to be fast.
Optimizing your page speed can get pretty complex and technical — even for the experienced SEO marketer.
But thankfully, diagnosing a poor page loading speed is way easier than actually fixing it. And when you do get to fixing it, it's usually best to outsource it to a page speed expert (unless you want to spend the time learning to do it yourself).
To diagnose how long it takes for your website to load, you can use Google's very own Page Speed Insights tool or use the Site Audit tool.
And since I'm already talking about how to do a website assessment, using the PRT Audit tool is going to be the most convenient choice.
So to test the page speed to see if it's too slow, plug your site's domain into the tool of your choice and look at the time it takes to load the page. If it's over 2.5 seconds, it's a good sign that your page speed should be improved.
Step #6: Analyze Web Design
User experience seems to be all the rage these days when it comes to SEO. And for good reason, too.
Google has specifically said their main focus is on helping users. So that's why your website needs to be super easy-to-use — and that starts with web design.
Is your website mobile friendly?
Mobile users made up over half of the worldwide internet traffic in 2020.
So if you haven't got the memo yet, your website needs to be mobile-friendly.
To do a quick test to see if your website is, plug your website URL into Google's Mobile-Friendly Test.
Are there CTAs above the fold?
It's crucial to have a call-to-action above the fold on any page meant to offer anything. 
This means that a user should be able to click on your offer without scrolling down on the page.
Without doing this, you'll risk losing a ton of conversions in the future.
Is navigation easy?
This one is pretty simple.
Are your menu and footer links easy to navigate and use without getting lost? Would a new user be able to know how to find what they need on your site?
These are questions you'll want to keep in mind for your site's design.
Step #7: Clean Up the Content
Now that you know what you need to do to make sure your site's foundation is in good standings, it's time to focus on one of the most crucial factors impacting your website's SEO.
And that is doing a full evaluation of all of the content on your site. 
I'll start with the type of content that could be self-harming your efforts.
Duplicate Content
Google isn't too fond of duplicate content.
Duplicate content is multiple pieces of content on your website that serve a very similar purpose and target similar keywords. And you never want any page to use the exact same words.
The last thing you'll want to do is be competing with yourself to rank for a keyword.
So how do you know if you have duplicate content?
That's where Google Search Console comes in again.
To search for duplicate content, log onto your Search Console, then click on "Performance."
From here, click on different Queries, and then click on "Pages" to see if you're ranking multiple pages for the same query or keyword.
You'll have to use your best judgment here to see what pages are actually competing and which ones aren't.
But if you want an easier and faster way of finding duplicate content, you can use the Site Audit tool.
Just click on the "Content" section of the audit tool and scroll down to the "Duplicate Content" section.
Thin Content
Another type of content that Google isn't a fan of is thin content.
Thin content is exactly what it sounds like:
It's content that doesn't have much value — usually, with not many words on a page.
Blog posts, especially, shouldn't be thin content.
To quickly find pages on a site that are too thin, you can use the Site Audit tool again.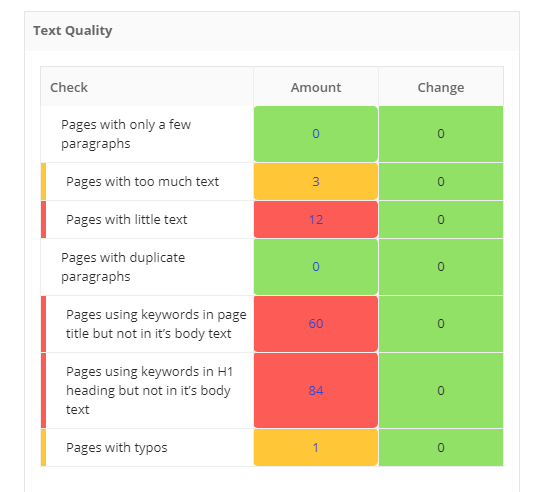 Click on the "Content" tab, then scroll down to the "Text Quality" section.
From here, you can analyze your low content pages and decide which ones are actually thin content.
The content that is truly thin should either have more content added to it or be taken down and 301 redirected to a relevant page.
Step #8: Check Backlink Profile
Just like on-page SEO, off-page SEO should also be given consideration.  Quality backlinks are known to be a surefire way to boost your SEO rankings.
It's true. But not all backlinks are helping you. In fact, some backlinks may actually be hurting your rankings.
So that'll be the next aspect of your site that you'll want to glance over.
To do this, you'll need a tool like Ahrefs to check out your backlink profile.
You should be cautious with any backlinks that look like spam.
But what's a spammy link that could hurt you in the SERPs? 
Any link that's irrelevant to your site's topic, has anchor text that doesn't make sense, or was manually created to manipulate search algorithms could be considered spam.
For example:
If you have a blog about computers: You check your backlink profile and find out you have 459 new backlinks from shady irrelevant sites, you'll want to consider disavowing those.
You can disavow any link you want with Google's Disavow tool.
But fair warning:
Random websites are bound to link to your site as it grows, and the truth is most of the time, they're harmless.
But in extreme scenarios, Google may take notice and penalize your site, which is what you need to be careful with.
Step #9: Spy on Competitor Opportunities
The next thing you'll want to audit for a website is actually not even on the site itself.
It's on your competitor's websites.
Chances are you have some competitors that are doing better than you in the SERPs — which actually brings up a golden opportunity.
You can learn a lot from your competitors (like how to out-do them). But my favorite way to learn from them is to analyze keywords they're ranking for so that I can cash in on the same opportunities.
How I do this is with Ahrefs (but you can use other keyword research tools).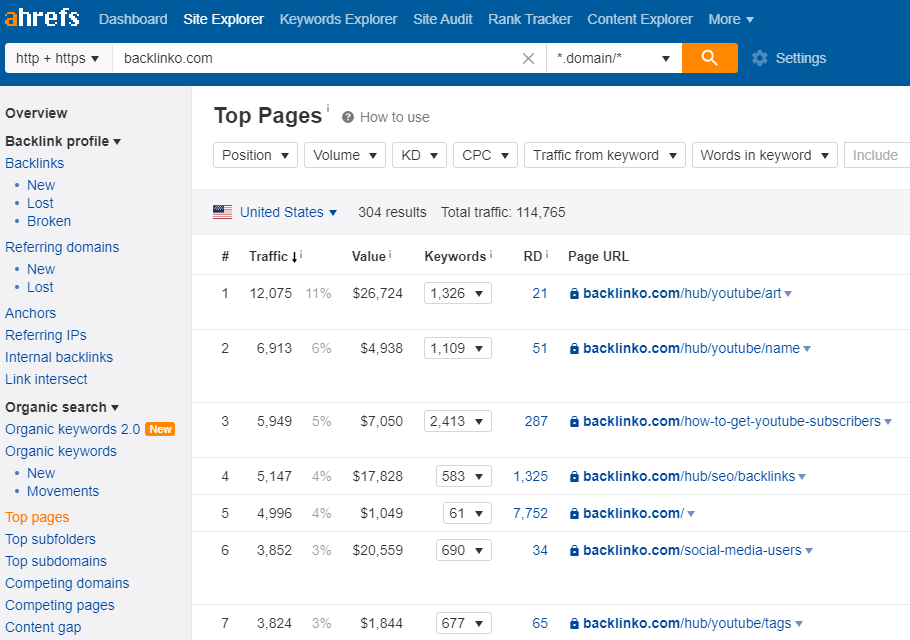 By clicking on "Site Explorer" and entering in a competitor's domain, I can click on their "Top pages" and see exactly what content topics are working for them.
Step #10: Set Up Rank Tracking for Keywords
Now, Imagine this:
You do all of this work on your client's website and you don't even know how exactly you've impacted their rankings.  Wouldn't that be annoying?
Google Search Console and Analytics are awesome free tools, but their abilities are limited when it comes to tracking your keyword rankings in detail.
Some SEOs like to use Ahrefs to track their keywords, but Ahrefs doesn't really do the best job with this.
If you want to keep track of your's and your competitors' rankings, you'll need a keyword rank tracking tool.
I like to use ProRankTracker to track all of my keyword rankings. 
With a couple of clicks of a button, I can have access to exactly where my web pages are moving around in the SERPs at any time.
And if you're doing an audit for a client, you can even white-label rankings reports to keep them in the loop with all of the progress you make for them.
Not sure if ProRankTracker is right for you? Try it for free with a 7-day free trial (no payment info required).
https://proranktracker.com/blog/wp-content/uploads/2020/11/5.3.jpg
1260
2240
Jacob Statler
https://proranktracker.com/blog/wp-content/uploads/2020/11/prt-blog-1-1.png
Jacob Statler
2020-11-04 11:32:37
2022-11-04 02:33:08
Website Audit Checklist: How to Do an SEO Audit Like a Pro