Top 11 Metrics to Measure Content Marketing Performance
If you spend much time researching how to get more traffic to your website, you know that content is king.
Content does 2 essential jobs:
It shows readers what your brand offers them.

It alerts search engines to the value of your site, allowing them to rank your site higher.
But how do you know if your content strategy is working? 
For most people, the answer to that question is "You don't." They don't have a reliable way to measure their content marketing performance, which keeps them from improving it.
Let's discuss why content marketing is essential and how to measure your content's performance (so you can write even better content next time).
We'll cover:
Why Content Marketing Is Important
Your content forms the backbone of customers' impression of your business.
In other words, it's essential! 
Using your content well can produce fantastic benefits for your website and your business.
In this section, we'll look at the 3 main benefits of content marketing. Then, we'll discuss how to measure your performance.
Get More Targeted Traffic
People always talk about getting more traffic to your website, but not all traffic is good traffic.
For example, let's say your company sells coffee beans, and someone looking for coffee tables lands on your website. Unfortunately, that traffic doesn't help you or them!
A well-executed content marketing plan can ensure that mistakes like that don't happen. You can get more targeted traffic by writing specific content around targeted keywords.
Targeted traffic means your website's content closely matches the searchers' intent. In other words, you have what they're looking for!
Rank for Important Keywords
Content is excellent, but not if nobody ever sees it. That's why one of the significant goals of content marketing is to rank for targeted keywords.
When you rank on the SERP for highly-specific keywords, you increase the chances that searchers will find and click on your URLs.
Just how important is a high SERP ranking? For example, the top Google position's average CTR (click-through rate) is 28.5%, but the average CTR of the 10th position is less than 3%.
In other words, your rank matters tremendously for your traffic. If you can find specialized keywords to target, you will see your CTR go through the roof! We'll discuss how to find those keywords later in this article.
Distinguish Yourself From Your Competitors
If you want to make sales, your potential customers need to know what sets you apart from your competitors.
For example:
Why should I buy your product instead of your competitor's product?

What extra value do you offer that they don't have?

Are you better than they are in service, quality, or price?
Content helps you outline those distinguishing factors clearly. You can write content that highlights all the reasons why you're better than your competitors.
Top 11 Metrics to Measure Content Marketing Performance (and what they mean)
Content marketing is important, so you want to make sure that you have a solid strategy in place.
But how can you tell whether your strategy is successful? How do you know if your content brings in targeted traffic or empty clicks?
That's where metrics come in. Metrics tell you the critical data points about your strategy, so you know what's working and what needs to change.
This section will break down the 11 most important metrics for content marketing and show you how to use them well. Then, we'll ask 3 questions about each metric:
What does this metric mean for your content marketing effectiveness?

How do you measure this metric?

How do you improve this metric?
Impressions
Impressions are like a precursor to clicks. Any time someone sees your URL on Google (whether they click it or not), it counts as an impression.
As you can guess, you need lots of impressions to get clicks, so impressions tell you which direction your pages are trending on Google.
For example, if your impressions are going up, you know that your page's rank on Google is getting better.
One of the easiest methods to measure impressions is using Google Search Console. After you set up your Google business account, you can see your impressions for free in Search Console.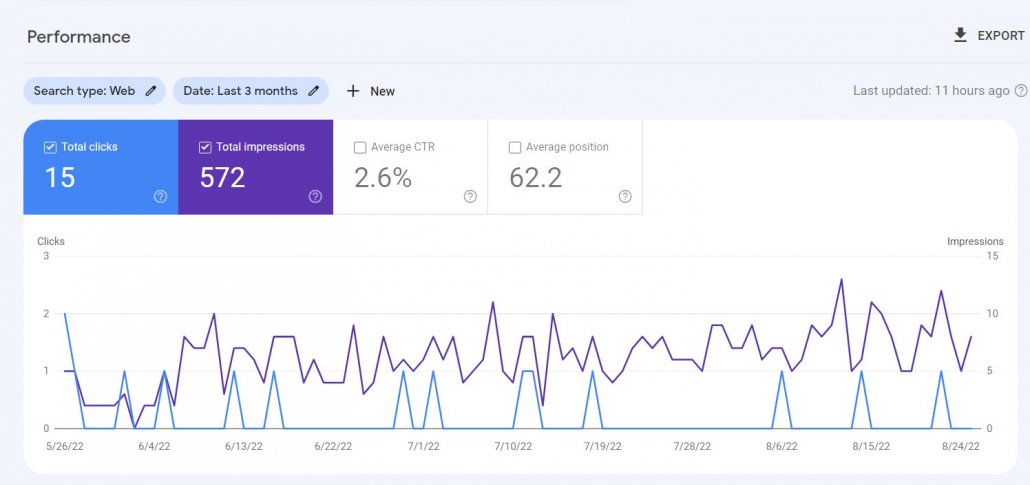 Improve this metric by writing better content that is more focused on laser-focused keywords.
CTR
Click-through rate is a measure of what percentage of your impressions turn into clicks.
For example, if you get 100 impressions and 5 clicks, you have a 5% CTR.
CTR tells you how effective your metadata is. Metadata is your title and description on Google. So the meta title of the first result below is "Coffee House Cafe in Dallas, Texas…" 
The meta description is "Your local community coffeehouse serving breakfast…"
You should get more clicks for each impression if your metadata is good. Again, you can check CTR with Google Search Console.
If your CTR is low, try reworking your metadata to include more enticing details and to more concise and relevant.
Ranks
Your rank on the SERP is one of the most important metrics you can measure. It tells you how well your keyword and content strategies work and whether you match search intent.
You can check your ranks with a specialized tool like ProRankTracker (which we'll talk more about later in this article).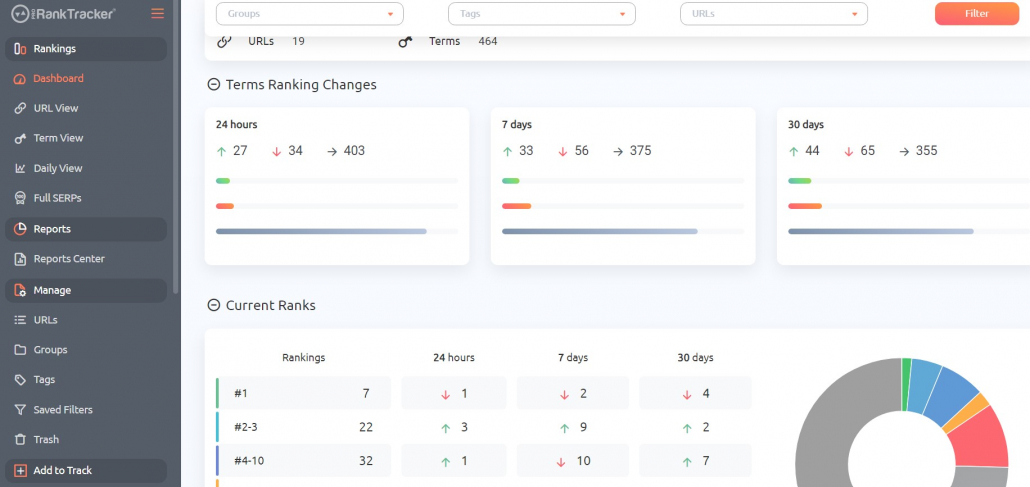 A tool will also give you detailed, actionable information you can use to improve your ranks. For starters, take a closer look at your keyword strategy to ensure you're targeting highly relevant keywords that show buyer intent.
Sales
Sales are the end goal of all content marketing, so it's essential to keep track of how your content affects your sales.
There are plenty of tools in Google Analytics to help you measure your sales. For example, to measure direct conversions, you can use the Assisted Conversions report to see what channels contribute to your sales.
You can also use the Model Comparison and Linear Model tools to see how your marketing channels are working together to generate sales.
Using the Model Comparison Tool, set the model to Last Interaction and First Interaction and the source to the landing page URL. Then, you'll see who clicked on the blog post and instantly converted versus those who converted after clicking around for a while.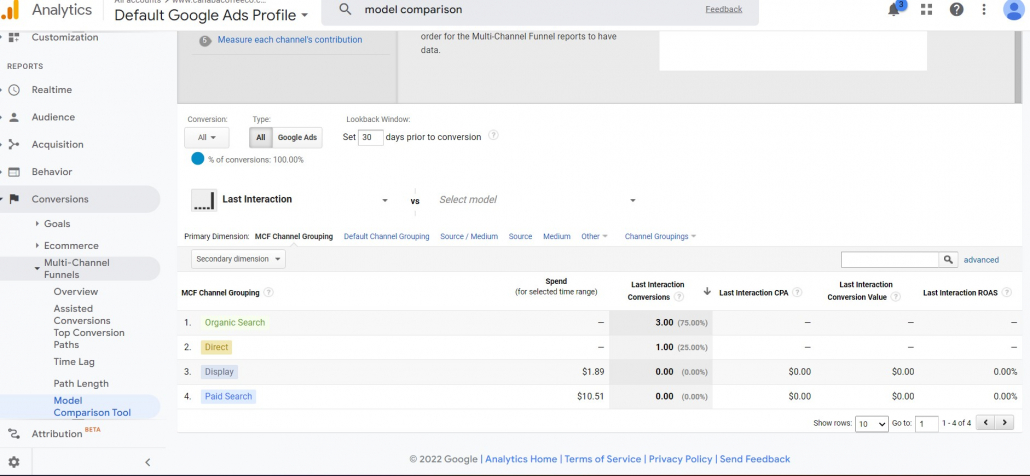 To improve sales, go through your sales funnel and ensure that the content is concise, easy to read, and enticing. If you use paid ads, update them with accurate details and appealing language.
Web Traffic
Web traffic is another critical indicator of your content's success. If your content is working, you should see increased numbers of site visitors.
You should be able to measure web traffic using your site's hosting service. For example, you can see how many people visit your site, your bounce rate, page views, and other essential metrics.
To improve web traffic metrics, ensure your website is optimized for various users. Google Search Console makes usability recommendations to help improve metrics like this one.
Improving your keyword strategy will also increase the web traffic you get.
Advertising ROI
Advertising is great, but only if you earn more money from it than you spend on it. In other words, you want a good ROI when you spend money on advertising.
Your advertising ROI will tell you how effective your Google Ads are. If it's high (or increasing), it means your ads are effective. If it's low, it means your ads aren't driving customers to your sales funnel as they should.
To check ROI, go to your Google Ads dashboard and see:
How many impressions turn into clicks

How many clicks turn to conversions

How much money you spend on ads versus how much they earn for you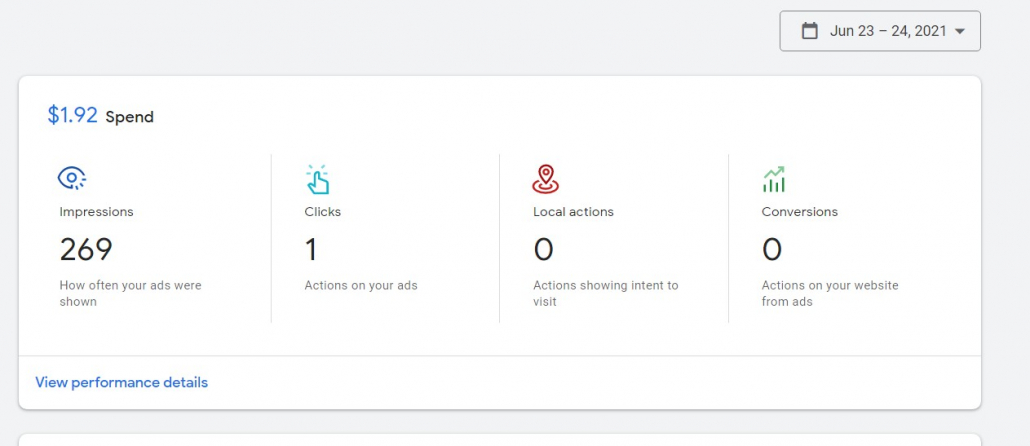 To improve this metric, ensure that your ads are up-to-date with your most recent offerings. For example, include sales, recent product launches, and easy-to-understand language to increase your advertising ROI.
On-Site Engagement
Getting people to your website is only half the battle. Once they're there, you have to get them to buy something! That's where on-site engagement comes in.
You can use Google Analytics' Engagement Tool to see your customers' actions when they're on your site.
How long do they stay on your site?

How many pages do they visit when they're on your site?

Do most visitors return after they click away from your site?
To improve this metric, improve your site's attractiveness, functionality, and usability. Make it intuitive and easy to use. Improve loading speed by following Google's recommendations.
Engagement is a crucial precursor to sales, so spend some time making sure your site is engaging your customers!
Bounce Rate
Bounce rate tells you how many visitors navigate away from your site after viewing only 1 page. In other words, it tells you how many visitors take one look at your site and then leave.
Use your hosting service's metrics or Google Analytics to measure this metric.
Ideally, your bounce rate should fall below 50%, although some industries have higher bounce rates than others. Your main goal should be reducing your bounce rate rather than trying to reach a certain number.
To improve bounce rate, target more specific keywords to match search intent and enhance your metadata so viewers know what your site holds.
Backlinks
Backlinks are when another website links to content on your site. In other words, someone in your industry thinks your content is good enough to share with their visitors.
You can measure backlinks in Google Analytics by going to Acquisition > All Traffic > Referrals. The Referrals tool will show you all the ways users are being referred to your site.

Backlinks most often result from having great content, but you can also make a backlink deal with other companies in your industry. For example, you could reach out to another business and agree to create 5 backlinks for one another's sites.
Shares on Social Media
No one can deny that social media's influence on sales is growing daily. As a result, businesses can't afford to ignore social media's impact on them.
If people consistently share your content on social media, it can draw targeted traffic to your site, increasing sales.
You can use Google Analytics to measure social media shares using its social tools to measure social media referrals and conversions.

To get more shares on social media, write engaging content using plenty of visual components like:
If you write valuable content, people will share it!
Dark Social
Dark social includes anything that your customers are saying about your brand OFFLINE. 
Since these interactions happen away from the all-seeing eye of the internet, it's impossible to track them completely.
However, you can get a good idea of your performance in this metric by talking to your customers. Get customer feedback from:
Surveys

Face-to-face interactions

Online engagement
Get customer suggestions, then follow them! The only way to improve what people say about your business is to follow their advice to improve your service and product.
How to Use ProRankTracker to Track Your Content's Ranks
One of the trickiest (and most important) content marketing metrics is your content's ranks.
If you rank high on the SERP, it improves your:
CTR

Traffic

Sales

Backlinks

Impressions
In other words, your ranks affect EVERYTHING about your content marketing success.
In this section, we'll look at how ProRankTracker can help you improve your ranks by tracking them. If you aren't subscribed to ProRankTracker, sign up for a 30-day free trial so you can follow along with the steps below.
Add URLs and Keywords
You first need to add all the URLs you want to track, including the keywords you're targeting for each URL.
You can add URLs one at a time using the Add Wizard tool or bulk add using the Advanced Add tool.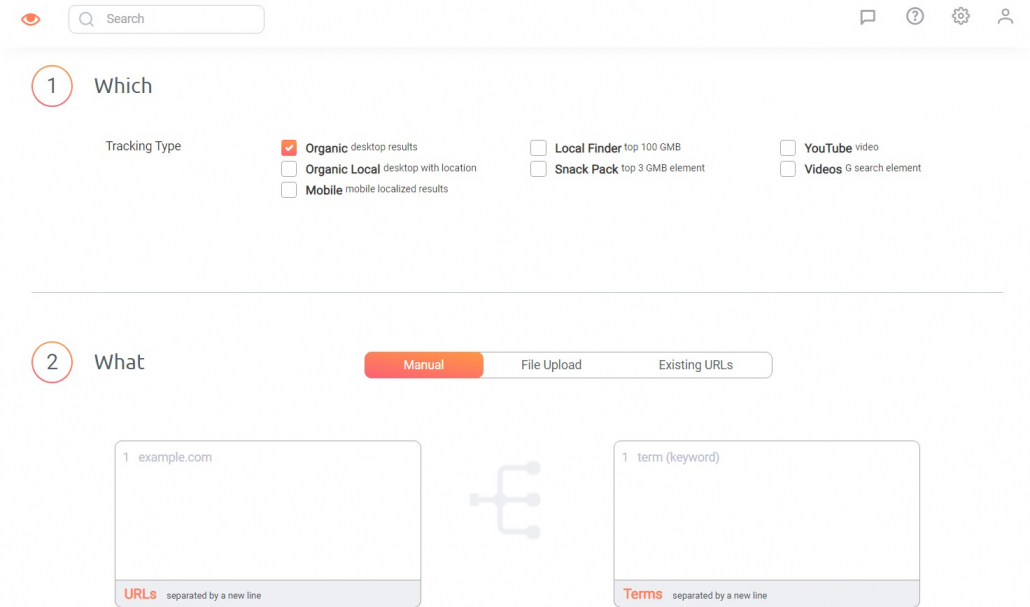 When adding URLs, make sure to include:
Device type

Search engine

Location
Adding this info for every URL/keyword combo will significantly enhance the accuracy of your tracking.
Use Rankings Views to Track Ranks
5 Rankings Views show you different aspects of your strategy.
The Dashboard shows you an overview of your ranks, including which have dropped, jumped, or stayed the same.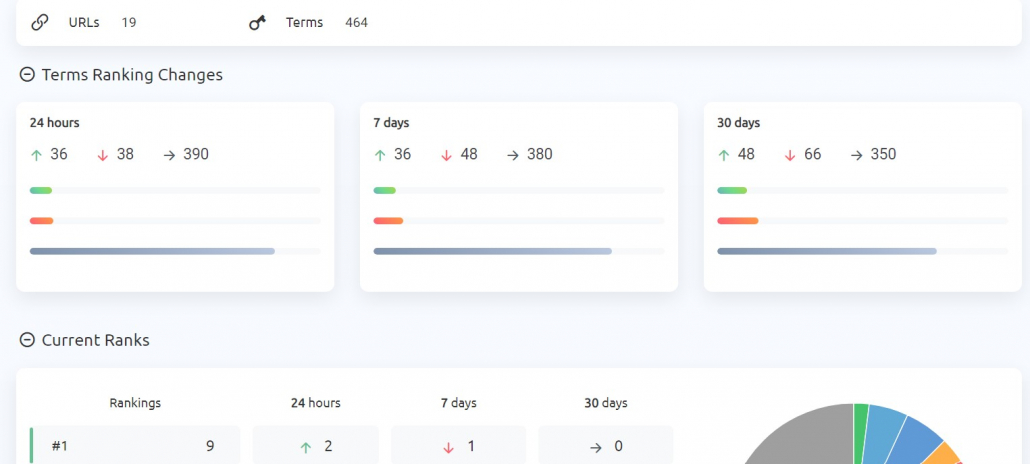 The URL View and Term View organize your ranks by URL or keyword. For example, you can see all the keywords being tracked for a specific URL or all the URLs being tracked for a given keyword.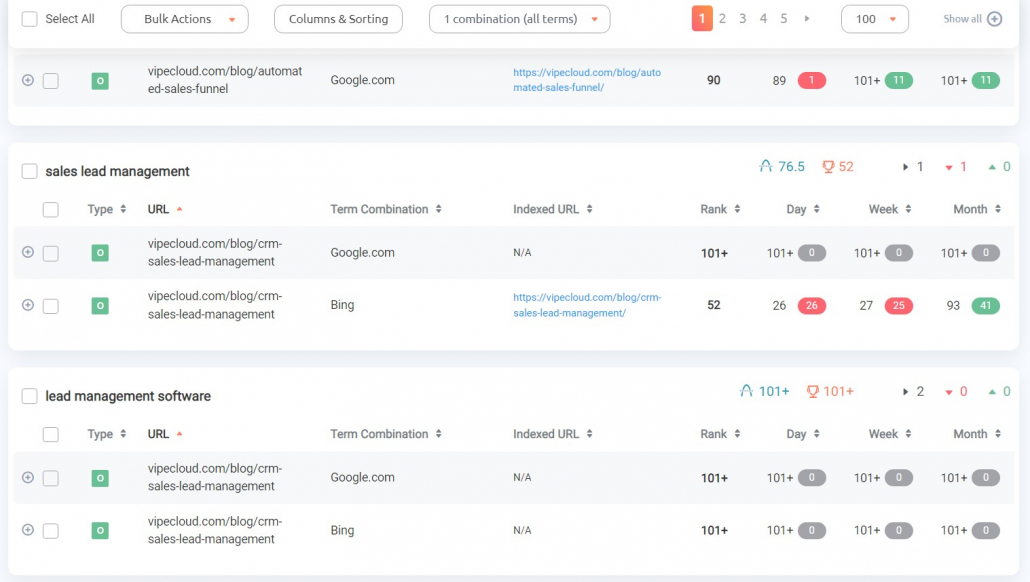 The Daily View shows you a graph of your rank changes over a selected period.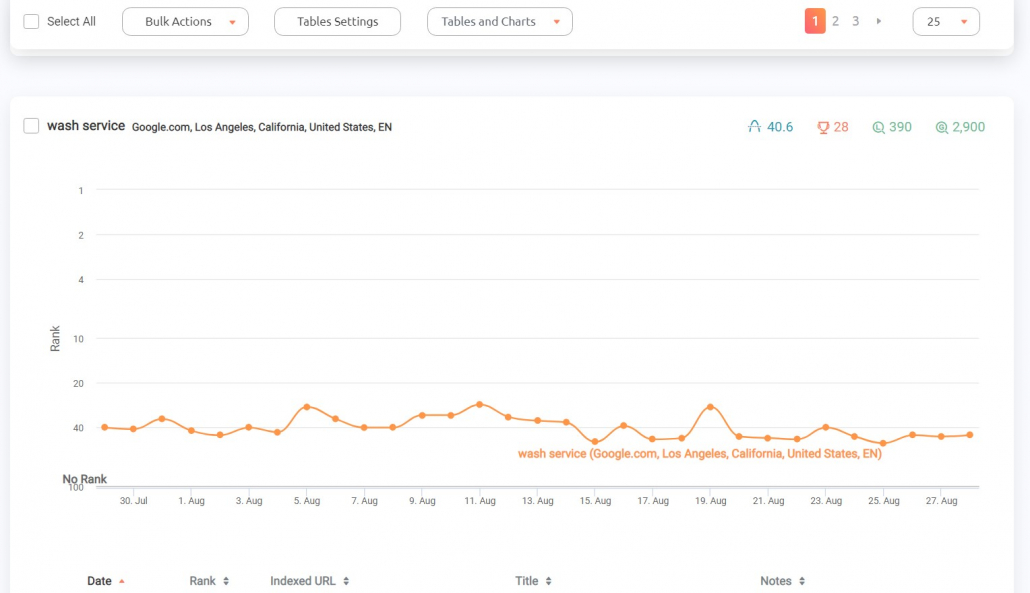 Finally, the Full SERPs page gives you a detailed list and graph of the SERPs where your URLs rank.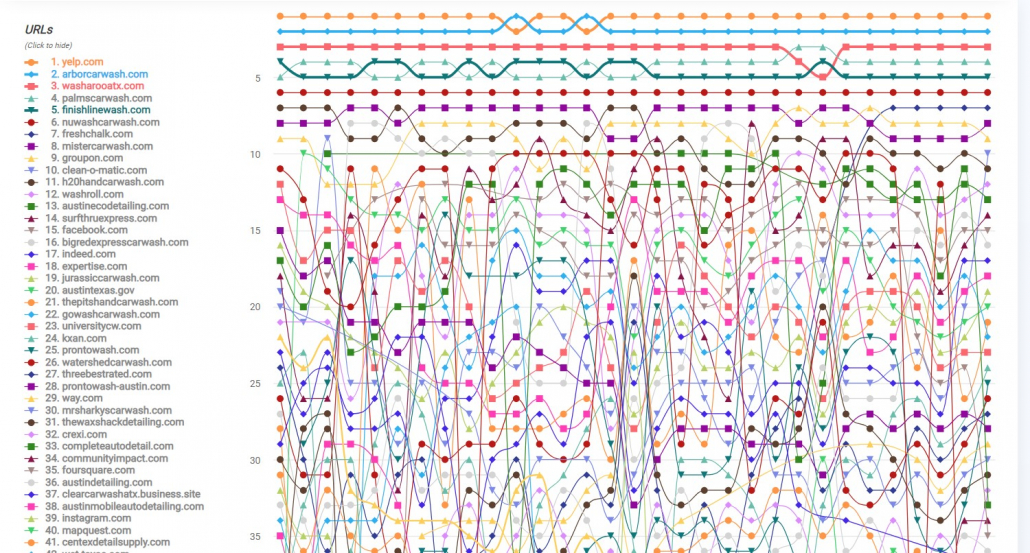 Use all 5 Rankings Views to maximize your understanding of your ranks!
Adjust Your Keyword Strategy
After you start tracking your keywords, you'll be better equipped to adjust and improve your strategy.
2 of the best ways to improve your keyword strategy are the Rankings Discovery and Keyword Suggestions tools that ProRankTracker offers.
The Rankings Discovery tool shows you keywords that your URLs already rank on the SERP. You can also use the Rankings Discovery tool as a powerful competitor analysis tool to reveal their strategy.
The Keyword Suggestions tool recommends new keywords based on your current strategy. Unlike other keyword tools, it doesn't just make random recommendations. Instead, it recommends relevant keywords that you can use to grow a highly specific strategy.
Set Up Reports and Notifications
Finally, you should make sure that you set up reports and notifications to stay on top of any developments in your rankings.
ProRankTracker offers more than 20 reports that provide different angles of your keyword strategy. You can schedule them to send automatically at the right time. They're also fully white-label friendly.
Notifications are triggered by events of your choosing. For example, you can set up a notification to send when one of your ranks drops by 3 or more positions on the SERP.
Notifications are a great way to get super fresh updates about your ranks so you always stay informed.
Conclusion
Tracking your content marketing metrics is a crucial part of developing a great content strategy. 
The 11 metrics we outlined in this article form the backbone of any content marketing strategy. By tracking them, you'll have a better understanding of your content's performance. 
You'll also be able to make better strategic decisions to improve your content moving forward.
Make sure to check out ProRankTracker's line of tools to help you track and improve your ranks on the SERP!
https://proranktracker.com/blog/wp-content/uploads/2022/08/Top-Metrics-to-Measure-Content-Marketing-Performance-.png
321
845
Jacob Statler
https://proranktracker.com/blog/wp-content/uploads/2020/11/prt-blog-1-1.png
Jacob Statler
2022-08-29 08:26:19
2022-08-29 19:42:07
Top 11 Metrics to Measure Content Marketing Performance