Why Mobile Rank Tracking Is Important (and How to Do It Well)
Want to start tracking how your business ranks on mobile devices?
Try ProRankTracker for FREE today.
When most people think of tracking ranks, they usually think of a simple process.
Target keywords on your website

See how high your site ranks for those keywords
In reality, rank tracking is much more complicated than that. We have to consider the searcher's location, search engine, and device type.
This is where mobile rank tracking comes into play. We have to track both traditional search results AND mobile search results. We're fighting a losing battle if we're not tracking mobile rankings.
This article will show you why you should be tracking mobile rankings. Then we're going to give you some actionable tips on how to do it well.
We'll cover:
The Difference Between Normal and Mobile Rank Tracking
When people are new to SEO, they mistakenly think that all rank tracking is the same. However, standard and mobile rank tracking are very different processes.
With standard rank tracking, you're only considering one type of device: computers. However, since computers using the same search engine rank results in the same ways, this is a relatively straightforward process.
On the other hand, mobile rank tracking has to track several different devices:
Apple phones

Android phones

iPads and other tablets
Each of these devices ranks SEO results differently from the others, so it can quickly complicate your keyword tracking process. You have to consider different devices IN ADDITION to the other considerations of traditional rank tracking:
Location

Search engine

Search phrase
In short, the mobile keyword ranking system functions differently than the desktop system, so it takes a different approach to track it well.
Why Mobile Rank Tracking Is Important
Is it worth it to track your mobile search results?
Could you save yourself the expense of using a mobile rank tracker and just do normal rank tracking?
You could, but we highly recommend against it.
Mobile rank tracking is not only different, but it's also essential for your business. For many companies, tracking mobile rankings is MORE critical than tracking desktop rankings.
Let's look at 3 big reasons you should drop everything and start tracking mobile rankings now.
Mobile Search Is Huge (and Growing Fast)
Perhaps the biggest reason to start tracking your mobile ranks is that mobile search is enormous.
Just how massive is mobile search?
In January of 2021, there were 4.32 BILLION active mobile internet users around the globe.
About 54% of all website traffic comes from mobile devices–almost double the mobile website traffic in 2013.
That means mobile search not only outweighs traditional search, but it's also growing extremely quickly.
In the next few years, we will likely see mobile traffic grow to 60% of all web traffic (or more!).
In other words, your business can't afford to ignore mobile rank tracking!
Each Type of Mobile Device Ranks Results Differently
Mobile rank tracking is also essential because each type of mobile device ranks search results differently.
Your potential customers who are iPhone users will see different search results than those who are Android users.
That means mobile search tracking is significantly more complex than standard rank tracking. 
You will quickly get lost in the added complexity of mobile SEO without mobile rank tracking, and it will become impossible to stay up-to-date on your ranks.
On the other hand, using a mobile ranking checker to keep up with your different mobile rankings will help you manage your SEO strategy and make positive changes.
Reach More Customers
Finally, mobile rank tracking is vital because it can reach more customers.
Not only is mobile search more common than desktop search, but it also allows you to reach a different demographic. Ignoring mobile search will instantly alienate you from the younger demographics online.
For many young searchers, their mobile device is their primary connection to the internet–they rarely use a laptop or desktop. So, to target those people, your business MUST be targeting mobile searches and tracking mobile rankings.
Otherwise, you will miss out on a huge population that could have become your customers.
What to Look for in a Mobile Rank Tracker
Mobile rank tracking is essential for your business, so your decision of what tools to use is also essential.
Without the right tools, tracking mobile rankings is impossible. There are too many factors to consider to do it well.
If you're able to find a mobile rank tracker that does a few key things well, you'll be able to quickly take control of your mobile ranks. 
This section will focus on 4 things that you should look for in a mobile rank tracking tool.
Accuracy
When talking about tools, people take for granted that any tools on the market will be accurate.
Unfortunately, that just isn't the case.
Some tools use inaccurate or outdated data. For example, you might not be able to see daily updated data.
When it comes to the ever-changing world of mobile search, inaccurate data should be absolutely unacceptable for your business's mobile rank tracking.
ProRankTracker offers 100% accurate data updated daily at a minimum (with additional on-demand updates available). You should never have to worry whether the data your mobile rank tracker is giving you is accurate.
You should NEVER settle for any tool that provides anything less than 100% accurate data.
Different Mobile Types Available for Tracking
One of the key differences we talked about between mobile rank tracking and traditional tracking is the variety of devices. Each device ranks search results slightly differently, which adds complexity to your rank tracking process.
When looking for a tool, it's not enough to find one that has a simple distinction between desktop and mobile tracking. Just having "mobile tracking" isn't specific enough!
As a business owner, you need to have specific tracking for each type of mobile device:
Androids

iPhones

Tablets (Apple or Android)
Each of these device types ranks search engine results slightly differently, so your rank tracking tool needs to have the option to track each device type separately!
ProRankTracker allows you to specify the type of mobile device, so you'll always understand exactly where you rank for each type of device.

Ease of Use
Imagine you have the world's most accurate and in-depth mobile rank tracking tool. Now imagine it's so complex that you can't figure out how to use it.
What good will it do you?
None!
Seriously! 
The best tool is accurate and precise, but it should also be easy to use. If it isn't, it will be more of a hindrance to your rank tracking than a help.
Ease of use is why we ALWAYS recommend trying out a tool for a trial period before paying for it. During a trial, you can figure out how complex the tool is, then you can decide if it's simple enough for you to use effectively.
Try signing up for ProRankTracker's free trial to see how its newly-redesigned user interface can make tracking mobile rankings more straightforward for your business!
Location-Specific Results
One of the reasons that mobile search is becoming more common is that people are able to access the internet from anywhere.
Think about how often you're in a new city and you use the search phrase "(something) near me)." If you're anything like me, it's practically a daily occurrence.
These types of local searches are so important for businesses. In fact, according to Google's research, 88% of people who make a search like that from their smartphones end up visiting a related store within 7 days.
What does that mean for your business and your search for a mobile SERP checker?
It means you need something that can track location-specific SEO! You need to make sure that you're targeting the best keywords for your location–especially if you have a brick-and-mortar storefront.
ProRankTracker offers precise, location-specific rank tracking. Location data allows you to target mobile users in a way that's impossible without local rank tracking.
How to Use ProRankTracker for Mobile Rank Tracking
Now that we've looked at the general concepts behind mobile rank tracking, let's get a bit more specific and talk about tools.
Your mobile rank checker is your most important tool for honing in your strategy to target mobile searches online. ProRankTracker is an excellent option for anyone looking for an accurate, easy-to-use tool with mobile tracking capabilities.
In this section, we're going to walk you through a step-by-step process of how to use ProRankTracker for mobile rank tracking.
If you sign up for the ProRankTracker free trial, follow along with these steps to start tracking mobile rankings with ProRankTracker.
Add Wizard
The simplest way to add your terms for tracking on ProRankTracker is using the Add Wizard tool. This tool makes adding search terms for mobile tracking a straightforward process.
First, click "Add Wizard" on the left-side toolbar to get to the Add Wizard tool.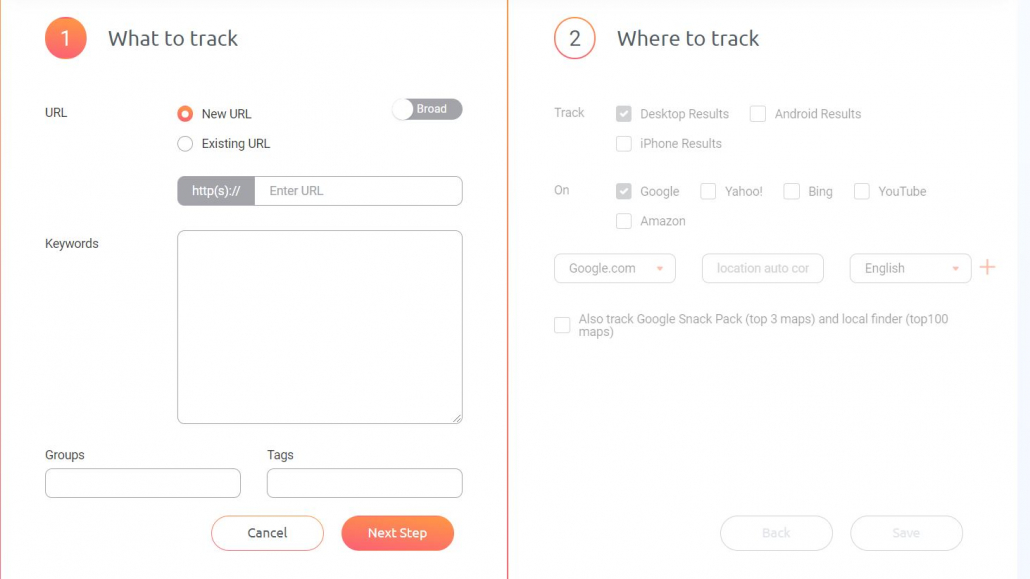 Fill in your URL, targeted keywords, and assign groups and tags if desired. 

Choose where you want to track your new terms, including search engines, local search, and device types.
In step 2, you can choose to track 3 different device types:
Desktop (traditional SEO)

Android

iPhone
If you want to track on mobile, select Android, iPhone, or both. ProRankTracker will automatically create additional data points in your Rankings Views for each mobile device.
Advanced Add
What if you need more device options than just iPhone or Android?
That's where Advanced Add comes in.
Advanced Add is similar to Add Wizard, but it allows for more customization and more specificity.
First, click "Advanced Add" on the left-side toolbar.

When filling out the information in step 1, you'll need to select "Mobile" if you want to add mobile tracking.
Whereas the Add Wizard only allowed you to choose between iPhone and Android, the Advanced Add tool allows you to choose between 4 device types:
iPhone

Android

iPad

Android tablet
Choosing from these 4 options allows you to get super specific mobile search results in your rankings views.
Rankings Views
I've mentioned Rankings Views a couple of times, but what exactly are they?
Your Rankings Views form the backbone of your SEO analysis on ProRankTracker. They allow you to analyze your mobile (and traditional) ranking data differently. There are 5 Rankings Views:
Dashboard

URL View

Term View

Daily View

Full SERPs
Each of these 5 rankings views allows you to visualize your data slightly differently.
The Dashboard shows you a summary of ALL your URLs and terms. It quickly gives you a rundown of your total SEO health without delving into the details.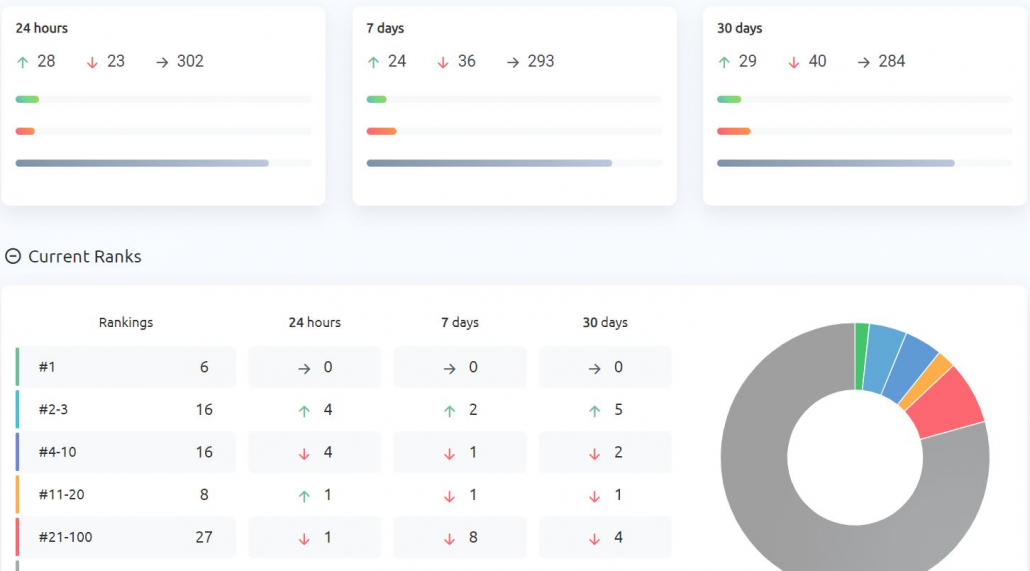 URL View organizes your data by URL, showing you each tracked term for each URL. If you have a URL that has terms you're tracking for mobile searches, you will be able to see those terms here.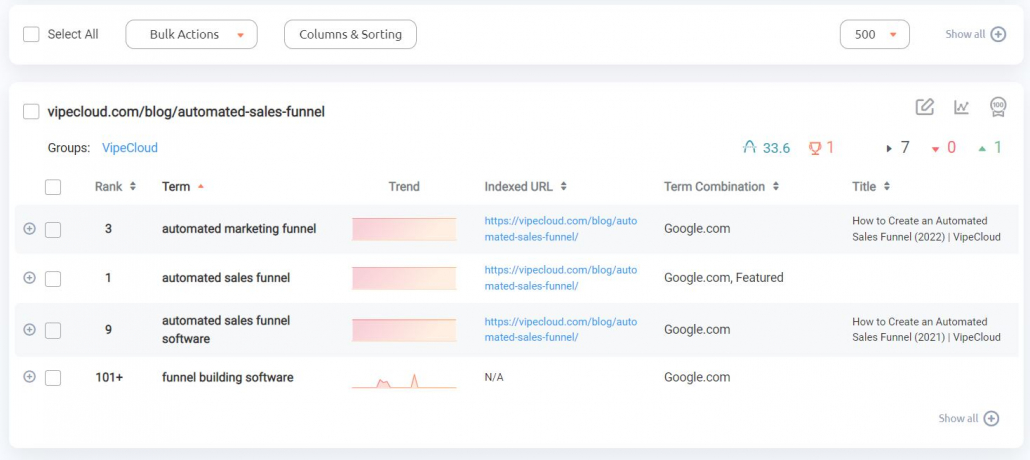 Term View is the opposite of URL View. It organizes your ranking data by terms, then shows each URL where that term is being tracked. So if you're tracking mobile search terms across multiple URLs, you can quickly compare them here.
The Daily View gives you a historical graph of each term's performance over the period you select. When tracking mobile search terms, you can get a good understanding of how they've performed recently by looking at these graphs.
Finally, the Full SERPs page allows you to take an in-depth look at the SERP for any of your tracked terms and URLs. ProRankTracker will act as a mobile SERP checker for your mobile search terms and allow you to see exactly what the mobile user sees.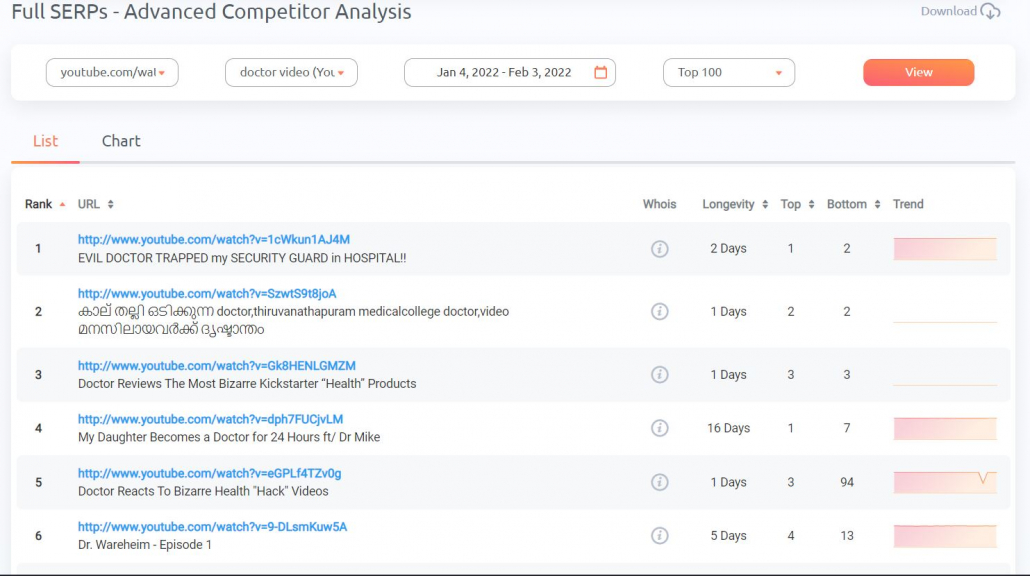 Using these 5 Rankings Views allows you to fully understand your mobile ranks and make good strategic decisions for your company's mobile SEO.
Groups and Tags
Groups and tags allow you to sort your URLs and terms together for easy manipulation later.

For example, let's say you have a website about web design. You can sort all of that website's URLs into a single group, then quickly find just those URLs by filtering your Rankings Views. 
Tags allow you to group your terms in the exact same way. For example, if you have a set of terms for a URL that you're tracking on mobile search, you can group those terms into a tag and name it "Mobile Search Terms for URL."

Later, you can filter for those terms on the Rankings Views to quickly take an exclusive look at your mobile ranking health.
Filters
We mentioned using filtering to quickly look at your groups and tags, but you can do a lot more than that with filtering.
To filter your results in your Rankings Views, just click the "Filter" button at the top-left corner of the page. You'll see a range of filtering options appear:
Groups

Tags

Device type (desktop or mobile)

Location

Search engine

URL (exact or general URLs)

Volume

Recent changes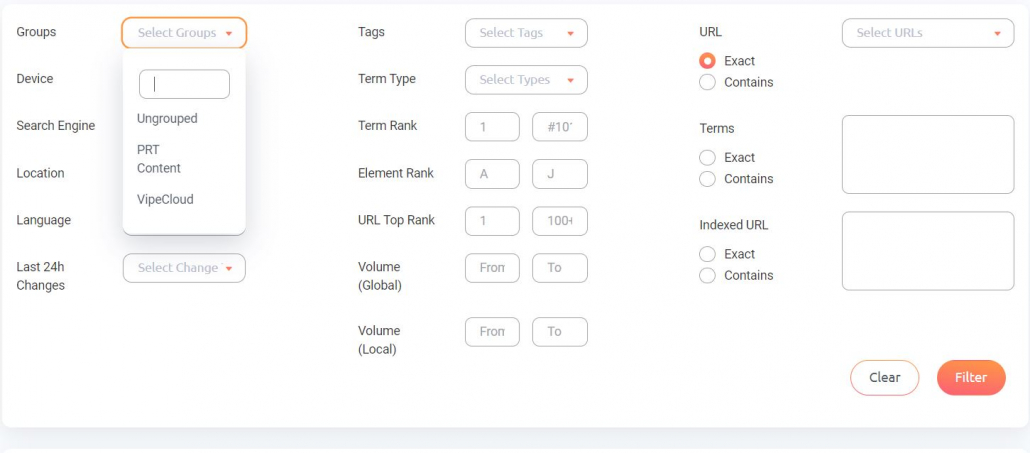 That means you can quickly access your mobile terms by filtering the Rankings View pages.
To save yourself time in the future, save your filter for quick access by adding it in the "Saved Filters" tool. You can quickly access saved filters by clicking on the Quick View icon (shaped like an eye) on the top-left corner of the page.
Reports
Reports are a great way to keep yourself updated on any changes in your ranks without needing to check every single day.
Select from any of ProRankTracker's 20+ reports, and you can receive emails with all the most important details at the frequency you choose.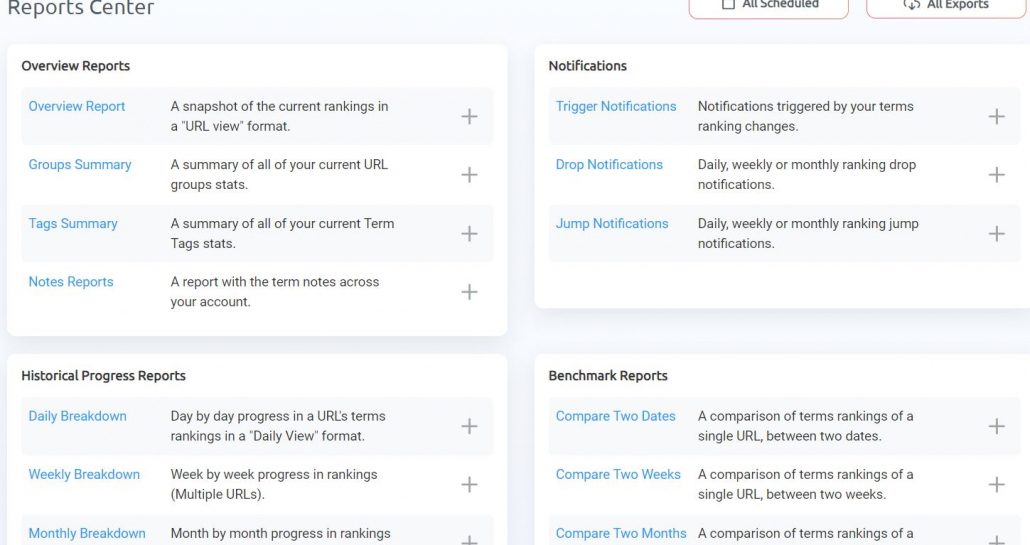 There are two basic types of reports:
Scheduled reports

Triggered notifications
Scheduled reports are sent on the schedule you choose–regardless of whether anything changed.
Triggered notifications are only sent when a certain parameter is met. You can set the trigger to be almost anything:
Rank increase

Rank decrease

Reaching a certain rank

Hitting the top position on the SERP
If you're a white-label SEO agency, you can customize these reports with your colors and logo and send them to your clients.
Conclusion
If you want to be good at SEO, you MUST be tracking mobile rankings. No business can afford to ignore mobile search rankings.
In the years ahead, mobile rank tracking is only going to become more important. Make sure you're prepared for the future by setting up mobile rank tracking ASAP.
As the most accurate ranking tracker on the market, ProRankTracker is an excellent option to start tracking your mobile ranks. Using the tips outlined in this article should put you well on your way to being a mobile rank tracking pro!
Good luck!
https://proranktracker.com/blog/wp-content/uploads/2022/02/mobile-rank-tracking-2.png
321
845
Jacob Statler
https://proranktracker.com/blog/wp-content/uploads/2020/11/prt-blog-1-1.png
Jacob Statler
2022-02-04 11:19:43
2022-02-07 13:08:39
Why Mobile Rank Tracking Is Important (and How to Do It Well)