How to Check Your Website Ranking (and Improve It) Fast
Are you tired of your website not getting the traffic it deserves?
Do you feel like you've tried everything yet still don't know why your website is not ranking high?
Join the club! 
Checking your website ranking is easier than you think and can help you identify why you're not getting the traffic you deserve.
In this blog post, we'll guide you on how to check your website ranking and provide tips on improving it fast.
We'll cover:
How to Check Your Website Ranking Right Now
Sometimes, you only need a few data points but don't need to track your ranks long-term. Some free online tools like Google Search Console can quickly check your website rankings.
Simply sign up and connect to your website to get instant results. You'll get a rough score indicating where your website ranks on the search engine results page (SERP).
However, the problem with Search Console's ranking data is that it's pretty inaccurate, making it hard to make more informed SEO decisions.
If you want more actionable data, try ProRankTracker's Insta-Check tool. It's a pay-as-you-go tool that makes it easy to quickly check your ranks (or your competitors' ranks) without tracking them long-term.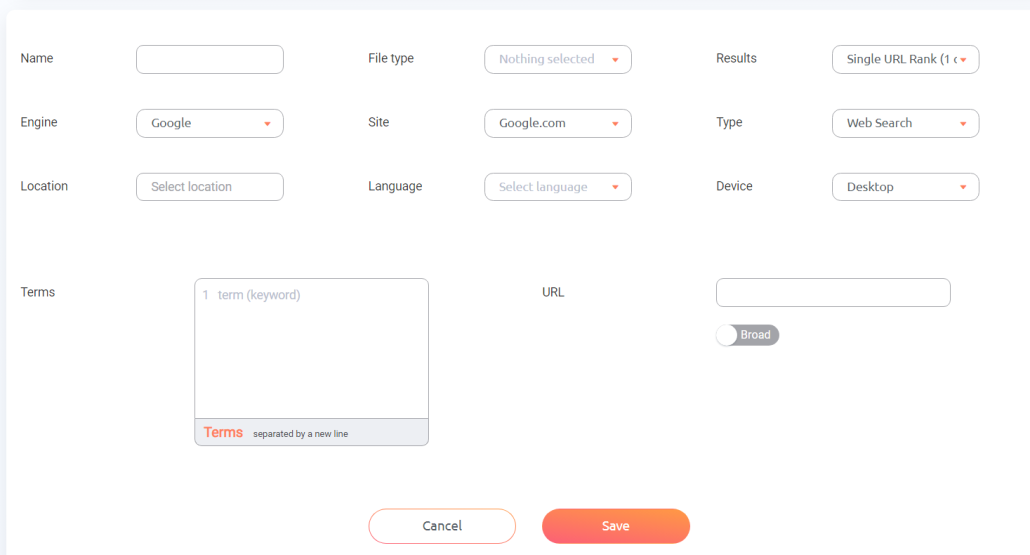 However, if you want to learn how to understand your ranks and how to track them long-term, keep reading for the best solutions!
What Is a Website Ranking?
Website ranking is what search engines (like Google and Bing) use to determine where your website shows up on their SERPs (Search Engine Results Pages).
A high website ranking website appears at the top of the search results page, while a low rank means it appears further down (or not at all). Ranking high on the SERP is incredibly important.
How important?
The click-thru rate (CTR) for results in the first position is 39.8%, whereas the CTR for the second and third positions are 18.7% and 10.2%, respectively.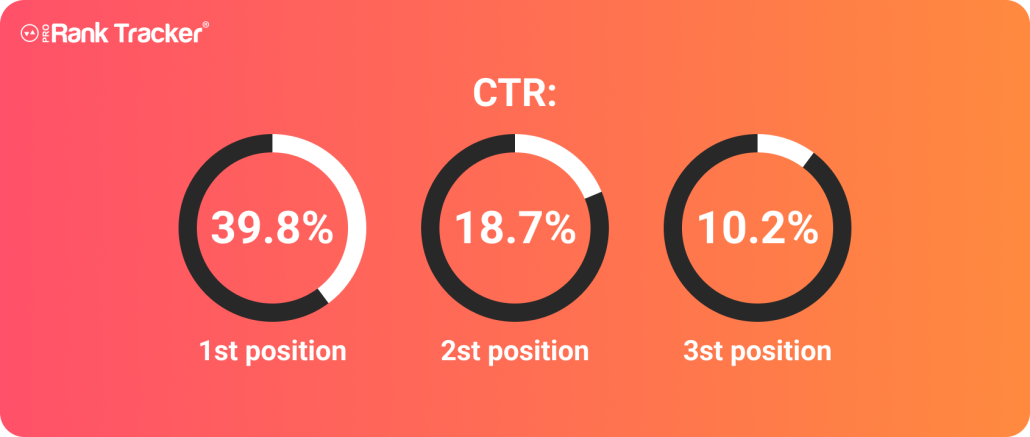 Your website's ranking is based on various factors, such as the content on your site, the number of backlinks you have, and how well your website performs with users.
In the rest of this article, we'll discuss how to track your rank effectively and accurately in the long-term so you can make better SEO decisions.
Why You Need a Rank Tracking Tool in Your SEO Tech Stack
Can you imagine growing a successful business without an online presence?
Me neither.
Succeeding on the SERPs is necessary for running a company in today's business landscape.
However, achieving top rankings on search engine result pages isn't easy. And it's not JUST about getting to the top. You have to stay there!
This is where a rank tracking tool can come to the rescue. A rank tracker tracks your website's position in search engine results and provides essential insights on improving your SEO strategy.
Let's look at the top four reasons why you need a ranking tool for your business.
Reason #1: Save Time and Money
Think of everything involved in tracking your ranks effectively without a ranking tool:
Manually check your website's ranking on different search engines

Take note of critical data

Analyze trends

Develop strategies
Using a ranking tool can save you time by automating the repetitive task of constantly tracking your SEO results.
But how does a ranking tool save you money if it costs to use?
This means you won't need to constantly rely on an SEO expert to know how your website is performing on Google.
Reason #2: Improve Accuracy
Did you know your web pages will rank differently on the SERPs for different searchers depending on several factors? These include search location and search device.
When you manually check your ranks, you don't see the different ranks the same URL/keyword combo occupies based on those factors.
In other words, you may not get the exact position due to browser differences, personalization, and location. For example, just because you rank #1 on your browser from your city, DOESN'T mean you're ranking #1 for EVERYONE else.
You'll eliminate that guesswork with a ranking tool by receiving accurate and comprehensive data. You can track your website ranking in different locations and devices, providing you with a complete understanding of your ranks.
Reason #3: Spy on Your Competitors
To have a successful SEO strategy, you need to know what your competitors are up to.
Unfortunately, it can be tough to keep up with your competitors without a capable rank-tracking tool.
On the other hand, a rank-tracking tool allows you to track your competitors' ranking for specific keywords, giving you valuable insights into their ranking strategies.
Understanding your competitors' strategy helps you make better strategic decisions to overtake them on the SERP.
Reason #4: Receive Automatic Reports
It's essential to stay informed about your website's performance to achieve your goals. 
However, staying up-to-date on your ranks without a tool is incredibly time-consuming (if not impossible). There just isn't enough time in the day to do it well.
On the other hand, a ranking tool should provide you with the ability to automate reports. These reports can do several things, including:
Give you an overview of your ranking performance

Break down recent changes in ranks

Compare two dates, URLs, or keywords to help you understand critical differences and adjust your strategy.
Reports and notifications help you optimize your SEO strategy by staying up-to-date on the changes in your ranking and traffic patterns. They also save a TON of time, so it's a win-win.
The Basics of  Rank Tracking
In the world of SEO, tracking your SERP rankings is essential to stay ahead of the game.
What if you're not familiar with rank tracking?
Don't worry. We've got you covered.
Knowing where you rank for a keyword helps you optimize your website's visibility on search engines. You can implement improvements to increase your online presence by tracking where you stand on search results.
In this section, we'll cover the basics of rank tracking so that you can understand how it works and use it to improve your website's ranking.
Research Relevant High-Value Keywords
Keywords are the backbone of SEO. They determine what searchers find when they type something into Google or another search engine.
That's why the first step of SERP rank tracking is to research high-value keywords relevant to your website.
There are several tools (both paid and free) available that can help you find high-value keywords:
Google AdWords Keyword Planner

Ahrefs or a similar

all-in-one SEO tool

ProRankTracker (we'll go more in-depth into this tool later in this article)
When you find high-value keywords, you can use them to create focused content that'll earn you a higher spot on the SERP.
Determine Your Target Search Location
Search engines modify search results based on the user's location, so it's essential to determine your primary target search location.
What exactly does that mean, and how specific should you be?
You should generally target the areas where most of your searchers live. If you have a shop in Tallahassee, Florida, you should target that location and surrounding areas. You should be as specific as possible for the most accurate results.
There's a time and place for national SEO (where you rank nationwide), but most websites — especially if they're connected to a brick-and-mortar store – benefit significantly from precise location-based SEO.
Check Out Your Competition
Analyzing your competitors is an essential part of rank tracking. After all, your competitors are the only thing between you and the top spot on the SERP!
Determine the following about your competitors' strategies:
Which keywords are they ranking for?

Which pages of their website rank higher than yours?

What kind of content do they have that's getting attention?

What are they doing to rank higher than you?
If you can figure out their ranking strategy, you can benefit by stealing the most critical parts and executing them better than the competition.
Check Your SERP Ranking
Now that you've determined your main keyword focuses and competitor strategies, it's time to check the SERPs.
The best way to check your SERP ranking is with a highly-specialized rank tracking tool. They provide the most accurate data and give you the best tools to turn that data into an actionable strategy.
In your tool, just input your most valuable keyword/URL combos and let it do the hard work.
In the next section, we'll dive into how to use one of the best tools on the market to check your website rankings.
How to Use ProRankTracker to Check and Improve Your Search Ranking
Improving your website's search ranking is vital to attracting more traffic, and improving your ranks starts with a great tracking tool.
Many SEO tools are available to help you achieve this goal, but one of the most automated and accurate tools is ProRankTracker.
ProRankTracker is a highly specialized rank-tracking tool, meaning it's hyper-focused on helping you track and understand your ranks without distractions. It's the best rank tracker for many SEOs looking for quality and accuracy.
Before we wrap up this blog post, let's look at how to use ProRankTracker to check and improve your search ranking effectively.
Add Your Keyword/URL Combos (and Your Competitors')
Adding your keyword/URL combos and your competitors' is the first step to using ProRankTracker. The best place to get started with this is the Add Wizard tool.
Enter your URL 

Enter the keywords you want to track for that URL

Organize your URL/keyword combo into groups and tags

Select a search engine, device type, location, and language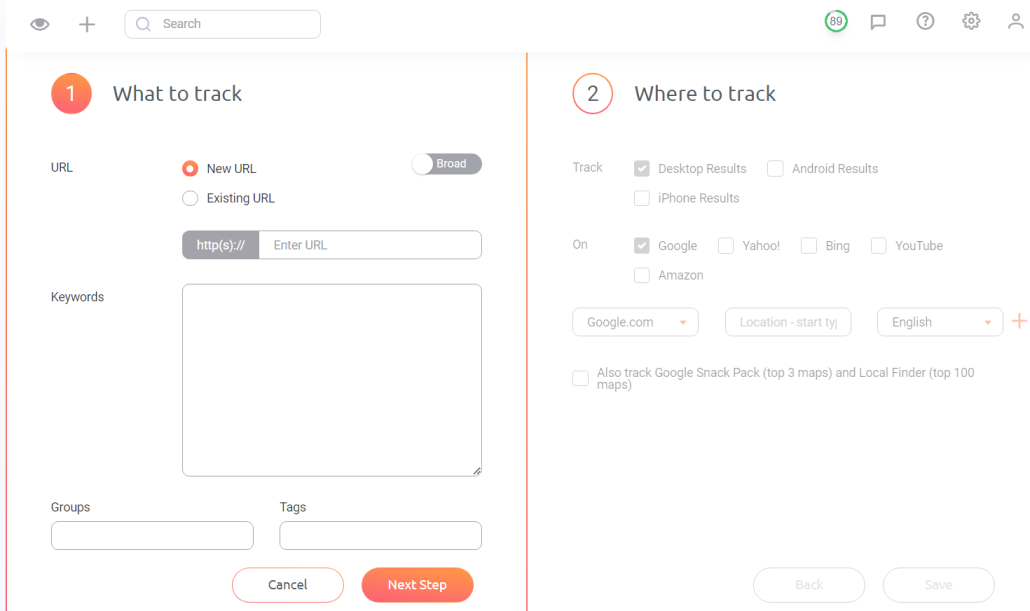 If you want more control over how you add your ranks and the ability to bulk-add, you can use the Advanced Add tool.
Once you have added your URLs and keywords, ProRankTracker will start tracking your search ranking positions and give you daily updates.
Repeat the same process with your competitors' URLs and keywords so you can see how they rank and compare it with your ranking.
Expand Your Keyword Strategy with Keyword Suggestions
The next step is to expand your keyword strategy with the Keyword Suggestions tool.
The Keyword Suggestions tool provides a list of high-value keywords based on the keywords you're ALREADY tracking. That means you won't be getting random keywords like other tools provide – they'll be targeted to the goals of your current keyword strategy.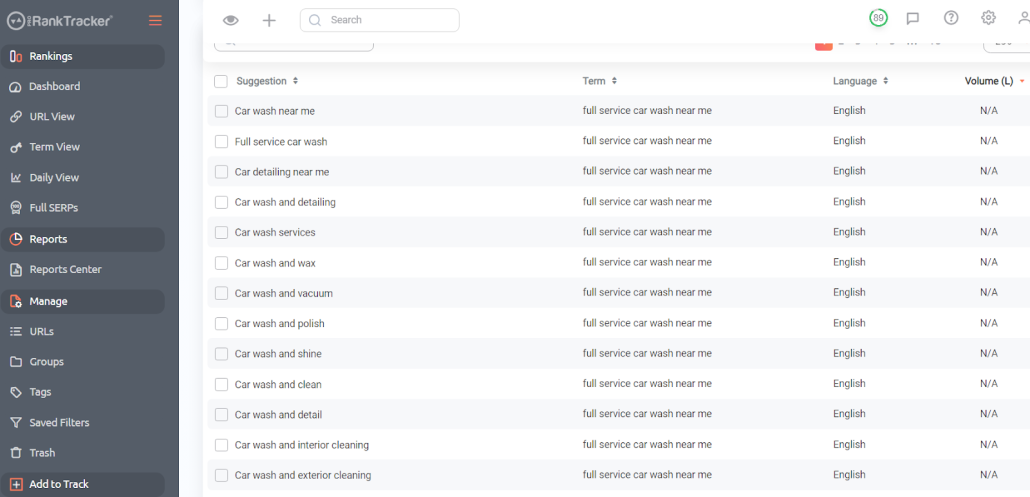 You can select keywords from the list and add them to your tracking list. This will help you expand your strategy and get more traffic.
This step is critical to improving your ranks – if your keyword strategy is underdeveloped, you won't get nearly as much traffic as you could be getting.
Find New Rankings with Rankings Discovery
Many website owners don't realize that there are probably keywords that you're ALREADY ranking – you just don't realize it yet.
Rankings Discovery is a unique feature of ProRankTracker that allows you to find URL/keyword rankings that you may not have known you had. 
In other words, this tool highlights keywords that your website is ranking that you have not yet tracked. This helps you identify new opportunities to rank for specific keywords and optimize your content accordingly.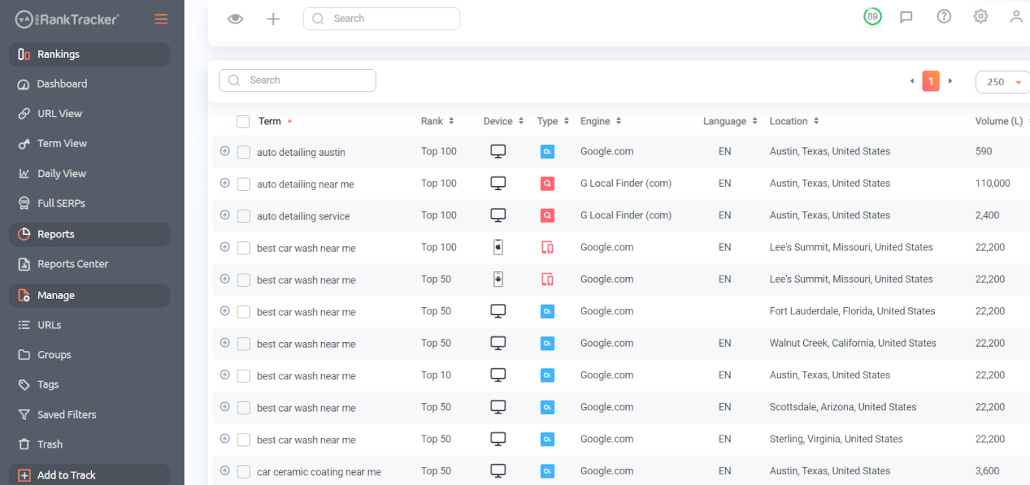 It also gives you critical information about each rank:
Device type

Search engine

Approximate rank

Language

Location

Average search volume
What does this have to do with checking your ranks? If you don't use this tool, you might be missing out on some key SEO insights, which could ultimately weaken your strategy.
Check Your Rankings
Now that you've filled the gaps in your keyword strategy and found all your missing rankings, it's time to get to the pièce de résistence: checking your ranks.
Checking your rankings is the main reason you need ProRankTracker, and it's the best way to get a good idea of your current ranking success and create plans for improving it.
ProRankTracker offers 5 rank-tracking "views" that give you different perspectives on your current ranking strategy:
1. The Dashboard shows you the bird's-eye view of all your ranks – including which ones moved in the past day, week, or month.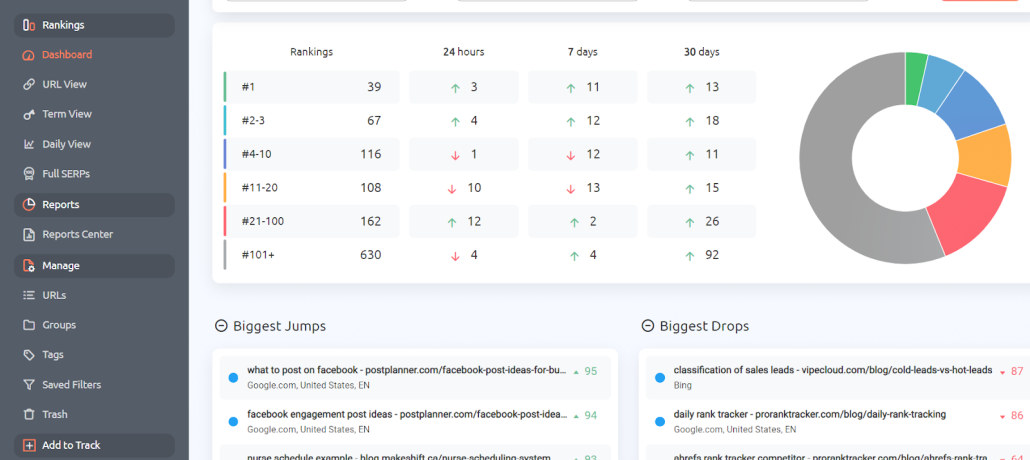 2. The URL View breaks down all your ranks by which URL they're connected to.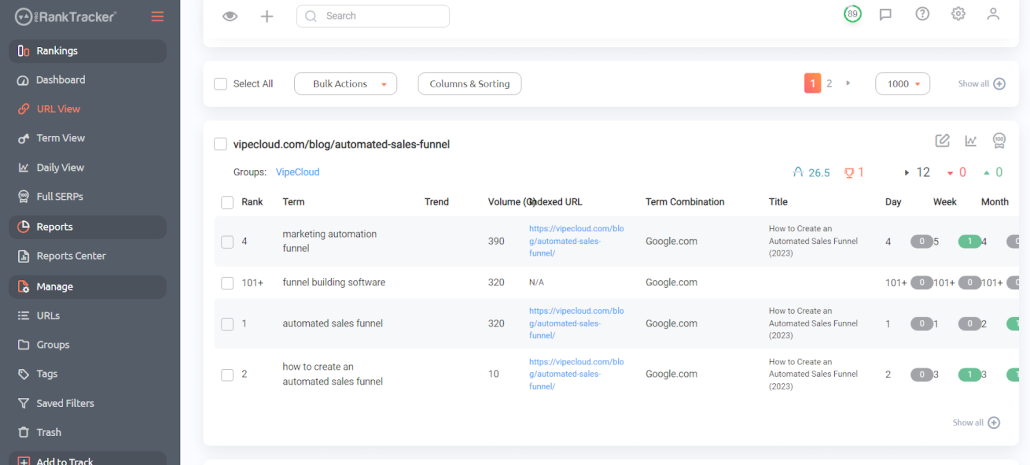 3. The Term View shows you all your ranks based on which keyword they're targeting.
4. Daily View gives you a day-by-day look at how your ranks are changing.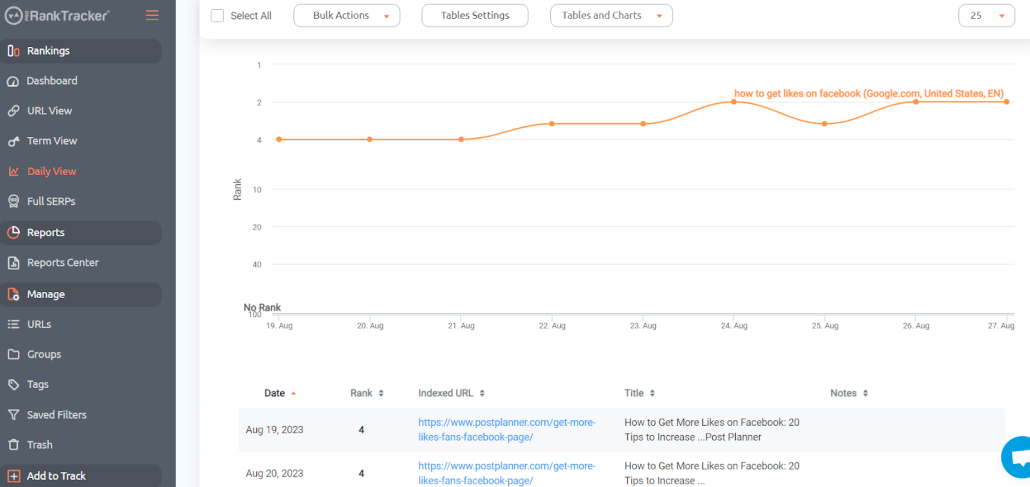 5. Full SERPs show an interactive live SERP (including a historical view of the SERP) that helps you understand where you're ranking and why.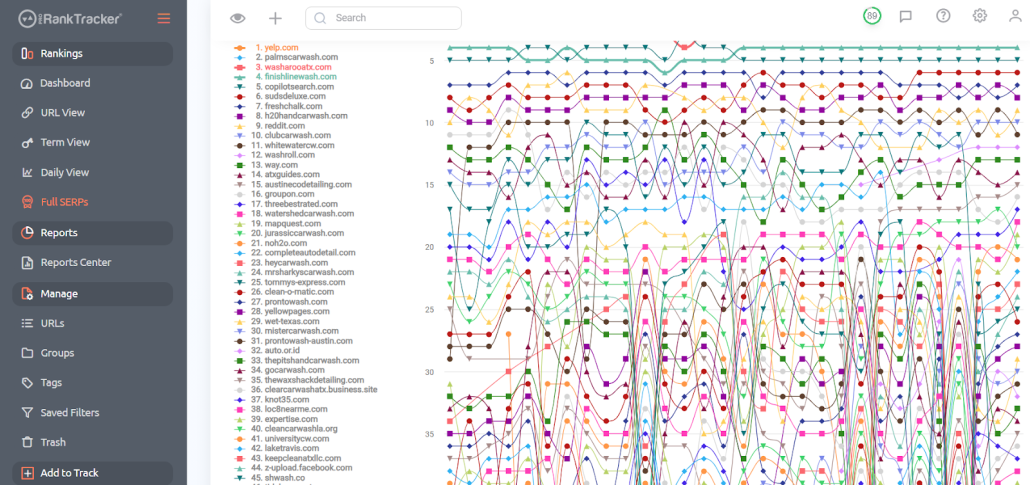 Use all 5 views for a well-rounded understanding of your ranks!
Generate and Automate Reports and Notifications
Finally, ProRankTracker offers 20+ reports and notifications to choose from to help you automate your rank-checking process.
Reports are excellent time-savers, but they also increase the accuracy of your rank tracking by giving you up-to-date information every day. If you're an SEO agency, you can use reports to help keep your clients happy and informed.
Reports and notifications provide:
Current search ranking positions

Progress of your SEO campaigns (historical reports)

Comparisons between locations, URLs, search engines, dates, or devices

Instant notifications whenever something important happens
You can set up automated email notifications that alert you of any changes in your search ranking positions or other important metrics. Just do the following steps:
Go to the Reports Center.

Select the report or notification you want to automate.

Fill out the requested information to your specifications.

Click "Save."

Repeat this process until you've created all the reports and notifications

you or your clients want

.
Frequently Asked Questions About Checking Your Website Rankings
How do you see what keywords a website is ranking for?
One of the easiest ways to check the keywords a website ranks for is by using a rank tracker (like ProRankTracker). 
How do I manually check keyword ranking?
Manually checking your website's ranking is possible, but it's not recommended for long-term or high-quantity rank tracking – it's simply too time-consuming.
To do so, just enter your target keyword in Google's search bar and see where your website ranks. Try to do your search from an incognito window so you can see where you rank without the bias of your search history.
However, it's essential to remember that the ranking results will vary depending on the searcher's location, search history, and other personalization factors, which often keeps this method from providing accurate data.
How do I find the top-performing keywords on a website?
You can use ProRankTracker's Rankings Discovery tool to find out any of the keywords that your URLs are ranking for, along with an estimate of their current rank.
If you're looking for new keywords, try the Keyword Suggestions tool to find high-performing keywords based on your current keyword strategy.
Can you see the keywords of a website?
There's no way to know exactly what keywords your competitors are tracking, but you can get a good idea by seeing where they compete against you on the SERP.
For example, if you're ranked 3rd for a particular keyword, and they're ranked 2nd, you can take an educated guess that keyword forms part of their strategy.
You can also use ProRankTracker's Rankings Discovery tool, by plugging in a competitor's URL and seeing what keywords they rank for.
How do I check the keyword performance of a website?
Follow the ProRankTracker steps above to see exactly how your website's URLs and keywords perform on the SERP. You can also follow the same steps for your competitors' websites to spy on their performance.
How do I check my keyword ranking in Google Analytics?
Google Analytics isn't designed to be a keyword rank checker. Instead, it's used to see where your traffic is coming from (paid, organic, etc.). We highly recommend using a dedicated keyword rank checker like ProRankTracker for the best results.
Ready to Track Your Most Important SEO Metric?
Checking your website's rankings is critical to ensuring your website is visible to your target audience. It helps you improve your SEO strategy and boost your website's visibility on search engines by understanding your current keyword strategy's success and improving your weaknesses.
One of the best ways to check your website ranking fast is by using the steps outlined above. ProRankTracker is a dedicated keyword rank checker, and it's the quickest and most affordable way to check your ranks at scale.
So what are you waiting for? Try a free 30-day ProRankTracker trial and see how much time and money it'll save you.
Happy tracking!
https://proranktracker.com/blog/wp-content/uploads/2023/09/check-website-ranking.jpeg
963
2535
Jacob Statler
https://proranktracker.com/blog/wp-content/uploads/2020/11/prt-blog-1-1.png
Jacob Statler
2023-09-03 15:07:44
2023-09-05 20:37:55
How to Check Your Website Ranking (and Improve It) Fast