How to Use a Google Rank Tracker to Win on the SERP
How do you get your Google ranks where you want them?
Is it about writing more content?
Finding better keywords.
Those are both necessary steps, but the first thing you need is to start working with a Google rank tracker.
A Google rank tracker is a vital tool for website owners and businesses. By using a Google rank tracker, you can make strategic changes to your website and improve your rankings on Google.
Let's talk about why you need a rank tracker and how to use one to boost your ranks on Google's SERP.
We'll cover:
Why a Google Rank Tracker Is Essential
Google has become the primary tool for finding information online. This is why businesses and website owners must climb the ranks on Google to succeed. 
But how do you know if your website is ranking high on the search engine?
That's where a Google rank tracker comes in handy. A Google rank tracker is a tool that monitors the position of your website in Google's SERP for specific keywords.
But most rank trackers are more than that. They are also:
Reporting tools

Competitor analysis tools

Keyword development tools
This section will analyze why a Google rank tracker is essential for any website owner or business.
The Google SERP Is Still King
Google still reigns supreme regarding search engine domination, and it's not even close.
With over 8.5 billion searches a day, Google has over 85% of the search engine market share. 

In other words, ranking high on Google can be the difference between thousands of potential customers finding your website or not. That's not to say that Bing and other search engines don't have their place.
It's just that no businesses are finding their success PURELY on other search engines–they're more of a supplement to Google than a replacement.
A Google rank tracker can show you where you currently rank in the SERP for specific keywords, allowing you to make strategic changes to improve your website's ranking.
Save Time
Tracking the position of your website on Google manually can be a very time-consuming task. Not to mention that the data you'll get will be much less accurate (and basically useless).
A Google rank tracker can save you time (and money) by automatically checking the position of your website for specific keywords. Just let it know what keyword/URL combos you want to track, and it will constantly keep your data updated.
This allows you to spend more time improving your website's rank, creating content, and other essential tasks related to the success of your website.
In other words, it cuts down on the time it takes to retrieve data, giving you time to USE the data.
Predict Rank Changes
A Google rank tracker can help you predict the future.
How is that possible?
A Google rank tracker can help you identify patterns and trends over time by monitoring your website's position in the SERP for specific keywords. You can then use those trends to modify your strategy and improve your ranks.
You can also use your rank tracker to notice when your ranks are dropping or increasing, which helps you double down on effective strategies or change direction while you still have time.
This allows you to make strategic changes to your website based on the trends, like changing your content strategy or finding new keywords.
Understand Your Competition
You're not the only website trying to rank high on Google. Your competitors are trying to beat you on the SERP every day.
A Google rank tracker can help you keep track of your competition and how they're performing on the SERP. By monitoring your competitors' rankings, you can identify their strengths and weaknesses and adjust your website's strategy accordingly.
For example, you might use your Google rank tracker to notice when your competitors' ranks improve. Then, you can use that info to check how their pages have changed. Finally, use your investigation to make your page even better than theirs.
This can give you a competitive edge and help you climb the ranks faster.
Ranking Data Points You Should Be Tracking
Data can be a powerful tool for businesses to analyze and improve their strategies. Regarding SEO and improving your ranks, data is the difference between being in the highly coveted top-3 and falling to the second page.
With the right data points, businesses can:
Make informed decisions

Track their progress over time

Adapt quickly to changes in their industry or market
However, not all data points are created equal, and it can be overwhelming to try to track everything.
So, which data points are the most important?
In this section, we'll look at the top four data points you should track.
Location
Did you know that the Google SERP you see is location-dependent?
In other words, you could search the same keyword from 2 different locations and get 2 very different SERPs.
That means that tracking the location of your searchers is INCREDIBLY important for getting accurate data. You might rank in the top 5 in one location and not be ranking at all in another.
Additionally, tracking location data can help you identify if there are any areas where you're struggling to attract customers, which can inform your future marketing efforts.
For example, you might be attracting customers more from one area of your city than another. There's no way you can know that until you start tracking location data with your ranks.
Google Business Profile
Your Google Business Profile is your digital storefront, and it's often the first impression potential customers will have of your business.
However, it can also affect how much online traffic you get depending on your rank in Google's Local Finder.
For example, your Google Business Profile appears when someone searches for you on Google Maps. Depending on your rank, your business could appear near the top of that list, or the bottom.
It's essential to regularly track your profile's performance to ensure it's optimized for search and attracting customers. The Google rank tracker you use should allow you to add your Google Business Profile to its system for easier tracking.
Device Type
As mobile usage continues to grow, it's crucial to understand how customers are accessing your website and interacting with your brand. 55% of all online traffic now comes from mobile devices!
By tracking device type, you can see if one format of your website (mobile or desktop) gets significantly higher ranks than the other format. A significant disparity could indicate your website isn't correctly optimized for a certain device type.
This lets you know if you need to make any changes to improve your mobile experience, such as optimizing your website for smaller screens or making your site easier to navigate on mobile devices.
Different demographics typically use different search devices, so refining your tracking in this area can help you target more specific groups.
Search Engine
Finally, tracking which search engines drive traffic to your website can provide valuable insights into your digital marketing and keyword strategies.
If you notice that one search engine performs better than others, you may want to allocate more effort toward that platform.
Remember that "search engine" doesn't just refer to Google and Bing. Amazon and YouTube are also search engines that rely on keywords and other SEO principles to determine ranks.
Tracking your rankings on search engines is especially useful if you're targeting an audience that leans more toward 1 particular search engine.
For example, India has the highest rate of active Google users at 95%, so if you're trying to target people in India, you should be tracking your Google rankings.
How to Use ProRankTracker to Improve Your Ranks
If you're reading this article, you're looking to boost your business's website traffic by improving your ranks.
ProRankTracker is the best tool on the market to help you accomplish that. With its daily updated and accurate ranks, this powerful tool will help you track your website's performance and outperform your competitors.
In this section, we'll show you how to use ProRankTracker to boost your ranks and blow past your competitors on the Google SERP.
Before we show you how to use ProRankTracker, we highly recommend that you sign up for ProRankTracker's 30-day free trial so you can follow along with the steps below.
Add URL/Keyword Combos
Before you can do anything with ProRankTracker, you need to tell it what URLs and keywords you want to track.
The fastest way to get up and going is with the Add Wizard, so that's what we'll show here.
In the first step, just type in the URL you want to track along with the keywords you want to pair with that URL.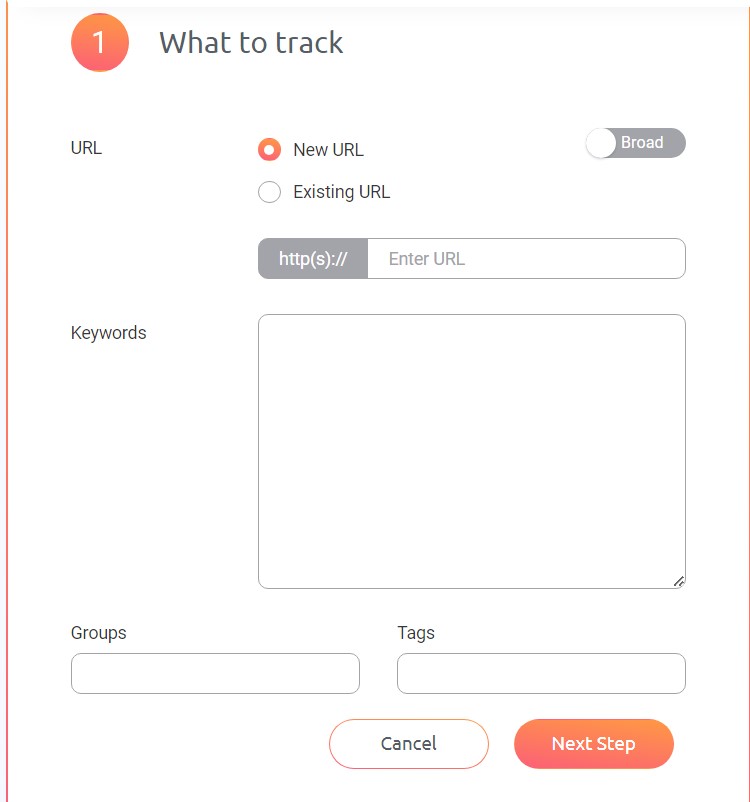 Then, add any Groups and Tags you want for organization.
Finally, click "Next Step."
Set Location/Device/Search Engine
You're now ready to add location, search device, and search engine data to your URL/keyword combos that you established in the previous step.
First, select the checkbox next to the device type you want to track. There are more specific device types in the Advanced Add tool than in the Add Wizard tool.
Then, select the search engine (or search engines) where you want to track this set of URL/keyword data.
Next, type in a location where you want to track it and select from the dropdown list of locations. You can also select the search language and choose whether you want to track your Google Business Profile in this step.
That's all there is to it! Once you add your URLs and keywords, ProRankTracker will automatically populate all the fields on the Rankings Views pages, which we'll discuss next.
Use the Rankings Views
There are 5 Rankings Views:
1. The dashboard provides an overview of your rankings' overall health, offering a comprehensive view.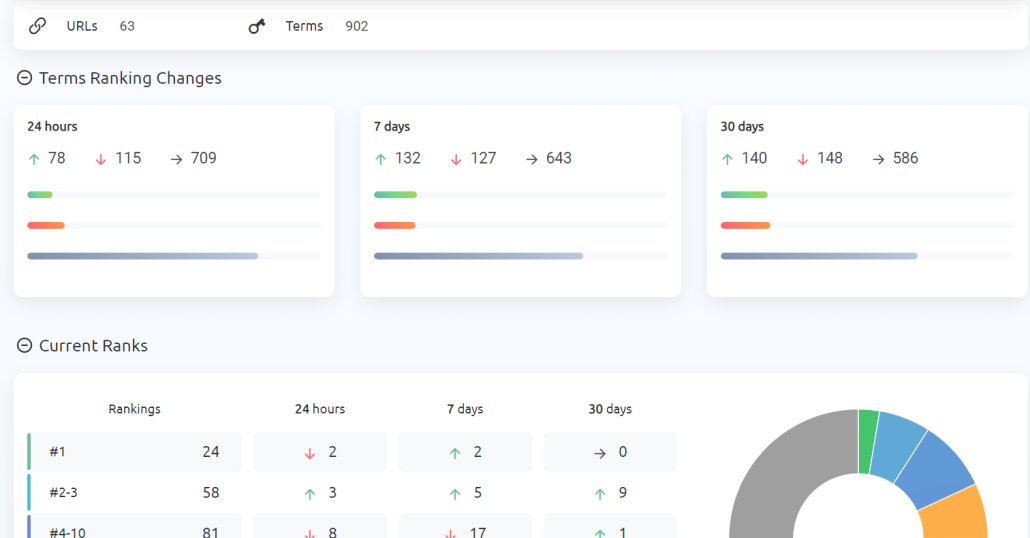 2. The URL view displays data on each rank, organized by URL. This lets you see the keywords tracked for each URL and their corresponding ranking data.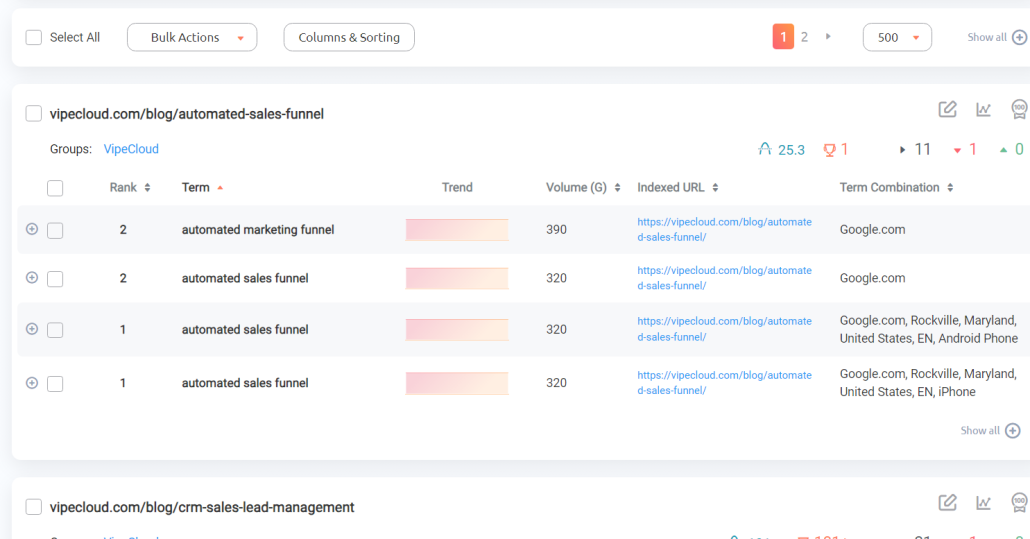 3. The Term view is similar to the URL view, but it lists all the URLs that are paired with a specific keyword (instead of all the keywords that are paired with a certain URL). This allows for an easy comparison of how two URLs rank for the same keyword.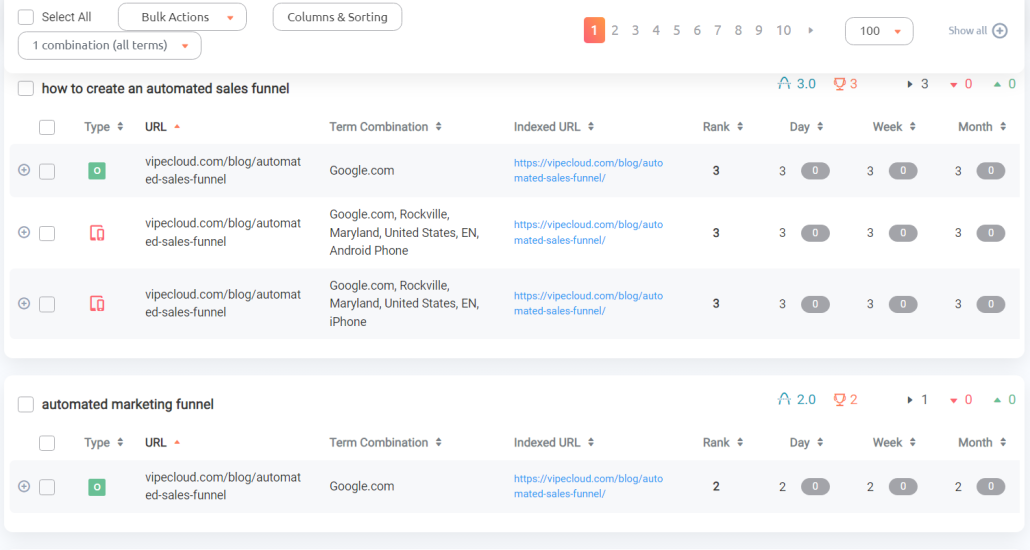 4. The Daily View presents shows you how your ranks have changed over time. This provides valuable insights into the success of your strategy and helps you understand what factors are affecting your ranks in the long term.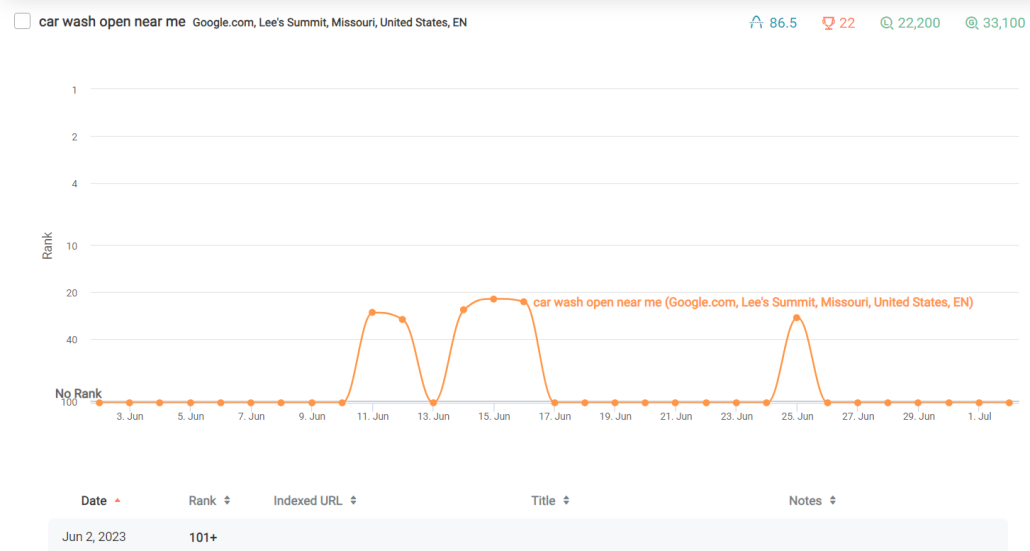 5. The Full SERPs page allows you to get a comprehensive view of the SERPs that you're competing on. Get in-depth insights into how your URL and keyword combinations are performing and compare their performance with your competitors.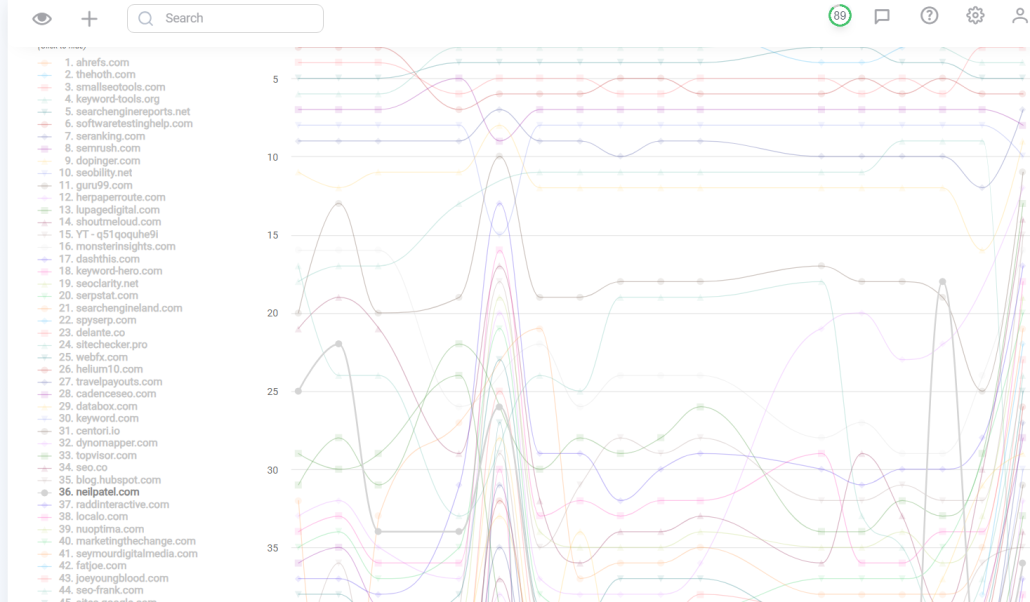 Don't forget to utilize all 5 Rankings Views to better understand your ranking health.
Set Up a Reporting Schedule
If you want to save time tracking your ranks, you need to set up reports. Reports automatically keep you (or your clients) updated on the progress of your ranks. 
The only thing you have to do beforehand is set up a reporting schedule that will then automatically send at the appropriate times:
Visit the Reports Center and choose the type of report you want to create.

Fill in all the required information. You should include the export type, template, the email address you want ProRankTracker to send the report from, and the reporting schedule.

Click "Save." ProRankTracker will start to automatically send that report on the schedule you set.

Remember, you can create unlimited reports with any plan. So don't hold back– repeat this process as often as you need until you're satisfied with the number of reports you're getting.
Use Insta-Check for Quick Ranking Checks
You don't always need to add ranks to your long-term tracking list. Sometimes you just need to check a few of your ranks (or your competitors' ranks). There are several reasons for this:
You want to check a new keyword but don't want to use your allotted tracking slots.

Your competitors launched a new keyword campaign, and you want to check their rankings.

You're considering adding new keywords, but you want to see what the competitor landscape is like first.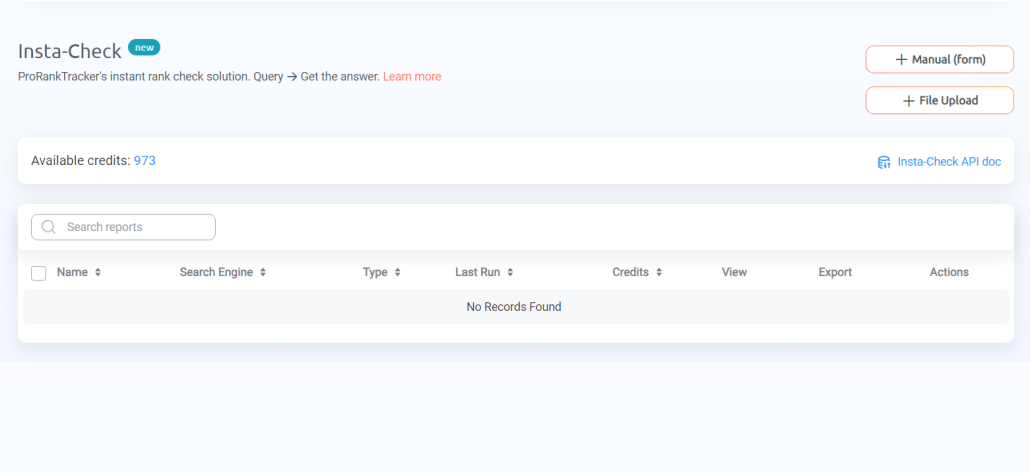 Insta-Check is a pay-as-you-go system where you can check keyword/URL combos without adding them to your tracking list. You can also use it to see the top 10, top 30, or top 100 for a given keyword with a set location, search device, and search engine.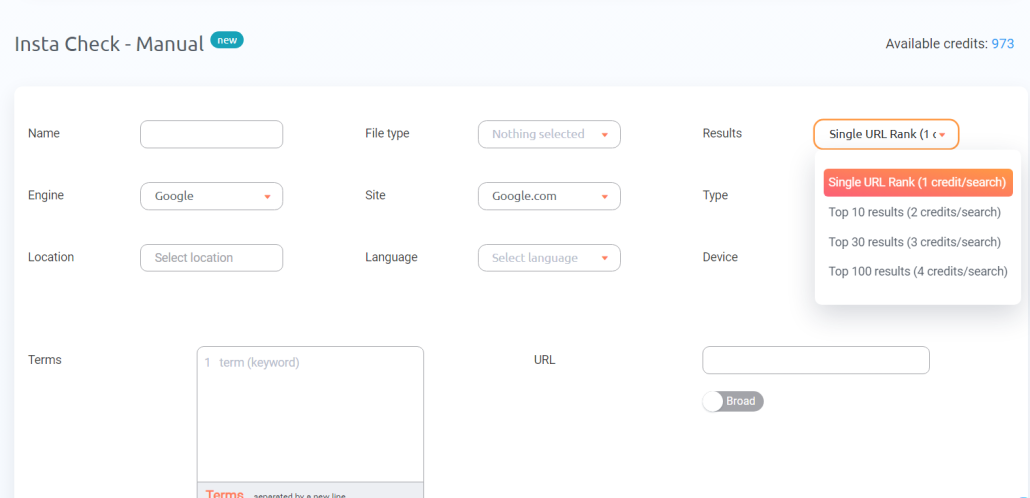 If you're looking to improve your ranks long-term, you'll need to track your ranks, but the Insta-Check tool is excellent for quick checks when needed.
How to Steal Your Competitors' Strategies with ProRankTracker
So, you just realized your competitors' ranks are rising on the SERP. What do you do about it?
The first thing you should do is go look at their pages that are rising. Has anything changed?
Formatting/readability?

User experience?

Usefulness/informational content?
Check all these things to ensure your pages are as good or better than theirs.
After that, it's time to start stealing some of their ranking strategies. Use the following tips to take your competitors' best strategies and make them your own.
Use Rankings Discovery to Reveal Their Keyword Strategy
If you're unsure what keywords your opponents are targeting, that's the first thing you need to figure out.
Fortunately, ProRankTracker's Rankings Discovery tool makes it easy to do. Just enter your competitors' URLs that you're competing against. ProRankTracker will show you exactly what keywords those pages rank on the SERP.
Additionally, Rankings Discovery will show you the following for each keyword:
Search engine

Location

Device type

Search language

Volume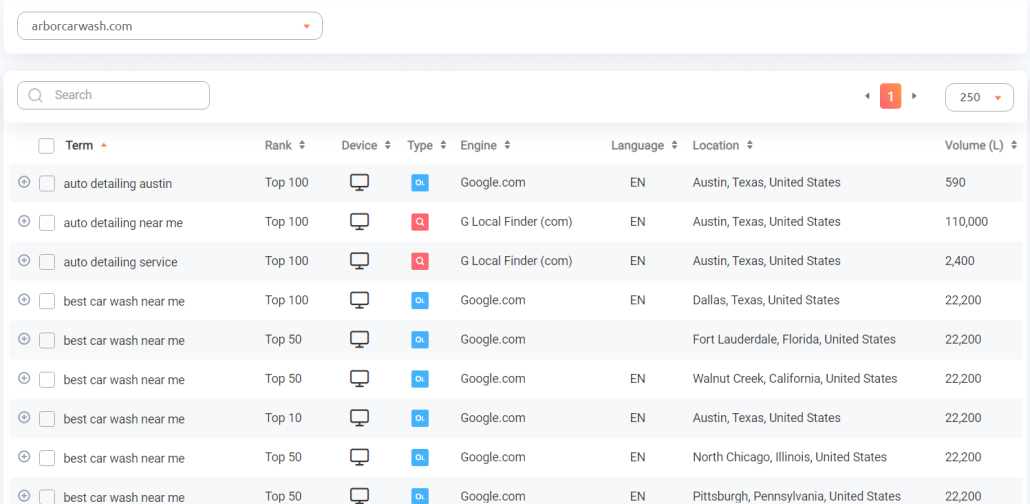 You can add these keywords to your tracking list directly from this screen by clicking on the checkbox next to the search term you want to add.
Repeat this process for several of your competitor's keywords, and you'll quickly start to understand their entire keyword strategy.
Use Keyword Suggestions to Expand Your Strategy
Now that you understand your competitor's strategy, it's time to do something with that knowledge.
ProRankTracker offers another tool to take that info and turn it into hundreds of actionable keywords.
The Keyword Suggestions tool takes the keywords you're currently tracking and provides a list of dozens or hundreds of valuable long-tail keywords.
Unlike other tools on the market, this tool doesn't just generate random keywords. It generates a list of keywords based on the ones you're already using (and that are already driving traffic to your site.
Combine the Rankings Discover tool and the Keyword Suggestions tool to steal your competitor's keyword strategy, then expand it beyond what they're currently doing.
Conclusion
Google is undoubtedly king of the search engine world, but how can you be sure that you're making the most of the platform?
Using a Google rank tracker, you can target keywords more specifically than ever before, steal your competitors' strategies, and expand your SEO strategy to new levels.
Keep in mind, however, that these benefits only come if you're consistently using a ranking tool like ProRankTracker.
Sign up for a 30-day free trial and follow the steps above to see how much your business can benefit from a Google rank tracker!
Happy tracking!
https://proranktracker.com/blog/wp-content/uploads/2023/07/How-to-Use-a-Google-Rank-Tracker-to-Win-on-the-SERP.jpeg
963
2535
Jacob Statler
https://proranktracker.com/blog/wp-content/uploads/2020/11/prt-blog-1-1.png
Jacob Statler
2023-07-06 12:44:20
2023-07-12 18:46:03
How to Use a Google Rank Tracker to Win on the SERP