How to Use a URL Rank Tracker Like a Pro
SEO is all about finding the right keywords, right?
Not exactly.
To do SEO well, you have to do a lot more than just identify keywords. You have to:
Craft blog posts and content targeting your keywords

Keep up with your competitors and their strategies
Keeping your website at the top of the SERP can quickly become a full-time job!
Using a rank tracking tool can not only simplify the process, but it can also help you rank higher than ever!
This article will show you how to use a URL rank tracker to track and improve your ranks across the web.
We'll cover:
The Basics: How Can I Check My Website Ranking?
When people start tracking their ranks online, many are unfamiliar with HOW a website is ranked. 
It's tempting to think that the entire website is either ranked high or low on the SERP, but that's not how it works.
So to track your website's ranking online, you have to know both what part of your website and what search term you're looking at.
In other words, your site will rank entirely differently depending on what the searcher types into Google. So let's take a closer look at this to show you what goes into your SERP ranking.
URLs
Each page of your website has a unique URL. Google indexes and ranks your pages based on their specific URL.
Let's say your website is goodsocks.com (you sell socks and shoes). Your homepage might be goodsocks.com/home, and your product page might be goodsocks.com/buy.
Google indexes those 2 URLs differently, so one might rank and not the other.
In other words, you have to track the 2 URLs independently to see how you're ranking.
Confused yet?
Keywords
Not only do you need to track each URL individually, but you also need to track many different possible search terms (keywords).
On goodsocks.com/home, you're targeting the keywords:
Socks

Shoes

Wool socks

Shoes with arch support
Since your website will rank differently for each of these search terms, you need to track them individually.
The data points you need to track are piling up! For example, you're tracking 2 URLs with 4 keywords, which means you're already tracking 8 unique ranking combinations!
On an actual website, you'll likely be tracking hundreds of ranking combinations, making this process much more complex.
Do You Need a Ranking Tool to Check Your Ranks?
In other words, tracking your ranks without a tool is HARD!
But is it necessary? Could you get by without using a ranking tool to track your URLs and keywords?
In all likelihood, you could.
However, the difficulty of doing SEO properly without a good ranking tool is so high that it might as well be impossible.
In this section, we're going to focus on 2 of the significant benefits of using keyword tracker software to keep up with your ranks.
Save Time
When calculating the value of a tool to your business, make sure you consider the amount of time it could save you.
Without a tool, accurate SEO rank tracking is incredibly time-consuming. You have to:
Search for every URL and search term that you want to track

Make notes of all the data you find in a spreadsheet for historical referencing

Repeat every day at a minimum
Just the process of COLLECTING data like this can take hours a day. That doesn't even consider the actual work of analyzing the data.
On the other hand, a rank tracking tool can instantly collect all this data and provide you with insights that you might overlook otherwise.
Your time is valuable, and keyword tracker software can save you hours that you can use on more productive tasks.
Improve Accuracy
Many small businesses try to "get by" by regularly searching for their top keywords to see what kind of progress they're making.
Unfortunately, the data they collect like this is rarely very accurate. The SERP can change multiple times a day, so if you only get data once or twice a week, that's almost like not getting any data at all.
A good URL rank tracker will check ALL your keywords and URLs every day. Daily (or multiple daily) rank checks guarantee that you're acting on the best data possible.
Why You Need to Track Your Ranks
Rank tracking will add work to your to-do list whether you use a tool or not. There's no getting around that fact.
Is it worth the extra effort to track your ranks? Will your business be OK if you decide not to track them?
We believe that tracking your ranks diligently is one of the best things you can do for your business. 
If you don't know how you're ranking or stack up against your competitors, your strategy is more like a random guess.
Let's focus on 3 reasons you should ABSOLUTELY be tracking your ranks.
Adjust Your Strategy
Is your current strategy working?
If so, how do you know for sure?
If not, why not?
These are essential questions to ask yourself!
Without hard data, it's nearly impossible to measure the success of your strategies. You can measure traffic, but increased traffic doesn't always correlate with ranking improvements.
Accurate SEO rank tracking can give you the data you need to adjust your strategies in productive ways.
For example, let's say your rank for a specific keyword hasn't improved even though you've targeted it in your blog. A ranking tool will help you realize it quickly to ditch the keyword for better ones.
Keep Up With Your Competitors
If you're not taking steps to improve your SEO daily, your competitors are going to outpace you quickly.
SEO is getting more competitive every year. As a result, small businesses now have to engage in SEO just to stay alive on the internet.
Most of us don't just want to keep up with our competitors–we want to beat them!
Beating out your competitors takes constant strategizing and data analysis. If you don't have the accurate data necessary for a good strategy, you won't be able to compete for long.
A URL rank tracker can help you understand your ranks well enough to beat your competitors once and for all.
Measure Your Progress
Do you know what your ranks were last year at this time? 
What about last month?
Last week?
One of the best things about tracking your ranks with a ranking tool is that you'll be able to keep track of every change in your ranks over time.
Not only is this information interesting, but it's also precious. Knowing how your ranks have changed over time will help you better understand how specific strategies have affected your ranks.
Over time, measuring your progress with a ranking tool will help you refine your strategies even further.
How to Use ProRankTracker for Accurate URL Rank Tracking
Now that we've gone over the theory behind how URL rank tracking can help you improve your ranks, let's look at a practical example.
This section will show you how to use ProRankTracker to track your ranks and use the data to improve your strategy.
If you want to follow this guide, we recommend signing up for a 30-day free trial. Then, you'll be able to see how much ProRankTracker can help your business grow online.
Input Your URLs
Before you can do anything else on ProRankTracker, you need to input all the URLs that you plan to track.
Go to the Add Wizard tool on the left-side toolbar:
Type or copy/paste your URL.

Input the keywords that you want to track for that URL.

Click "Next Step."

Choose the search engines and devices where you want to track that URL and keywords.

Input location data if desired.

Click "Save."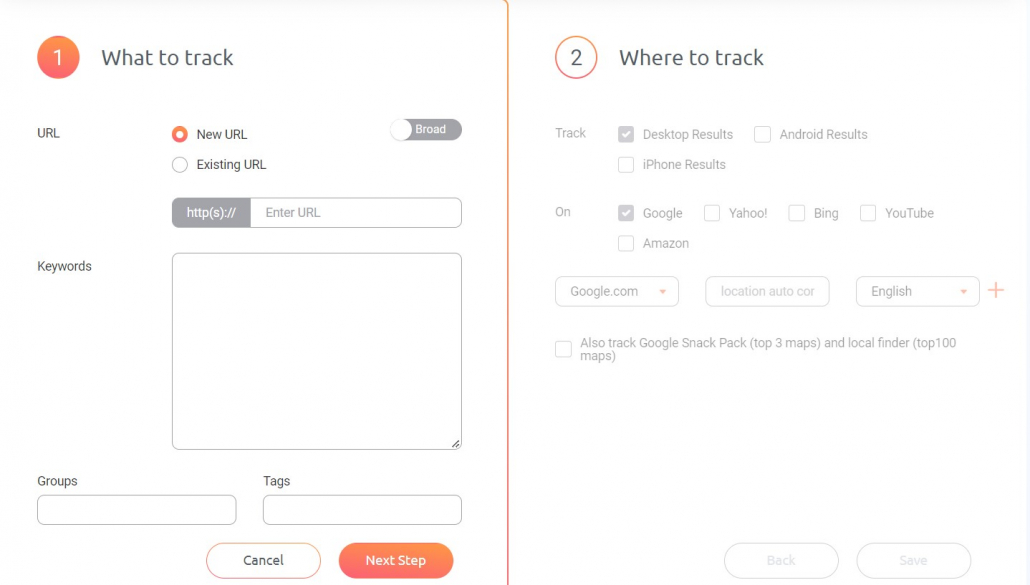 Just repeat this process for all the URLs on your website, and ProRankTracker will automatically start tracking tons of relevant data points for those URLs.
Use Rankings Views to Track Your Ranks
Once you've entered your URLs, you're ready to analyze data. 
ProRankTracker offers 5 Rankings Views that show you different aspects of your URLs and keywords.
1. The dashboard shows a graphical overview of all your ranks.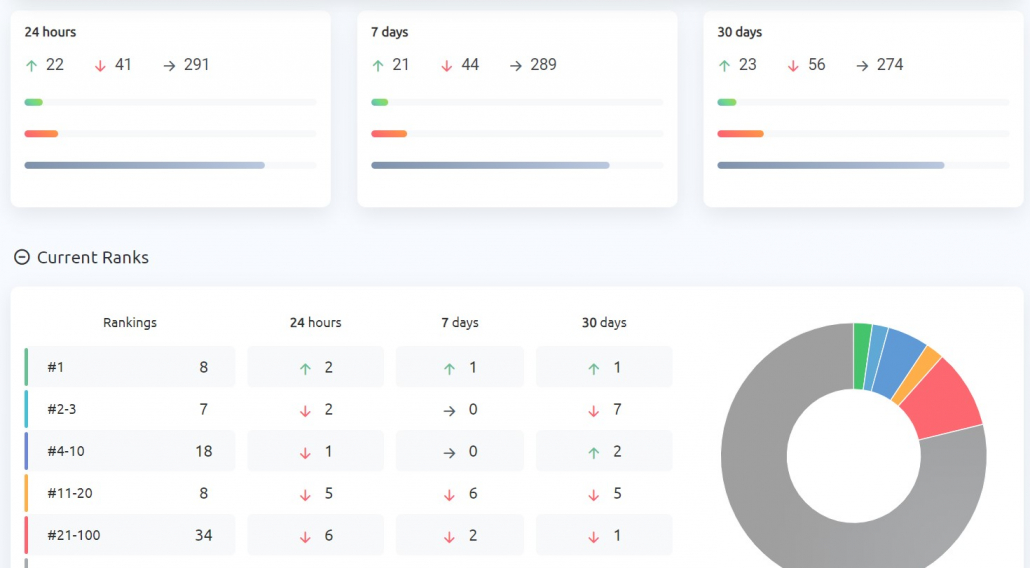 2. The URL View shows you each of your URLs and the keywords you're tracking for each URL. This is the view you'll want to use if you're going to understand how your URLs are performing for ALL their keywords.

3. The Term View shows you each keyword you're tracking, as well as which URLs those keywords are targeting. If you are tracking the same keyword for multiple URLs, this view will help you understand how those URLs compare on the same keyword.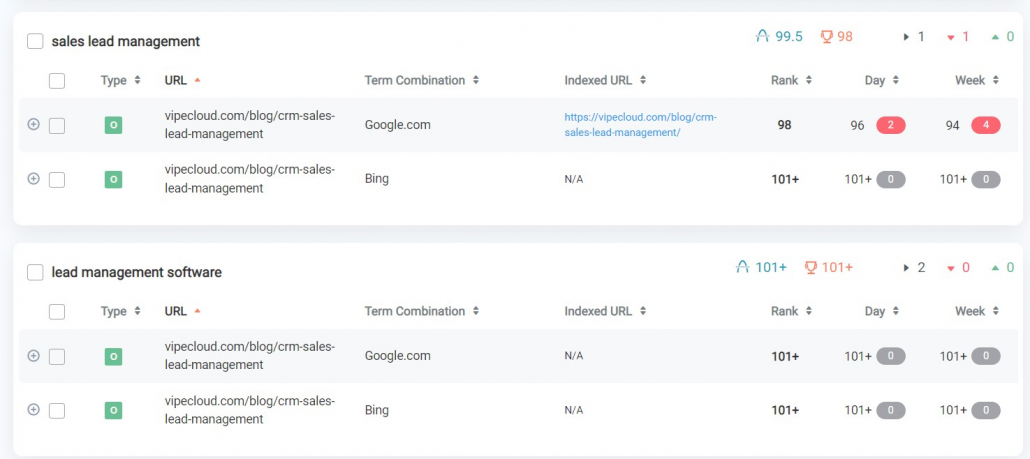 4. The Daily View shows you a historical graph of how a particular keyword has performed over a selected period. This is the perfect view to use if you want to understand how your strategies have performed over time.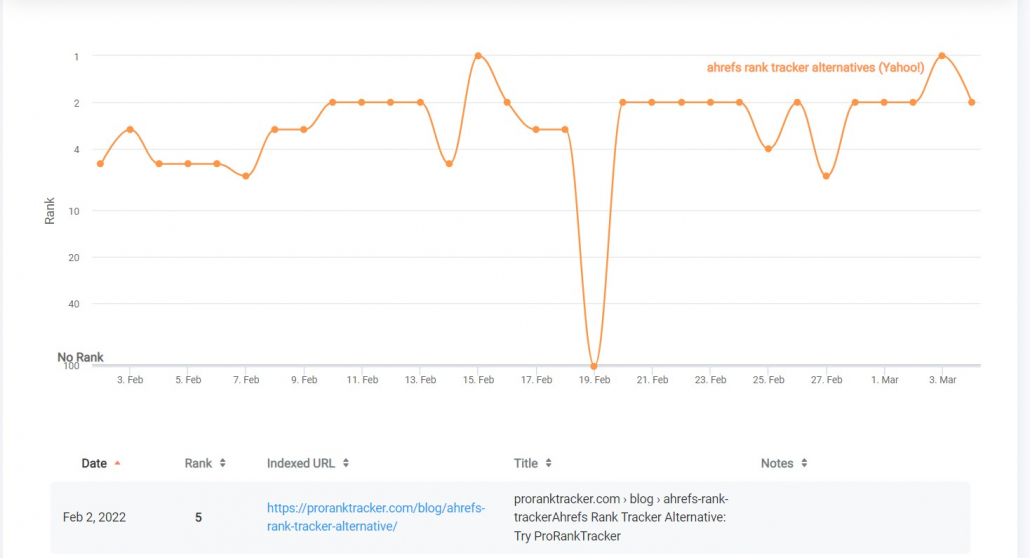 5. The Full SERPs view shows you the current search engine results page for any URL/keyword combination you're tracking. This view is excellent for vizualizing how you compare to your competitors on the SERP.
Use each of these 5 Rankings Views on a regular basis! The more often you see your data, the more likely you are to USE it to improve your strategy and beat your competitors.
Set Up Reports and Notifications
One of the best ways to stay up-to-date on your ranking data is through the use of reports and notifications.
Reports and notifications are similar, but they accomplish 2 distinct purposes.
Reports update you on your ranks on a regular schedule. For example, you might choose to get an overview report every week, and a term view report every 3 days.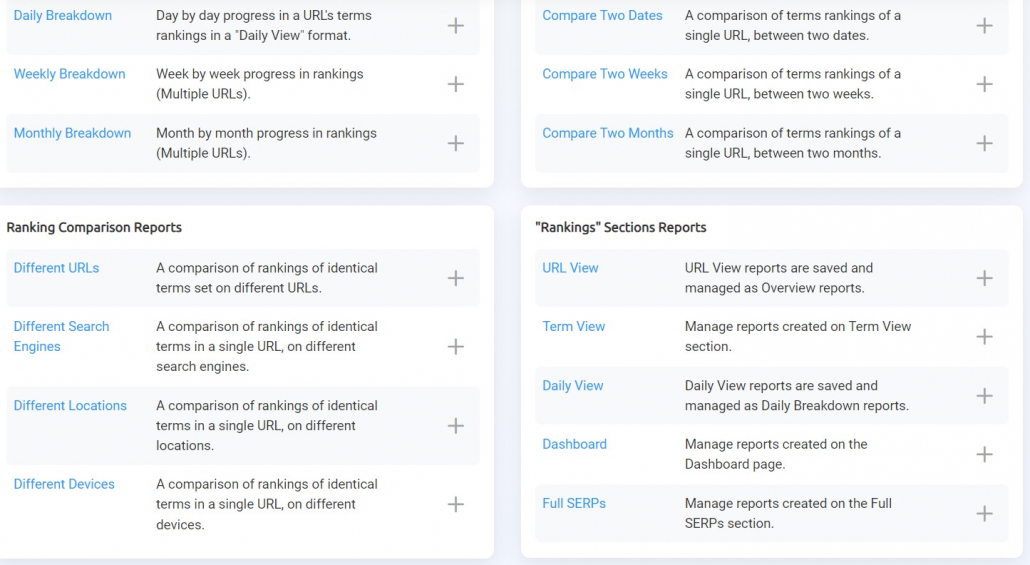 Notifications update you on your ranks when a particular "Trigger" occurs. For example, you might set up a notification to trigger when one of your ranks drops by 3 positions on the SERP.
You can set up both reports and notifications on the Reports Center page. We highly recommend setting up multiple reports and notifications.
Having regular reports will keep you up-to-date even if you're unable to check your ranks every day.
Having notifications will ensure that you are immediately notified of any critical changes to your ranks.
Conclusion
Using an accurate URL rank tracker like ProRankTracker is the first significant step toward establishing a solid presence on the SERP.
If you follow these steps, you should quickly learn to use a keyword rank checker to ensure that you understand your ranks. When you understand them, you'll be better equipped to make sound strategic decisions.
Good luck!
https://proranktracker.com/blog/wp-content/uploads/2022/03/How_to_Use_a_URL_Rank_Tracker.png
321
845
Jacob Statler
https://proranktracker.com/blog/wp-content/uploads/2020/11/prt-blog-1-1.png
Jacob Statler
2022-03-05 12:17:54
2022-04-19 08:44:35
How to Use a URL Rank Tracker Like a Pro