18 SEO Ranking Reports to Change Your Business Forever
Some people start working with SEO thinking it's a "set it and forget it" deal. 
Just choose the right keywords, the right backlinks, and BAM!
Your website blows up and is the hottest thing on Google.
Unfortunately, it doesn't work that way — good SEO is all about keeping up with your SEO rank data to make wise decisions for your business.
But how do you keep up with that ranking data?
1 word.
Reports.
Search ranking reports are a crucial tool for businesses of all types in search engine optimization.
These reports provide valuable insights into how your website is performing on search engines like Google and Bing, highlighting areas where you can improve your search rankings and visibility online.
With the help of search ranking reports, you can make changes to your site that will help drive more traffic and increase conversions.
Whether you're looking to boost rankings for specific keywords or improve visibility for your target audience, a good SEO ranking report can help transform your business from the ground up.
Today we'll take a deep dive into one of the most potent tools a SERP tracker can offer you — the ability to generate beautiful, crisp SEO ranking reports for your clients or your own business.
We'll focus on how ProRankTracker's SEO reporting solutions can level up your business.
** A word to the wise — any tool you choose to use should offer excellent SEO reporting tools — test their free SEO report card.**
Some beginners don't know to look for this crucial feature and miss the boat on a valuable part of SERP trackers.
This article will focus on HOW to generate stellar reports and WHY you need to prioritize reporting in your SEO  strategy.
Let's get started — we'll cover:
Why SEO Rank Reporting is so Important
If you can just open your SEO tool and check your ranks, do you need advanced reporting tools?
YES, YES, and YES.
A vital SEO aspect is ensuring that your website has a robust search engine ranking. This requires constant optimizing and fine-tuning to ensure that your website remains competitive and visible in search results.
One of the best ways to do this is by regularly producing search engine rank reports.
There are several reasons why SEO ranking report software is so essential:
It can save you and your clients a ton of time (

if set up correctly

).

It guarantees you'll stay up to date on your ranks and any critical changes that are going on.

If you choose to white label, generating ranking reports for your clients is a must-have requirement by today's standards.
Let's look more closely at how reporting can accomplish these 3 goals for you.
Saves Time
If it takes you all day to figure out how your ranks are doing, YOU'RE DOING IT WRONG!
Reports cut out the need for long, drawn-out SEO sessions where you're forced to analyze every single detail of all your URLs. 
Instead, they neatly gather and organize all the crucial information you want with just a few clicks!
For example, you can tell ProRankTracker to send you a weekly update of all your URLs. 
You can specify:
Which URLs to include in the report

What parameters to use when filtering results (

search engine, device, etc.

)

The design of your report
Just this 1 report alone can save you so much time by keeping you updated on your weekly rank progress.
Improve SEM Campaigns
When it comes to tracking the success of your SEM campaigns, sem reporting tools are essential.
In addition to tracking basic metrics like clicks and impressions, sem reporting tools can also give you insights into how well your ads are performing in terms of conversion rates and ROI.
However, sem reporting tools are only part of the equation when it comes to tracking your SEM campaign's success. SEO ranking reports can also give you valuable insights into how well your campaigns are performing in terms of organic search visibility.
By combining sem reporting tools with SEO ranking reports, you can get a complete picture of your SEM campaign's effectiveness and where there is room for improvement.
Keeps You Up to Date
If you're like everyone else in the world, important things slip through the cracks when life gets busy. 
Unfortunately, keeping up with our ranks is sometimes one of the first things to go.
SEO ranking report software makes sure that doesn't happen by allowing you to follow even the most minor changes in your ranks, even when your ranks have completely slipped your mind!
For example, monthly keyword rank tracker reports will ensure that you stay more informed about your ranks than most business owners out there.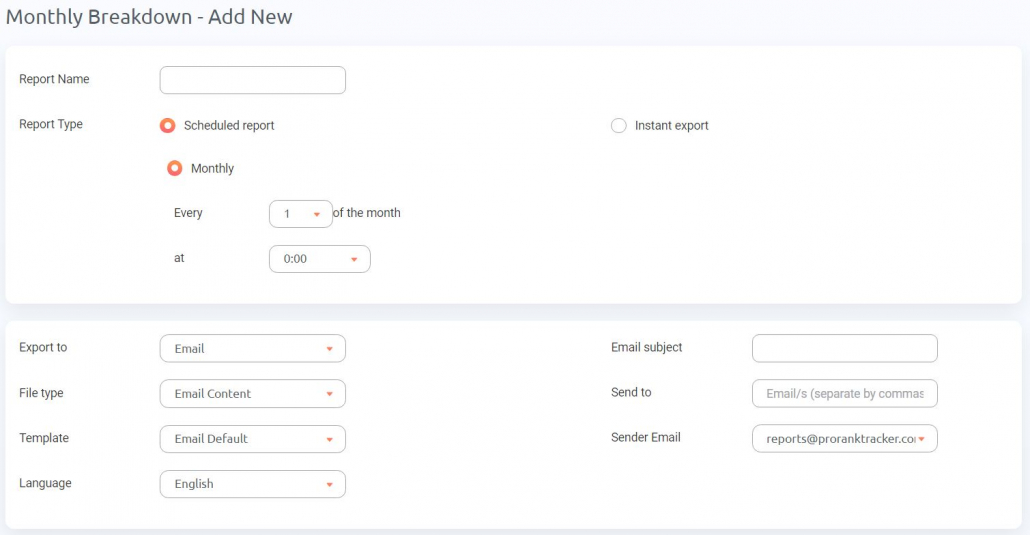 Allows for White Label Reporting
Finally, SEO rank reporting allows you to white label. 
It's impossible to offer white label SEO services without the capability to send clients reports.
Reports accomplish 3 important goals for your clients:
They keep your clients in the loop of how their page is performing.

They increase client trust by maintaining openness.

They help clients feel more invested in their SEO ranks, which increases their chances of staying with you long-term.
Keep an open and transparent communication channel, and it'll show that you're confident in yourself and the service you provide.
The 18 Rank Reporting Tools That Will Change Your Business Forever
Reports provide you with a visual of how ranks have changed within a certain time period. 
In addition, ProRankTracker has a customizable SEO dashboard, allowing you to create the exact reports you need.
To make reporting easier, ProRankTracker provides more than 20 types of reports that you can further customize for you and your clients.
We'll start with the main types of reports you can generate, move on to more advanced reports, and explain a bit about PRT's notifications system.
So let's begin the tour, shall we?
Overview Report
The first and most basic report is the Overview Report. 
The Overview is the "bread and butter" report that'll give your clients a sound, broad-level understanding of their current ranks.
This report shows you change over the last:
As your clients scroll through the report (which you can send directly to their inbox from the PRT dashboard), they'll see a detailed look at each of their URLs and tracked keywords.
You'll get an easy-to-understand breakdown of rank, historical change, search volume, and ranking trend for each URL.
A report that you can't customize is (almost) useless. 
You can tailor this report any way you like. 
For example, you can make the data table show every parameter available or go "minimalist" and deliver keywords and rank only.
Some clients prefer to see the ranks only while others want an in-depth report with every parameter available. 
When creating this report, simply select everything your client wants in their reports.
You can see why the Overview report is one of the essential reports for your clients because it can include everything they want to take a look at.
Groups Summary Report
In PRT, you can organize your tracked URLs into groups. 
You can later filter out all the URLs that belong to a specific group — this allows for quick navigation, and it's a great way to keep your account ship-shape when working with multiple clients.
For example, you might have 1 client in the sporting industry and 1 in the fashion industry. 
No problem, you can create 2 groups — 1 called "sporting" and the other called "fashion." 
Creating these groups allows me to access 1 particular client's data quickly.
The Groups Summary Report generates a quick summary of all the groups that you've defined. 
You can, of course, select which groups are shown in this report.
This report is more straightforward than the Overview Report, and it includes significantly less data.
Instead of showing details about every single URL, the Groups Report only shows high-level information about an entire group of URLs.
These reports can also be immediately downloaded as a PDF, CSV, or XLSX file or emailed and shared via Dropbox or Google Drive.
They're good for a general outlook minus a mountain of details while still showing you whether a particular client's ranks are trending up or down.
Tags Summary Report
In ProRankTracker, tags function identically to Groups but are assigned to tracked keywords instead of URLs.
The Tags Summary Report is the same idea as the group summary report but shows a summary of tags instead of groups. 
Just like in the Groups Report, you can choose which tags will show up in the report and how you want to export the data.
This keyword ranking report gives your clients a detailed view of each of their keywords.
 This vital info is essential for understanding campaign health.
Notes Report
ProRankTracker automatically generates notes when a URL or keyword undergoes a significant change. 
For example, your URL may be featured in the Google Snack Pack or as a featured snippet.
It can be tough to keep track of these critical developments, and that's where the Notes report comes in.
This report allows you to track these automatic notes (as well as any added manual notes) so you know precisely how each of your URL's ranks has changed over time.
Daily Breakdown Progress Report
This report is somewhat similar to tracking stocks on the stock market.
First, the top of the report gives you an overview of how each of the keywords for a specific URL has performed in the last month (or whatever date range you specify).
As you scroll down, it shows the daily progress specific keywords have made in a detailed chart for each keyword.
You can make the graph show any period by defining a date range. 
You can also add additional data to the graph like other search engines, devices, etc.
This report is also great for creating case studies of success stories to showcase to potential new clients. 
For example, you can demonstrate how you took a website that initially struggled, not even being in the top 100, to ranking in the top 10.
Nice.
Using this report, you can overlay how a keyword ranks on different search engines or different Google domains (like Google.com.au).
The Daily Breakdown report is essential for understanding how a URL's keywords progress over time and comparing that data between search engines and devices.
Weekly and Monthly Breakdown Reports
The Weekly and Monthly Breakdown Reports function precisely like the daily breakdown but as a "zoomed out" version. 
This report allows you to make comprehensive periodic reports showing change over weeks or months.
The top of the report shows you a pie chart of the changes for the selected URLs alongside more detailed info about how your keywords are ranking.
As you scroll down, you'll once again see graphs for each tracked keyword.
On the "zoomed out" Weekly and Monthly Reports, each chart shows each week's or month's top, bottom, and average positions.
As with the other reports, you can add comments to your generated PDF.
The Weekly and Monthly Reports are easy to generate with specific dates. 
Just select the range you'd like to see by choosing "from" and "to" dates, then choose the URLs you'd like to view.
Not every campaign will immediately start showing results. 
Most of them will probably take at least a few weeks before your clients begin noticing any real changes.
Since specific campaigns might take a while before they bear fruit, these types of reports allow you to show your clients long-term progress.
URLs Comparison Report
This report compares the current ranks of the same keywords among different URLs.
There are 2 super cool ways to use this report:
Competitor analysis

Refinement of your campaign
You can run a competitor analysis efficiently with the URL Comparison Report.
For example, if you were tracking the major book-related websites, you could choose the keyword "books." 
Then, compare that keyword between Amazon, Barnes and Noble, and Goodreads.
Or, you can refine your campaign (or your clients' campaigns) by comparing how multiple URLs perform for the same keyword. 
For example, your home page and your product page may both be trying to rank for the keyword "books." 
This report allows you to determine which page is doing better, which helps you understand how to target the right keywords around your websites.
To generate this report, select the URLs competing over the same keyword, then choose the keywords to compare.
The first thing you'll see when you generate this report is a graph comparing how each URL is performing for each individual keyword. 
In our example, we're comparing more than 20 keywords, but you can choose to compare as many or few as you want.
As you scroll, you can see a chart that displays a more specific comparison of the URLs and their keywords.
Once the report is generated, it remains active (unless you delete it), so you can check up on it any old time you'd like.
Different Search Engines Report
This type of report allows you to see how well specific keywords are doing among the different search engines (Google, Yahoo!, and Bing).
Unlike some of the other reports we've seen, this report compares CURRENT ranks instead of presenting a historical graph. 
The primary purpose of this report isn't to give an overview but rather to provide detailed insight into how you're performing on various search engines.
Select a URL and choose your keywords to compare across multiple search engines to generate this report.
The chart generated by this report stacks your performance on each search engine on the same graph. 
This presentation makes it easy to compare your performance quickly.
You can also scroll down to see the same information in table form instead of as a chart.
Again, once the report is generated, it remains active (unless you delete it), so you can check up on it as frequently as you like. 
ProRankTracker will update it daily.
Different Locations Report
The Different Locations Report is ideal for businesses that want to improve their local SEO.
When local businesses add URLs for tracking in ProRankTracker, they should also add specific location data. 
This report will compare how your keywords for a particular URL are performing in different locations.
To generate this report:
Select the URL you're tracking in multiple locations.

Select the keywords to compare from the list
The report will plot your ranks from each location on the same graph — this handy feature provides a performance comparison of several target areas. 
Armed with this data, you and your clients can better decide which locations to target. 
Different Devices Report
The Different Devices Report functions very similarly to the Different Locations Report but plots performance across different devices instead of locations.
You can compare your performance on:
Desktop

Android mobile

Apple mobile
You generate this report in the same way:
Select the URL to track across multiple devices.

Choose the URL to generate a report for.

Select the keywords to plot on your graph
The report will stack your keywords' performance for different devices on the same graph.
People often underestimate the importance of local searches and understanding how your terms rank on mobile vs. desktop. 
Did you know that about 46% of Google searches are looking for local info, and roughly 60% of Google searches are performed on a mobile device?
Translation — you CAN'T ignore these two important reports! 
They'll keep you in the know on how you're performing across different locations and devices.
Benchmark Report
The benchmark report is another excellent report for capturing a wide-angle view.
There are 3 different benchmark reports:
Compare 2 dates

Compare 2 weeks

Compare 2 months.
We're talking about these 3 reports together because they each function in the same way.
This type of report allows you to compare all the ranks for a specific URL between 2 selected days, weeks, or months. 
In other words, you can use 1 day, week, or month as a "benchmark" to help analyze how your rank changed between that selection and a later selection.
Using this report, you'll grasp the big picture of a specific campaign performance over a given period.
For example, let's say you track 32 keywords for Goodreads.com.
You'll see the total changes for all those 32 keywords between the 2 dates or periods in a single, unified report. 
You'll see which terms rose, which flopped, and which held steady.
Let's look at each of these 3 reports to see how they work.
Here's a comparison between September 25 and the same day in the previous month — this will give us a good idea of whether a URL is trending up or down.
Here's the same URL, but it shows a comparison between the first week of August and the first week of September. 
This report will give us a good idea of the overall performance of the URL across the 2 months.
If most of our ranks dropped in September, there's probably an issue to address.
Here's a final report showing August of 2020 vs. August of 2021. 
Seeing a month-to-month comparison like this will help you track and understand the seasonal trends and fluctuations, as well as get a handle on your long-term performance.
If your graph is all green like this one, all your keywords have improved! 
Presenting a chart like this to a client can help improve customer loyalty over time by showing them the stellar keyword performance.
The data is also represented in a table, showing the top or average position for the 2 periods you chose to compare.
In the examples above, you can see in the specified period — some keywords rose in rank, some dropped, while others remained the same.
This is also an excellent report to include in a case study to see how successful a campaign has been over time — You can also show how a competitor dropped in ranks by comparison as the cherry on top.
"Rankings" Sections Reports
There are 5 total different Rankings Reports. 
They're similar, but each plays a vital role in search engine rank reporting for you and your clients.
Let's quickly go over some background info to help you understand these reports if you're new to ProRankTracker.
In ProRankTracker, the left-side toolbar is full of tabs that take you to other info about your current SEO campaigns. 
Specifically, there are 5 "Views" that give you different perspectives on your current ranks:
Dashboard

URL View

Term View

Daily View

Full SERPs
When you generate a Rankings Report, it transforms any one of these 5 views into a customizable, brandable PDF report to send to your clients.
Let's quickly look at each of these 5 reports.
1. URL View Report
The URL View Report functions precisely like an Overview Report — you even create it from the same page. 
When creating an Overview Report, just tweak the settings and filters until you're happy with them.
In other words, the Overview Report and the URL View Report are identical, but you can use filters and settings to make the report more or less detailed than your URL View page.
2. Term View Report
The Term View delivers a snapshot of all your keywords' ranks for a single day. 
It breaks down each keyword by the URLs targeting that keyword, giving you insight into your keyword's performance across multiple pages.
3. Daily View Report
The Daily View Report is identical to the Daily Breakdown Report. 
Similar to the relationship between the Overview Report and the URL View Report, the info included in your report depends on how you tweak the settings. 
The Daily View Report and the Daily Breakdown Report give you a day-by-day report of specific keywords' performance. 
Use the settings and filters to include more or less info, depending on what your heart desires.
4. Dashboard Report
Your dashboard report gives you the broadest range of info about a campaign's health. 
If your clients aren't particularly interested in details, but they still want to stay up to date on overall ranks and changes, the Dashboard Report will be your go-to. 
The Dashboard Report includes:
A 24-hr, 7-day, and 30-day change graph

A current ranks graph

Biggest rank jumps or drops in the last 24 hrs
5. Full SERP Report
The Full SERP shows you the entire search engine results page for a specific keyword. 
To generate a Full SERP Report, select the desired URL and keyword, as well as the date range you're analyzing.
ProRankTracker will generate a report showing the SERP for that keyword, making it a breeze to keep an eye on your competitors while staying on top of your own keyword performance.
We've covered the big 5 reports, but ProRankTracker also offers several SEO reporting tools that take these reports to the next level. 
Let's look at some of the cutting-edge reporting features that'll change your understanding of your SEO.
Scheduled Report
ProRankTracker also offers Scheduled Reports. 
You can schedule almost any report in advance to be generated daily, weekly, or monthly. 
They're fully customizable and downloadable like all other reports — such a cool feature for your white-label clients.
Another customization feature ProRankTracker offers is the ability to customize the email address from which the report is sent to your clients. 
Makes you look like a pro.
Scheduled Reports are a fantastic way to keep your clients up-to-date daily on their campaign's progress while saving you time through automation.
Smooth communication = happy, in-the-know clients.
Notifications
Notifications are similar to Scheduled Reports, the sole difference being that these aren't sent on a consistent schedule.
Instead, notifications are sent when a goal is reached, like nabbing the top position on the SERP.
Cue the confetti!
In other words, a Scheduled Report could be sent on the first Monday of every month, whereas a notification might only be sent when a URL drops 5 ranks for a specific keyword.
Sound the alarm!
Once a pre-set trigger occurs, a report will be sent to preassigned emails or your Dropbox or Google Drive.
You're entirely in control of what triggers a notification and what information that report includes. 
Some potential triggers might be:
When your keyword hits the top position on a SERP

When you get into the top 10 for a keyword

When a keyword increases or decreases by a set number of ranks

When a keyword hits a specific rank of your choosing
This is one of the most valuable reporting features for an SEO campaign because you can use Notifications as strategy signals — what's working, what's not.
For example, the last thing you want is an important keyword to drop ranks without noticing — Notifications fix that issue without breaking a sweat.
Likewise, it's great to be notified once a keyword rises to a particular landmark, such as entering a top 10 position. 
At that point, you may choose to focus your efforts somewhere else if your keywords are in the top 10.
Shared Reports
Shared Reports is a unique and ultra-awesome white-label feature you can use to "WOW" your clients. 
Using the Shared Reports will bump your SEO service's level of professionalism and originality up a notch or 12.
Instead of the traditional avenue of emailing a PDF, the Shared Reports feature creates an interactive web page with the report data.
Read that again slowly — I-N-T-E-R-A-C-T-I-V-E W-E-B P-A-G-E. 
Sweet. 
All data shown on the page is fully customizable. The report offers an overview of all term changes and includes a data table showing your chosen fields (

rank, SE, search volume, etc.

). The displayed data consists of all terms associated with a URL or a group of URLs.

The generated link is unique and can even be encrypted with a password so only the people you choose can see it.

You can set the link to expire in a certain amount of days.

You can also allow the person viewing the page to download the data as a PDF, CSV, or XLSX file.

This web page is updated daily — the person you share it with doesn't need to be a PRT user and only needs access to that link to view the freshly updated data.

This feature is entirely

white-label

— you'll have the ability to generate a link with YOUR domain as the URL and with your logo, design, and details embellishing the shared report. Essentially, PRT remains hidden and acts as your backstage power and infrastructure (

You rake in all the credit!

).
This feature will impress your clients and help more hands-on clients feel like they're up to the minute on their SEO progress.
MyRanks Client App
For those of you who want to blow your clients' minds, this one's for you.
MyRanks is a mobile app your clients can download that shows them their ranks. 
Yep, you read that right, friends. 
You can have your own SEO mobile app!
These days, mobile is killing it over desktop. 
The goal behind creating MyRanks was to ensure that your clients get new rank data right on their phones.
Utilizing MyRanks creates a "2-birds-with-1-stone" scenario…
It reassures your clients that their case is a top priority, and they can get a progress update on their SEO campaign by simply checking the app.
MyRanks has features out the wazoo:
The app is available for iOS and Android.

YOU choose what data you want the users to see — share a single URL or a group of URLs. It's up to you.

The data is updated multiple times per day.

The person viewing the app can download the data as a PDF, CSV, or XLSX file to their mobile device.

This app is 100% white label and can (

and should

) be embellished with your logo and company details. PRT works for you behind the scenes. You can quickly design the white label customizations for MyRanks through PRT Settings.

Set up a username and password for your clients, colleagues, or boss, and they can download the app through iTunes or Google Play.
Showcasing MyRanks when pitching potential clients can help tip the scales toward growing your client base. 
The potential client will assume it's YOUR technology because your logo and company details are front and center.
Your own rank tracking app can give you a leg up over more prominent SEO agencies.
Sub-Accounts
With sub-accounts, you can set up smaller ProRankTracker permission-based user accounts with unique usernames and passwords. 
You'll manage these under your main account, giving access to only specified data you have in ProRankTracker.
But a sub-account wouldn't do you much good if everything has ProRankTracker logos. 
And that's why every sub-account will also have your logo and other white-label options.
Give access to this sub-account to colleagues or clients with their own username and password, and the logo they'll see will be YOURS. 
You can specify the data seen by each sub-account user — adjusting various permission levels allows your clients only to view limited data or to have full access and admin control over all data.
In addition to impressing clients, it's also an excellent organizational solution for distributing workflow to your team and colleagues and delegating tasks. 
Each campaign can have its sub-account unique sub-account associated with it.
Templates
PRT values customization, as already mentioned throughout this post.  
Let's quickly go over how the customizing templates option works on PRT.
When you open the templates menu, you'll see different options, including:
Colors

Headers and footers

Cover letters
When you're done customizing the template, just name it and save it. 
Afterward, each time you generate a report, you can select the template you want to use. 
ProRankTracker will automatically style the report based on your customizations.
The Beauty of No Limits
One of the best parts of ProRankTracker's reporting abilities is that you can send unlimited white-label ranking reports to your clients. 
Yep, UNLIMITED.
The truth of the matter is that you never know how many reports you might need to generate. 
Hopefully, you'll have white-label clients coming out of your ears, requiring hundreds of reports generated per month!
Having no limits to the number of reports you can generate gives you the freedom to experiment and your agency some serious scalability.
Conclusion
That's a lot of info about SEO rank reporting!
Rank reporting is an integral part of the SEO process, so we went deep today to give you as much detail as possible about ProRankTracker's reporting tools.
Search engine rankings reports are essential to your success. If you want to stay competitive and reach new customers online, you need a clear understanding of where your website ranks in search results. That's why the collection of search engine ranking reports provided below is such a valuable resource.
With these reports at your fingertips, you'll be able to identify areas of strength and weakness in your search rankings and make targeted changes that can help improve your results over time.
Whether you're a budding white-label agency or just trying to stay on top of your own SEO, here's a final piece of advice — don't dismiss reporting when deciding which tool to use! 
The right tool that includes generated reports makes your SEO easier, more effective, and more thorough.
Give several tools a try and see which one is right for you. 
And there's no better place to start than ProRankTracker's free trial.
Happy reporting!
https://proranktracker.com/blog/wp-content/uploads/2017/03/seo-rank-reporting-1.png
321
845
Jacob Statler
https://proranktracker.com/blog/wp-content/uploads/2020/11/prt-blog-1-1.png
Jacob Statler
2021-09-29 21:42:37
2022-09-01 10:57:09
18 SEO Ranking Reports to Change Your Business Forever