How to Use a SERP Competition Rank Tracker to Be #1
Many businesses think that their most significant obstacle to getting more traffic on their website is technical SEO or targeting the wrong keywords.
While those things are both essential, the biggest obstacle in most circumstances is your competitors. Your SERP competitor ranking is the major obstacle you must overcome to reach a higher rank.
But how can you do that? Should you:
Find new keywords?

Improve your on-page SEO?

Write more articles?
Those strategies are essential, but success on the SERP starts with successful competitor tracking.
This article will show why tracking your competitors' ranks is essential and how to do it well.
You'll learn:
What Is a SERP Competitor?
What does it mean for someone to be your competitor on the SERP?
In business, we usually discuss our competitors as other businesses fighting over the same customers. For example, Android and Apple are competitors because they're both trying to sell phones.
However, SERP competition is different. You might compete with someone on the SERP even though they're targeting completely different customers than you are. On the other hand, if you're targeting the same search terms, you're competitors on the SERP.
For example, a seller of whole-bean coffee and a seller of coffee grinders might both target the keyword "best grind size for cold brew." So even though these 2 businesses aren't competitors, they become SERP competitors because they're targeting the same keywords.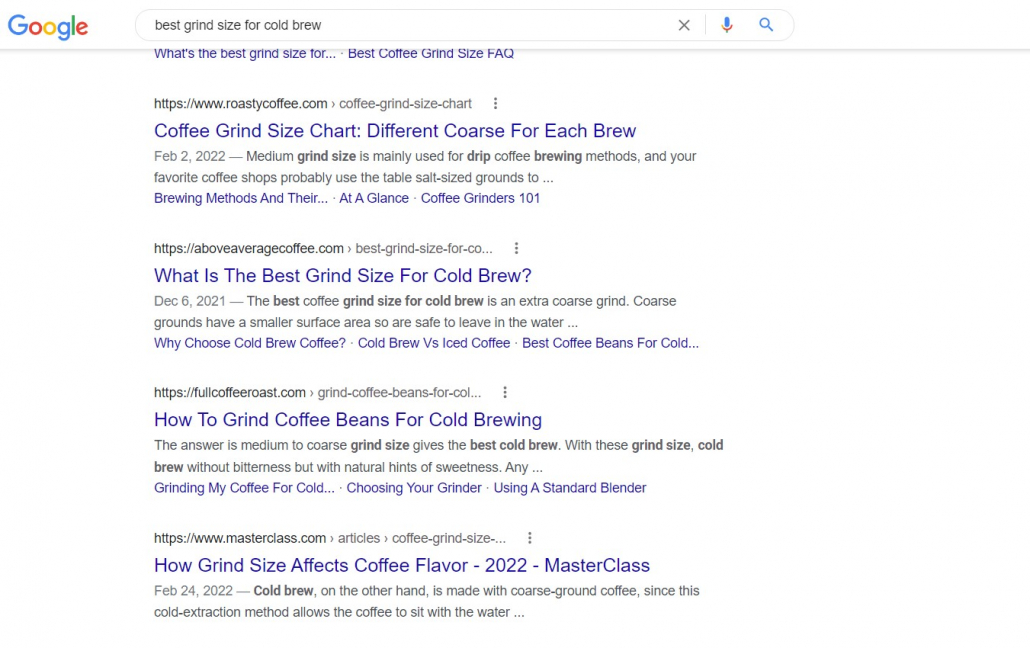 Why Is SERP Competition Tracking Important?
Who cares about competition on the SERP? If you're targeting different customers with the same keywords, does it matter?
YES!
Every position you go down on the SERP means losing clicks. Losing clicks means losing customers!
You NEED to track your competition on the SERP so you can strategize on how to get ahead of them. 
Let's look at 3 specific reasons why tracking your competition on the SERP is necessary.
Get More Clicks
Who doesn't want more clicks? More clicks mean more traffic, which means more money.
But you can't get clicks on page 2 of the SERP.
Don't believe me?
More than 25% of searchers click on the very first result on the first page. Fewer than 1% click on any results on the second page.
In other words, 100 people can search for the keyword you're targeting, and you might not get a single click.
If you track your competitors' rankings on the SERP, you can see what's working well for them and steal their best ideas. 
For example, you can use ProRankTracker's Rankings Discovery tool to find out what new keywords your competitors are targeting.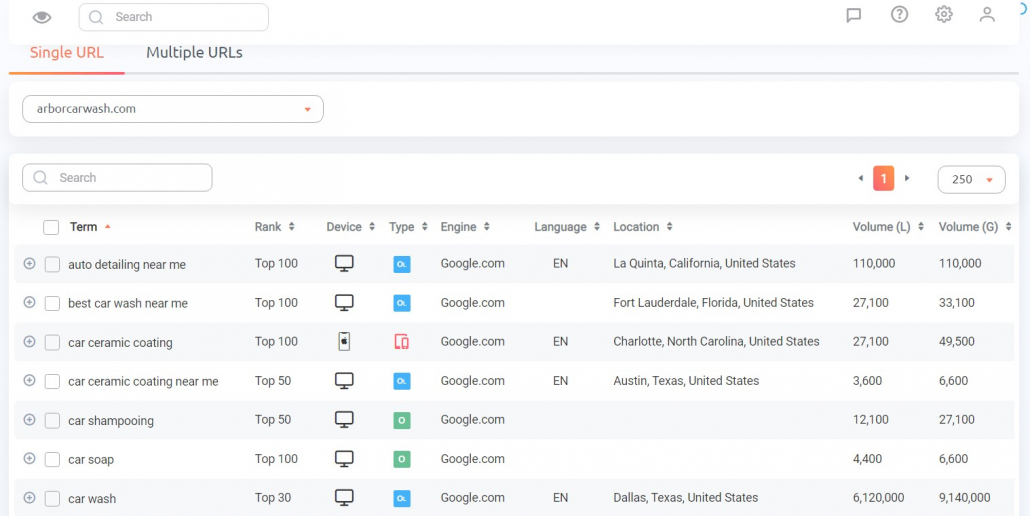 Steal Your Opponents' Traffic
When you start tracking competitor SERP rankings, you'll notice their strategies. Using those strategies with your websites, you can start stealing some of their traffic.
For example, let's say you have an opponent competing with you on 5 search terms. Unfortunately, before you start tracking their SERP rankings, they're beating you on all 5 terms.
After you start tracking their strategies, you pass them on the SERPs of 2 of the 5 terms. That means you're now stealing a large percentage of their traffic!
Adapt Your Strategy
Discovering a keyword your competitors aren't yet targeting is great. But what happens when they discover that word (probably because they're tracking you) and target it?
For people who aren't tracking their competitors, this can be devastating. Their opponents will quickly pass them on the few words where they're ahead, leading them to lose all their traffic.
However, tracking your competitors on the SERPs allows you to know EXACTLY when they start coming after your terms. As a result, you can adapt your strategy quickly to ensure they don't pass you.
For example, you can beef up the articles that target those terms or improve your on-page SEO.
What Is The Best Tool for Competitor Tracking?
A competition rank tracker is an essential piece of equipment for your business. But how can you decide which SERP rank checker tool is the best for your company?
With the number of tools available on the market, it can be a tough decision. However, there are a few critical factors that you should consider.
In this section, we'll look at 5 features you should look for in ANY competition rank tracker you're considering for your business. They aren't in any particular order–the most critical factors will depend on your business and goals.
Local Tracking
46% of all searches on Google include local intent. Since Google receives about 2.8 trillion searches annually, that comes out to about 1.3 trillion searches for local businesses.

Why does that matter?
It means that local businesses should DEFINITELY be tracking keywords with PRECISE location data attached. If your tracking tool isn't capable of tracking keywords with specific location data, it isn't worth your money (and it's certainly not worth your time).
The same is true with competition tracking. Don't waste your time on a tracker that can't tell how your searchers' location impacts your competitors' SERPs.
Keyword Tools
Discovering new keywords is an essential part of developing your SEO strategy. Stealing your opponents' keywords is a vital part of tracking them in the first place.
When looking for a tracking tool to help you monitor your competition, make sure it can do the following with keyword tools:
Discover keywords your competitors are tracking that you don't know about

Suggest new keywords based on keywords you and your competitors are already tracking

Quickly add or remove keywords from your tracking list when necessary
Don't settle for a tool with second-rate keyword tools!
Full SERPs
Many rank trackers will show you what rank you and your competitors are, but they don't show you the entire SERP.
If you can't see the entire SERP, you're only getting half the picture (if that much).
Seeing the full SERP allows you to visualize the other results and how they affect your ranking on the SERP.
A genuinely advanced tool will show you how the SERP has changed over time, allowing you to see ranking trends and respond as necessary.
As a side note, some tools will try to charge you extra to look at full SERPs. I've found some tools that only allow you to generate a few complete SERP monthly reports.
That's ridiculous! You should have access to unlimited full SERPs because it's crucial to the success of your business.
Notifications
Who wants a SERP competitor ranking tool that you have to check constantly?
Not me!
A tool that can't notify you about important things happening to your ranks and your competitors' ranks causes 2 problems:
It's annoying (not that big a deal).

It can cause you to miss significant developments and ruin your ranks (a massive deal).
Any tool you consider should have customizable notifications. For example, you should be able to set it to send you an alert whenever ANYTHING changes on your SERP.
Accurate Data
Cars have engines. It's their most important part because it's what makes them go.
Rank tracking tools have rank-fetching algorithms. It's the tool's engine because it provides the data that EVERY other part of the tool uses.
You wouldn't buy a Lamborghini with a lawn mower engine, so you shouldn't buy a rank tracking tool with an inaccurate algorithm. It simply doesn't make any sense!
How accurate should your tool be?
Really, that's totally up to you. But we're not going to settle for anything less than 100% accuracy (and we don't think you should either)!
Make sure you look carefully into the accuracy (and refresh frequency) of any tool you're considering.
How to Use ProRankTracker to Track Your Competition
Now that you understand how to find the best competition tracking tool for your business, let's get into the specifics. In this section, we'll talk about how to use ProRankTracker to track your competition.
ProRankTracker is a highly specialized rank tracking tool, making it the perfect option for people wanting to track their competition on the SERP. It's also an excellent option for smaller businesses because of the small plan options that don't compromise quality.
If you're not already signed up for ProRankTracker's 30-day free trial, sign up now so you can follow along with this section!
Input Keywords and URLs
Before you can use your tool to track any data, you have to input the keywords and URLs that you want to follow. As you execute this first step, ensure that you're inputting your URLs and keywords as well as your competitors'.
You can use the Add Wizard tool to quickly add URLs and keywords. It's the easiest and fastest way to add a few new keywords and URLs.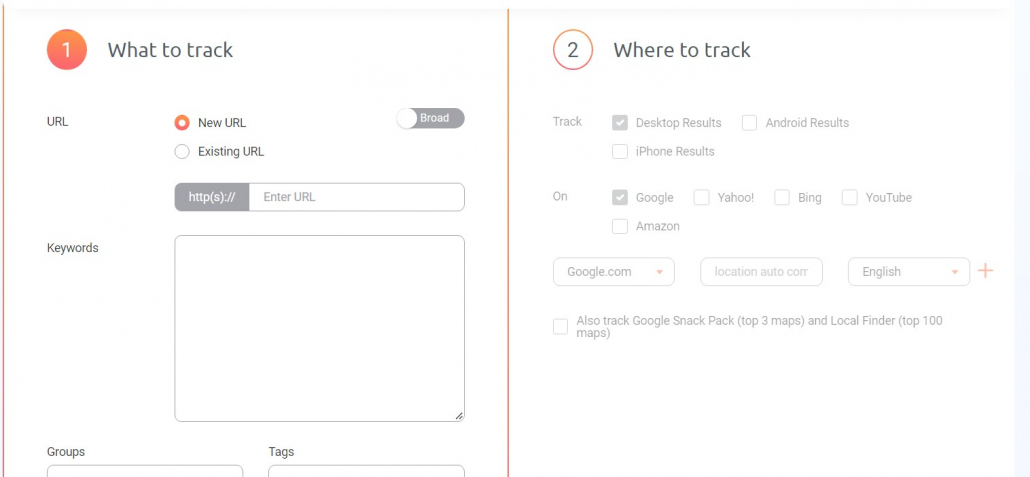 If you want to add more URLs and keywords at a time (or if you just want some more control over how you add them), you can use the Advanced Add tool.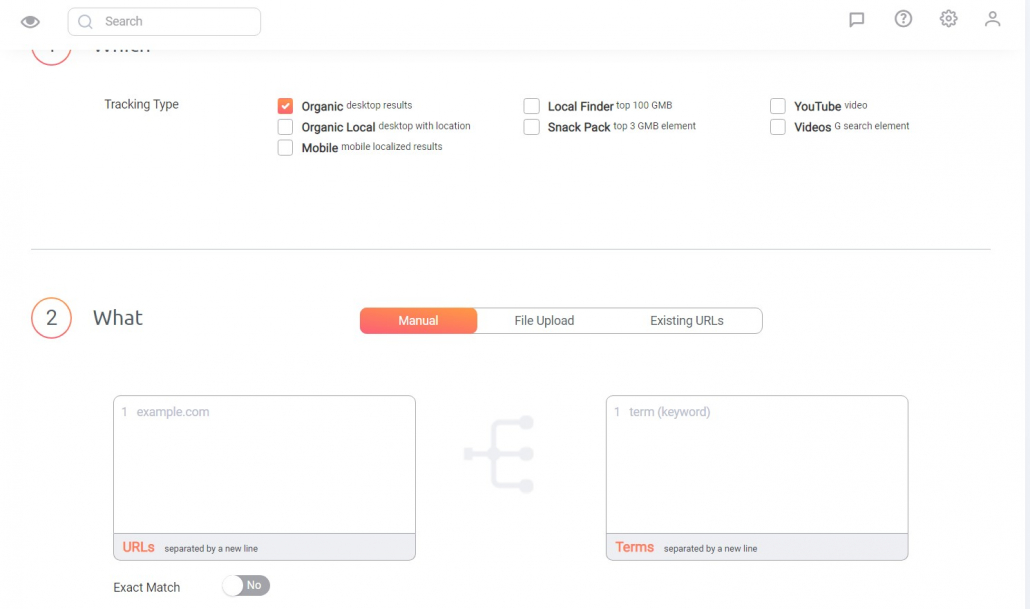 Make sure you add your URLs and keywords into groups and tags as you create them so you can keep your data more organized later.
Include Location Data
Many of your SERP competitors might also compete with you on the local level. That means adding location data to any terms that people might be searching locally is crucial.
You can add location data while you're adding your keywords in the Add Wizard or the Advanced Add tool.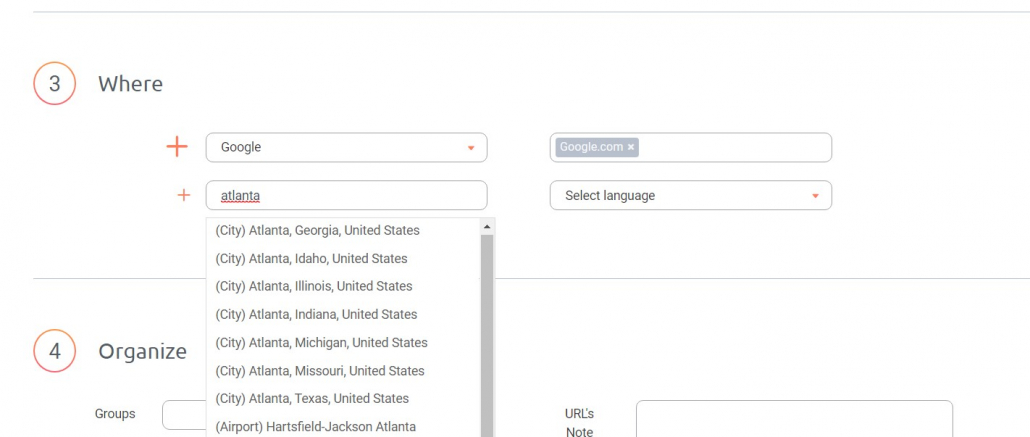 ProRankTracker can track keywords with exact location data. Adding location to your keywords and your competitors' helps you determine how you compare to them on local searches.
Don't skip this step! SERP tracking without location information is nearly worthless!
Analyze Keyword Strategy
This step is where you'll take a peek under the hood of your competitors' ranking strategies.
ProRankTracker's Rankings Discovery tool allows you to see any keywords that your competitors rank in the top 100. In other words, you can put your competitors' URLs into ProRankTracker and INSTANTLY uncover their entire keyword strategy.
It will also give you detailed info about the rank:
Location

Device type

Search engine

Search volume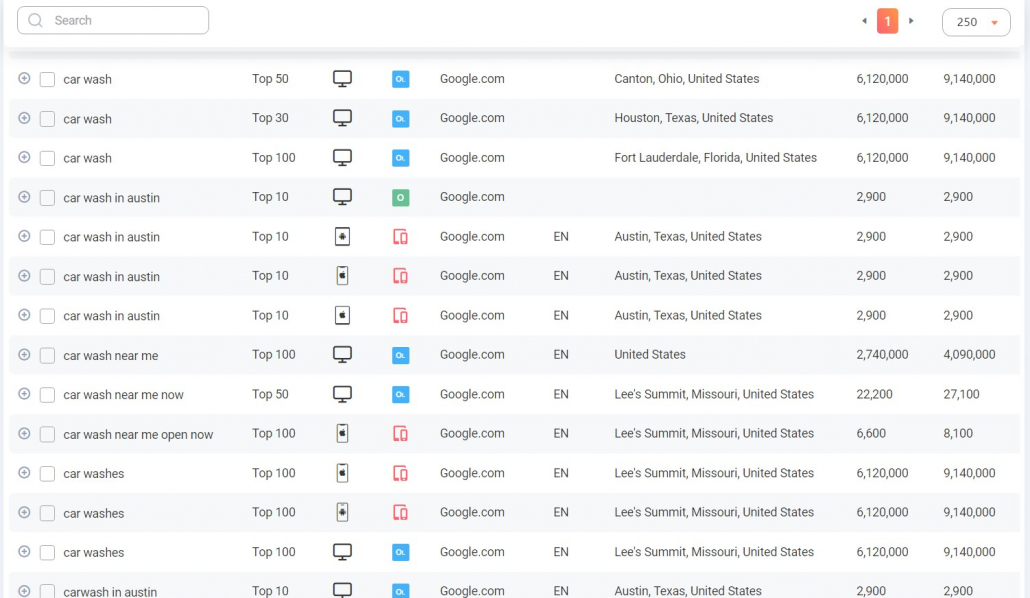 After you uncover your opponents' strategies (and steal some of their keywords), use the Keyword Suggestion tool to generate HUNDREDS of keyword suggestions based on the keywords you took from your competitors.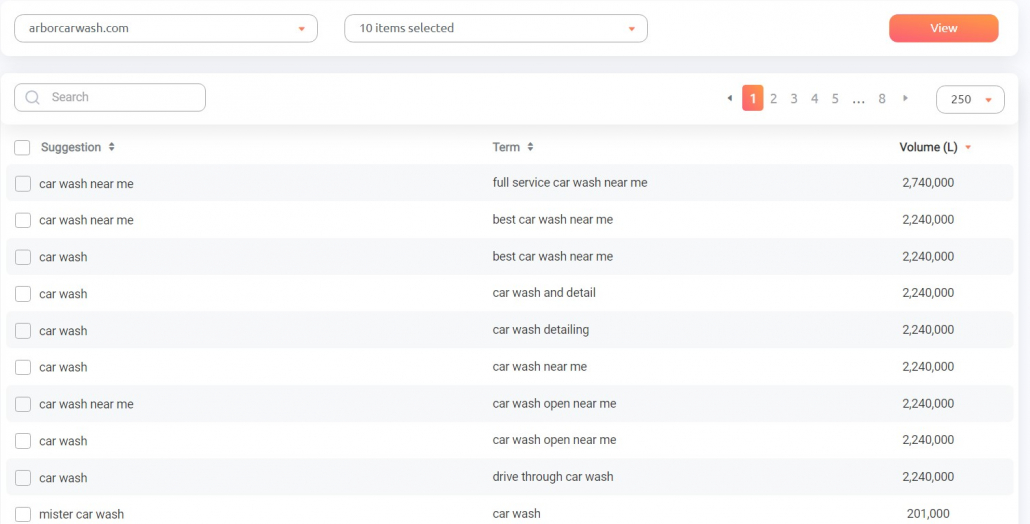 Analyze Full SERPs
You have a good idea of where you and your competitors are fighting over keywords. However, you still don't know exactly how you stack up against each other on the SERP.
ProRankTracker offers a highly detailed Full SERPs tool that allows you to analyze the SERPs of any keyword that you track for yourself or your competitors.
It also gives you essential information like:
How long each URL has occupied its current rank on the SERP

A link to the Whois page for each rank

Top and bottom positions of each URL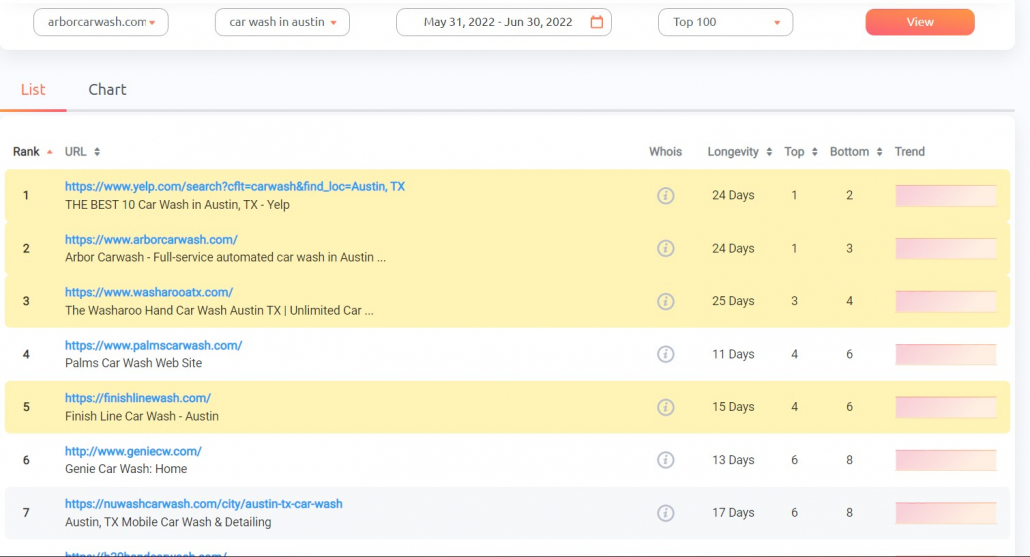 You can change the view of the Full SERPs tool to show you a graph of the historical changes to that individual SERP. This view allows you to see how your competition has changed over time.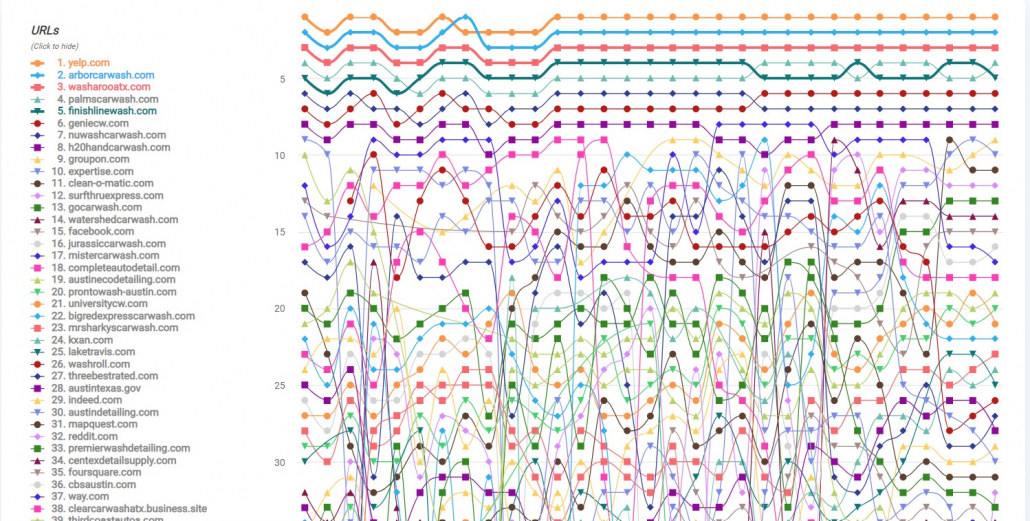 Use Notifications
Staying up-to-date is critical to your SEO success for 2 reasons:
It allows you to change your strategy to keep trending upwards

It helps you avoid catastrophes by notifying you when any sudden changes occur
Some tools charge you to use a lot of notifications, but ProRankTracker isn't one of them. Instead, every plan gets unlimited notifications and reports.
You can set many different notification triggers:
A term reaching the number 1 SERP position

A word entering a specified threshold on the SERP

A term dropping or jumping by a specified number of ranks (or rank percentage)

A keyword reaching or leaving a specified position on the SERP (such as position number 3, 10, or 12)
Use notifications regularly to keep yourself totally up-to-date as to what's going on with your ranks.
Use Reports to Measure Progress
Another great way to stay up-to-date on your ranks without spending hours studying them every day is through reports.
ProRankTracker offers more than 20 types of customizable reports that consolidate the most critical information into an easy-to-read format.
For example, you might want to generate a daily summary report, a weekly report summarizing rank changes, and a monthly report comparing this month's performance to last month.
You can put your URLs and your opponents' on the same report to compare the two quickly.
All reports are also white-label ready if you use them to help a client beat a competitor.
Conclusion
Tracking your SERP competition can be tricky, but gaining more views, clicks, and customers is worth the effort!
Using the information in this article, you should quickly gain a better understanding of your competitors on the SERP. Using that knowledge, you'll be able to adapt your strategy and beat them.
ProRankTracker is an excellent tool for businesses looking for an edge on the SERP–especially those looking to best a competitor.
Happy tracking!
https://proranktracker.com/blog/wp-content/uploads/2022/07/serp-competitor-ranking-2.png
321
845
Jacob Statler
https://proranktracker.com/blog/wp-content/uploads/2020/11/prt-blog-1-1.png
Jacob Statler
2022-07-01 16:12:36
2022-07-06 11:19:09
How to Use a SERP Competition Rank Tracker to Be #1