How to Check Your Keyword Ranking (Instant)
If you're looking for a fast way to check your keyword rankings, try ProRankTracker's Insta-Check. Or if you're looking for a way to always track your keyword rankings, try a ProRankTracker plan that's free for 30 days.
But if you'd like to learn why you should be tracking your rankings for SEO and how the best ways to do it are — keep reading!
"If you build it, they will come."
Whoever said that had clearly never started a website.
Unfortunately, getting people to come to your website is HARD. It takes a lot of writing, analyzing, rewriting, and more analyzing.
But how do you analyze your ranks on the SERPs? How do you take that data and make actionable SEO decisions with it? How do you use a rank-tracking tool well?
Those are precisely the questions we'll be looking at in this article.
Let's go!
We'll cover:
What Is a Keyword Ranking?
Keywords are the search terms people use when looking for information on a topic using a search engine. So a keyword ranking refers to where your website or specific webpage falls in the search engine results page (SERP) for a given keyword.
For example, let's say you're looking for a new pair of tennis shoes. Your keyword on Google might be "best tennis shoes 2023," and the screenshot below is the SERP for that keyword in my location.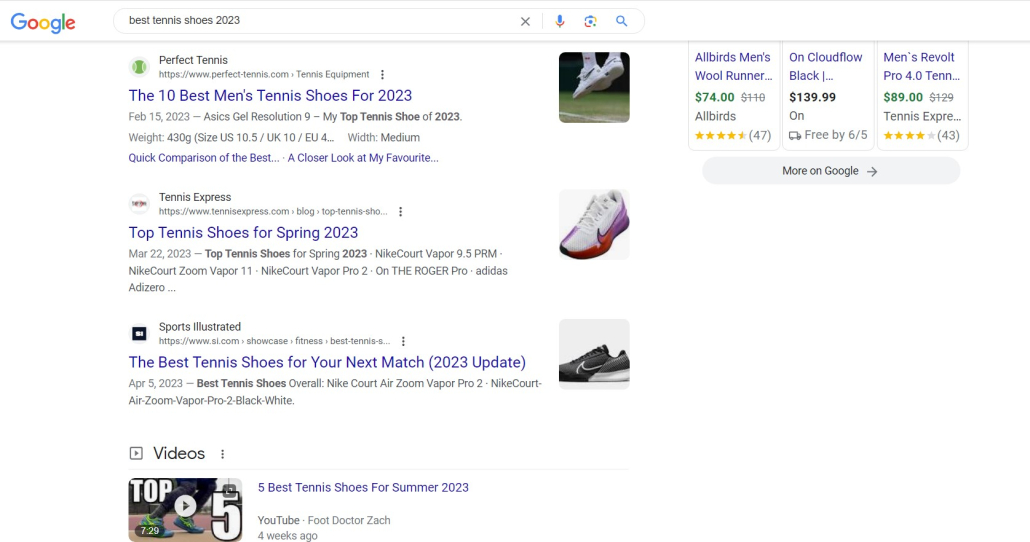 A higher ranking means your website or webpage appears closer to the top of the SERP and is more visible to users. Conversely, the farther down your site appears, the less likely you are to get traffic from it (the second page of Google is almost invisible for all practical purposes.
Why Do Keyword Rankings Matter?
Do your keyword rankings matter?
YES!
Your keyword rankings change EVERYTHING about the success of your website, but many people don't give their rankings the attention they deserve.
A higher ranking means more traffic to your website, which translates into more leads, customers, and sales. A lower ranking can mean your website goes unnoticed — even if you have quality content to offer your audience.
In this section, we'll go in-depth into the importance of keyword rankings and how they can benefit your website.
Assess the Health of Your Website
Keyword rankings give you a clear idea about your website's visibility and performance in search engines.
Ranking high for relevant keywords that match your products, services, or content means that more people are finding your website, which means that your site is healthy.
In contrast, if your keyword rankings are low, then it might indicate that your website's visibility might not be that great, and there's a chance that you're losing visitors. It can also suggest that your content or website design isn't conducive to bringing new visitors to you.
Therefore, monitoring keyword rankings can help you identify the issues holding your site back and find ways to tackle them.
Get More Traffic
Let's face it: most website owners care about keyword rankings primarily because they want to attract more traffic.
Keywords are the foundation of SEO, and ranking higher for highly relevant keywords can significantly increase your website's visibility, leading to more traffic.
However, remember that traffic levels alone do not determine the success of a website. It's the relevance and quality of the traffic that matters.
So, the best advice is always to focus on ranking for the right keywords. If your traffic comes from specialized long-tail keywords, you're likely to convert your traffic into sales.
Collect Data
Keyword rankings can be an excellent source of data if you're looking to improve your website's user experience. It can help you identify which pages are performing the best and which ones need improvements.
By looking at your top-performing pages, you can analyze the content, user experience, and call-to-actions that make them successful.
On the other hand, if you find pages with low keyword rankings, that may indicate that the page is under-optimized or requires more attention.
In addition, you can collect data about when your website goes through ups and downs, helping you identify the WHY behind your jumps and drops in traffic.
By analyzing keyword rankings, you can make data-driven decisions on changes or improvements to your website to improve traffic, engagement, and conversions.
Why You Should Check Your Keyword Rankings Regularly
Your keywords are the backbone of your strategy. Without them, your website will be forever lost to the deep recesses of the internet.
Keywords help search engines understand what your website is about and how it can help searchers with their queries.
But have you ever thought about regularly checking your keyword rankings? If you aren't already checking them, you're probably not getting NEARLY as much traffic as you could be!
Let's discuss three reasons why you check your ranks regularly, and how it can help you achieve SEO success.
Understand Your Rank Changes
Checking your keyword rankings regularly is essential to understanding why your ranks are changing.
If you notice that your ranking has gone up or down, it's essential to understand why it's happened.
For example, let's say you launch a new keyword campaign and your ranks for another keyword go down. If you aren't diligently tracking your ranks, you might never find out that your articles are competing against each other on the SERP and hurting both their ranks!
Other rank changes might be due to:
Your competitors improving their content

Search engine updates

Seasonal trends
Whatever the reason, you need to track your keyword rankings to understand what's happening with your SEO efforts.
Avoid Disasters
Not monitoring your keyword rankings can lead to disasters.
Suppose you haven't realized your rankings have been dropping for several days or weeks. In that case, it could mean there's an issue on your website or that your competitors are outranking you.
Even worse, you might have incurred a Google penalty, which is temporarily removing your page from the SERP! 
If you aren't regularly checking your ranks, these potential disasters can spring up without your knowledge, leaving you defenseless.
On the other hand, checking your keyword rankings allows you to identify red flags early on and take action before it's too late.
Adjust Your Strategy
Regularly checking your keyword rankings also allows you to optimize your website's SEO strategy continually. By analyzing your ranking trends over time, you can identify what's working and what's not.
For example, you might notice that you get much more and higher-quality traffic when targeting a particular type of niche long-tail keyword. Keeping track of your ranks allows you to identify that and pivot to prioritize those keywords over other ones.
Or, you may find that specific keywords need more attention due to increased competition.
Regardless of your situation, regularly checking your keyword rankings keeps your SEO strategy flexible and allows you to adjust quickly and stay ahead of the competition.
Stay Ahead of the Competition
Finally, failing to track keyword rankings can put you behind your competition.
If you're unaware of what keywords your competitors are ranking for, you could miss out on valuable opportunities.
On the other hand, you might find out that your competitors are ranking for the same keywords as you. In that case, you can analyze their strategy and make changes to your strategy that could potentially improve your rankings (and steal some of their traffic).
Tracking your keywords regularly means staying one step ahead of your competitors and beating them on the SERP. Failure to track means you're left to just hope they don't beat you on the SERP (which doesn't sound like an excellent strategy to me).
What Is the Best Tool to Check Keyword Ranking?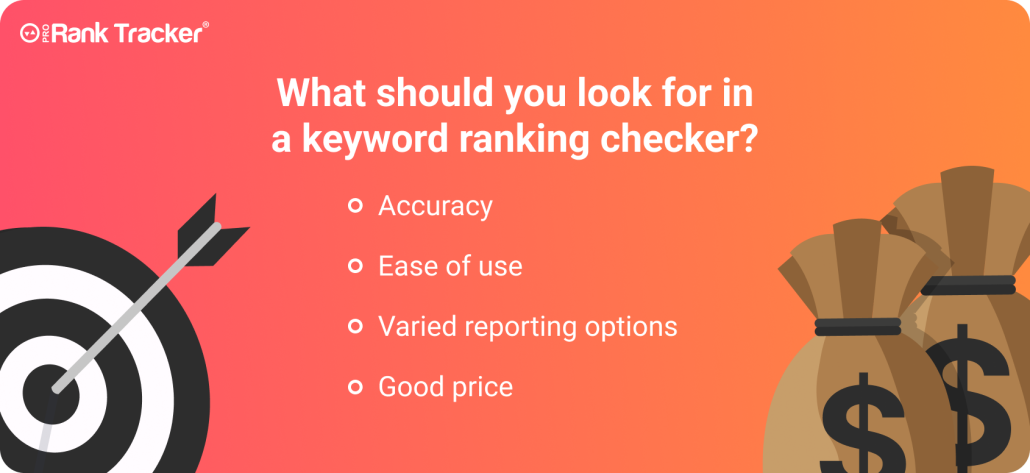 Quality SEO tools to analyze your website's performance can make or break your business's success.
One of the most important performance metrics is where your website stands on the SERP. It tells you how likely you are to get traffic from your pages.
That's where keyword ranking tools come into play. They give you the tools you need to understand and improve all your search engine ranks without spending tons of time trying to do it manually (which doesn't really work anyway).
But with so many online options, the question arises, which tool is the best to check keyword ranking? 
Let's look at 4 things you MUST prioritize when looking for a keyword rank checker, then we'll give you our top pick.
Accurate Data
If you knew your car had a bad engine, would you still try to get in and drive it to work each morning?
Of course not! The engine is the part of the car that makes the rest of it worth using.
Bad engine = bad car
Your keyword ranking tool is the exact same way.
Bad data = bad tool
The accuracy of the data you get is the most essential feature to consider while choosing a keyword ranking tool.
The tool must provide reliable data that accurately reflects your website's (and your competitors' websites) current standing on the search engine.
That means the tool should:
Fetch data accurately
Don't settle for a tool that doesn't do both.
Easy to Use
The tool's usability is another crucial factor when choosing a keyword ranking tool.
After all, a tool you don't know how to use won't do you very much good, will it?
Your tool must be intuitive, easy to navigate, and not require expert knowledge.
It is best to choose a tool that has a user-friendly interface and provides great resources to help you understand the tool's features. You'll use it more, which means you'll get more out of it.
Reporting Options
Reporting options are a vital feature to consider while choosing a keyword ranking tool. 
Reports are valuable for ANYBODY looking to improve their SEO (or someone else's). They allow you to:
Stay totally up-to-date on your ranks

Keep your agency clients happy

Save time by automating your reporting schedule
You should be able to track and analyze your data and create custom reports that help you understand the tools' data insights.
Also, ensure the tool allows you to generate enough reports to do what you need to do each month. Some tools cap your reports at ridiculously low numbers, so check that before signing on the dotted line.
Pricing
Pricing is another crucial factor to consider while choosing a keyword ranking tool.
Ensure that the tool's pricing plan falls within your budget and provides essential features for your website's SEO.
Surprisingly, some excellent keyword rank tracker tools are offered at low prices so you don't have to compromise even if you're working on a budget.
Before you decide, compare the pricing plans of different tools, review their features, and pick the one that suits your requirements the best. 
How to Use ProRankTracker to Check Your Keyword Rankings
So what's the best keyword ranking checker on the market right now?
ProRankTracker offers the best balance of price and functionality. All ProRankTracker plans get:
Unlimited white-label reports

Daily updates

All the core features of ProRankTracker
In this section, we'll walk you through how to use ProRankTracker to easily and quickly improve your local ranks. If you aren't already a subscriber, we highly recommend signing up for ProRankTracker's 30-day free trial so you can follow along.
Add URL/Keyword Combos (With Location Data)
To effectively track your keywords and URLs with ProRankTracker, you'll need to specify the location for each combination. 
There are two ways to do this: the Add Wizard or the Advanced Add tool.
The Add Wizard is perfect for quickly adding a few keywords. Simply input the following:
URL

Location

Device type

GMB information (if applicable)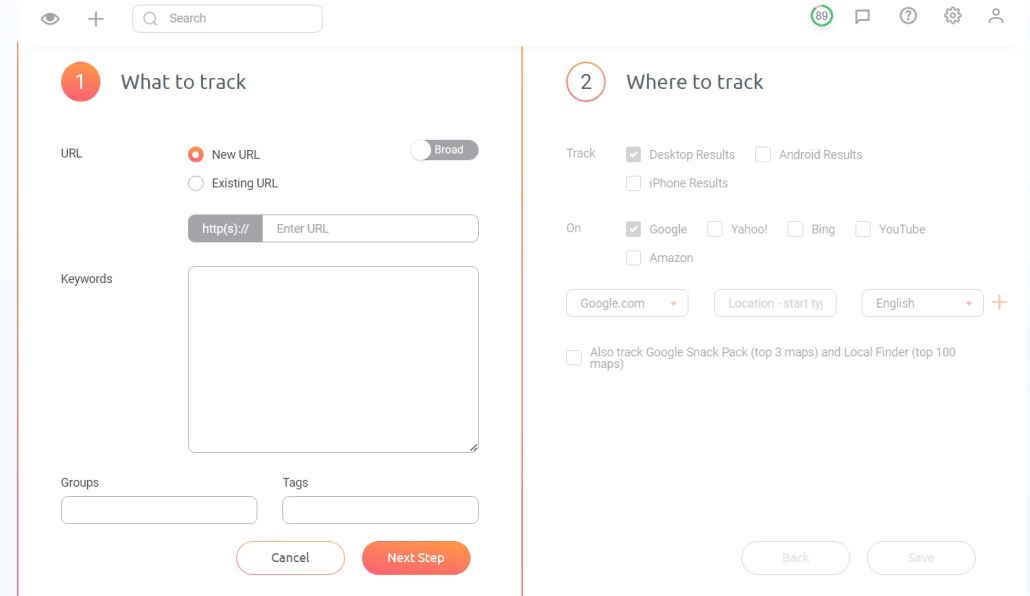 The Advanced Add tool is more suitable if you need to add multiple keywords at once. It will take a bit longer, but you'll have greater flexibility and can add URL/keyword combos in bulk.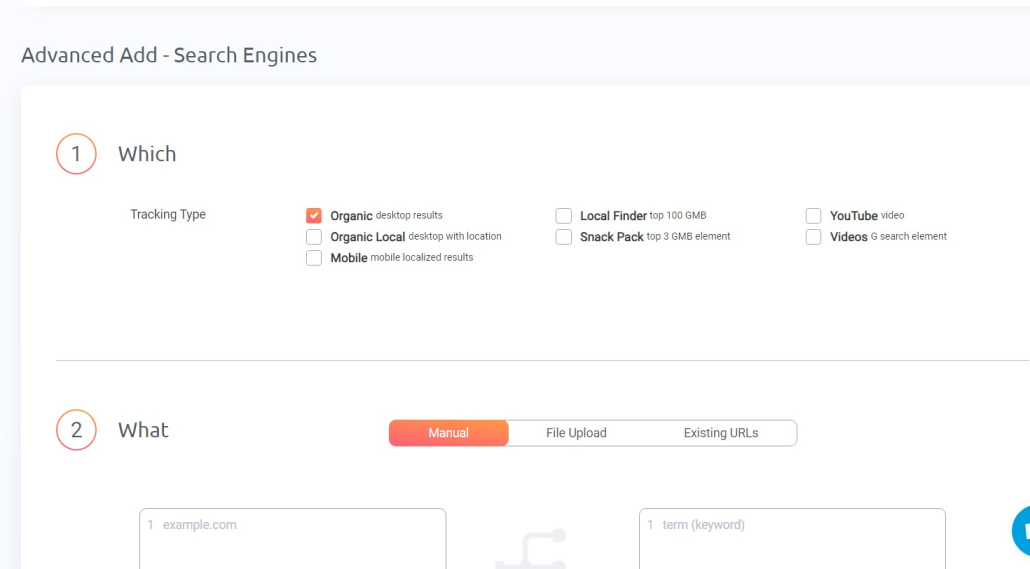 Use Rankings Views to Check Your Ranks
Now it's time to keep a pulse on your rankings with ProRankTracker's Rankings Views.
These essential views provide daily updates on all plans and can quickly highlight changes in your SERP rankings.
ProRankTracker offers 5 different Rankings Views to give you a comprehensive understanding of your ranks:
The Dashboard quickly summarizes all your ranks with a snapshot of recent changes.
The URL View shows you all the URLs you're tracking, along with each keyword being tracked for each URL.
Term View shows you all the keywords you're tracking, along with each URL assigned to the keyword. In other words, it flips the URL view.

The Daily View provides a visual representation of rank changes over a specific period.

The Full SERPs view gives an interactive SERP analysis, offering detailed insights into daily SERP fluctuations. Boost your SEO game with these powerful tools.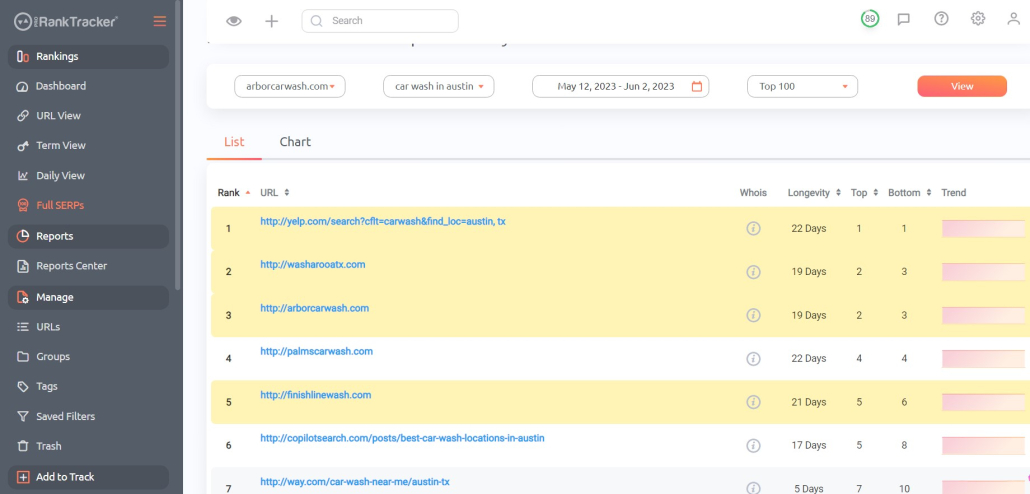 Use Rankings Discovery to Find Ranks You Don't Know About
Did you know you're probably ranking for keywords you don't know yet?
ProRankTracker has a tool to help you find out what those are!
After adding all the URL/keyword combos you want, go to the Rankings Discover tool, then click on the URL you're interested in analyzing.
ProRankTracker will automatically pull up ALL the keywords that URL ranks for but that you aren't currently tracking.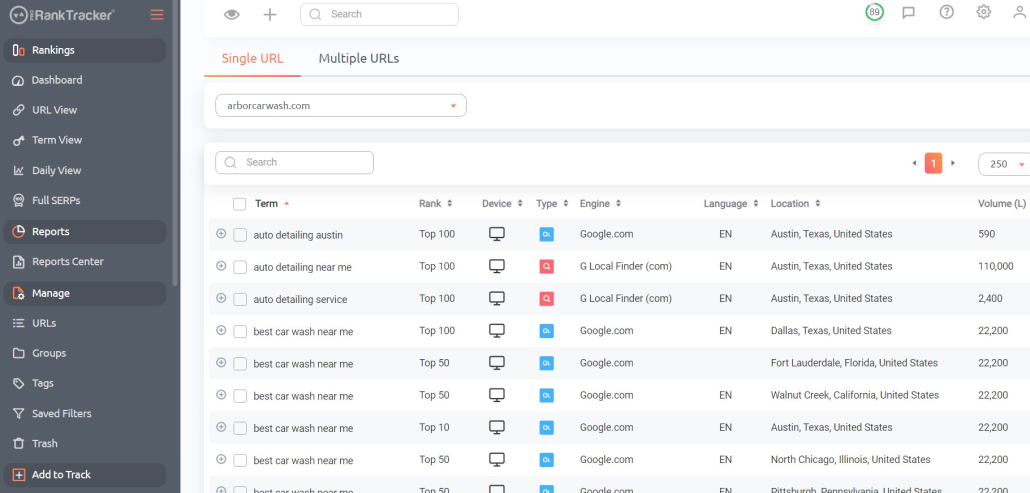 You can quickly add them to your tracking list and start strategizing to push those ranks up even further!
Use the ProRankTracker API to Create Integrations
If you're serious about improving your ranks on the SERPs, ProRankTracker's API could be exactly what you're looking for.
An API allows you to use the data ProRankTracker generates for you in a variety of other applications.
For example, you can connect your ProRankTracker data to Google Looker Studio to create amazing data visualizations.
You can also:
Integrate ProRankTracker with social management tools like Buffer or SproutSocial

Link ProRankTracker with a competitor analysis tool like Moz or SimilarWeb
Even though using an API takes some technical know-how, ProRankTracker provides best-in-class documentation to walk you through every step of integrating the API into your SEO strategy.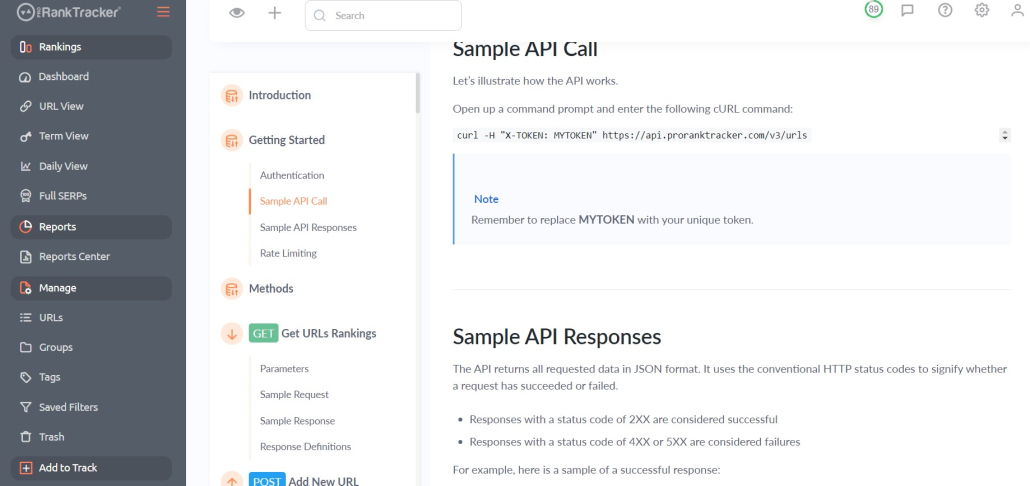 Use Insta-Check for On-Demand Rank Checks
Sometimes you need to check some ranks, but you don't want to add them to your long-term tracking list.
For example, you might:
Want to check your competitor's position on a potential keyword to see how competitive it is

Want to scout some potential new keywords before adding them to your long-term tracking list

Want to do a quick check on keywords without needing to upgrade your entire plan just to check them
Insta-Check fills all those needs by giving you a pay-as-you-go rank-tracking system. You just buy the number of credits you need and then refill them as needed.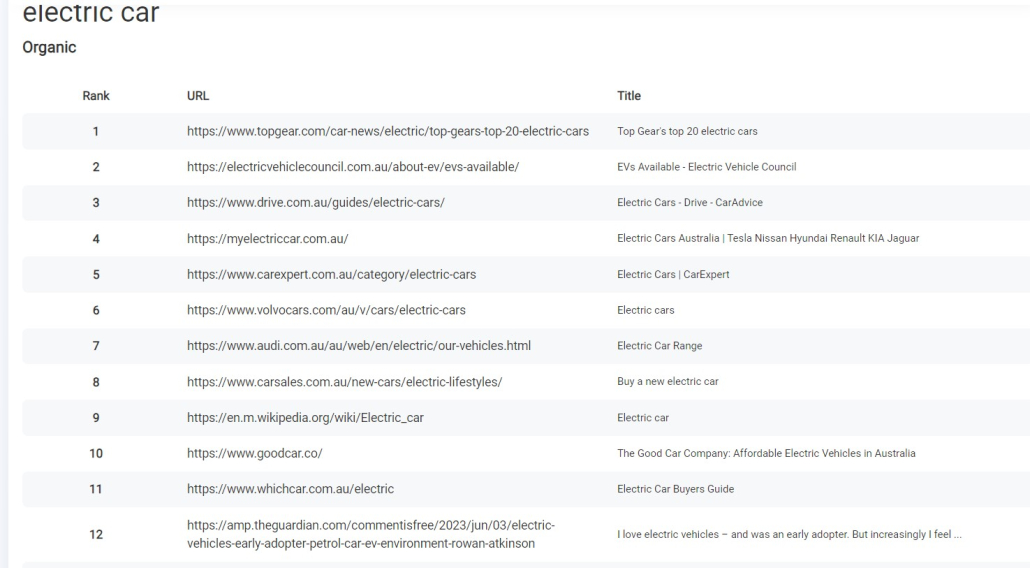 Conclusion
Your search engine rankings have a lot to tell you about the health of your website, but you have to listen to what they're saying by tracking them.
If you follow the tips outlined in this article and start tracking your ranks today, you should be able to vastly improve your ranks with some strategic planning.
Track your ranks daily using a high-quality tool and then act on the information they give you. You'll improve your ranks in no time.
Happy tracking!
https://proranktracker.com/blog/wp-content/uploads/2023/06/How-to-Check-Your-Keyword-Ranking.jpeg
963
2535
Jacob Statler
https://proranktracker.com/blog/wp-content/uploads/2020/11/prt-blog-1-1.png
Jacob Statler
2023-06-10 12:54:12
2023-06-15 16:59:38
How to Check Your Keyword Ranking (Instant)