5 Best Instant SERP Checkers to Check Your Rankings Fast
Are you tired of manually checking your ranks on the SERP? Or maybe you don't check them and just hope for the best?
The good news?
There are plenty of SERP checkers out there to do the job for you. And they'll do it better and faster than you can without them.
In this blog post, we'll explore the 5 best SERP checkers available to help manage and optimize your online presence.
With these tools, you'll get clear insights into how your website ranks compare to your competitors in search engines like Google and Bing.
We'll show you exactly how these tools can help boost your ranks and beat your competitors!
Let's go!
We'll cover:
What Is a SERP Checker?
A SERP checker is a tool used to analyze and track the performance of a website's search engine rankings.
In other words, it shows you what ranks your webpages CURRENTLY occupy on the SERPs. It gives insights into a website's SEO efforts by showing the position of your web pages for specific keywords and phrases.
Using a SERP checker, website owners and marketers can make data-driven decisions about their SEO strategy and target areas for improvement. The tool also allows for monitoring competitors' rankings, providing valuable information for beating them on the SERP.
What's the Difference Between an Instant SERP Checker and a Rank Tracker?
I emphasized the word "currently" above because there is a difference between a SERP checker and a rank tracker. 
A SERP checker tool gives you the ranks that your pages occupy right now, but it doesn't track them over some time.
On the other hand, a rank tracker tool keeps track of your ranks over time so you can see how they've changed.
In other words, a SERP checker gives you instant information about the current SERP, whereas a rank tracker gives you access to long-term info about the ranks that you want to track.
3 Benefits of an Instant SERP Checker
If you use a rank tracker, you might be wondering why you would need an instant SERP checker.
After all, why would you need to track any terms temporarily when you can track them over time?
In reality, instant SERP checkers AND rank trackers play a valuable role in staying on top of your SEO progress. Both can have a place helping you with SEO on the daily.
Let's look at some benefits of using a dedicated instant SERP checker.
Check Ranks Without Needing to Track Them Long-Term
Tracking your ranks long-term is crucial, but you don't always want to add everything to your long-term tracking list.
That's where the benefits of checking your ranks without needing to track them long-term come in.
Using tools that allow you to quickly check your current rankings without requiring you to save historical data will enable you to make quick judgments about your ranks.
For example, you could instantly check a few highly seasonal keywords and get info about them without committing to track them long-term.
You'll be able to quickly identify areas for improvement and make changes accordingly, ensuring your website is always performing at its best.
Prospect New Keywords & Competitor Keywords
The keyword landscape is constantly changing, and you must be prepared.
When researching potential new keywords, you don't want to have to add EVERYTHING you're considering tracking to your long-term list.
In those cases, you can instantly look up some keywords and find the critical data about them without needing to add them to your tracking list. This strategy helps you learn about more keywords quickly.
The same thing applies to competitor research. You don't necessarily want to add every single competitor keyword to your tracking list. Instant rank checkers help you do competitor research efficiently without filling up your rank tracker keyword limit.
Pairs Well With a Rank Tracker
We're not advocating for an instant rank checker to be your ONLY rank-tracking tool.
Quite the opposite.
An instant rank checker shines the most when used with a powerful long-term rank tracker. You can use the rank checker for preliminary research, then add any terms that interest you to your rank tracker.
Using these tools in tandem is a much more powerful way to stay up to speed on your ranks (and your competitors').
What to Look for in a SERP Checker
We've shown how important it is to use an instant rank checker in your SEO strategy to stay on top of your ranks. But that probably brings another more difficult question to mind…
"What should I look for in an instant SERP checker?"
Ultimately, you should use the SERP checker that works best for you. However, there are some key features you should look for in the rank checkers you try.
Let's take a closer look.
Easily Add Ranks to Your Tracking List
First, you don't want to be stuck using ONLY an instant SERP checker for the rest of your life. As mentioned above, these tools shine the most when used with a long-term rank tracker.
That's why one of the key features you should look for is the ability to quickly add the ranks you check to a long-term tracking list.
What does that look like?
Let's say you want to research the keyword "dog nail clippers" (because you run a vet clinic). You run an instant SERP check for that keyword in your area and realize that you should start tracking that keyword!
Your instant rank checker should ideally be paired with a long-term tracker so you can easily add any keywords you discover to your tracking list.
Detailed Information
When you make an instant SERP check, you aren't JUST looking for ranks.
You also want information about (and the ability to control):
Location

Search language

Search device

Search engine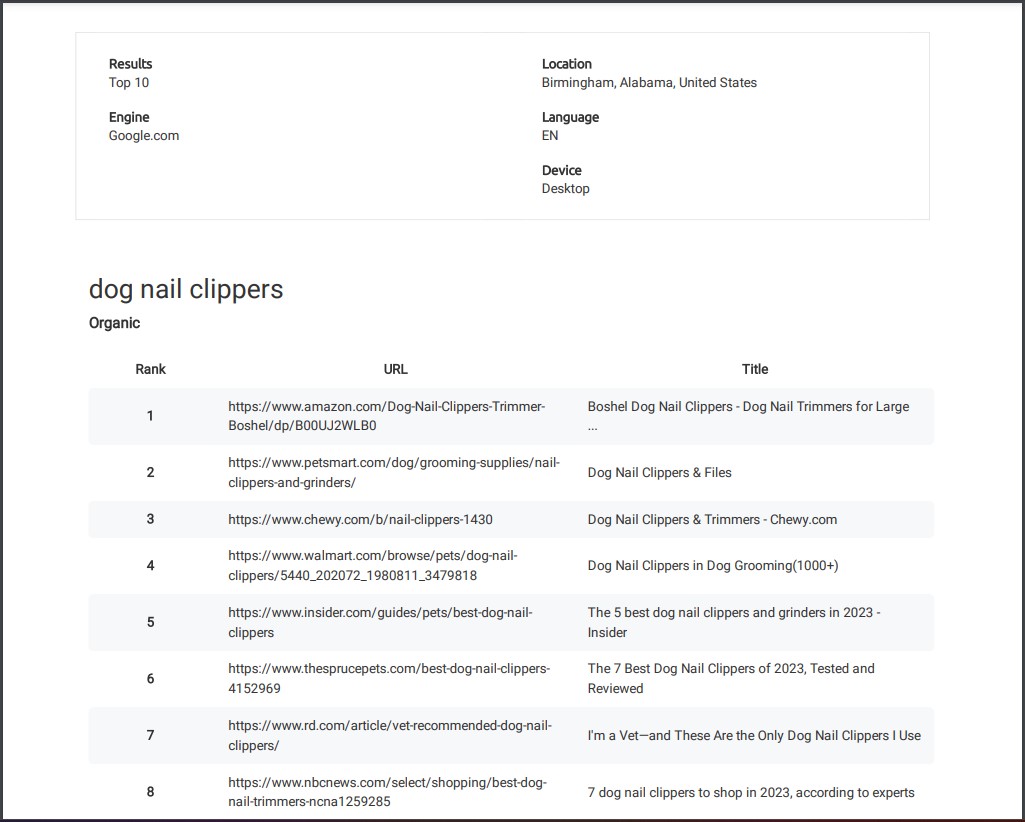 Getting details about your searched term is where the power of these tools comes in handy, so don't settle for only basic info.
Reporting
If you're working with clients as an SEO white-label reseller, you NEED to use reports. Many clients may be interested in asking you to run quick checks on new keywords they're considering targeting.
In those cases, you should be able to quickly generate a professional-looking report of that instant SERP check without any issues.
You should also have complete control over the export format if your clients want to integrate the data you send them into their other tools.
The Best SERP Checker Overall: ProRankTracker's Insta-Check
Our top recommendation for an instant SERP checker is ProRankTracker's Insta-Check tool.
ProRankTracker is a highly specialized rank tracker that also includes access to an instant checker that combines with the platform's other powerful tools.
You can also use it ProRankTracker's Insta-Check as a pay-as-you-go tool.
When it comes to accuracy, cost-effectiveness, and usability, ProRankTracker is hard to beat. 
Let's take a closer look.
Pros
Affordable

without seeming like a "cheap" tool

Highly specialized tool means you get highly accurate data

The Insta-Check tool is easy to use and pairs perfectly with ProRankTracker's long-term tracking tools.

All ProRankTracker plans get daily updates and

white-label

features.
Cons
Insta-Check is pay-as-you-go, but to access all of ProRankTracker's rank tracking tools, you'll need to sign up for an affordable monthly plan.
Key Features
ProRankTracker is a full rank tracker that offers:
Precise data about ALL your ranks

Historical data, graphs, and charts

Full SERP analysis

Daily updates

20+ white-label reports
All of those features contribute to your ability to keep track of your most valuable ranks, keep an eye on your competitors, and adjust your strategy as needed. However, we're going to focus on the Insta-Check tool.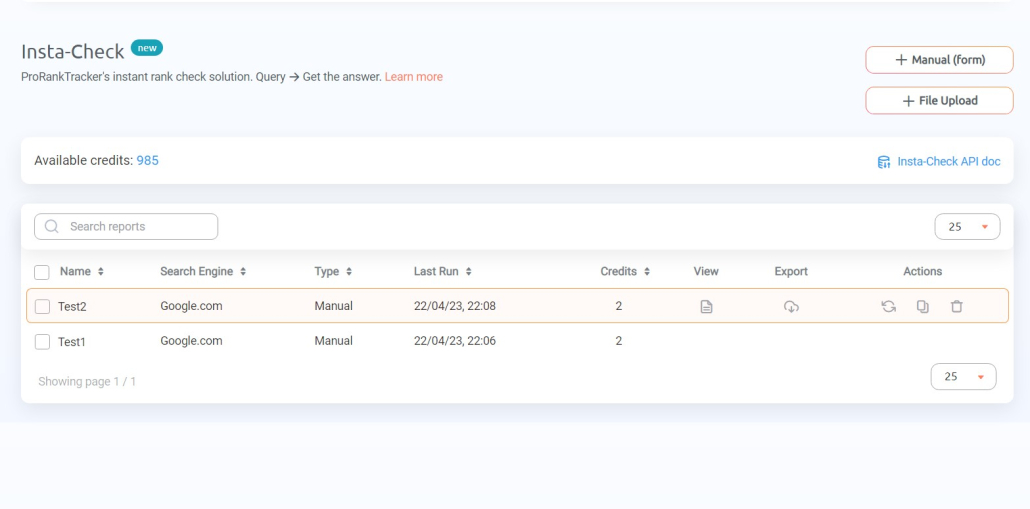 The Insta-Check tool is a credit-based tool that allows you to search for any keyword and analyze the SERP at that moment.
For example, I searched for:
The keyword "dog nail clippers"

In Birmingham, Alabama

In English

On Google

The top 10 results for this combination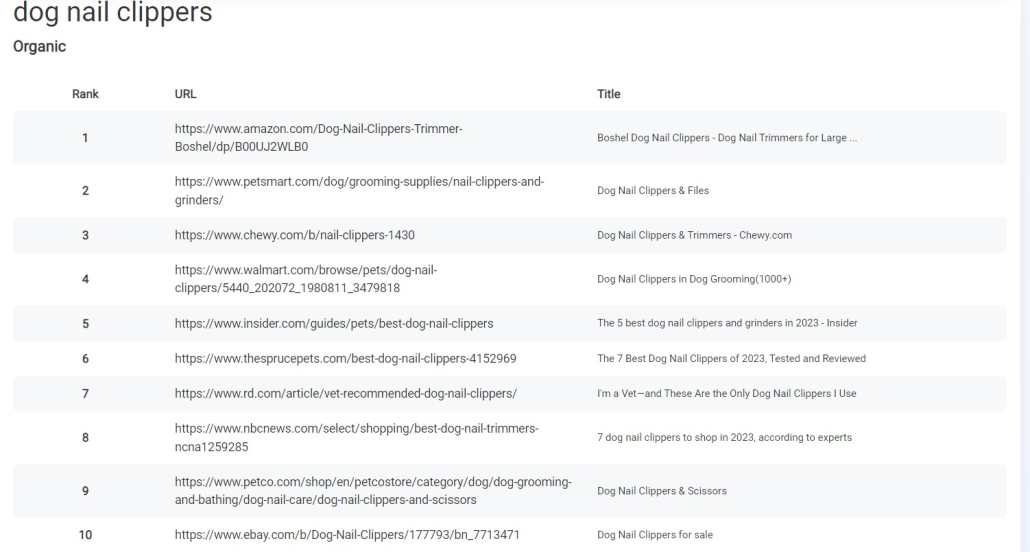 You can even further edit these search parameters with device type, URL, and search type.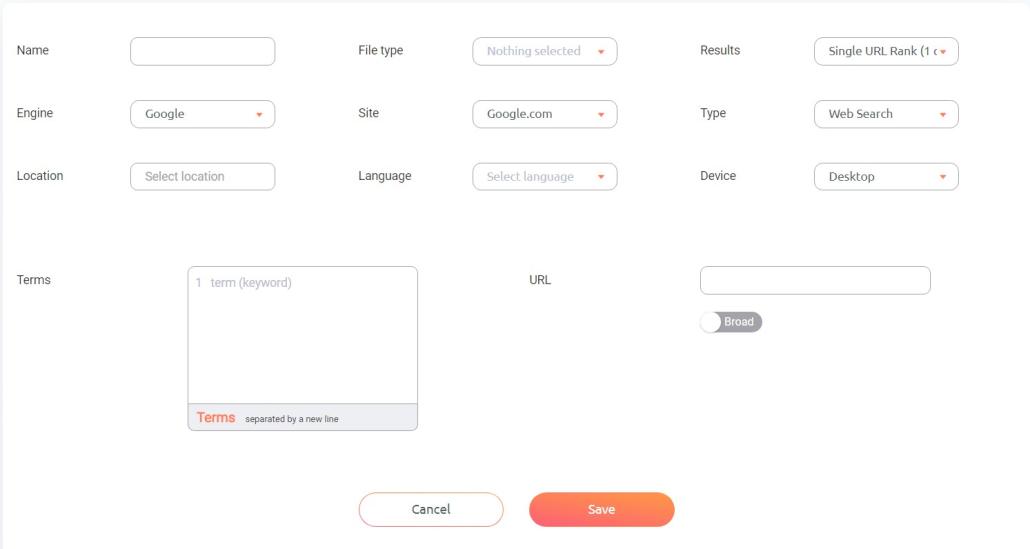 Each Insta-Check search counts against your credit balance, with searches for more results (top 10, top 100, etc.) counting as more credits.
For even more efficient rank checking, you can upload a bulk file and create multiple instant SERP checks simultaneously.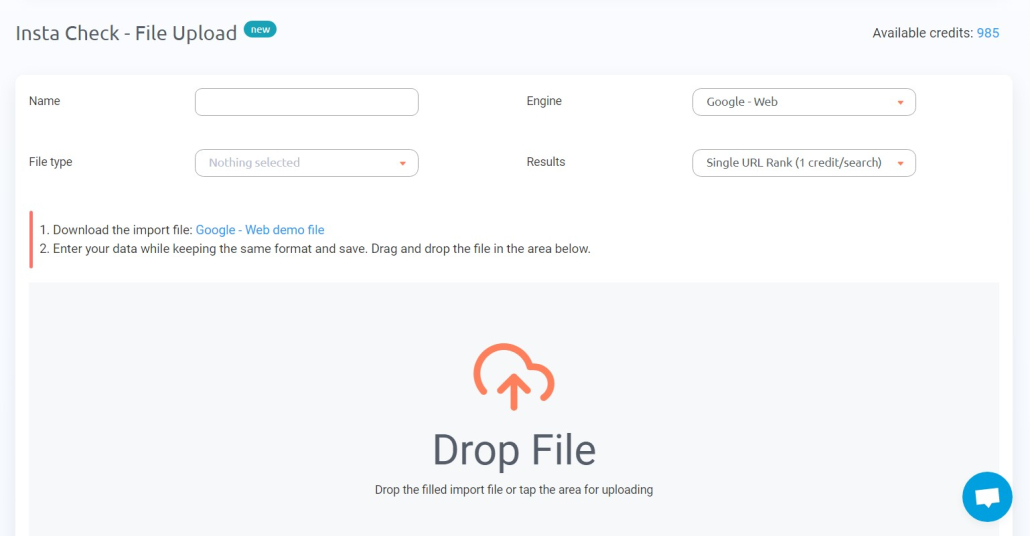 The Insta-Check feature is the fastest way to check potential keywords, analyze competitor strategies, and plan future content keyword targets. It gives you quick access to the most important details of each SERP, making it easier for you to make accurate decisions quickly (and without filling up your long-term ranking list).
Price
ProRankTracker plans start at just $11/month, paid annually! That includes daily updates and all the essential features.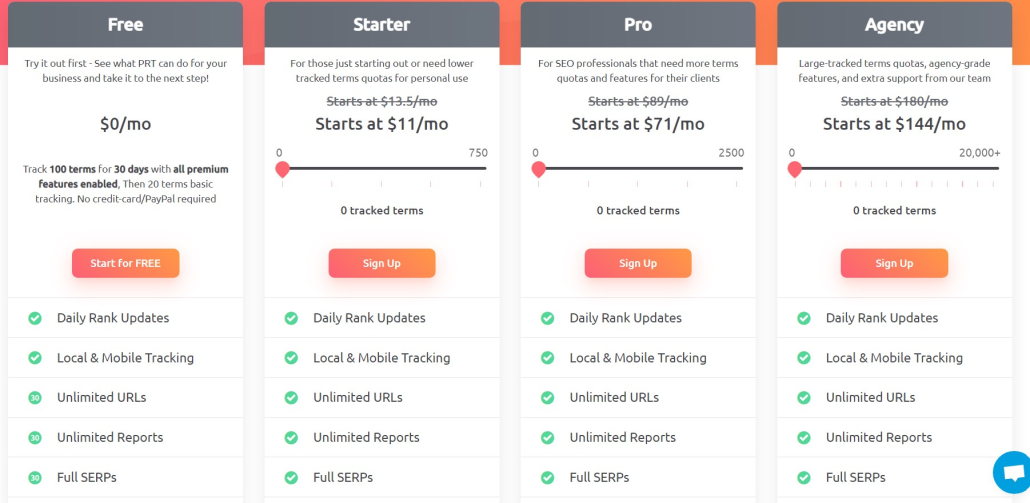 When it comes to the Insta-Check tool, the pricing schedule is different. You can get 10,000 credits for $25 or buy up to 1,000,000 credits for $1600. The price per credit decreases as you buy more at a time, but the cost is never higher than $2.50 per 1000 credits.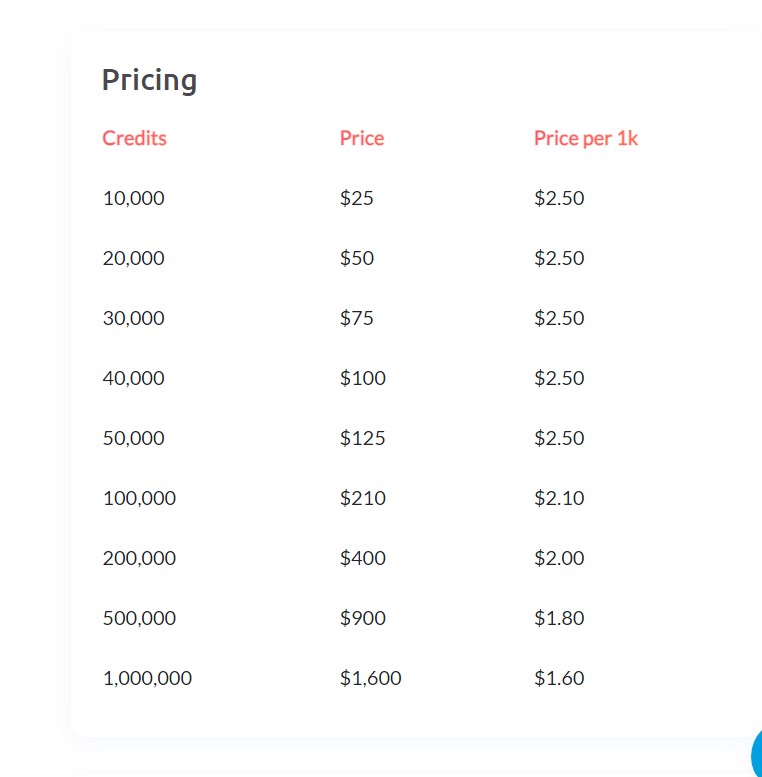 Mangools SERP Checker
Mangools is a full-featured SEO suite comprising 5 different tools. Each tool helps you accomplish a different SEO-related activity.
For example, Mangools has:
A rank tracker

Keyword research

Backlink analysis

SEO insights and metrics
However, one of the tools that Mangools has is SERPChecker, their instant SERP lookup tool.
Pros
Reasonably priced

Daily updates

Well-known to be easy to use and very beginner friendly

Very detailed SERP info
Cons
Subscription automatically includes access to ALL SEO tools, with no way to just purchase access to 1 or 2 tools

Export options are limited

No way to include URL in SERP search
Key Features
Mangools's SERPChecker is a well-designed tool that gives all the critical information you need to understand the competitive landscape of any given SERP.
One of my favorite features of SERPChecker is the top bar, which tells you:
How difficult a keyword is to rank

How Google

Rich Snippets

impact CTR for the selected keyword

The number of results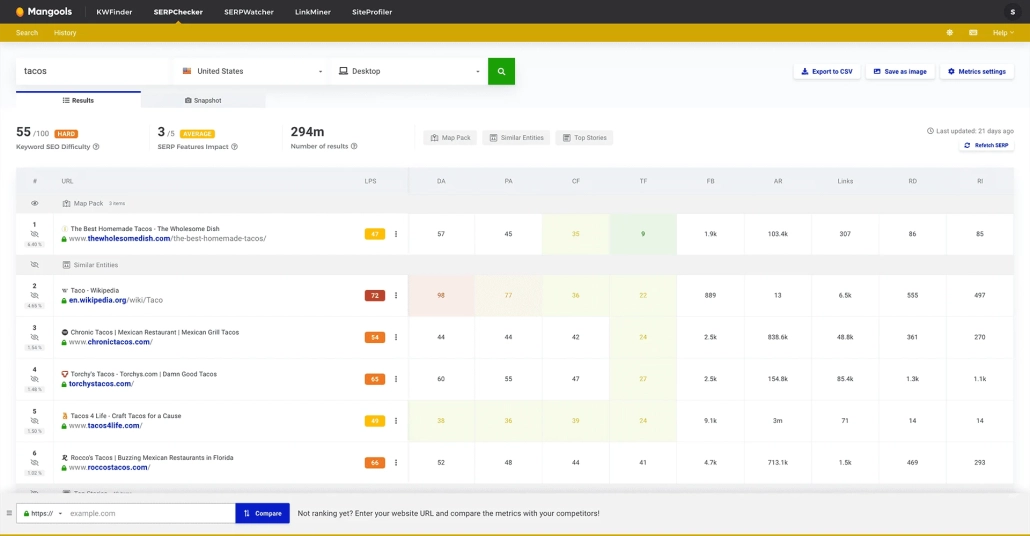 Knowing how competitive a keyword is and how much you will need to incorporate Rich Snippets are valuable pieces of information.
Below that, you get info about each ranking URL:
Domain authority

Page authority

CTR

45+ SEO metrics
Finally, this tool is straightforward to use. It's a single webpage where you just fill in the keyword you're checking and a couple of other relevant details. Then, you'll instantly be looking at the results, as shown above.
Price
Mangools starts at $29.90/month, which includes 100 SERP lookups per 24-hour period.
That means you can make 100 searches for different keywords on the SERP daily. Again, this subscription also includes access to the other 4 tools Mangools offers.
If you need the higher keyword and SERP limits, you can upgrade to the Premium or Agency plans, which start at $44.90/month and $89.90/month, respectively.
SERPWatch
What if your SERP checking budget is zero, and you just need something to analyze the very basics of the SERP?
SERPWatch is an option for you.
SERPWatch offers a SERP checker tool completely free of charge, and you don't even have to sign up for an account.
Let's look at some reasons you might want to try SERPWatch as your next instant SERP checker.
Pros
FREE!

Simple and very easy to use

Accurate
Cons
Very basic feature set

Location is only specific to a country

No extra information about rank other than position

Limited to 5 searches per day
Key Features
SERPWatch's SERP Checker is a super convenient tool because it only does 1 thing: checks SERPs.
Literally, that's it.
Here's the process:
Type in a URL

Fill in location, search engine, and language

Type in your keywords
When you click send, SERPWatch will show you the selected URL's rank for each keyword you entered. It'll also give you a screenshot of the SERP to see what ranks are around it.
It's worth noting that SERPWatch is also a complete SEO management tool. You must upgrade to the official tool if you want more unrestricted access to their ranking style.
Price
SERPWatch's SERP Checker Tool is FREE, but it's a minimal tool.
If, on the other hand, you want unlimited access to SERPWatch's ranking system, you can sign up for their smallest plan at $29/month.
At that price, you get 250 daily checked keywords.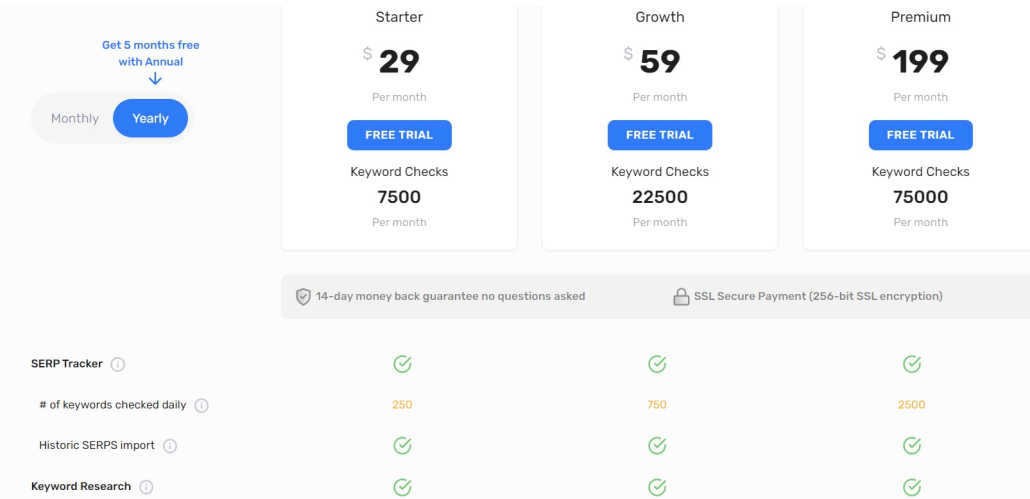 If you need more access than that, you can try out the $59/month or $199/month plan.
AccuRanker Free Google SERP Checker
AccuRanker is another very well-known tool for rank tracking, but few people know that they also offer a free SERP checker tool.
The Free Google SERP Checker is a great option if all you need is a quick look at the SERP for a potential keyword you're targeting.
However, this highly limited tool won't offer you the same support as some other tools in this list.
Pros
Totally free

Very easy to use

Location tracking precise down to a city

Allows for mobile and desktop SERPs
Cons
Only shows the SERP–no data is provided

Limited to 5 SERP checks per day

It's expensive if you want to upgrade to the full paid plan.
Key Features
AccuRanker's Free Google SERP Checker is extremely simple to understand and use.
Enter the keyword you're interested in.

Select the country

Type your location and select from the dropdown menu

Select between desktop and mobile SERPs

Click "Search Now!"
After just a few seconds, AccuRanker will pull up an image of the SERP for the combination you entered.
Unlike some of the other tools on this list, AccuRanker doesn't give you any information about those ranks. It just gives you the SERP itself with no additional data.
The best use for this tool is if you're trying to determine how the SERPs you're targeting change depending on location.
For example, you might work in an area with multiple cities near each other. If you target customers in multiple cities, you'll want to be able to see how the SERP appears in each of those locations. This tool can help you quickly get that information, but it doesn't help you do anything with it unless you choose to subscribe to AccuRanker's full suite of tools.
Price
As mentioned, AccuRanker's Google SERP Checker is a free tool as long as you register your email with them. 
If you want access to higher SERP checking limits or if you want AccuRanker's other SEO and rank-tracking tools, prices start at $116/month for 1000 tracked keywords.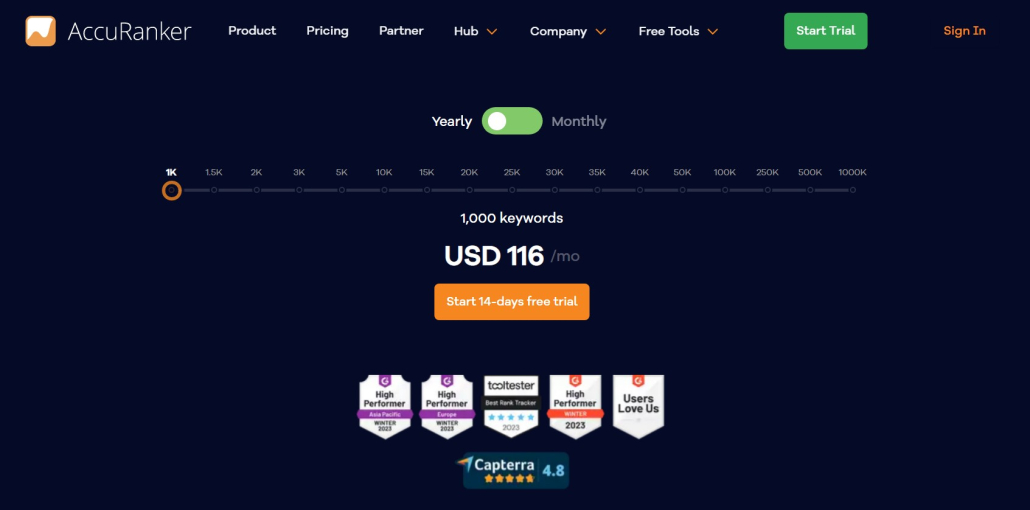 SE Ranking
SE Ranking is a full rank-tracking tool, but it also offers one of the most full-featured instant SERP checkers you can find anywhere.
While SE Ranking offers a free version of this tool, the full version is much better, so we'll only be discussing the paid version here.
Not only does this tool show you SERPs based on location, search language, and keyword, but it also gives you key insight into WHY each page ranks where it does. This gives you better data to make better decisions going forward.
Pros
The unique Page Quality score helps you understand the WHY behind each rank.

The ability to exclude certain types of results like YouTube helps you target your true competitors.

Organic traffic forecast and referring domain data for each rank
Cons
Low monthly limit for SERP analysis (the smallest plan only includes 10 keywords per month)

No way to target a specific URL, meaning you might not learn where your own page ranks on the SERP
Key Features
When you're making a SERP query with SE Ranking's SERP Analyzer, you input:
Search engine

Country

Region

Language

Depth of analysis
You then select your primary keyword targets and your secondary keywords. Finally, you can choose which types of pages you want to EXCLUDE from this analysis. Since your online store probably isn't competing with YouTube videos, excluding those results will give you a better understanding of the real competitive landscape of the SERP.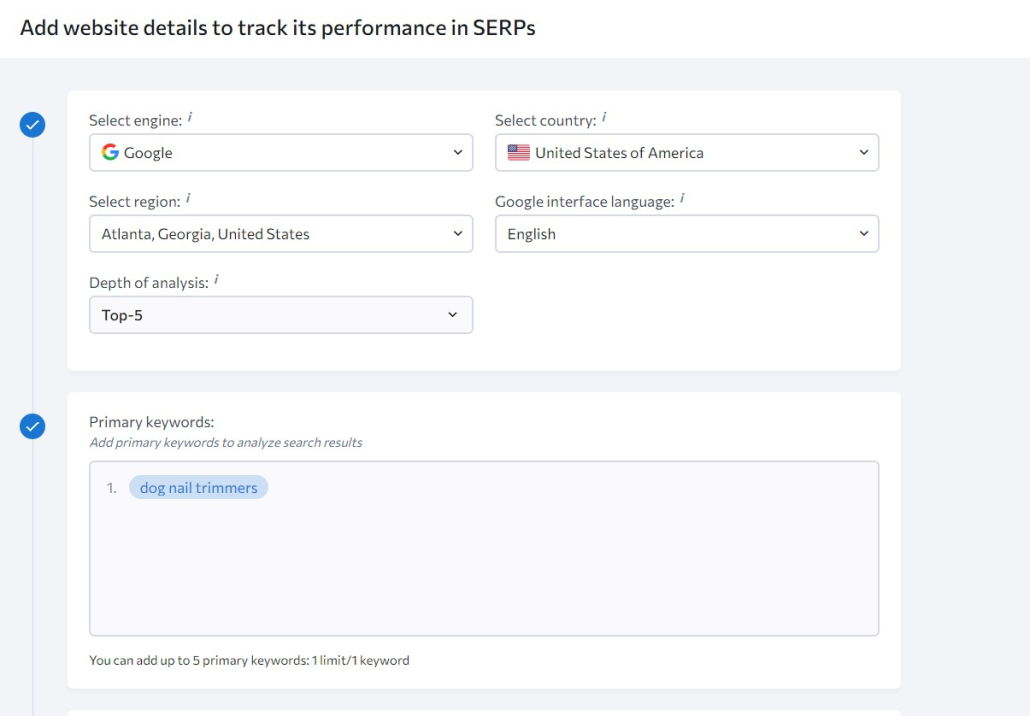 SE Ranking's SERP Analyzer really shines when it comes to data. It shows you a Page Quality score for each rank, an organic traffic forecast that estimates how much traffic each page might receive, and the number of domains that refer to each page on the SERP.
However, you can fully customize the data that's shown on the graph. There are more than 20 data points that you can display if desired.
While you do get a lot of good data with this tool, you pay for it with a low monthly search limit. Whereas some tools allow you to make hundreds or thousands of monthly SERP checks, SE Ranking's cheaper plans cap that at 10 or 20, meaning the amount of keyword research you can accomplish is rather limited.
Price
SE Ranking starts at $39.20/month paid annually, which includes 10 SERP keyword checks.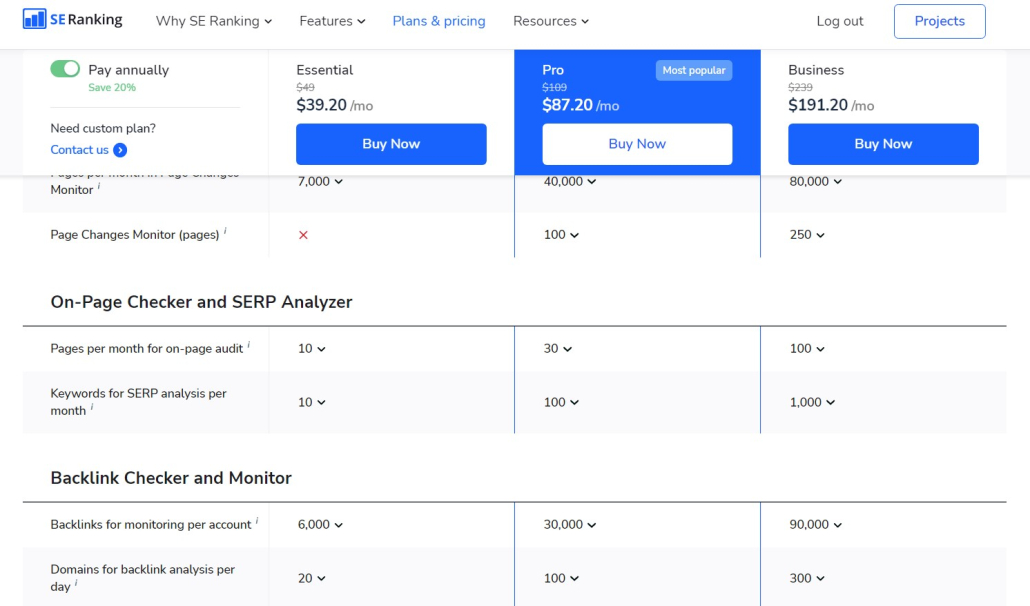 However, you can get several hundred or even several thousand SERP checks if you're willing to upgrade to the plans that cost $100+ per month.
Conclusion
What's the best SERP checker for your business? 
Ultimately, only you can answer that question, but these 5 tools are a great place to start if you're interested in accessing the benefits of instant SERP checkers.
So what are you waiting for? You can get started now. You only have to pay for what you want to check!
We also highly recommend signing up for ProRankTracker's 30-day free trial to see just how much it can help your business.
Because if you find yourself constantly Googling keywords to check your ranks, you should probably be tracking them with a dedicated rank tracker!
Happy tracking!
https://proranktracker.com/blog/wp-content/uploads/2023/04/Best-SERP-checkers-.jpeg
642
1690
Jacob Statler
https://proranktracker.com/blog/wp-content/uploads/2020/11/prt-blog-1-1.png
Jacob Statler
2023-04-26 14:05:54
2023-04-29 13:27:38
5 Best Instant SERP Checkers to Check Your Rankings Fast