Instant Rank Checker: What Page Am I on Google?
Want to go straight to the Insta-Rank Checker tool? Click here to try the tool. No subscription required.
Keep reading for tips on how to use it…
Imagine you're tracking 75 keywords for your business's new SEO campaign. You're paying for 100 keywords on your ProRankTracker plan to have a little wiggle room.
However, halfway through the month, you start seeing your competitors' ranks rising on the SERP. You want to dive deeply into their current ranking strategy, but you don't have enough room on your plan to add all their keywords.
What do you do?
Do you have to upgrade your PRT plan? Or do you just need to add the 25 most helpful terms and hope you didn't miss anything?
Fortunately, you don't have to settle for either of those options. ProRankTracker's Insta-Check tool allows you to quickly check the ranks of specific keywords WITHOUT adding them to your tracked list.
Let's discuss why this tool is so helpful and how to use it!
We'll cover:
Why You Need to Know Your Ranks on Google
The first step to success on the SERP is getting to know your ranks.
Some people get lucky and never have to strategize with their keywords. However, most of us have to check our ranks, track them over time, and use that data to make better decisions in the future.
There are 4 significant reasons why tracking your SERP ranks can help your website thrive…
Assess Your Keyword Strategy
First, knowing your ranks on Google helps you understand how well your current keyword strategy is working.
For example, let's say you're working with the same 75 keywords mentioned above. If you can check their position on the SERP, you'll be able to understand which parts of your strategy are working and which aren't.
In other words, there's no way to know if your strategy is working if you aren't able to check your ranks with precision!
Make Better Strategic Decisions
What happens if you find out that your keyword strategy isn't working as you hoped? What if your URL isn't even making it to the first page on Google?
Analyzing the ranking data you collect can tell you important things about how to change your strategy going forward.
For example, let's say your competitors beat you on seasonal keywords. Analyzing your ranks will help you understand that discrepancy and put more emphasis on seasonal keywords in the future.
Beat Your Competitors
If your competitors beat you, they're in a better position to take market share from your business.
But can checking your ranks fix that issue?
Yes!
Once you make better strategic decisions, you're ready to start beating your opponents on the SERP. You can even start taking their keywords right out from under their nose!
In other words, you can analyze what keywords are working for them, so your company can compete with those same keywords!
Comparing your ranks with your competitors' is critical for understanding how to beat them and get more traffic.
Avoid Disasters
Finally, frequently checking your ranks is one of the best ways to avoid ranking disasters. Tools like ProRankTracker can even automate this process with notifications.
For example, you might see that one of your keywords has dropped by 3 positions in the last 2 weeks. You're concerned that it might keep dropping, so you do a SERP check only to discover that your competitors have launched a new campaign directly competing with you.
If you hadn't checked, your competitor could keep beating you, and your ranks would drop even lower.
Checking ranks early and often means that you can avoid allowing a slight drop in ranks turn into a business-ruining disaster.
Why an Instant Rank Checker Is Valuable 
By now, it's evident that checking your ranks on Google (and other search engines) is incredibly valuable.
But do you need an instant rank checker?
Are there any advantages to using a rank-checking system that allows you to check ranks without adding them to your long-term tracking list?
YES!
An instant rank tracker brings several key advantages that help you make the most of your tracking tool's capabilities.
Let's talk about it!
No Need to Add New Keywords to Your Tracking List
First, an instant rank tracker allows you to quickly check some keywords here and there without needing to add them to your tracking list.
For example, let's say you have a dozen keywords that you're interested in and want to see if you should add them to your long-term list.
Using an instant rank tracker, you could check those ranks and quickly find out which ones are worth adding long-term and which ones you should forget.
No Need to Upgrade Your Account
If your ranking tool has a lot of available plans (which it should to allow your business's SEO to grow incrementally), you probably won't have a ton of extra keywords each month.
That's a good thing! It means you're only paying for the keywords you need.
However, what happens when you want to check a few keywords but don't want to add them to your long-term list? Do you just need to upgrade your plan and pay extra every month?
You don't have to upgrade your plan if you have an instant rank checker. Instead, you pay for the ranks you want to check this month without changing your monthly subscription cost.
In fact, you don't even need to have an account! You can use the Insta-Checker tool as a pay-as-you-go solution.
Check Competitor Keywords Quickly
Are you concerned that your competitor is launching a keyword campaign that might interfere with your strategy?
Your competitors' strategies are some of the most important things to monitor to understand the success of your strategy. However, you don't necessarily want to add every keyword you THINK your competitor might be using to your long-term tracking list.
An instant rank checker fixes this issue by allowing you to quickly check any keywords you suspect your competitor might be using.
How to Use ProRankTracker's Insta-Check Tool
Now that we've gone through the basics of why instant rank checkers are so valuable, let's look at ProRankTracker's Insta-Check tool.
The Insta-Check tool allows you to do all the essential things mentioned above without being expensive enough to break the bank. ProRankTracker still manages to be the most cost-effective rank-tracking tool available.
Pay-As-You-Go
We've already mentioned how important it is to check ranks without needing to pay for an upgraded plan with your rank tracker.
ProRankTracker allows you to do just that. So when you want to use the Insta-Check tool, you just have to pay to add the credits you want to your profile instead of upgrading your plan.
Here's the even better news: It's cheap!
You can get 10,000 rank credits for only $25 ($2.50 per thousand ranks) or up to 1,000,000 rank credits for $1600 ($1.60 per thousand ranks). 
Upload Keywords to Check
There are 3 ways to upload ranks for tracking in the Insta-Check tool:
Using a form

File upload

API import
The form is most practical if you don't have that many keywords to import at a time. This is for when you just need to check a few SERPs or keywords for potential ranks. Just fill out the form details and you're good to go.
When you want to upload a long list of keywords, or track several URLs in one report, use the file upload feature to quickly import a long list of keywords into the Insta-Check tool.
Just download the import file, fill it out, then upload it!
If you're interested in accessing the full flexibility of the Insta-Check tool, you can use the API to integrate your existing tools with ProRankTracker. Click on the API Doc on the Insta-Check page to access the ProRankTracker API.
Analyze Reports
After you generate your Insta-Check reports, it's time to use the data. Depending on how many keywords or SERPs you're analyzing at a time, it could take a few moments for ProRankTracker to collect the data.
Once it's done, you can download the report. There are 4 file types that you can download:
You should select the file type that will be the most helpful for your application. For example, if all you want to do is a quick check, a PDF will probably suffice. If you want to upload some of those ranks into ProRankTracker for long-term tracking, the XLSX or CSV will be more helpful.
For example, in the report below, I generated an analysis of the top 30 results on the SERP for the keyword "Los Angeles car wash" (it only costs 3 credits to create this report–not 30).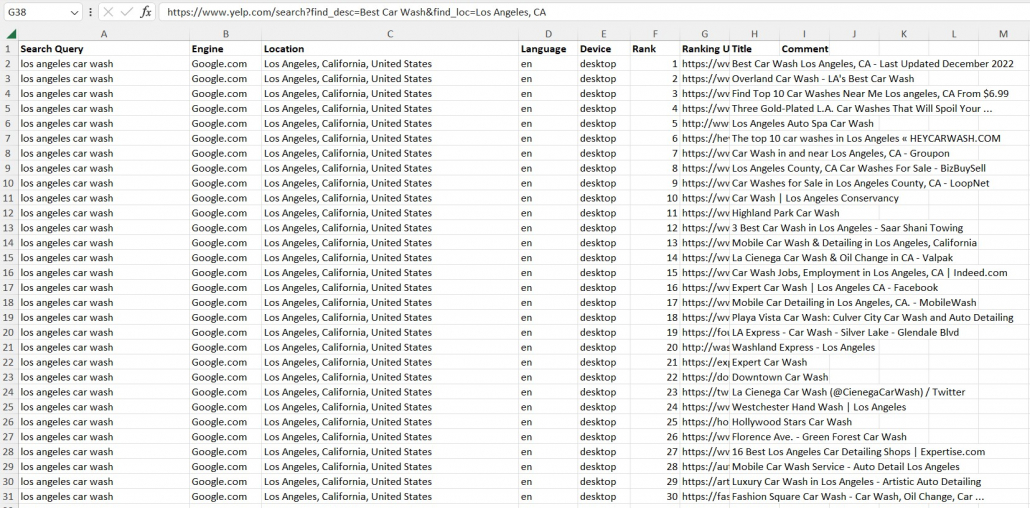 Analyze Competition (SERP Research)
One of the most practical uses of the Insta-Check tool is to analyze what your competitors are doing without adding them to your full-time tracking list.
You might want to do this if you're considering adding new keywords, but you want to check if your opponents rank for them first.
Fortunately, it's straightforward to do with the Insta-Check tool.
1. Gather the keywords you want to include. In our car wash example, let's say you're targeting 3 new keywords: car detailing Los Angeles, best Los Angeles car wash, and self-serve car wash Los Angeles
2. Go to the Insta-Check tool and select "Manual (Form)."
3. Fill out all the fields. We're selecting to generate a report showing the top 10 results on the SERP for each keyword since we're interested in knowing our competition for those keywords.
4. Alternatively, you could target a specific competitor's URL by changing the result type to "Single URL Rank" and putting your competitor's URL in the URL field.
5. Click "Save" at the bottom and view the report you generated! You'll quickly be able to view your competition's ranks for those keywords, giving you insight into what keywords you should target.
Integrate It Into Your Systems With the SERP API
If you have other systems already in place and want to combine them with the power of ProRankTracker's Insta-Check tool, that's where the API comes in.
For example, let's say you want to use ProRankTracker data to power another system to monitor your ranks. You can use the API processes to programmatically pull data from ProRankTracker's Insta-Check tool to your other system.
Be aware, however, that the API takes some technical and coding knowledge. The API Doc gives you all the information you need to know about how to use it, but someone with very little technical knowledge will be limited in their ability to apply it.
Conclusion
Tracking ranks is essential for getting ahead on the SERP, but there are some cases where you don't want to add something to your permanent tracking list. In those situations, you need an excellent instant rank checker.
ProRankTracker's Insta-Check tool is the best solution to help you instantly discover your ranks (or your competitors' ranks) and apply that data without breaking the bank.
However, if you're trying to track your rankings in the long term, you should try signing up for ProRankTracker's 30-Day free trial.
Happy tracking!
https://proranktracker.com/blog/wp-content/uploads/2022/12/Instant-Rank-Checker-What-Page-Am-I-on-Google.jpeg
642
1690
Jacob Statler
https://proranktracker.com/blog/wp-content/uploads/2020/11/prt-blog-1-1.png
Jacob Statler
2022-12-26 14:43:45
2023-07-16 10:52:13
Instant Rank Checker: What Page Am I on Google?