How to Use PRT's Bulk Keyword Rank Checker
Tracking ranks can seem like a pretty dull task after a while. After all, you may end up repeating the same tasks over and over again:
Identify a keyword

Determine the location, search engine, and URL for the tracked keyword

Add the keyword to your keyword rank tracker
What if there was a way to speed this process up and reduce the repetition?
Well, today is your lucky day! Many rank-tracking tools allow you to add keywords in bulk. This article will discuss using ProRankTracker as a bulk keyword rank checker.
Let's dive in!
We'll cover:
Why It's Important to Be Able to Check Ranks in Bulk
Do you NEED to be able to check ranks in bulk?
Probably not.
Will the ability to track your ranks in bulk make your life a lot easier over time?
YES!
In this section, we'll look at 3 reasons why the ability to add and track ranks in bulk is important and how it can help you.
Save Time
For most people, this will be the most crucial benefit. Adding ranks in bulk can save you tons of time.
For example, think about needing to add 30 new keywords to your strategy. Without bulk adding, you have to manually select each URL, keyword, and ranking data combination. Repeat that process 30 times.
On the other hand, adding in bulk allows you to edit one big document, then quickly upload ALL those ranks simultaneously.
This may not seem like a big deal if you haven't had to add dozens of ranks by hand before, but it will save you hours of work!
Transitioning From Another Tool
Transitioning from one rank-tracking tool to another can seem like more effort than it's worth. Without bulk rank tracking, you have to manually migrate ALL of your:
Keywords

URLs

Organizational data (like groups, tags, and notes)
Bulk adding allows you to export from your previous tool, make some quick formatting changes, then upload to your new tool.
Not only does this save time, but it also makes changing between tools more feasible, allowing you to get the best tool for your business.
Launching a New Keyword Campaign
Finally, launching a new keyword campaign can sometimes be incredibly arduous. 
It involves identifying a slew of new keywords, then manually adding them.
Bulk adding makes the process of starting a new keyword campaign a breeze. Create a document with your new keywords over time (as you identify them). 
When it's time to start the campaign, you can quickly upload your keyword document into ProRankTracker, and you're good to go!
Important Details to Include When Adding Keywords in Bulk
What type of data should you include when adding keywords in bulk?
Is it enough to make a simple pairing between a URL and a keyword? Or do you need to include more data than that?
Including the appropriate details allows ProRankTracker to give you better data later on. For example, adding location data will enable ProRankTracker to provide you with a more specific SERP.
Let's look at the most important details when adding keywords in bulk.
Location
First and foremost, almost every new keyword-URL combo you add should include location data.
If you don't have location data, you'll be analyzing SERP data for a SERP that nobody sees.
What does that mean exactly?
It means that Google generates personalized SERPs depending on the searcher's location. So if you don't include location data, you won't see the SERP as it is ACTUALLY presented to the searcher.
In other words, ensure you include location data specific to YOUR business.
Search Engine
Second, make sure you include the search engines where you want to track your new keyword.
I know what you're thinking: "The only search engine that matters is Google."
In reality, you should also be including keywords for Yahoo and Bing. Even though you might not get much traffic from them, it's worth it for the lower competition and higher sales rates.
Don't ignore the little guys! They may turn out to be your big money-makers!
Search Device
Another important detail is to include the type of search device that you anticipate your audience using. For example, if you want to include multiple search devices for a single keyword, you can include them as separate data points.
Like with locations, Google customizes SERPs depending on the search device of the searcher.
By putting that information into ProRankTracker, you can get more specific (and, therefore, more helpful) data about your ranks.
Search Language
Finally, you should include your search language to filter out spurious results that might occur in other languages.
For example, you don't care about searchers who searched in French and are randomly shown your webpage. You can filter those searches out in the data you see by including a search language when uploading your new keywords in bulk.
Since 60% of the internet is in English, this is even more important if you care about searches in other languages. If you're targeting Spanish-speaking searchers, forgetting to add Spanish as your search language could be disastrous.
How to Use ProRankTracker as a Bulk Keyword Rank Checker
Now that we've gone over the basics of why using bulk keyword rank trackers is so advantageous, let's get down to HOW to use ProRankTracker.
This section will be a step-by-step guide on how to upload new keywords to ProRankTracker in bulk. However, it won't make much sense if you don't use ProRankTracker.
Don't worry–we don't expect you to go out and buy a month's subscription to follow along here. But we highly recommend you sign up for a 30-day free trial so you can follow along and see how much time bulk rank tracking can save you.
Download the Bulk Add File
The first step is to download the bulk add file, which contains the formatting you'll need to upload new keywords into ProRankTracker efficiently.
Go to the "Advanced Add" tab on the left-side toolbar to download this file. Once you're in the advanced add section, click "Bulk Add."
In the bulk add page, you'll see blue text that also says "Bulk Add." Click on that text, and a download will automatically begin.
The file you download is an XLSX file with the appropriate formatting, so you should only have to edit it to add your new keywords and other details.
Fill Out the File (With ALL Important Details)
Now it's time to start putting in all the details you want to track.
Here's a breakdown of what each field is:
Tracking type (required) is organic, organic local, mobile, Snack Pack, etc. There is a drop-down menu to select from.

URL (required) is simply a copy/paste field for the URL you want to track.

Match type(required) is either broad or exact. Broad means any URL that includes the "parent URL" you enter. Exact means that the result must include the exact URL you're tracking.

Business name is required for Snack Pack and Local Finder results. It should be the EXACT name of your business on your Google Business Profile.

Group/Tag are organizational features within ProRankTracker that allow you to gather URLs or keywords together for easy access later.

Term (required) is the keyword itself.

Search engine (required) is the search engine (or engines) where you'll be tracking this term.

Location/Language/Device are fields that help narrow the SERP down to the most helpful version for you.
After selecting Tracking Type, each field on the row will be color coded.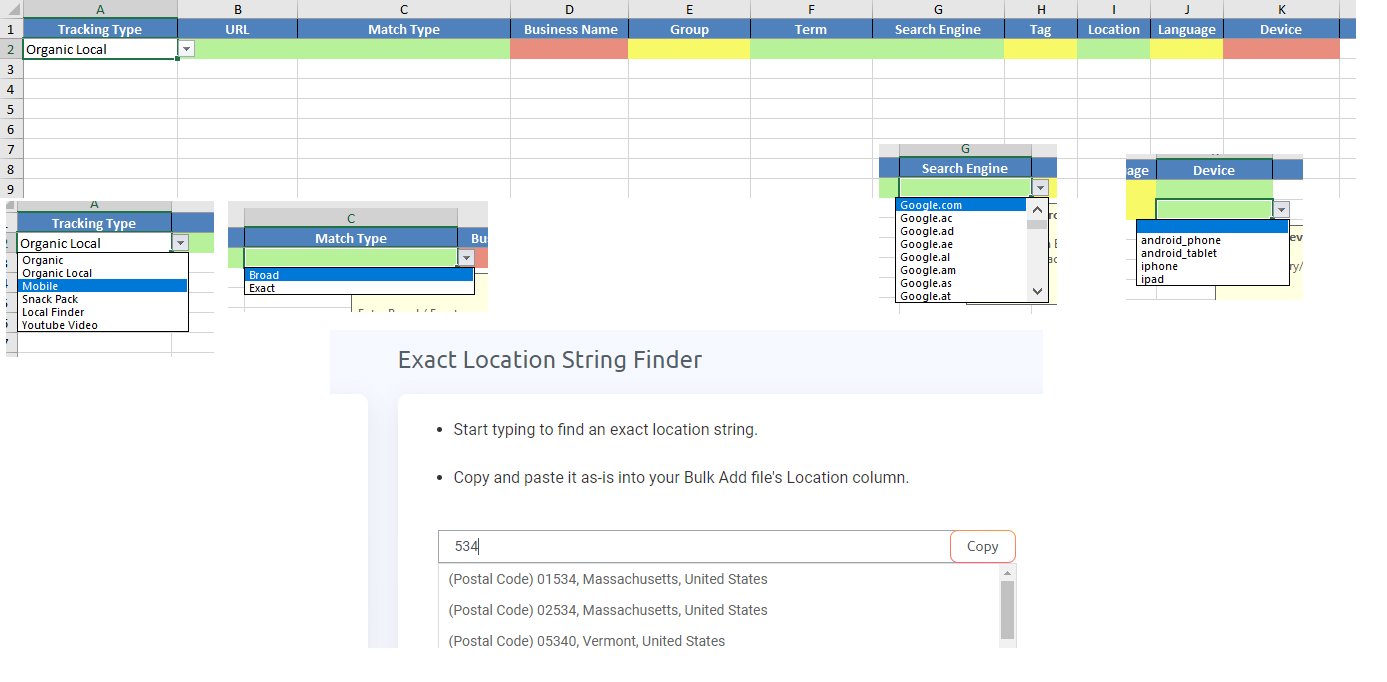 Green fields are mandatory.
Yellow fields are optional.
Red fields are NOT to be filled.
Be sure to fill each row from the left to the right because each setting is conditioned based on the setting to the left.
Also, be sure to fill out an EXACT location with "Exact Location string finder" so local rankings are as accurate as possible.
Upload the File in the Bulk Add Tab
Now it's time to get those new ranks into ProRankTracker! Fortunately, this step is super easy.
Save the EDITED file to your computer, then go back to the Bulk Add page on ProRankTracker.
You'll see a big space where you can drag and drop the file. Alternatively, you can locate the file on your computer and upload it that way as well.
Once you've uploaded the file, click "Save" in the bottom right corner.
That's it! ProRankTracker will automatically gather data on all the new ranks you just uploaded.
Use Rankings Views to Check Ranks in Bulk
You're probably ready to start getting data on your new keywords instantly, so let's head over to the "Rankings" tabs on the left-side toolbar. There are 5 in all:
Dashboard

URL View

Term View

Daily View

Full SERPs
Each of these views gives you a slightly different angle on your ranks. 
The dashboard gives you a broad overview so you can understand the big changes in just a few seconds.
URL view and Term view organize your ranks by URL or term (obviously!) For example, the URL view will show you all the terms being tracked for each URL, whereas the term view will show you all the URLs for which a certain term is being tracked.
Daily view is a graphical view that shows you change over a selected period.
Full SERPs gives you a detailed look at the current SERP, as well as a graphical view of how each player on the SERP has moved over the previous days.
Generate Reports to Keep Tabs on Your Ranks
Your ranks will constantly change, and you'll quickly realize that keeping up with them can get difficult.
One of the best ways to keep tabs on your ranks is to generate automated reports regularly.
ProRankTracker allows you to set up reports that will automatically send in 2 different ways:
Scheduled reports will send on a particular schedule that you set in advance. For example, you might set an Overview Report to send daily and a Daily Breakdown to send weekly.

Triggered Notifications will send a report only when a specific, predetermined event occurs. For example, you might set a notification to send whenever a rank drops or increases by more than 2 ranks.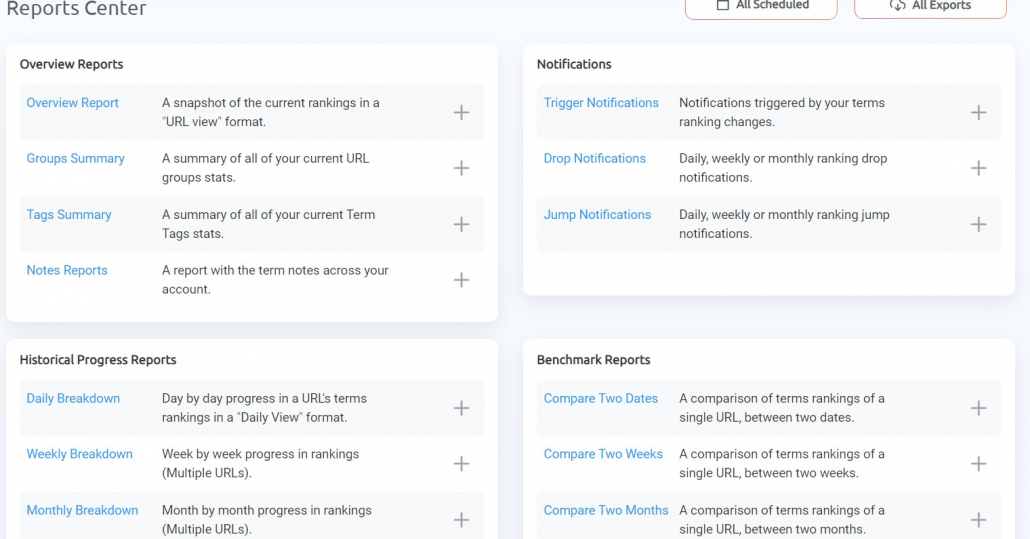 ProRankTracker has more than 20 types of reports and notifications to choose from, and you can generate unlimited reports, so don't be shy!
Best Bulk Keyword Rank Checker Tools
When it comes to bulk uploading ranks for tracking, there are a few major considerations:
Cost

Ease-of-use

Speed/saving time
However, when selecting the right tool for your business, things get tricky. Should you prioritize cost or ease of use? Or should speed be your greatest priority?
Since there's no single answer to the question, "Which is the best bulk keyword rank checker?" we're going to provide our top 3 choices. Each of these is great for a different subset of users.
Most Cost-Effective Bulk Keyword Rank Tracker: ProRankTracker
ProRankTracker is currently the best bulk keyword rank tracker for those looking for the best price-to-feature ratio. In other words, it provides the most bang for your buck.
Why is that?
ProRankTracker plans start at only $11/mo, and that includes ALL of the most essential features like:
Daily updates

Unlimited reports

Bulk rank tracking features as shown in this article.
In other words, this is an excellent option for those looking for robust features at a great price.
All-In-One Bulk Keyword Rank Tracker: Ahrefs
Ahrefs is one of the most popular SEO tools on the market for good reason–it's got a broad range of features that allow users to accomplish almost ANY SEO task.
That includes bulk rank tracking. Ahrefs allows you to upload many keywords simultaneously and offers a feature called batch analysis. 
Batch analysis allows you to compare many URLs simultaneously, which is another excellent bulk analysis feature.
Some of the difficulties we've found with Ahrefs are heave to do with getting used to the more extensive program. It is also MUCH more expensive, meaning it's better suited to larger businesses.
That being said, many businesses find what they're looking for with Ahrefs!
Bulk Keyword Rank Checker for New Users: Mangools
One of the most popular bulk keyword rank checkers among new SEOs is Mangools' SERPwatcher.
In our opinion, Mangools shines with new users because it is super straightforward to use. After making an account, it takes almost no time to get up and running.
On the flip side, that normally means that users will eventually want to transfer to a more complete tool later. As you grow and develop your rank-tracking skills, you may want a tool with more complete features.
Mangools starts at $29.90/mo, which includes 100 keyword lookups per 24 hours.
Conclusion
Keyword rank tracking is essential, but it can be time-consuming. If you find a tool that allows you to track your ranks in bulk, you can save time and track even MORE ranks!
By following the tips in this article, you should be able to easily start tracking your ranks in bulk with ProRankTracker. This will allow you to continue to develop your rank tracking as your business grows and develops.
Happy tracking!
https://proranktracker.com/blog/wp-content/uploads/2022/11/How-to-Use-PRTs-Bulk-Keyword-Rank-Checker.png
321
845
Jacob Statler
https://proranktracker.com/blog/wp-content/uploads/2020/11/prt-blog-1-1.png
Jacob Statler
2022-11-01 00:07:23
2022-11-08 21:49:10
How to Use PRT's Bulk Keyword Rank Checker