How to Create a Mobile Ranking Report
You're already tracking your mobile ranks, but how do you get the most from the data you're collecting?
Just tracking your ranks can help you understand whether your strategies are successful, but to truly understand your ranks, you need to use ranking reports.
When it comes to mobile rank tracking, using well-designed reports can help you:
Analyze progress over time

Keep yourself and your clients informed about important rank changes

Compare key details about your SEO strategy
In this article, we'll talk about why you should focus on mobile ranks, how to use reports, and how to succeed on the mobile SERP.
Let's get started!
We'll cover:
Why You Should Track Your Mobile Ranks
If you aren't already tracking your mobile ranks, it's time to change that.
Why?
Because Google is becoming an increasingly mobile search engine. 15 years ago, ignoring mobile ranks probably wasn't a big deal.
In 2023 and beyond, ignoring your mobile ranks is almost like not doing SEO at all–especially after mobile-first indexing changes on Google. Every business that cares about their success on the SERP is tracking their ranks and using high-quality mobile SEO tools to do it.
Let's look at 2 key reasons why you should track your mobile ranks.
Your Audience Is Searching on Mobile
First and foremost, you need to track your mobile ranks because the mobile search audience is HUGE!
How big?
63% of Google's organic search traffic originates from mobile devices, meaning over 5 BILLION mobile searches per day!
In other words, your audience is searching on mobile! If you ignore your mobile ranks, you're likely ignoring more than HALF of the searches that you could benefit from!
Target More Specific Keywords
Second, mobile searches use keywords that are different from their desktop counterparts.
For example, desktop searches are often much broader and have no geographic focus in mind. Mobile keywords, on the other hand, often target specific locations.
Taking advantage of these differences allows you to specialize your keyword strategy for mobile searches, getting more views and clicks from organic traffic.
Why Mobile Rankings Reports Are Essential
OK, so maybe we convinced you to start tracking your mobile ranks. But is it really necessary to generate mobile ranking reports?
Can't you just get by with tracking the data and reviewing it on a regular basis?
Short answer: Maybe.
Long answer: Probably not. Ranking reports fill a vital role in an SEO's toolbox. They accomplish goals that you just can't accomplish without reports.
Let's look at 3 critical reasons why you NEED to use mobile rankings reports for yourself and your clients.
Stay Up to Date
Even if you check your ranks every day, things will escape your attention. You'll inevitably miss some important changes until it's too late.
For example, let's say you started targeting a few new keywords and you're tracking them all. You check on them every couple of days to make sure nothing major is happening.
However, while you're focusing on those keywords, one of your old keywords drops 3 ranks, which just so happens to mean it fell off the first page. Your CTR plummets to somewhere near zero, and you start losing sales.
You can avoid this with a simple report that shows you any ranking changes for the last day. Just have a report sent to your inbox with a list of any rank changes. Then, you can address the problem before it becomes a real issue.
Keep Your Clients Happy
If you're running a white-label SEO business, your clients expect to get updated regularly on their ranks.
If you don't meet those expectations, let's just say you might not have to worry about having those clients much longer.
On the other hand, you can use a mobile SEO ranking tool to automatically generate all the reports your clients want. That keeps them updated without you even lifting a finger. 
It's a win-win!
Get a Better Understanding of Your Ranks
Finally, there's only so much you can learn from your ranks without the help of an in-depth report.
For example, you can open your ranking tool and look at what your ranks are today, but a report can overlay today's ranks with the same date from last year. That view allows you to see year-over-year progress.
Or, you can create a report that stacks your own ranks for a keyword over your opponents' ranks for the same keyword.
Ranks give you new ways to visualize your data, making your ranking data that much more powerful for your business.
How to Create a Mobile Ranking Report With ProRankTracker
Now that you know why mobile ranking reports are important, let's look more closely at how to generate the best possible reports using ProRankTracker.
ProRankTracker is a highly-specialized rank-tracking tool that provides many different types of reports. Each report can be customized to show only your mobile ranks or a mix of mobile and desktop ranks.
If you want to follow along with this section of the article (which we recommend), try signing up for a 30-day ProRankTracker free trial.
Add Your URL/Keyword Combos
Before ProRankTracker can help you generate reports, you need to supply it with the URL/keyword combos to track.
The easiest way to do this is in the Add Wizard tool:
Copy/paste the URL and keywords you want to track into the correct boxes.

Select "Android Results" or "iPhone Results" to track the keywords on mobile.

Select your search engine/s of choice.

Input your tracking location (highly recommended for mobile keywords)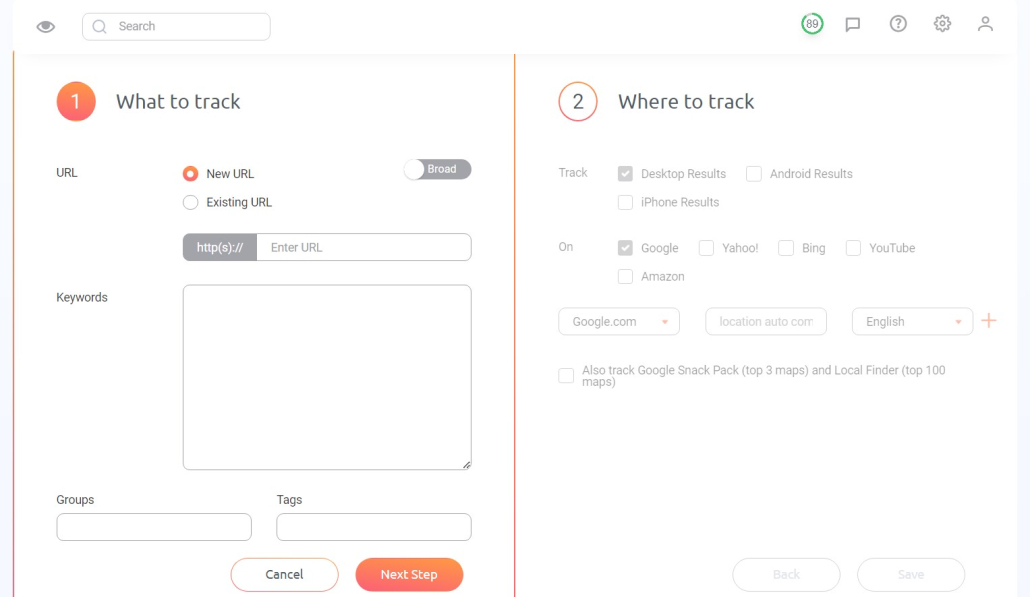 Customize Your White-Label Reports
If you're a white-label SEO reseller, you'll want to ensure that your reports are customized with your brand's info. That means:
Logo

Colors

Custom domain

Header/footer

Cover letter
Fortunately, this is really easy to accomplish in ProRankTracker. Just click on the gear icon in the top right corner, then click "White label."
Upload your logo and input your custom URL.
For further customization, go to the Reports Center and click "Templates" on the menu bar.
In the templates tab, you can change the colors, cover letter, and header/footer of your white-label reports.
You can save multiple templates for easy access in the future, allowing you to use multiple report designs depending on your client or other needs.
Select a Report
After you've created your white-label customization, you're ready to pick out the report or reports you want to generate.
ProRankTracker offers more than 20 types of reports and notifications, and EVERY plan includes unlimited reports, so you can generate as many as you want.
Go to the Reports Center and select the report or notification you want to generate.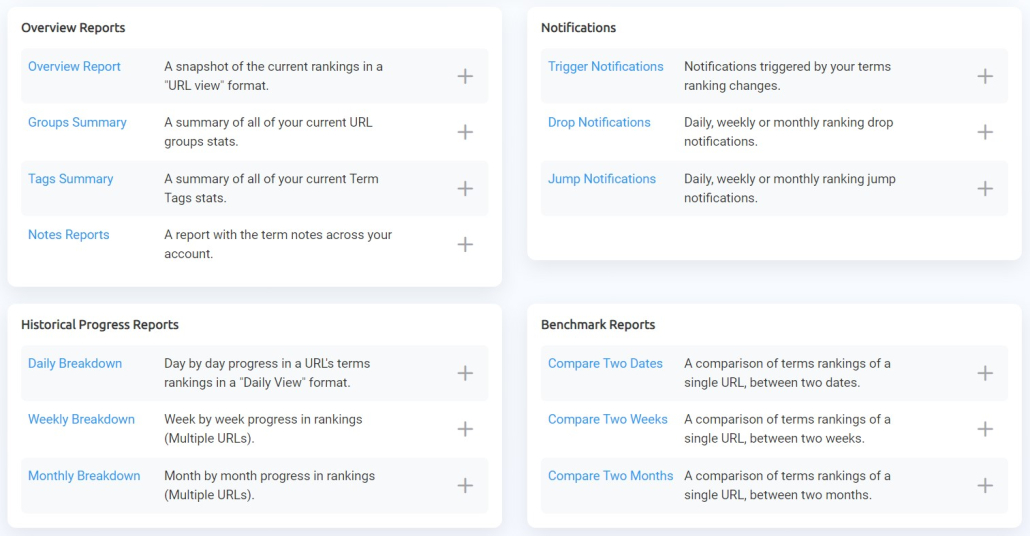 Many clients will have preferences about which reports they receive. For example, your client may want to receive a daily overview report and weekly and monthly breakdown reports.
We'll talk about how to set up an automatic reporting schedule in just a minute. For now, just select the report you want to generate first.
Personalize Your Report
After selecting your report, you'll have the chance to customize it to your needs. In the top section of the customization menu, you can choose:
Details about where to send the report, file type, white-label template, etc.

What ranks/groups/keywords will be included in the report

Any details specific to the type of report you selected (in the example below, we're generating a daily breakdown report, so there are options about how many days to include as well as whether to include tables, charts, or both)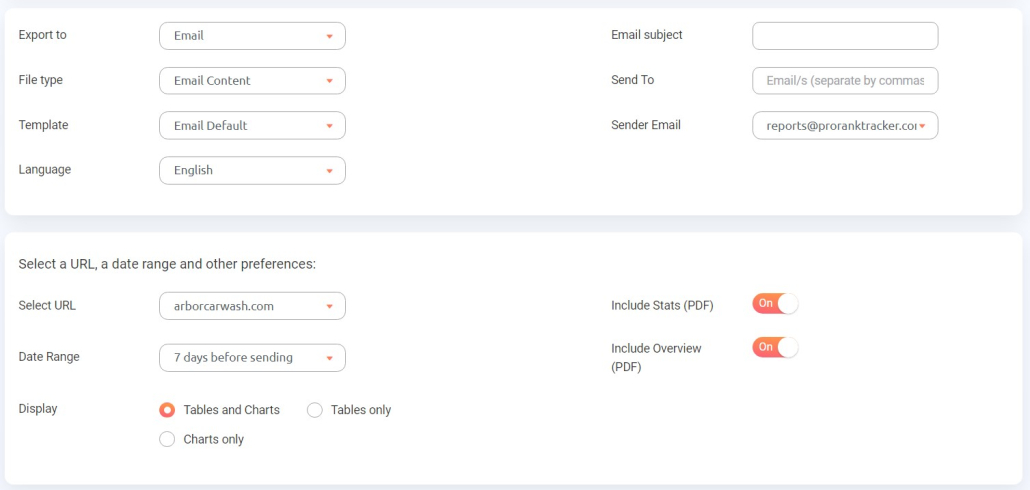 In the bottom sections, you'll customize the data that appears, the order in which it appears, and how to filter the data that will be included.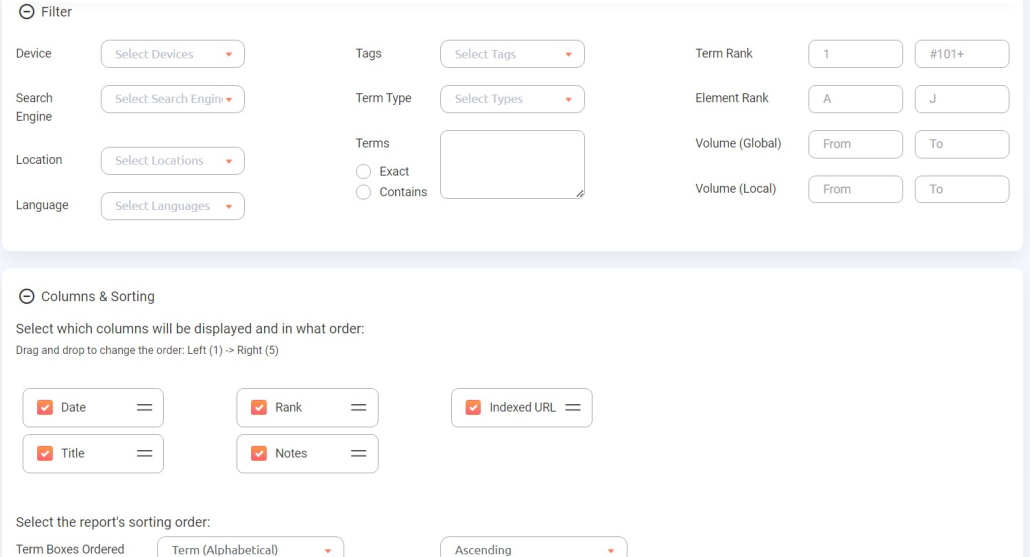 This section is where you can select to include only mobile ranks. These filtering options give you control over exactly what ranks you'll see on the report you generate.
Set Up a Reporting Schedule
Finally, you can set these reports up to send on an automatic schedule. 
When you're customizing your mobile ranking report, you can also customize when it will send and how frequently.
At the very top of the report customization menu, select:
Scheduled or instant export, which is a one-time report

If scheduled select daily, weekly, or monthly

Choose the time if daily or date and time if a weekly or monthly report

Repeat this process for multiple reports and you'll quickly have a robust reporting schedule, keeping your clients updated without any extra input on your part!
How to Improve Your Mobile Rankings
Before we wrap this article up, let's talk about how to improve your mobile rankings.
Of course, tracking and reporting your ranks is a massive first step. But once you get the data you need from your mobile ranking reports, what strategies should you try?
Below, we'll talk about 3 major strategies to improve your mobile ranks. These are a great place to start if you want to give your mobile ranks a quick boost.
Optimize Your Page for Mobile
The most important step you can take to improve your mobile rankings is to optimize your page for mobile indexing.
What makes a page succeed on mobile devices?
Very few, non-invasive popups

Large buttons for touch screens

Fast loading times

Responsive UI

Content should be the same on mobile and desktop (if you want to avoid a

Google penalty

)

Test your site using the

mobile-friendly tool
After going through these steps, you should have a responsive site that works great on mobile, which will help quickly boost your ranks.
Target Mobile-Specific Keywords
Like we mentioned earlier, mobile searches and desktop searches aren't the same. Mobile searches tend to use shorter-tail keywords and more local intent.
What does that mean for you as you target mobile searchers? 
It means you need to target mobile-specific keywords!
One of the most important types of mobile searches is for local businesses on Google Maps, the Local Finder, and other mobile Google Features.
To find the best keywords for those types of searches, use the Keyword Suggestions tool in ProRankTracker. Plug in one of your current mobile keywords and see what the tool finds for you.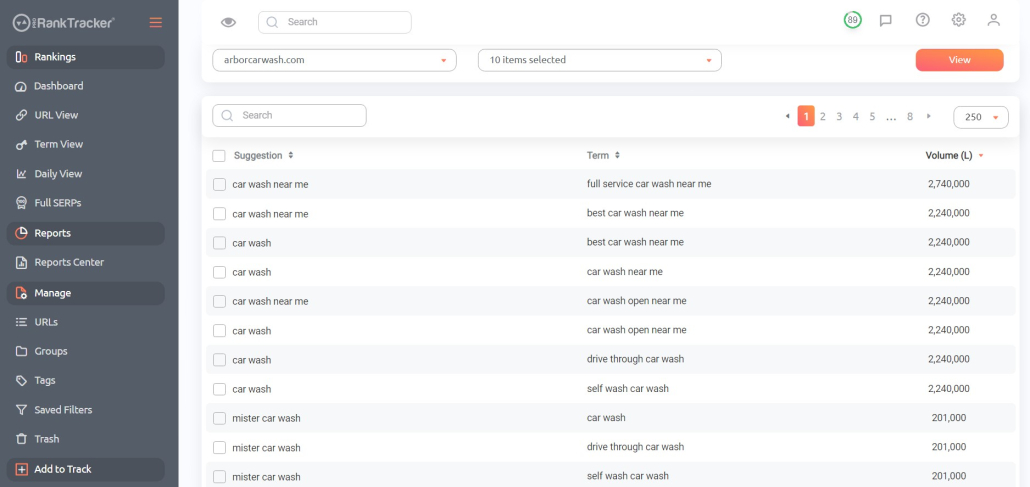 Second, you can use the Rankings Discovery tool to see what keywords you and your competition are ranking for but that you aren't tracking yet. Use this to fill in the gaps in your mobile keyword strategy.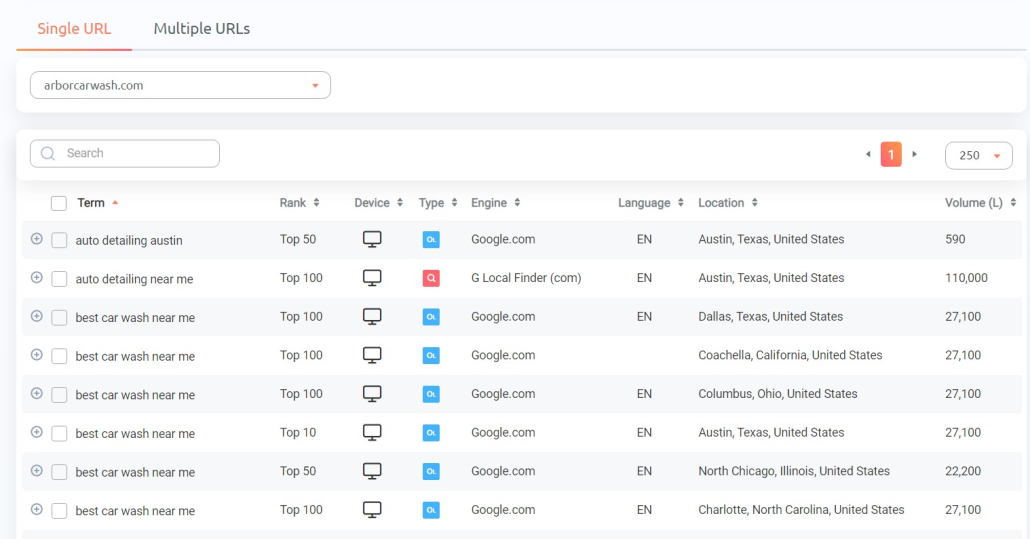 Focus on Local Searches
Mobile keywords often include local intent. In fact, 88% of smartphone users use their phones to search for local businesses.
That means you NEED to target local keywords if you're going to get the most out of your mobile SEO.
When targeting local keywords, remember the following:
Many people use words like "near me," "close by," or "in Atlanta (or another city)."

All Google searches are indexed by location, so you should include precise location data when adding these words to your ProRankTracker account.

Use ProRankTracker to find out what keywords

your competitors are tracking

, then use those keywords to inform your own strategy.
Conclusion
Starting to track mobile ranks is a massive step forward in improving your SEO, but mobile rank reporting can make an even bigger difference.
Remember that over HALF of Google searches are made on mobile devices, so you can't afford to ignore the crucial steps outlined in this article! 
By following these tips, you should be able to quickly start improving your ranks using mobile ranking reports on ProRankTracker.
You should also be able to keep your clients informed, which will help you retain your clients and generate more revenue.
Happy tracking!
https://proranktracker.com/blog/wp-content/uploads/2023/04/How-to-Create-a-Mobile-Ranking-Report.jpeg
642
1690
Jacob Statler
https://proranktracker.com/blog/wp-content/uploads/2020/11/prt-blog-1-1.png
Jacob Statler
2023-04-04 16:55:33
2023-04-10 08:39:05
How to Create a Mobile Ranking Report