Must-Need Mobile SEO Tools to Rank on Any Device
When you first started looking into search engine optimization, you probably thought it was as simple as this:
Find some keywords

Write some content around those keywords

Wait for your pages to jump to #1 on the SERP
In some ways, that is the primary process of SEO. In other ways, it's a whole lot more complicated than that.
One of the first complications you run into when working on SEO is mobile rank tracking. It's a complex field that varies from desktop SEO in several critical ways while still being just as important (or even more so).
In this article, we'll show you the essential mobile SEO tools that will help you track your mobile ranks and beat your competitors.
Let's go!
We'll cover:
What's the Difference Between Mobile and Desktop SEO?
Before we get into the thick of mobile SEO, it's critical to understand where it's different from standard SEO.
After all, the differences between mobile and desktop SEO are the areas where you need to focus your usage of the tools we'll discuss later.
There are, of course, quite a few differences between these 2 types of SEO, but we're going to focus on 3 of the most important ones:
The difference in search volume

Different SERPs

Different searcher intent
Understanding these 3 significant differences will help you do mobile SEO better, so let's discuss it!
More Overall Search Volume
Did you know that 63% of Google's organic search traffic comes from mobile devices?
Yes, you read that right! More than HALF of Google's 1.2 trillion yearly searches come from mobile devices!
What does that mean for you and your business?
It means you should deeply care about and invest in mobile SEO! 
Not every industry has a higher mobile search volume, but many do. That means you could ignore more than HALF of your searchers if you don't focus a good portion of your time on mobile SEO!
In other words, tracking your mobile SEO keywords and ranking on the mobile SERP are URGENT needs for your business!
Different SERPs
Speaking of the mobile SERP, there are a lot of differences between mobile and desktop SERPs that change what you track.
Most importantly, the SERP that Google shows to mobile searchers can vary drastically from the SERP shown to desktop searchers. This is due to several different factors:
Location

Different mobile and desktop features on Google

Certain ads target mobile or desktop searches, so Google won't show them on the opposite search type.
These reasons are why you must target the mobile SERP separately from the desktop SERP. Then, you must track your mobile ranks independently of your desktop ranks.
The differences between the mobile and desktop SERPs make this process more complicated, but the tools we'll discuss later will simplify it for you!
Different Searcher Intent
A final difference between mobile and desktop SEO is that mobile searchers typically have different search intent.
For example, consider some of the reasons you use your phone:
To find a local place to eat/shop

To look up something quick

Use social media (and the links and advertisements within social platforms)
Now think about desktop/laptop searches:
Sitting down to research something

Online shopping (also done on phones, but

less than half

of the time)
These differences lead to some noticeable differences in how these searches are done. For example, desktop searches are longer (long-tail), while mobile searches are shorter (short-tail).
In other words, people do different searches on their phones and their computers. You must understand those differences to take advantage of them on the mobile SERP!
Why You Need to Be Tracking Your Mobile Ranks
Now that we've gone over the differences between mobile and desktop SEO, it's obvious that both types of SEO are essential for your business.
But could you get by without tracking your mobile ranks, or is that necessary?
It may seem like tracking is unnecessary. After all, how does knowing your ranks help you improve them?
In reality, tracking is a crucial part of boosting your ranks. Let's look at 2 primary reasons why that's the case.
Your Audience Is Searching On Mobile
First, your audience is making plenty of searches on mobile devices. As we stated earlier, more than half of all Google searches are made on mobile!
That means you could ignore more than half of your searchers by choosing not to track your mobile ranks.
But how does tracking ranks help you improve them?
To answer that, think about NOT tracking your ranks. How do you know what's working and what isn't? What should you improve first? What keywords are bringing the most traffic to your website?
Those are questions you can't answer unless you're tracking your ranks! 
Improving Ranks = More Traffic
Speaking of improving your ranks, it's one of the most important steps you can take to get more traffic to your website and your brick-and-mortar.
If your pages aren't ranking on the first page of Google, they might as well not exist. So you HAVE to improve your ranks if you want to see significant increases in your traffic.
Tracking ranks allows you to rank higher, which leads to the following:
More impressions

More clicks

More visits

More purchases
In other words, improving your ranks is a HUGE priority, and tracking is the first step to achieving it!
How Can I Do SEO for Mobile?
Let's talk for a minute about how to execute mobile SEO. After all, you can't track your mobile ranks unless you've started to target mobile keywords, written content, etc.
In this section, we'll cover 3 significant steps to get you well on your way to topping the mobile SERPs in your business's niche.
Create a Mobile-Specific UX
Did you know that there is a difference between how sites are ranked depending on how well the UX is designed for mobile users?
In other words, if your website is explicitly designed for desktop users, don't expect to rank high on mobile-specific SERPs anytime soon.
So, what does it mean to create a website experience that targets mobile users?
Here are some great ways to get started:
Keep your website simple

Minimize popups–especially those that cover content on smaller screens

Buttons that are easy for mobile users to press

Compress images and optimize your site for quick load times
Do these things, and you'll significantly increase your chances of ranking on mobile SERPs!
Use SEO Tools
Next, don't try to do your SEO without high-quality SEO tools. It just isn't worth it!
SEO tools are powerful enough to save you dozens of hours each month on your SEO, while still INCREASING the accuracy and quality of your SEO work.
If you can only afford one tool, I recommend using a cheap tracking tool that still provides accurate data.
If your budget is bigger, go for an all-in-one paired with a highly-specialized rank tracker.
This simple step is probably the most important thing you can do for your ranks!
Target Mobile-Specific Keywords
We talked earlier about how searcher intent is different on mobile and desktop. Here's where that comes into play.
Since people search for different reasons on a mobile device, that means the keywords they're using will also be different. 
So, one of the best ways to boost your rank on the mobile SERP is to target keywords that people are searching for on their mobile devices! Think:
Area-specific keywords like "near me" or the name of your city

Keywords that reflect being at an earlier stage in the buying process instead of near the end ("Nike shoes" vs. "Nike pegasus pink")

Use tools like ProRankTracker to determine if there are already mobile keywords you rank without realizing it
The Best Tools for Mobile SEO
There are a lot of tools out there to help you do mobile SEO well. Unfortunately, many of them aren't worth using, even if they're free.
However, there are some REALLY helpful tools out there that you can use to boost your mobile SEO ranks quickly and effectively.
In this section, we'll look at 3 great tools you can start using TODAY. These are some of the best tools for mobile SEO that will help you accomplish tasks like:
Figuring out if your site is optimized for mobile SEO

Determining where your traffic is coming from and if it comes from mobile or desktop users

Check if your web pages are ready for mobile-first indexing
Mobile-Friendly Test
The Mobile-Friendly Test website does exactly what it sounds like. You put your website's URL in, and it will run a test telling you if it's optimized for mobile devices.
Even though that sounds incredibly simple and maybe even pointless, you must remember that Google ranks things based on their usefulness to searchers.
In other words, you won't rank on a mobile SERP if your site isn't optimized for mobile viewers. Use this tool to ensure your pages are ready for the mobile SERP!
Best of all: it's FREE!
Google Search Console and Analytics
Google Search Console and Google Analytics are 2 of the most famous SEO tools that almost everyone uses.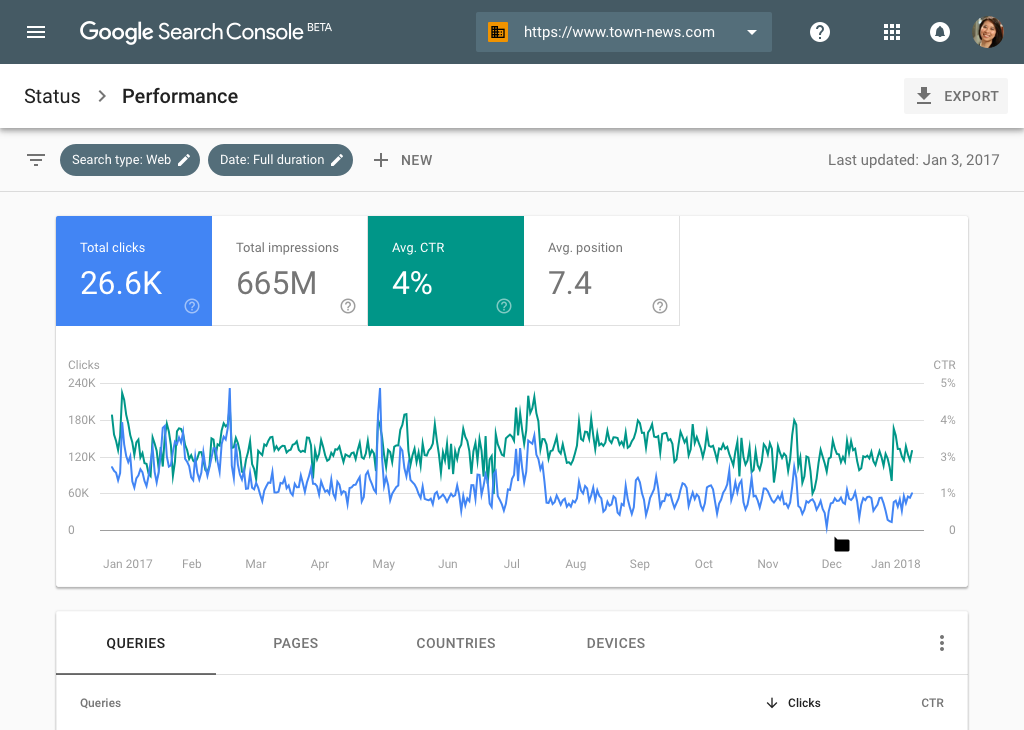 Google Search Console lets you get a detailed look at your traffic, making it a highly valuable companion for a specialized rank tracker like ProRankTracker. You can narrow your searches down to look specifically at mobile traffic.
Google Analytics is similar, but it is more focused on helping you determine how your users find your website. It can be a very valuable tool for determining whether your users are primarily mobile or desktop users.
Mobile-First Index Checker
If you learn with Google Analytics that your audience is primarily mobile-based, you may want to learn more about mobile-first indexing and how it could benefit your website.
Mobile-first indexing essentially means that Google primarily uses the mobile version of your website for ranking purposes. In other words, it looks at the mobile-sized version of your site to determine how it ranks for different keywords.
You can check if your website is eligible for mobile-first indexing using a tool like the Mobile-First Index Checker. It will quickly tell you if your site is ready for mobile-first indexing.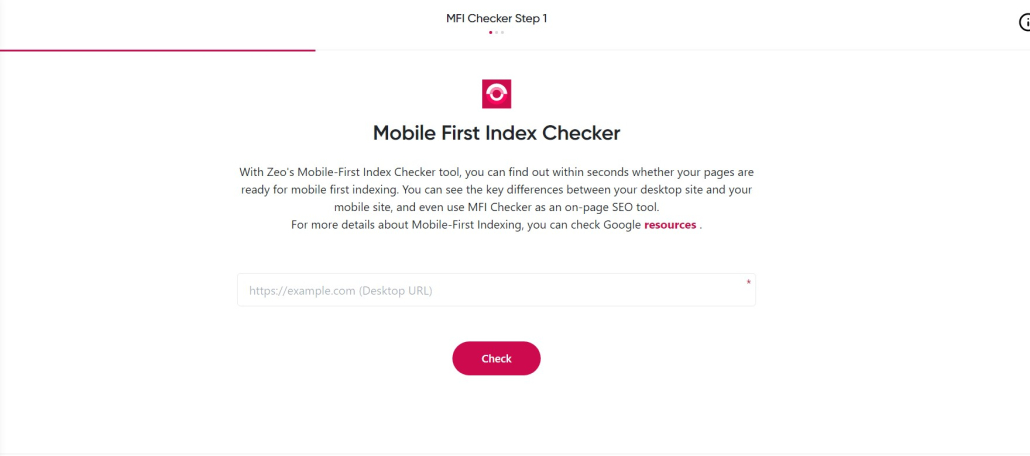 ProRankTracker's Best Mobile SEO Tools
What if you need something more specific than the tools mentioned above?
Maybe you're ready to:
Start tracking ranks for a variety of keywords

Get insight into your competitors' ranks and keyword strategies

Save time doing mobile SEO research

Get deeper insight into how your pages are performing on the mobile SERP
ProRankTracker is a highly specialized rank-tracking tool that can help you do everything. In this section, we'll break down some of the best mobile features ProRankTracker offers and show you how they can help you.
I highly recommend signing up for a ProRankTracker 30-day free trial so you can follow along!
Adding Device Types
When you add new URLs or keywords to track in ProRankTracker, you'll get the option to add the device type you're targeting.
You can choose between desktop, Android, and iPhone results in the Add Wizard tool. In the Advanced Add tool, you can get even more specific, choosing between:
Android phone

Android tablet

iPad
Choosing device types helps you narrow your tracking down, making it more specific and practical.
Rankings Discovery
Did you know you might already rank on the mobile SERP for keywords you're not even targeting yet?
That's where Rankings Discovery comes in. This tool enables you to search for any keywords you already rank for but aren't yet tracking.
For example, in the picture above, you can see that this URL already ranks in the top 10 for several mobile devices without even realizing it!
You can use this to your advantage to help you narrow your focus on better mobile keywords that will benefit you more.
Daily View
The Daily View shows how your ranks for a particular URL/keyword combo have changed over a selected period. It offers you this information in a convenient graph format.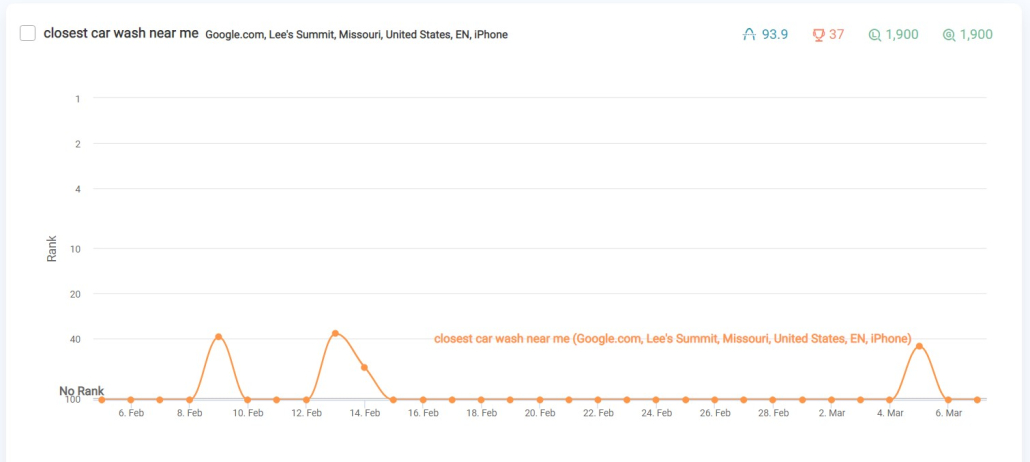 By using this view to look at your mobile ranks, you can see how your mobile ranks are trending. It also helps you determine if your recent strategic changes are positively or negatively affecting your ranks.
Tracking the same URL for multiple mobile keywords can also be a great strategy to compare the same URL's performance across various keywords or vice-versa.
Full SERPs
Finally, you can use the Full SERPs view to see actual mobile SERPs for the keywords you're tracking.
All you have to do is add a URL/keyword combo to your tracking list with a mobile device type, then pull that keyword up in the Full SERPs ranking view.
Not only can you see the SERP as shown in the list above, but you switch to the chart view for a graphical representation of how that mobile SERP has changed over a selected period.
Conclusion
Mobile SEO tools should be forming a significant part of your strategy! It should be evident after reading this article that you CANNOT afford to avoid tracking your mobile ranks, and mobile SEO tools are the best way to do that.
Following the tips in this article, you should be able to adjust your mobile ranking strategy and improve your ranks quickly.
Happy tracking!
https://proranktracker.com/blog/wp-content/uploads/2023/03/Must-Need-Mobile-SEO-Tools-to-Rank-on-Any-Device.jpeg
321
845
Jacob Statler
https://proranktracker.com/blog/wp-content/uploads/2020/11/prt-blog-1-1.png
Jacob Statler
2023-03-09 19:42:58
2023-03-09 19:42:58
Must-Need Mobile SEO Tools to Rank on Any Device