14 Best AI SEO Tools Every SEO Should Use in 2023
How long do you spend on ALL of the SEO tasks for your website — including researching keywords, writing content, finding images, tracking ranks, and improving your on-page technical SEO?
If you're like most doing SEO, your day is probably full of those tasks.
What if you could use the power of AI to cut the time you're spending on those tasks down by 25%? What about 50%?
Well, that day may be today. 
In this article, we'll look at the 14 best AI SEO tools of 2023 that you can use to skyrocket your SEO performance and get an edge over your competitors.
Let's go!
Feel free to skip to the section most relevant to you:
3 Benefits of Using AI SEO Tools
SEO should be a critical component of any digital marketing strategy. However, optimizing a website can be daunting, especially for smaller businesses.
Part of the reason that young businesses struggle so much with SEO is that they don't realize how many resources and tools there are to help them.
Fortunately, there are AI SEO tools that can help you save time, acquire valuable data, beat your competitors, and make better strategic decisions. In other words, they make your life a LOT easier while improving your SEO.
Let's explore some of the benefits of AI SEO tools and why every business needs them if they want to keep up with the times.
Acquire Useful Data
SEO is a time-consuming task that requires attention to detail and constant monitoring. If you don't use good SEO tools, managing your strategy can take hours daily.
On the other hand, AI SEO tools can automate many of the tasks involved in optimizing your website, such as:
Generating reports

Gathering data

Searching for new keywords

Predictive analytics
Beat Your Competitors
You're focusing on SEO to beat your competitors on the SERP.
Using AI SEO tools can help give you a competitive advantage, even leveling the playing field with larger-budget competitors.
With SEO tools that offer competitor analysis features, you can identify your competitors' SEO strategies and find opportunities to outrank them. For example, we'll look at ProRankTracker's smart Keyword Suggestions tool later in this article.
By analyzing your competitor's keyword and content strategies, you can steal the best parts of their plan to create a more effective SEO strategy that puts you ahead.
Make Better Strategic Decisions
Finally, AI SEO tools can help you make better strategic decisions. By analyzing your website's performance, these tools can help you understand which tactics are working and which ones aren't.
This allows you to adjust your SEO strategy and focus on tactics that generate results. 
Some AI SEO tools will show you the following:
Which keywords aren't worth your time anymore so you can focus your efforts elsewhere

When your ranks change so you can adjust your strategy

Where you have holes in your strategy so you can patch them up and rise on the SERP

How to optimize your content for search intent
For example, one feature some SEO tools offer is notifications. You can use these real-time notifications to make instant strategic changes as needed.
What Makes a Good AI SEO Tool?

SEO is constantly evolving, so businesses' needs for their SEO tools are also evolving.
As the market evolves, SEO is becoming:
More time-consuming

More competitive

More technical
One of the most significant developments in recent years has been the boom of AI tools available on the market — even at very accessible prices.
Before we look at our top AI SEO tools, let's explore what makes a good AI SEO tool and how it can transform your marketing game.
Automation
One of the main benefits of using an AI SEO tool is automation.
These tools are designed to automate repetitive tasks, reducing time spent on manual optimization processes.
For example, many AI tools can:
Scan your website for broken links

Recommend keywords based on your current strategy

Uncover holes in your competitors' keyword strategies

Help you write SEO-focused content

Generate SEO-focused images
Not every AI tool offers all these features, but you can pick and choose the tools you want to work with to maximize the bang for your buck.
This automation frees up your time to work on more critical aspects of your business strategy.
Easy to Use
Ease of use is another critical factor to consider when choosing an AI SEO tool.
The tools you choose should be designed with user experience in mind, so you don't have to be a technical expert to use them.
My recommendation is always to find a tool that you ENJOY using. If you don't enjoy using it, you probably won't use it, which means you're wasting your money.
Look for tools with intuitive user interfaces and clear instructions that don't require coding or programming knowledge. This will ensure you can quickly implement the tool and start seeing results.
Streamline Your Workflow
An AI SEO tool brings all your data together and allows you to execute many tasks from the same place. This saves you time and makes your life easier by giving you a bigger picture of your strategy.
For example, you might want to improve your content by finding new keywords and rewriting old content. With AI, you can follow this procedure:
Use one tool to analyze your posts' success on the SERP and find new keywords to target.

Take those new keywords to an AI content writer and generate high-quality content in a fraction of the time.

Use the tool from step 1 to continue monitoring your posts' success.
Now you've got brand new content focused on new keywords without having spent hours and hours laboring to find all the information you need!
This data-driven approach to optimization can help you make informed decisions about your website and ensure that you're staying ahead of the competition.
Best AI SEO Tools for Visual Content
The human brain processes visual information about 60,000 times faster than text, making it easier to remember and understand.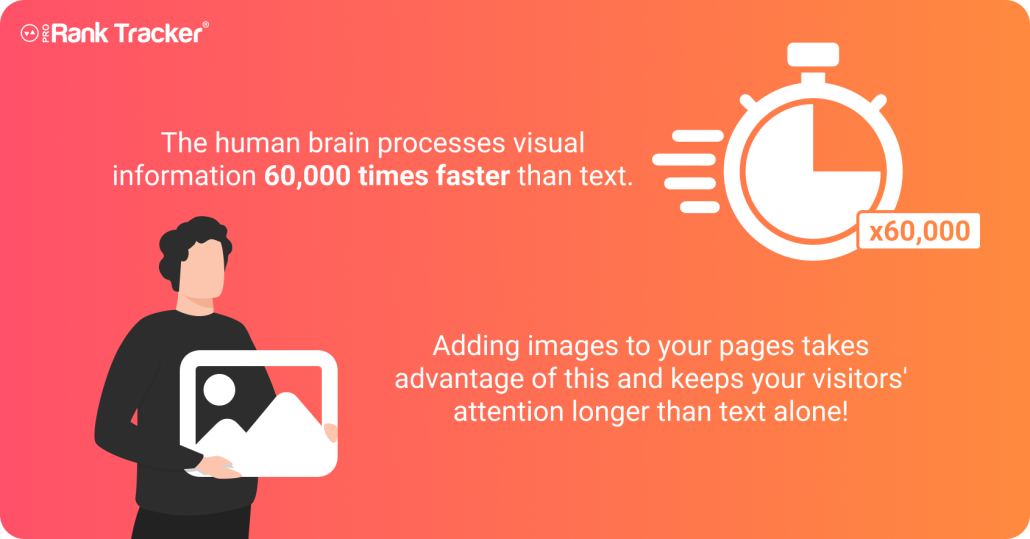 It's no wonder that when it comes to SEO, visual content is king!
Videos and images can significantly affect your website ranking by keeping people on your pages longer and making your content more readable (which means Google ranks it higher). That's why it's essential to incorporate it into your SEO strategy.
In this section, we'll look at some of the best AI SEO tools for visual content to help you boost your website's ranking.
DALL-E 2
DALL-E 2 is a fantastic AI SEO tool that uses machine learning to create visuals from a given description.
This tool can generate high-quality, unique images that can help your website stand out from the competition.
Using unique visuals that complement your content can increase engagement and time on the page, improving your website ranking.
To make the most of this tool, generate images that go along with the content of your articles. Try to make them unique and keep a consistent style.
Pictory
Whereas DALL-E 2 is an image generator, Pictory is an AI SEO tool that uses machine learning to create personalized videos for your website.
With Pictory, you can create highly relevant videos via several different methods:
Trim a long-form video into a short video optimized for different platforms

Turn blog posts into videos in minutes

Write a script, then have Pictory turn it into a video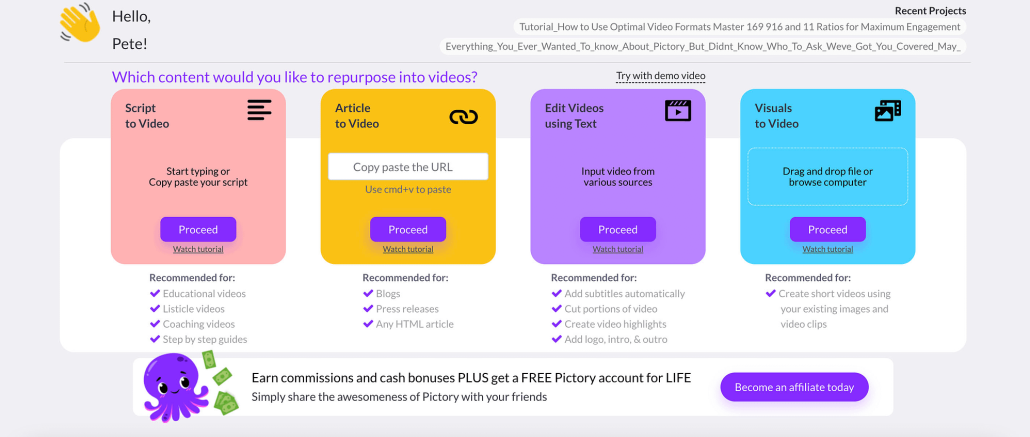 Generating these SEO-focused videos in record time can improve the user experience on your website and social media presence, skyrocketing your rank on the SERPs!
Canva
Canva is a popular visual design tool that has proven useful in creating high-quality visuals.
Their FREE AI-powered image generator tool is easy to use, allowing you to quickly incorporate your new image into any existing Canva designs.
If you use this feature in conjunction with a Canva Pro subscription, you can quickly create stunning designs even with no creative experience.
Just type in the prompt, then allow Canva to generate your image. As with other image generators, make sure you create images that contribute to your written content to encourage people to stay on your website longer.
Best AI SEO Tools for Content Creation
With the rise of AI, content creation has become more efficient and effective (or at least it should be!).
AI SEO tools can help businesses optimize their content and improve their rankings on search engine results pages. They do this by greatly reducing the time it takes to write a high-quality article or another piece of written content.
However, please be aware that we do NOT recommend using AI writers without reviewing and editing the content they generate. These tools are getting better and better at writing human-like content, but you still need to edit each piece and make it your own.
Let's look at 4 of the best AI SEO tools you can use for your content creation needs.
Jasper.ai
Jasper.ai is a popular AI SEO tool that can help you in your content creation process. It assists users in several ways:
It generates high-quality content optimized for your target keywords.

It can generate outlines on a topic you give it.

It can improve old content.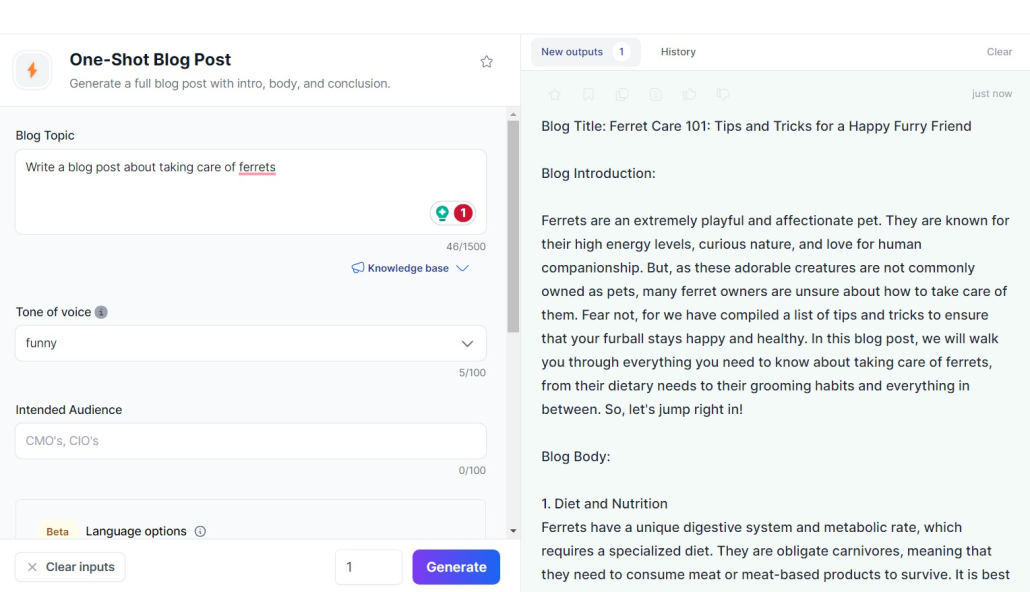 Jasper.ai is designed to help content creators write and publish content quicker than ever before. One of the key features is that it allows you to train it using your current content so it can learn facts about your brand, including your brand voice.
INK
INK is another AI SEO tool that you can use to create and optimize content.
The tool has smart AI algorithms that help guide you on SEO content optimization. So you can write your content and then follow INK's suggestions to optimize it for search engine success.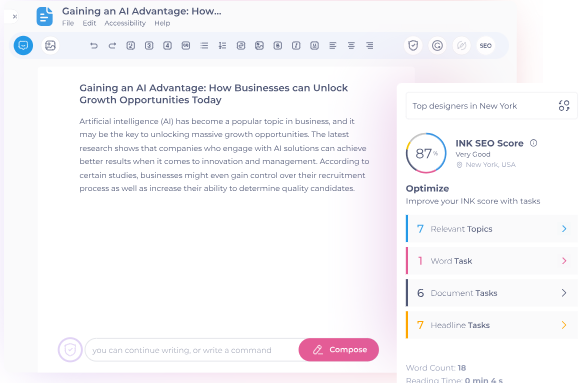 INK researches content similar to yours online and figures out exactly what makes them succeed on the SERP so it can apply the same strategy to your content.
In addition to its writing tools, INK also offers:
AI image generation

Keyword research

AI assistant
NeuronWriter
Lastly, we have NeuronWriter, one of the best AI SEO tools for content creation. The tool uses GPT-3 technology to draft high-quality content.
But where it shines is with its Content Optimizer tools. It tells you exactly how to turn a piece of content into something that will truly demolish the SERP.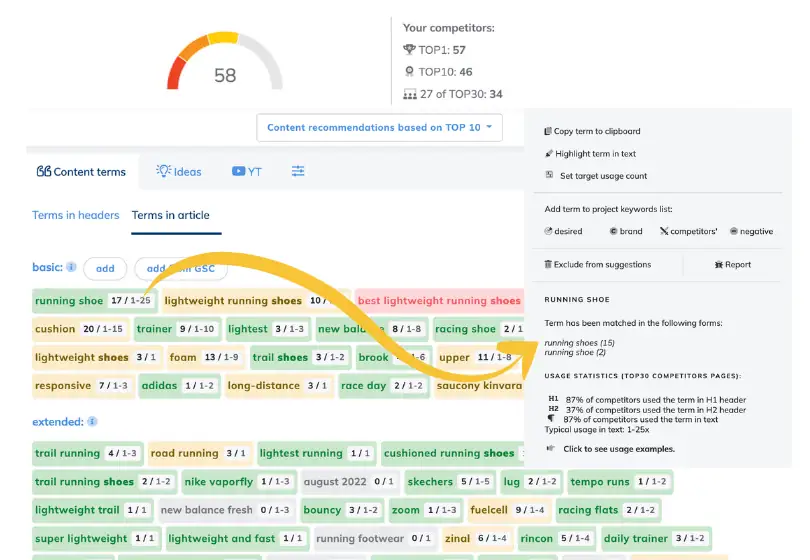 Using NeuronWriter to generate and optimize a piece of content can shave hours off your content creation process while improving the performance of the end result.
Best AI Tools for General SEO
AI technology has revolutionized the SEO industry and has made the process of optimizing websites for search engines easier and more efficient.
That doesn't just include auto-generating content and images like we've looked at so far. It also includes day-to-day SEO tasks like:
On-site optimization

Creating meta descriptions

Many other SEO tasks
In this section, we'll discuss the top AI tools available for general SEO that can change how you optimize your website and improve your search engine ranking.
SEO.ai
SEO.ai is an AI-driven platform with many SEO-related features, including writing, keyword research, ad research, and on-site SEO audits.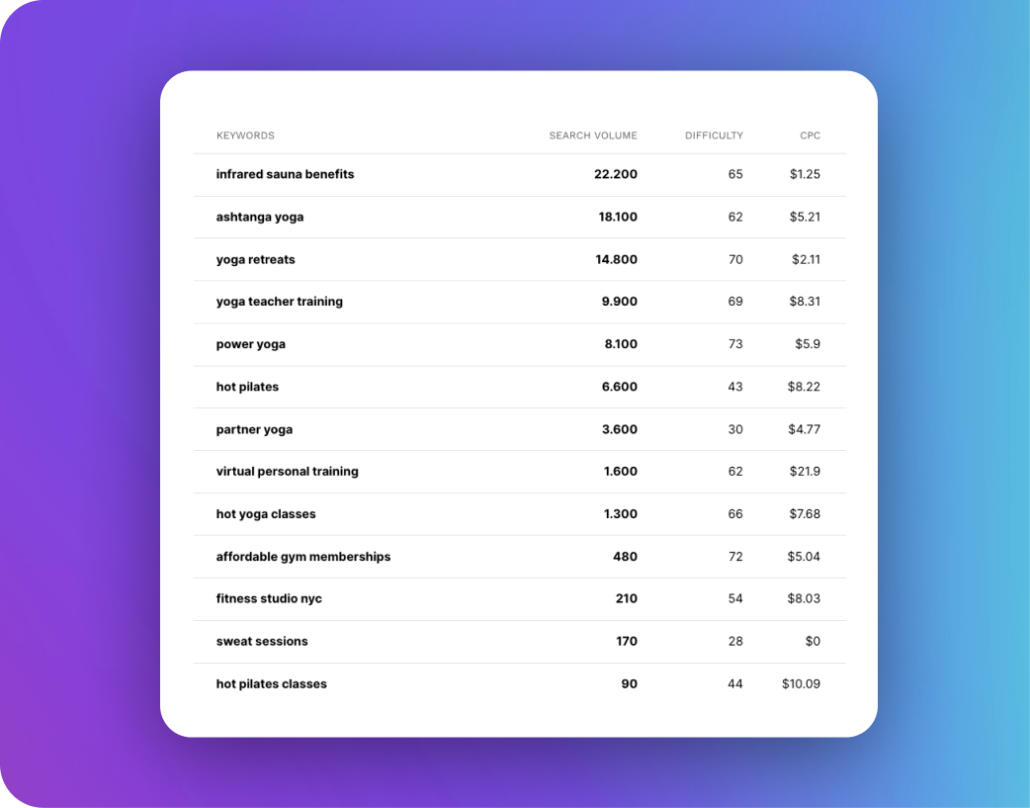 This tool gives you a comprehensive report on your website's SEO performance, including detailed analytics on keywords, backlinks, and search queries.
The secret?
It uses machine learning algorithms to identify your website's best on-page optimization strategies, which can help you increase your website's exposure on search engines.
In other words, SEO.ai will tell you EXACTLY how to change your on-page SEO to maximize your SERP position.
Diib
Diib is another AI-powered general SEO tool that provides personalized SEO plans.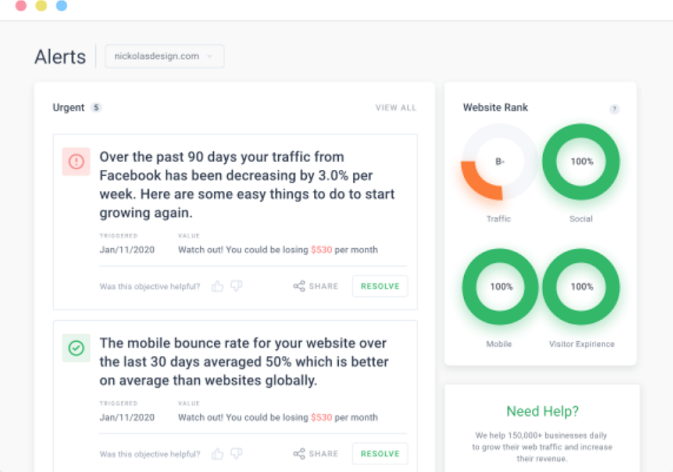 One of the main ways it accomplishes this is by analyzing your website and offering you recommendations on what you can improve, including:
New keywords

Social media recommendations (which can improve your traffic and ranking)

Mobile optimization recommendations

How to improve your UX to increase time on page, which in turn improves your rank
The best part about Diib is that it takes zero technical knowledge. All you need to be able to do is read and implement the changes it recommends!
ChatGPT
ChatGPT has grown in popularity recently and is well-known as an AI-powered chatbot.
However, it can also use AI to provide real SEO support to businesses. You definitely shouldn't use ChatGPT to write entire blog posts for you (without the right prompts and editing), but there are plenty of examples of SEO-related activities you can generate within ChatGPT:
Writing short content or gathering ideas about a topic

Coming up with titles

/outlines

Topic cluster suggestions

Writing meta descriptions
For example, you might give ChatGPT a script of an old video and ask it to distill the info into a short paragraph or bullet list. Commands like this one can save you a ton of time and generate powerful SEO material.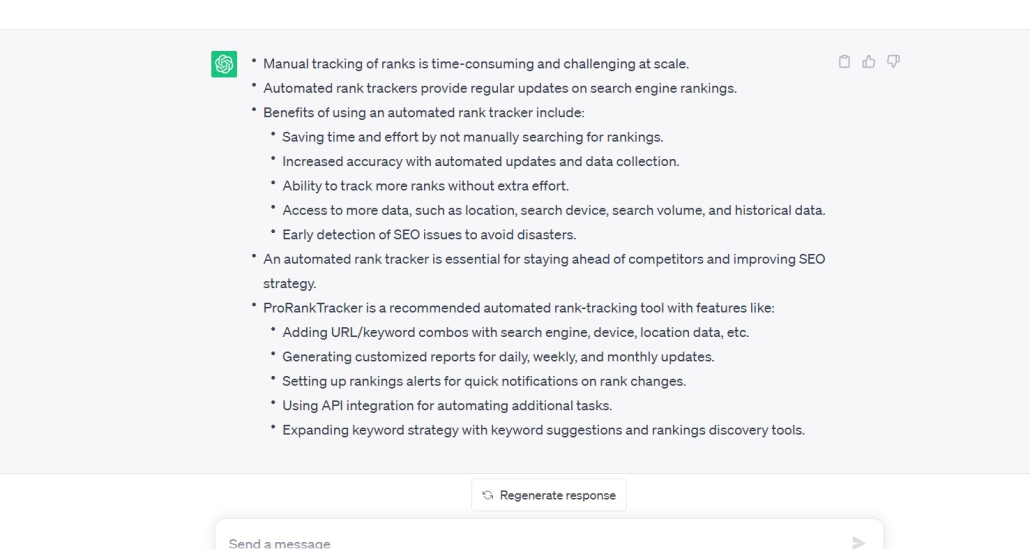 The best part?
ChatGPT is free. You just need an account and some knowledge about what to ask it.
Best AI SEO Tool for Rank Tracking: ProRankTracker
In the highly competitive world of SEO, having an accurate and reliable rank tracking system is crucial to stay ahead of your competitors.
ProRankTracker is a world-class SEO tool that provides advanced tracking and reporting solutions for businesses of all sizes. Its sophisticated algorithms and wide range of features make it the best AI SEO tool you can choose.
There are various features of ProRankTracker that make it stand out in the market. Let's look at some of them before we get into our final set of AI SEO tools.
Automatic Real-Time Updates
One of the standout features of ProRankTracker is its robust algorithm that provides the most accurate rank-tracking results in real-time.
It automatically tracks the ranking of your keywords on top search engines like Google, Bing, Yahoo, YouTube, and Amazon.
One of the unique features of ProRankTracker is that EVERY plan gets daily updates at no additional cost. That ensures that your ranks are always fresh.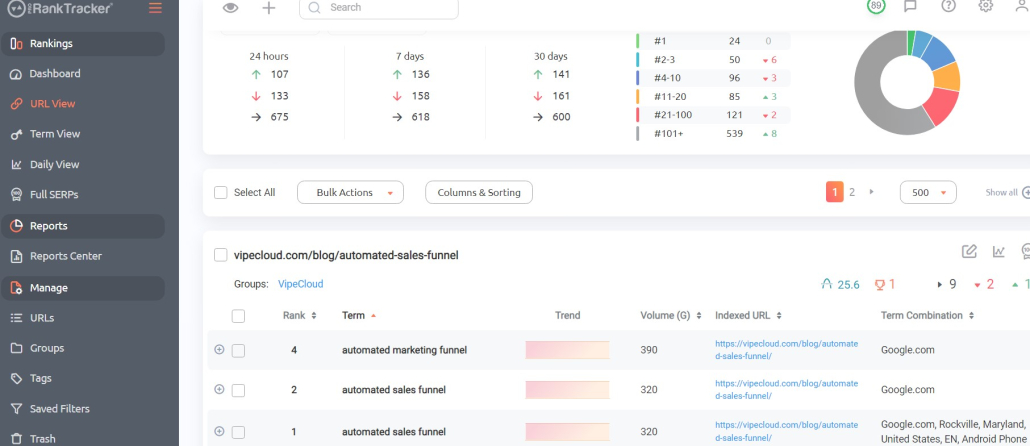 You can rest assured that your ranking data is up-to-date and reliable, giving you insights into how to improve your SEO efforts.
Smart Keyword Suggestions
If you're interested in expanding your keyword strategy, ProRankTracker offers a smart Keyword Suggestions tool that suggests additional keyword ideas based on your current tracked terms.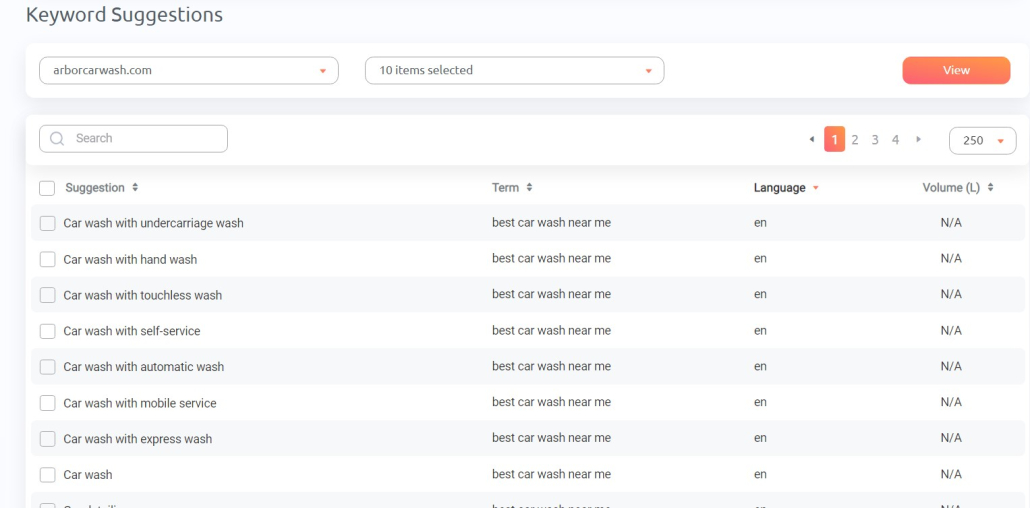 This feature is critical in helping you discover new keyword opportunities that can drive more traffic to your website.
All you have to do is input your current keyword strategy, then use the Keyword Suggestions tool to get a list of dozens of high-value long-tail keywords related to your current strategy.
Use 5 Views to Track Your Ranks
Checking your ranks is a massive pain if you don't have a tool checking them automatically.
ProRankTracker takes care of this problem entirely by automatically checking your ranks every day for you and updating all your data regularly.
That means you can always rest assured that the data you see about your keyword ranks in ProRankTracker is correct.
ProRankTracker shows 5 views of your ranking data and each one is updated daily.
1) The Dashboard gives you an overview of ALL your ranks in one place.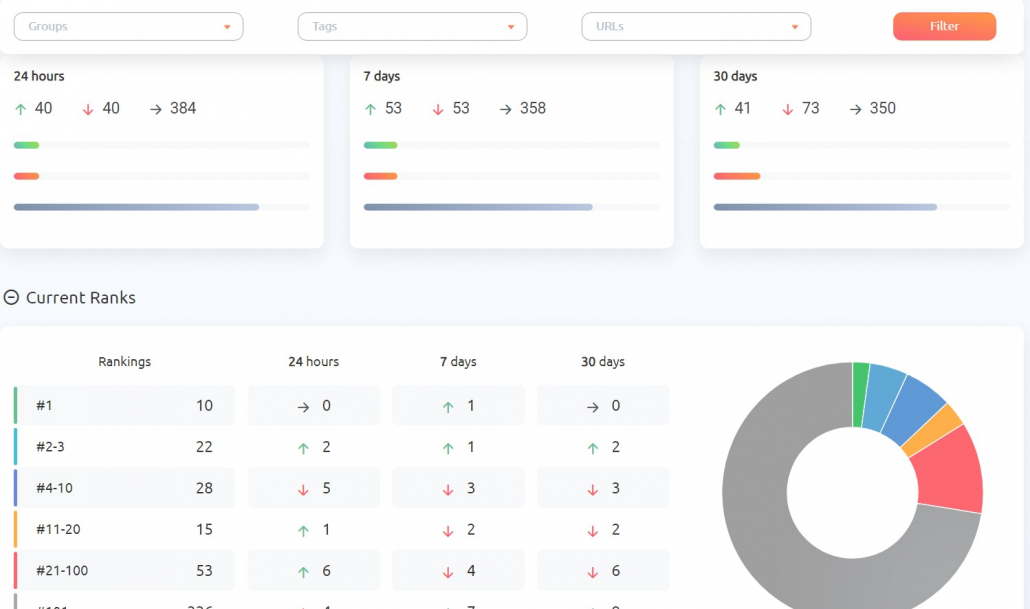 2) URL View shows you how the tracked terms for each URL are doing. In other words, it organizes all your tracked keywords by the URL for which you're tracking them. You can see pertinent information about how each URL's keywords perform in one place.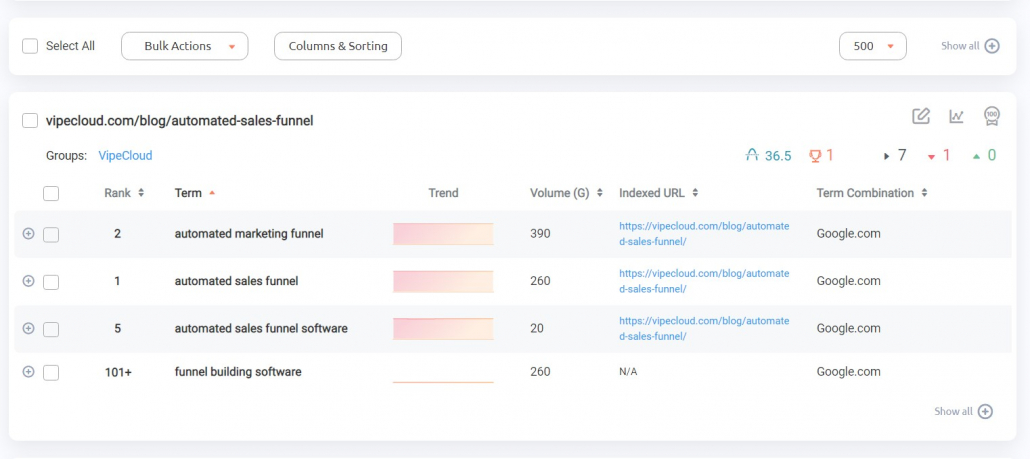 3) Term View is just like the URL View, but it organizes your URLs by which terms you track. For example, it shows you all the URLs that are targeting the same keyword.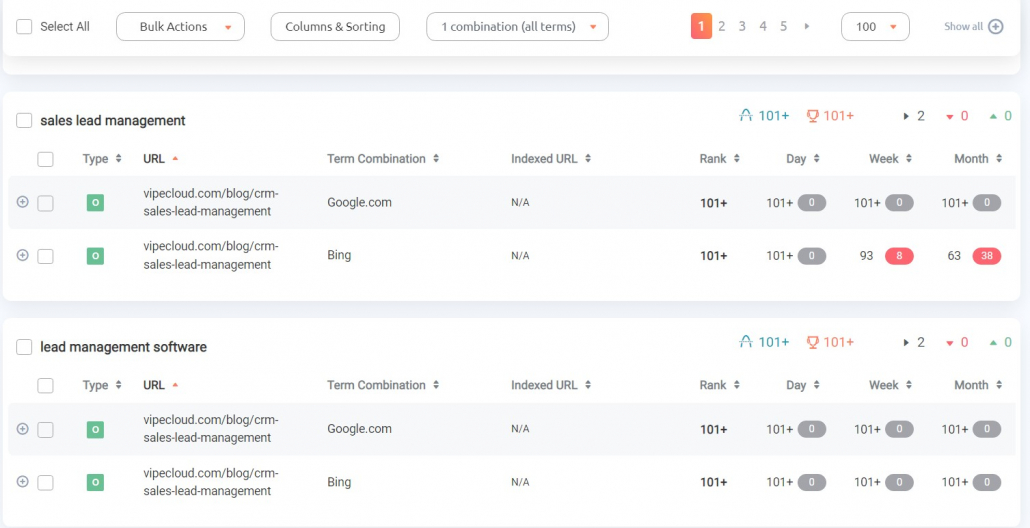 4) Daily View shows how your ranks have changed over a selected period. The graphic view makes it easier to understand and visualize.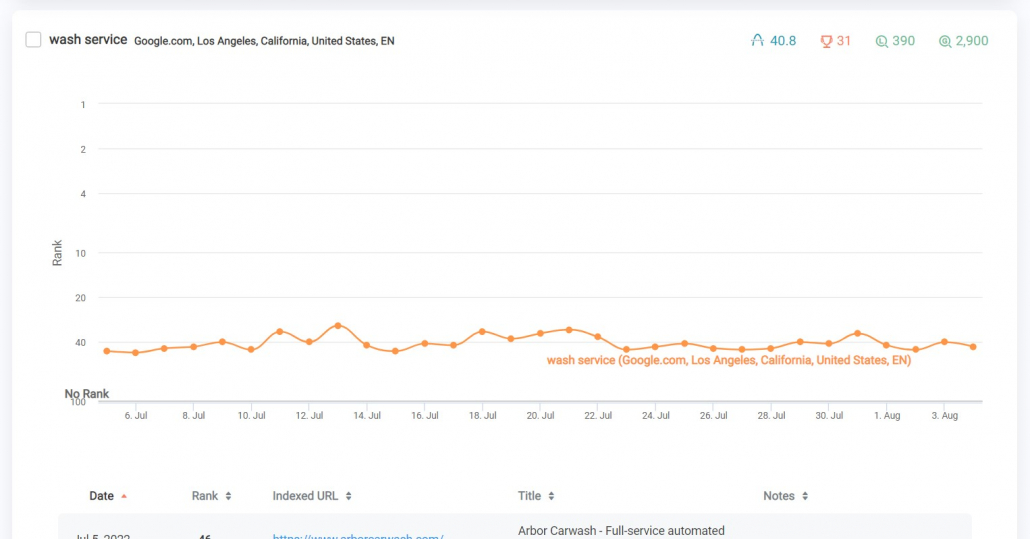 5) The Full SERPs view shows you the entire SERP for a given search term. You can also display the SERP in a graphical view to track movement over a selected period.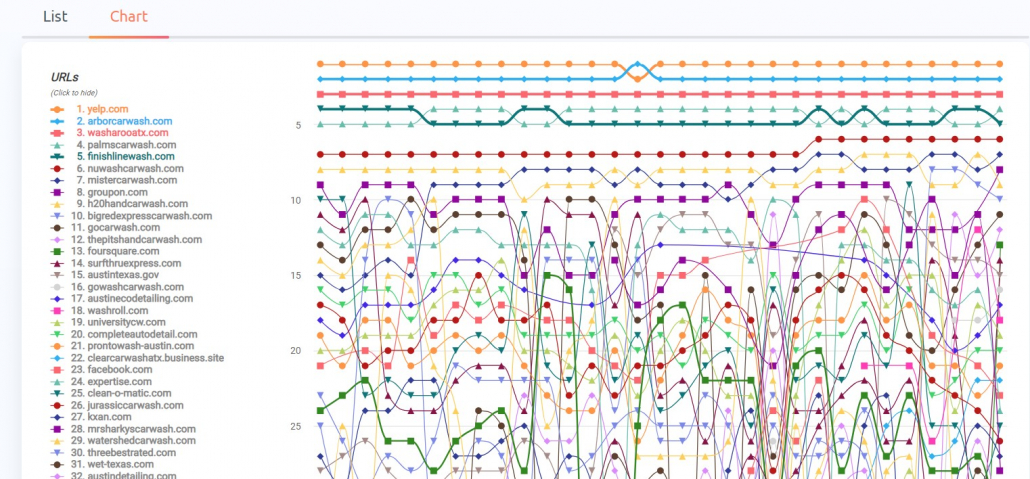 All of these rankings "views" help you keep track of your ranks with eagle-eyed precision.
Rankings Discovery
You are likely ranking for important keywords without even realizing it.
ProRankTracker can help you identify those keywords.
Rankings Discovery shows you all the keywords your URLs already rank so you can start tracking them. This is also useful for discovering new keywords from your competitors' strategies.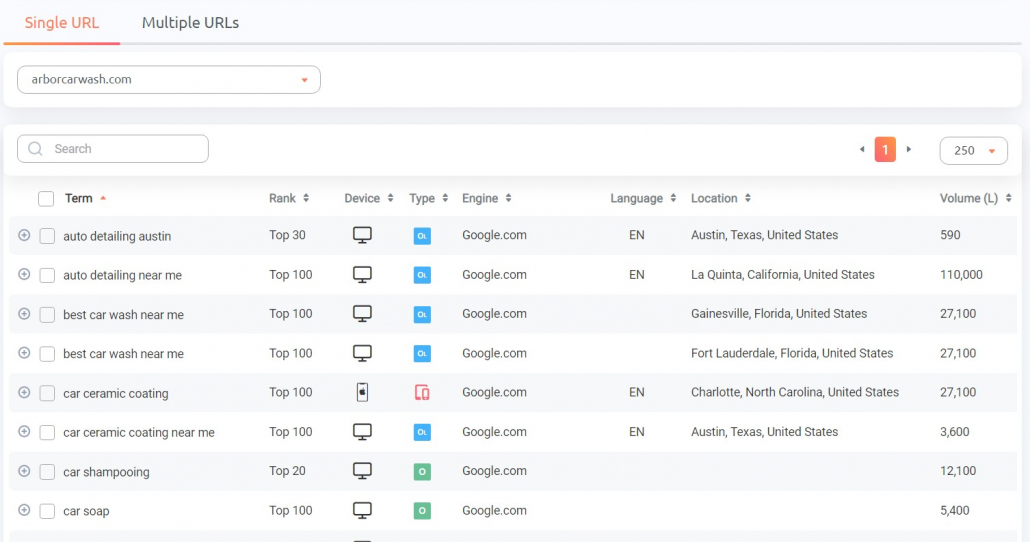 After using Ranking Discovery to grow your strategy, head over to Keyword Suggestions to discover highly-specific, long-tail keywords to add to your plan.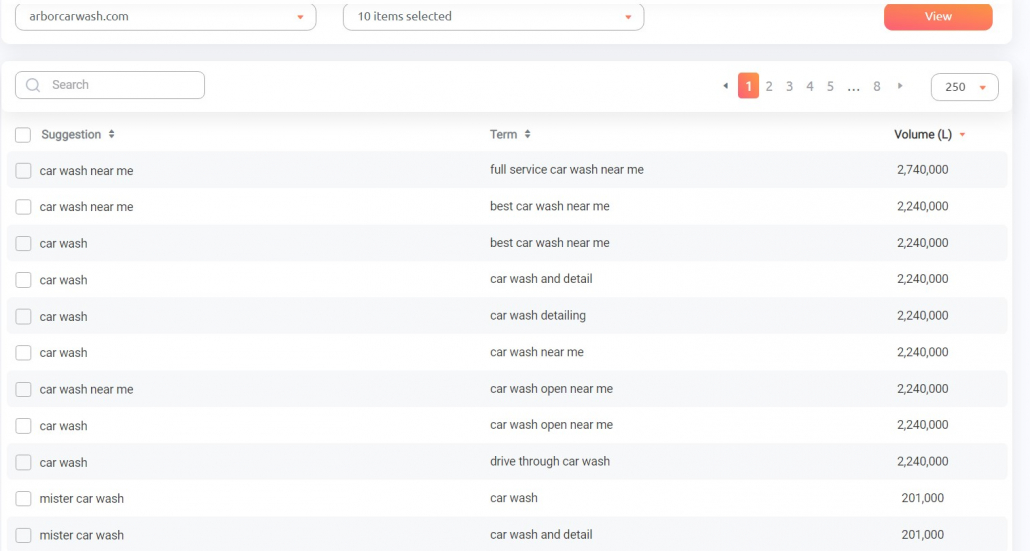 Prioritize finding long-tail keywords that closely match buyer intent so you can get higher on the SERP and get more clicks.
Reports and Notifications
ProRankTracker offers more than 20 types of reports and notifications. Set up your custom reporting schedule to stay 100% on top of your ranks at all times.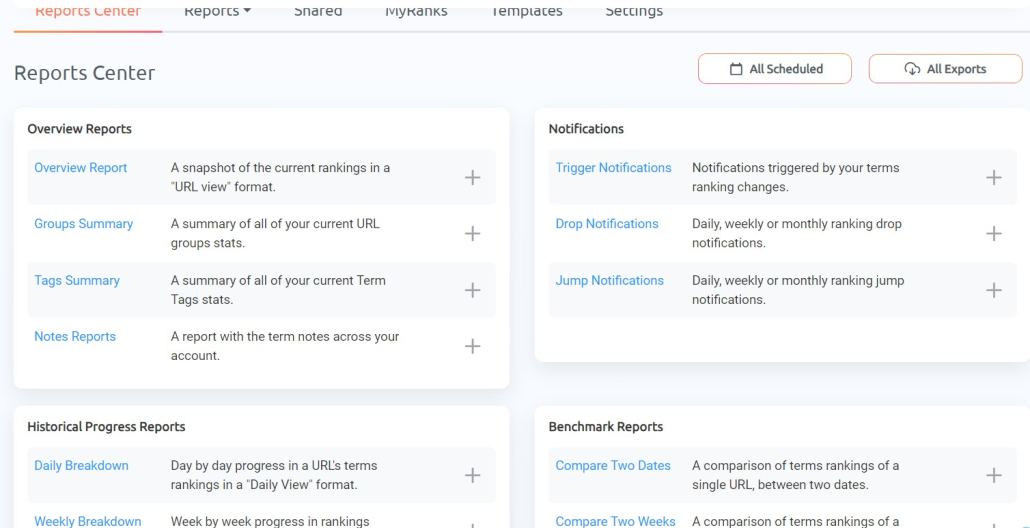 You can easily schedule the reports and receive them directly in your mailbox, saving you time and effort.
Additionally, all the reports are white-label friendly, meaning you can use them as a white-label SEO reseller to maintain a professional aesthetic with your company logo, colors, and other customizations.
You can also set up notifications that will notify you of any significant changes in your rankings, allowing you to take immediate action and optimize your SEO performance.
Best AI SEO Tools for Optimizing Pages
When people think of SEO, they normally think about keywords and ranks.
While those are both important aspects of SEO, they aren't all there is. There are also significant steps you should take within your website to improve your SERP ranking.
User experience (load times, usability, etc.)

Mobile ranking

optimization

Formatting/structure

Technical SEO
If your rank tracker tells you a page has slipped in rank, you might be slacking in one of the areas mentioned above. If so, you should consider using the following tools to help boost your ranking.
Surfer SEO
Surfer SEO offers a variety of tools designed to help you manage all your SEO tasks — from keyword research to writing to adding internal links.
One of their best AI tools is the Grow Flow tool, which delivers personalized SEO tasks weekly to give you an exact path to developing your page's SEO. Grow Flow uses artificial intelligence to determine which tasks will be most helpful for your business at any given moment.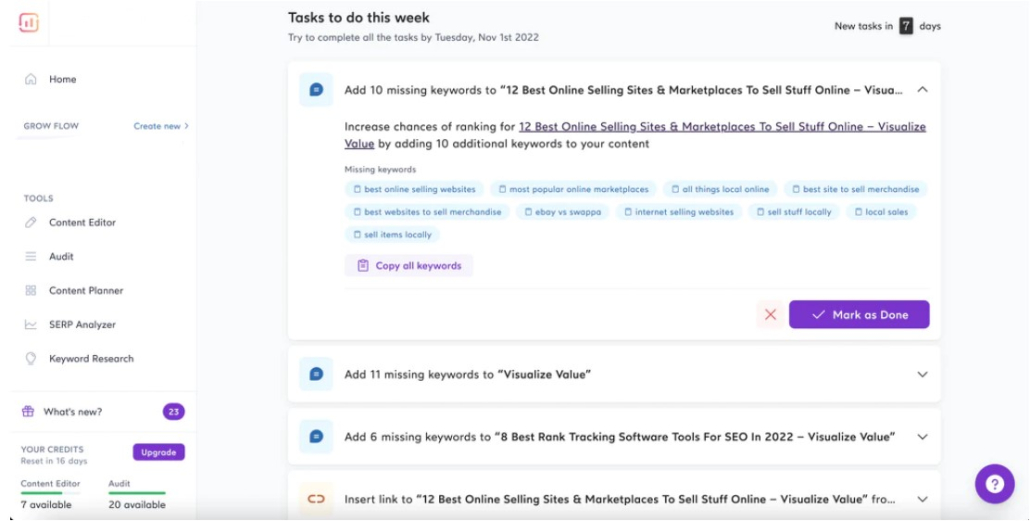 These tasks may address many of your SEO goals:
Writing articles

Optimizing pages

Planning content 
In addition to Grow Flow, Surfer SEO offers several other AI-powered SEO tools to help you even further improve your SEO, such as:
An outline generator
An article generator
Hotjar
Hotjar is an AI SEO tool that allows you to track your visitor's behavior on your website. It's specifically designed to help you improve your UX and keep visitors on your page longer.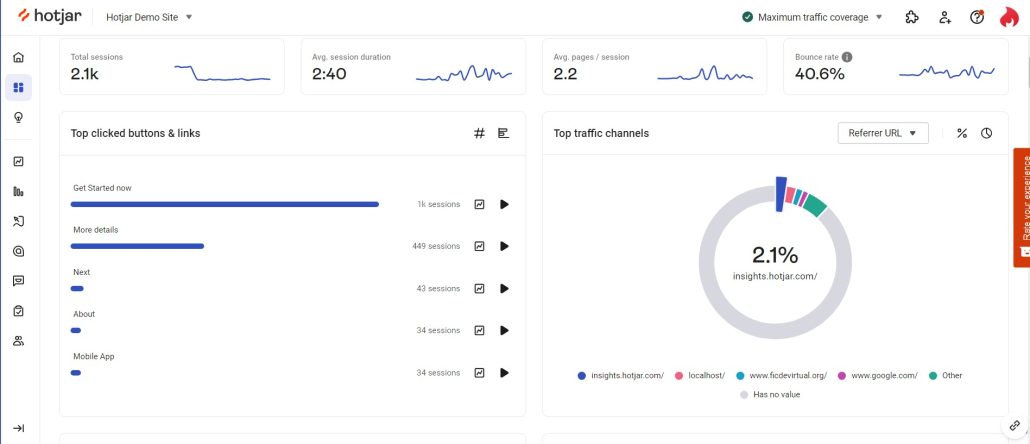 With Hotjar's AI algorithms, you can analyze user behavior such as click heatmaps, scroll maps, and visitor recordings. You can view the data Hotjar collects in several easy-to-understand formats.
This data can help you identify areas of improvement and optimize your pages to improve user experience and engagement. Keeping visitors on your page longer pushes your page higher up the SERP, so time spent following Hotjar's data is well spent.
Google Analytics 4 (GA4)
Google Analytics is a popular tool for tracking website traffic, but GA4 takes things to the next level with AI-powered analytics.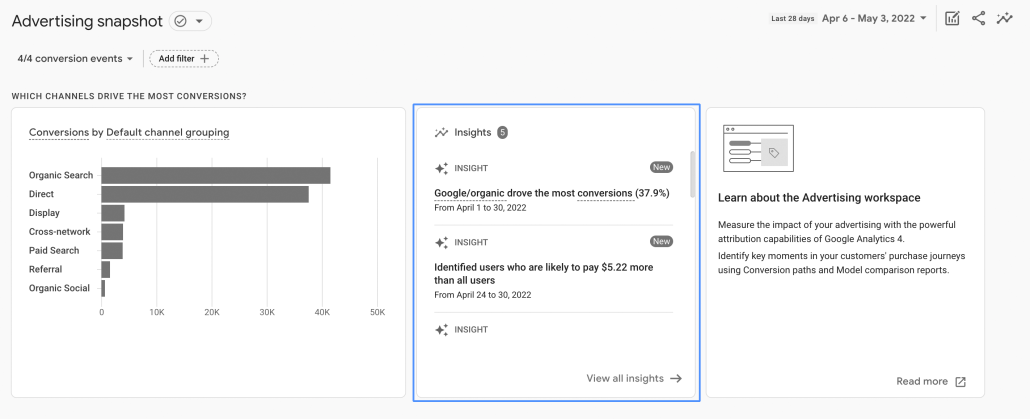 The new Insights panel in GA4 provides in-depth insights into how visitors interact with your website, allowing you to identify user behavior patterns and optimize your pages for maximum engagement and conversion.
With GA4's AI features, you can better analyze and understand your website's performance while still reaping all the same benefits of the older versions of Google Analytics.
AlliAI
AlliAI helps you automate your SEO process and can fix SEO issues (like coding problems) on its own.
It automatically optimizes your website's pages by using a code that you add to your website or CMS code. It then gathers a list of suggested changes, which you can quickly approve or deny.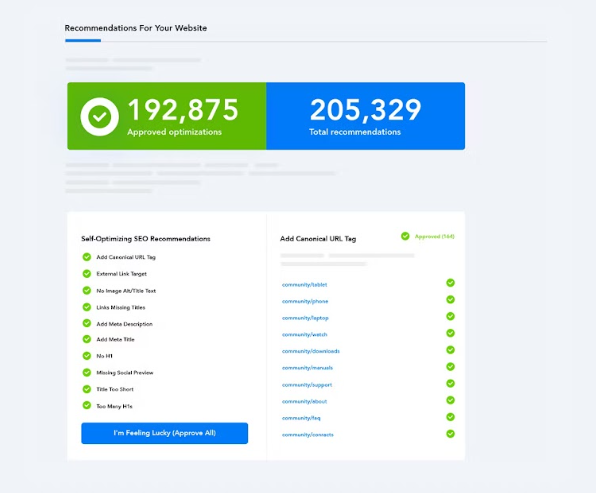 AlliAI will then deploy the approved changes within minutes, meaning you don't have to change ANY code — AlliAI does it for you!
With AlliAI, you can improve your website's SERP rankings and drive more traffic to your site without the need for manual optimization.
Ready to Implement AI with Your SEO?
AI-powered SEO tools are an essential part of any online marketing strategy, as they provide valuable functions to help improve your website's search engine rankings.
Whether you need an automated AI tool to help you write, improve your on-page SEO, generate images, or develop your keyword and rank-tracking strategy, start with the tools listed above. You'll quickly find something to help you take your SEO to the next level.
Sign up for some free trials or demos and get started improving your ranks today!
https://proranktracker.com/blog/wp-content/uploads/2023/07/Cover-ai-seo-tools-1.jpg
963
2535
Jacob Statler
https://proranktracker.com/blog/wp-content/uploads/2020/11/prt-blog-1-1.png
Jacob Statler
2023-07-24 18:36:45
2023-08-03 17:44:17
14 Best AI SEO Tools Every SEO Should Use in 2023