Before there were search engines, we had early web directories that cataloged websites the classic yellow pages way. If you wanted to find a website or business, you would browse by category or alphabetically and then pick the websites you wanted to visit.
Fun fact before we proceed: One of the reasons Amazon is even called Amazon is because it starts with an A, which back in the day would give it a better chance of being discovered by people browsing the first page of a directory. Before that, Jeff Bezos wanted to call it Cadabra.
How directories were used for SEO
When search engines came, web directories had to reinvent themselves to stay relevant. Search engines built their own dynamic directory, which featured more targeted results to users, saving the need to browse clumps of URLs searching for anything. Google, of course, won that race, and today is the world's main web directory. It can crawl billions of webpages and other directories and give users the most relevant results for their search.
Directories used to be the bread and butter of basic SEO strategies. In Google's earlier days, SEO websites could get a significant chance at high rankings by doing some keyword placing and directory submissions alone. It was because Google saw directories as valid backlinks, and since directories were far more popular back then, they were also a source of traffic, which served to boost rankings as well.
Do online directories still hold SEO value in 2020, or is it an outdated practice that isn't worth your time and effort?
The short answer is yes, and they still hold some power, just not as much as they once did. For starters, their power as backlinks and traffic drivers have diminished significantly, and some low-quality directories can even hurt your rankings if they link back to your website.
Regardless of that, we will focus on the power that web directories still hold. As SEO experts across the web report seeing ranking benefits by using web directories, and if they include GMB in the mix, then we certainly have something substantial to work with, since GMB value goes beyond just a regular directory.
A few important things to know!
The main focus of using directories is increasing your business' overall online visibility. In most cases submissions are easy, and the best part is that it doesn't require any SEO skill or lore beyond this article. So if you are only a beginner, this is a nice way to get your SEO journey started. But here are a few caveats:
Avoid mass submissions. More doesn't mean better in this case. Many SEOs report that this can hurt rankings and is generally seen as spamming. Stick to relevant directories only.
Add gradually. It's generally considered a healthy practice to gradually add your business to web directories and not in one chunk even if you know exactly which web directories you want to use. The general recommendation is adding it to about 6 web directories per month.
Avoid directory submission services and tools. These services might seem enticing, but you can end up wasting money to get submitted to poor quality garbage directories, which will only hurt your SEO progress.
Make sure the directory is SEO friendly. Found a directory you never heard of? Make sure to search for it and do quick research to ensure they are legit and not some spam pile that will hurt your ranks.
Local and niche directories are good for local SEO. If you are doing SEO for a local business, be sure to look for directories relevant to the area of the business and its niche. Their ranking power for local searches is much better than a general directory, and it also helps Google associate your website with its relevant niche. For example, you will want to add a car dealership to a web directory listing local car dealerships such as AutoTrader. A boutique hotel will want to be listed in a hotel directory, such as Trivago, etc.
Consistency and accuracy. When submitting your business details to a directory, make sure they're consistent and accurate across all directories, this will prevent confusion among your clients and keep Google happy.
Content also matters. Don't forget that people will be reading these directories, so your business description at least needs to entice them to visit. Google also likes content diversity, so if you can, try to avoid copy-pasting the same description for every directory and rephrase the descriptions to keep them fresh.
Claims and review management. Just because you didn't create a listing, doesn't mean it doesn't exist and being reviewed somewhere. It's better to search these directories only to claim your listing and manage your brand's reputation since almost every directory will also have a review section. Make sure you thank positive reviews and follow up on any negative reviews and respond with responsibility and sensibility. You might even use negative reviews to your benefit, as we've shown in our post.
15 SEO worthy web directories
First, we have Google's own native directory of businesses, which is much more than just a directory. It's connected to Google maps, showing users businesses based on their current vicinity. But most importantly, it shows the most needed bits of data about that business, such as reviews (which can drive physical traffic to your business), opening hours, and contact details. It's even featured on top of Google's SERP as the Local Pack and can beat regular organic search results. Doing well on GMB will also benefit your regular organic ranks, so being listed in GMB is a no-brainer!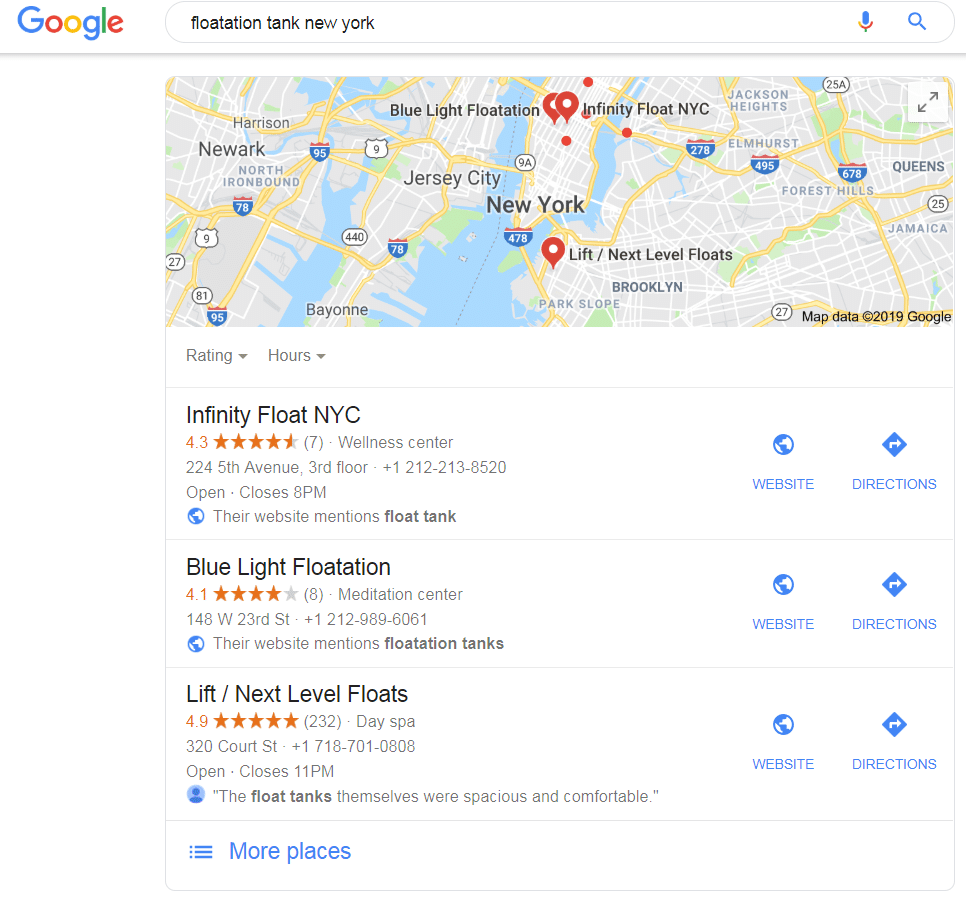 Having your business listed on Facebook is healthy for so many reasons. FB also acts as a business directory – your FB business page shows important details such as opening hours, contact details (as well as the native contact options such as DMs), location on a map, pictures, reviews, and more. Having a FB presence is important for most marketing strategies, and it can drive traffic to your website and help establish your brand.
Another business directory that is much more than just a directory. Mobile iOS devices use Apple Maps natively instead of Google Maps, which means that Siri searches go through Apple Maps and not GMB. Businesses that are only listed on GMB will potentially miss out on most Apple users (which amount to nearly HALF of all US smartphone users).
A directory designed to help consumers find and recommend businesses and brands they can trust and avoid fraudulent and problematic ones. The BBB is one of the top sources for consumer trust on the web, and many people will check there first before conducting any business with a company. It's actually one of Google's sources for user sentiment when ranking YMYL type websites, especially negative sentiment. What separates this from the other directories is that you need to apply for accreditation and be approved by them to be listed. But once you do, your business will gain more trust.
BBB is a highly visited directory with an Alexa rank of 647 and 17 million monthly visitors.
Bing's GMB-equivalent business directory. Bing is still very relevant as a search engine, and it's the default search engine of Edge, which in turn is the default browser for Windows users. Bing is ranked 6th on Alexa and has about 6% market share in search. Most Bing users are older and more economically established than Google's. GMB might get you a visitor, but Bing Places might get you a paying visitor.
One of the most popular general web directories with an Alexa rank of 64 and 142 million unique visitors per month. Its main focus is community-sourced reviews for local businesses. It's especially popular in the US and features a wide array of categories.
Yelp claims to have accumulated over 211 million reviews for business, and having your business featured on Yelp with a good review will help drive traffic to your business. Some people might not even visit a place before checking their Yelp reviews!
A directory in the travel field that includes every category relevant for travel, from restaurants to escape rooms. It also relies heavily on community sourced reviews and feedback. TripAdvisor's Alexa rank is 118, and it averages 390 million monthly unique users.
Good old YP are not out of the directory game just yet. An established brand, their name itself has been a synonym to 'business directory' for several decades and still is for many people. YP decided to save a few forests by focusing their directory online instead of 10-pound yellow tomes.
Surprisingly YP sports one of the best conversion rates of any online directory, with 91% of visitors contacting a business within 24 hours! This might be because of how recognized they are as a business directory brand in people's minds.
YP has 60 million monthly visitors and an Alexa rank of 694.
A directory that started based on people recommending places and businesses in their neighborhood. In less than ten years, this directory grew in popularity to have more than 100 million monthly visitors and more than 26 million monthly active users that share their business recommendations.
A business directory for discovering small local businesses. It features all the necessities of the other directories and even gives users the option to manage their other listings from their website. It has an impressive Alexa rank of 957, which means high volumes of traffic that should be taken into account.
A directory of professionals, contractors, and service providers in the field of technical housework and repairs. It also features crowd-sourced reviews and recommendations based on an array of rating categories such as price, quality, responsiveness, punctuality, and professionalism.
Angie's List is also very popular, with an Alexa rank of 1288.
An old and established business listing site where users can find local businesses and activities. Local's Alexa rank is 2330 and gets approximately 40 million monthly visitors.
It provides a listing for all sorts of local business types with a review. Foursquare's main premise is to turn visiting places into a sort of social activity. With the option to see where your friends are or have been and their impressions of the place.
Foursquare isn't as popular as Yelp, but they are still a known brand name and get 20 million monthly visitors and an Alexa rank of 2418.
A directory that also enjoys high authority. While directory listings generally have low value as backlinks, Superpages carry more backlink value than a small general web directory. Their Alexa rank is 6314.
A local listing directory, they currently have more than 1.6 million monthly visitors and an Alexa rank of 7404. Hotfrog's special perk is that they allow businesses to add promotional content to their profiles, such as press releases for free. No other directory in this list allows it.
GMB Tracking
If you list your business on GMB, you should know that it will be ranked based on a person's exact location and other factors. You can know your exact GMB position by tracking your business with Pro Rank Tracker!
There are 3 GMB positions to care about here:
Local Pack's position in the SERP – the Local Pack is usually positioned at the featured snippet no.1 spot, but not always.
Your business position inside of the Local Pack itself (A-C)

Your business position on the full Google map view, which changes dynamically as the map location changes.

Here's an example of how a local organic rank alongside Local Pack and full map positions are displayed in our data table for a "carpet cleaning queens" from several nearby locations:
Because these positions change based on a person's location during the search, you should add several relevant locations to be tracked like in the example above. That way, you will know the full picture of how your GMB listing is ranked!
Summary
While directories might not get you amazing traffic, the relative ease of submitting businesses to directories makes it worthwhile overall. Smart use of web directories can help grow your brand, manage reputation by claiming existing listings, increase overall visibility (even if by a little), get more reviews, and is just part of a solid SEO plan.
Other than their SEO value, many of these directories have their own paid advertising options, so you can also attempt and capture even more visitors and establish your native directory brand presence.
Other than the big ones we listed above, there are thousands of other smaller directories and new ones that pop up occasionally to challenge the big ones. So keep your eyes peeled and be careful of shady low-quality directories, which can only harm your ranks.
About Pro Rank Tracker
"This is like having 6 rank trackers in one!"
We are the most accurate SERP tracker on the market, and we are packed with SEO-rich features that will help you take your SEO monitoring to a whole new level.
Our 60k+ user base includes SEO experts, eCommerce specialists, video marketers, affiliate marketers, and many more, which all chose us over their previous SERP tracker.
We got you covered:
Complete Google rank tracking suitable for 2020 standards and beyond! Track your ranks by: exact location | mobile vs. desktop | mobile OS (iOS vs. Android) | mobile device (tablet vs. phone) | UI language | featured snippet position
Full GMB tracking from any location
Amazon A9 product tracking
Rank tracking for video marketing on: YouTube | Google Video + Video Carousel featured snippet
The full SEO scope with additional search engines: Yahoo!, Bing and Yandex
Keyword research tools with ranking discovery and monthly search volume for every keyword
And all of this is also with the most affordable price on the market! Just $25 for 200 terms and each term gets tracked with the full top100 SERP.
You can try us out right away, with no credit card details required to start your 7-day FREE trial.
https://proranktracker.com/blog/wp-content/uploads/2020/08/Depositphotos_32145119_xl-2015s.jpg
300
800
ProRankTracker.com
https://proranktracker.com/blog/wp-content/uploads/2020/11/prt-blog-1-1.png
ProRankTracker.com
2020-08-21 07:07:37
2020-08-27 17:42:28
15 Web Directories that still have SEO value in 2020