How to Get Real-Time Rank Change Alerts
SEO is all about beating your competitors to the punch. If you're always a couple of steps behind, your ranks will constantly suffer.
But what's the best way to stay completely up-to-date on your ranks so you can make those fast changes?
Should you just spend all day every day on your rank tracking tool to monitor changes?
The easiest and BEST way to perform SEO as fast as possible is with real-time rank change alerts. Rank change alerts notify you when anything important happens, enabling you to address problems exceptionally quickly.
This article will show you how to use rank change alerts to stay on top of your SEO and beat your competitors on the SERP.
We'll cover:
Why Real-Time Rank Change Alerts Matter
Figuring out how to monitor web pages for rank changes might seem like a hassle. 
Is it worth it?
Not only are rank change alerts worth it, but we think they're necessary for a high-performance SEO strategy!
The need for real-time updates is greater now than EVER before! And it's even more critical if you're a white-label seller working with clients.
Let's look at 3 primary reasons you need to use a tool with an SEO alert rank tracker.
Fresh Data
The core of any successful SEO strategy is the quality of the business's data. If you have fresh, accurate data, you can make better decisions.
Ranks change quickly, and even changes like Google updates can instantly change the success of your SEO strategy.
If you have a real-time tool that can update you about rank changes, you know that you're getting new data. Fresh data means that you can feel confident making strategic decisions based on that data.
Reaction Time
One of the issues we see all the time in SEO is problems with a business's ability to react quickly to changes in their ranks.
For example, a competitor's URL might jump past yours on the SERP. If you don't know about that change INSTANTLY, you'll lose precious time that could have been earning your clicks (and money).
Real-time rank change alerts ensure that you have the quickest reaction time possible. For example, if a competitor passes you on the SERP, you can receive Google keyword alerts from your tool that enable you to make a rapid strategic change.
Keep Clients in the Loop
If you're working with clients as a white-label SEO seller, your clients want data from you. Of course, they want reports regularly, but they also want to be notified when anything essential changes.
Imagine that your client's rank drops to the second page, and they learn about it before you do. How much credibility would you lose with your client?
Rank change alerts can instantly notify you and your client when anything about their ranks changes. This allows you to look professional with your clients and provide them with the data they want from you.
How to Choose an SEO Alert Rank Tracker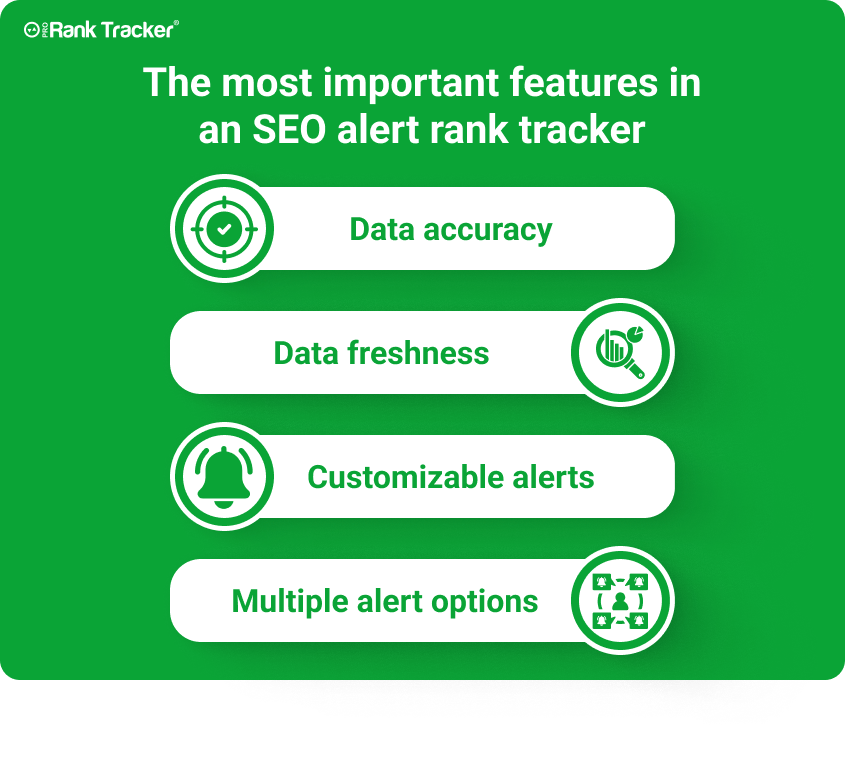 It's evident that you need a rank tracker capable of sending powerful real-time alerts, but how do you choose which one? So many are on the market, and all of them promise to be the best.
Choosing an SEO alert rank tracker boils down to a few significant considerations. If you find a rank tracker that checks all these boxes, it will serve your business well.
After identifying a few tools, sign up for free trials to give them a test drive and see what works best for you and your business.
Data Accuracy
The first primary consideration is data accuracy.
Some people assume that every tool on the market can give you accurate data. But, unfortunately, that just isn't the case. 
Some tools save money by only refreshing their ranks weekly (or even less frequently than that). Others are unable to track ranks with specific considerations:
Location

Search engine

Search device
You want a device capable of giving you 100% accuracy in ALL scenarios. Anything less than that could cause you to lose valuable customers.
ProRankTracker offers 100% accuracy for EVERY plan–even the cheapest ones available.
Data Freshness
SEO used to be much slower than it is now. These days, SERPs are changing daily–sometimes even multiple times a day for competitive keywords. 
Just how fresh does data need to be?
At a minimum, we recommend using a tool that updates its ranking data daily. Any less frequent than that, and you might be dealing with old ranks that no longer apply.
Many tools are capable of updating ranks daily, but they only offer it to their higher-paying plans. We think that's unfair to the smaller businesses trying to dominate their SERPs. 
Every plan at ProRankTracker gets daily updates at a minimum. In addition, agency clients can update their ranks on-demand if desired.
Customizable Alerts
One-size-fits-all rank alerts usually mean that they will not fit anyone very well.
You need to work with a rank tracking tool that offers fully customizable alerts. Your business likely needs different ranking data in your alerts than other companies. Why should you be forced to use the same notifications?
In addition, customizable alerts allow you to add your company logo and colors for your white-label clients. Customized reports are more professional and make your business look much better.
While you're using the free trial for a tool, check out their reports. Can you customize a report or alert's data, presentation, and appearance? If so, those alerts will serve you much better long term.
Multiple Alert Options
You should also be able to create multiple types of alerts to keep yourself and your clients as up-to-date as possible.
Think about everything that might be notification worthy for you:
A rank dropping out of the top 3

A rank jumping from page 2 to page 1

A competitor passing you on the SERP

Your ranks falling by 20%
Each of these events signals something important, so you need to be able to set up alerts for each of them.
Don't settle for a tool that doesn't allow you to create a diverse set of alerts for different SEO scenarios.
How to Get Instant Rank Change Alerts with ProRankTracker
ProRankTracker offers all of the features that we talked about (and a lot more). It's a highly specialized rank tracking solution to help you reach the top of the SERP.
In this last section, we'll talk about using ProRankTracker to get instant rank change alerts whenever something important happens.
To get the most out of this guide, we recommend signing up for ProRankTracker's 30-day free trial. Follow the steps outlined here to see just how easy it is to set up instant rank change alerts for your business!
Add Keywords and URLs
ProRankTracker can't send notifications if it doesn't have any data to notify you about! The first step is to add all the keywords and URLs you want to track first.
There are 2 ways to add URLs and keywords:
The Add Wizard tool is the fastest way to add a new URL and its keywords. In addition, you can quickly customize the location, search device, and search engine.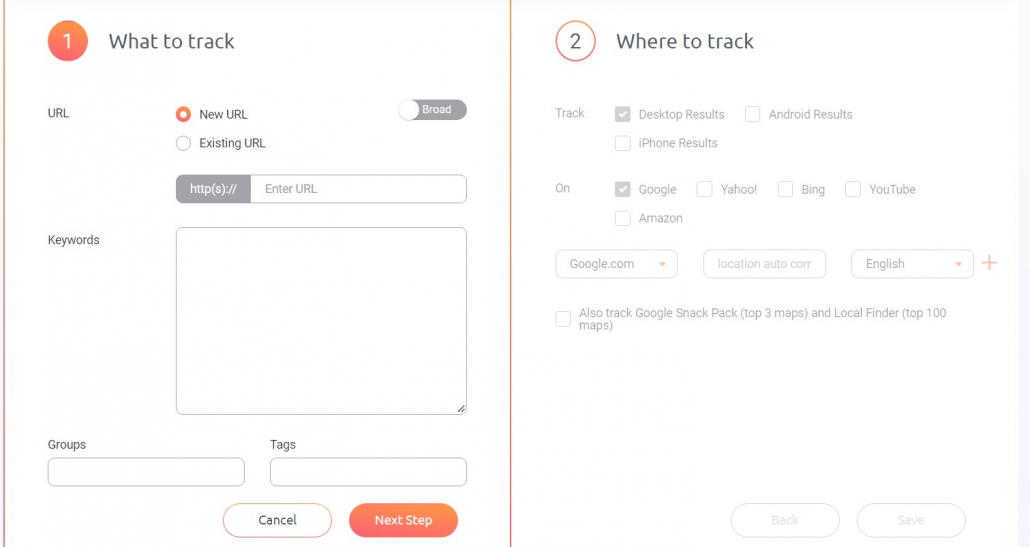 If you want to add multiple URLs at a time, the fastest option is to use Advanced Add. You can copy/paste various URLs or upload them to a spreadsheet and import it to the Advanced Add tool.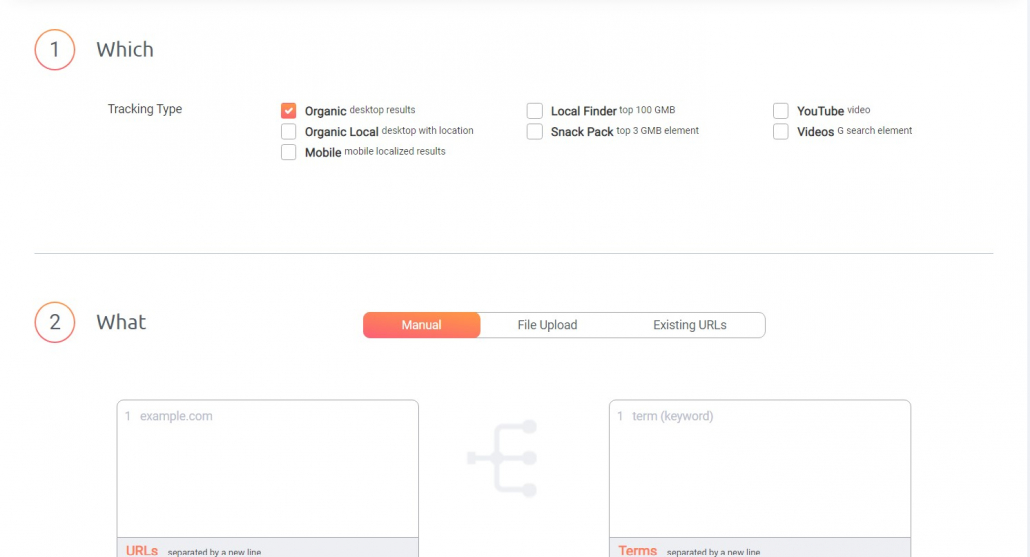 Advanced Add also gives you more control over how those URLs and keywords will be tracked.
Create Notifications
Now that you've added your URLs for tracking, you can set up notifications. Head over to the reports center, then select the type of notification you want to set up:
Trigger notifications

Jump notifications

Drop notifications

Trigger notifications are sent when a particular parameter is met. You get to determine what the trigger for each notification is, such as:
A rank reaching the top 3

Reaching position number 5

Dropping from the top page
Drop and jump notifications are scheduled notifications that send a summary of the URLs that dropped or jumped during the selected period. For example, you might set up a weekly jump notification. It would send weekly and list all the ranks that jumped up on the SERP that week.
Repeat Steps 1-2 as Necessary
You've got your first real-time alerts set up! That's all there is to it! 
Here's the best part: ProRankTracker doesn't cap the number of reports and notifications you can send, so you can repeat this process as often as you want!
That's even true for the smallest plans! Even ProRankTracker subscribers who only pay $11/month still get UNLIMITED reports and notifications.
Unlimited reports are especially beneficial for those working with multiple white-label clients. You can generate as many reports as your clients want–even if they want constant updates.
Conclusion
Staying up-to-date on your ranks (or your clients' ranks) is one of the essential parts of SEO. 
The best way to stay totally in the loop is to set up real-time notifications that will tell you when anything important happens to your ranks.
Now all that's left is to set up as many notifications as you want! Once you set up your rank change alerts, you'll be in a much better position to make strategic decisions and pass your competition on the SERP.
Good luck!
https://proranktracker.com/blog/wp-content/uploads/2022/07/Rank-Change-Alerts.png
321
845
Jacob Statler
https://proranktracker.com/blog/wp-content/uploads/2020/11/prt-blog-1-1.png
Jacob Statler
2022-07-05 11:02:05
2022-07-06 16:50:45
How to Get Real-Time Rank Change Alerts