AccuRanker Pricing Compared to Other Top Rank Trackers
Many new SEOs will come across AccuRanker in their search for rank tracking software.
There are many reasons someone might decide not to use AccuRanker (some of which we'll talk about later in this article):
Price

Tools and features

Ease-of-use

Flexibility and growth potential
But what are some of the best AccuRanker alternative options? What pricing structures do they have, and how affordable are they for beginners and advanced users?
This article will answer many of these questions and help you find the best AccuRanker alternative for your company!
We'll cover:
Why Rank Tracker Pricing Is Important
There are lots of great things in this life that we can't have because they cost too much. 
For me, it's a brand new carbon fiber road bike. As much as I'd love to have one, I just can't justify spending $8000 on a bike right now.
*Sigh*
Now, what does this have to do with tracking ranks? Unfortunately, price has to be one of the primary considerations when looking for a new rank tracking tool.
As much as we wish our budgets were infinitely large, they simply aren't. So instead, we have to consider what we can afford, considering a balance of software capabilities and price.
Let's look at 3 reasons why price should be a significant factor in your decision about which rank tracking tool to use.
Get Off to a Good Start
If you don't find a great tool that fits your budget from the very start, it can have disastrous consequences for your website:
Low visibility

Decreased traffic

Losing customers to your competitors
Unfortunately, many businesses pick low-quality tools because they think there aren't any great tools priced for lower budgets. 
That simply isn't true!
In fact, you can find a great tool at a great price that will help launch your business to the top of the SERP.
It can also help you beat your competitors (even if they're more established than you are).
If you don't find a tool that helps you accomplish those goals, it can be difficult to recover your ranks later. In other words, you need to find a great tool that fits your budget!
Long-Term Growth
Some tools like Ahrefs and SEMrush have very high starting costs, meaning it's tough for smaller budgets to afford those tools.
Even if you can manage the $100 price tag from the start, it might limit your long-term growth. For example, you might stretch your budget to pay for an expensive tool, but then be unable to afford a step up to the next level of tracking when you need it.
If you take a more budget-conscious approach from the beginning, however, you can continue to expand your rank tracking software as needed.
A critical consideration in this regard is a wide variety of pricing levels and payment options, which we'll discuss in the next section.
Free Up Budget for Other Things
It is no surprise that young businesses have a LOT of expenses.
Licensing/Certifications

Web hosting

Advertising

Product development

Customer support

Rent
What'll happen to your business if you spend ALL your money on a super expensive rank tracking tool?
You'll go belly up in no time!
On the other hand, finding a cheaper rank tracking tool frees up more of your budget for other things.
For example, suppose you save $100/month by switching from AccuRanker to ProRankTracker (there's a $105 difference between AccuRanker's smallest plan and ProRankTracker's smallest plan!). In that case, those savings could enable you to launch an ad campaign on Google or Facebook! 
In other words, saving money on your tool can make a HUGE difference in how many different things you can afford that will help grow your business.
What to Look for in Rank Tracker Pricing
There are many different factors regarding the pricing of online rank trackers that should affect your decision.
You should also consider the specific needs of your business:
Do you see your rank tracking needs changing in the coming months or years?

Do you hope to expand into white-label tracking and selling your SEO services as an

agency

?

What is our maximum budget for rank tracking? Can we afford to pay a lump sum for a yearly subscription to save money?
All of these questions factor into which rank tracker you'll ultimately purchase. However, there are a few primary pricing features you should be looking for to make the best decision possible.
This section will ensure you're well informed so you can start strong with a shiny new rank tracking software for your business.
Flexibility
It's evident that not every company that needs a rank tracking tool is the same. They have different needs, budgets, and goals.
So why would you settle for a tool that doesn't offer flexible pricing plans?
Many tools on the market only have a few plan options, meaning you have more significant jumps between the plans. For example, the smallest plan might be $100/mo, and the next smallest is $150/mo. That $50 difference could be a massive deal for your budget!
Instead, you should look for tools that will allow you to grow as needed incrementally. For example, you might jump from needing 100 tracked terms to 250, increasing your plan from $20/mo to $30/mo.
These smaller increments make it MUCH more accessible for your business to grow and flexibly adapt the tool to your needs over time.
Multiple Payment Options
If you're a real penny pincher, you're always looking for ways to get a discount.
One common way rank tracking tools offer discounts is by paying for an entire year. While paying for a year in one lump sum can seem daunting, it can generally save your business somewhere in the neighborhood of 10-15% of the overall cost.
That can make a huge difference! Your company could save hundreds of dollars by switching to an annual plan.
If you're concerned about paying for an entire year and not using the tool, try a monthly plan for a few months, then decide if you're ready to switch to the annual plan.
Different payment options like this can help save you money and make finding a tool that fits your needs and budget easier.
Advanced Features at Low Prices
Many tools on the market reserve advanced tools for their highest-paying clients. In some ways, this system makes sense. It keeps smaller businesses from paying for features they don't need (which we'll discuss in the next section).
However, many tools end up restricting access to some of the specialized rank tracking tools that small businesses need. We've seen tools limit all sorts of features:
Reports

Historical data

Update frequency

White-label features

Keyword suggestions
Finding the best tool for your business should involve looking for one that offers ALL the tools you need, even on the smallest plans.
Cons of AccuRanker Pricing
AccuRanker is a popular tool because it offers good features and a good user experience.
However, there are some downsides to the tool–especially when it comes to its pricing model.
Many users will find that AccuRanker's pricing is confusing, inflexible, and expensive, which is probably what led you to read this article in the first place.
In this section, we'll look at 2 of the downsides to AccuRanker's pricing system. After that, we'll look at some other tools that offer similar features for different prices.
High Starting Cost
Most small businesses don't have much money to put toward rank tracking. That normally isn't a huge deal since they also don't need to track many ranks.
However, AccuRanker doesn't cater to these smaller businesses and their lower budgets. Instead, its basic plan starts at $116/mo if you pay yearly. That means you have to put down almost $1400!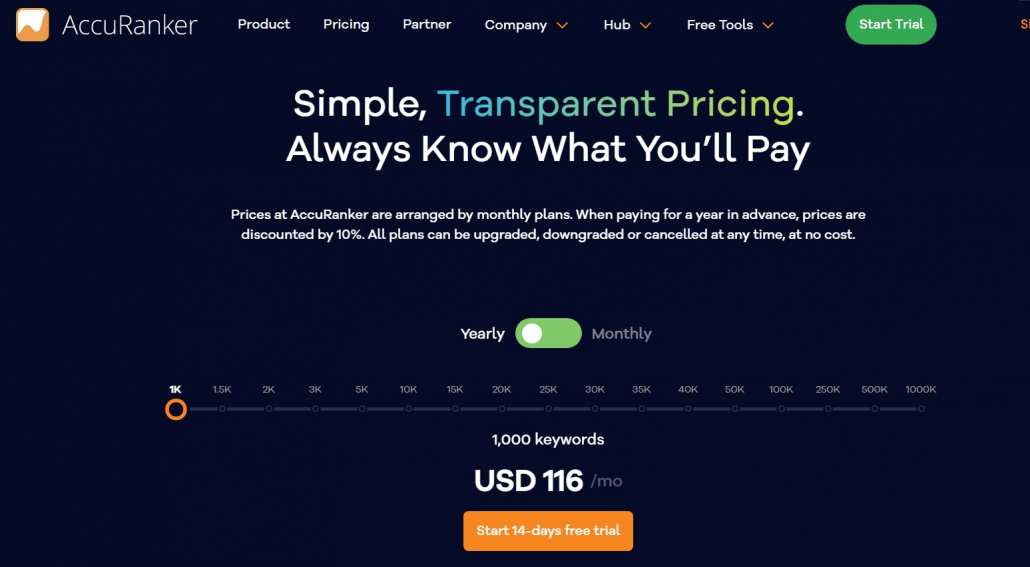 For most businesses just starting in rank tracking, these prices will be cost-prohibitive. 
In addition, the next level up price-wise is $54 more per month, which means that your budget has to take another big hit if you want to upgrade.
Larger businesses may find that the higher price tag doesn't pose a problem, but we guess that most companies will want to find something cheaper and more flexible.
Small Businesses Forced to Pay for More Advanced Features
When you start tracking your ranks, you don't need all that many tracked terms or super advanced features. For example, you might need:
100 tracked terms

Reports

Specialized tracking features

Keyword discovery tools
Beyond that, you won't need many tools when starting. But, unfortunately, there aren't any AccuRanker plans that don't include their more advanced tools.
I know what you're thinking: "Wouldn't you want as many advanced tools as you can get?"
Normally, the answer to that question is "Yes." However, AccuRanker's lack of a basic plan means that even the smallest businesses are forced to pay over $100/mo for rank tracking when they only need $20 of features.
AccuRanker Pricing Compared with 6 Other Leading Rank Trackers
Now that we've seen some of the issues you might run into with AccuRanker pricing options, we're going to look at some AccuRanker alternatives.
This article isn't a comparison of these tools' capabilities. Instead, it compares the pricing models of 6 of the most popular tools on the market.
While comparing the prices of these tools, we'll also mention some of the standout features that make them worth your consideration.
It's important to realize that all these tools offer good options for different budgets, but the best way to figure out which tool is right for you is to try their free trials (if they provide them).
ProRankTracker
ProRankTracker is our #1 AccuRanker alternative because it offers advanced tools at a low price.
Let's compare AccuRanker's base plan with ProRankTracker's equivalent plan.
AccuRanker's base plan:
1000 keywords

$116/mo (if paying yearly to get this AccuRanker discount)

Daily rank updates

Multiple search engines and devices

Location tracking
ProRankTracker's equivalent plan:
1000 keywords

$71/mo

Daily rank updates

Multiple search engines and devices

Location tracking

Customizable app to share with clients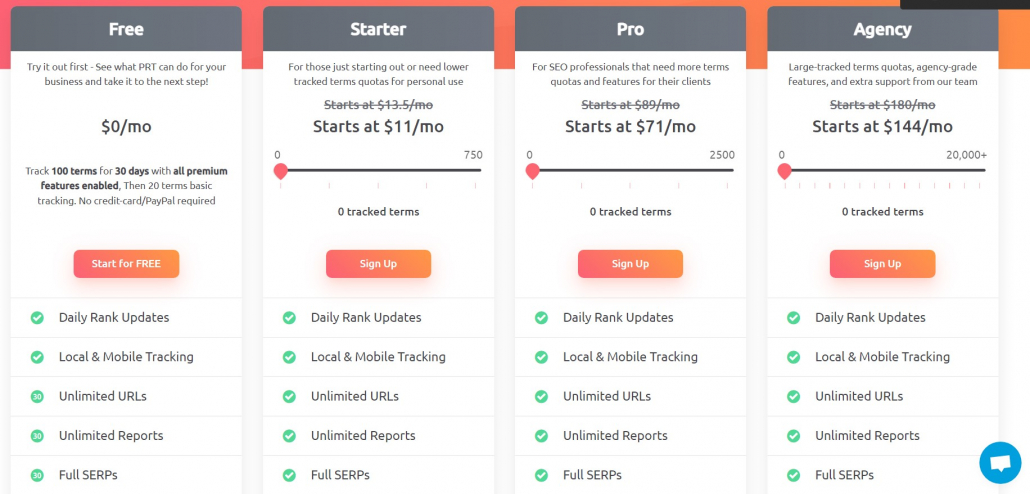 ProRankTracker's plan offers similar tools (as well as some tools not offered by Accuranker), and it also comes with monthly savings of $45!
But the real difference between these 2 tools is that ProRankTracker offers smaller plans for younger businesses. If you're not ready for 1000 keywords yet, you can subscribe to a smaller ProRankTracker plan and save even more money!
For example, if you only need 100 tracked terms, you could pay only $11/mo with ProRankTracker!
Ahrefs
Ahrefs is one of the most popular all-in-one SEO tools on the market. It offers a wide variety of tools for every application in SEO.
It also includes several tools geared toward rank tracking. Let's look at the base package:
$83/mo (paid annually)

750 tracked keywords ($50 per 500 additional keywords)

Weekly updates (additional $1000/year for daily updates)

5 keywords lists in Keyword Explorer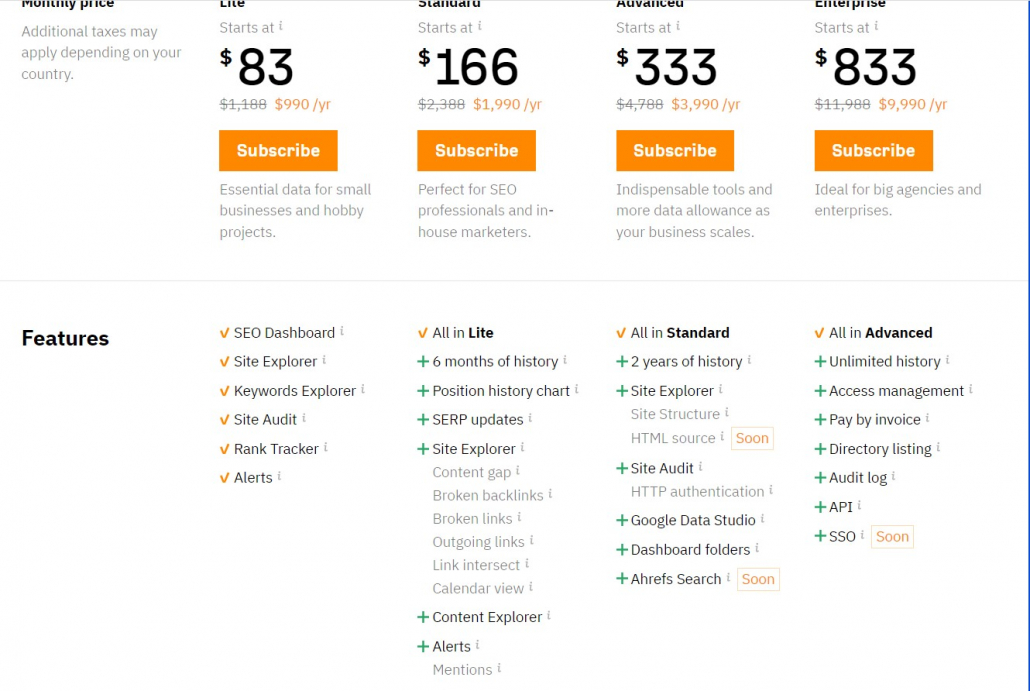 The problem I have with Ahrefs pricing is that it can be inflexible. For example, if you're paying for 750 keywords and you want to upgrade, you have to upgrade in increments of 500 keywords. Smaller businesses might want to upgrade a couple hundred at a time, but that's impossible with Ahrefs.
The good news is that it's still cheaper than AccuRanker, but it comes with more limited rank tracking features.
Rank Tracker
Rank Tracker is one of the fastest-growing SEO tools available right now. It's (obviously) focused on rank tracking, which means you get more specialized tools for less money.
Here's a breakdown of Rank Tracker's base plan:
$9/mo (paid annually)

100 keywords

Daily updates

100 keyword suggestions per search

10 scheduled reports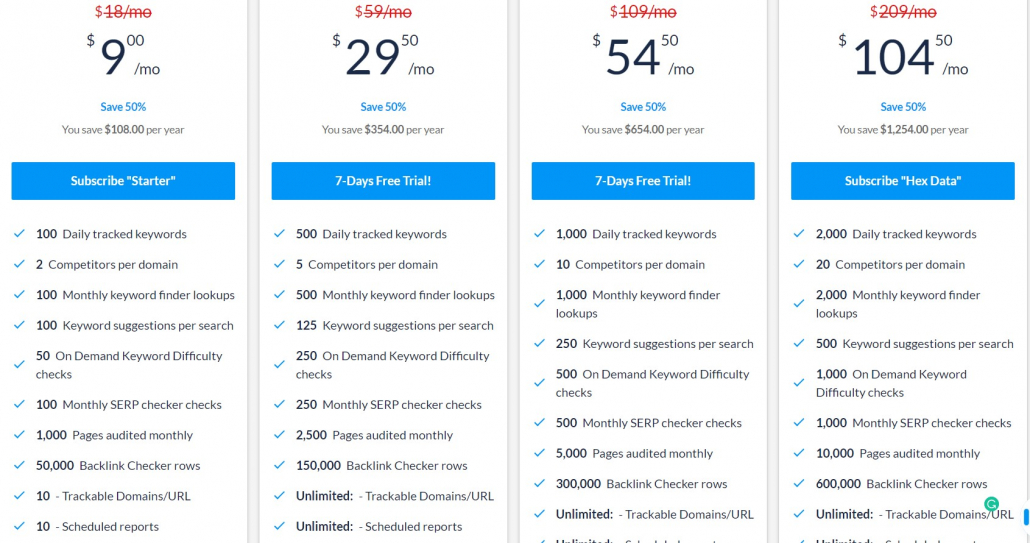 One problem with Rank Tracker is that it doesn't offer unlimited reports. Most businesses (especially agencies) will find that they need to generate a lot of reports, so having no limits is better. 
Rank Tracker also limits the number of keyword suggestions it provides you, which can inhibit the amount of growth your keyword strategy could experience.
However, Rank Tracker offers a good variety of plans to allow for flexibility as you grow. It's a good option for smaller businesses looking for a limited plan.
SE Ranking
SE Ranking has a unique pricing model that allows users to choose their plan's update frequency. That means you can choose to spend less if you're willing to settle for updates every 3 days or every week.
As a side note, we highly recommend daily updates. Effective rank tracking is impossible without frequent updates, which makes weekly updates almost useless in many cases.
Since AccuRanker offers daily updates, we'll be comparing that with the daily update plan offered by SE Ranking.
The cheapest daily plan offers the following:
$39.20/mo (paid annually)

100 reports per day

250 keywords

NO historical data on keywords/domains

10 projects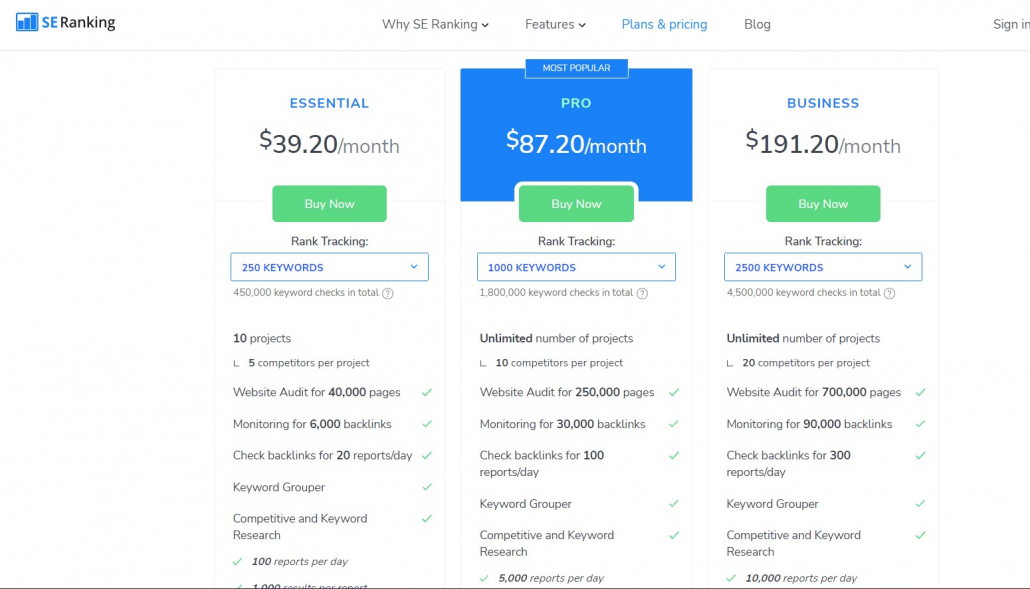 One great thing about SE Ranking is that you can upgrade your plan in small increments, allowing this tool to grow with your business. It is also significantly cheaper than AccuRanker for similar features.
SEMrush
Another trendy AccuRanker alternative is SEMrush, which is an all-in-one tool similar to Ahrefs. However, because it is an all-in-one tool, it has higher prices than many other tools on this list.
Its base plan offers the following:
$99.95/mo (paid annually)

500 keywords

5 projects

Historical data

5 scheduled reports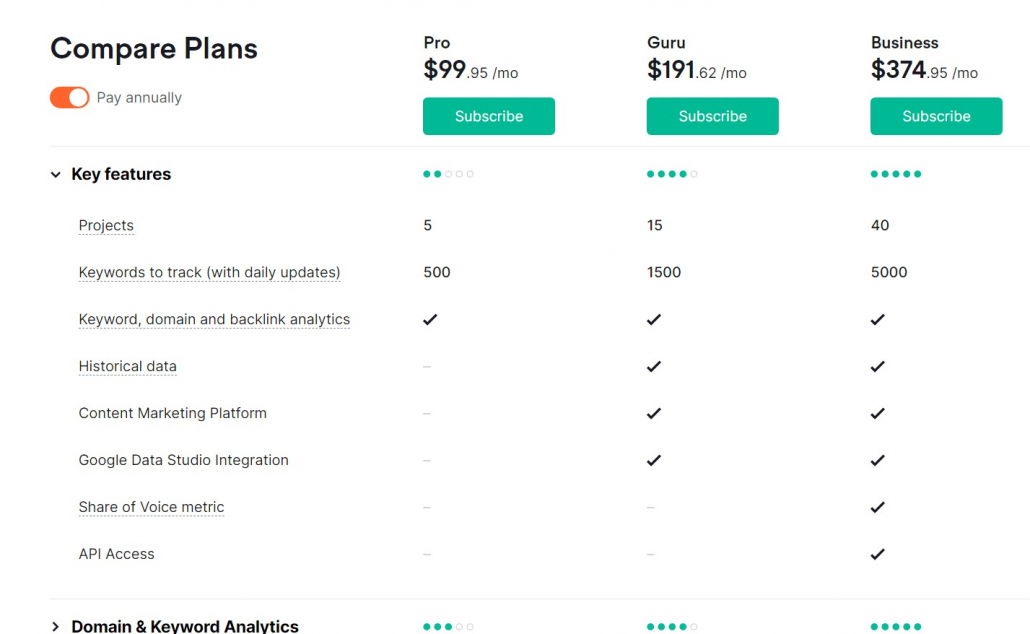 We don't feel like 5 reports are enough–especially at the price of almost $100/mo. However, there are many other SEO tools that SEMrush offers besides its rank-tracking capabilities.
Another issue many smaller businesses might run into is the hefty price jump between plans, which limits flexibility and growth.
The high starting cost puts SEMrush near AccuRanker in terms of affordability, but it could be a better option for those looking for an all-in-one tool for around $100/mo.
Mangools SERPwatcher
Our final tool is Mangools SERPwatcher, which is a great tool for first-time rank trackers. It comes as part of a package with the other Mangools tools.
One interesting difference between Mangools and other tools is that your keyword balance "resets" every 24 hours, meaning you can look up new keywords daily.
The basic Mangools plan offers the following:
$29.95/mo (paid annually)

100 keyword lookups per 24 hours

200 tracked keywords updated daily

20 site lookups per 24 hours

200 keyword suggestions per search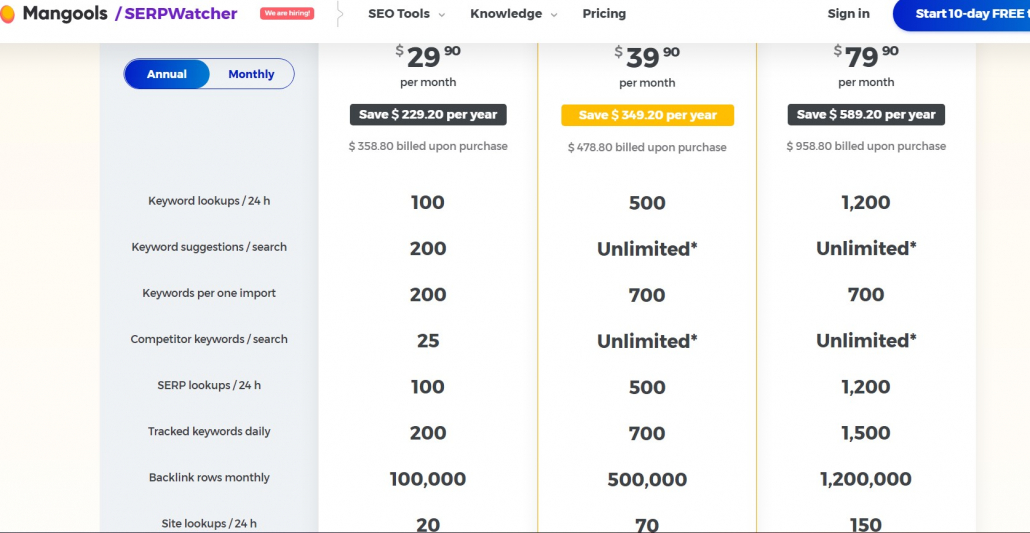 Mangools offers 3 plans with up to 1500 tracked keywords, meaning this tool mainly targets smaller businesses. If your needs outgrow Mangools, you'll likely have to switch to a different tool with expanded capabilities.
If you're just learning how to do keyword rank tracking, SERPwatcher is a great, intuitive tool to figure out the basics.
Conclusion
Not all rank tracking tools are created equal. Some have tons of different features for a hefty price tag. Others offer bare-bones capabilities for bare-bones prices.
The goal is to find the balance between price and features that works best for your business.
In our opinion, ProRankTracker offers the best balance for most businesses. Not only does it offer some of the cheapest plans, but they're full of great features that can grow with your business.
I highly recommend trying out ProRankTracker's 30-day free trial to see how much it can help your business!
Good luck!
https://proranktracker.com/blog/wp-content/uploads/2022/10/Accuranker-Pricing-Compared-to-Other-Top-Rank-Trackers.png
321
845
Jacob Statler
https://proranktracker.com/blog/wp-content/uploads/2020/11/prt-blog-1-1.png
Jacob Statler
2022-10-03 10:21:31
2022-10-04 21:35:50
AccuRanker Pricing Compared to Other Top Rank Trackers