How to Use Google Search Localization to Check Your Rankings
If you have a physical store, you probably want people to visit it, right?
If so, you should know about how Google searches change by location. Unfortunately, SEO beginners often don't realize how much the LOCATION of the searcher affects the search result they get.
Sometimes searchers on two sides of the same city could get completely different SERPs! That's how much search localization matters to SEO.
In other words, your business in Chicago wants to target searchers in Chicago, not Budapest! 
This article will teach you how to do precisely that. We'll show you how vital location data is for searchers and how to track it and capitalize on it.
Let's go!
We'll cover:
How Google Changes SERPs by Location
Not EVERY Google search is location-dependent. For example, if you look up "Taylor Swift album 1989," you'll get the same SERP as if I were to search the same keyword.
However, if you and I were to search "Coffee shops," we would get different results (because I assume you're not sitting with me at this Starbucks).
In other words, some Google searches depend on location, while others don't! But how can you tell the difference and target location-dependent searches to get more people into your store?
Let's talk about a few types of Google search results that change based on location.
Local Finder
Local Finder is one of the most important types of local Google searches. It's like the modern version of the Yellow Pages because it lists all local businesses that match your search.
For example, let's say you're searching for a coffee shop in Punxsutawney. You might search "Punxsutawney coffee shop." The Local Finder shows you the local businesses relevant to your search.
Even if you don't include a location keyword like "Punxsutawney," your location will still determine the Local Finder results. For example, you could search "bike repair," and you'll still get Local Finder results leading you to local businesses.
As you can imagine, the Local Finder spots are coveted by businesses because they drive so much foot traffic to their stores!
Google Maps
Google Maps has more than a billion users. Many users are making daily searches on the Google Maps app on their phones.
What does that mean for your business? 
Quite a lot, actually.
When you pull out your phone for directions and search "restaurants near me," you're looking at local search results!
Google Maps is just a map version of the Local Finder list.
Google Maps is just a search engine for all the Google Business Profiles in your area, so everybody will get an individualized SERP depending on their exact search location. 
You want to ensure that your business shows up when those searches are done!
Snack Pack
Even though Snack Pack sounds like something you pack to go on a hike, it's an essential part of the SERP for local businesses. 
If Local Finder is the Yellow Pages, Snack Pack is like the Michelin Guide. It shows you the BEST results for any given local search on Google. More specifically, it shows you the top 3 local results for your keyword and location combo.
And–you guessed it–it changes depending on where you search.
These 3 examples aren't the only types of Google results that change depending on location, but they are some of the most important ones. If your business can rank on these types of local searches, you'll be well on your way to getting more traffic to your local business.
Why Tracking Location-Based Search Is Important
It's obvious that location-based searches are essential, but does that mean you need to track them?
After all, can knowing what ranks your site occupies help you improve your rank? Or is ignorance truly bliss?
The short answer is that you ABSOLUTELY need to be tracking your ranks–ESPECIALLY your local ranks. Not only does it help you understand if your strategies are working, but it gives you practical ways to improve your strategy and get more traffic.
Let's look at the 3 biggest reasons you should track location-based search results.
Access More Search Volume
First and foremost, your website is online so people will see it. After all, it doesn't do much good if you're on the 10th page of Google and get 2 clicks per year.
Tracking helps you move your page up the SERP by giving you a more detailed understanding of WHY your ranks are low in the first place.
For example, if your local business is 50th on Local Finder and moving down, tracking your ranks will help you quickly determine that your current strategy isn't working. You can then pivot to focus on different keywords or steal some of your competitors' strategies.
After tracking your keywords for a while, you'll quickly notice an increase in search volume.
Higher Ranking Accuracy
One difficulty with keeping track of your strategy's success without a tracking tool is that you will often run into inaccuracies.
For example, let's say you're trying to manually track your website's rank for the keyword "coffee shops near me," so you Google that keyword from your business and see that you're in 10th place on Local Finder.
The problem with this approach is that someone who searches for that keyword 3 miles away might get your coffee shop in 50th place!
Using a highly specialized rank-tracking tool to keep track of local ranks will allow you to pinpoint search locations. As a result, you'll know EXACTLY what different searchers will see depending on their location.
Get Local Customers
It would be nice if your store didn't come with all those pesky bills for rent, electricity, employees, etc.
Until that day, however, you need people to come to your store and buy stuff. And that won't happen unless you get the word out that your store exists.
Tracking your local ranks on Google helps you get more people in your door in several different ways:
Perfect your strategy

Steal your opponents' best keywords and strategies

Understand WHY your ranks are dropping (so you can stop it)

Target particular locations where your searchers are most active
There are even more ways that tracking your ranks with a professional rank-tracking tool is helpful to your business, but hopefully, that lets you know just how important this is!
How to Track Local Google Search Results With ProRankTracker
The key to tracing local Google search results is finding the right tool for the job.
It might be tempting to start tracking your ranks manually by searching for your keywords on Google, but that method leads to many problems, as discussed above.
But what tool should you use? A quick Google search for rank trackers will show you that hundreds of tools are available! Way more than you could ever reasonably test.
ProRankTracker is one of the best highly-specialized rank-tracking tools on the market (it also happens to be one of the cheapest).
We'll show you how to keep track of your local ranks using ProRankTracker. If you want to follow along, sign up for ProRankTracker's 30-day free trial so you can see how much it can help your business!
Insta-Check
ProRankTracker's newest feature is the Insta-Check tool. It allows you to check the ranks for keywords you aren't regularly tracking.
This is an excellent tool for when you want to run a quick check on:
Your competitors' ranks

Keywords you're considering adding to your long-term tracking list

A

seasonal keyword

that might only apply for a couple of weeks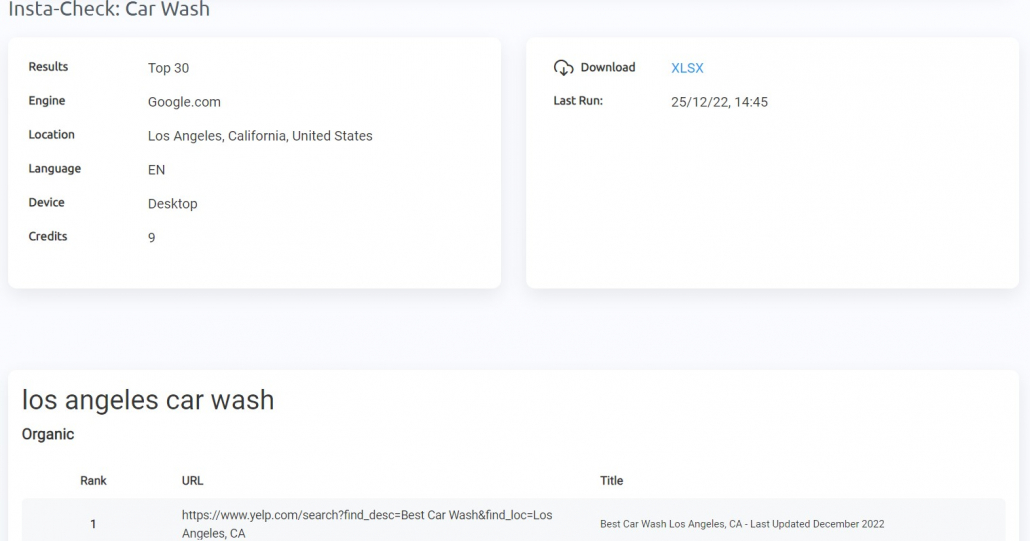 The great thing about the Insta-Check tool is that you can easily add location data to your query, which means you'll only get results applicable to your target area.
In the example above, we targeted searchers in Los Angeles, California, which you would do if you were interested in driving traffic to a local business in that area.
Add Location Data to Keywords
Similar to adding location data in the Insta-Check tool, you can also add location data to the keywords you add to your long-term tracking list.
When adding keywords in the Add Wizard tool, type the location you want to target. The tool will autocomplete the location, allowing you to choose a precise target area for your keyword.
As you can see, you can target exact locations like the University of California or the Los Angeles International Airport!
Each location for your targeted keyword will appear as a separate keyword in your tracking list, helping you keep everything organized.
Add Google Business Profile Data
Since some of the main ways Google uses location in searches are through Google Business Profile, it's essential to be able to use that information in your tracking.
In other words, you need to be able to track how your business profile ranks on the Snack Pack, Google Maps, and the Local Finder. You can do that by tagging your keywords with your Google Business Profile.
When adding keywords in Add Wizard, click the option that says, "Also track Google Snack Pack," then type in your exact Google Profile information.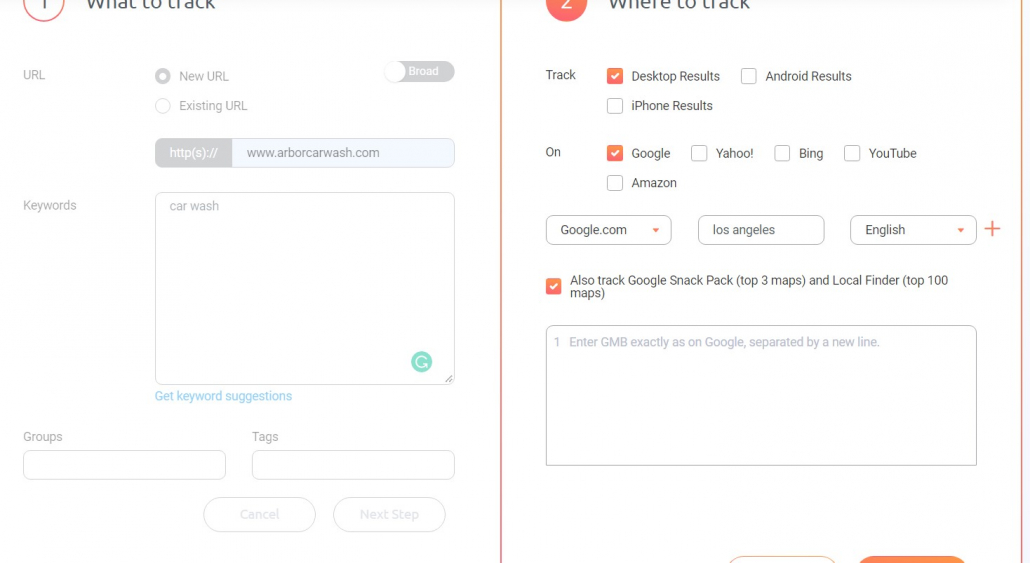 Now ProRankTracker will track Snack Pack and Local Finder results, allowing you to see how your profile ranks on those important Google Features.
Use Ranking Views
The Ranking Views are your command center on ProRankTracker. Each of the 5 Ranking Views gives you a slightly different understanding of your ranks.
The dashboard gives you a broad overview of your ranking progress over a selected period.

URL View shows each URL and which keywords are being tracked for that URL.

Term View shows you each tracked keyword along with the URL (or multiple URLs) for which each term is being tracked.
Daily View shows you a graph of recent changes for any selected keyword/URL combo.

The Full SERPs view shows you unlimited full SERPs as well as a graphical breakdown of how those SERPs have changed recently.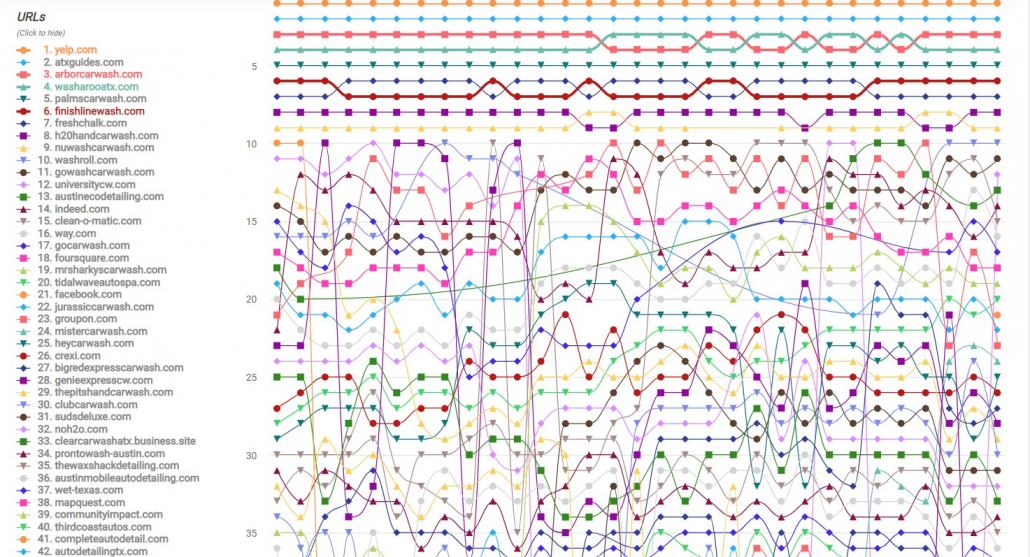 Each of these views is highly customizable and will allow you to quickly see how your ranks are performing in each of your target locations! You can even filter your results by location to ONLY see results that pertain to a certain location.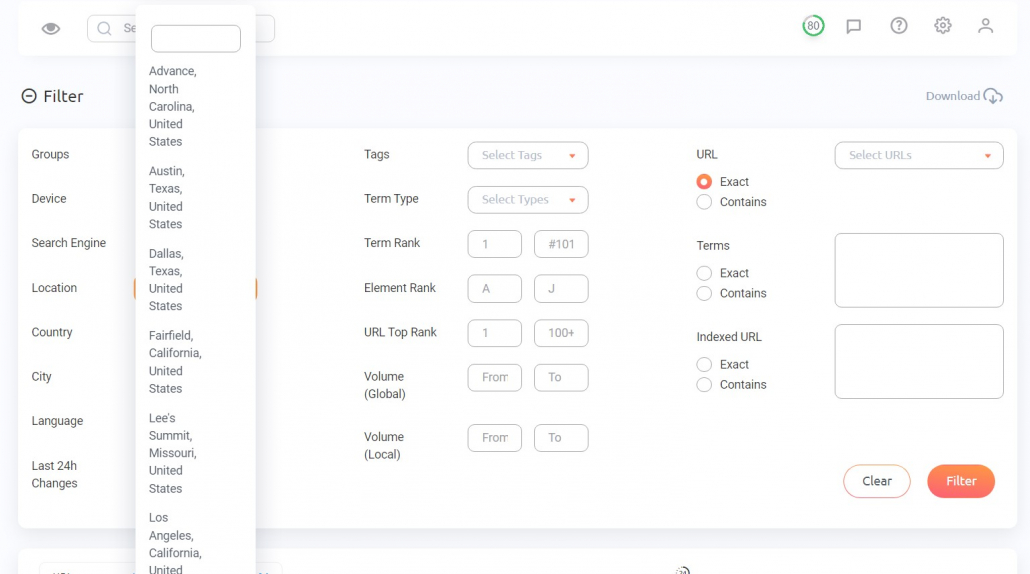 Generate Reports
Finally, ProRankTracker allows you to generate an unlimited number of reports, giving you the opportunity to select from more than 20 types of reports and notifications.
We won't go into all the reports here, but there is one report that is very pertinent to location tracking. You can use the "Comparison Report – Different Locations" to compare how the same keywords perform when searchers from multiple locations make those searches.
For example, let's say you want to know why your traffic principally comes from one side of your city and not the other.
Then, you can compare those two locations with this report and see how the ranks differ on either side of the city.
Set your reports to send on an automatic schedule so you'll always be updated on how your ranks are changing!
Conclusion
Your local ranks can determine the success of your business, so it's essential to understand the following:
Why they change

How they change

How to improve them
By using ProRankTracker to track your local ranks, you'll quickly become more able to make better strategic decisions, improving your ranks and beating your competitors.
Just don't neglect location when it comes to tracking your ranks! A rank with no location data is almost meaningless, so prioritize location when tracking your business's ranks.
Happy tracking!
https://proranktracker.com/blog/wp-content/uploads/2023/01/How-Google-Searches-Change-By-Location-And-How-to-Track-Them.jpeg
642
1690
Jacob Statler
https://proranktracker.com/blog/wp-content/uploads/2020/11/prt-blog-1-1.png
Jacob Statler
2023-01-09 23:17:05
2023-01-12 17:19:01
How to Use Google Search Localization to Check Your Rankings