Rank Ranger vs. ProRankTracker: Best Rank Ranger Alternative
In this guide, we'll compare Rank Ranger to ProRankTracker (a competitive Rank Ranger alternative), so you can get the best tools for your SEO tracking needs.
When you want to track and monitor your SEO performance, there's no shortage of tools out there. 
They all claim endless features, competitive pricing, and best-in-class capabilities. 
But the thing is… 
There can only be one best-in-class tool. 
If you're researching SEO tools and looking to compare tools that offer all-in-one keyword tracking, research, and reporting tools, you'll probably find Rank Ranger as part of this process. 
ProRankTracker offers a very similar feature set to Rank Ranger. And there's a very good reason why over 60,000 SEOs choose ProRankTracker.
So we're here to conduct a direct comparison of the two to decide which tool deserves to call itself the best. 
(Sign up for a free 7-day trial of ProRankTracker to start tracking your SEO results.)
Things to Consider Before Choosing a Rank Tracking Tool
Before you start making apples-to-apples comparisons on tools and features, there are many factors to consider about your goals, needs, and unique uses.
After all, your rank tracker is an investment, so making sure your selection meets your specific needs is the most important thing. 
#1: Your SEO Goals
While some SEO performance metrics are universal, your specific goals and needs will vary dramatically compared to others. 
If you're running marketing for a startup, your goals are likely to start gaining awareness, building backlinks to gain authority, and conducting keyword research. You'll likely not need to track thousands of keywords right off the bat. 
On the other hand, if you're working as an agency or for a large enterprise brand, you'll likely need frequent reports monitoring large groups of keywords, and the ability to share those reports with clients or team members. 
If you're doing SEO for brick and mortar businesses with a handful of locations, you'll want to keep a close eye on specific local rankings. However, an e-commerce brand with international shipping will need insight into international trends and global rankings. 
Make a note of your specific goals, and make sure that your chosen SEO tool can meet those needs.
#2: Adaptability
Your needs, however, won't remain constant forever. As your brand evolves and grows, you'll want a tool that can keep pace. 
Look for tools that can adapt easily to your needs and be easily customized based on your immediate and long-term goals. And in this case, you'll want to probably be able to scale the number of rankings you're tracking easily.
As your needs and goals evolve, you'll need to do research and analysis to see which efforts are working and identify areas of opportunity. Make sure your chosen tool has these features built on, or you'll find yourself paying another subscription to get the information you need to make the first tool work. 
Your team will also likely grow and evolve as your brand does. There's nothing more frustrating than trying to get everyone the logins they need and not having visibility into the permissions you've given them. Depending on the tool, you might be tempted to share a single login across the team to save cost — but you'll compromise security. 
Look for tools that allow you to add users and assign user permissions based on the authority of who is using your account. 
#3: Report Depth
Sometimes, you just want a quick glimpse into how things are looking in the SERPs. Often, that quick glimpse will raise questions you might not have thought about. 
Reports aren't one size fits all, and you'll want to look for a tool that includes a variety of report styles that dive into the data as much as you need.
You should also be able to easily share those reports with any relevant clients and team members. This includes white-labeled versions of those reports if you're working on behalf of a client or other third-party. 
#4: Feature & Pricing Inclusions
Is there anything worse than getting to a restaurant, choosing your perfect meal, and learning that you have to pay an extra upgrade fee to get the side dish you want? 
Now that can get pretty annoying…
That feeling also applies to software features. 
When you're already paying for a tool, the last thing you want is to find out that access to the feature you need is behind a paywall. 
When researching tools, be sure you understand how the pricing works, and what features are included with your subscription. This way, you never have to deal with that "sorry, guac is extra" feeling while trying to track your SEO performance. 
#5: Service & Support
Believe it or not, some tools charge for access to support and service professionals. Others will bump you to the back of the line unless you're paying for an ultra-premium subscription tier. 
When you're having an issue or trying to understand specific tools and features better, you shouldn't have to wait days for a response. 
Be sure to understand how user support works with your selected tool and have a general sense of the available types of support. 
Do you have to submit a ticket, or can you chat with an agent to get quick answers to simple questions? 
You don't just want access to support and knowledge when you have an issue, either. A robust knowledge base and set of training tools are essential as you get familiar with your SEO tracking tool. And as you onboard new team members, you'll want to make sure they learn the system with ease.
Look for video tutorials, FAQ articles, and availability to seek one-on-one support and training from an account manager or product expert. 
#6: User Experience
When it comes down to it, most tools have very similar features and capabilities. The biggest differences come in the experience of using the tool. 
Whether it's the initial setup, troubleshooting errors, accessing support, or just day-to-day navigation within the tool, make sure that you're comfortable in the tool.
When comparing and shopping for a rank tracker, don't just look at features and pricing. Be sure also to check out testimonials and reviews from other customers. This will give you the best sense of how people like you use the tool and the experience they've had. 
ProRankTracker: A Superior Rank Ranger Alternative
With all of these things in mind, you're ready to start actually looking at tools and make a decision about the best tool for your needs. 
Rank Ranger is a tool with an "all in one" approach to SEO, marketing, and social media. However, we've found that in attempting to be an "all in one," Rank Ranger falls short in many key areas for monitoring, measuring, and improving your SEO performance. 
This is where ProRankTracker outshines its competitors.
ProRankTracker offers a similar set of SEO tracking and reporting features but goes deeper in many areas — most importantly, accuracy and feature inclusions. 
ProRankTracker's specialty is in SERP tracking and SEO KPIs, which gives it a strong edge over Rank Ranger for marketers focused on search marketing.
We're going to dive into three main areas while comparing Rank Ranger and ProRankTracker: features, pricing, and customer experience. 
With a detailed look into these three areas, it'll become clear which tool offers a better value. 
Feature Comparison: Rank Ranger vs. ProRankTracker
Feature availability is one of the most important decision-making factors for selecting your ideal SEO rank software.  
While both ProRankTracker and Rank Ranger have robust features for monitoring SEO performance, there are some key differences you need to know about. 
Keyword Tracking
Both Rank Ranger and ProRankTracker let you track keyword and SERP performance and help you identify keywords to target. Both tools also let you scale this tracking from a local to an international scale, giving you a true sense of how your brand is performing.
Both tools have comparable capabilities when it comes to keyword tracking. However, if you want to get into deeper detail, ProRankTracker is a better bet. 
Why?
Rank Ranger limits your number of search engines per campaign. But with ProRankTracker, you have no limits for keyword tracking for any tier besides the amount of keywords you choose to track. (And as you'll see at a better price point!)

The number of keywords you want to track is up to you with PRT.
Rank Ranger subscriptions start at a 500 tracked term level and only allows you to track those keywords in two search engines per campaign. This is bad news if you're an agency and track SERP results across various search platforms. It's also bad news for the smaller SEOs managing smaller projects and don't want to pay for what they're not using.
ProRankTracker starts at 200 tracked term level and can track your terms on all top search engines, regardless of subscription level. 
This means ProRankTracker is much more flexible with how many keywords you want to track. PRT is also way more flexible when it comes to the number of keywords you want to track — big or small.
URL Tracking
In addition to keywords, you'll want to be able to track rankings across all of your projects and keep an eye on competitors. 
But you can't do this without limitations if you're using Rank Ranger.
ProRankTracker makes it extremely simple to add URLs and add them to groups.
The best part? 
All account tiers let you track unlimited URLs with the PRT tool. This means you can track as many keywords across as many projects and competitors as you want.
When you log in to ProRankTracker, you'll immediately see a performance overview at a glance updated daily. You're also just a few clicks away from in-depth URL tracking reports that can easily be filtered, shared, or exported. 
This is just a glimpse of the data available to you on your PRT dashboard.
While Rank Ranger has similar capabilities, you're limited to a specific number of URLs, dashboards, and reports tied to your subscription level. You're also only allowed to use the Site Explorer feature to see a limited number of URLs and rows on SERP reports. 
ProRankTracker comes out on top when it comes to tracking unlimited URLs and competitors (for no extra charge).
Tracking Accuracy
ProRankTracker boasts the most accurate algorithm of any rank tracking tool. Your data is updated daily, and can be refreshed on-demand as needed using the highest-accuracy algorithm to access the most current information. 
ProRankTracker is also extremely committed to maintaining the algorithm at 100% accuracy, so you can always trust that you're getting the best possible insights into your SEO performance. 
Rank Ranger also offers daily updates to all report views but doesn't publish any information about their algorithm. You're also limited to daily reports, which cannot be updated on demand. 
So rank tracking accuracy is another win for ProRankTracker.
Report Depth
ProRankTracker offers a variety of report types and styles to monitor performance on a variety of levels. PRT reports allow you to see everything from a quick glimpse to a highly detailed view into specific facets of your campaigns.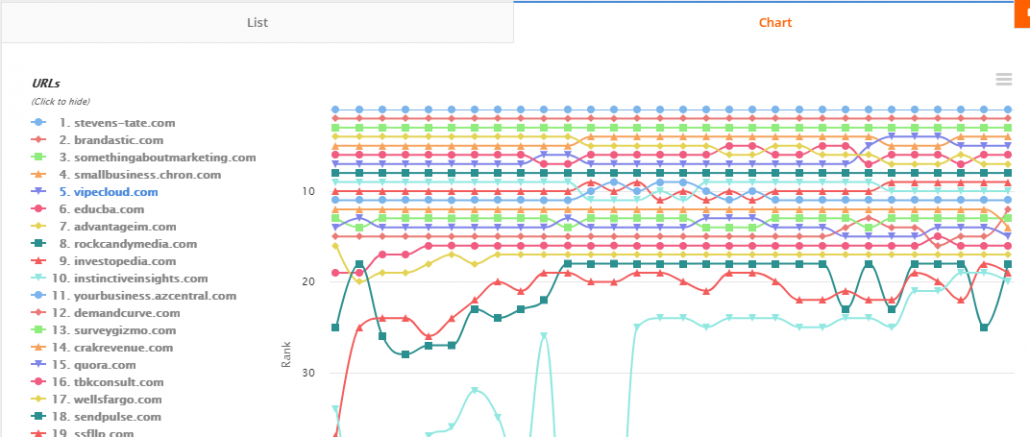 Track yourself and all of your competitors on-demand with PRT.
ProRankTracker never limits the number of reports you can run on-demand or schedule in advance. And you can choose to export reports as PDFs, Excel, or CSV files. 
Rank Ranger allows you to develop custom reports. There are also pre-set report templates available if you send a standard report to clients on a regular basis. These pre-set reports can't be customized easily and are limited to weekly and monthly.
ProRankTracker beats Rank Ranger when it comes to reporting depth because of its capability to track daily metrics, and it's not limited to a URL limit.
White-Label Reporting
If you're doing search engine performance as an agency or on behalf of a third-party, you'll want the ability to white-label reports. 
Like most other Rank Ranger features, the number of white-labeled reports you can create and send is tied to your subscription level. You'll be able to export unlimited PDF reports, but you can only monitor 15 and 30 dashboards with the two primary subscription tiers. 
In ProRankTracker, all reports can be white-labeled and easily customized for your specific business needs. You can easily notify clients directly within the platform and send reports in one of six languages.
Reporting is where ProRankTracker really shines over its competitors. Not only can PRT users white-label reports, but they can also access the PRT mobile app on the go and share reports with others using shareable links.
Features Winner: ProRankTracker
All of the features mentioned above have ProRankTracker out-doing Rank Ranger.
But those aren't the only features PRT is beating out its competition. It's also winning in the features area by providing features that Rank Ranger doesn't have, like the PRT mobile app.
While Rank Ranger may have other features for marketers, ProRankTracker is clearly more focused on the SEO marketer and has the edge in that field.
Pricing Comparison: Rank Ranger vs. ProRankTracker
While money shouldn't be the only deciding factor when it comes to selecting a tool, budget can be a major factor. 
Both monthly subscription cost and feature inclusions are important to consider when looking at ranking software. 
Rank Ranger Pricing
RankRanger is primarily targeted at larger organizations and enterprises. Their base-level SEO plan begins at $79/month and 500 keywords. 
While a number of other marketing features are included, including social media listening tools, these tools aren't necessary for marketers focused on search.
You won't have full access to more than 1,000 tracked keywords for $149/month unless you contact their sales team about higher subscription tiers. 
It's unclear on their website how much it costs to track more keywords.
ProRankTracker Pricing
ProRankTracker offers transparent pricing. Base-level subscriptions start at just $25/month for 200 tracked terms — going up to 100,000 terms for $3,300/month.
If you're tracking a large number of keywords and URLs, business pricing is available and easily accessible. As you increase the number of keywords tracked, you'll also get access to additional sub-accounts so your whole team can have their own access. 
Best Value Winner: ProRankTracker
For rank tracking, ProRankTracker beats Rank Ranger in every aspect for pricing.
ProRankTracker is a significantly better value than Rank Ranger, with a 500-term plan coming in at just $49/month (significantly lower priced than Rank Ranger's 'Lite' entry-level plan, which tracks the same number of keywords for $79).
PRT also only charges $89 for 1,000 terms, while Rank Ranger charges $149 for the same amount per month.
With ProRankTracker, you'll also save 10% on any plan if you choose to bill annually rather than monthly. 
Choosing ProRankTracker over Rank Ranger is a no-brainer when it comes to pricing.
Customer Experience: Rank Ranger vs. ProRankTracker
At first glance, both Rank Ranger and ProRankTracker appear to be well-reviewed on leading software review sites like Capterra, G2, and SoftwareAdvice.com. 
However, on closer look, Rank Ranger only has a handful of reviews on each of these sites. 
ProRankTracker has significantly more reviews from more users with an overall high ranking. This is likely because ProRankTracker is trusted by over 60,000 SEOs, SEMs, and website owners, from small businesses to huge agencies and enterprises worldwide.
If you want a deeper look, check out these testimonials from ProRankTracker users.

ProRankTracker is the clear winner here when it comes to trust and a loyal customer base.
Getting Started with ProRankTracker Today for Free
Getting started with ProRankTracker is easy. 
In fact, you can get started completely free for your first week. Click here to get your free trial. 
If you're still not sure whether ProRankTracker is right for your needs, we offer free demos of PRT so you can get answers to your outstanding questions. 
https://proranktracker.com/blog/wp-content/uploads/2020/12/ProRankTracker-vs.-Rank-Ranger-1.png
321
845
Jacob Statler
https://proranktracker.com/blog/wp-content/uploads/2020/11/prt-blog-1-1.png
Jacob Statler
2020-12-22 21:58:34
2020-12-22 22:18:02
Rank Ranger vs. ProRankTracker: Best Rank Ranger Alternative