Enterprise SEO: How to Leverage Brand Authority in the SERPs
In this enterprise SEO guide (for agencies and in-house marketing teams), you'll learn how to pull off a large-scale enterprise SEO campaign.
SEO is more important than ever for building a brand, generating leads, and improving customer experience. 
In 2020, there were nearly 2.3 trillion Google searches. And in those searches, the top 5 organic results received 67.60% of all the clicks. 
Larger operations and big brands have a unique opportunity to dominate these searches. 
Why?
Bigger businesses have bigger sites, bigger budgets, publish a large volume of content, and generally have a massive digital footprint. 
So rising through the ranks for a larger number of keywords to compete against the competition is theoretically very possible. 
The best way to do this is with an enterprise-focused SEO strategy — we'll go over just how to do that — starting with the basics:
What is Enterprise SEO?
Enterprise SEO refers to search engine optimization tactics specific to large organizations and more prominent brands. 
These businesses usually have a sizeable digital footprint — including websites with hundreds of pages, multiple sub-brands and specific service lines, and different regions where the company operates. 
Enterprise SEO accounts for the many moving parts in large enterprise operations and aims to help serve overall marketing and revenue goals. 
But let's not get it confused with just any SEO campaign…
How is Enterprise SEO Different from SEO for SMBs? 
Because of the sheer volume of pages — and dollars — involved in operations, enterprise search marketing requires a specific strategy that differs from tactics that smaller businesses might use. 
Traditional SEO tactics aim to improve a brand's digital footprint. And with SEO campaigns working off smaller SMB budgets, there will need to be a lot of unique tactics involved to compete with the enterprise-level competition.
On the other hand, Enterprise SEO is more focused on scalability, revenue increases, CRO, and utilizing all available resources.
While all SEO is strategic, enterprise SEO requires a particularly deft hand, analytical thinking, and detailed knowledge of leveraging a major brand. 
While small-to-medium-sized businesses might have to fight an uphill battle for authority, enterprises must maintain their established authority in search.
So, what types of goals should enterprise-level companies be setting for SEO?
Enterprise SEO Goals to Set
With enterprise SEO, you'll have a specific set of goals that align with the organization's overall marketing, brand, and revenue goals. 
While small-to-mid-sized businesses will typically aim to generate leads and brand awareness, enterprise SEO has to account for the fact that larger brands already have established goals, reputations, and digital footprints. 
If you're on an enterprise-level marketing team, you know there are multiple decision-makers, company-wide goals, and a team hierarchy that must all work in sync.
So you must be on-board with these 5 key goals that a solid enterprise SEO strategy needs to account for: 
#1: Reputation Management
While reputation management typically falls mainly to the public relations team, in enterprise organizations, you can expect to work it into your entire marketing strategy — including your SEO. 
Larger brands with existing awareness are likely to have more branded searches — meaning prospects and customers are directly searching for your company. 
It, therefore, becomes the responsibility of the SEO team to ensure that the results in those branded searches serve to build your brand's reputation. 
Enterprise SEO works to proactively expand your digital footprint, accounting for potential branded searches and publishing content accordingly. 
Your SEO strategy should also optimize the content on third-party sites, including claiming business listings on directories and soliciting positive reviews from loyal customers. 
So your company will need a holistic approach to SEO, which brings us to:
#2: Holistic Optimization
While smaller sites might focus on publishing a few pieces of cornerstone content that are perfectly optimized, enterprise SEO aims to achieve a standard of optimization across a brand's full digital footprint. 
By taking a holistic approach to SEO rather than focusing efforts on pinpoint areas, you'll be able to reap benefits across the board. 
When looking at SEO holistically, you'll want to ensure that there's a balance between: 
on-page optimization efforts

content creation and publication

internal and external links

keyword targeting for both head terms and long-tail keywords. 
Take Hubspot, for example. They're ranking #1 for their most important keywords like "inbound marketing."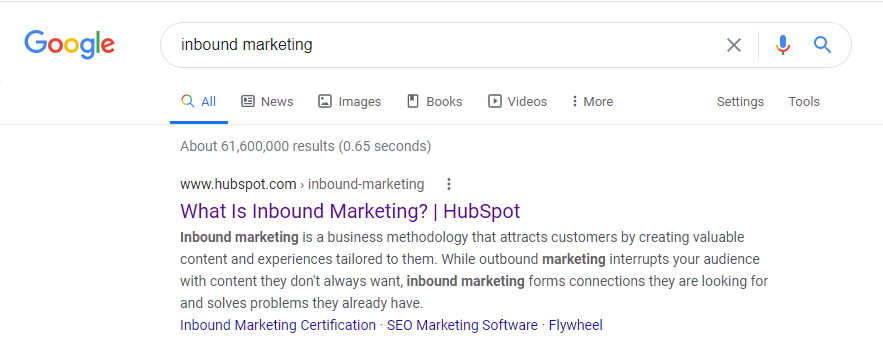 But, they're also ranking for longer-tail keywords in their industry like "sales affirmation."
This way, they're reaching their audience from a multitude of angles.
#3: Product or Vertical Dominance
Startups and small brands leverage targeted SEO tactics to try to compete against larger brands. 
However, as a large-scale operation, it's essential to ensure that all of the dollars invested in marketing are working toward establishing dominance over competitor brands, both large and small. 
When done well, an enterprise SEO strategy targets a wide range of keywords going after topics targeting all marketing funnel areas. And then those topics become an arsenal of high-value, reputable content related to your products, services, and industry's customers. 
Additionally, you want your SEO & content marketing strategy to stress your company's unique selling points that make it better than your competitors.
#4: Revenue Growth

Ultimately, all marketing and sales tactics align back to this core goal: 
Helping the revenue growth of the organization. 
In smaller companies, SEO is a critical tactic for lead generation and nurturing traffic. 
While this is still true of enterprise SEO, with more prominent brands, there's less concern with customer acquisition and a greater concern with retention. 
Why?
Studies show that customers sourced through organic search have a 54% higher than average customer lifetime value.  
#5: Ranking in those #1 through #3 SERP Spots
First-page rankings are great for moving the search marketing needle.
But just landing on the first page of Google isn't good enough if you're an enterprise company in your industry.
You need to be a thought leader in your corner of the market, making it vitally important to be seen at the top of the SERPs for major keywords.
On average, the first 3 positions on a search result get over 75% of the clicks.
So if you're not in the top-3 positions, you're missing out on major amounts of relevant traffic for your brand.
You could always be spending countless hours Googling your key search terms — but that takes way too much time. 
We recommend investing in a rank tracker to keep track of your most important keywords.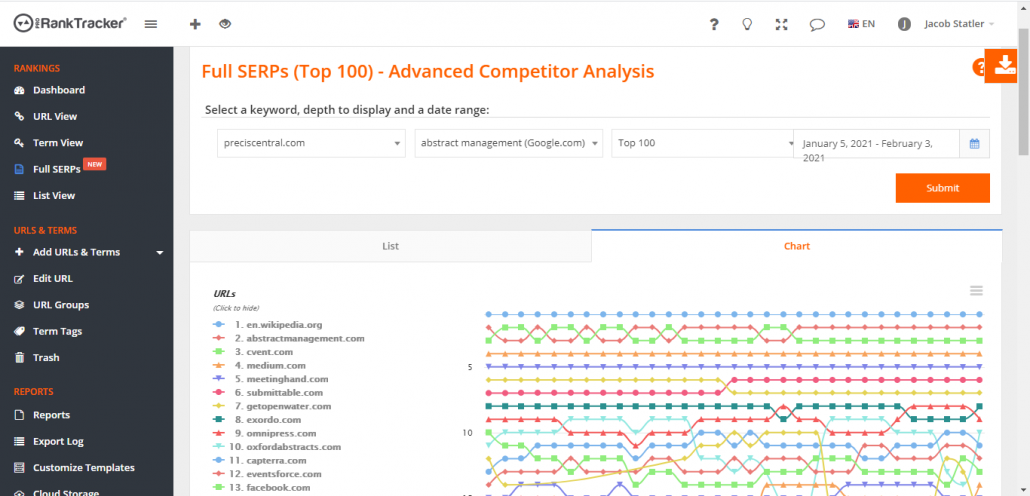 Enterprise SEO Must-Haves
To make enterprise SEO strategies work, it requires a long-term commitment from a dedicated team of experts. 
To make the necessary investment of time and resources worth it, it's important to build an enterprise SEO strategy that accounts for the following. 
Scalability
This is the number one most important factor in enterprise SEO. 
While certain tactics work well with nimble teams and rapidly evolving environments, the gears of enterprise SEO turn slightly more deliberately. Because of the number of pages involved and the volume of content, any strategy shifts have to be carefully considered. 
If an enterprise SEO strategy is created with scalability in mind, it's far more likely to be successful. This scalability should happen in tandem with organizational growth, including revenue, company size, and any new product or service launches that may trigger a surge in search frequency or require new content to be published. 
Clear Processes and Training
You can't scale an SEO operation without clear processes and training.
While a small organization might have one person or third-party agencies responsible for SEO, an enterprise will likely have multiple SEO specialists, copywriters, web developers, and marketers involved in the process. 
Each member brings their own experience and work style to the table. In some cases, these individuals are spread through multiple offices in several time zones. 
To keep everyone on the same page, it's crucial to develop a clear set of standard processes for enterprise SEO. 
Whether developing new content or optimizing existing pages, you want to make sure everyone is looking for the same things and following the same procedure. 
Take the time to make sure any team members are trained on the process and ensure that any questions are answered. 
Having this clear process documentation and training plan doesn't just make things easy for your current team — it helps simplify the on-boarding of new team members for the future.
Here's how you can do it:
Break your SEO strategy down into multiple efforts like technical SEO, blogging, & link building.

Break each effort into steps.

Create standard operating procedures for each step.

Test SOPs by handing them off to a team member.

Get feedback and make the SOPs better.

Outsource and scale.
Regular Reporting
Like any strategy, SEO works best with goals and accountability in place. The only way to know if those goals are being reached and your team is held accountable is regular reporting. 
Take the time every month to sit down with your team and review performance on mission-critical SEO KPIs. 
SEO isn't a quick process by any stretch of the imagination, which is doubly true for enterprise organizations. 
You'll want to regularly check on things like keyword rankings and your top page performance, but there are very few that require more than a monthly check-in. At these check-ins, be sure to document progress toward any goals and set new goals as necessary.
Don't just look at the performance over the last month in isolation — look at the full story your data tells. Compare performance month-over-month and year-over-year. Track ongoing performance — both year-to-date and to-date starting from any major changes, like a site relaunch or a new product launch. 
Knowing the story behind the numbers helps you see what's working and what needs to be adjusted. If you can clearly call out, "we published X content on this date 90 days ago, and since then we've seen Y result related to that content," you'll know whether or not your process is working or if you need to change course.
Numbers like these make a case for your efforts to executives, decision-makers, and anyone who doesn't "speak SEO."
Mapping your efforts in SEO-specific KPIs back to more easily understood metrics like website traffic, leads, and revenue dollars ensures that everyone knows the value you're providing to the enterprise as a whole.  
If you want to learn more about SEO reporting that truly shows results, check out our guide on creating SEO reporting templates.
With the right tools in hand, you can easily automate these reports and pull them as frequently as you need. 
ProRankTracker, for example, offers reporting that updates data daily and lets you easily create custom reports that can be generated on-demand or on a regularly set schedule. 
Key Tactics for Enterprise SEO
Now that you know what it takes for an enterprise to smash its search marketing goals — let's dig into how you can do it.
Keyword Selection
With enterprise SEO, you probably have a broad range of products and services — and therefore keywords — that you're aiming to rank for. 
Luckily, because of the size of your digital footprint and the volume of content you're able to publish, you're likely to benefit by targeting both short, specific keywords and long-tail keywords that work toward your goals.
You can do this best by using the topic cluster model. 
How topic clusters work is you start with your highest-value, most important keywords, and you create a pillar piece of content targeting one of those keywords. Depending on search intent, it could be a product-related page or an "ultimate guide" type piece of educational content.
Then once you have the foundational content set, you can create supporting articles that are in the same category as your pillar content — but slightly different.
The key here is to internally link all of the content in a "cluster" to provide value to the user and help search engines know your website's page hierarchy.
High-Quality Content
Once upon a time, SEO was all about getting as many keywords onto a page as possible. This led to some seriously amateur-looking pages packed with walls of copy that didn't necessarily provide any value to a reader. 
Those days are long since over (thankfully). Simply put, if your content doesn't provide the best value to a reader, it just won't rank. 
Ranking on Google is a competition. And Google has made it perfectly clear that their goal is to rank the highest-value (and best UX) content.
SEO is a critical part of a robust inbound content marketing strategy. And to have any success with content marketing, your copywriters and your SEO experts can't be at odds. They need to align to create content that appeals equally to humans and algorithms. 
When creating and publishing content, you should always aim to put yourself in a reader's shoes. Does the content answer questions? Is it easy to read? Does it follow a logical flow? 
Your SEO team should help guide the overall content marketing strategy by providing keyword research, understanding the types of content that perform best, and making suggestions for topics and new content. 
Content strategists and copywriters should take this information and run with it to create content that they know will work for the target audience, which satisfies the organization's overall needs and matches the brand voice they've worked to cultivate. 
With these creative and technical skills combined, your enterprise SEO strategy will be well on its way to helping serve your overall goals and delivering results. 
Using the Right Software Tools
There are 2 ways to save time with operations: outsourcing and automation.
And choosing the right SEO software can help speed things up with automation.
It goes without saying that automation helps save time — a resource that's particularly precious for enterprise teams. 
Automating reporting can help your enterprise SEO team focus on tasks that require an expert eye, such as content optimization and strategy development.
You can't automate everything with SEO (since there is a lot of strategy and a human element to it).
The ability to automate your SEO processes comes with having the right tools in place. 
ProRankTracker lets you set up automated reports for all leading search engines, with data that updates daily using the most accurate algorithm available. 
In addition to automated reports, look for capabilities and features that make strategy development easier. Things like keyword suggestions, rank tracking, and customizable notifications all help make your life easier and your enterprise SEO goals more attainable. 
Automation and workflows that leverage user-friendly tools help reinforce process consistency across your enterprise.
Because ProRankTracker is web-based and lets you add sub-accounts for individual users on your team, it's easy to know that everyone is always looking at the most current data.
And if you're an agency serving an enterprise company, you can automatically share white-labeled reports with your clients.
Optimized Web Pages
A lot of on-page optimization comes from having a site that's built correctly from the ground up. 
It's important to be sure that your site doesn't just look great for users on the front end but that search engines can easily crawl it. 
Lightweight code will help streamline your site, improve load times, and make it easier to regularly publish new content, all of which are important factors for improving your rankings. 
Don't ignore the responsiveness, either. A responsive design impacts load times and overall user experience — which can help improve traffic and backlinks, reduce bounce rates and, therefore, boost SEO performance. 
Optimizing Conversions (CRO)
Large companies usually already have inbound traffic constantly flowing to their website.
And if a company has been tracking and collecting data from their traffic over time, it's time to start increasing conversions.
There will be a ton of variables to A/B test on a website to increase its conversion rate.
But focus on your pages with the most traffic first. This way, you'll have more data to work with, and there will also be much more potential when conversions are increased.
Once you've found some ways to increase conversions on one page, you can roll out updates to similar pages.
An Enterprise SEO Secret — Investing in the Right Software
Ultimately, enterprise SEO is all about using optimization tactics intelligently and developing a strategy to implement at scale. 
With the potential for thousands of pages and tens-of-thousands of keywords to monitor, it's essential to ensure that your strategy, team, and tools are all aligned to meet your goals. 
ProRankTracker has robust features to support enterprise SEO efforts — like automated reports, keyword tracking, and SERP analysis. 
Want to see how PRT can help you? Sign up for a free trial to take ProRankTracker for a test drive.
https://proranktracker.com/blog/wp-content/uploads/2021/03/enterprise-SEO.png
321
845
Jacob Statler
https://proranktracker.com/blog/wp-content/uploads/2020/11/prt-blog-1-1.png
Jacob Statler
2021-03-01 04:50:46
2022-02-15 22:39:05
Enterprise SEO: How to Leverage Brand Authority in the SERPs