Ahrefs Rank Tracker Alternative: Try ProRankTracker
In this comparison guide, we'll compare Ahrefs Rank Tracker to ProRankTracker (an Ahrefs Rank Tracker alternative) so you can get the best tools for your SEO tracking needs.
Ahrefs is a commonly known SEO tool used by many leading industry pros. However, that name recognition comes with a hefty price tag and steep learning curve.
When you want to track and monitor your SEO performance, there's no shortage of tools out there. They all claim to be the best at what they do, whether it's full-service SEO monitoring and tracking or just one particular feature set. 
The thing about being the best…
There's only one best. And it's not determined by how well you've branded your product or the reputation you've cultivated. 
Being the best tool is about getting the job done effectively, helping people achieve their goals, and offering a comprehensive feature set and robust data. 
If you're researching SEO tools and looking to compare tools that offer all-in-one keyword tracking, research, and reporting tools, you'll almost definitely come across Ahrefs as an option. This commonly known SEO tool provides a very similar rank tracking feature set to ProRankTracker, with certain limitations and drawbacks when compared directly to. 
So we're here to conduct a direct comparison of the two to definitively decide which tool deserves to call itself the best. 
(Sign up for a free 7-day free trial of ProRankTracker to start tracking your SEO results.)
Things to Consider Before Choosing a Rank Tracking Tool
As you set out to do your research, you should have a checklist of aspects in mind that you'll use to determine what tool best meets your needs. 
If you don't do this, you run the risk of getting tied up in a subscription that isn't serving you the best.
#1: Your SEO Goals
While some SEO performance metrics are universal, your specific goals and needs will vary compared to others. 
If you're running marketing for a startup, your goals are likely to start gaining awareness, building backlinks to gain authority, and conducting keyword research for main pages. You'll likely not need to track thousands of keywords right off the bat. 
On the other hand, if you're working as an agency or for a large enterprise brand with dozens of departments and services, you'll likely need frequent reports monitoring large groups of keywords and the ability to share those reports with many clients or team members. 
If you're running a brick and mortar business with a handful of locations, you'll want to keep a close eye on specific local rankings. However, an e-commerce brand with international shipping will need insight into international trends and global rankings. 
Make a note of your specific goals and make sure that your chosen SEO tool can meet those needs.
#2: Ease of Use
When you're choosing a tool, you want something that's going to make it as simple as possible to get started. 
If you've decided to make an investment in monitoring and improving your SEO performance, then you don't want to waste time with a tool that takes months of training to understand. 
A robust knowledge base and set of training resources are essential to get familiar with your SEO tracking tool. This is especially helpful as you need to onboard new team members. 
When you sign up, you'll want to know that training is readily available. Look for video tutorials, FAQ articles, and a help center that answers user questions.
If you're paying a premium price, you should be able to seek one-on-one support and training from an account manager or product expert. That expert should be available to help you and your team and offer insight to make the most of your account. (more
#3: Report Depth, Frequency, & Shareability
Reports aren't one size fits all, so you'll want to look for a tool that includes a variety of report styles that dive into the data as much as you need.
Your reports should offer you the insights you need without limiting a certain amount of data that you might need.
You also don't want to be limited by the number of reports you can run each month or by the frequency of data updates within those accounts.  
Reports aren't meant to be top secret or for your eyes only. Look for options to share those reports with your team members and clients. If you're working with third-party stakeholders or clients outside of your organization, you'll want the option to generate white-labeled versions of those reports.
#4: Budget
Your marketing budget will play a role in determining how much you'll be able to spend on tools to aid your digital performance. While you know you want the best tool, you want to make sure there's still room in your budget to execute other tactics. 
Simply put, most expensive doesn't always mean best. 
Don't just look at the price tag, either. You need to know what's included with that price tag and the value you're getting for your money. 
The last thing you want is to find out that access to the feature you need is behind a paywall or extra fee (especially if you're paying a premium price). 
So don't only look at the price, but look at the features you get for that price.
#5: Service & Support
A top-of-the-line customer service team is always appreciated. 
When you're having an issue or trying to understand specific tools and features better, you need access to support.  
Some tools charge for access to support and service professionals. Even if support is available, you might get bumped to the back of the line if you aren't paying for an ultra-premium subscription tier. 
Every user deserves equal, free access to answers about the tools they're paying for. 
You'll also want a clear sense of the process for how to access that support. Do you have to submit a ticket, or can you chat with an agent to get quick answers to simple questions?
Ideally, you'll have a help center where you can receive quick answers and a dedicated account manager who can help you with questions specific to your needs within the tools. 
#6: User Experience
When it comes down to it, most tools have very similar features and capabilities. The most significant differences come in the experience of using the rank tracker. 
Whether it's the initial setup, troubleshooting errors, accessing support, or just day-to-day navigation within the tool, make sure that you're comfortable in the tool.
When comparing and shopping for a rank tracker, don't just look at features and pricing. Be sure also to check out testimonials and reviews from other customers. This will give you the best sense of how people like you use the tool and the experience they've had. 
ProRankTracker: A Superior, Affordable Ahrefs Rank Tracker Alternative
Ahrefs markets itself as a definitive platform leading the SEO industry. 
However, when you examine the features and technology behind Ahrefs, you'll find that this platform simply doesn't stack up when compared to ProRankTracker when it comes to rank tracking. 
ProRankTracker is a competitive, cost-effective, and all-around superior alternative to Ahrefs rank tracker. 
There are many reasons why, but let's take a more in-depth look specifically at the features, pricing, and user experience that differentiate ProRankTracker as a competitor to Ahrefs Rank Tracker.
Compare Features: Ahrefs Rank Tracker vs. ProRankTracker
When choosing the rank tracking tool that best meets your needs, you need to know what features you'll have access to and any limitations you might run into that prevent you from getting the information you need. 
Keyword Tracking
Both Ahrefs Rank Tracker and ProRankTracker allow you to track keyword performance and conduct keyword research. Both tools also let you scale this tracking from a local to an international scale.
And both tools have comparable capabilities when it comes to keyword tracking.
However, if you want to get into deeper detail, ProRankTracker is a better bet. 
Why?
Ahrefs rank tracker ties all of your keyword tracking capabilities to your subscription level. The amount of terms, reports, and data within each report are all limited by your subscription. 
ProRankTracker starts at 200 tracked term level and can track your terms on all top search engines, regardless of subscription level.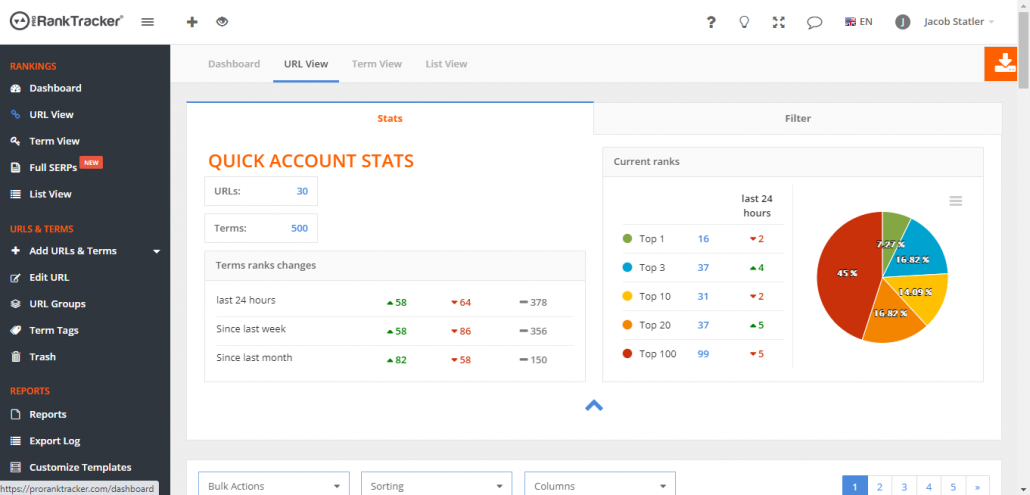 This means ProRankTracker is much more flexible with how many keywords you want to track.
URL Tracking
Ahrefs users get access to their site explorer tool and keyword research tool, which lets you conduct research on organic traffic, paid traffic, and backlinks. You'll also get access to track your SEO performance. 
Ahrefs will also keep tabs on the SEO performance of your top-performing pages by traffic. 
However, while Ahrefs Rank Tracker allows you to monitor your domain and crawl your full site, there is no simple, straightforward way to track specific URLs within those domains. 
And this is exactly why investing in rank-tracking-specific software can give you much more.
ProRankTracker allows you to easily track and monitor entire domains and specific pages that you designate. This is particularly useful if you're working on content marketing, blogging, or other efforts centered on specific landing pages within your domain. 
ProRankTracker allows users to track an unlimited amount of URLs.
Full SERP Tracking
Ahrefs Rank Tracker allows you to monitor search engine results page (SERP) performance based on 13 specific criteria and data points, including featured snippets, site links, paid results, shopping results, and "people also ask" results. 
Ahrefs Rank Tracker only holds historic SERP data for six months and limits the number of reports you can run each month. Like most other features in Ahrefs, these limits are tied to your subscription tier in a "pay to play" model. 
ProRankTracker allows you to track full SERPs, including the top 100 results, for any keyword you track.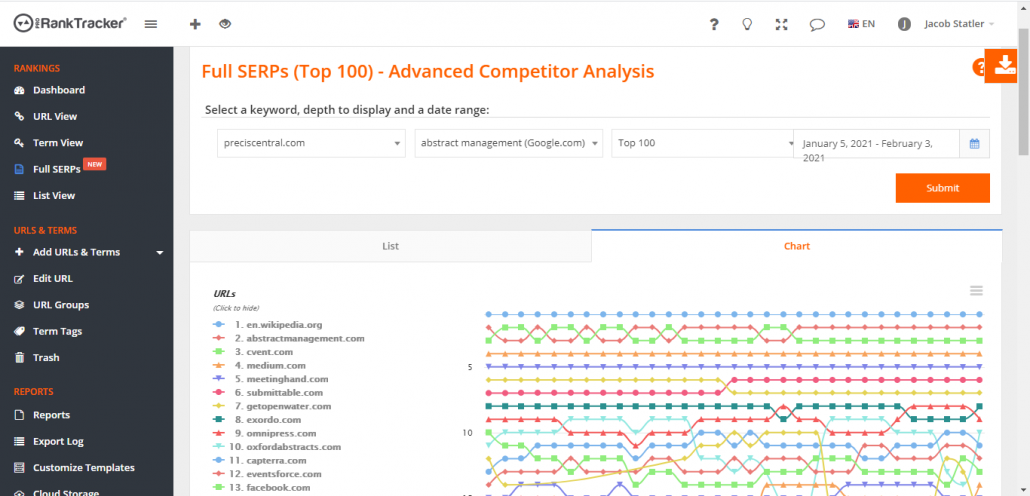 The Full SERPs feature on PRT gives you a visual of rankings data for whichever time frame you wish.
There are never any limits on the number of reports you can run, and this feature is available on all plans. 
Reporting & Data
In a broad sense, both ProRankTracker and Ahrefs offer a range of reports that allow you to track and monitor SEO performance. 
Ahrefs limits the number of reports and amount of data you're allowed to track and export each month, with specific limits tied to your subscription level. The frequency of data updates is also tied to your subscription level, with data only being updated every seven days on the "Lite" subscription level.
ProRankTracker always allows unlimited reports and daily data updates at every subscription level, making it simple and straightforward to conduct business without constantly running into paywalls and account limits. 
White-Label & Report Sharing
White-labeling is essential to position yourself as the expert, whether you're working with stakeholders within your company or clients with particular needs. 
If you're an agency, your rank tracker is a lot more valuable if you can also share rankings reports with clients without having to do a screenshot.
ProRankTracker offers simple, white-labeled reporting that allows you to position yourself as the expert. You can completely customize your reporting template.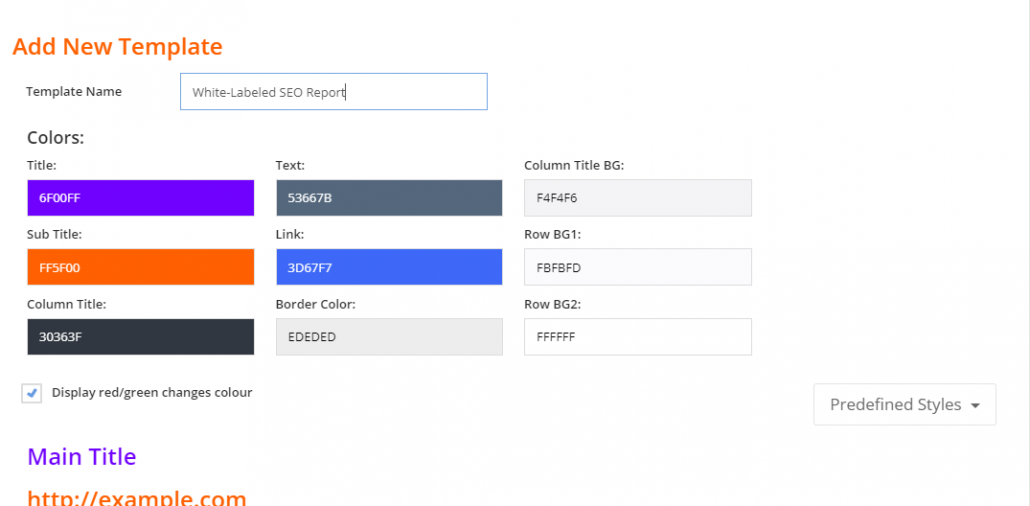 Once you have your fully-customized PRT report, you then can share it with whoever you want through a shareable link, the PRT mobile app, a sendable file, or through email.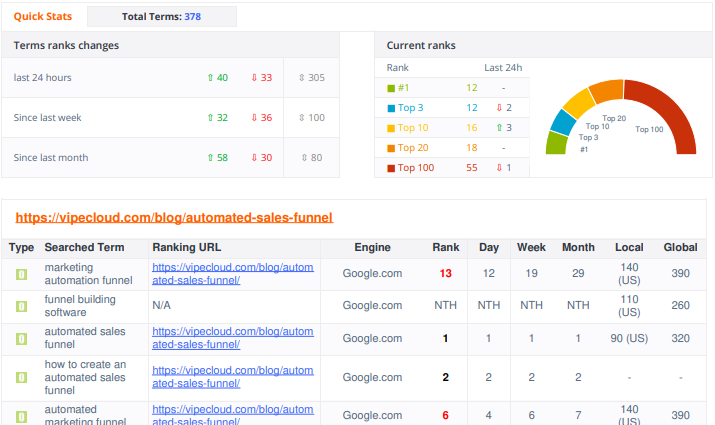 Ahrefs does not offer white-labeling on reports or even an option to remove the Ahrefs logo from your reports. Considering how expensive an Ahrefs membership is, it's more absurd that they also require their users to give them free advertising on every report. 
Features Winner: ProRankTracker
When conducting a side-by-side comparison, the answer is clear: 
ProRankTracker offers more detail, more reporting options, and more data for users at all subscription tiers for rank tracking. 
PRT gives users more rank tracking features that are more in-depth. PRT users can also take advantage of the advanced reporting features such as the mobile app and shareable report links.
Ahrefs Rank tracker relies heavily on prestige behind their "powerful technology" and brand name for rank tracking but doesn't stack up unless you're willing to pay for additional access. 
Compare Pricing: Ahrefs Rank Tracker vs. ProRankTracker
Budget is often an essential factor in tool selection, especially when it comes to digital marketing and SEO.
Ahrefs Pricing
Ahrefs is a relatively more expensive tool — their lowest-priced plan comes in at $99 a month for 500 tracked terms, with rank information updated only every seven days. If you want additional terms, you're looking at $179 a month. 
These "lower-cost" plans come with a number of restrictions and limits on what you can actually monitor and up-charge fees to remove some of the training wheels. For example, if you want to have more than one user, you're looking at an additional $30 a month. If you're going to track competitor websites or conduct some initial tracking before pitching SEO to a new client, you'll need to add a project to Ahrefs at $10 a month each. 
Plus, it's worth noting that there's no way to take Ahrefs for a test drive without paying the price: trials cost $7 for seven days and automatically converts to full membership after the seven days. (Meaning, if you don't end up loving Ahrefs and forget to cancel the subscription, you'll be stuck with a $99 charge on your card.) 
ProRankTracker Pricing
ProRankTracker offers transparent pricing and plans that are significantly more affordable than Ahrefs. Base-level subscriptions start at just $25 a month for 200 tracked terms or $49 a month for 500 tracked terms. 
In addition to the number of terms, you'll get unlimited URLs, unlimited reports, and data updated daily.
That's right. ProRankTracker costs about half as much as Ahrefs Rank Tracker and gives you access to the same number of tracked keywords (plus additional tracking & reporting features) at that lower cost. 
If you're tracking a large number of keywords and URLs, business pricing is available and easily affordable for businesses of any size. As you increase the number of keywords tracked, you'll also get access to additional sub-accounts so your whole team can have their own access. 
Best Value Winner for Rank Tracking: ProRankTracker
When it comes to pricing, ProRankTracker beats Ahrefs in both price and value for money. You're paying less each month and getting more features for each dollar. 
Ahrefs is designed for enterprise-level operations and specialized SEO agencies, and their price tag shows it. ProRankTracker, on the other hand, is built with all of the power you need and the ease of use that allows anyone to get started monitoring and tracking SEO performance. 
ProRankTracker beats Ahrefs Rank Tracker when it comes to the smaller accounts and even the enterprise-level accounts.
With ProRankTracker, you'll also save 10% on any plan if you choose to bill annually rather than monthly, making it as simple and affordable as possible to improve your SEO performance. 
User Experience: Ahrefs  Rank Tracker vs. ProRankTracker
Ahrefs has a broad international user base and touts that their users include everyone from junior marketers to SEO pros. Ahrefs has scattered quotes throughout their website and talks about an "insider" community on social media touting it as a superior platform.
However, if you dig into reviews on third party software review sites such as PC Mag and G2, you'll find a common thread: Ahrefs is challenging to use and extremely expensive. It offers a "bare-bones UX" and an extremely limiting report functionality.
ProRankTracker, on the other hand, is trusted by over 60,000 users worldwide, including SEO Agencies, enterprises, SEOs, SEMs, and website owners with businesses of all sizes. If you want a more in-depth look, check out these testimonials from ProRankTracker users. 

ProRankTracker is the clear winner here when it comes to trust and a loyal customer base in a wide range of industries and levels of expertise, not just full-time SEOs with massive clients.
Getting Started with ProRankTracker Today
If you're still not sure whether ProRankTracker is right for your needs, we offer demos of PRT so you can get answers to your outstanding questions. 
If you want to put ProRankTracker to the test, get started with a free trial plan that allows you to track 2 URLs and 20 terms — once you upgrade, your URLs are unlimited.
https://proranktracker.com/blog/wp-content/uploads/2021/02/ProRankTracker-vs.-Ahrefs-Rank-Tracker-4.png
321
845
Jacob Statler
https://proranktracker.com/blog/wp-content/uploads/2020/11/prt-blog-1-1.png
Jacob Statler
2021-02-04 03:37:46
2021-02-04 03:38:31
Ahrefs Rank Tracker Alternative: Try ProRankTracker