Google Business Profile Update: SEO Strategies to Win
What would you say if I asked you for the 5 most essential tools for business owners? 
The chances are high that 10 different business owners would have 10 different answers to the same question. There are just so many good tools out there!
However, almost everyone would put Google My Business somewhere on their list. It has played an essential part in SEO for years, and it's not showing any signs of letting up.
Google My Business has gone through several significant updates, the most recent in November 2021. Tons of people are asking important questions about this update:
Should I still focus on Google My Business SEO?

Do I need to change my GMB profile for the update?

What Google My Business updates should I know about?
This article will answer those questions and help you learn exactly how to do GMB SEO like a pro.
We'll cover:
Google My Business Updates: What's New?
Before we dive into our new Google My Business best practices, let's look at some of the most significant changes that'll affect the way you use GMB.
It's important to note that Google My Business and Google local SEO haven't changed all that much. It's still an essential tool, and you don't need to start from the ground up.
However, there were some key UX and functionality changes that you should know about to use Google My Business features to the fullest.
In this section, we'll focus on those changes and show you how to navigate the new areas of GMB.
GMB Is Now Called Google Business Profile
First (and most obviously), GMB has been renamed "Google Business Profile." Alongside this name change, Google is trying to rebrand the GMB tool to keep it fresh.
Even though the tool's name has changed, it is the same tool. It looks and functions in almost the same way, so don't let the name change fool you into thinking that it's a brand new system.
In other words, GMB is still GMB. It's still a vital part of Google local SEO, and you should still prioritize learning and using it.
Make Edits Directly from the Search Page
In the old GMB, you had to enter the GMB account page to make any edits to your GMB profile. When searching for your own business on Google, you would see exactly what any other searcher saw.
With the Google Business Profile update, business owners can now search for their own business directly in Google's search bar. Even if your business doesn't rank on the top page, Google will show you your Business Profile on the first page (as long as you're logged into the Google account affiliated with the Business Profile).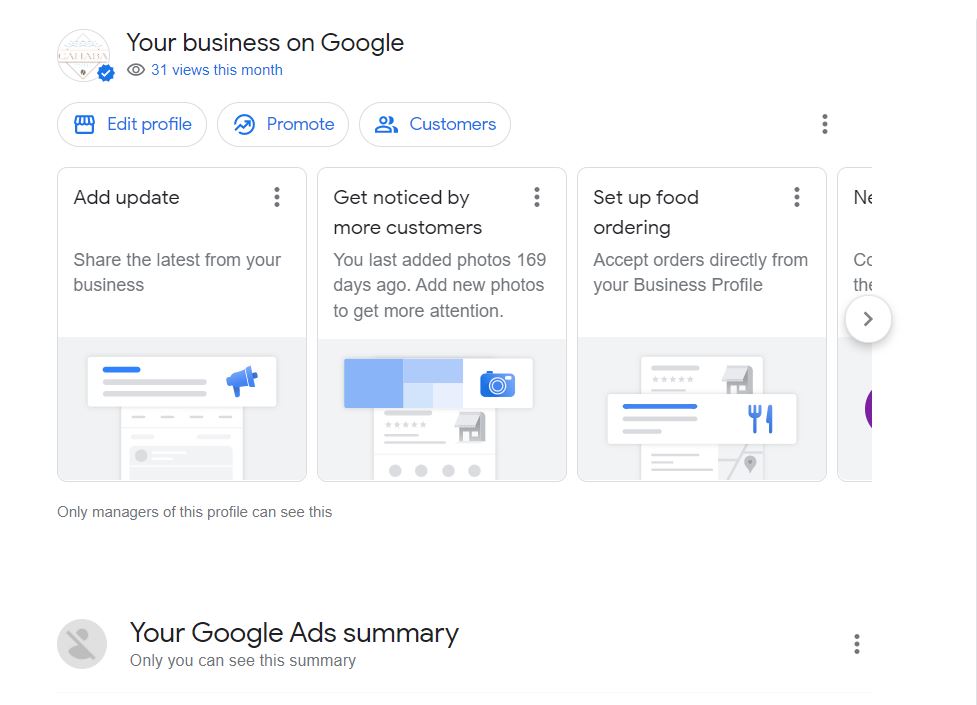 In addition to showing you your Business Profile, you can now make edits to your profile directly from the SERP. Just click "Edit Profile" to edit your profile without navigating to the Google Business Profile platform.
You can also promote your profile, change your ads, and view customers from the SERP.
This significant UX change makes it easier to find your profile online and see what it looks like from the searchers' perspectives. Even if you don't rank on the first page yet, you can find your GMB profile and make edits directly from the SERP.
Map Changes
Google has also updated how you can interact with your business listing in Google Maps. You can now search for your business in maps and make edits from maps (if you're logged into the email affiliated with that Business Profile).
In addition to making edits, you can also see how many views your Business Profile has gotten in the last month. Maps will also show you a trend arrow to indicate if your Business Profile views are going up or down.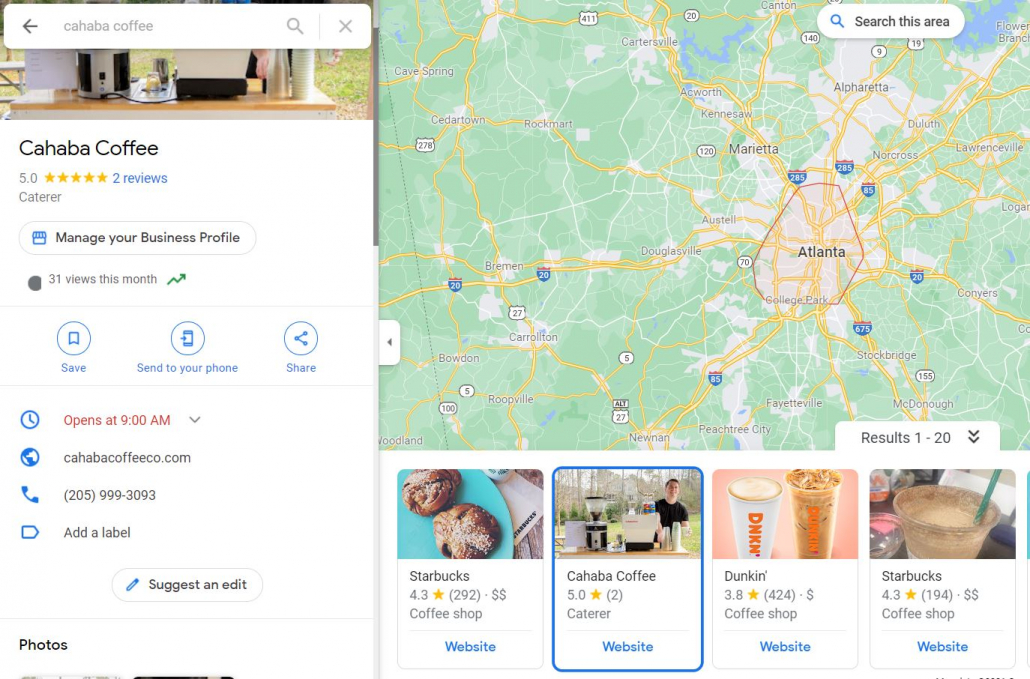 Other than making it easier to find and edit your business in Google Maps, your Business Profile will appear almost the same as always.
Call History in Search and Maps
Finally, call history has also been added to the search page and maps. So when you look for your business on Google search or Maps, you will also be able to see how many people called you directly from your GMB profile.
To add this data to your profile, you just need to turn on the call history feature. First, click on call history, then click "Turn On." Google will now start collecting data about people who call you from your Business Profile, and you can find this data from search or Maps.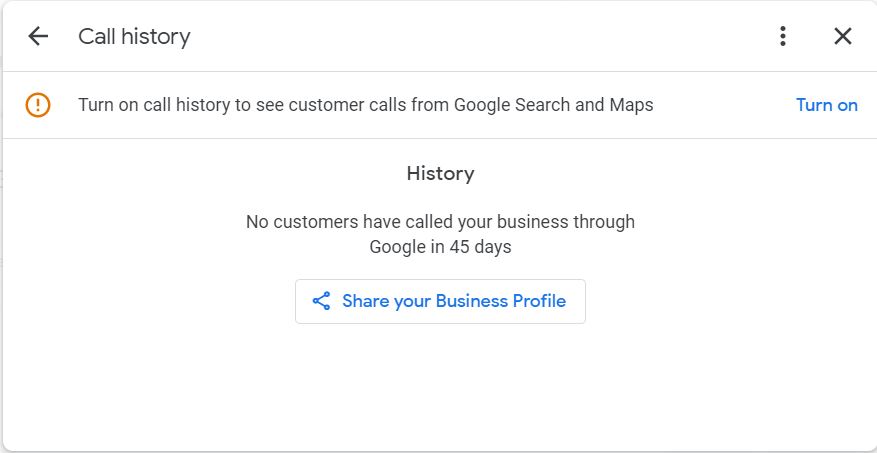 Google made more updates to Google Business Profiles with this update, but these 4 are the most significant changes to how you use this tool for your business.
Why Is Google Business Profile Important?
Do you need to use Google Business Profile for your business online? Can you get by without using it?
Not everyone uses Google My Business, so these are essential questions for every business owner to ask–especially if you're on the fence about making a Business Profile on Google.
We think that a Google Business Profile is highly advantageous for your business, so we recommend that every business get an account.
In this section, we'll cover 3 of the most significant benefits of creating and using a Google Business Profile:
Get discovered online

Increase local traffic

Interact with customers and get reviews
Get Discovered Online
More and more business is being done online each year. About half of all consumers say that they look for a company online before purchasing. 
But what if they can't find your business?
A Google Business Profile makes it easier to discover your business online because of local SEO targeting. Local searchers are more likely to find your business with a business profile.
In addition to Google searches, you will also become discoverable on Google Maps. If you don't have a Google Business Profile, it will be impossible for users to discover you through Google Maps searches.
Your Business Profile may never be your most significant traffic source, but it makes it easier for searchers to discover you, so we recommend making a profile immediately!
Increase Local Traffic
Mom & pop shops are great, but they have traditionally relied almost exclusively on word-of-mouth advertising. What if you could open your brick-and-mortar store up to the possibilities of online marketing?
A Google Business Profile can help you do just that. As we mentioned above, a Business Profile on Google makes it easier for local searchers to discover you on search and maps. However, it also makes it easier for them to visit your store.
Your Google Business Profile will hold helpful information about your business, like location, phone number, and store hours.
When a potential customer discovers your business on maps or through search, they will be more likely to visit your physical location as well.
Don't miss out on that extra foot traffic!
Interact With Customers and Get Reviews
A third massive benefit of getting a Google Business Profile is the ability to interact with customers online–including getting reviews.
Messaging is a newer, popular form of communication for businesses to connect with customers. For example, people who discover your business through Google Search or Google Maps can instant message you directly through your GMB profile.
It is easier for many people to message than to call or visit your store, so this form of communication allows you to get more contacts.
Google Reviews are also critical. 97% of all customers say that reviews impact their buying decisions!
Your Google Business Profile will also house your reviews, so it's an excellent opportunity to put your best foot forward and get positive recommendations!
How to Rank Your Google Business Profile
By now, we've hopefully convinced you that you should sign up for a Google Business Profile as soon as possible. 
For the rest of this article, we'll show you specific steps that you can take to ensure that you're getting the most out of your Business Profile.
There are tons of different things you can do to rank your GMB profile, but we're going to focus on just a few high-impact steps that you can execute reasonably quickly.
If you follow these 6 steps, you should quickly see your GMB profile rank increase and more traffic flowing to your website.
Make Sure Your Profile is Accurately and Completely Filled Out (NAP)
Before you do anything, you need to ensure that your GMB profile is filled out with accurate information. 
Almost nothing is worse than inaccurate info on your Business Profile. Not only can it keep people from getting in touch with you, but it also reflects poorly on your business.
To update your info, go to your Business Profile account, then click "Info."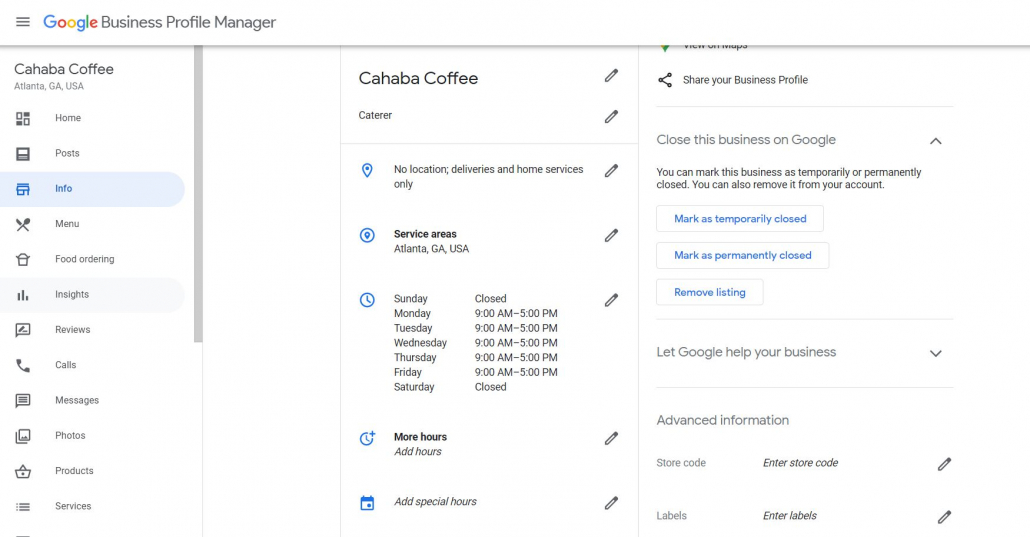 At the very least, you should make sure that you have the following:
Location of your store (if you have a physical location)

Phone number and other contact info if available

Available hours

Cover photo and logo

Concise business description

Link to your website

Any info relevant to your business (menu if your business is a restaurant, product pictures, etc.)
Keep Your Profile Up-to-Date and Active
Whenever any details about your business change, you should make sure that you update your Business Profile on Google.
This includes if your hours change for holidays or other events. It's a good idea to publish modified times either days or weeks in advance, so your customers know what to expect.
A stagnate Business Profile doesn't look very good either, so we recommend posting to your GMB profile whenever you have relevant offers or updates. Go to your Busines Profile, click "Posts," and create your post.
Creating regular posts will make your Business Profile more engaging and relevant for searchers.
Target Specific Locations
Google My Business is helpful for almost any business, but it's most beneficial for companies looking to gain more local traffic.
When you're creating your profile, make sure that you target specific locations in 3 ways:
Add a service location

Add a business address (if you have one)

Use location-specific keywords
First, every business should have a service location. For example, you might serve the greater Portland area, so you should make Portland your area of service in the "Info" tab.
Adding a service location will make it more likely for Google to show your profile to searchers in that area.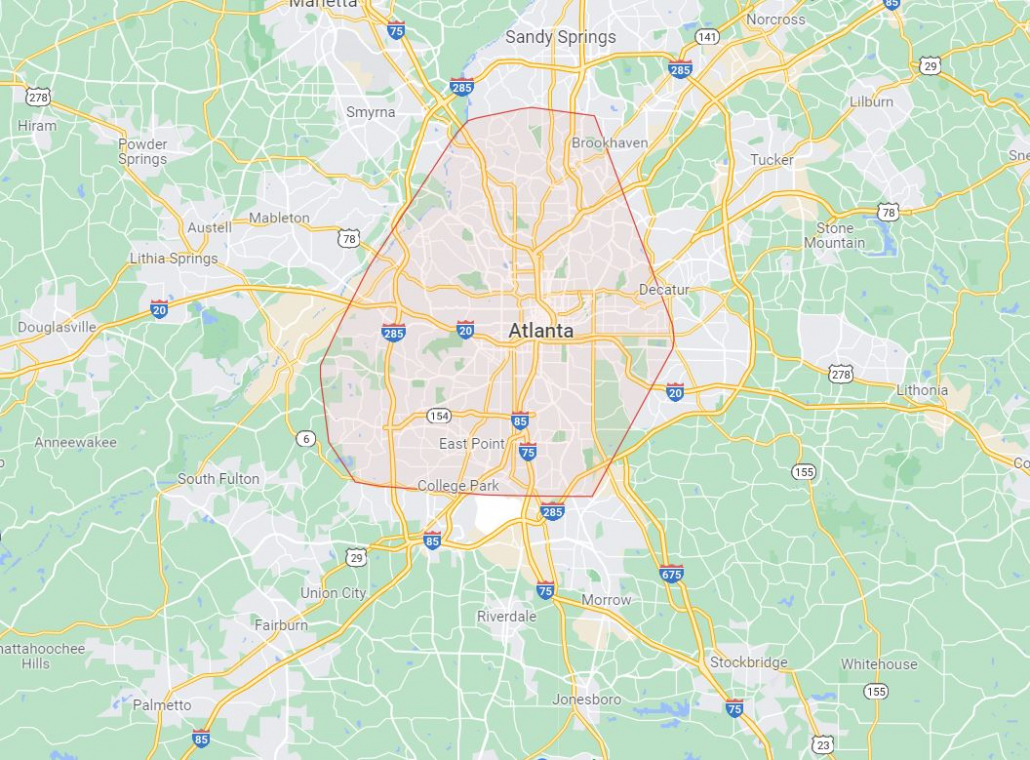 Second, adding a business address helps you narrow your targeting even more. More than 50% of searches on Google that include the words "near me" result in a store visit.
That means you want to make sure you appear on as many of those searches as possible! The best way to do that is to include accurate location info on your profile.
Finally, ensure that you're targeting location-specific keywords on your website and your GMB profile. Instead of targeting "shoe store," target "shoe store in Charlotte."
You can use a keyword research tool to find the best location-specific keywords for your location.
Ask for Reviews
Do you have happy customers?
I hope so!
Happy customers are one of the best sources of referrals available to your business!
Unfortunately, many people have trouble getting reviews. It seems like most people–even if they're pleased with your service–don't leave a review.
One of the best ways to get reviews is to reach out to your customers with a personal email, text, or phone call to ask if they would be willing to leave you a positive review. 
I've found that happy customers usually are more than willing to help you out by leaving a good review.
The key is to make it as personal as possible! Don't copy/paste a pre-written email. Instead, write them a personal thank you for doing business with you, and invite them to help you out by leaving you a 5-star review on Google.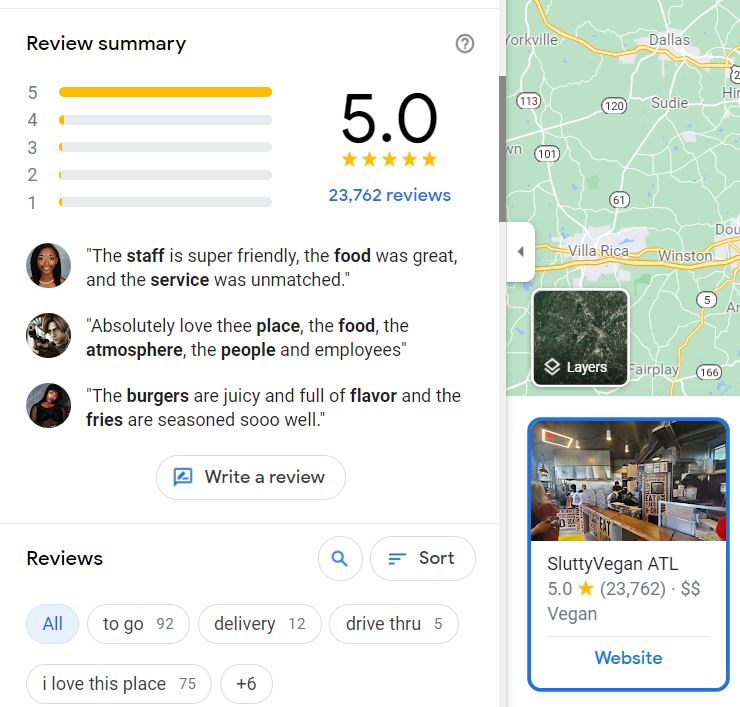 Over 95% of consumers say those reviews affect their buying decisions, so getting positive reviews is crucial for your success!
Target High-Value Keywords
One of the most common SEO mistakes we see is people targeting generic keywords. They think that keywords with more search volume must be better.
After all, 4000 searches a month is better than 150, right?
Not necessarily.
If you target the word "shoe store," you will have a tough time getting even 1% of the searches. However, it will be relatively easy to get 30% of the searches for the keyword "shoe store in Charlotte for joint pain." What's better, 1% of 4000 or 30% of 150?
I'll leave the math to you.
Not only will you get more impressions, but the traffic is also more targeted for long-tail keywords.
Research long-tail keywords using ProRankTracker's Keyword Discovery tool, then target those keywords on your website and your GMB profile. Doing so will help you get better traffic and a higher CTR.
Use Ads as Necessary
Some people run when they hear the word "Ads," but ads can play an essential role in getting traction on GMB.
For example, your profile won't have much chance of getting ranked with no reviews and very little organic search traffic. If you use targeted ads for your location, you can generate paid traffic, which can result in higher organic traffic.
Don't be afraid to run ads if you don't see the organic results you were hoping for. Just remember not to rely on ads and forget to work on the organic aspects of your SEO as well.
Why Tracking Your Google Business Profile Is Necessary
Once you've gone through the steps above to rank your Business Profile on Google, you'll want to keep track of how high it ranks on Google Search and Maps.
It's imperative not to overlook this step. Tracking your Google Business Profile rank helps you make improvements faster, leading to more traffic and engagement.
In this section, we'll highlight 3 reasons why you should be tracking your GMB profile rank for various keywords:
Stay up-to-date

Make strategic adjustments as necessary

Avoid SEO disasters
Stay Up-to-Date
Tracking is the best way to stay up-to-date on your GMB profile ranks for different keywords.
If you don't know how well your profile ranks, it's impossible to make improvements, outrank your competitors, and strategically grow your business.
With tracking, you will know every time your profile's rank changes (positively or negatively).
You can also use the same tool to track both your ranks and the ranks of your competitors, which will allow you to stay up-to-date on their progress as well. Then, you can compare your strategies with theirs.
Knowing your rank is half the battle of improving it, so staying up-to-date on any changes in your GMB profile rank is incredibly helpful for business owners.
Make Strategic Adjustments
Now that you're up-to-date on any rank changes, it's time to put that knowledge to good use by adjusting your strategy.
Without tracking, it's challenging to know whether your strategies are working or not. Tracking your GMB profile allows you to measure your success and make changes as necessary.
For example, let's say you're targeting the keyword "organic dog treats." Because you're tracking your profile, you know that posting an article targeting that keyword caused your rank to increase to the top 3.
Going forward, you'll probably choose to target other, similar keywords that you can rank. 
On the other hand, you might be targeting keywords that aren't affecting your rank at all. Tracking will expose that, giving you the chance to spend that time on more productive keywords.
Avoid Disasters
Did you know your rank can drop dramatically in a single day?
Scary, right?
Your competitors might maliciously attack you with bad backlinks, or you might get a Google Penalty, which can even cause your business to get suspended from searches.
If you aren't tracking your ranks, it's much harder to discover these drastic rank changes.
However, with tracking, you will notice any sudden changes and recover before they inflict too much damage.
How to Track Your Google Business Profile with ProRankTracker
Now that you know about all the benefits of tracking your Business Profile ranks, let's talk about HOW to track them.
ProRankTracker is the most accurate rank tracking tool on the market, making it a great option for tracking your GMB profile. It's also easy to learn and use.
By following these 4 simple steps, you can quickly take your Google Business Profile SEO to the next level.
Add Keywords
Your first step is to add the keywords you want to track for your Google Business Profile.
The easiest way to add keywords for tracking in ProRankTracker is to use the Add Wizard.
Add the URL of your business site.

Type all the keywords you want to track for your GMB profile.

Input the location where you want to track your Business Profile ranks.

Select "Also track Google Snack Pack (top 3 maps) and Local Finder (top 100 maps)."

Enter your business's GMB profile name.

Click "Save."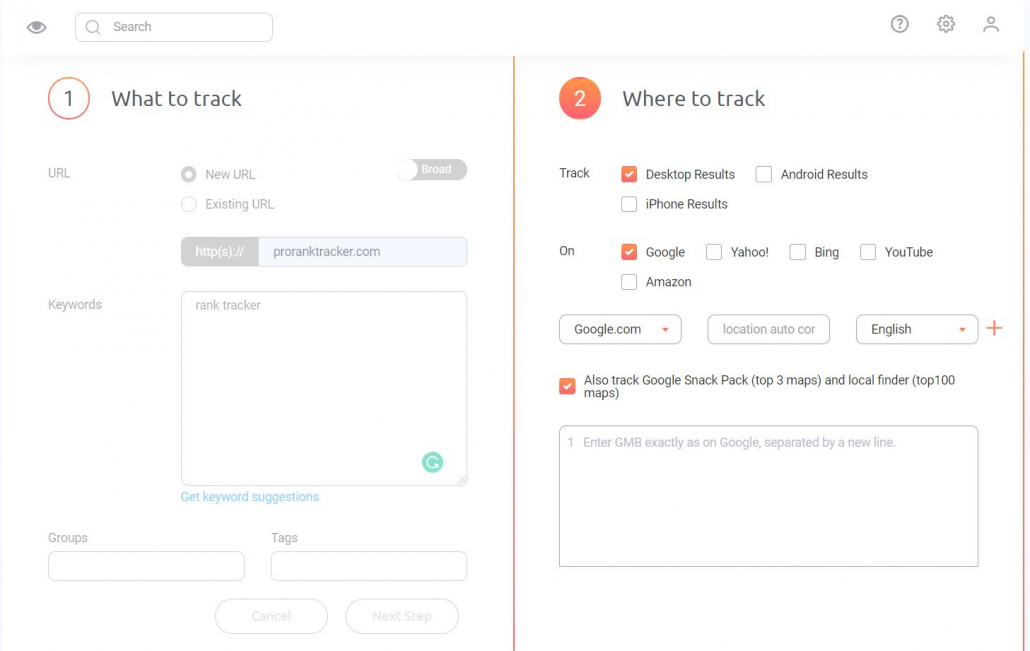 Use Location-Specific Tracking
If your business operates in a particular area, you must add location data for your tracking. Otherwise, you won't get ranking data relevant to your specific location.
There are 2 ways to add a location to your GMB profile on ProRankTracker.
Add Wizard

Advanced Add
To use the Add Wizard to add location data, just add keywords in the same way described above, making sure to include location data.
If you have multiple locations and want to receive specific data for each one, click the "+" icon and add another location for your GMB profile.
Advanced add allows you to be a bit more precise. You can select from 4 different location-specific tracking options:
Organic local

Mobile

Local Finder

Snack Pack
Only "Local Finder" and "Snack Pack" will track your GMB profile results. "Organic local" and "Mobile" track results for your website URL.

Unlike in the Add Wizard, you can choose to track just Local Finder or just Snack Pack. If you only want to track Snack Pack (and don't care about Local Finder tracking), you need to add your GMB profile through the Advanced Add tool instead of Add Wizard.
When you choose local tracking in the Advanced Add tool, make sure you also include your GMB profile name and the locations where you want to track it.

Use Different Rankings Views
After you've added your location-specific keywords, you're ready to start using ProRankTrackers rankings views to track your data.
There are 5 different rankings views for you to get different perspectives on your data:
Dashboard

URL View

Term View

Daily View

Full SERPs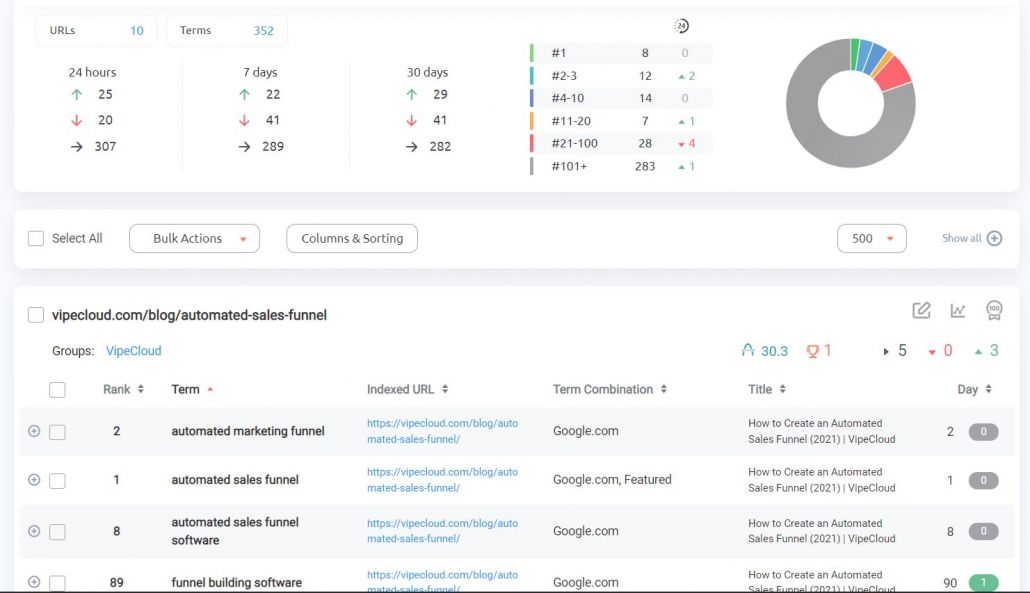 Each of these views helps you visualize your data in slightly different ways. By using all 5 regularly, you can get a very clear picture of your ranks' overall health.
Set Up Reports and Notifications
The final ProRankTracker feature that we'll cover is the use of Reports and Notifications.
Reports are sets of data that are sent out at predetermined times. For example, you might set a report of the Dashboard view to be sent out every Monday.
There are 19 different reports that you can set up. We highly recommend using a variety of reports regularly, as they will help you understand various aspects of your strategy.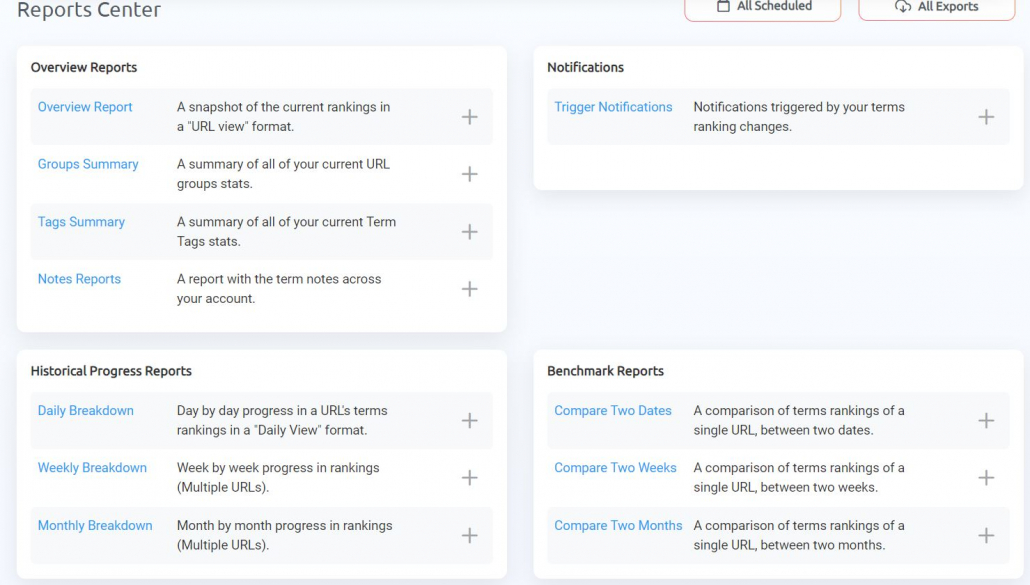 Notifications are like reports, but they are sent out when a particular condition is met. For example, you might set notifications for when one of your ranks moves up or down by 3 positions.
Both reports and notifications are extremely valuable. They help you stay up-to-date, and they make sure you never miss a beat–even if you aren't checking on your ranks every day.
Conclusion
Even though Google My Business is going through another big update, you shouldn't expect it to become any less important for your business!
Keeping an active and accurate GMB profile is a great way to get exposed to new potential customers and connect with searchers in new ways.
By following the steps and advice in this article, you should find your GMB profile quickly rising through the ranks on Google Search and Maps! Tracking your ranks with ProRankTracker will help you make sound strategic decisions and beat your competitors.
Our last piece of advice: don't wait! Get on Google NOW and get your GMB profile up and running!
https://proranktracker.com/blog/wp-content/uploads/2021/12/google-business-profile-seo-1.png
321
845
Jacob Statler
https://proranktracker.com/blog/wp-content/uploads/2020/11/prt-blog-1-1.png
Jacob Statler
2021-12-23 14:41:01
2021-12-24 00:55:47
Google Business Profile Update: SEO Strategies to Win