Track the two Google SERP elements with MORE value than regular organic listings
What could be more valuable for SEO experts than the main SERP, you ask? Like all the best answers, it's right under our noses. It's there each time we use Google.
Google long ago stopped being just a search engine offering a list of search results. Its SERP is an ever-evolving entity that now includes dozens of different elements and features, some unique to mobile and desktop devices. A SERP feature might be the space reserved for ads:
or the Knowledge Graph that offers quick info regarding a general search query:
New elements are added frequently, such as the one you see when you search for results relating to the FIFA World Cup:
Conquering the first positions on Google's main part of the SERP (what we know as the regular organic listings), has been the most coveted and sought-after achievement of SEO experts since SEO was discovered (or invented, depending on your philosophical stance on the nature of inventions). It's the iconic holy grail of SEO pursuits and the first thing that comes to mind if you ask anyone about SEO.
And yet, there are 2 major SERP features that carry significantly more value and weight for certain fields and follow different rules than the regular organic positions.
These are Snack Pack and the Google video carousel.
Today, we will learn why they matter and, most importantly, how to track those features correctly and accurately with PRT (or any SERP tracker that offers these abilities).
The mythical Snack Pack
The Snack Pack we see today initially consisted of 7 results and was much easier to rank in. While getting to be featured in the golden top 3 Snack Pack positions is harder, the glory of being featured there is that much more glorious.
This feature has a tremendous value to local businesses and local SEO, and can actually outshine regular organic listings under certain conditions. For starters, it's eye candy in an otherwise regular webpage, it pops from the SERP, and it draws the attention of the user.
Second of all, it's a 100% localized search result and will correspond to the user's location—meaning it has the edge of showing users a location they can physically get to if they want. If the website is for a business with a physical location that depends on real human attendance, such as a pub or a clinic, being ranked high on Snack Pack is extremely beneficial, since it can drive actual physical traffic to the business you're promoting. That coveted number 1 spot on the organic results might look appealing, but is it close enough to be relevant for the user that's searching?
Snack Pack can even send visitors directly to the business from Google without the regular stages of Google → Website → Physical visit. This is especially true in the case of people searching from mobile, who are most likely on the go with no time to research websites and will often choose a business closest to their location. People already traveling need that faster, more spontaneous decision making process. So instead of just virtual visitors, it can get you real-life ones.
Snack Pack isn't just good for businesses, it's got benefits for users as well: they can see operating hours and an actual address on a map, which they can use a GPS to navigate to. Best of all, they can see pictures of the building and even inside the establishment. A picture is worth 1000 words, and in this case, if it's well taken, it can be worth 1,000 customers and way more than a 1,000 dollars.
Snack Pack also shows those pretty 5-star reviews that appeal to the consumer. A good batch of business reviews could potentially lead to more deals than a high position on Google's organic results.
If all of that isn't enough, here's the best part: Snack Pack shows ABOVE the 1st position. What more can a local SEO professional ask for? This is as close to having an unfair advantage as you can get.
How to track Snack Pack:
Like your regular organic ranks, Snack Pack ranks can be tracked easily with PRT and with the same 100% accuracy we guarantee for all of the ranks we show you. It's done through our one-for-all term adding page:
You need to check the 'Search Elements' box, then choose 'Snack Pack' in the 'Elements' field. Then simply add the URL and keyword you want to track for. When you add the URL of the business, don't forget to add the name of the business as it's listed on Snack Pack, since Snack Pack shows the name of the business first.
Next, and most importantly, since Snack Pack is fully location based, you have to add an exact location:
In the example above, the rank you will get is the rank most people from Albany, New York will see when they search for "pizza delivery".
Location-based rank tracking strategy
Since this SERP feature is location based, people from different locations will see different ranks. Google ranks Snack Pack on factors other than just location, but location is a very dominant factor here, and Google is very good at figuring out your location as we've showed you here:
SERP tracking in a post-privacy world: How Google knows your location virtually at all times
You need to choose 1-3 locations for tracking that best correspond to the area you service, even if you only serve within one town or city. PRT's Exact Location tracking feature can show you ranks zoomed in to the neighborhood level:
If you target a larger area that encompasses more than one city, you might want to add those cities as well. For the highest-quality tracking, you can add several locations within each city. You certainly don't have to stick to 1-3 major locations; the more locations you add the more fine-tuned picture you will have!
Local Finder
Local Finder is to track Google Maps top 100 business results. It's the expanded Snack Pack view that you get when you click on "More places":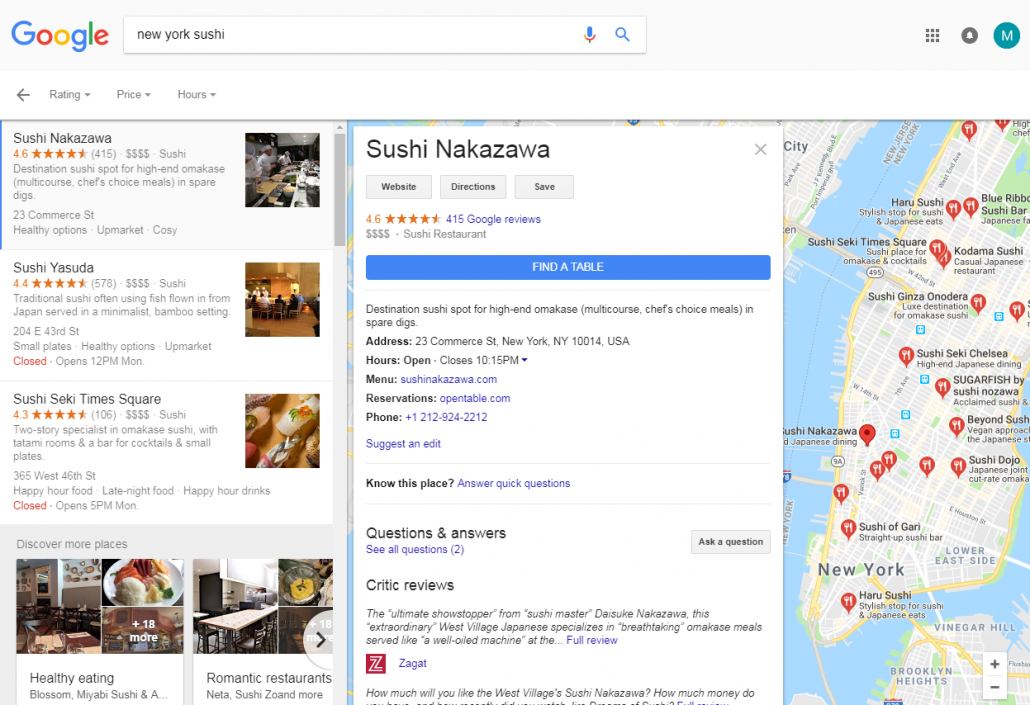 While considered less luxurious than being within the top 3 Snack Pack positions, someone browsing these results is a good indicator of a smart, focused consumer doing some market research instead of simply going for the first three he sees. Getting physical traffic from the top100 results is still very possible and can deliver high-quality customers that chose you after doing solid research.
How to track:
Simply check the 'Local Finder' box and PRT will track deep into the 100 Google map results as well. Also note that you need to add it as an additional search engine:
The same location tactics as with Snack Pack apply here as well. Choose 1-3 locations that matter most to your business, and the more locations you choose to track, the better and clearer a picture you will have.
Snack Pack Ranks are free with PRT!
In addition to tracking these ranks, you also need to know where your website stands in the regular organic listings, which are also location dependent. Therefore, for every Snack Pack rank you add, don't forget to add an organic mobile and desktop Google ranks as well.
Snack Pack ranks come attached to our regular organic rank tracking and to Local Finder, so they don't cost you an additional term from your quota!
We believe in being fair, and we want you to have some room to grow and experiment, which is why we put it all into a single ranking bundle. We want you to upgrade because you grew as a business and now need to run more SEO campaigns for more clients, and not because you ran out of space.
Snack Pack and the extended top 100 map results are Google's great SEO equalizers. The smart use of these two features can give a local business a fighting chance and help it outperform bigger and stronger businesses, which is why it's key that you master it and learn all that you can about it. This article will offer some more insights about the two:

PRT's SnackTrack and Local Finder: The ideal tools for Snack Pack SEO rank tracking
Google Video Ranks
This SERP element holds a lot of value for video marketers and creators. Video marketing proves to be a very effective marketing tool, beating more traditional marketing approaches. It offers great ROI — adding a high-quality product video on your landing page can increase conversion rates and will have more people sharing it and linking to it. People just react better to video than plain text and images. For example, a video testimony will carry more weight and will seem more authentic than just a written one.
The videos SERP feature has also seen its fair share of changes since it was introduced. The current form of this SERP feature is also the most attractive – it's a carousel with the top 10 positions showing on the first page. To expand the search to see all the results, you have to navigate to the videos tab at the top of the SERP.
Google also plans to make this the norm in video search results (at least for the near future) as part of their recent batch of updates.
This form will make videos a more prominent feature of the 1st page, but it will also make video SEO that much harder, since now you'll have to be ranked top10 to be seen on the first page. (Very few users actually navigate to the 'videos' tab.)
Video results can appear from every video source – from YouTube and Netflix and to every site that has uploaded a video to a web page. YouTube, Facebook, Twitter and Instagram, where sponsored content and video marketing are booming, can appear in this element and give a significant traffic boost to a wise video marketer.
The videos element has a similar advantage to Snack Pack in that it's featured in an eye-catching spot on the 1st page and it shows above some regular organic results. Also, video marketing is projected to grow, and video traffic is expected to make up 82% of all IP traffic by 2021, so this SERP feature is expected to become even more prominent and important as time goes by.
How to track:
Since this is also a SERP element like Snack Pack, you'll need to check the 'Search Elements' box, choose 'Video' in the 'Elements' field and add the video URL with the keyword:
Unlike Snack Pack, which appears at the top of the page, the videos element can appear positioned anywhere on the page like a regular search result. In the pizza example pic above, it's positioned 4th. The rank you will get will consist of a number and letter, for example 4-J. The number is the element's position on the page, and the letter represents the position within the element itself. So J means the video is ranked 10th inside the element box.
Video results can also appear separately from the carousel, which is why we recommend you track the video URL with regular organic and mobile rank tracking as well. In the example above, the video appears both as the no.1 organic result and in the video element. Like Snack Pack, the video element is free to track and comes attached to a regular organic rank.
Rank tracking inside YouTube
If you use video marketing, you'll be using YouTube a lot, since as a part of the Google Alphabet family, it tends to rank high in the video element. But within YouTube, the video has its own unique rank that might or might not correspond to the carousel rank, which is why you need to track it within YouTube in addition to its Google video rank. Here's how to do it:
You will need to check the 'YouTube video' box and add the YouTube URL with the relevant keyword.
Naturally, the YouTube ranks you get will also be 100% accurate, since we monitor any changes to the search index very closely (like we do with all of the search engines that we track).
Finally, here is a sample from our data table on what everything we added will look like:
Google's SERP will keep changing; old SERP elements are getting deprecated and current ones are evolving. But we can safely assume Snack Pack and Google video search are not likely to get dropped and are here to stay for a while (even if they change), which is why mastering them and tracking them accurately is a must for any SEO professional.
If you thought knowing about Snack Pack and Google video was enough, you are mistaken. You need to make sure you get the bases covered as well! Check yourself and see if you're fully familiar with ALL the various ranking factors Google uses for its regular organic listings. There are more than 10,000 possible influencers for a SINGLE organic rank, and knowing them is key for rank tracking your organic SEO campaigns! Read all about it:
All the rank tracking types you will need for SEO in 2018
Got any additional insights or thoughts on the subject? Feel free to share in the comments below. Also, please share and subscribe to our blog so you won't miss out on any important updates and news!
---
PRT is an SEO-centered rank tracker with more than 50k users of all sizes and expertise levels that track thousands of different niches successfully. We are the only rank tracker on the market that can track the tens of thousands of different ranking locations of Google (not only for Snack Pack). And, we are also the most affordable rank tracker you can find that doesn't cut corners, with our most popular plan being only USD $0.034 per tracked term! On top of that amazing price, you can even track search elements with no additional costs.
And get this – we offer a REAL free trial that requires no credit card and will not auto-renew like some trap if you forget about it! It will simply revert to our regular free plan that has no time limit and is pretty awesome by itself, and you can track all the search elements we mentioned as part of our regular free plan, so no worries. We know that our high-quality service will keep you with us, not some gimmick.
We want to reward anyone that helps us grow, so check out our sweet Affiliate Program with a 20% recurring commission, and recommend a high-quality rank tracker to people while making some good money along the way.
https://proranktracker.com/blog/wp-content/uploads/2018/07/Untitled-1.jpg
300
800
ProRankTracker.com
https://proranktracker.com/blog/wp-content/uploads/2020/11/prt-blog-1-1.png
ProRankTracker.com
2018-07-12 17:31:05
2022-04-19 09:12:35
Track the two Google SERP elements with MORE value than regular organic listings