The Way Google Can Drive Real Physical Traffic to Your Business
Traffic to your website is great. The more the better. But what if you don't run an e-commerce website or an online service?


Maybe the traffic you really care about is actual physical visitors. And in 2019, these are two different things, and they're almost entirely separated by something called the Google map search results.


Google truly revolutionized local search when it introduced their map results.


A person in New York using Google to search for a sushi place could see places near their location, instead of seeing a sushi website that dominated the organic SEO but was located in LA.


Local businesses could finally be seen by potential customers and stood a real fighting chance against huge, heavy-hitting SEO-driven websites investing thousands of dollars a month like it was spare change.


That's why this time we'll talk about how Snack Pack and Google map results can get you real physical traffic, and more importantly, how to track those unique map ranks that are entirely different than regular organic Google ranks.


Map results are a godsend for certain types of business that don't even directly benefit from people visiting their website. These businesses mostly have a small "business card" type website that showcases the most important parts about their establishment, but they still need people to physically come and visit their place to make money.


So, those websites were left in a double predicament – their content needed to get people to physically take the bus, bike or car, navigate traffic, and find their way there, which is considerably harder than convincing a person to do a few clicks to buy something. And second of all, they needed to play the ruthless, competitive SEO game against highly budgeted juggernauts and somehow win. To the rescue came Snack Pack: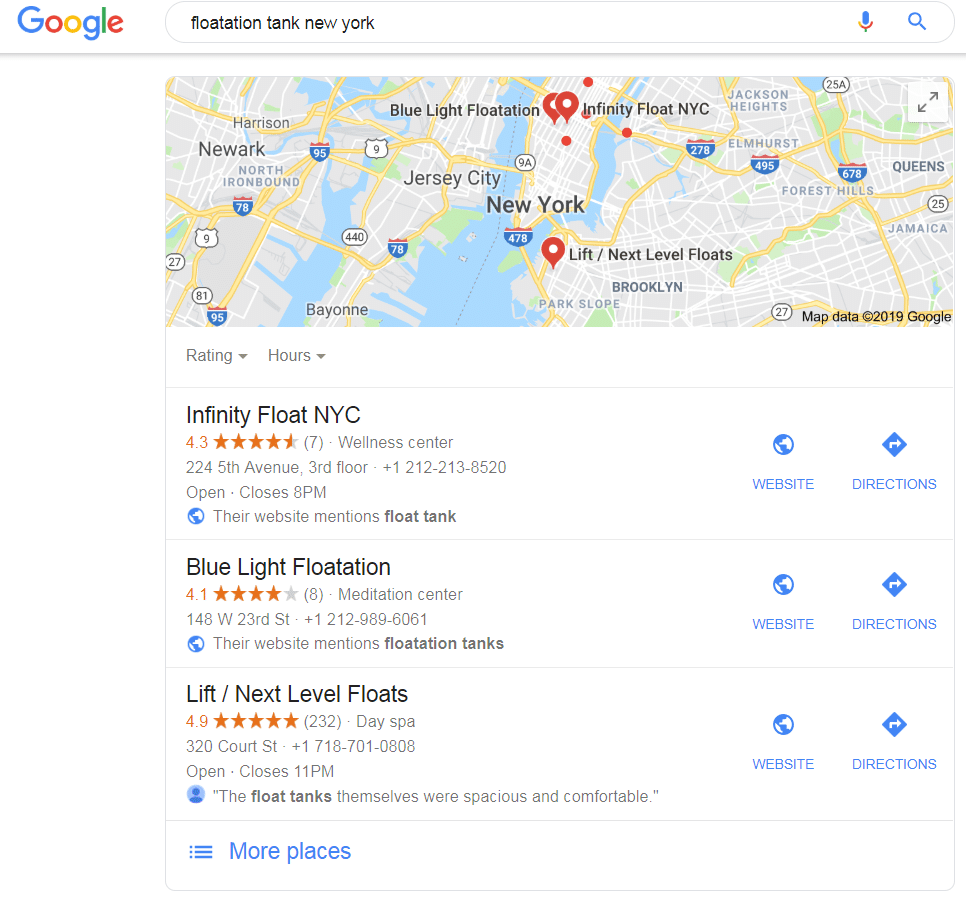 Featured on TOP of the regular organic listing, it easily outshined the "bland" regular search results and drew attention to the map. Users searching for bicycle rental could see where the place was. and they didn't even need to visit the website if they just needed convenience for a day or two and a place within walking distance.


Most regular businesses rely on physical traffic. They can be restaurants, clinics, garages, hotels, bowling clubs, gyms, grocery stores, and anything else you can think of that relies on actual visitors.


The inclusion of map results has made life easier for those businesses. Now they didn't need to focus on general SEO so much and could focus their attention on getting the people that search from their area.


And today's map results are designed to give local businesses a huge advantage over organically ranked websites. For starters, they list operating hours, pictures, distance from the geo-targeted location of the user, contact info, and even booking options for hotels and restaurants. All of this without even going to the website.


And best of all, they offer a real edge in the form of the 5-star review scale. This is a major part of their power because reviews are as close to a superpower as you can get in marketing.


Get Those Google BUSINESS REVIEWS

You might not be amazing at SEO and marketing or even have a great-looking website, but you can add your business details to Google and do some basic human relations and get those reviews. Your customers don't even need to do anything too complicated – most are already logged in to Google. All they need to do is find your business and write a few words.


There are a ton of research and surveys to back up the ridiculous effectiveness of having reviews vs. having none.


One research study found that even having only 5 reviews can increase conversion rates by a whopping 370% vs. having none. Lucky for you, we actually compiled some of the best stats and facts about reviews right here:

The Magic Marketing Power of Customer Reviews


Sometimes a good batch of reviews is enough for the person to make a high-quality decision without the need to visit the website. Coupled with distance shown on a map, it's an unstoppable team within a single amazing SERP element.


Consider the screenshot above with the flotation tanks search results. Which one would you most likely to choose? Personally I would be most tempted to choose the 3rd one (after making sure these reviews are not fake)


Good and even average reviews will drive high-quality customers to your business – people who want to get things done instead of randomly browse websites.


Let me tell you a personal story to illustrate that. I believe it will provide some insight into many situations, not just my own.


When I'm not living that crazy blogging life and hitting parties with other bloggers (meaning playing video games and watching YouTube), I'm driving a vehicle made in '97. That's is the year when Nokia sold dark, ominous bricks that you could talk to people with, when connecting to the internet produced screeching noises, and when Keanu Reeves possibly discovered the fountain of youth:



Now, cars from this era tend to suffer from a little something called entropy. As a result, I've become accustomed to visiting car mechanics of all sorts. Having been disappointed by the deceitful mechanics I was using, I decided this time it was Google's turn to help.


Finally, a selection of recommended garages near me was there to choose from.


The garage I ultimately chose wasn't even featured on Snack Pack. It was a garage with a nice amount of reviews, it had reviews that I believed, and it was slightly farther away from me, which is why I had to use the extended map view.


I drove some extra miles, paid some extra bucks, and yet I felt that I made the correct choice.


After that, they politely asked that if I liked the service to please rate them on Google. They got my honest 5-star rating.


This is a great example of how reaching out to your customers and asking for their honest review is an effective method to get that Google Maps clout.


High-quality reviews also improve your ranks, so they also pack some SEO value.


Now it's time to find out EXACTLY how you rank on Google Maps

Can't wait to try? Start HERE right now, or read on!


Pro Rank Tracker can show you your unique Google Map ranks on both Snack Pack and the extended map results. Let's use a gym as an example of a business that needs tracking.



1. The first step is adding your Google business name in addition to the website on our "Advanced Term Add" page, as seen above.


2. The next step is choosing the relevant location for your business and choosing Google.com and Local Finder as search engines. So, for instance, if you run the gym in Queens, New York, you would probably care most about people from that area. So we added that to tracking.


3. You also need to check the "Local Finder" box, since this will also show you how you rank in the extended map results.


The ranks you will see will be the ranks people from that area see on their Google map.


We can track tens of thousands of geo-targeted Google ranks for you.


Any rank tracker that shows you your map ranks but doesn't specify an EXACT location is frankly just feeding you false information. This is the MOST geo-targeted SERP feature, and it must be tracked according to the corresponding location.


4. Finally, add some good old regular organic rank tracking into the mix on desktop, iPhone, iPad, Android phone, and Android tablet. Google ranks websites differently for users based on those parameters, so they must be all tracked together!


Ranking well on the map usually goes hand in hand with ranking nicely in the regular organic search results, especially if you piled up a nice amount of high-quality reviews. Theoretically, Google knows in most cases when a reviewer has visited your place, so they have their methods of determining if a review carries more weight than a non-tracked review.


This is the end result and what it will look like in our data table:



Now here's something cool for you – adding Snack Pack to tracking, in addition to your regular organic ranks, will not cost you an additional term from your quota. We give you FREE Snack Pack tracking!


If you want to read more about tracking Google map ranks, check out this one


Now you know how to get that physical traffic to your business. Go and get those reviews, and with the help of some faithful rank tracking, see your business rise to local dominance.


We will also be publishing our Snack Pack SEO guide soon, so be sure you're subscribed to our blog so you won't miss out when it's out!


Got a good story on how reviews and local map results improved your physical traffic? Please share in the comments below!


---
About Pro Rank Tracker – More than just Google Map rank tracking

Actions speak louder than words, so see this in action with our7-day free trial with all features unlocked.


We are the top SERP tracker on the market, offering future-proofed rank tracking abilities other tools only dream of.


PRT is the only tool that can currently differentiate between Google ranks by mobile OS, and no one has our geo-targeting rank tracking. We can show you the ranks people at specific airports see for any search term!


We also show you your EXACT local and global monthly search volume for every keyword that you track.



This includes our 100% white-label features which allow you to replace PRT's logo with YOUR company logo and company details on virtually our entire tool.


No credit card required to activate the free trial!


This is how it is when you're 100% confident that you're the best. There's no need to entrap users with auto-renewed grey fees.


After the 7-day trial is done, you can either stay in our regular free plan with no time limit, or continue with the most affordable rank tracking plan on the market, starting at just $17 a month for 300 terms. That's just $0.056 per tracked term (and Snack Pack tracking doesn't even cost you any quota).


How to become an affiliate and earn a monthly income bonus

Sign up HERE. A 20% recurring monthly commission for the ENTIRE duration of the referred account is guaranteed.


And of course, you will be introducing a reliable, high-quality tool to people. Everyone wins.
https://proranktracker.com/blog/wp-content/uploads/2019/04/ISS_20362_00084.jpg
288
800
ProRankTracker.com
https://proranktracker.com/blog/wp-content/uploads/2020/11/prt-blog-1-1.png
ProRankTracker.com
2019-04-04 15:49:09
2019-04-04 15:51:37
The Way Google Can Drive Real Physical Traffic to Your Business