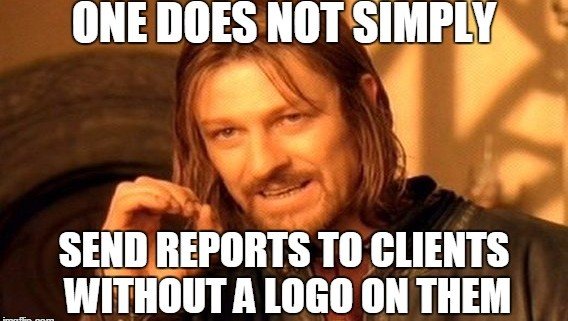 The Power of Branding Your SEO Rankings Reports With Your Logo Through White Label Reporting
Are you proud of your company's brand? I hope you are because today's subject is about highlighting your brand and giving it center stage. We'll talk about the advantages of white labeling the tool you are using with your business details and logo and how great it can be for your business and how it help build a professional image. Believe me, aside from having your own custom domain for your website, you need a white label reporting software for your agency branding.
Note that most of this article is for those who are more or less familiar with the concept of what a SERP tracker is and are currently either using our system or a different one that has white label features. This article will naturally focus on our features and abilities; however, I'm sure you can relate some of it to similar features within the system of your choice. We'll go from the most basic of white labels to the most awesome ones you can set up.
Do You Need A White Label Reporting Solution?
In case you're not yet familiar with the term, white label means you place your amazing logo and company details on the reports you generate for your clients, and that's just the beginning—at its highest level, you can even turn PRT (and some other tools in the market) into your own branded system.
First up, and the most essential, are the basic White Label Reports  -The ranking reports you generate for your clients with PRT can be completely branded with your logo and details and customized to be seen as if they were sent from your own email. This makes it seem like you generated the client reports yourself, and it keeps PRT pretty much behind the scenes.
White label reports that you send to your clients are especially important if you're a new business that's growing – sending our reports with your details and own branding on them will make you appear as the professional you deserve to look like, as I'm sure you worked really hard to develop your SEO skills and lore.
The majority of clients like simple-to-read, crisp and clear reports that tell them how their organic ranks are doing and reassure them that their money has been well spent. Also, seeing the data presented in a report will make it clear there is actual substance to SEO and that it's not just some witchcraft, as some SEO experts like to advertise. You can even generate case studies and wow your potential future clients to improve your chances of closing more deals.
I will soon make an article about it with a few great suggestions on how you can use a rank tracker to your advantage when pitching a client. For now, let's focus on reporting tools and how you can use them to sell your service.
ProRankTracker Shared Reports
On the next level, we have Shared Reports. This is one of our unique white-label feature that can really add flair to reports. The Shared Reports feature allows you to generate a report on a web page that you can send to your clients. The link that's generated can and should be customized to have your domain in it, making it seem like it's hosted on your own website. This web page will show ranks and selected data based on criteria you set and will be updated daily. You can encrypt it with a password and set an expiration date. And, of course, the logo on this page will be your own. Furthermore, you can allow your clients to download the reports they see as PDF, CSV or XLSX files. This client reporting tool is exactly what SEO marketing agencies and account managers need in promoting their services.
Check out a sample shared reports page HERE. For the sake of demonstration I have also encrypted it with a password:1234 so don't be surprised when you see it.
Sub-Accounts is a feature some tools offer, in most cases it allow you to brand the system you are using with your logo. The sub-accounts feature creates "smaller" PRT accounts under your main master account with a username and password you can set. These sub-accounts can be set to various levels of authorization, from admin level to read-only. The data that can be viewed by the sub-accounts can be limited to either a URL or a group of URLs. It's great for dazzling clients by giving them limited access to the system (now branded with your logo instead of PRT's) while maintaining full control. You are also able to delegate work flow among your SEO team by using sub-accounts.
MyRanks mobile app is a premium feature only our clients get to use. It's the most advanced and stunning way to let your clients be updated on their campaign—via their own mobile app. This app, as you may have guessed, is also entirely branded with your logo and a very sweet "About" tab that has your company's details in it. No other SERP tracker has anything like that, and we love giving our members exclusive features to help them shine. The app is readily available via Google Play, iTunes App Store, and this link for Windows Mobile.
That's it for now. Even if you're not one of our members, I urge you to give it a try for just one month and see for yourself how great it is to brand our product with your details. There's no commitment involved, and you can always downgrade (the price will be relative to the time you used the upgraded account). But as you will see for yourself, our white label reporting too will be well worth it.
https://proranktracker.com/blog/wp-content/uploads/2016/06/15dzkq.jpg
335
568
ProRankTracker.com
https://proranktracker.com/blog/wp-content/uploads/2020/11/prt-blog-1-1.png
ProRankTracker.com
2016-06-06 17:49:12
2023-02-07 01:34:32
The Power of Branding Your SEO Rankings Reports With Your Logo Through White Label Reporting