The 2019 Layer Cake of Google Ranks
We often discuss here on our blog how a Google rank is more complicated than most think and how important it is to track it correctly.
Many still conceive the Google rank by outdated standards, and as a result end up choosing low-quality SERP trackers that incorrectly track their website progress.
Google has the most advanced personalization algorithms that exist, and you simply can't ignore that.
The good news is, it doesn't have to be complicated at all! We'll show you a simple way to think of the Google rank that'll hopefully make rank tracking as simple as eating a tasty cake.
So let's imagine the Google rank as a cake:
The frosting – Geo targeting
Arguably, the first check Google will make is determining your location, which is why we decided to place it as our cake's frosting. It's often made of algorithmic jelly, and it's the first thing PRT's knife will touch. It has ingredients that are locally sourced, and the chef made it especially important since it determines the first impression of the cake. That way, a customer from Russia will enjoy frosting that suits their palate and not the preferences of someone from Paris.
Don't bother to hide your location, since if you're not using an advanced VPN, they have DOZENS (if not hundreds) of different methods to determine your approximate-to-exact location even without any GPS connections.
The SERP you see will be determined by the location that Google pinpoints. Given the right conditions, the geo-targeting can be so accurate and personally tailored that people from two adjacent neighborhoods will each see a different SERP, purely as a result of their physical location at the time of the search. People that search a certain keyword on their phone from the airport will see a certain SERP, and once they leave the airport that SERP will change for the same exact keyword.
PRT can track your URL's position from an exact location, virtually anywhere on the planet that Google geo-targets, down to specific airport and neighborhood ranks:
If, for example, you promote a tennis club located in Los Angeles, PRT can show you how your website ranks on Google for a person searching from the L.A. area (the most relevant area to concern yourself with).
Moist sponge layer – Desktop vs. mobile
The second thing Google will check is whether you're searching from a desktop device or a mobile device, and it will populate the SERP accordingly.
Many are familiar with this concept and make an effort to optimize their websites for mobile searches and users, which is wonderful. Yet, strangely enough, the same experts only bother to track their desktop positions — as if entirely forgetting that SEO and rank tracking go hand in hand.
Desktop ranks are different than mobile ranks. As per Google's official mobile-first approach, websites that follow their mobile protocols and guidelines will get to shine brighter for mobile users and have a better chance than websites that have not optimized for mobile.
Today, mobile and desktop ranks are different 99.9% of the time, which is why everyone needs to track BOTH types. The ability to distinguish mobile from desktop ranks is a basic requirement for any SERP tracker to have.
Vanilla cream layer – UI language
The next check will be the UI language of the user.
There's a misconception that this is somehow tied to geo-targeting, but this layer is independent of location and stands on its own.
For example, there are users all over the world with French as their Google UI language  — they're not just in France and Canada.
A user with a French UI searching for the same keyword as his roommate who has an English UI will most likely see a different SERP.
If you have translated versions of your webpages, then you need to track each webpage for its respective language. Google considers translated content as unique, so it will rank it for the intended language.
PRT can track all of Google's UI languages and distinguish between those ranks:
The bottom sponge layer – Mobile OS and screen size
Many are not even familiar with this layer because the cutting edge of the other SERP trackers on the market is so dull they don't even reach it. As a result, users think they get to taste the whole cake while effectively missing out on this delicious spongy layer. And unlike the top sponge layer, this one has some cloves in it.
Not only do mobile users see "mobile ranks", but Google goes further than that and checks to see which mobile OS the user has and what screen size they have (phone or tablet).
An Apple OS user will sometimes see different positions than an Android user. The same goes for an iPhone user vs. an iPad user. This was observed by PRT as far back as 2016, and at first the differences between those ranking types were negligible. But in 2018, we saw a notable increase in ranking gaps:
With sudden "disappearances" from the top 100 entirely for certain OS types:
Does this mean Google will eventually unveil this layer as an official standard in their ranking methods? Will a new aspect of SEO emerge? Everything is possible. Until that happens, you need to make sure to track both Apple ranks and Android ranks:
This also has potential for Google to gain a strategic edge over Apple in case Apple ever abandons them for Bing or any other search engine as their default.
A real Google rank is the entire cake. Always. The SERP Google shows a user undergoes all these layers, and then some (but these are so specific, it's unnecessary and impractical to track them at this point). This is how rank tracking for every keyword + URL combo (term) should look in 2019: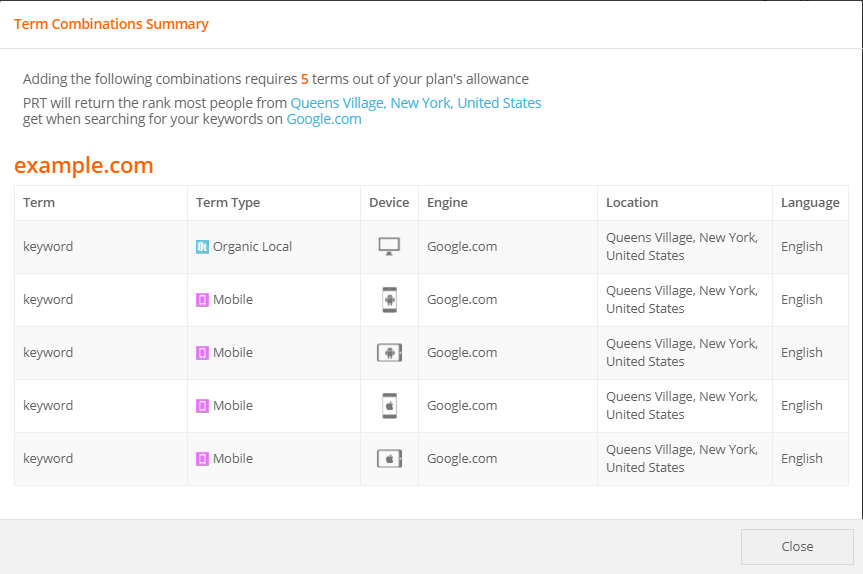 Optional Toppings
Next are the toppings. As toppings usually go, they are optional and only relevant to some websites and businesses. While they're a part of the SERP, they're also their own separate features with their own ranks. We can track the 3 major SERP features that are the most relevant for most businesses:
Snack Pack – snack pack positions are the most coveted for businesses with a physical location. This SERP feature pops out of the regular organic listings and features the top 3 businesses Google considers most relevant to the search and user's location:
Businesses featured here can easily outshine highly ranked organic websites.
Extended top-100 map results (Local Finder) – Users that click the "More Places" or "Maps" tab will see the full list of businesses in their vicinity: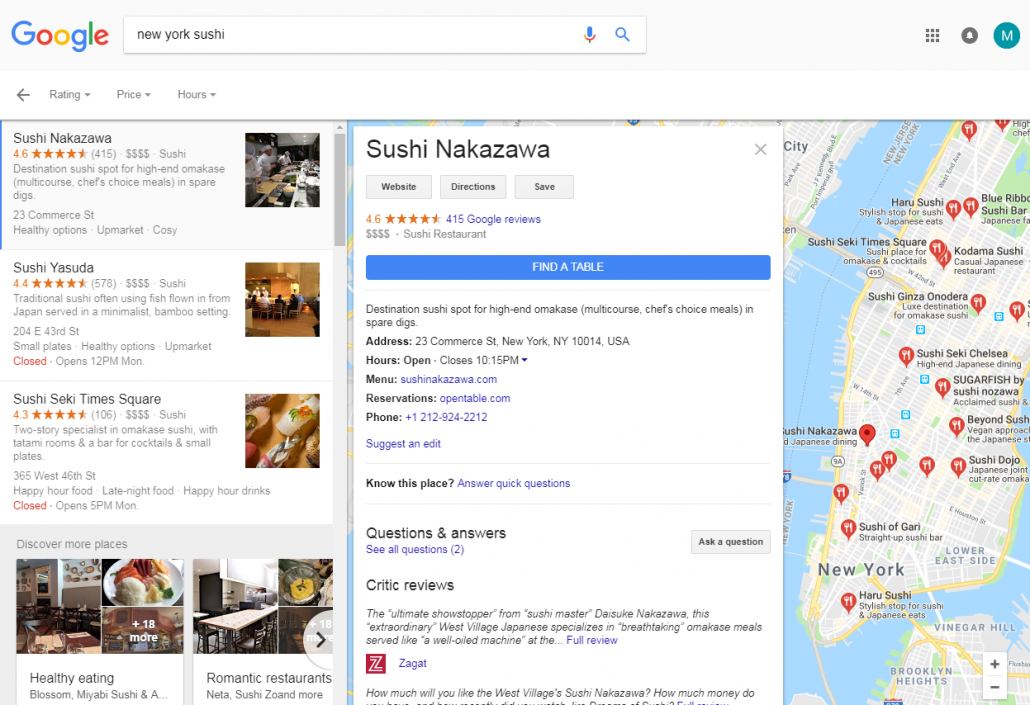 While it's true most users will settle for the Snack Pack top 3 or the organic search results, the users that check this section are especially valuable since it means they're taking extra measures and that the top results probably didn't provide what they were looking for. Being ranked anywhere from #4 to #10 can be better than being featured on Snack Pack for users that see this page.
Video carousel – This is a feature which attracts the eye and pops out from the usually quiet organic list:
Anyone doing video marketing or creating video content for any platform (especially Facebook and YouTube) needs to track this SERP feature. This feature has a rank within the SERP like any organic search result, plus an inner rank within the carousel itself, which is why we show you both ranks at once: the number represents the carousel's position, and the letter represents the video's position within the carousel:
Other Pastries
Google might sport the biggest and most expensive cake in the store, but it's not the only pastry on display!
The Bing and Yahoo! Cheesecake
Bing and Yahoo! might have a smaller market share, but they have some advantages that make them worthy to pursue for SEO and rank tracking for these search engines.
They also have personalization algorithms, but they're far less advanced than Google's, and they're geo-targeted by country as opposed to neighborhoods and cities.
So, if you want to know how your website ranks on Bing for people searching in France, you need to track Bing.fr.
Pro Rank Tracker can track all the local version ranks for both Bing and Yahoo!
The Amazon Cupcake
Amazon is the biggest e-commerce search engine in the world, so many purchase this cupcake.
Amazon doesn't rank according to a person's location like Google/Bing/Yahoo!, instead, each local Amazon site is considered a unique version of the main website and offers different products, prices and terms. So, if you sell your products on Amazon.com and Amazon.co.uk, you simply track both of these products on their respective Amazon sites.
The YouTube Pie
Unlike the Google layer cake, there is currently only one main layer to track and that is YouTube.com. Regional differences and personalization come into play when we consider their trending page and suggestion algorithms. But when a person is searching for a keyword in general, YouTube search levels the playing field and can be accurately tracked with Pro Rank Tracker just like any other rank.
The perfect slice of cake with all the layers visible for you to appreciate is the most correct and "complete" Google rank you can have with today's rank tracking technology. Of course, you can have partial slices that make you think you're experiencing the whole cake, but you'll be having an incomplete bite.
Luckily, Pro Rank Tracker's cake knife is very sharp and can slice through all the layers of the rank cake and show you your real, full Google rank. If you follow our guidelines and track your ranks correctly, then you can have your cake AND eat it too.
If you want to explore each of the subjects we mentioned more in depth and learn how to track every type of rank with Pro Rank Tracker, you should check out our full guide for 2019 here:
Also, be sure you're subscribed to our blog so you won't miss out on any new content, search engine news and tips.
---
About Pro Rank Tracker
PRT is the most advanced SERP tracker on the market. Everything that we mentioned above are the SEO industry standards for 2019, and we are the only tool on the market which binds all these needed rank-tracking capabilities under one roof.
We are currently the only ones that can track geo-targeted Google locations down to neighborhood and airport levels and distinguish between the inner mobile ranks (by OS and screen size).
You can easily verify our claims by exploring the market and see for yourself that no one offers our coverage, and certainly not for our prices!
We decided from the get-go that we would be accessible to users of all levels of SEO expertise, which is why other than huge Enterprise plans, we also offer entry-level plans for beginners and small businesses for fair and affordable prices. Our most basic plan starts at only $25 a month for a whopping quota of 200 terms (more than enough for any beginner).
You don't even have to give us your credit card details to take us for a free 7-day trial with all features unlocked! We are fully confident that our tech will speak for itself and you will upgrade because you will want to, and not because you forgot to cancel your free plan on time.
Spread the word on Pro Rank Tracker so that everyone will get to enjoy their entire ranking cake!
And get rewarded handsomely via our affiliate program that pays a 20% commission monthly for the entire duration of the referred account.
https://proranktracker.com/blog/wp-content/uploads/2019/02/ING_33824_00564b.jpg
300
800
ProRankTracker.com
https://proranktracker.com/blog/wp-content/uploads/2020/11/prt-blog-1-1.png
ProRankTracker.com
2019-02-15 01:20:17
2020-01-28 15:13:44
The 2019 Layer Cake of Google Ranks