Social network marketing: 7+ Social Networks that demand your brand presence
Having a website with a solid SEO infrastructure is important, but it simply isn't enough.


You need to make sure your business, or your client's business has a presence in at least one of the social networks we will discuss here.


The internet is estimated to have more than 4.2 billion users, and 3.4 of those are actively on social networks!

There is a very good reason the major social networks are positioned highly in most Google search results.


A brand needs to have an online presence that goes beyond their website, since people spend most of their internet time on social networks. Social networks in a sense have become the new layer of the internet and at the top of the marketing funnel for most cases.


Some people for example, will rarely step outside of Facebook. For them FB is the internet. They get their news from FB, their ads, and their entertainment. FB has quickly capitalized on this concept and started creating FB-nets in developing countries (a topic for another day).


We can write a whole article about how problematic it is for the spread of false information and the tendency to rely solely on social networks. Having so much information under the umbrella of a single business entity is worthy of an Orwellian scenario, but this is not what this article is about.


This article is about surviving and blooming inside that reality. You do not have to be present on all the social networks. The beauty here is that being visible on just one of them is already a very solid start.


Facebook

We will start with the undisputed champion of social networks – Facebook. Facebook features one of the best and most accurate social ad targeting platforms around. There is a very good reason why FB is so ridiculously profitable, pulling about 13 billion dollars in quarterly revenue from ads.


Facebook reports 2.27 billion monthly active users and 1.49 billion daily active users (for Q3 2018).


The possibilities of growth are plenty. You can grow your brand organically, by creating viral content that will spread on its own merit and will lead to your brand page. Or you can create captivating ads that will get you likes and shares and exposure for an investment. If you have a solid sales funnel on your brand page, then driving ads to that page within Facebook could provide a very good ROI.


Facebook is also a good customer service platform. If you become available to your customers via a group or business page, you will also be able to showcase your customer service awareness.


Video marketing is also very successful on FB and some companies made a fortune by branding their FB video content. Popular videos can get tens if not hundreds of millions of views. Also, the ability to link the video directly to your brand's page, gives it an edge over YouTube, by being a step closer inside the sales funnel.


Twitter

Twitter is so powerful that it is credited by some as one of the factors that helped Donald Trump get elected.


Twitter has 338 million monthly active users and while this number is significantly lower than Facebook's, and the platform is plagued with fake users and bots, the human Twitter user base packs a punch and has some significant influencing abilities.


One of the most popular ways Twitter is being used by brands, is as a customer service channel. Twitter can showcase your customer service awareness publicly. Handle a negative comment with grace and you will gain a following and increase your brand's power.


If you want an example of how funny tweets can become viral and grow a brand, check out Wendy's, Netflix, KFC and Oreo pages.


Twitter offers an ads platform as well. Their ad platform however still serves a relatively small niche with only 130k advertisers, compared to Facebook's 3million+. This could be a gamble or a fresh low competition frontier that you can bank on!


Reddit


The 6th most visited site in the US, according to Alexa, Reddit is the hottest hub of discussion on the internet on all topics. From eCommerce to r/totallynotrobots. The forum platform has more than 330 million very dedicated active users and allows people to create their own sub-forums on any topic. It is also a blooming gold mine of organic business opportunities for the clever marketer.


From a branding prospective, Reddit offers a bland of customer service and guerilla marketing possibilities. Most direct marketing attempts are frowned upon. But if you can find a captivating approach to charm people and be active on subreddits that are relevant to your niche, you will be able to gather leads and grow.


Also, if people frequently mention your brand and link to your website, it is external relevant content that links back to you.


Sadly, their current targeted ads platform lacks any significant punching power and very few accounts detail a truly successful Reddit ad campaign. So, until they find a way to truly make it an effective marketing platform, you will have to rely on your wits and presence to get some organic traction going.


Reddit is very title focused, so creating captivating titles will increase the chances of engagement with your post. To improve with titles, be sure to go over our quick title guide:


23 Tips on How to Write Better Titles for Your Ads and Web Pages


YouTube

Part streaming service, part video search engine, part social network. This hybrid beast is currently the second most visited website in the world, according to Alexa. And with analysts predicting the growth of video, above all other content at least till 2021, it will likely keep growing.


YouTube is a very accessible and easy to use platform for video marketing and for targeting ads. A good viral video on YouTube can virtually build a brand overnight, as with the case of Dollar Shave Club:



If you are not yet aware on how effective good video marketing can be, check out these stats:

21 Sweet Video Marketing Stats for 2019 (+ How to Track your Videos on Google and YouTube)


Linkedin


The go-to networking source of establishing business connections and gathering leads, especially in the SEO industry. Linkedin has about 295 million monthly active users, and most of them are established professionals with a business mindset.


Unlike the other social networks that we mentioned, this one is focused on business and professional networking, and many users are on the lookout for opportunities.


If you establish your brand's page and publish captivating relevant content, it will get shared and help you reach potential clients.


Linkedin offers an ad targeting platform as well. While not as fully developed and effective as Facebook's, it still offers some potential and some users swear by it.


Instagram

This Facebook child social network is dedicated to visual content. Instagram has more than 1 billion monthly active users.


Since we already mentioned how powerful visual marketing can be (video in particular), you can imagine the possibilities of having a branded Instagram account with engaging video content.


You can also take the more direct marketing route, if you can afford it, since it's usually not cheap. Instagram advertising revolves mostly around sponsored content and product placements. Because Instagram creators and celebrities usually have a dedicated group of followers that will trust their word of mouth recommendations.


For a start, you can find a minor popular Instagram creator, that is more or less relevant to your niche and sponsor their content. The big sponsorships deals on Instagram can reach hundreds of thousands of dollars per post (and keep in mind some heavy hitters post sponsored content several times a day).


The descendant of Google+; Google Local Business


Social networks by 2011 were proven to be a highly lucrative niche that will define the years to come on the internet. And Google who has proven to like lucrative things, decided to step into the social network game with Google+ that very year. As we all know, that failed miserably, and did not last long. But what it did prove to be successful for, was the ability to share reviews about local businesses that appear on Google's map.


This is known as the Local (Snack) Pack and the expanded Map Results: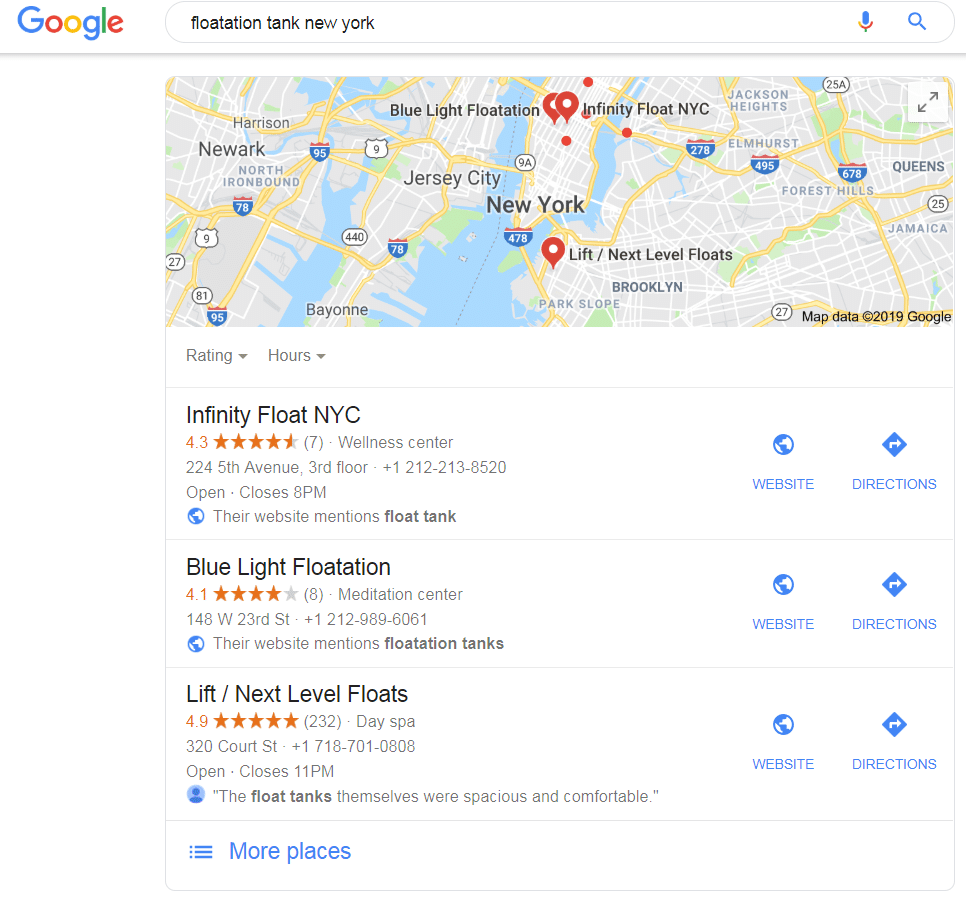 This current form is not necessarily a social network in a classic sense, but it still holds tremendous value for SEO and traffic potential. You can read about it in more detail here:

The Way Google Can Drive Real Physical Traffic to Your Business


Having brand presence on social networks is usually a good additional marketing approach, but in this case, it's a must have for any business with a physical address. The ability to add business details, a few captivating pics and gather reviews is extremely easy and can boost your business tremendously and fast. It's almost free marketing.


The number of users here is not important, because virtually everyone on the internet uses Google Search at one point or another. The relevant number in this case is the monthly search volume of keywords that bring up the Local Pack. To find out the relevant keywords of any niche use this method:


How to discover thousands of keywords from just a single keyword for virtually any niche: Step by step visual guide


And to see the monthly search volume of keywords on Google, simply track those keywords with our rank tracker, and the volume will be shown in the data table! (We'll attach a sample below).


Honorable mentions of other notable social networks

We have tens of social networks with millions of users. Every one of these can be targeted and discovered by your brand. Maybe your big client is somewhere in there waiting to discover your product or service, you never know.


Tumblr – A micro blogging social network with over 642 million monthly unique visitors. A great place for fashion branding and any product or service that can be sold with images.


TikTok – A video sharing social network. This rising star is a newcomer that accumulated over 500 million monthly average users. It seems to have the same branding potential as Instagram, with sponsorships and viral video possibilities that can spread to other platforms.


Pinterest – A content sharing platform, it has more than 250 million monthly users. In a recent research Pinterest did, they discovered that more than three quarters (78%) of people on Pinterest say content from brands is useful!


SnapChat – Currently in decline, but still has more than 250 million monthly users, which is a lot. SnapChat offers ad targeting and most users are under 25 years old, which might fit brands aimed at young adults and teenagers.


Messaging Apps – They are considered a social network due to the ability to create groups and having naturally occurring networking chains. WhatsApp and Telegram have 1.5 billion and 200 million active users respectively.


They provide a good outlet for customer support and WhatsApp even has a business API. While on Telegram you can create branded channels with an unlimited number of subscribers.


Is there also SEO value to social network marketing?
At the moment, Google does not reveal just how significantly social networks influence ranking. However, the web is full of anecdotes and SEO trials, where a clear correlation was shown between websites that grew in ranks, along with their social network clout in a meaningful way. It does not make sense if a brand brings millions of likes on FB, to be blatantly ignored by an algorithm designed to bring relevance to its users. If you become strong on Facebook or YouTube, so will your search engine ranks rise organically, simply because of the buzz around your brand.


This is of course dependent on having everything optimized correctly on your websites, which is why you should also check out our Audit Report:

FREE detailed SEO site audit – Find out if your websites are properly optimized for Google


How to track your social network business page on the main search engines

Until Google fully reveals how exactly social networks influence rankings we only have stats and anecdotes to go by.


Whatever the case may be, the social networks pages themselves often rank high in Google's SERP for important keywords. Which is why it's highly advisable, you track your social network URLs on Google as well!


For example, let's see how Bill Gates Facebook, Twitter, YouTube, Instagram, Reddit and Linkedin pages are ranked on Google, Bing, Yahoo! and Yandex. Let's also add his official websites, for the search term "Bill Gates":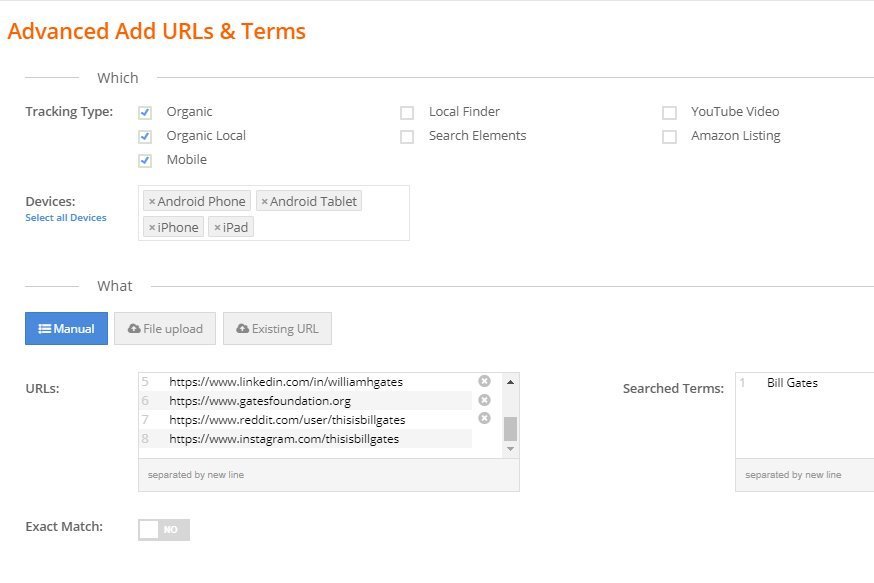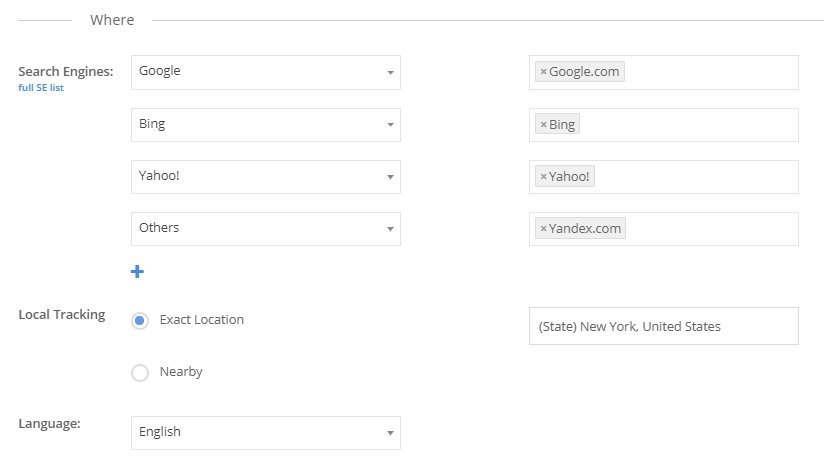 The ranking data above is the concise version. To see the full report, check it out in our Shared Report feature live online right now. Password is "billgates".

When you add your business website and social profiles and pages for rank tracking, we highly advise you to group your social URLs with your main URL, to view them in tandem like you saw above.


If you have videos on any of the platforms you can also track their position inside Google's lucrative Video Carousel SERP feature


Finally, our rank tracker can also directly track your YouTube and Google Business map ranks.


Conclusion – social networks should be a dominant outlet for your brand

You do not have to have brand presence in all of them. The beauty here is that every one of these networks are popular enough. So, if you target growth in just one and master the rules of their game and dynamics, it can provide you with more than enough traffic and business (all depending on your goals of course). Also, social network branding prowess, will most likely positively influence your organic Google rankings. Targeting several of course is even better, but you might not have the time or resources, so do your research and choose wisely!


Subscribe to our blog if you liked this article, and please share your social network marketing lore and anecdotes in the comments below! It will help the users that read this post.


Pro Rank Tracker is the most accurate SEO tool on the market? This must be an exaggeration!
It isn't. Here's why:


Google. Deep. Rank. Tracking.


We are currently the only one that can handle Google's FULL scope of ranking layers:


Mobile vs. Desktop ranks – an official Google standard since 2016.
Geo-targeted ranks from any location where Google reaches – down to neighborhood and airport level unique ranks.
Ranks by UI language – very valuable for multilingual websites.
Ranks by mobile OS types (exclusive to PRT).
Ranks by mobile device type (exclusive to PRT).

We also offer 100% white label and 5 additional search engines that you can track just as accurately – Yahoo! and Bing (with local tracking ) | Yandex (all versions) | Amazon (with local versions) | YouTube


To read more about these layers:

The 2019 Layer Cake of Google Ranks


Also, to prove our point, we offer you a premium 7-day free trial with all our features unlocked for you to experiment with.


Our trial has no auto renewal traps and requires no credit card details to activate it!
https://proranktracker.com/blog/wp-content/uploads/2019/05/ING_19061_230427b.jpg
300
800
ProRankTracker.com
https://proranktracker.com/blog/wp-content/uploads/2020/11/prt-blog-1-1.png
ProRankTracker.com
2019-05-16 19:16:10
2022-04-19 09:07:28
Social network marketing: 7+ Social Networks that demand your brand presence