SERPs up! See the ENTIRE Top 100 SERPs for any keyword on all major search engines
You are about to discover something truly amazing today.
A revolutionary NEW way to monitor your websites and your competitors, that will elevate your SEO strategies to the next level and beyond.
But before we get to the how, and of course – how much, you should know that this feature is currently the most advanced you will find. It is also EXCLUSIVE to Pro Rank Tracker.
Don't believe us? Your SEO Spidey senses are tingling? That's fine. After you have finished reading this, we ENCOURAGE you to explore the market, and see for yourself if anything comes even remotely close to what you are about to learn here.
We are THAT confident.
Now that we have got that out of the way, let's get to the nitty-gritty and how monitoring your SEO campaigns will never be the same.
What is FULL SERPs
The traditional way to track your organic search engine progress, has always been to see where your URL is positioned in a SERP for a given search term.
This is a basic requirement, but it's simply not enough in most cases. You also need to know where other players in the niche are positioned in relation to you, to know the full story.
The usual solution is to find a tracker that offers competitor tracking in addition to the classic single rank tracking.
But what if we told you, you can now monitor not just your website and a few competitors, but the ENTIRE Top 100 roster, for any keyword?
If that sounds mind blowing, that's because it is.
The best way is to simply show you how it all looks.
So, this is the basic single rank tracking presented in our regular data table:
Now here is how a typical competition tracking looks like in our term comparison chart:
And now, to demonstrate what FULL SERPs is all about, let's look how the Top 20 websites battle for the most prestigious keyword that currently exists, Facebook: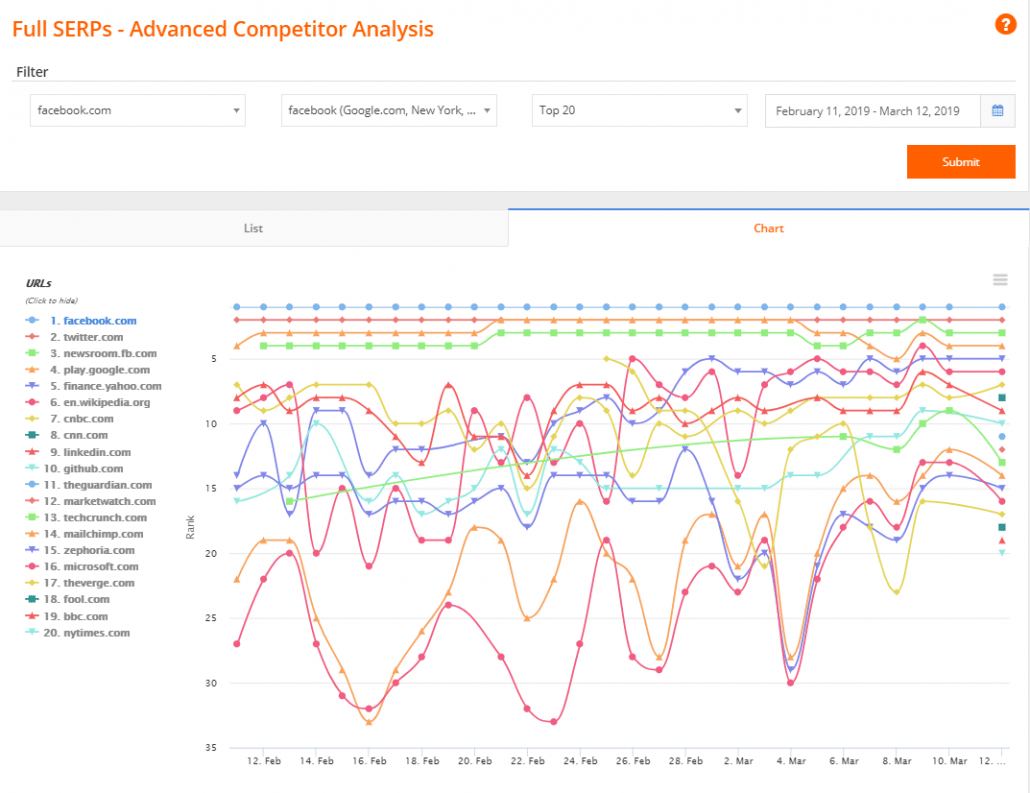 The example above only shows the Top 20, but you can also see the entire Top 100 positions and their individual progress:
Instead of allowing you to track just your website and maybe a few competitors, it gives you the ability to track a WHOLE niche for any given keyword.
Seeing the entire Top 10-100 positions will give you a whole new perspective on your SEO campaigns.
The SEO niche research you can do with this feature is unparallel.
The SEO insights you can gain using this tool are unprecedented and will usher in a new age of SERP tracking for your SEO strategy.
This is your ticket to stay ahead of the SEO game.
Is it REALLY the most advanced SEO solution on the market?
Now you need to understand three things which makes this a UNIQUE tool, and why you will not find any other tools that will match it.
It's based on Pro Rank Tracker's exclusive DEEP Tracking algorithm
Google personalizes the heck out of every search result. This means there isn't such a thing as a simple rank anymore.
So, what do we mean by that?
Two roommates that search for the EXACT same thing on Google, from their iPhones, will see different search results just because their default Google UI language is different.
So please understand, it is quite silly when some generic SEO tool is showing you your supposed Google rank, without addressing some fundamental elements of Google's ranking algorithm.
Here is the 2019 list of how Google determines which search results to show their users:
– Where is the user located during their search? Geo-targeting is so advanced, people from adjacent cities will see different search results. This means that your website is effectively ranked differently in each area. Sounds crazy? Well listen to this, people see unique search results just because they are in an airport:
– Is the user searching from a desktop computer or a mobile device? This distinction has been a very important one since 2016, when Google officially announced their mobile-first approach. Mobile users see unique search results. It's cardinal for SEO to know if your websites are visible on mobile devices.
– What is the user's mobile OS? Believe it or not, but Google also checks to see what OS the search is done from. iOS users will see different search results than Android users.
Think about it, how many times have you searched for an app from your iPhone, and all the search results that you saw were for apps that are iOS compatible, and vice-versa?
– What is the mobile device type? Google filters search results even further, based on whether the user searches on a phone or tablet.
– What is the default UI language? This one is simple – your search results will naturally gravitate towards your default Google UI language. A user with Spanish as their default UI language will see more search results in Spanish or those that are targeted at Spanish speakers.
To read our full guide about these ranking layers:
Some tool might be able to track your website's position based on a general location and mobile vs. desktop, but no one offers the complete 2019 standard.
So, if you have a website for drone rentals in the Queens area in New York, you will be able to keep track of your entire Top 100 competitors for any keyword.
You will be able to do the most relevant rank tracking for your business type.
In the example above, you would be interested to know  how your website and competitors rank for people in the Queens area, across these 5 different devices – desktop, iPhone, Android phone, iPad, and Android tablet.
It can handle multiple search engines, and not just Google
So, Google is the main target of most SEO campaigns, which is why we track it with our DEEP Algorithm. But it certainly isn't the only gunslinger in town.
Full SERPs can also track the entire Top 100 leaders in all the search engines that we support, for the exact same benefits:
Amazon

– the number one search engine of eCommerce. See the Top 100 products competing for dominance in every keyword

YouTube

– the biggest video search engine. A must for every video marketer out there. See the Top 100 videos that lead the charts for any given keyword

Bing

– Bing is more than just a fall back plan, for when Google decided to nuke your ranks, following a sudden update or false positive response to hacking. Bing is certainly not planning to call it quits, and recently it's proving some serious intent to punch up and surpass Google.

Yahoo!

– Powered by Bing. It too isn't showing signs of giving up the fight against Google any time soon.

Yandex

– The "Russian Google" will exist if there are Russians out there. Russia isn't going anywhere any time soon, and neither is Yandex:
Perfect accuracy rates
Google, unlike a common misconception, changes its algorithms and code all the time, and not just in huge update chunks. The small changes go unadvertised, and many SEO tools that track Google simply can't keep up.
We on the other hand track Google ALL THE TIME and adapt to the smallest of changes, making sure the results that you see are the actual results Google shows, big update or small.
More on how accuracy is determined:
The Specs and Functions
Here are the various things you can do with the tool:
See results in a list or chart form.
Hovering on a URL will highlight it, for easy reading.
Filter results by Top10, Top20, Top30, Top50, and Top100.
See data from any date range, since the moment tracking for that term began (as early as Jan 2018).
Generate a detailed white label report, with your logo on it, with the ranking data. The report can instantly be downloaded in a PDF, CSV, and XLSX formats. And can also be sent directly to your Dropbox, GDrive or emailed.
Data freshness guaranteed – Updated daily, plus an additional update on demand.
The importance of seeing the bigger picture
When the Hubble Space Telescope was first launched in 1990 it ushered in a new age of space observation. The resolutions it offered answered many fundamental questions in astrophysics. HST advanced astrophysics to a whole new level. Before HST, the age of the universe was estimated to be anywhere between 10-20 billion years old. What HST saw blew everyone's mind. Hundreds of billions of galaxies scattered across a cosmos, expanding faster than the speed of light. The cosmos finally had an approximate birth era 13.7 billion years ago. A cosmic fetus by some estimates.
Google is also constantly expanding. Will you use a common ground telescope to track it, or will you use PRT's space telescope?
The 7-day Free Trial that breaks the rules
Now you might be wondering, how exactly does it break the rules? Well, unlike every other "free" trial you will find, ours doesn't require a credit card to activate!
We don't believe in grey fees. What we do believe in is our tech. We know from experience it will sell itself on the merit of its industry-breaking quality and nothing else.
We don't feel any need to entrap our users and have their credit card suddenly charged, because they forgot to cancel the planned auto-renew.
Now how's that for breaking the rules!
But wait, there's more!
As impressive as FULL SERPs is, we understand SEO is a multi-disciplined field. Which is why FULL SERPs is just the tip of the iceberg of what PRT can do for your business and SEO:
100% white label report – more than 13 types of ranking reports that can be embellished with your logo and company details.
Your own branded rank tracker – replace PRT with your logo and present our tool as your own to your clients, with our Sub-Accounts feature.
MyRanks – a mobile app for your clients that shows them their live ranking data and has your logo on it.
Protect yourself from Google updates – get an automated notification whenever a sudden ranking change happens.
The fastest SEO site audit on the market – get detailed reports on how to improve your onsite technical optimization.
Revolutionary keyword research tools to discover virtually every keyword in any niche.
We will even throw in a special Skype Lesson, so you will settle in correctly and use PRT to its max potential.
Make sure you are subscribed to our blog, so you won't miss out on any new features, SEO guides and important search engine news.
https://proranktracker.com/blog/wp-content/uploads/2019/03/ING_36822_03256b.jpg
300
800
ProRankTracker.com
https://proranktracker.com/blog/wp-content/uploads/2020/11/prt-blog-1-1.png
ProRankTracker.com
2019-03-12 21:03:53
2022-04-19 09:07:44
SERPs up! See the ENTIRE Top 100 SERPs for any keyword on all major search engines