PRT's SnackTrack and Local Finder for Google Snack Pack: The ideal tools for Snack Pack SEO rank tracking
Google Snack Pack is now the common landscape of Google's SERP, and everyone reading this post has encountered it at some point in their internet searches:
The Google Snack Pack shows up on both desktop and mobile searches. In its current form, it shows just the first 3 businesses with the name, address and phone number of the business, along with user reviews. It's yet another part of the paradigm shift to local-oriented search results of the last few years, and it shows that local SEO is the present and future of SEO. It shows Google's geo targeting capabilities at their best and is especially great for mobile searches on the go, as it will show results in the vicinity of the searcher. Google local pack also includes stats like "closes at," "closed now," "opens at," "closing soon." (Business owners have to make sure the business's operating hours are defined correctly at "Google Business Profile" – formerly "Google My Business" page.) A click on "More Places" will utilize the Local Finder  and click on "More Places" will take the searcher to an extended Snack Pack list of the top 100 results in the vicinity, shown on a larger map: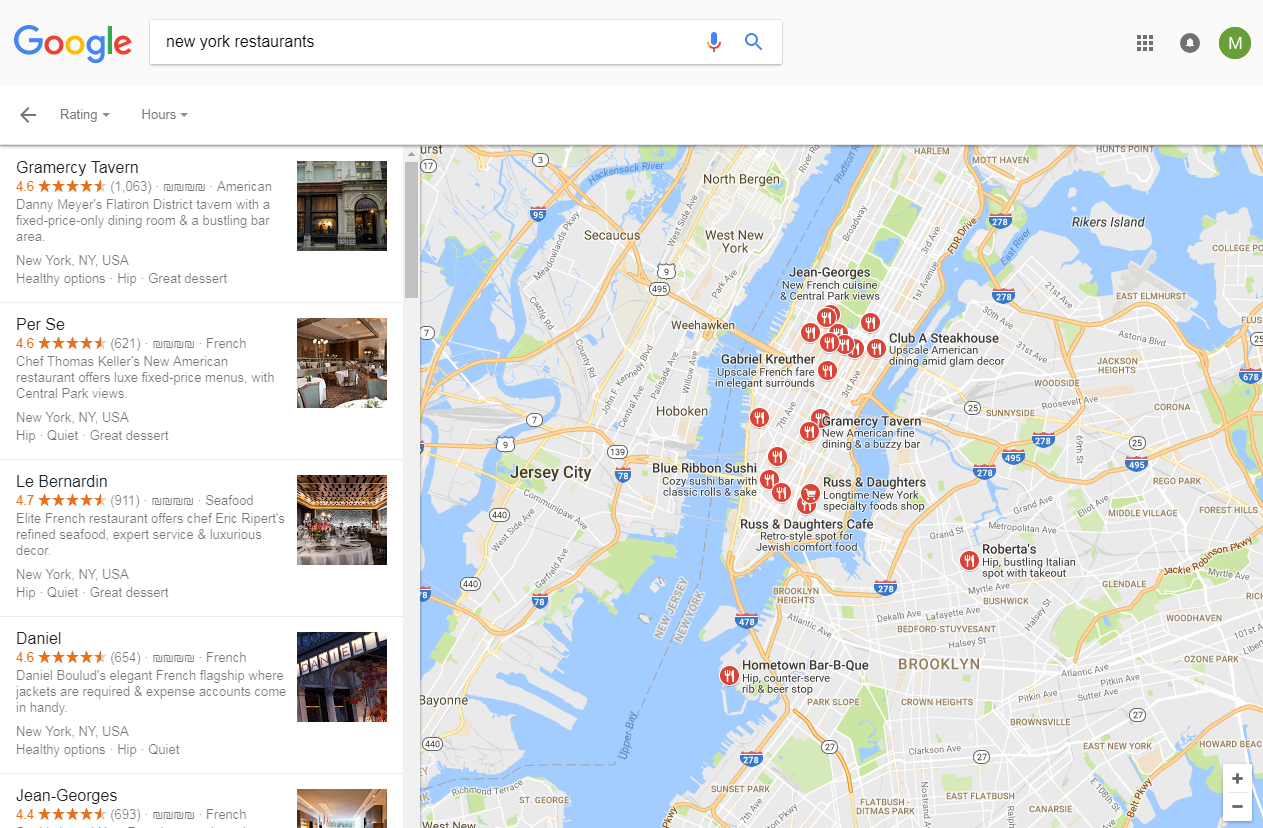 To track Google Snack Pack reliably, you MUST use a SERP tracker that can do that, since physically visiting all the locations that are relevant for your website to check the rankings there would just be pointless and counterproductive. There is simply no way around it—even proxies are only set at one location at a time, and using proxies and VPN services to manually check your ranks is simply unreliable and time consuming. Luckily for SEO professionals, there is PRT– a reliable Google Maps rank checker. As we mentioned previously in these posts:
The most accurate way to SERP track in 2017
The Ultimate SERP tracking guide 2017: How to add the right keywords for SERP tracking
PRT's new algorithm allows for unprecedented levels of SERP tracking accuracy that are future proofed for local SEO. One of those changes allows for the most accurate Google Maps rank tracking currently available on the market based on location. You can choose an exact location down to neighbourhood level and get the same Snack Pack ranks that a person from that location will see when searching for a keyword:
The reason this becomes truly important is that Google Snack Pack listings can literary change from city to city, depending on where the person doing the search is located. PRT can track the top 3 Snack Pack ranks, as well as the top 100 results of "More Places" via the Local Finder Tracking. The beauty of PRT's Snack Pack tracking is that it doesn't even cost you additional credits! Since we know it is an integral part of local SEO, we want you to preserve your quota for tracking accurate ranks for different keywords instead of wasting it all on Google Snack Pack.
Some quick Snack pack history: When Google first introduced "map results," it was threatening to many, since it was a huge step in favor of more accurate results for the consumer, and it dealt a devastating blow to SEO spammers. It also solidified the path towards localized search results. All in all, it was a positive change in the right direction – it gave more relevant results for consumers, presented better opportunities for local SEO professionals, gave smaller businesses and niche establishments a fighting chance in the pecking order, and made SEO spamming a whole lot tougher.
The first incarnation was back in January of '08 with the 10-Pack, which showed 10 results on a map. For many SEO professionals offering local listing services to their clients, the 10-Pack was a blessing, not only because they would be listed in the pack whenever someone searched an SEO expert in their vicinity, but also because they could show their clients results that were very palatable and looked impressive. It gave the coveted feeling of "I have been chosen by the almighty Google!"
By October 2009, the 10-Pack was cut down to the 7-Pack and nicknamed the Lucky 7 (for those who managed to appear there, anyway). This was obviously more challenging, but not a challenge that was too difficult to meet, since Google had been very straightforward from the get go, explaining what was expected of local businesses to be featured in the 7-Pack. Finally, in 2015, after a good six-year run, the 7-Pack that local SEO experts had grown to appreciate and master was replaced by what is now known as the Google Snack Pack that shows only the first 3. Although much harder to rank, Snack Pack still holds the attention of local SEO professionals and business owners that want to get in those coveted top 3 positions displayed on the 1st SERP of Google.
Although Google Snack Pack results are predominantly influenced by the location the search is being made from, there are several factors that can contribute to favourable snack pack SEO results (and hopefully, searchers choosing the listed business over others in the search.) These include:
Internal factors – Placing keywords in the business title, specifying appropriate business categories, the proximity of a business location with its audience, and the category a business is identified in. Always ensure the business is listed in the appropriate categories on local listing directories (such as Facebook,

Google Business Profile

, Linkedin, local.com, Yahoo Local, yellowbook.com, Yelp, and Apple Maps just to name a few). Ensure the listed address is correct and the service area is relevant to only the customers the business is targeting. You can also include the services offered by the business in the business name. For example, "Starlight Camping equipment"
External factors – Ranking is also determined by external location signals such as citations and listings across online business directories. Google is basically looking for name, address and phone number consistency, as well as citation volume across these directories. To keep a consistent presence via the business name, address and phone number, the relevant keywords on the business's website is also very important.
Backlinking factors –

Google

Snack Pack rankings, like any other rankings, are also influenced by high-quality backlinks. So, get rid of bad backlinks and stick to quality ones!
Penalties – If there are any existing penalties for the business's website, it will impact its

Google

Snack Pack listings negatively, as well.
Review factors – Those pretty 5 stars are VERY important. How many reviews a business has, plus the rate of the reviews and the diversity, will not only influence the Snack Pack ranking potential, but also the overall business performance!

Reviews are a huge part of a business's success

. Some searchers will just browse the Snack Pack results, but the more skeptical consumer looking for high quality will be more thorough and click to the expanded list of top 100 results to look for businesses with good reviews. The savvy consumer might even be willing to drive that extra mile or two to have what he perceives as a higher-quality product or service. Some marketing surveys suggest that as much as 90% of customers say buying decisions are influenced by online reviews!
Social network influence – Facebook likes, Twitter followers, Google+ authority and various other signals from Instagram, Pinterest, LinkedIn and other social media platforms are all influencing factors.
Mobile and Behavioral factors – The average click-through rate on a Snack Pack listing, mobile click-to-calls, and check-ins at the location loop back to contribute to future Snack Pack results.
Content factors – How good is the overall quality of your website's contents? Does it have enticing copywriting, beautiful graphic design, and high-quality, relevant content? These factors can all contribute to favourable Snack Pack rankings.
This list is just the tip of the snack track algorithm iceberg; Google Snack Pack SEO is a massive subject unto itself. Luckily, our blog is full of helpful tips and advice on the matter. Although it might seem overwhelming to conquer the top 3 Snack Pack positions, getting to the top 20 of the local finder, along with some good honest reviews, might just be enough to give your website a slew of high-quality paying customers. Local businesses don't have to dominate search engines on all possible rank types if they have decent Local Search visibility. A Sushi restaurant will be mostly concerned with the ranks people get near the restaurant (if it's a foodie pilgrimage site, it would need wider organic spread). The same goes for a local acupuncture clinic or a local MMA gym. This is especially relevant for delivery-oriented businesses such as a local pizzeria with a defined delivery zone – the Google Snack Pack ranks for the keywords "pizza delivery" will only matter for that delivery zone. With PRT's extended Snack Pack and Google Maps rank tracking, you can track the entire top 100 positions for your website.
In summary, if you want to master Local SEO you must master Google Snack Pack, and to do that you need to monitor your progress accurately and reliably with Pro Rank Tracker. Other SERP trackers are either not accurate enough, can't track down to the necessary neighbourhood resolution levels, or don't have the ability to snack track at all. Give PRT a try today, and see for yourself the real picture of Snack Pack and local ranks in general!
Let us know your thoughts by commenting and sharing. Want to get updated with the latest ranking and search engine news and tips? Subscribe to our blog on the right column, and never miss out on a story again!
https://proranktracker.com/blog/wp-content/uploads/2017/10/ISS_2663_04467-e1507487710425.jpg
300
450
ProRankTracker.com
https://proranktracker.com/blog/wp-content/uploads/2020/11/prt-blog-1-1.png
ProRankTracker.com
2017-10-16 10:38:25
2023-08-02 14:49:07
PRT's SnackTrack and Local Finder for Google Snack Pack: The ideal tools for Snack Pack SEO rank tracking