Manage SEO efforts and campaigns with PRT's TermNotes feature
Manage SEO efforts and campaigns like never before with PRT's TermNotes feature
An average search engine optimization or SEM campaign might require you to track hundreds of different terms, even if you're only promoting a few dozen keywords. This is because Google's personalization algorithms make every webpage rank differently, depending on search conditions for any given keyword. These conditions are dominantly location-based and platform-based. Each person's search results are tailored to suit their current location and what device they search from (mobile or desktop). It's also important to note that with mobile, there's further differentiation based on the user's OS type: iOS users might get different search results than Android users, for example. Now add to the mix the need to track Snack Pack and other search engines as well, and your handful of keywords could potentially turn into hundreds of terms. The plot thickens even further when you have several clients to take care of. Keeping track of all those terms is no easy task, so how can you manage SEO efforts and do it smoothly and efficiently? PRT has a solution for you.
PRT's TermNotes
Every term you track with PRT's system can have a note attached. This is how it looks on the data table:
Clicking the little pen icon in the "Notes" tab will show this expanded window:
The ability to add as many notes as you need to each term you track gives significant advantages for data management and analysis. Each term can be meticulously attached with a relevant SEO note. You can specify technical details about how each term was promoted, how many times, on which dates, and any other details important to you. Let's say you run a news website that depends on viral search terms. Adding notes to terms that relate to specific, real-world events would paint a fuller picture of those terms. If any changes have been made, you can record it in a note so others on your team will be aware of those changes. These are just some basic examples—anything that you deem worthy of interest can be added with a note to any term, so use it well!
The Notes Graph
One of the best ways to view notes is represented visually in a flowing chart. Which is why you can view the notes on any of PRT's daily progress charts:
Any date that has a corresponding note will be marked with a neat little exclamation mark. By hovering over it, the date, rank, indexed URL and contents of the note are revealed:
Adding valuable and informative notes to terms can shed some light on why ranks rise and fall. For example, let's say Google drops an update bomb, and as a result, a bunch of terms dip in ranks. Adding a corresponding SEO note linked to that date will help you remember what transpired. Or, let's say a term has suddenly spiked in rank, and you have an idea as to why it did. Add your thoughts to a note so you'll always have the option to go back and review that idea. Something as simple as this can greatly help manage SEO efforts and make your data analysis more organized.
The Notes Report
In addition to seeing notes through the data table or on a graph, all the notes that you add to terms can also be compiled in a special report: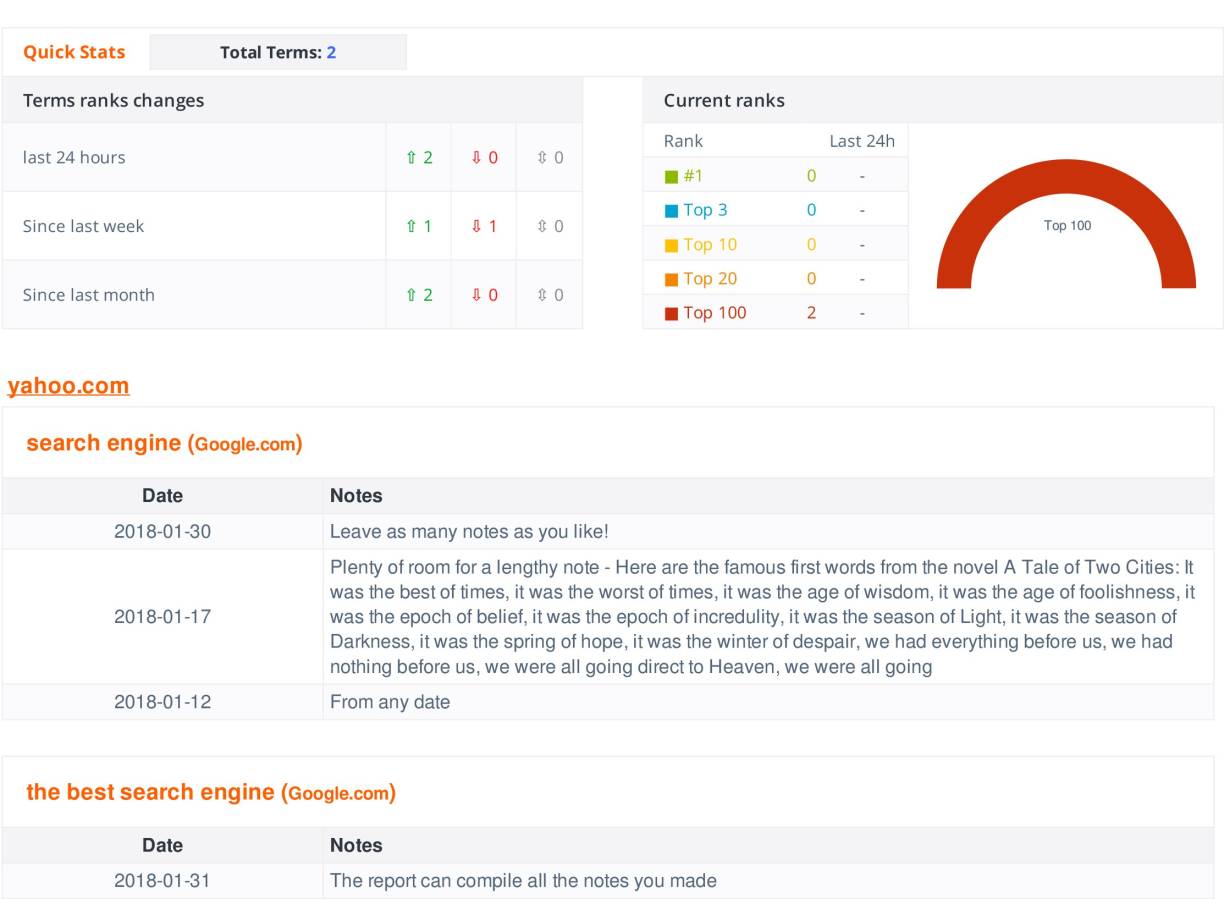 This is a great way to overview all the SEO notes in a single place. You can also include specific notes in the report by using our filter:
Notice that you can even filter by the content of the notes themselves by using the Notes contain/exact box. The report above was generated quickly and easily by simply writing "yahoo" in the URL filter box.
Generating reports for yourself and for your clients is a basic requirement, which is why it's a key feature of industry-standard SERP trackers. PRT has extensive reporting solutions for SEO professionals, and all the reports are 100% white label to address our users having clients of their own. Here is a more in-depth read on why reports are so important and the benefits of using white label:
The Overview Report is the most basic and essential report, You can include notes here by simply checking the "Include Notes" switch:
This will create the regular Overview Report, but it will include any notes on terms that are included in the report. The notes will supplement your regular reports, adding insight for clients about terms and their progress. They're also useful for whenever someone without direct access to the system might need to see a report with relevant notes. Here is an example of an Overview Report with Notes included:
Notes can also be shown on our online Shared Report, which is just an Overview Report generated on a URL instead of sent as an email or PDF. The benefits include it being accessible by anyone with the link, as well as the option to park it on your domain and have your logo on it instead of PRT's. Best of all, it's a live page and constantly updated automatically. You can always edit it and change what data is shown. You can even encrypt it with a password and set an expiration date. There is no limit on how many Shared Reports you can generate. Check it out!Password is "robocop".
Keeping detailed and methodical notes for your terms will help you see a more solid picture of the overall state of your SEO campaigns and help you manage SEO efforts more effectively. So start adding those notes!
---
We may have great notes and reporting solutions, but PRT also offers all the essential, industry-standard features required for SERP tracking in 2018. We are SEO-centered in our approach, and we don't bog down our system with redundant features that are rarely used (if at all). So, if you want to enjoy 100%-accurate rank tracking and the ability to keep better track of your SEO strategy, give us a try today! SEO Notes are available for all of our users, even those on our FREE PLAN.
If you'd like to get updated on more amazing features that will help propel your SEO to the next level, please share, comment and subscribe!
If you think the Notes feature is an awesome way to keep track of ranks and manage SEO efforts, and you know that friend who wishes he had it, check out our affiliate program. Let's both win!
https://proranktracker.com/blog/wp-content/uploads/2018/02/03B57109.jpg
300
800
ProRankTracker.com
https://proranktracker.com/blog/wp-content/uploads/2020/11/prt-blog-1-1.png
ProRankTracker.com
2018-02-06 20:58:48
2023-10-06 05:46:30
Manage SEO efforts and campaigns with PRT's TermNotes feature