It's now free to sell products on Google's Shopping search results!
In case you've been neglecting the 'Shopping' tab and Google's Merchant Center, now would be a good time to familiarize yourselves with it, because it might become the hottest Google tab since Google introduced GMB on their map tab.
This eCommerce Google tab has been around for many years but strangely has never caught any significant traction. But now that Google has announced it will allow merchants to sell their products for free, we expect this to change:
"Beginning next week, search results on the Google Shopping tab will consist primarily of free listings, helping merchants better connect with consumers, regardless of whether they advertise on Google. With hundreds of millions of shopping searches on Google each day, we know that many retailers have the items people need in stock and ready to ship, but are less discoverable online."

– Bill Ready, President, Commerce, Apr 21, 2020
Google says this new change will begin rolling out first in the U.S., and by the end of 2020 will be expanded globally, meaning this is another huge Google announcement. So, brace yourselves, because organic Google Shopping SEO will now become a thing. How big of a thing, that entirely depends on us, but this is certainly worthy of taking a big note of!
What this means is product results in the Shopping tab will now be indexed for free just like any other organic search result, part of the Surfaces across Google, such as the main SERP, maps and images tabs.
Google claims that this is a move of relief aimed at aiding sellers during the Coronavirus crisis:
"Solutions during this crisis will not be fast or easy, but we hope to provide a measure of relief for businesses and lay the groundwork for a healthier retail ecosystem in the future."
While this may be partially true, let's look at the bigger picture and not forget that during this crisis, Amazon has solidified their eCommerce throne even further. If Google ever had a perfect opportunity to make a strategic play in the eCommerce world, now would be it, especially after Amazon has made it less favorable to be an affiliate starting April 21st, by slashing commission rates.
Also, this might fall in line with repairing some reputation, after their recent controversial move, that entailed even more private data surveillance and collection under the guise of contact tracing for COVID-19.
Google will more than likely benefit in the long run, but will we? Let's estimate what potential benefits this change holds:
The Benefits
For starters, this move benefits shoppers and not just merchants, which will now see a more unbiased organic selection of goods to choose from. Also, as the shopping tab becomes more commonly used, it will give them another source to compare products from. A wider selection means a better and healthier market and more opportunities for product research. New stores and products will be discovered, especially those that have never even sold on Amazon. Happy customers usually translate to happy merchants.
This move rightfully aims to benefit many small merchants, which can now get additional exposure on Google with no extra charge. With businesses closing their physical locations because of the quarantine orders, having an online store has become a financial lifeline for many. And depending on how much longer this situation lasts, this might be the difference between sinking or floating.
If this is not temporary, but a permanent change than we are talking about a HUGE chunk of new exposure that wasn't there previously! Free additional exposure at that. Sellers which might normally be dwelling at the bottom of the regular organic search results might have a better fighting chance at having their products discovered by potential customers just by doing a few steps to sign up and stream their data to Google.
This exposure could do to online shopping what SEO initially did for regular websites and later for physical locations listed on GMB. Online shops can theoretically, with the proper SEO skill, become more discoverable without paying for ads. And these days, where people have more free time and not enough ad money, store owners that take the reins seriously here, might benefit not just during the crisis but in the long run as well.
Will this do to eCommerce what GMB on the maps tab did to restaurants for example? Sure, this might be a flop, OR it might become a huge regular part of Google search and have an impact on par with what GMB did to small businesses – a direct and easy way to stream relevant traffic to their goods, with fewer clicks.
Also, Google has made an additional wise choice in making the opt-in process much easier than any other platform. For example, to start listing your shop goods, it just requires you to sign up for a Merchant Center account and choose which products you want to be featured in their feed. You don't even need to be an AdWords user.
The ease of opt-in and usage also presents an advantage over Amazon, which isn't all that user friendly. Amazon has its own rules and search engine quirks to master, and many merchants might not have the time or desire to start the process of organic Amazon growth. Not to mention, small merchants that don't have a huge budget to have an SEO expert who specializes in Amazon's A9 algorithm, can't really compete with huge optimized brands. Plus, Amazon charges a commission for every sale and various other actions, and Google offers its service commission-free.
The paid advertising process is also simpler than Amazon and requires less optimization (and may even be more effective and cheaper, but only time will tell).
Google advertisers, in general, will have added effects as now both their paid campaigns and regular organic progress will get more exposure.
Google also announced that they would be starting a partnership with PayPal to advance this move. This partnership will further help merchants link their accounts with ease. Google also already works with popular platforms such as Shopify, WooCommerce and BigCommerce, making the boarding process simpler.
Lastly, the most-juicy benefit – if you are as an SEO expert, this opens a whole new frontier for you to specialize in! Google Shopping SEO will be huge if this proves to be a popular feature and will be a part of every SEO expert's skill set. This benefit adds a huge pool of potential new customers that previously were not as relevant to peruse.
Currently, ad listings will be the only ones shown within the product listing ad carousel in Google Search. But we believe, that if the moves prove popular, Google shopping results will soon become one of the featured snippets people see on top of Google's regular organic search results regularly and with organically featured results (such as the video carousel). These results will give Amazon a serious fight.
Proper eCommerce tracking in 2020
Regardless, if you want to sell on Amazon or solely through your shop and Google, as an industry-leading SERP tracker, we got you covered!
Pro Rank Tracker offers the COMPLETE SERP tracking solution for merchants – advanced Amazon tracking, which is suitable for their unique A9 ranking algorithm and our record at tracking Google is virtually flawless.
Let's say that you have a small Shopify website and you also sell your goods on Amazon you will need to track both your native Shopify product AND Amazon product links.  For example:
Your Shopify product link + relevant keyword will need to be tracked on Google and ideally on Yahoo! and Bing as well, since they have a strong user base among a wealthy older demographic. And if there is a physical location on GMB as well.
Your Amazon product link + relevant keyword will have to be tracked on Amazon itself. AND since Amazon links are featured highly on Google's regular organic SERP, you will also need to track your Amazon link directly on Google.
Here's how it might look for a random product: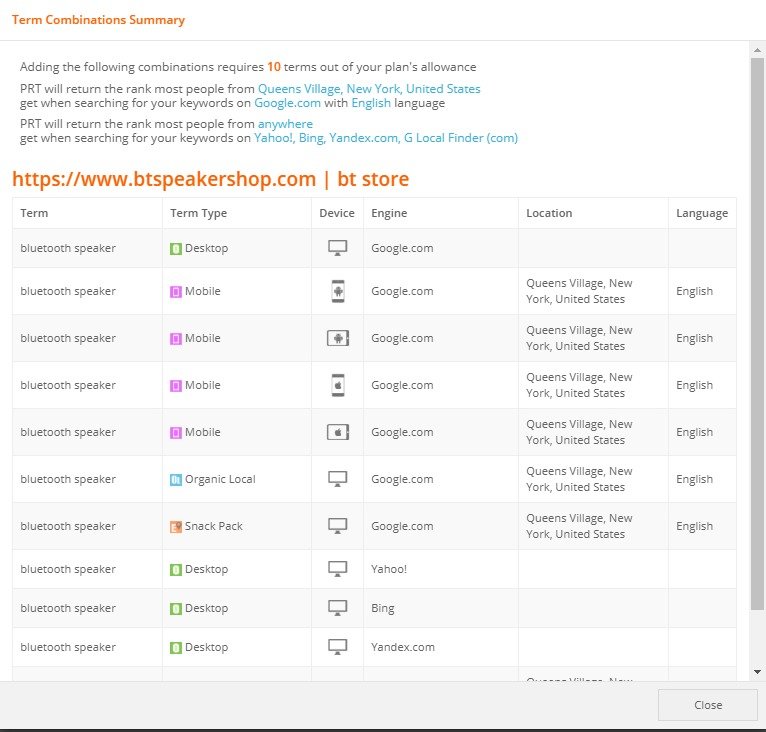 This is exactly why you need all the main search engine monitoring capabilities in ONE tool instead of paying for 3 different trackers.
And the best part, you can try all of it right now for FREE for 7 days, with no credit card details needed to activate!
We trust our tech completely, so we don't feel the need to entrap you in any subscription traps.
Closing thoughts
With Google advancing into the eCommerce world with a strong offence, this makes for 6 main online marketplaces for small merchants to operate in:
Solo websites – either custom made or based on popular "out of the box" platforms such as Shopify, Wix, WooCommerce and BigCommerce.
Amazon's marketplace – competitive and can get expensive, but this remains the largest eCommerce playing field in the meanwhile.
Facebook's marketplace – FB has its own merchant platform. Their biggest sell is the potential to keep the purchase inside a FB store page, without bouncing to an external link, and cooling the deal.
Google's marketplace -with everything we mentioned above and with room to expand and evolve, we are only witnessing the beginning!
eBay – A somewhat convoluted product search engine lacking Amazon's finesse and sales-funnel centered approach. They might be losing the eCommerce war overall and is nowadays seen as more of a secondary alternate Chinese market. But they are still HUGE as far as traffic goes, and many merchants are still killing it there.
Chinese outlets – they are huge but are relevant mostly for sellers from Asia.
You might not want to participate in all the above, but let's just say that if you specialize in just two or three, it's already a significant boost in possible exposure.
For now, Google offers this service for free, but it might also only be temporary for the Coronavirus pandemic times. They might use this moment to get a ton of interest, and eventually, once the crisis has passed, they will monetize this move beyond just cozy organic results + paid ads model.
On the other hand, if this move proves lucrative enough as is, and many merchants and customers flock to the shopping tab, it may very well remain a 'free' model with boosted ads like we currently have on the regular SERP.
Finally, be sure to subscribe to our blog so you won't miss out on important news and tips such as this one:
Track 20,000 products on Amazon and Google for only $25
We didn't even mention the best part yet.
What we offer, no one else does: for every term that you track on all the search engines we support, we also track the ENTIRE top100 search results in ONE cool chart:
This type of tracking means you can also see the historical progress of an entire niche since the moment tracking began!
And it comes with our most basic $25 monthly plan which includes 200 terms.
Pro Rank Tracker – the complete Google and Amazon SERP tracker
Other than all the features we mentioned above, we are also 100% white label! This means all our reports and features can have your logo and company details on them.
We offer more than 16 types of customizable SEO ranking reports, including advanced reporting solutions that will blow the competition out of the water:
Shared reports – live SEO ranking/product reports with your logo and company details on them, hosted on a generated link, that can be password encrypted to protect your client's data.
MyRanks – a mobile app your client can download and see their ranking data LIVE. The app has your logo and contact details on it!

White label Sub Accounts – You can replace our logo with your logo with our Sub Accounts feature!
Plus, you get the most comprehensive keyword research method around, with our added tool combo: the Keyword Suggestion Tool and Ranking Discovery Tool.
And again, this is all free for you to try with a premium 7-day free trial.
No credit card details are required to activate it.
https://proranktracker.com/blog/wp-content/uploads/2020/05/shop0b.jpg
300
800
ProRankTracker.com
https://proranktracker.com/blog/wp-content/uploads/2020/11/prt-blog-1-1.png
ProRankTracker.com
2020-05-06 19:51:00
2020-05-06 19:51:00
It's now free to sell products on Google's Shopping search results!