Is your website visible on Google search on Apple devices?
Believe it or not, it might not be! Even if you are making all the right SEO moves.
So today we will show you how it might happen to a website, and most importantly how to find out for sure by using our SERP tracker.
The relevance of Apple for the way Google populates its unique and highly personalized search index might surprise you. On first glance you might think that Apple is just a tech company that spreads its OS in various devices, and while it's certainly an enormous company, it has no horse in the search engine race. So how can it possibly influence Google's search index? Well, it does so indirectly by simply being such ridiculously strong brand and being so widespread, Google has to acknowledge it as a separate force.
Before we even get to Apple's relevance we need to talk about Google's personalization algorithms. Google's plans to personalize search results as much as possible is very well known by now. We discussed on numerous occasions in this blog how Google geo targets every search result and distinguishes desktop and mobile ranks, which is why you must track BOTH your website's desktop and mobile ranks. And following their mobile-first approach, they will be striving to distinguish the two realms as much as possible in the future.
A few years ago mobile and desktop ranks were not remarkably different, but today mobile ranks differ from desktop ranks about 99% of the time. Remember this fact because it leads us to the next important point:
As we've shown in last week's article, there are in fact two new layers of personalization SEO experts should know about. Layers that distinguish ranks inside the mobile realm. Since it's very relevant to today's subject, you should also give it a quick read if you haven't already:
In a nutshell, users searching Google on Apple devices will see different search results than Android users, on the same principle that users searching Google on desktop devices will see different search results than users searching on mobile. At first these differences were negligible, at worst being 3 positions wide, but lately, these gaps widened to differences tens of positions wide:
In some cases, even a complete drop in rank was observed. For example, consider this case where a website was visible for Android users but almost completely dropped from the face of the SERP below the top100 for Apple devices!
This is where PRT comes in for the rescue:
Find out with PRT how your website is ranked on Google for Apple devices
The technical solution is very simple. PRT can rank track all of Google's personalization layers with 100% accuracy. We've been making the rank tracking distinction between mobile operating systems on Google for almost three years, ever since we first discovered they existed. To check your unique Apple and Android Google ranks, simply go to our main term adding page:
Just add Android Phone and iPhone and you will be able to see how your website ranks for any given keyword on both OS.
The next important step, other than adding the actual URL and keyword, is that you MUST specify an exact location that is relevant for your business since all mobile ranks are geo targeted, and what Google UI language the user has (French UI users will see different ranks than English UI users, even if they are located in the exact same place):
A few extra measures:
Don't forget to add your desktop rank as well, otherwise you will not be able to know how people who search that keyword via a desktop device will see your website:
A note on screen sizes – it seems that screen size also plays a major role in ranking differentiation so if you really want to cover all bases here and be thorough, be sure to include iPad and Android tablet as well:
The final tally should look something like this: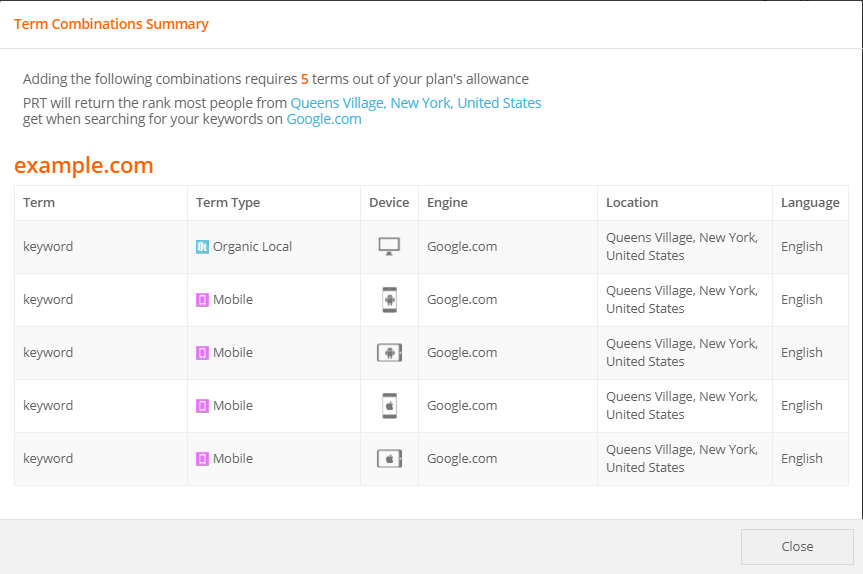 How to be automatically notified if any sudden ranking changes happen
You might not be able to prevent any unexpected ranking changes and visibility loss on one of the OS, but at least you can know as soon as any of that happens. PRT has a feature that can notify you the moment your website loses organic visibility for any of the terms.
The Notifications feature works by setting conditions that once triggered, you will be immediately notified of the change. Here are all the conditions that could be set for any of the terms that you track:
In this case you need set the condition that if the keyword that is being tracked on Apple devices drops in rank below 99, you will get notified.
Notifications also have several cool applications for general SEO strategy as well, which is why we have a full guide on how to use our Notification feature right here:
And also how they can be used to better be prepared when the next big Google update hits your hard-earned ranks:
The whole reason why these new layers even exist to begin with might be Apple's "fault".
Apple's unique properties
To illustrate why Google sees the need to make Apple ranks distinct from any others, here are a few quick facts about Apple:
Apple controls 3 major gates to Google – a mobile OS, a browser, and Siri
iPhone users roughly make up 15-20% of all mobile users[1], meaning Apple controls up to 20% of all mobile traffic to Google, which in itself makes up of more than half of all traffic to Google.
Regardless of having just a 20% market share, Apple's iOS devices contribute about 50% to Google's mobile total search revenue!
Safari has about 15% market share among browsers[2]. With these numbers, what default search engine is used can have a significant impact on Google. In fact Google pays Apple BILLIONS of dollars each year to remain their default search engine[3],
Google leads the charts with their very own branded Android OS, but even in 2012 iOS devices were worth more than four times as much to Google than Android devices[4]
Siri has a staggering 46% market share in the mobile voice assistant market[5] and anyone who uses a voice assistant also uses it to search the internet. And recently Apple has changed its Siri default search engine from Bing to Google. Voice search has become such a dominant presence in search that a whole new field of SEO is now dedicated to optimizing websites with voice search in mind. Voice search can be more convenient, quicker, and continues to gain popularity worldwide and as of January 2018, there were an estimated one billion voice searches per month and it is estimated that 50% of all searches will be voice searches by 2020[6,7].
Apple's user demographics are also unique enough and different than Android to earn a separate ranking and are a force to be reckoned with in regards of purchasing power and brand loyalty.
Apple users tend to be wealthier than Android users. Some see a real socio-economic divide between Apple and Android users, especially in Asian countries where the difference between affording an iPhone and a cheap generic Android phone can be huge.
A recent study found that owning an iPhone is the number one indicator of wealth in the US. There is a 69% chance to correctly infer that the owner was high-income if they owned an iPhone[8]. A survey conducted by comScore found that the median income of iPhone was $85,000 per year, which is 40 percent higher than the median Android phone user annual income of $61,000.[9]
Regardless of wealth it was found that Apple users spend more online in general. If you were to assume that people that are willing to pay up to 800$ (900$ iPhoneX vs. a 100$ Andoroid) more to have almost the same functionality, are just more easy going on their wallet, you would be correct. Data analysis of 31 million purchases found that Apple users can spend up to 3 times as much as Android users on e-commerce[10].
Apple users also have an established brand loyalty and it's this brand loyalty which made Apple the second most valuable brand in the world worth 146 billion USD (first and not far ahead is Amazon with a brand value of 150 Billion USD) [11]
There are other nuances that can be inferred based on whether the person uses Apple or Android. A study of a different tone found that more iPhone users prefer wine to beer. They are also more likely to own stock and to have flown on a plane in the past year. Android users on the other hand, are more likely to describe themselves as religious, rely on public transportation, smoke tobacco, or have eaten McDonalds in the past month.[12]
Apple controls a hefty chunk of all traffic that reaches Google, and the traffic they control has a distinct demographics with different tendencies and purchasing power, which may explain why Apple brings more profit to Google than Android in the grand scheme. If personalizing Apple users to see different ranks will only further increase the socio-economic divide is unclear, but it seems to be the direction we are heading since clearly Apple ranks are DIFFERENT than Android ranks on Google, and it's a fact.
Who needs Apple rank tracking?
People that have recognized Apple's unique user demographic can use it to their advantage in marketing. There's a reason OS targeting exists on Facebook and AdWords. Knowing that Apple users are likely to spend more, are more likely to travel and have a liking for wine, can give an edge in choosing which products to show them.
OS targeting will also likely become a factor to consider for SEO. You would probably be able to gain ranks more favorably for a certain OS under some conditions, and to know if your strategy were effective you would need a SERP tracker that could track Apple ranks within Google specifically.
Google will rank Apple-exclusive apps higher for Apple users, same with services and products targeting specifically Apple users, and iTunes will also naturally be ranked higher organically on Apple devices. Anyone doing ASO for an iOS app absolutely must know if their product is visible on Apple devices. The opposite is true if you are promoting an app or product for Android OS.
Voice search SEO – if you're optimizing websites for voice search, then you need to know the differences in ranks for Apple vs. Android. If you are not ranked on Apple (or not as highly ranked as you would expect) then those Siri voice searches might not be able to reach your content.
So, the ranking differences and Google's possible direction might not be to everyone's liking, but it does make a certain sense. The trouble begins when these ranking gaps between Apple and Android are too noticeable to ignore and effect websites that don't even try to target any specific user base of the two.
Which is basically why everyone should be checking both their Apple and Android ranks and not just in the cases mentioned above. You need to know if the difference is significant, and if your website is even visible for Apple users (because as we saw at the beginning of the article, it might not be!). You might be potentially missing a significant chunk of your possible traffic and you might not even know about it!
Other than making sure you didn't suffer in ranks, just knowing how your ranks behave differently depending on OS is great for seeing the full picture of your ranks and is a higher-quality approach to rank tracking as a whole.
You never know if Google ever decides to make it their next big update that will shake the SEO world like the mobile first announcement did back in the day. It's reasonable to assume personalization will take all kinds of subtle nuances as Google evolves and we will look back fondly on when SEO was so easy and all we needed to think about was local and mobile SEO.
We recommend everyone check up on their Apple and Android ranks at least once, or better still keep a few keywords under watch on all mobile types just in case. At the very least, even if your ranks remain consistent on all these fronts, you will at least get to know a clearer picture of how you rank across the board and remain calm that everything is still ok with your ranks. So set those notifications up and start SERP tracking!
Further reading:
Google uses a bunch of different methods to know what device you use, and your exact location to give you personally tailored search results. Some of these methods are quite controversial. Here is the full story on how they do it:
Also make sure you are subscribed to our blog so you won't miss out on any important discoveries about Google's ranking algorithm. And share this post if you found it helpful and your thoughts in the comments below.
---
PRT is an industry-standard SERP tracker with over 50k users. We are SEO centered and we are constantly monitoring and researching Google. Because of that we have been ahead of the curve for the last few years and never failed to give our users solutions in the face of Google's updates, from providing the full search volume of keywords to tracking specific SERP elements such as Snack Pack, extended map results and the new video carousel.
Through all of that, we also managed to stay the most affordable SERP tracker on the market, with our most popular monthly plan being only USD $0.037 per tracked term!
Our 7-day free trial is free FOR REAL! And the only one on the market that doesn't require a credit card to activate. That means there are no auto renewal traps here. Just a genuine free trial to show you what we can do for you.
Try it NOW and get all of our features unlocked and track not only all of Google's personalization layers, but also YouTube, Amazon, Bing, Yahoo! and Yandex.
We love to share our success here at PRT! If you are already a PRT user and want to help us grow, link to us using our highly acclaimed Affiliate Program, and enjoy knowing you recommended a high quality rank tracker AND enjoy a 20% monthly commission of the entire lifetime of the referred account!
https://proranktracker.com/blog/wp-content/uploads/2018/08/02A14U45.jpg
300
800
ProRankTracker.com
https://proranktracker.com/blog/wp-content/uploads/2020/11/prt-blog-1-1.png
ProRankTracker.com
2018-08-16 19:29:16
2018-08-16 19:29:16
Is your website visible on Google search on Apple devices?